Need Seeds – 8 Places to Get Quality, Cheap Seeds
Need seeds, anyone?! Maybe it was the pandemic, or maybe it was a family emergency that occurred at its peak. Maybe it was both. I'm not sure which, but somehow this year I became ever more in love with gardening.
And no matter how many seeds I buy or swap, I still NEED SEEDS. It's fun to be a collector of something so small yet so meaningful!
I thought I'd put together a list of some of the best places to buy or acquire seeds! I hope you enjoy these little seed shops and gardening groups as much as I do.
Starting plants from seed is undeniably one of my favorite parts. With each seed we plant, I find true joy in seeing that first peek of green pushing up through the soil. As I'm now an avid collector and saver of seeds for next growing season, I know I am not alone. We gardeners simply need seeds! The bigger the collection, the better!
By the way, if you are looking for seed companies not owned by Monsanto, start with the small farmers. Sometimes they will even specify on their websites that their products are non-GMO (Like Little Shop of Seeds below).
You can also check this long list of seed companies that ARE owned by Monsanto to guide your decision. (PDF Ref: FoodandWaterWatch.org)
I will continue to update this page as I go, adding in new favorite seed shops and sources. For now, I hope you enjoy these!
1. Little Shop of Seeds Review
Loved it so much, I actually thought about ordering from this shop twice this year! This farmer has excellent prices and a great selection, especially for someone like me who has huge heart eyes when it comes to buying seeds. The low prices make it easy to buy more and more, resulting in a very happy transaction.
Seeds sold at $0.55 per package when I bought mine. They were packed in clear baggies taped to my order papers. This is fine by me! The amount of 55 cent seeds seemed quite generous for such a small price to pay. Shipping was a few bucks but well worth it!
I believe my only request would be a more clear receipt or way to track my order. Unless it was an error on my side, I couldn't find the confirmation email. (The website does say it would have a confirmation email.)
However, I did see my PayPal statement updated and shortly I received my cheap garden seeds in the mail! I definitely intend to buy from Little Shop of Seeds again next time.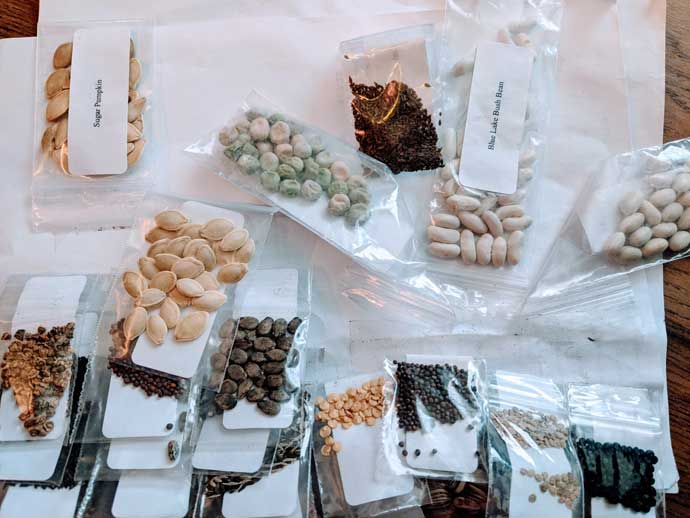 Favorite Seeds: I loved the Snow Peas the most out of everything I purchased.
Least Favorite Seeds: Our lavender never sprouted at all. I am not sure if it's a finicky plant or I just didn't know what I was doing.
Seeds for Yourself: https://www.littleshopofseeds.com/
2. Dollar Seeds Review
I continued to feed my gardening seed frenzy with a pleasant purchase from Dollar Seed a few weeks later. Like the namesake, seed packets are $1. So many varieties – over 210 I believe – of beautiful seeds to choose from! They also sell seed mega packs for a bigger planting.
I loved placing this order and getting many kinds of flowers and vegetables to add to our gardening adventures. I am looking forward to being a repeat customer here as well.
Favorite Seeds: So hard to choose a favorite! Mine came down between the rainbow carrot seeds and the Broccoli Rabe. IT was the rainbow carrots that lured me to this site to make a purchase, after all. The broccoli rabe unfortunately was decimated by the cabbage moth, so we'll try again next year.
Least Favorite Seeds: I was so excited to grow Strawflower! I planned a cutting garden for my daughters so they could cut flowers all summer long. We tried everything to get the strawflower seeds to sprout but nothing worked. I may have gotten duds or maybe I just didn't have luck. (If anyone has some tips, please drop them in a comment below – I really want to grow strawflowers next year!)
Seeds for Yourself: https://www.dollarseed.com/
3. Seed Swap Groups on Facebook
Trying to minimize my time on social media, I'm in a pickle now. Early in the pandemic, I stumbled upon the glory and amazement of seed sharing Facebook groups! I must say, these admins do a marvelous job.
Running games and make-a-wish posts, keeping people honest with their swaps. It's like a treasure hunt every. single. day. I just can't get enough!
My daughters even got into the fun of getting "seed mail" this summer. Bunny traded handmade, custom seed envelopes for a variety of seeds she could grow. She lucked out with many flowers for a cutting garden and a wide array of vegetables and a few melon seeds as well.
So much fun!
Special Tip: Don't forget to save your OWN seeds from your garden each year so you have EVEN MORE to trade! You can check out our post on Collecting Snapdragon Seeds to get an idea of how easy it is to harvest most kinds!
I highly recommend you search for "seed swap" or "seed groups" and other terms on Facebook to find ones that work for you and your location. Some are international and others may be location specific. Most have their own rules. So far, all are wonderful.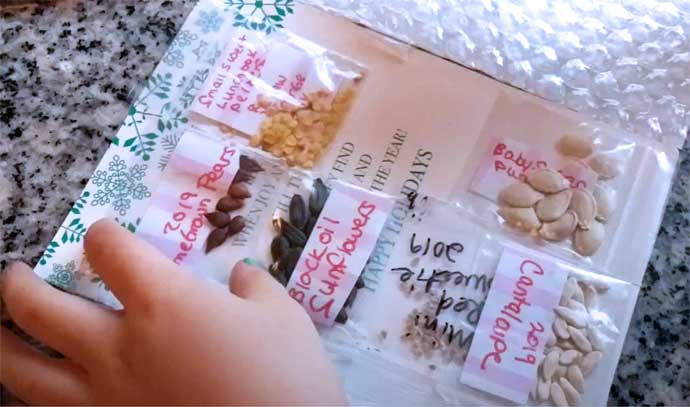 4. Agway Seed Clearance – Cheap Seeds Galore
I truly lucked out at my local Agway! Tucked away off the main drag through our suburban countryside is Agway.
My first time to the store and I fell in love.
It reminded me ever so slightly of a Tractor Supply with some of the contents inside, although I did not get to take a long long around.
What I DID get to do was dig through several boxes and bins of last year's seeds on sale at 50% off.
I am still kicking myself because in my haste, I left behind a packet of money plant seeds. These ones have the beautiful silvery seed pods that I think my girls really would've loved to collect.
I wish I'd remembered to grab them when I was there, but I did buy about $20 in seeds, so I can't totally fault myself. I came away with a huge haul though!
Favorite Seeds: I was most excited to find Birdhouse Gourds there! Such a fun idea and I'm really excited to try them with our girls next year. I also bought a huge back – I think it is a full pound – of snow pea seeds. Going to be a great growing year next year!
Least Favorite Seeds: I don't think I really have a least favorite yet – I bought them too late in the season to plant any, so I can't speak to germination rates or anything like that.
Seeds for Yourself: Call up your closest Agway and ask if they have any seeds left, or specifically a seed clearance! I was really tempted to go back and buy some more so I will have things to trade over the winter when I'm really pining after my gardens.
5. Grocery Store Produce
Not just cheap seeds but practically FREE! I know lots of people enjoy seeing what they can grow from grocery store fruits and vegetables. It is a really fun experiment with the kids or even by yourself.
For full steps on the amazing method for super fast seed germination, you've got to see my other post, Germinating Seeds in Paper Towel Method (10 Tips).
Moreover, it's surely stretching your dollars further if you can get a few plants out of the seeds from anything you buy!
So far we've been successful growing the following fruits and vegetables from our groceries:
Cantaloupe
Potatoes
Strawberries
Lemon trees – My biggest lemon tree is about 17 to 18 inches tall at the moment! It finally has a second branch after growing in a straight line all summer. Several smaller ones need to be potted up so they can grow bigger.
Clementine
Kiwi
Pineapple
Pear – I have a small pear tree that is about 18 inches tall right now! It is outside and I pray it will be hardy enough for the winter.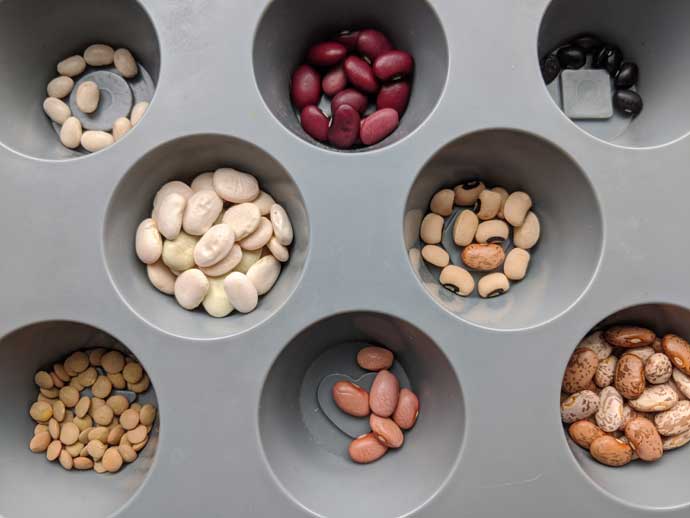 We've also regrown romaine lettuce from a head we chopped. It left about enough for my daughter to enjoy a small side salad. I also had fun sprouting some bean plants from a bag of mixed soup beans!
I ran out of places to plant and some animals ended up eating most of those plants, unfortunately.
6. Swapping Seeds in a Local Gardening Group
Cheap seeds may be all around you! You can look on Facebook to see if there's already a local seed and plant swap group near you. We have several. If you don't have one, create one!
You can also check with your neighbors if anyone's growing plants you're drooling after. I don't imagine most people save their seeds if they aren't avid gardeners, so you never know! Might just get lucky.
7. Dollar Tree
I haven't been lucky enough for this yet, as mine sold out. However, I've heard that Dollar Tree discounts their seeds deeply after the growing season wraps up.
One of my seed groups, a woman said she scored seeds at a penny a pack?!
I've also heard of them being sold for 10 cents per pack or even 4 for a dollar.
Any of these cheap seeds deals are really worth a trip to the Dollar Tree for seeds and gardening supplies if you get your timing right!
8. MIGardener.com Grab Bags ($15 for 30 seed packets)
I recently discovered that MIGardener.com's sale page will feature a discounted grab bag of seeds toward the end of the season. The seeds are from that year's stock, but expected to germinate just fine for future years if stored correctly.
You should likely expect some duplicates, but hopefully you'll still get enough exciting variety for your garden next season.
At the writing of this section, October 12, 2021, the MI Gardener grab bags are already sold out. Mark your calendar for next year's MIGardener.com seed grab bags sale!
9. Amazon – Not Always Cheap, but Some Discounts Pop Up!
Amazon is a fun place to shop for seeds because I will just add them to my wish list if I don't buy them right then and there!
That way, I remember what I want or need (mostly want) and can check back on pricing very easily later.
At this time of this post update (12.14.21), I am seeing quite a few Amazon discounts and coupons on seeds! Some are for dollars-off and other prices are slashed by 30-40% or more!
Keep an eye on the big bulk packs – these are now on sale around the holidays and may go on sale other times as well. Look for the heirloom variety packs and seed survival kits!
Our website features affiliate links to products that we personally believe in. If you make a purchase from a link on our site, we may earn a small commission at no cost to you. This helps our girls chase their garden dreams! Thanks for your support. (View full affiliate disclaimer at the end of the page.)
Keep in mind that prices change without warning and your mileage may vary! If you do happen upon a great deal, please share it in our comments so others may enjoy the saving.
Not-So Cheap Seeds
When I really want something, like Roma Tomatoes, on demand, I am sometimes more willing to shell out a bit more cash. I couldn't get Romas as early in the season as I'd hoped, so I ended up paying for them.
I think it ended up being over $5 between shipping and the actual seed cost. I got these on eBay. So, yes, eBay has seed packs but they won't always be cheap!
I also got a set of Roma tomato seeds on Etsy, which as you might suspect, also wasn't cheap and probably closer to $6 said and done. Either way, though, I was delighted to have Romas on the way!
I know there are many other seed sellers out there and I will continue to update this post as I find them. For now, these are my top places to buy seeds.
By the way, you should definitely check out my post on National Seed Swap Day – it has more than 7 places you can trade seeds with other gardeners! And for even more seeds, scope out Non GMO Seed Companies!
If you need seeds, I hope these shops and swaps will help you. Looking forward to many more great gardening experiences!
Edited on 12.14.21 to convert to blocks editor and to add section on some good deals on seeds at Amazon.