About Bunny's Garden Blog
Gardening, Cooking, and Making Memories
Kids learn from the world around them – sights, smells, textures, tastes, and experiences. With wide eyes and open minds, their world becomes so rich and colorful. Bunny's Garden is designed to help you build something with your kids. Or even to simply cultivate an existing hobby as an adult!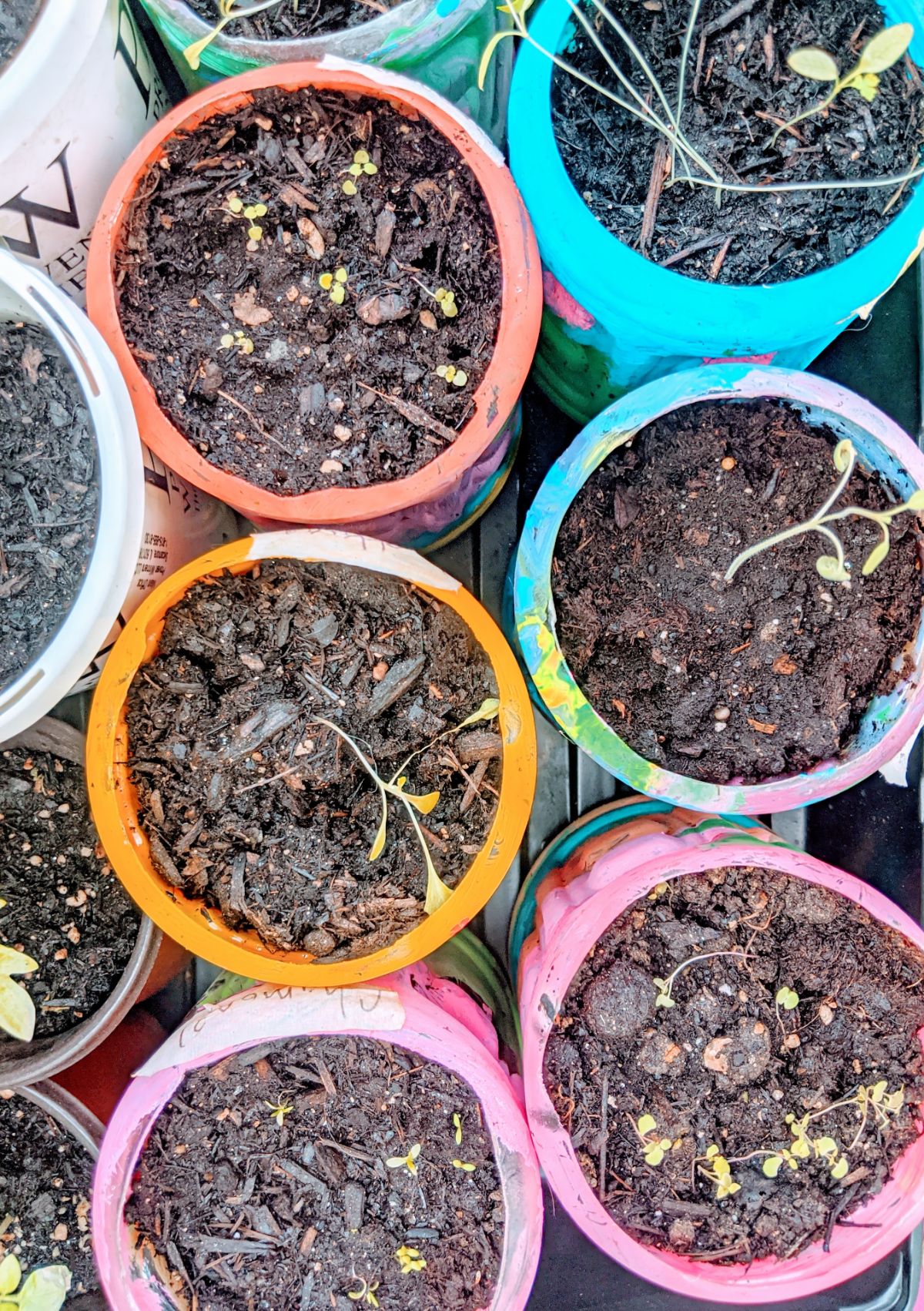 Deep Family Roots in Gardening
I still hold onto a vivid memory of my grandmother reading me a story about gardening. The story focused on planting a sweet potato to grow a new plant. I remember her lovingly taking the time to actually plant that sweet potato.
And I remember the joy I felt when I saw roots and bright green leaves coming from it!
It's stayed with me my entire life.
I also remember my dad's dad always growing his tomatoes and herbs. My mom's dad had a beautiful rose garden I remember fondly. And, my dad still grows tomatoes just like his dad and he is the one who got me started on Zinnias!
My mom also always loved gardening, and she used to let me and my friend sell her surplus veggies from the garden! We even got to pocket the money!
Now, with kids of my own, I enjoy every opportunity to create meaningful memories together, sharing a hobby we all love.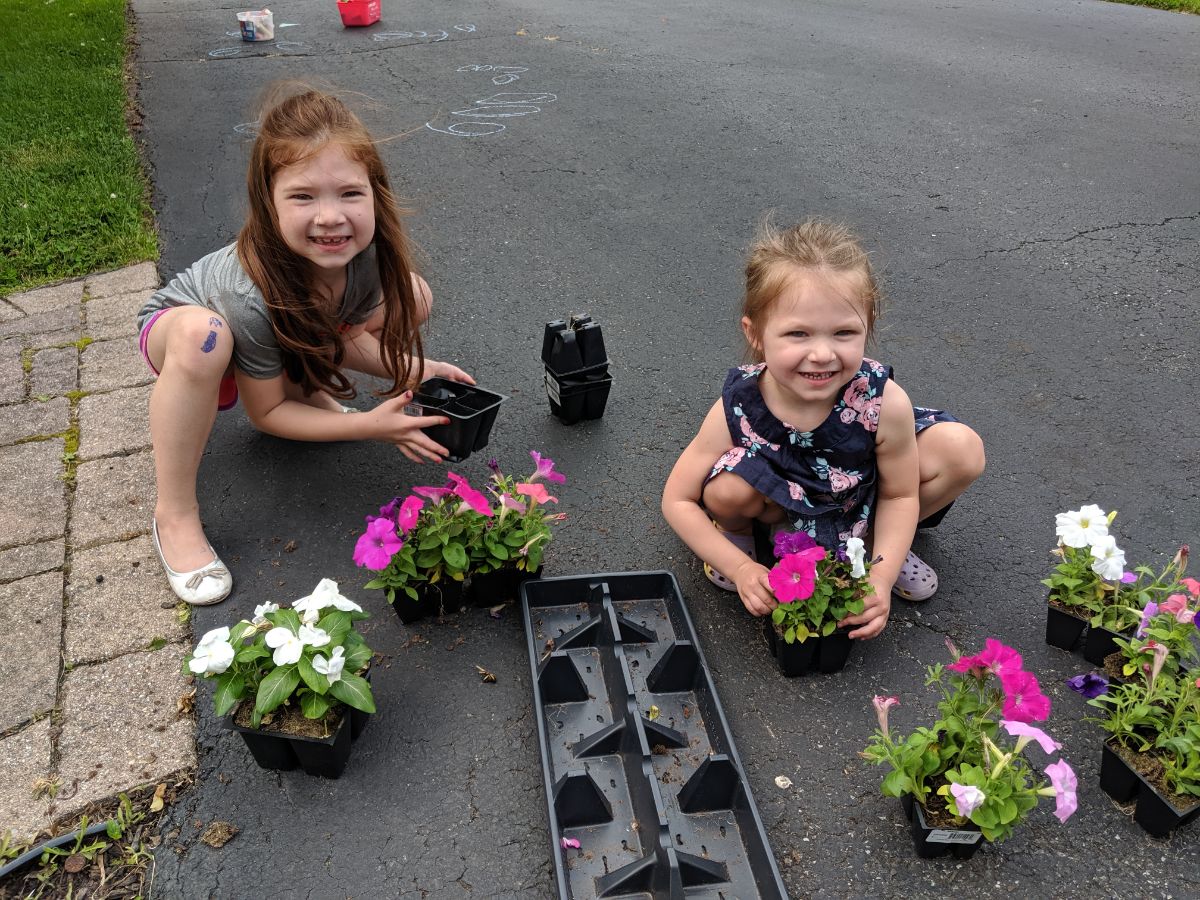 What Is Bunny's Garden?
Bunny's Garden is a backyard gardening blog focused on growing from seed, saving seeds, plant propagation, and generally enjoying the whole experience. We are a family-friendly blog and you'll often catch me musing about how great gardening is for the kids or how to get them involved. 🙂
My goal in running this blog is to share my love of gardening and my own experiences so that you and your family / friends can also benefit!
So many adventures await in the garden. We can explore different things to grow and different ways to grow them. Cloning plants with rooting hormone is one of my favorite off-season activities, so I will definitely delve into that more and more.
Right now, Bunny's Garden is a blog and a business. One day, though, my girls and I hope it will also be a destination you can come visit and enjoy!
Why Is It Called Bunny's Garden?
This site's name comes from a nickname. Before we had kids, my husband lovingly called me "Bunny." Then, when our oldest daughter was born – actually before she was born – we nicknamed her Bunny.
Bunny's been my gardening buddy for years. Each year becomes even more awesome because she's older and grows more interested in gardening, planting, and learning!
She is especially interested in the science behind it! And she loves helping with our home garden blog and designing creatives for it.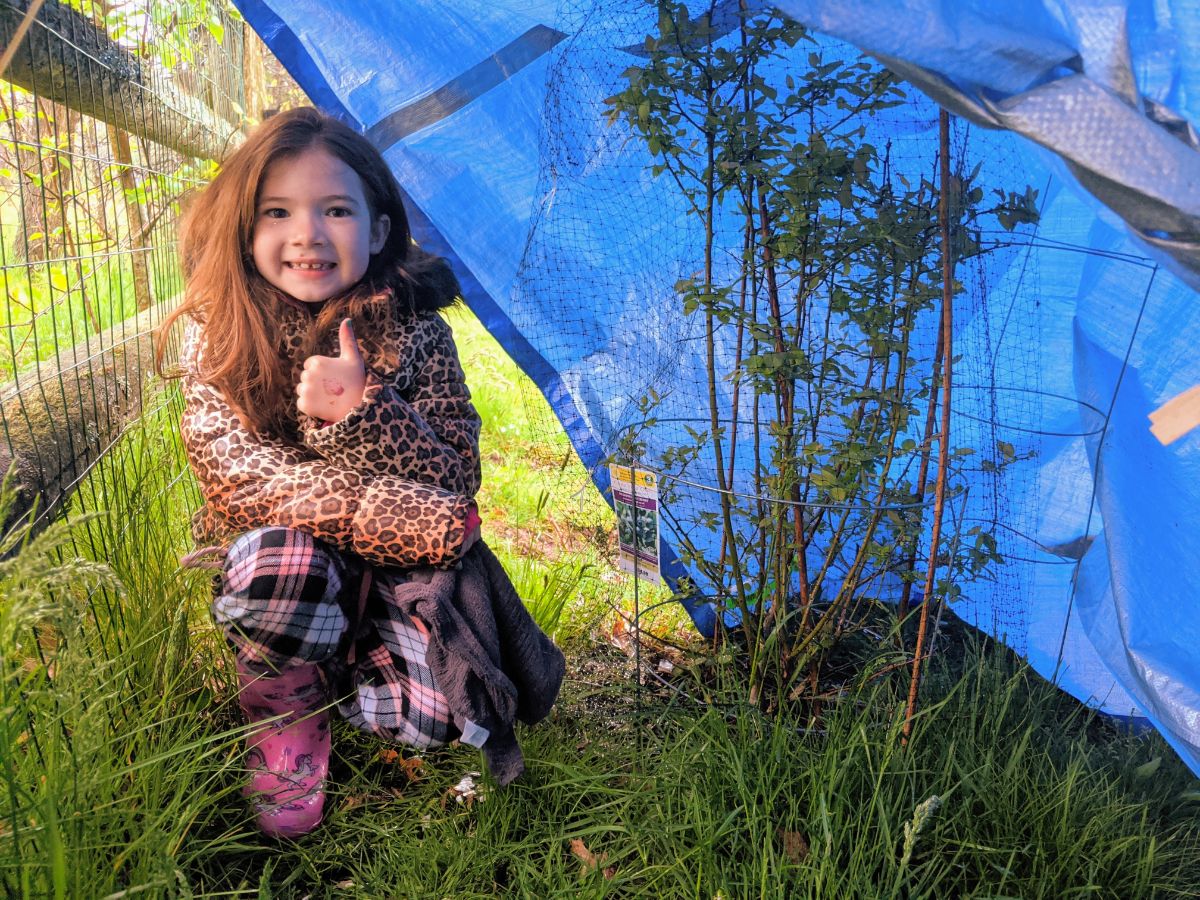 Her younger sister, "Little Bear," also enjoys collecting seeds, and more especially, eating the foods that we grow!
I started the Bunny's Garden Blog to chronicle our adventures in growing a home garden, planting seeds, saving them, and enjoying the foods we've grown ourselves.
I'll also include some snapshots from my real actual daily life – cooking, crafts, and more.
Who Writes Bunny's Garden?
My name is Kate Van Druff and I'm obsessed with seeds, plants, and plant propagation. I love long walks in the garden and sunset is my favorite color. (For pretty much ALL flowers, but I do love them all!)
By the way, this is me!
And no, I didn't douse myself in water on purpose! At the end of his wedding, my bro-in-law said to take as many flowers as I wanted. I had high hopes to propagate… (Sadly it didn't work out, but I will never give up!)
Anyway, took as much as I could carry, or so I thought.
Ended up wearing the water and spilling all the flowers on the bumpy shuttle bus ride. Hilarity ensued.
I didn't know if I should die of embarrassment or embrace it and laugh some more. So I laughed!
And here I am, laughing and smiling again as I share this with you because it is the real actual me! 🙂
I love fun, flowers, and love. Making the memories is everything.
Oh, and, here is my sweet little girlie, my baby bear, who loved flowers and lipstick from the start.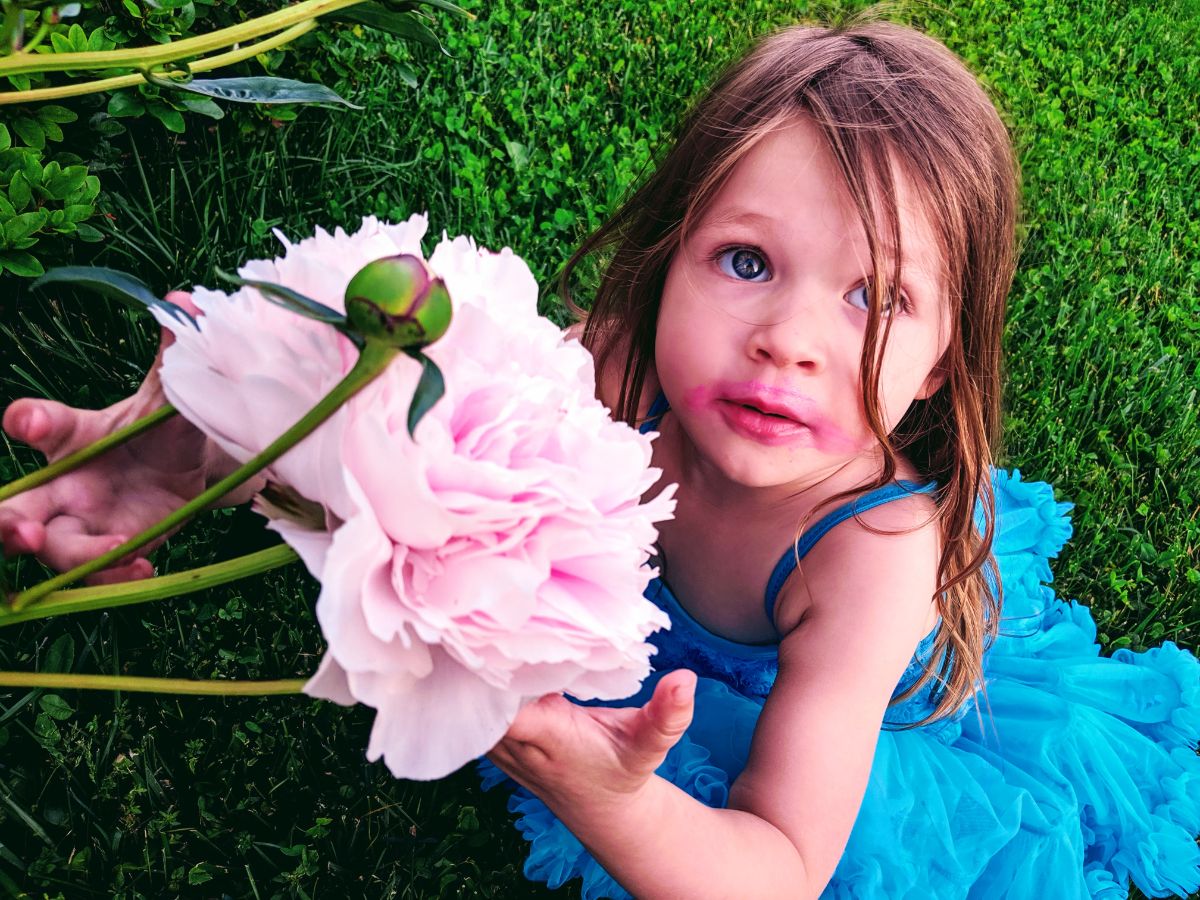 When Did Bunny's Garden Start?
Although I wrote some posts on an old BlogSpot blog with my BunnysGarden.com url, I really dug into this blog during the 2020 Covid-19 pandemic and quarantine.
My stress levels exploded with the convergence of the virus pandemic all around us and a family health emergency that occurred right around the start of the lock-downs.
Thankfully, things keep improving and I've found gardening and particularly seed starting to be a helpful form of gardening stress relief. I think a lot of people feel that way.
Here at Bunny's Garden, we'll share:
Our best tips for gardening with kids

Fun suggestions for cooking with kids, like our sister site, Toddler Meal Tips

Favorite recipes with OR without things we've actually grown

Must-haves that make our lives easier and products to avoid at all costs


In some cases, we may earn a small affiliate commission for products that you buy through an Amazon link or similar from our site. This comes at no extra cost to you and I promise the money earned will make its way to my girls in one form or another. I'll also only recommend products I personally stand behind, and I'll always share my honest-to-goodness true feelings about any item mentioned here on Bunny's Garden.
We'll give a little glimpse into our lives and look forward to connecting with you and yours.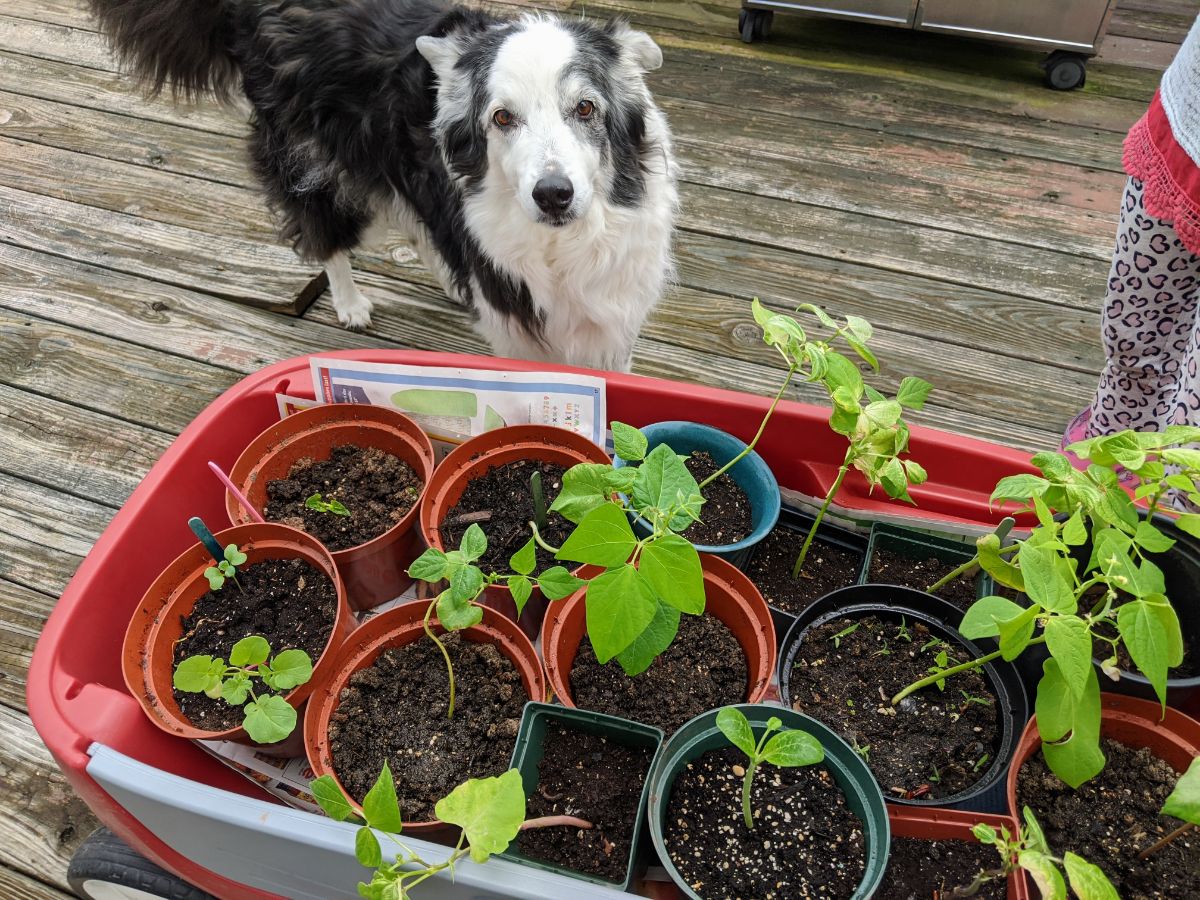 About Kate Van Druff (nee Kathryn M. D'Imperio)
My name is Kate Van Druff (my maiden name is D'Imperio) and I am a longtime freelance writer and marketing specialist with my own company, Dances with Words. But way before all that, and ever since, I've been a gardener at heart!
My love of gardening stems from the time I was very young and it just keeps growing to be a bigger and bigger part of my life.
Gardening Experience & Professional Background:
My gardening experience and writing background includes:
Also – Bunny's Garden received 1st mention on FeedSpot's 15 Best Pennsylvania Gardening Blogs and Websites!
So thrilled and honored to contribute to my local gardening community.
I always love hearing from you and I hope you enjoy the tips, photos, and videos we share as much as we do.
I invite you to hang around our garden blog as long as you'd like!
xo
Kate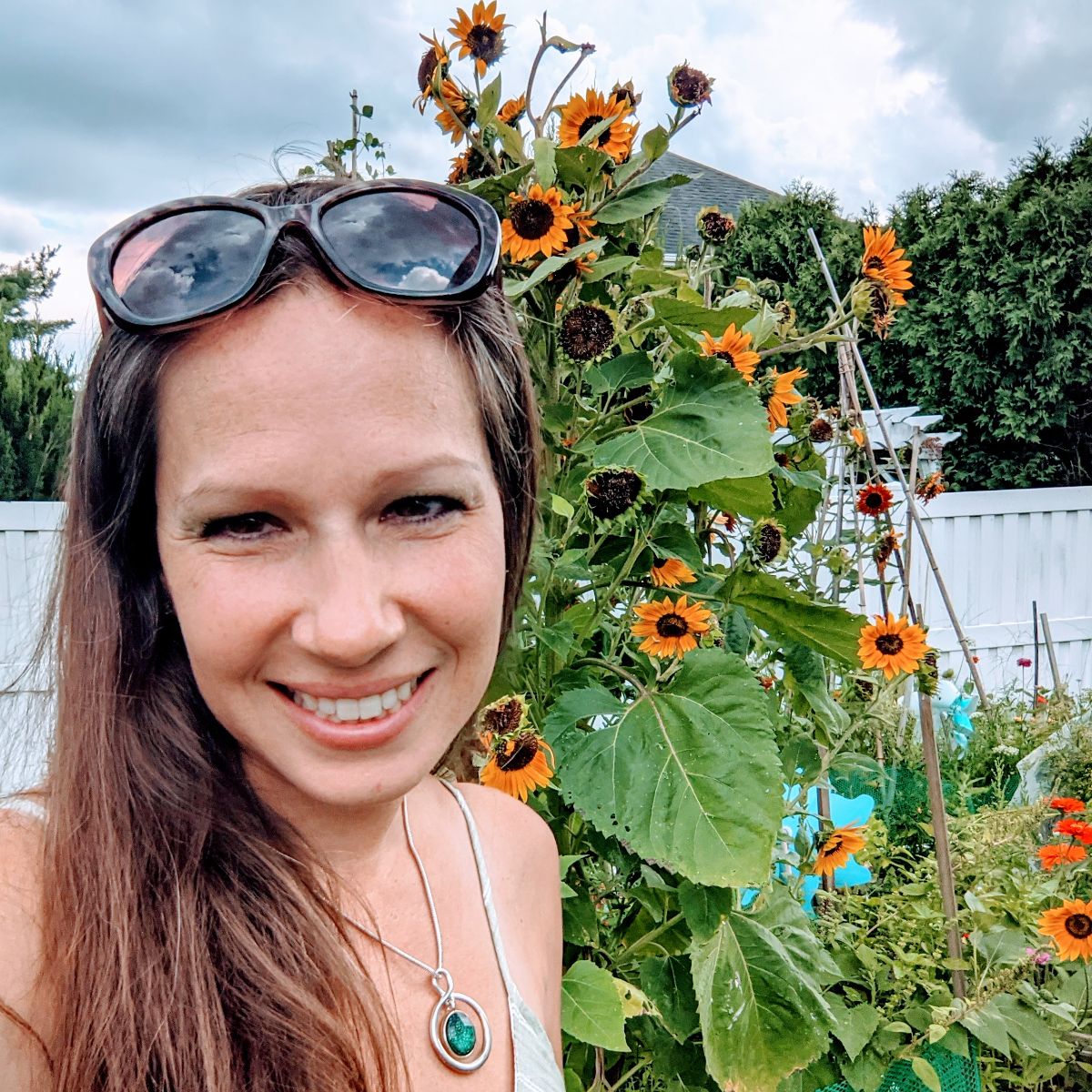 Creator of Flower Themed Gifts & Artwork
As a new venture to take my love of gardening and my creativity a bit further, I am now digging into some physical products that are for sale or soon will be.
Zinnia and Pollinator Art Prints & Products – Society 6 Garden Themed Prints, Housewares, & Gifts
Coming Soon!!! Seed Swap Note Cards and Zinnia Heart Note Cards! Stay tuned to our Merch page!
Seed Sales – Some selected seeds are also for sale from our garden!
Staying Social
By the way, hopefully one day you'll see us on Google Discover with our web stories! You can check our what we've made so far right here: Bunny's Garden Google Web stories.
You can also follow along on:
Also, please like and subscribe on my YouTube Channel – I need some motivation to make more videos instead of just written text all the time. 🙂
As seen on…