Chicken Nachos Recipe: Easy & Family-Friendly
This chicken nachos recipe was a huge hit in our home this past weekend! We love dishes like this on Sundays while we're watching football in between meals after a big brunch. These chicken nachos are so easy to make and they taste delicious! We omitted the jalapenos and made a batch of chicken nachos just for the kids and made a grownup version for ourselves.
What I'm particularly proud of with this chicken nachos recipe is that we got to use jalapenos the kids and I grew this year in the garden! Our plant probably needed a bigger container but at about 2 or 3 gallons, it still gave us about 6 jalapenos. Our annoying neighborhood groundhog helped himself to biting a few, so those I just cut open to remove the seeds for planting next year.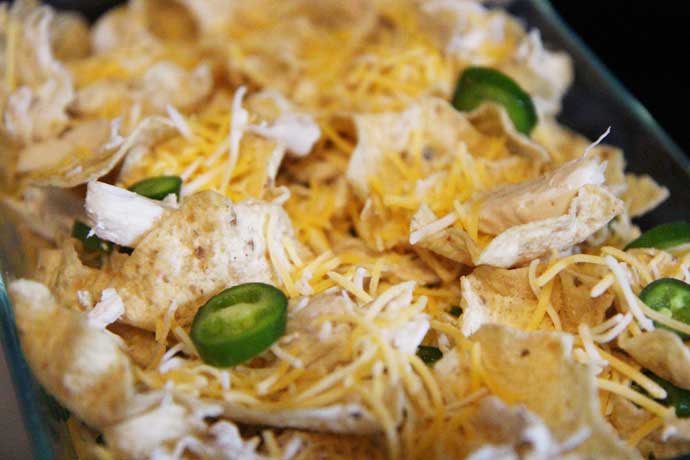 Easy Chicken Nachos
Make this delicious chicken nachos recipe at home using just four ingredients! We selected a Fiesta blend shredded cheese containing Monterrey Jack, Cheddar, Queso, Quesadilla, and Asadero cheese.
For the kid-friendly version of chicken nachos, skip the jalapenos! Likewise if hot peppers just aren't your thing. (They aren't mine.)
During a tailgate party at the Linc last season, we enjoyed parking lot nachos served in cute, authentic trays with melted nacho cheese. Sterno pans kept everything warm and melty! So much fun and so yummy.
TIP: For an easy shredded chicken nachos recipe, make your chicken breast in the crockpot and shred with two forks when it's done. So tender and easy to pull apart.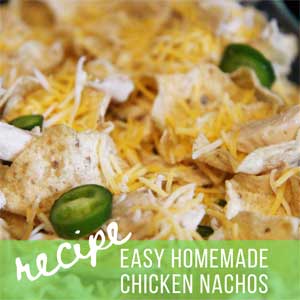 Chicken Nachos Recipe: Easy & Family-Friendly
You can make this tasty and fun appetizer in a matter of minutes! Absolutely worth your time – even our four-year-old loved them!
Ingredients
1

whole

Cooked Chicken Breast, Diced or Shredded

1/2

bag

Tostitos or other Favorite Tortilla Chips

We used party-sized Tostitos Scoops.

3/4

bag

Fiesta Blend Shredded Cheese or Similar

4-5

Jalapenos, Cut into Wheels (optional)

Skip this ingredient or make two separate trays for kids to enjoy their own batch!
Instructions
Cook the chicken breast and cut into pieces or shred.

If desired, cut jalapenos into wheels of preferred thickness. (Use caution not to touch eyes or other sensitive areas after handling peppers.)

Put a layer of Tostitos or other tortilla chips in the bottom of a glass Pyrex pan.

Scatter cooked chicken breast and jalapenos if desired.

Sprinkle Fiesta blend shredded cheese or a similar cheese on top of the chips and toppings.

Add more tortilla chips on top of this layer.

Repeat the above steps, adding more chicken, peppers, and cheese so chips are evenly covered.

Add another layer of chips if needed, along with more toppings and cheese. Bake in the oven at 350 degrees for about 10 minutes or until desired doneness.
Notes
Next on the list – we will be trying buffalo chicken nachos and barbecue chicken nachos! So glad we have a football season to enjoy with yummy food like this chicken nachos recipe.
If you have other favorite tips for nachos made with chicken, please share in the comments below!