Using Egg Cartons to Start Seeds Indoors – Seed Starting Fun
Starting seeds indoors in egg cartons is one of our family's annual gardening traditions! We look forward to it every winter. Using egg cartons to start seeds is just about as easy as it gets.
(Well, besides my other favorite seed starting method – germinating seeds in plastic bags with wet paper towels!)
I highly recommend this seed starting method for gardeners of all ages, especially kids. Last year I gave each of my daughters their own egg carton to plant whatever seeds they wanted! It was great fun to see what they each chose, and my youngest loved it so much that she wanted to start a second tray!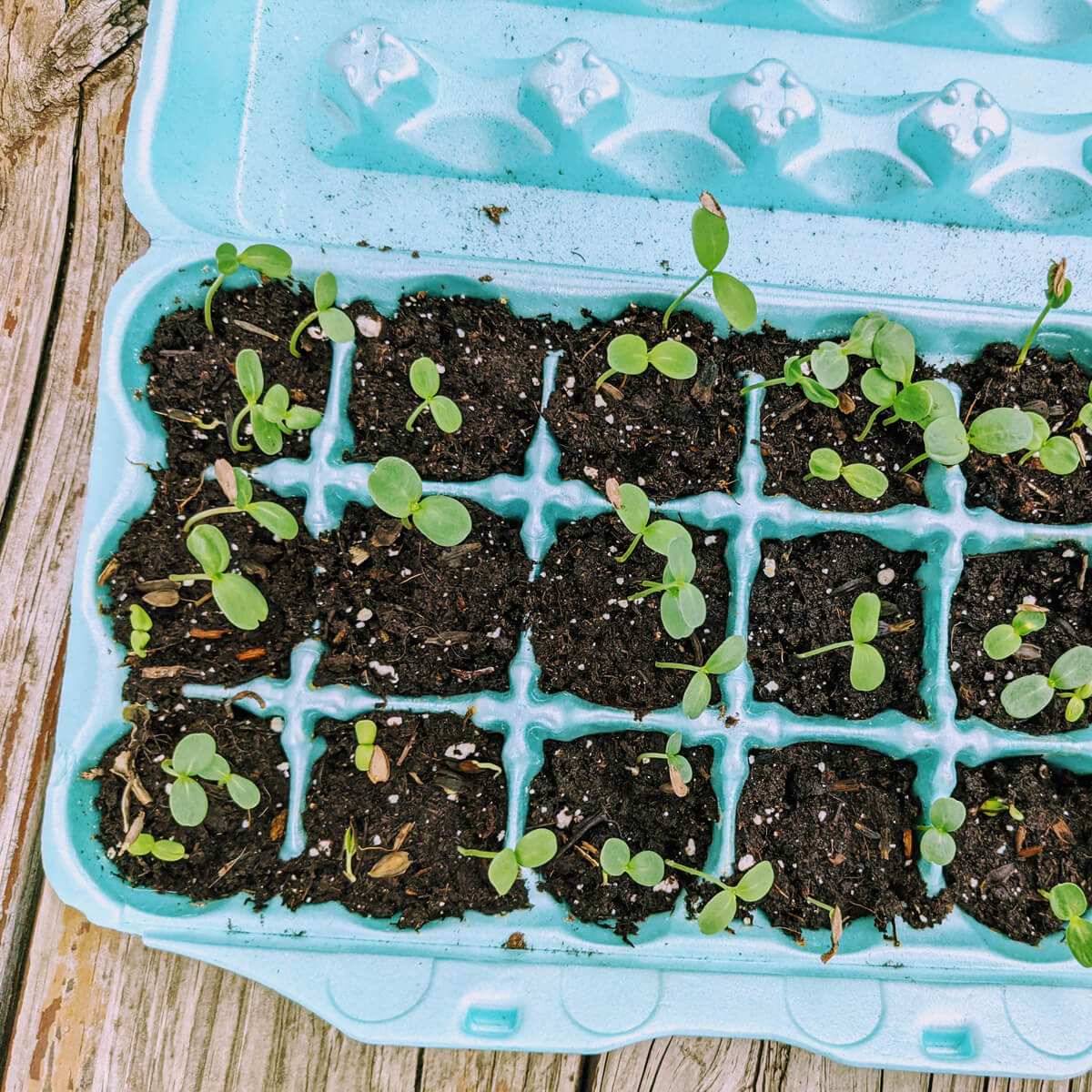 Benefits of Using Egg Cartons to Start Seeds
You may find quite a few benefits when planting seeds in egg cartons. Here are my favorite reasons why you should start seeds in egg trays.
Individual cells are perfect for tiny seedlings. Egg trays with 12 or 18 cells offer much opportunity for variety of what you plant.


Reduce, Reuse, Recycle! Reusing egg cartons for seed starting gives these trays a new lease on life. Styrofoam egg cartons usually end up in the trash anyway, so this is a much better alternative.


Enjoy easy configurations for mass seed starting. If you plan to start quite a large number of seeds, you can save up several egg cartons to achieve your goals. In most cases, the egg cartons fit nicely side to side or front to back under your grow lights.


Removal of seedlings for transplant is effortless. Simply pinch the Styrofoam pocket with the seedlings you wish to transfer and gently coax the entire root ball, soil and all, out of the egg tray.
How to Plant Seeds in Egg Cartons
Germinating seeds in egg cartons is easy and so much fun!
First, let's gather a few materials to get started.
I promise the waiting is the hardest part!
Materials
Gather these materials before you start using egg cartons to start seeds.
Seeds
Potting Soil
Spray Bottle
Empty Egg Cartons
Knife or Sharp Tool
LED Grow Lights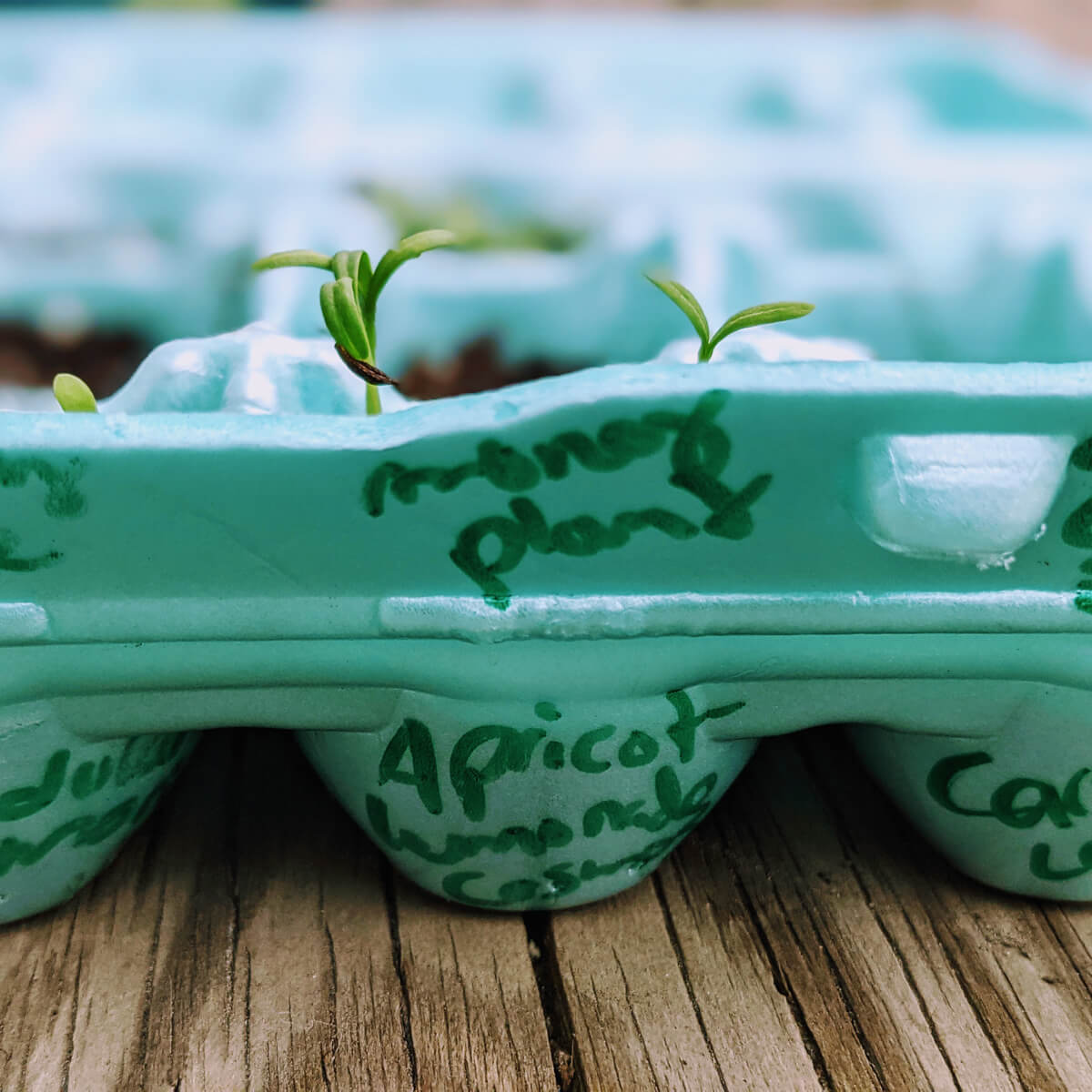 Starting Seeds in Egg Cartons: Instructions
Begin with a Styrofoam egg carton seed starter tray and follow these steps to get started.
Create drainage holes. Take your Styrofoam egg carton and use a knife or other sharp implement to poke holes in the bottom of each cell.

Fill with potting soil. Lightly fill each egg tray cell with potting soil.

Read the instructions for each kind of seed you plan to grow. Figure out how deep to plant seeds in egg cartons. Also, some seeds may do best if you surface sow. You may not need to bury them at all!

Make an indentation in the center for seeds being covered. Poke a small hole in the center of the soil in the seed cell for large seeds. For smaller seeds, poke a few smaller holes spaced out across the soil. (As a general rule of thumb, I usually plant a minimum of two seeds in case one is a dud.)

Drop seeds into the holes in the soil. Aim to plant one seed per hole.

Lightly replace the soil to cover the seeds. Gently cover the seeds with soil.

Immediately label the type of seeds. I usually write the name of each seed variety directly on the egg carton.

Water the soil adequately. Use an indoor plant spray bottle to dampen the soil for each seed you've planted.

Set the seeds in egg cartons under grow lights. For best results, I grow my seedlings under LED grow lights with excellent quality ratings.
Growing seeds indoors in egg cartons is so easy and so much fun! You and your family will be sure to create such wonderful memories starting seeds together.
Let's Get Started!
Tips on Using Egg Cartons to Start Seeds
Once you've planted seeds in the egg trays, you can focus on maintaining moisture levels and ensuring enough lighting.
Here are some tips to help you ensure the best chances of success when starting seeds in egg cartons.
Check seed trays daily to ensure proper moisture for the soil. Spray with the spray bottle to dampen soil as needed. Avoid leaving standing water.

Harden off seedlings before transplanting outside. Make sure you help the seeds acclimate to the harsh natural sunlight and outdoor climate by hardening off over the course of a week or two.

Transplant tall seedlings to bigger pots. A pack of 3" or 4" nursery pots can go a long way when using egg cartons to start seeds. Some seedlings like sunflowers and cucurbits, like pumpkins and cucumbers, may swiftly outgrow the egg cartons.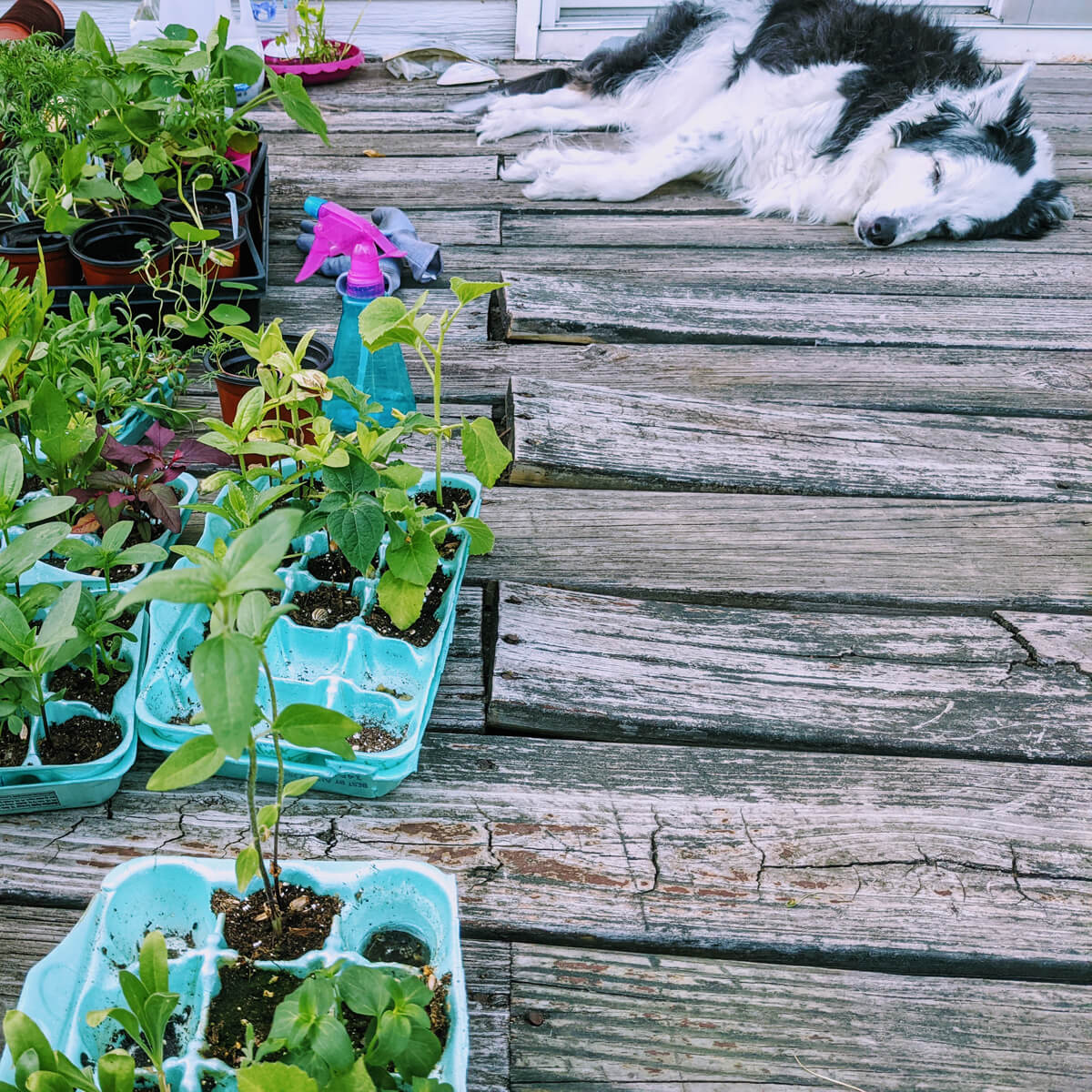 By the way, you might also enjoy our Google Web Story on 3 Simple Ways to Start Seeds. Do you have any questions about using egg cartons for starting seeds? Feel free to leave us a comment and we'll get right back to you!
Also, if you have any tips or favorite stories, be sure to share those, too! We love hearing from you!
Happy Seed Starting!
Our site uses affiliate urls for products we stand behind. If you make a purchase from a link on our blog, we may earn a small commission at no cost to you. Thank you for your support.
Our website features affiliate links to products that we personally believe in. If you make a purchase from a link on our site, we may earn a small commission at no cost to you. Thank you! This helps our girls chase their garden dreams! Thanks for your support. (View full affiliate disclaimer at the end of the page.)
03.15.23 – Updated to add link to gws and improve spacing.