Layered Red White and Blue Miami Vice Drink – Memorial Day, 4th of July, Labor Day
Okay so this might not totally be gardening related, but hot gardeners definitely need cold drinks! Check out this amazing layered red white and blue drink I made and enjoyed in my garden. It's got an adult blue raspberry snow cone topped with Pina colada and strawberry daiquiri! Taking the Miami Vice to a whole new level! ::heart eyes::
I felt I especially deserved this awesome frozen patriotic drink after installing and filling my 4×4 raised garden beds back in 2021, so that is when this recipe was born.
Of course I made the kids traditional snow cones and mommy and daddy got the grownup drinks.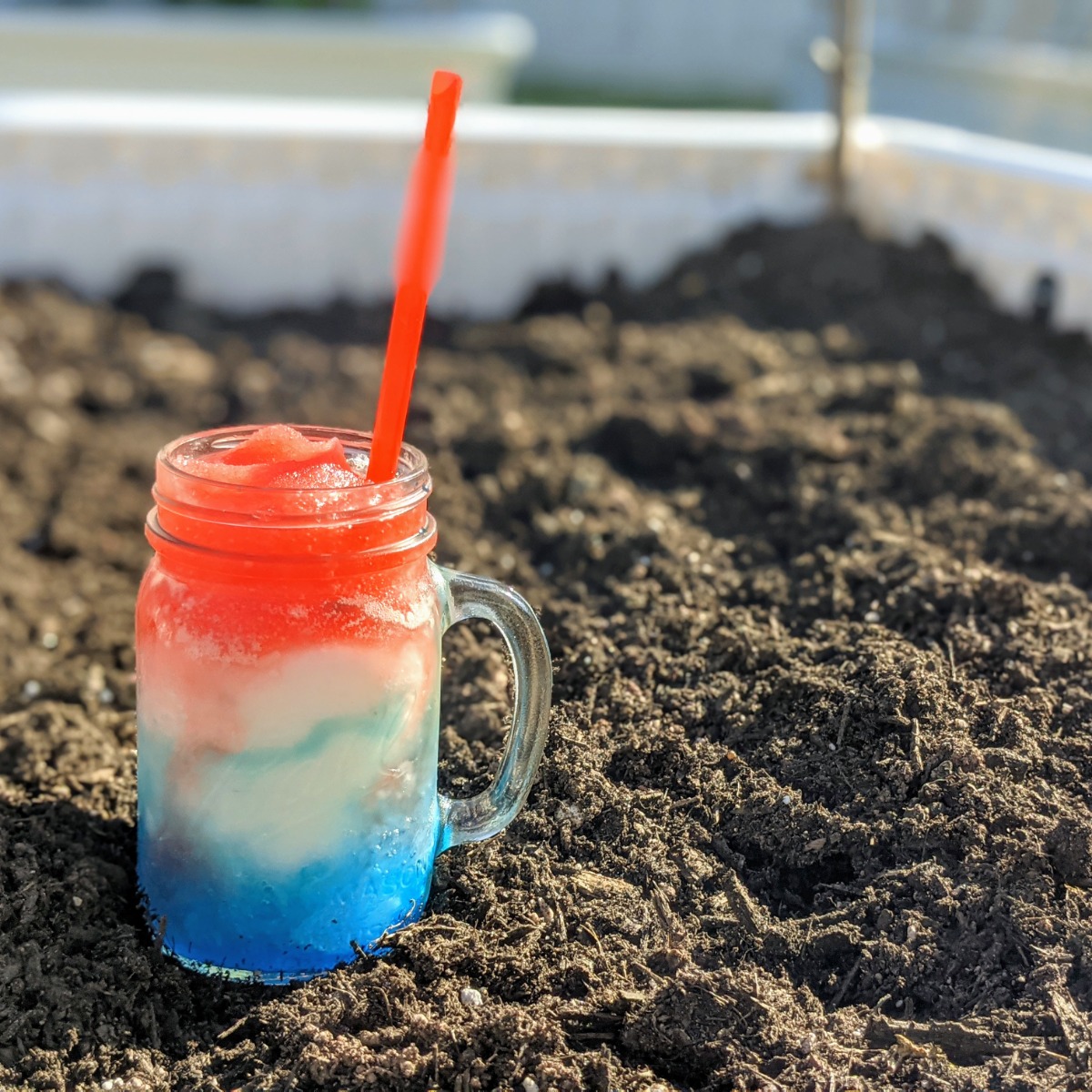 A red white and blue cocktail is liable to end up purple if you aren't careful. That's why I made a frozen layered drink with a patriotic theme.
I enjoyed mine on Memorial Day weekend, but this would also be perfect as a 4th of July frozen drink or even a Labor Day cocktail.
These are typically outdoor holidays and we gardeners are outdoor people, so it only makes sense!
Okay, what are we waiting for?! Here's how I made this frozen masterpiece!
Red White and Blue Miami Vice Drink – Prep
Having a blender and/or snow cone maker on hand is vital to the success of this drink. Early in our marriage, hubs and I loved using the Magic Bullet to make all sorts of fun drinks and foods.
Let's be honest, the infomercial was bomb!
We loved the heck out of that thing and practically ran it till the wheels fell off. Or the motor broke – you know what I'm getting at. (:
This awesome layered frozen drink will taste great no matter how you grind up the ice, I promise!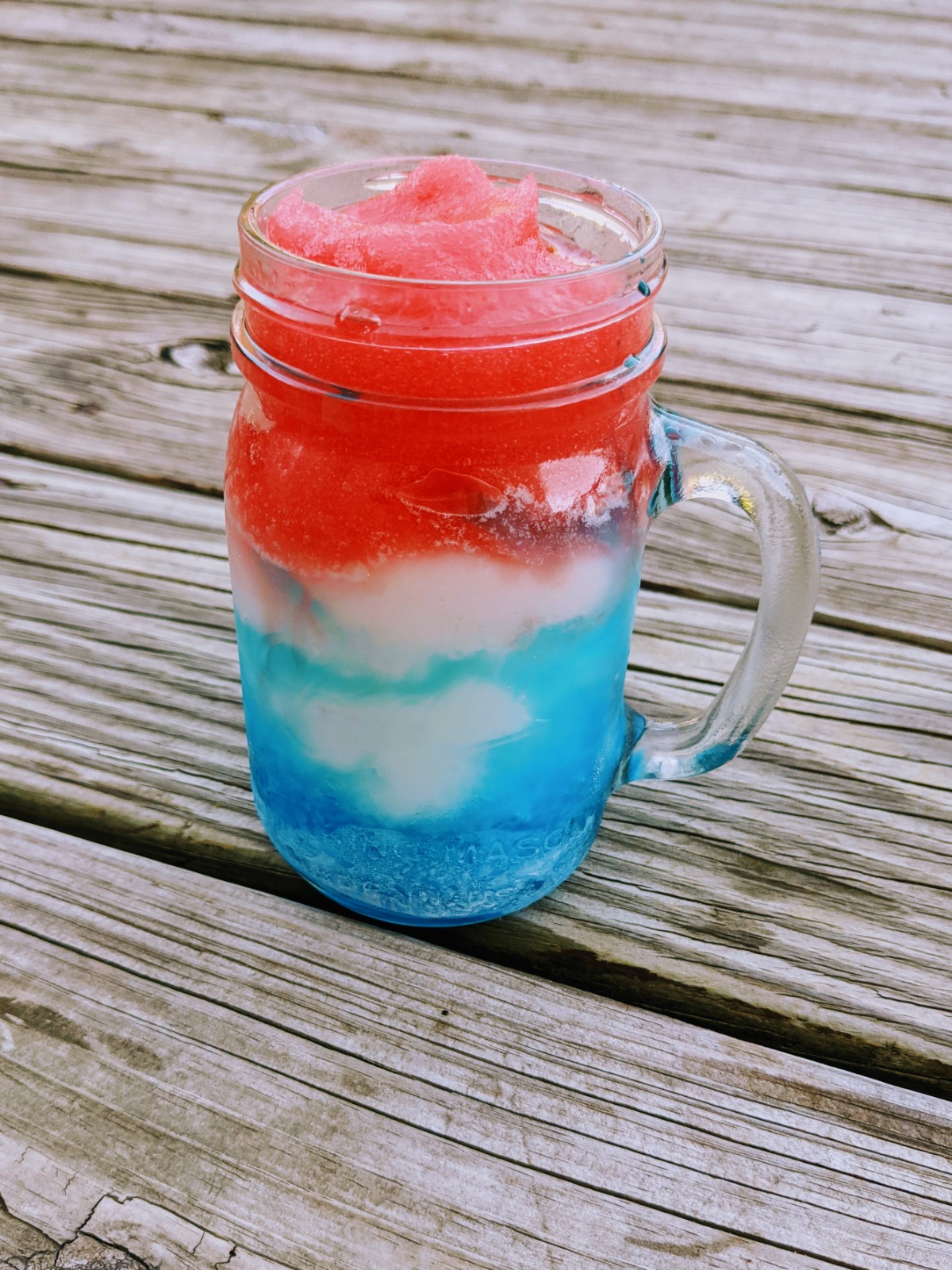 Anyway, now that we are two kids in, we've upped our game to the Ninja blender and haven't looked back. It's made wonderful adult drinks and pro milkshakes for the whole family.
So, the point is, make sure you have a device that can chop, grind, and shred ice down to a delightfully fluffy pulp.
Our website features affiliate links to products that we personally believe in. If you make a purchase from a link on our site, we may earn a small commission at no cost to you. Thank you! This helps our girls chase their garden dreams! Thanks for your support. (View full affiliate disclaimer at the end of the page.)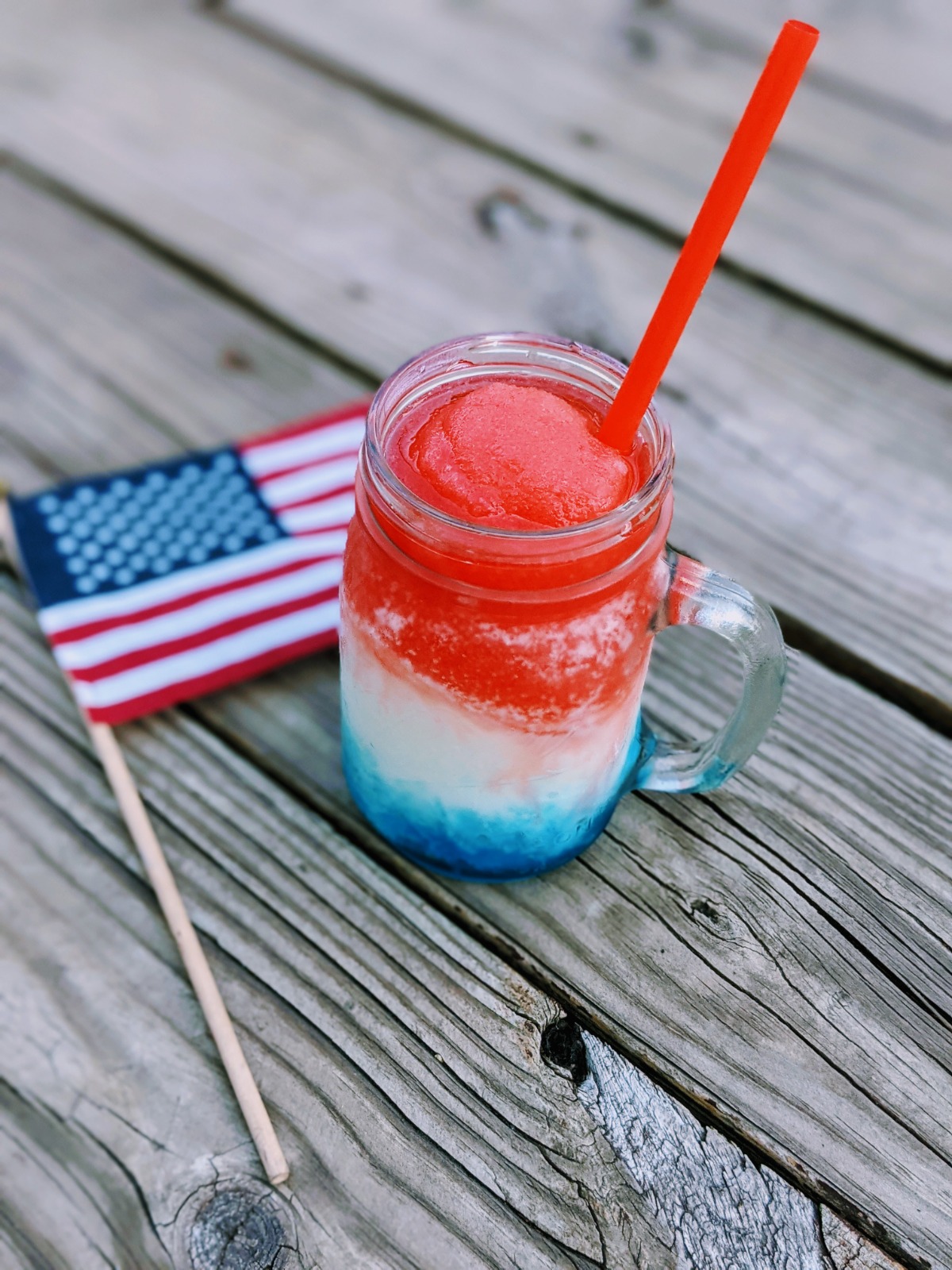 Cool Drinks for Hot Gardeners
While gardening, my favorite drinks are the white Glacier Cherry Gatorade or a glass of ice water. When I'm done gardening and just want to enjoy my hard work in the garden, I love a nice frozen layered drink like this red white and blue daiquiri.
Besides, who doesn't love blue raspberry sno cones?!
And the combination of strawberry daiquiri mix and pina colada mix is always winning.
You can use your choice of rum or vodka – whatever floats your boat!
Of course, a regular snow cone is fun with the kids or a glass of wine is great anytime.
Mostly, I was so proud of how my white raised beds came out that I couldn't wait to do a little photo shoot. These were a long time coming!
Anyway, without further adieu, let's get this drink in your hand!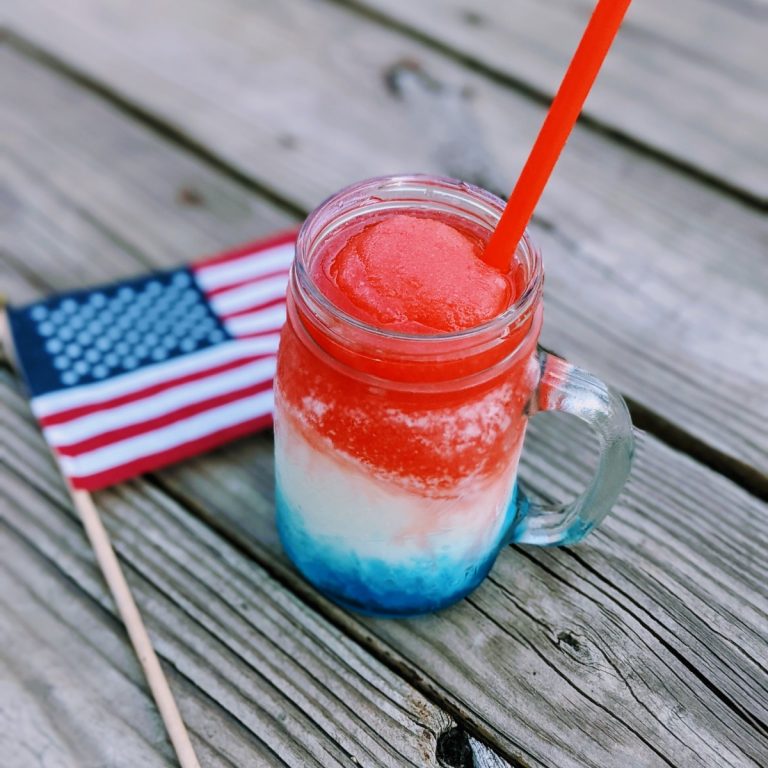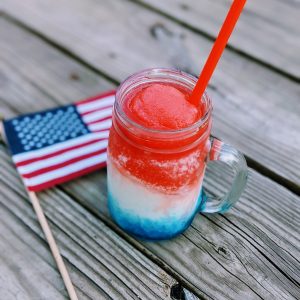 Layered Red White and Blue Drink (Frozen)
Enjoy this delicious Layered Red White and Blue Drink outside in the sun for 4th of July, Memorial Day, Labor Day or anytime. Delicious blue raspberry, Pina colada, and strawberry daiquiri…
Equipment
1 Snow Cone Maker

https://amzn.to/3OFU7Fw

1 Blender

We love our Ninja blender because it can make personal sized drinks instead of a full pitcher!
Ingredients
Ice for blending

2

ounces

Hawaiian Shaved Ice Blue Raspberry Snow Cone Syrup

or more to taste

4

ounces

Pina Colada Mix

Blend with Ice

4

ounces

Strawberry Daiquiri Mix

Blend with Ice

2.5

ounce

Rum or Vodka
Instructions
Run ice cubes through your snow cone maker until you have enough shaved ice for the first layer of the red white and blue drink.

Divide the shaved ice between two clear glasses or mugs. Add more than you think you will need, as it will melt down a bit. (Fill the mug about half-full.)

Drizzle blue raspberry snow cone syrup on top of the shaved ice and mix it in a bit. Add rum or vodka for an alcoholic patriotic layered drink.

Start working on the second drink layer. Add 1.5 cups of ice to the blender along with 4 ounces of Pina colada mix and blend. When smooth, pour the Pina colada layer evenly across both glasses. This creates the white layer of the drink.

Now, work on the final layer of the patriotic drink. Add 1.5 cups of ice and 4 ounces of strawberry daiquiri mix to the blender and blend until smooth.

Pour the final layer on top of the Pina colada. Now you have a frozen red white and blue layered drink for the 4th of July, Memorial Day, Labor Day, or anytime!
Notes
Enjoy! Drink this drink outside in your garden or among your family and best friends.
This recipe is basically as simple as it gets, and you can adapt it to your liking. Of course, if you are looking for something a bit more complex, like adding real strawberries or cream of coconut and fresh pineapple juice, totally go for it!
I was exhausted and just didn't have it in me by the time I got out of the garden. This recipe still took me about 20 minutes to complete, so that was more than enough involvement for me. 🙂
By the Way – If you're adding alcohol to this recipe, please drink responsibly and don't drink and drive.
For an alcohol-free version of the drink, simply omit the rum / vodka.
Red White and Blue Daiquiri
Gardening certainly lets us soak up the sun! Cooling off in the hot sun never tasted so good as with a frozen red white and blue layered drink for the summer holidays.
This is probably my favorite of all the frozen 4th of July drinks (for Memorial Day and Labor Day, too).
Of course, if your kids see this and want one, too, you can also make these as patriotic non alcoholic drinks – just leave out the booze! (Replace with water.)
I hope you love this tasty treat if you try it! (And consider it for a small group if you decide to host a garden social this summer!)
Hit us up in the comments and let us know. 🙂
By the way, if you are looking for another refreshing drink, be sure to try our Blueberry Lemonade recipe – you can spike it or not – totally up to you. (:
Happy Gardening!
10.07.22 – Updated to switch order of layered red white and blue drink.
05.25.23 – Updated for Memorial Day and freshened up content.