Children and Gardening: Making Fun Memories in the Dirt
Children and gardening go together like ingredients and a recipe. If you teach your kids to garden, they'll have a wonderful hobby and their own food for a lifetime!
Gardening with my kids has been one of the most profoundly beautiful experiences. From the time they could walk, I've made sure to get them outside with me whenever I was working in the garden.
(Of course, attention spans wax and wane as you might expect.)
While I enjoy watching the girls grow (and wishing they'd slow down),
Together we enjoy watching our plants grow (and wishing they'd hurry up)!
Planting with preschoolers and school-aged children is one of my favorite activities that we get to do together. We learn so much and enjoy the process from seed to harvest. I also find they are more willing to try new vegetables when they come from our own efforts!
Long before the whole coronavirus lock down, I signed up to help my older daughter's school run the "Garden Club" with my friend, another local mom. Children and gardening – two of my very favorites!
We got to enjoy one session of fall cleanup, but sadly missed out on spring prep and planting due to the virus outbreak and school closures. Better safe than sorry, but still a bit sad to miss this along with the last few months of my first time as a Garden Club mom and homeroom parent.
Hopefully plenty more opportunities await in the coming years! In the meantime, I'll be enjoying some gardening with my two girls… three, actually, if you count the original. (Moko the border collie!)
Tips: Planting with Preschoolers & Up
As your kids grow, their abilities and responsibilities grow as well!
Right now my second grader is helping me to carry plants in and out to harden them off for planting. It's been frustrating with the cold and windy weather.
Pair that with the hot, glaring sun as we've attempted too soon to give them some real sunlight, and it's been a struggle.
Meanwhile, my preschooler loves planting seeds and just digging around or doing odd jobs in the garden. Her attention span lasts about as long as a bowl full of fresh strawberries on our kitchen table – not long at all!
So we try to keep things interesting. I've found even indoor gardening activities can be so much fun and totally inspiring! This year during the quarantine, we've done a lot of projects where garden meets arts and crafts….
Recycled Hand-Painted Planters – We made our own recycled planters (plastic bottle flower pots) out of Gatorade 32-oz bottles! (for our herb garden! – More on that soon!)
Helpful Plant Markers – Created our own plant markers to keep track of what's in which pot
Sweet Seed Envelopes – Crafted handmade seed-storing envelopes – My oldest – "Bunny" – even offered up a trade in one of our favorite Facebook gardening groups and has so many "customers" she's had to "hire" her little sister "Bear" to help with the designing and creating!
I have more fun ideas up my sleeve but this is a great start as far as I'm concerned!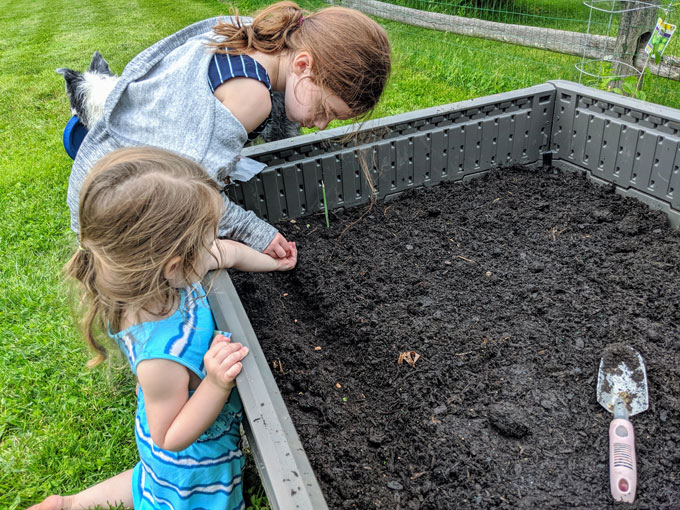 Fun Preschooler Planting Supplies
If you'd like to do these fun activities with your own family, here are the products I used… if you buy through my Amazon links, we will receive a very small commission as an affiliate, but it won't cost you any extra at all!
Crayola Acrylic Paint – Make sure you use a paint that can get wet like Crayola Acrylic so your designs will survive the elements outside! The six-pack was enough for us as my kids LOVED mixing the colors to get pink, purple, green, and orange.
Plain White Plant Markers – So cheap and fun AND amazingly helpful for keeping your preschooler planting efforts organized! I chose white plant markers, but you can opt for other colors as well.
Sharpie Retractables – We got these Retractable Sharpies for our first-ever trip to Disney and they continue to be a favorite for speed, reliability, and ease of use.
Also, I am so glad I'm still getting great use out of the Guillotine Paper Cutter I bought for our wedding prep. More than a dozen years later and it's still incredibly useful. 🙂 We've been using it to cut unused leftover Christmas card envelopes to make little handmade seed packets.
A Preschooler-Perfect Pick-Your-Own Backyard
My goal for this year is to have enough things growing that I can send my daughters out to pick our vegetables for the night!
I hope that giving them the power of choice will result in a healthier diet as well. I'm also dreaming of a time when they are swinging on their swing set, get hungry for a snack and a merely go over and help themselves to a few handfuls of blueberries or other fruit.
In my mind, this is how the relationship of children and gardening should really come to fruition! All the rewards! Besides all the help along the way, of course! 🙂
I so wish we had fruit trees, too!
Children and Gardening: Local Farms
Visiting area farms can be so inspiring for our kids! (Who am I kidding? For me, too!)
This year we will miss our annual pick-your-own fruit excursions. Some of my favorites to date include pick-your-own blueberries and pick-your-own peaches, and of course our annual apple picking adventures.
At local farms, we love picking pears, raspberries, cherries – another favorite, those delicious yellow Rainier cherries!
We've always enjoyed pick-your-own farm experiences as a family, even on vacation down the shore.
So, it's only natural to try to grow as much as possible in our own backyard!
(And lately we are slowly expanding to the front yard, but don't tell Daddy that!)
Current Pick-Your-Own Fruit in Our Yard
Right now, we are nurturing:
Blueberries
Raspberries
Blackberries
Strawberries
Concord Grapes
And new this year – Pineberries!
We don't have a terribly large plot of any of these – probably only two main blueberry plant that will fruit and a few canes on our three raspberry bushes.
I would LOVE to retire on an orchard but I don't think hubs and I are calibrated on that one.
My second choice is on a beach somewhere, but I also don't know if that's in alignment.
Better start playing the lottery, haha.
Final Thoughts: Children and Gardening
For now, though, I am so excited to enjoy this fun gardening adventure with my girls. And I wouldn't trade that for all the pick-your-owns in Pennsylvania.
If you are like me and enjoy your children and gardening, please stick around and let me know you're here!
Do you plant and do your gardening with your kids? Share a favorite tip or experience in our comments below. We LOVE when kids get to share our adventures and make memories in the garden!