Best Free Seed Catalogs (Plus Bulbs and Plants!)
As impatient as a gardener in the wintertime, because I am, I started looking around for free seed catalogs to help pass the time until spring. I've compiled this list of seed and plant catalog companies to keep track of those we can request for free.
Start now signing up for annual seed catalogs and you should soon see some exciting gardening mail in your mailbox.
Flower ordering catalogs arriving in the mail is like the herald of spring, giving gardeners much excitement before the winter finally wraps up.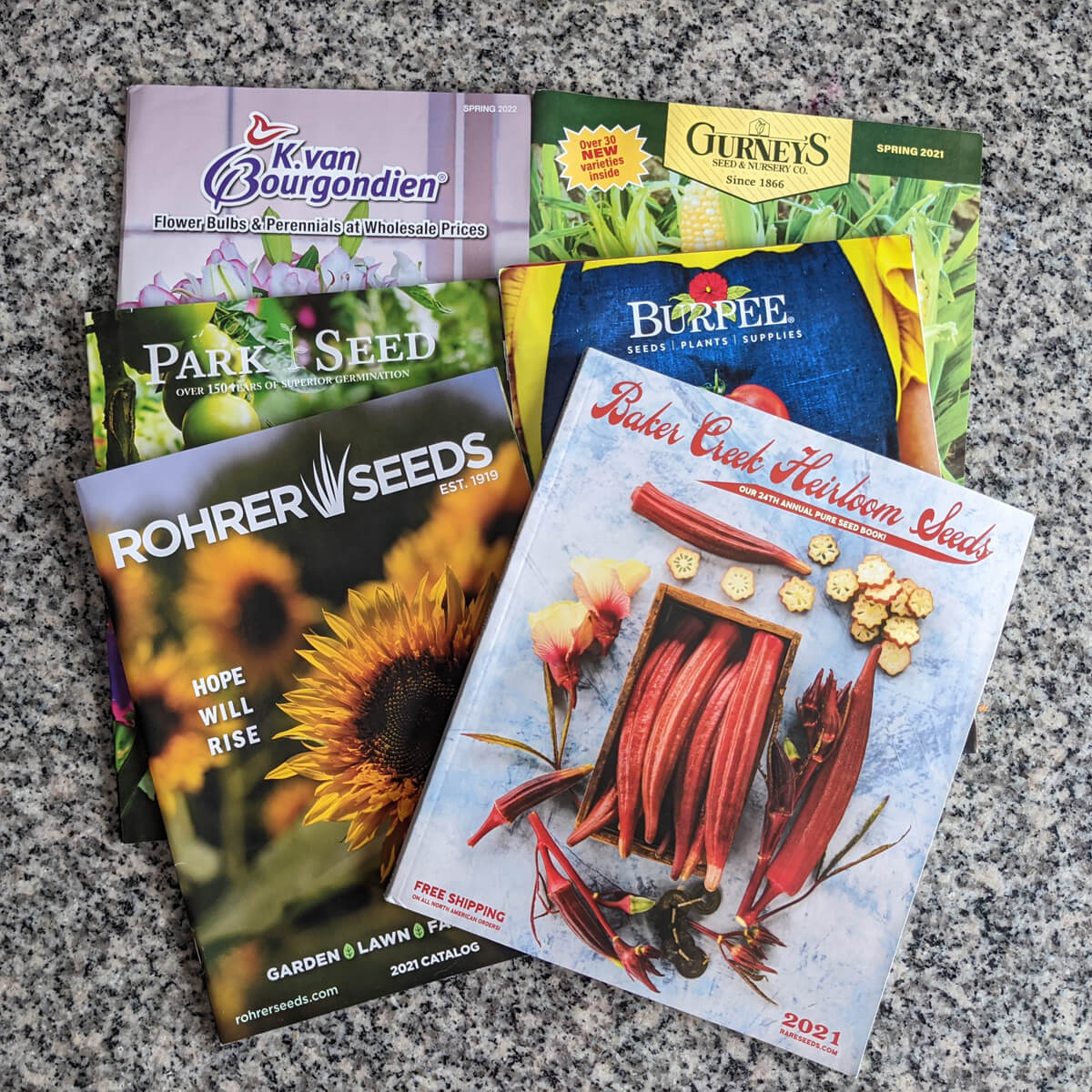 Free Print Seed Catalogs
Here's a list of the best free plant and seed catalogs (print) that I could find online.
1. Annie's Heirloom Seeds Catalog
Find organic heirloom seeds, onion sets, seed potatoes, and much more on the pages of the Annie's Heirloom Seed catalog. Here's the link:
https://www.anniesheirloomseeds.com/catalog-request/
2. Baker Creek / RareSeeds
This gorgeous Baker Creek catalog is likely about as good as it gets for free seed catalogs. (Of course, you could also pay for the coffee table book type Whole Seed catalog, which I've heard is absolutely stunning!) Baker Creek focuses on perpetuating heirloom varieties and helping to ensure a sustainable food supply for all.
Not to mention the stunning flowers! Every page of this catalog is absolutely gorgeous.
Baker Creek encourages gardeners to save their seeds for future use! Love that! You can grab your free Baker Creek catalog on their site.
https://www.rareseeds.com/requestcat/catalog
3. Burgess Seed & Plant Co. Catalog
The bright and lovely pictures on the pages of the Burgess Seed catalog make it impossible not to want to buy, like, everything! I am new to this catalog but excited to check it out and hopefully add some new seeds to my collection.
If you want to get your own free Burgess Seed & Plant catalog, here is the link.
https://www.eburgess.com/content/96-catalog-request
4. Burpee Seed Catalog
One of the big names in garden seeds, the Burpee seed catalog is a great one to add to your list. I've grown Burpee seeds probably for as long as I've been a gardener. I enjoy the emotional appeal of Burpee seeds for that reason.
Don't forget to head over to their site and score your free seeds catalog!
https://www.burpee.com/catalogrequest/index
5. Fedco Seed Catalog
Especially well suited for the Northeast, Fedco Seeds offers lots of cold-hardy varieties. Check out the trees, perennials, bulbs, tubers, and seeds available. Keep in mind that seed shipments go out according to the schedule that best suits the climate.
You can order seed catalogs
https://www.fedcoseeds.com/connect
6. Gardens Alive!
Gardens Alive! holds true to its longtime philosophy to provide environmentally responsible products that work!™. A lot of the focus is for the natural gardener, and finding solutions to problems in the garden.
Get your own Gardens Alive! catalog from the link below:
https://www.gardensalive.com/mailing_list
7. GeoSeed Catalog
Geo Seed focuses on seeds for professional growers. Here you will find more technical features for seeds and varieties organized by important factors.
If you're of the professional growing type, be sure to check out Geo Seed and request your seed catalog.
https://geoseed.com/catalog-request
8. Gurney's Seed Catalog
The Gurney's catalog was one of the first plant and seed catalogs I ever requested way back when we first moved here. The magazine format is a bit larger and the paper is softer and less glossy. Still, there's lots to admire.
I love their nursery and happily look forward to the catalog and any orders I've placed.
If you love seeds, perennials, bulbs, fruits, and basically anything to do with gardening, you should order this free garden catalog!
https://www.gurneys.com/catalog_request
9. Harris Seed Catalog
To get your free Harris Seed catalogs, add those you want to your cart and then check out! Your order is free and you won't be charged a payment. You can also view the digital seed catalogs if you're too antsy to wait!
Get your free seed catalogs here:
https://www.harrisseeds.com/collections/catalogs
10. Johnny's Seed Catalog
Johnny's Selected Seeds is 100% employee owned and offers superior quality seeds. This company does not use or sell GMO seeds and ensures safe seeds to shoppers.
Browse through the Certified Organic seeds, hybrid seeds, open-pollinated seeds, and heirloom seeds available through Johnny's. Get your seed catalog here:
https://www.johnnyseeds.com/catalog-request/
11. Jung Seed Catalog
Depending on the timing, you may find you've missed the mailing, like I did. Jung Seed offers the chance to order a catalog for $3 and then receive $3 credit back toward your purchase.
I signed up the regular way anyway – maybe I'll get a catalog next year!
https://www.jungseed.com/category/FG-Catalog
12. Park Seed
With humble beginnings back in 1868, George W. Park founded Park Seed Company as a teenager. His greatest goal was to bring joy to other gardeners through their products.
I really like the theming of the Park Seed catalog, such as this page with some great selections for a pollinator garden!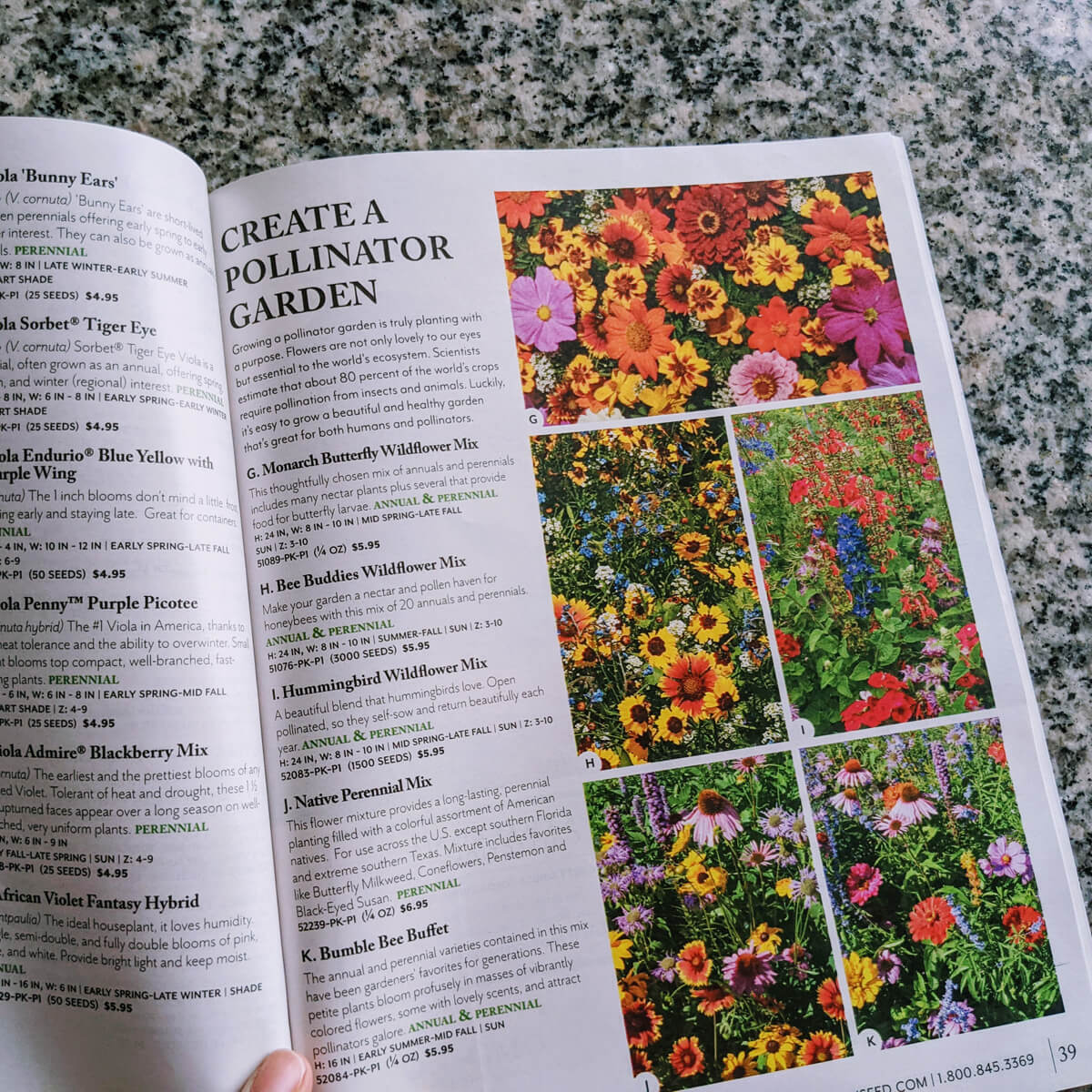 I bought my yellow raspberries from Park Seed and couldn't be happier! I'll definitely be shopping with them again. You can request your free Park Seed catalog on their website. Depending on the season, different catalogs may be available.
https://parkseed.com/catalogrequest.aspx
13. RH Shumway Seed Catalog
My timing was a little late signing up for the free RH Shumway catalog but at least I'm on the mailing list now! This heirloom seed catalog began back in 1870 and offers flower, veggie, and farm seeds. The pages show off illustrations instead of photos in many cases, making it a unique change from some other catalog styles.
If you want to sign up to receive their mailings, too, use this catalog request link.
https://www.rhshumway.com/catalog_request
14. Rohrer Seed Catalog
I've recently purchased or received some seeds by Rohrer Seeds and Supplies, and I was very happy with them this year. I'm definitely itching to see what all they've got for sale as far as vegetables, herbs, fruit, and flowers.
The catalog itself definitely has more text and fewer photo spreads, but it's still a lovely seed magazine to find in your mailbox.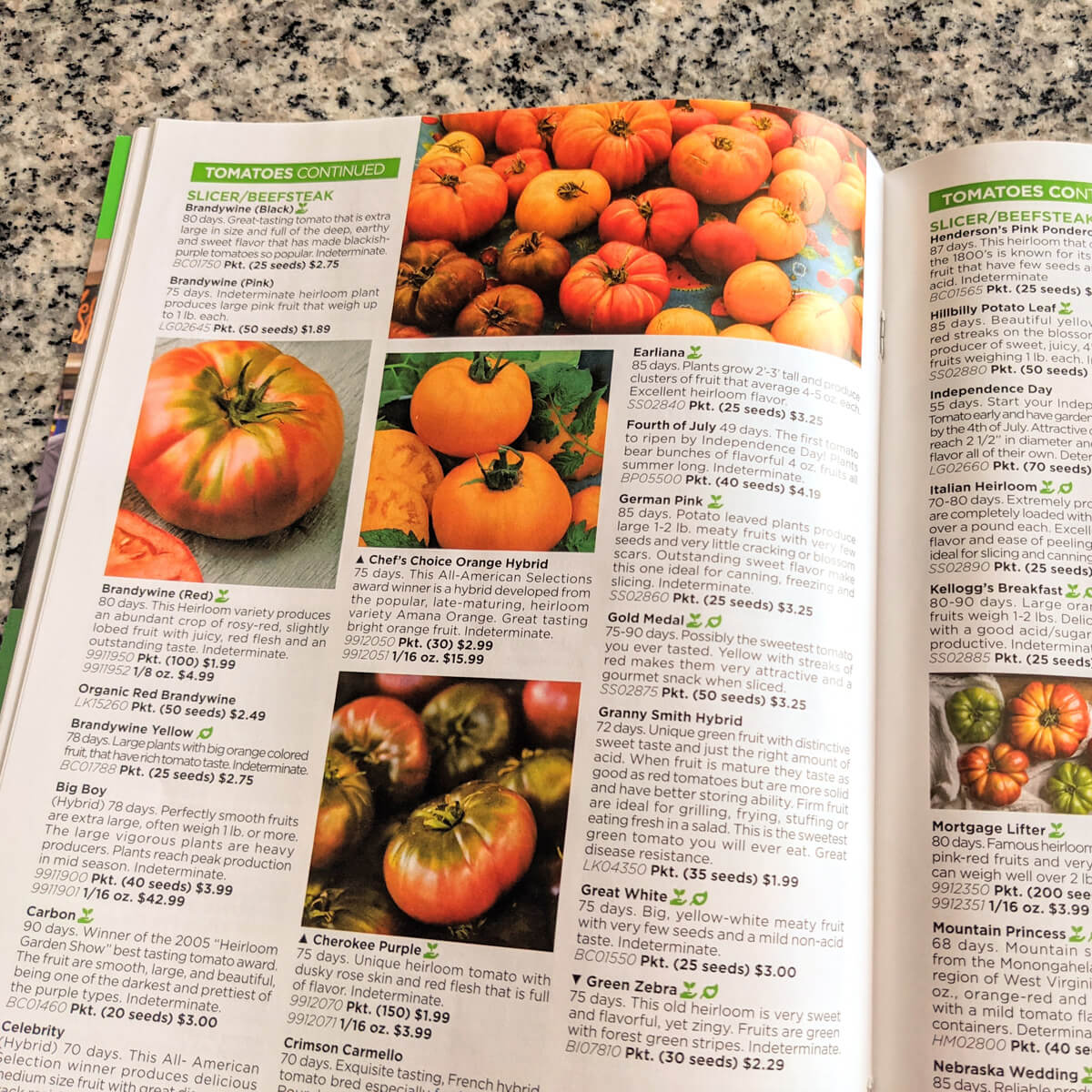 This fourth-generation family business has roots in a town not far from my own in Pennsylvania. I believe I bought my Rohrer seeds at Agway on clearance; however, I wouldn't hesitate to buy them regular price. Sign up for your free seeds catalog!
https://rohrerseeds.com/pages/rohrer-seeds-catalog
15. Rupp Seeds Catalog
Boasting a rich family history, Rupp Seeds has a wonderful story on their about page about the company's beginnings. The Rupp family seed business has grown over the years and you can find many fine quality seeds for sale.
But don't take my word for it. Check out the free printed seed catalog for yourself!
https://www.ruppseeds.com/vegetables/catalogs
16. Seeds from Italy Catalog
Near and dear to my Italian heart, an Italian seeds catalog is totally up my alley. I just learned about Seeds from Italy and requested my own catalog. Get yours from their website!
https://www.growitalian.com/request-a-catalog/
17. Territorial Seed Catalog
This company is family owned since 1979 and the about page holds a rich history if you care to learn about it. Enjoy the unique, original artwork on the seed catalog and seed packets. Get your own free copy of the Territorial Seed catalog.
https://territorialseed.com/pages/catalog-form
Free Bulbs and Plants Catalogs
Some companies specialize more in bulbs, perennials, trees and fruit than actual seeds. Consider snagging some of these free garden catalogs while you're at it!
1. Annie's Annuals
You may recognize this brand from your favorite retail nursery. The stunning flowers alone are reason enough to sign up for a free flower catalog!
Get yours from their website:
https://www.anniesannuals.com/users/mail/catalog.php
2. John Scheepers Beauty from Bulbs Catalog
Bulbs can be just as exciting to grow as seeds. Browsing through the pages of a free flowers and bulbs catalog should give lots of inspiration for a stunning perennial garden.
This company started serving gardeners in 1908 and offers a lovely 92-page garden catalog. Sign up for your free John Scheepers catalog, Beauty from Bulbs, so you can get started on yours!
https://www.johnscheepers.com/request-a-catalog
3. K. Van Bourgondien Catalog
Filled with bulbs and flowers of all kinds, the K. Van Bourgondien plant catalog boasts perennials and bulbs as far as the eye can see. The stunning pictures are definitely doing their job, making me want to buy everything!
Perhaps my favorite spread in this catalog is the page for buying dahlia bulbs! The impressive colors and graceful blossoms have me dreaming of acres of these beautiful blooms. If only!
Get your catalog:
https://www.dutchbulbs.com/catalog_request
Spring Hill Nursery Catalog
Another nursery I've enjoyed shopping with since practically day one, Spring Hill Nurseries offers a free catalog you can order. They primarily operate with their website these days, having moved from a mail-order catalog format before. Go ahead and order your free catalog – I just did!
https://www.springhillnursery.com/catalog_request
4. White Flower Farm Catalog
A variety of shrubs, perennials, annuals, dahlias, and even indoor plants look so enticing on the White Flower Farm website. I can only imagine the catalog is equally gorgeous!
Only one way to find out! I just signed up for my free White Flower Farm catalog – here's the link if you want one, too.
https://www.whiteflowerfarm.com/?page=wff&action=catalog
Non-Print Digital Seed Catalogs
Some seed companies no longer offer printed seed catalogs for free or at all. Here are some that have a nice digital seed catalog selection.
1. Ball Seed Catalog
I am new to Ball Seed Company and I could not find a printed seed catalog available on their site. They do, however, offer a pretty robust selection of digital seed catalogs available in PDF or live view.
https://www.ballseed.com/catalogsbrochures/#catalogs
2. MiGardener Catalog
I've yet to make a purchase from MI Gardener, but they sure do have some word-of-mouth advertising going in the social media gardening groups.
I couldn't find a printed seed catalog from MI Gardener. If you want to see their digital catalog, go to the home page and click the tab for the 2022 Catalog.
3. Seedway Catalog
Commercial growers may wish to check out the digital Seedway catalogs available. Simply go to the homepage and scroll to the bottom where you can click the catalog links.
What to Do with Old Seed Catalogs
Lots of gardeners give old seed catalogs new life by folding the pages into seed envelopes. This is my favorite use of old free seeds catalogs.
Here are a few things you can do with your old or used seed catalogs.
Make origami seed envelopes.
Recycle them!
Offer them up for free on your local NextDoor or Buy Nothing groups.
Use the pages to wrap tender perennial bulbs that you dig up, like when you overwinter dahlias.
Super Tip After Ordering Free Flower, Seed and Bulb Catalogs
Once you've ordered your free plant and seed catalogs, you might be feeling a bit inspired. If you don't want to wait for the free catalogs of seeds to arrive, you might start your shopping a bit early!
Be sure to check the email address you used to sign up and see if you've received any discounts or special offers!
So far, I've received:
$10 off $50 at Johnny's Selected Seeds
Free shipping on your next $50 order from Spring Hill Nurseries
Be sure to check your email in case you receive deals or discounts, too.
Also Worth Noting…
Be aware that some catalog orders may put you on a list. I don't know if any of these companies will share or sell your information to anyone else. To be completely transparent, I am not affiliated with any seed companies. I just like free seed and plant catalogues. 🙂
Free Seed Catalogs
There's just something about receiving gardening mail! Even if it isn't a seed swap, a magazine full of seeds, plants, and flowers is a welcome companion to all of that junk mail!
Do you know of any other free flower and vegetable catalogs or just seed catalogs in general? Let us know and we'll add them to the list!
Which of these free seed catalogues is your favorite? I just signed up for a bunch and can't wait to find out!
Let's chat about free seed magazines in the comments below! We always love hearing from you and look forward to your tips, questions, and stories.