Growing Pineapple from Seeds – Collecting & Planting Pineapple Seeds
If it has seeds, let's plant it. That's pretty much our motto when it comes to fruits and veggies we enjoy from the store. Growing pineapple from seeds isn't necessarily the most conventional way to grow pineapple plants, but I'm all about the journey!
After noticing pineapple seeds spilling out onto my cutting board when cutting a pineapple one summer, I decided to try planting them.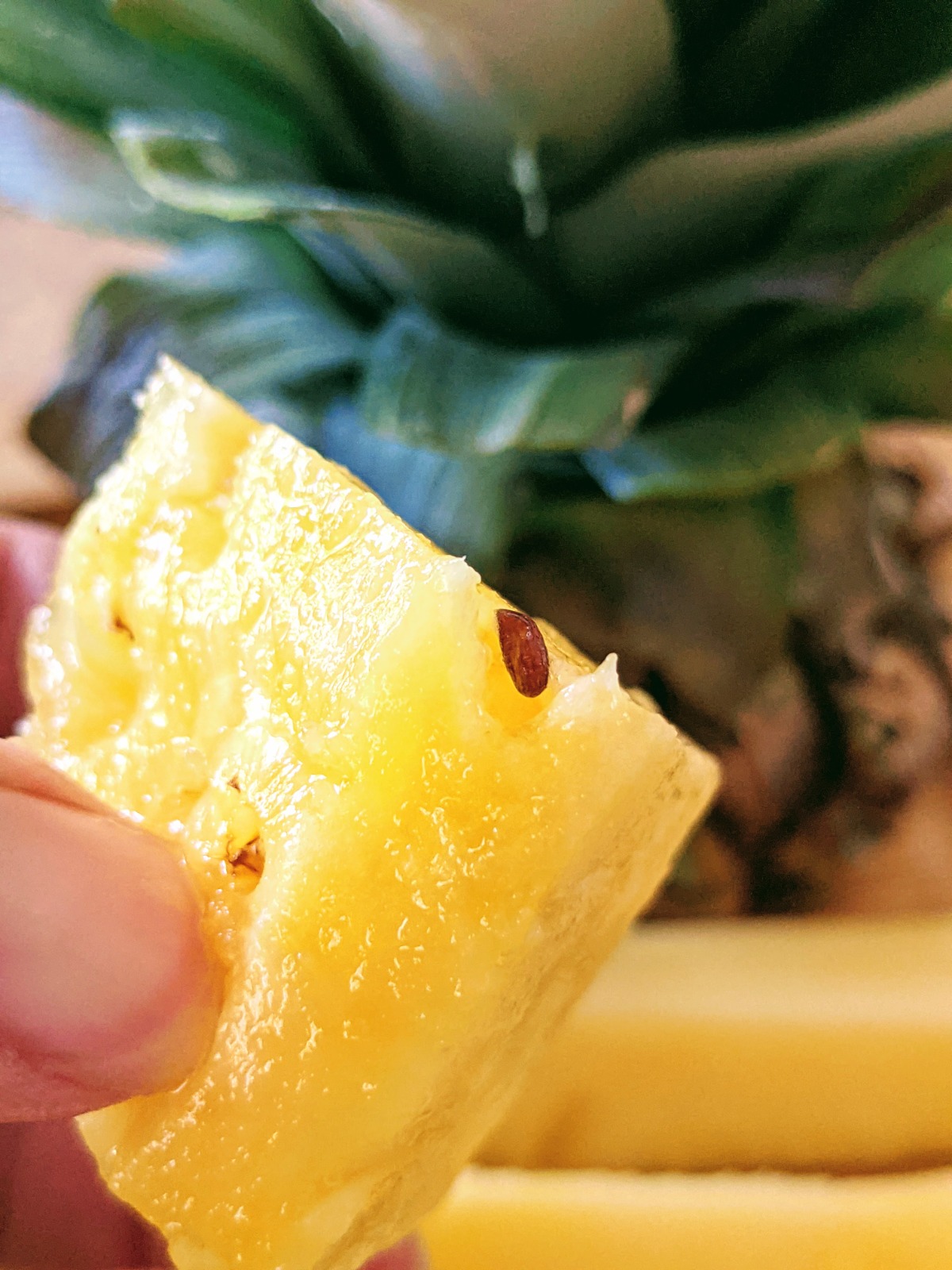 Planting pineapple seeds seemed easiest using my favorite method, so that's what I did. Wet paper towels, Ziploc baggie, Sharpie label with the name and date.
Do you want to learn how to grow pineapple from seed as well?
I'll outline the whole process here, from where to find pineapple seeds to actually germinating them!
Where are pineapple seeds found?
Pineapple seeds are found within the juicy yellow flesh of the pineapple. Look for the tiny black or dark brown seeds directly beneath the rounded whirls on the pineapple rind after peeling or cutting the pineapple.
Do you ever notice those pineapple seeds when cutting a fresh, delicious pineapple to eat? Those dark brown seeds sometimes stay in the fruit and end up in your mouth!
By the way, check out how to tell if pineapple is ripe for the perfect snacking pineapple!
Can you grow pineapples from seeds?
Most often, pineapples do not reproduce from seed. That being said, you can grow pineapple plants from seeds but they may not all grow true. Your mileage may vary as plants may grow but fruit production may not always occur identically to the parent fruit where you found the seeds.
Growing Pineapple from Seeds
Germinating pineapple seeds in wet paper towels is the easiest way to try growing pineapple from seeds.
Follow these steps to collect pineapple seeds for planting and then grow them into tiny baby pineapple plants.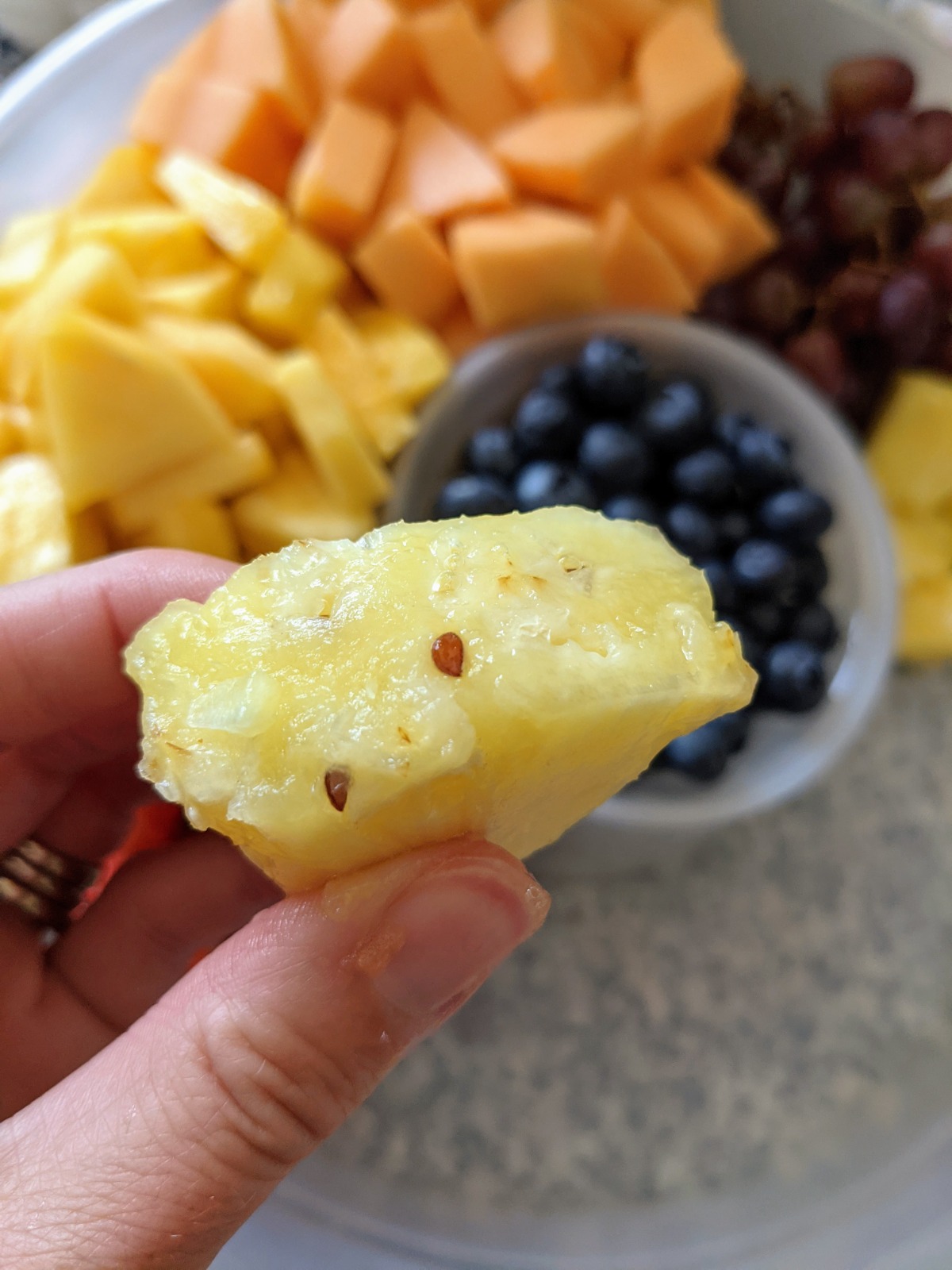 Harvesting the Seeds
I figured out how to collect pineapple seeds for planting totally by accident! When cutting a pineapple for a summer snack, I noticed some dark seeds falling out of the fruit.
I saw the location of where the seeds came from and managed to dig out a few more seeds.
Here is the easiest way to find pineapple seeds for planting yourself.
Place a fresh pineapple on a cutting board and slice downward to remove a strip of the pineapple's peel or rind.

Look at the fruit side of the strip to see if any seeds are spilling out. For best results, look directly on the other side of the circular whirls on the pineapple skin.

Set aside any pineapple seeds that you find.

Continue cutting away the exterior of the pineapple. Each time, inspect for seeds.

Next, inspect the fruit itself for tiny black or dark brown pineapple seeds. Set those aside too.

Cut the fruit into chunks or slices as desired and continue looking for seeds.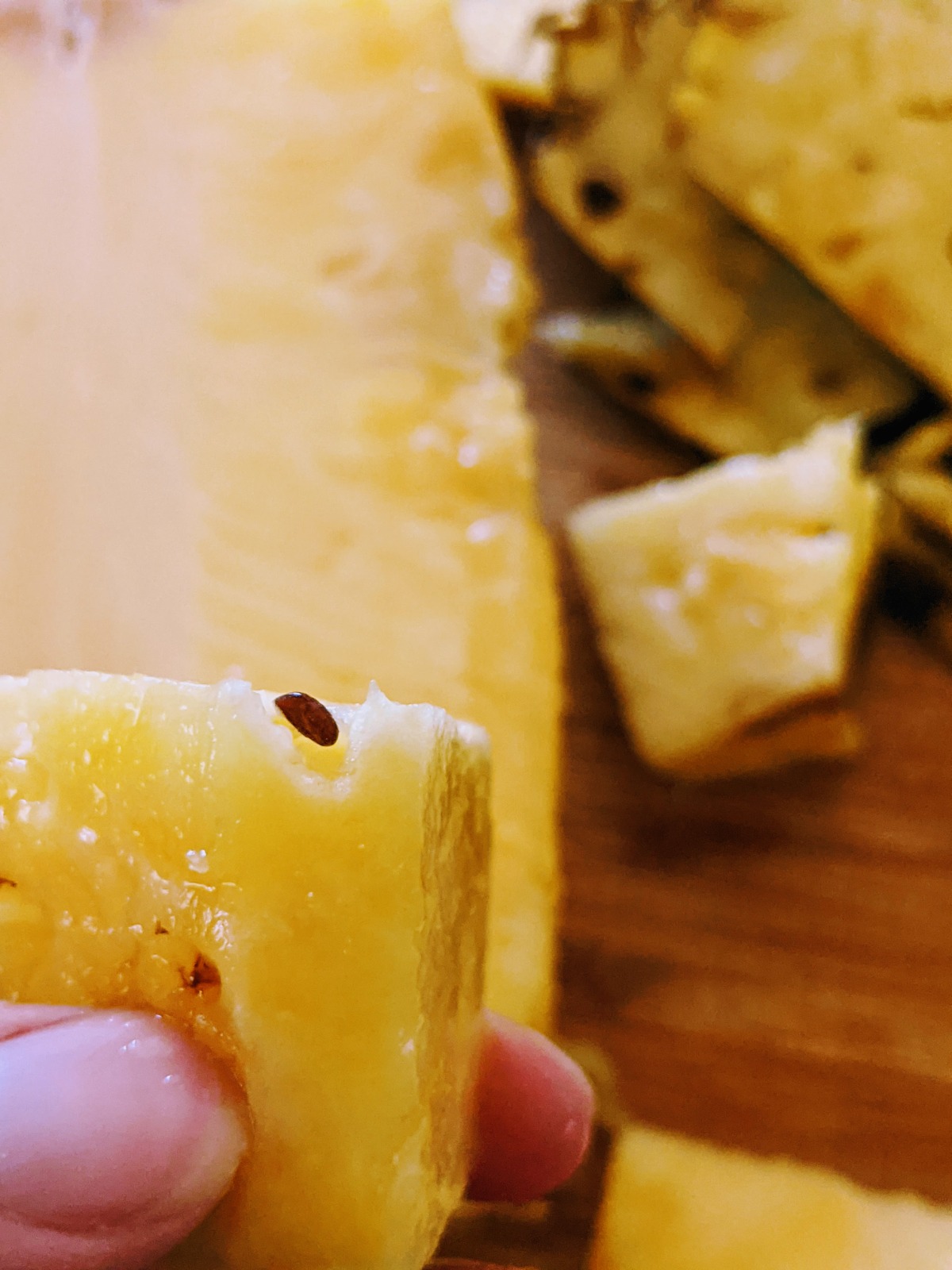 Growing Pineapple Seeds
Planting pineapple seeds is easy once you get them to germinate. Try pineapple growing with baggies and wet paper towels.
Fold a paper towel in half and lightly dampen it.

Space out the pineapple seeds across the wet towel.


Fold it in half again.

Place it inside a Ziploc baggie.

Label the bag with a Sharpie to include the type of seeds and the date.

Check about 5 days later and regularly thereafter to watch for signs of germination.

Remoisten the contents of the bag if it begins to dry out.

Watch for signs of mold. If needed, transfer the seeds to a new damp towel and place it back in the baggie.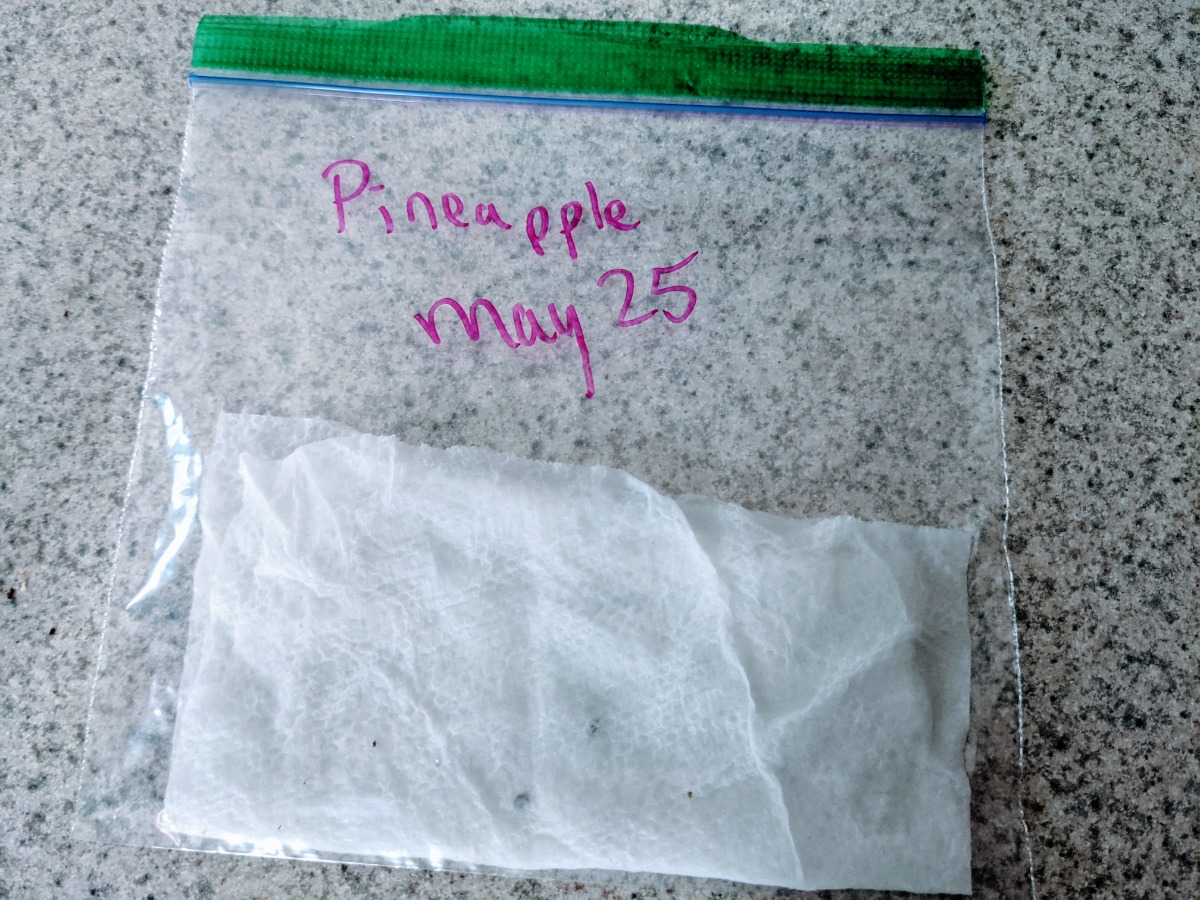 Pineapple Growing Dreams
I think I'd feel like an even more accomplished gardener if I could *just* get a pineapple to grow from one of my pineapple plants!
If you enjoyed this post about growing pineapple from seeds, I highly encourage you to check out my related post on propagating pineapple from tops.
Pineapples usually take about 2 to 3 years to produce fruit. I don't have data yet on seed-grown pineapple plants, but when I do, I will come share it.
Do you have any experience growing pineapple plants from seed? Feel free to share your stories and tips or ask any questions in the comments below. We love hearing from you!
Happy Gardening!
05.12.23 – Updated to add link to other pineapple post.