Winter Sowing Method: Starting Seeds in Milk Jugs
Ugh, the winter! Why does it always feel like the growing season goes by way too quickly?! But not to fret – I've recently learned all about the winter sowing method and starting seeds in milk jugs during the winter, way before the last frost!
Even if you don't have your indoor growing stations set up, you can still start planting! Simply plant seeds inside clear containers like milk jugs and gallon bottles for an early start on this year's garden.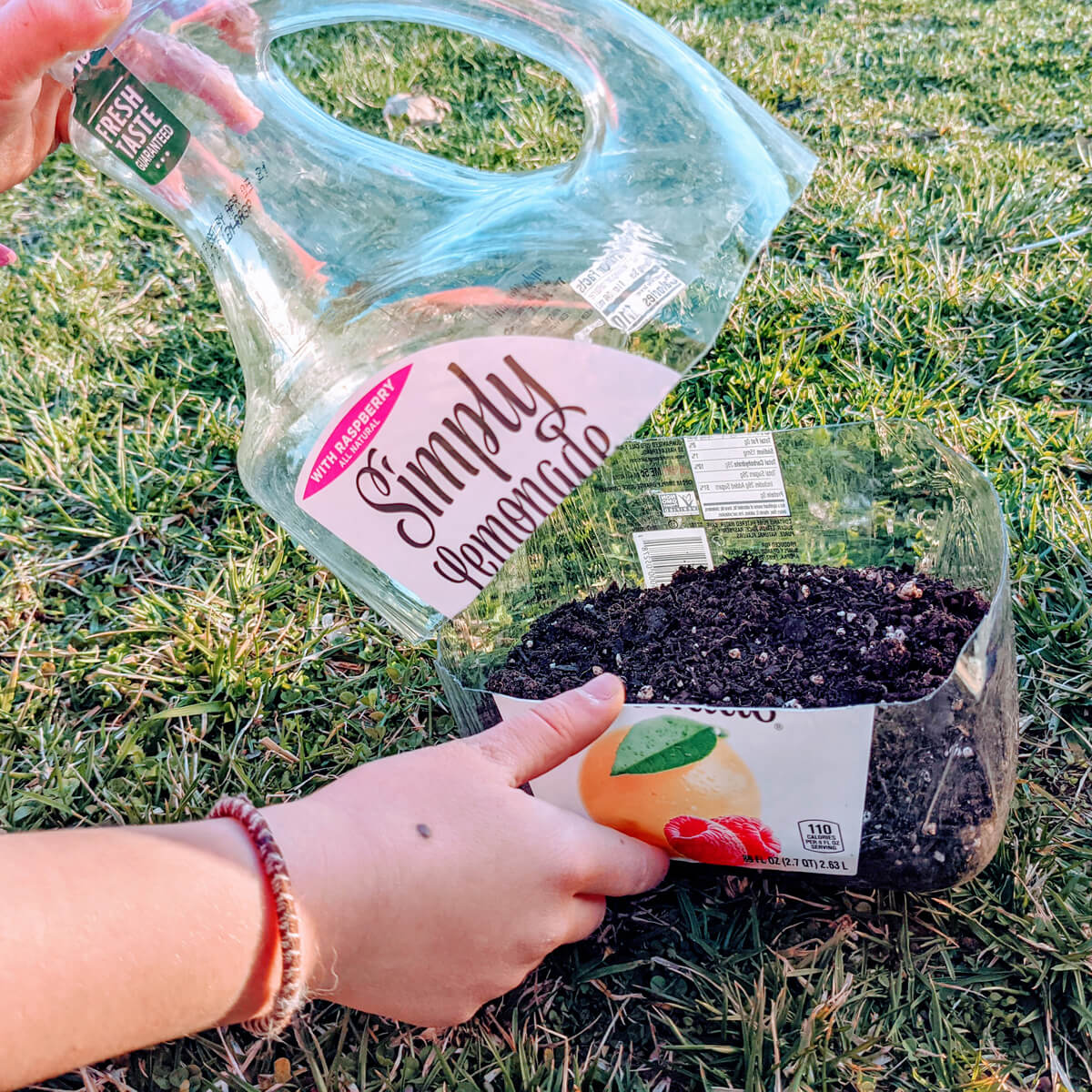 Winter sowing is basically a set-it-and-forget-it gardening activity to help us get through the long, boring, and cold winter. Just make sure your containers are getting some precipitation each week and you should be good!
What's not to love?!
Gardening in winter! Mind = Blown!!
I'm so excited to share all that I know about the winter sowing method and will continue to update this post as things progress.
I hope you'll join me – all you need is a plastic milk jug, some potting soil, and seeds!
Let's get started!
What is winter sowing?
The winter sowing method involves starting seeds in milk jugs or other containers during the winter in climates that don't typically allow outdoor gardening all year long. The bottle acts as a mini greenhouse, keeping the seedlings warm enough despite outside air temperatures in the winter. Natural precipitation such as rain and snow reach the soil and seeds through an open lid, helping them to germinate in the early spring.
When should I start my winter sowing seeds?
Knowing when to start winter sowing projects depends on where you live and the weather. Wait to winter sow your seeds until the freezing temperatures are consistent. Fluctuating temperatures that get very warm may allow winter sown seeds to germinate too soon. At the earliest, aim to wait for the winter solstice, December 21. For an even more enjoyable experience, make it easy on yourself and start winter sowing after the holidays, in January.
Choosing Winter Sowing Seeds
Finding the best seeds for winter sowing starts with considering your growing zone and what plants take a long time to produce.
You might also want to plant some flowers, even quick growers, so that you get a jump start on your flower garden
Winter Sowing Seed List
As you work to figure out which seeds to winter sow, try looking for those that naturally lend themselves to this method.
Cold weather crops, especially vegetables
Easy-to-grow annual flowers
Seeds from perennials – I've never tried this but would love to!
Generally speaking, look for verbiage on the seed packets that suggests the seeds will be a good fit for winter planting. Terms like "direct sow" and "self-sowing" are good clues!
Those listed as cold hardy or requiring cold stratification could also do well if winter sown.
And of course, perennial seeds would work too, since the plants can survive the winter, anyway.
Keep reading for more specific vegetables and flowers to try starting from seed in milk jugs or other containers.
Winter Sowing Vegetables
Consider which winter sowing vegetables you'll be growing this year. I start by planting those that take the longest to make it through their growing season to harvest.
I love to speed things up when for plants requiring a long time to reach maturity, such as peppers, luffa (loofah), bottle gourds, and cucamelons.
Winter sowing in PA zone 6, I plan to winter sow any that need a good and healthy head start, as well as those that are cold tolerant.
Some vegetables to winter sow in our area:
Arugula
Beets
Broccoli
Brussels Sprouts
Cabbage
Cauliflower
Chives
Collard Greens
Kale varieties
Kohlrabi
Leeks
Lettuce
Luffa
Radicchio
Spinach
Swiss Chard / Rainbow Chard
Most brassicas seem to be fairly cold-hardy, making them one of the best seeds for winter sowing.
I also started our birdhouse gourds in a milk jug, but unfortunately didn't get to transplant them in time.
Some cold crops vegetables you can plant directly in the ground as soon as you can work the soil. In those cases, I wouldn't waste time winter sowing vegetables like that.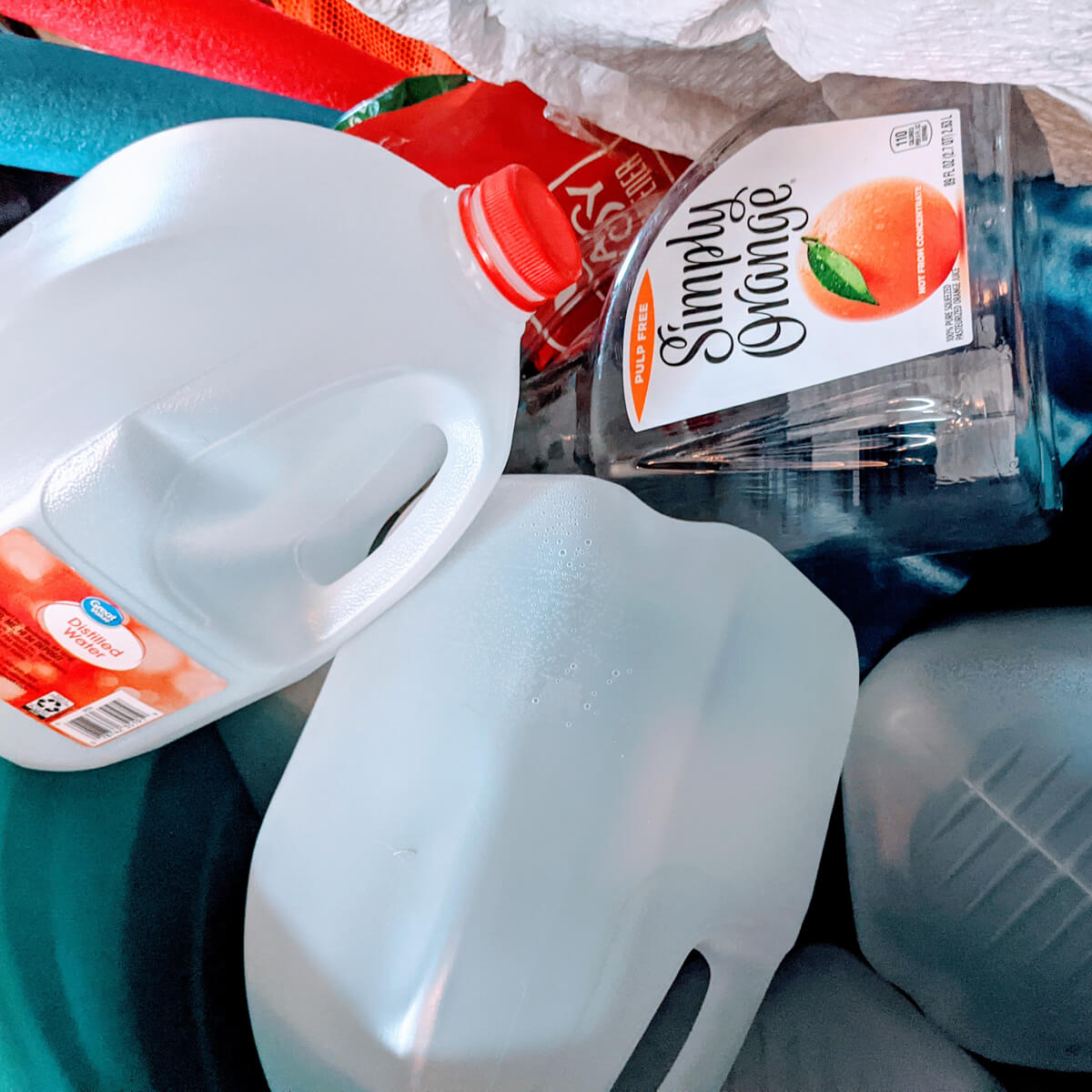 Herbs for Winter Sowing
Enjoy your herb garden a bit earlier this year by starting some seeds in gallon jugs. Here are some good herb seeds to winter sow.
Basil
Calendula
Chamomile
Cilantro
Dill
Echinacea
Lavender
Oregano
Parsley
Peppermint
Sage
Salsify
Summer Savory
Thyme
Winter Sowing Flowers
Starting some winter sowing flowers is a great idea to get earlier blooms in your garden this year. You will love the pretty flowers outside and the ability to cut fresh flowers for indoors anytime you want!
Try winter sowing flowers like these for a quick and easy display of color all season long!
Celosia
Cosmos
Four O'Clocks
Marigolds
Morning Glory
Nasturtium
Petunias
Snapdragons
Sunflowers
Zinnias
Hardy, hard-to-kill annuals like these make great flowers for your miniature greenhouses.
Personally, I love to get a jump start on my flower beds by sowing zinnias, cosmos, marigolds, and other favorite summer flowers.
I adore growing a cutting garden for my girls to enjoy all summer long. It's way better to have flowers blooming in May or early June than later in the summer!
A Head Start for Zinnias
I planted some California Giant zinnia seeds in gallon jugs and got a nice head start for the blooms!
This is absolutely my all-time favorite photo I've snapped of my winter sowing efforts.
Winter Sowing Containers
Milk jugs, gallon water jugs, and clear orange juice bottles or lemonade bottles are among my favorite winter sowing containers.
Although, I suppose I would use other containers like plastic 16-oz water bottles, if needed, to really get enough seeds started!
Winter Sowing in Milk Jugs
Winter sowing in milk jugs is probably the most widespread container style. It's easy to see why, based on the benefits of starting seeds in milk jugs.
Economical
Easy to get
Easy to cut
Quick to build up a supply
This is a great place to start using the winter sowing method. Milk jugs may be the most convenient choice to grow this way for years to come!
Plastic Salad Containers –NOPE!
After seeing it mentioned on Instagram quite a bit, we tried the plastic shell containers from salad bars or bakery sections of the grocery store. In my humble opinion – NOT as good as advertised!!!
I will not be using these again, although I've seen some gardening posts where they did work out for people. Your mileage may vary.
Clear Juice Bottles
Seriously, go buy some Simply Lemonade, enjoy it, and reuse the container for winter sowing. That and the similarly shaped orange juice bottles are the perfect choice to create mini greenhouses for winter growing outside. A little harder to cut through, but the crystal-clear visibility is hard to beat.
Winter Sowing Supplies
All you need to get started is easy to obtain!
Plastic containers
Duct tape or similar
Hot glue gun to melt holes – alternatively, poke holes with a knife
Potting soil
Seeds
How to Create a Milk Jug Garden
There's just nothing like gardening in the wintertime. Starting seeds in milk jugs is a fun activity for the kids as well!
Try these tips to create a milk jug garden this winter.
Gather empty milk jugs and other containers to use for winter sowing.

Plug in a hot glue gun and use it to melt drainage holes in the bottom of all the containers. (Unplug when done!)



Use a knife or other cutting implement to cut the milk jugs open around the center, almost all the way around. I stop at the handle so there's a hinge.



Fill the bottom of the milk jug with soil.

Plant several seeds you wish to grow over the winter.



Cover and lightly water.



Tape the container closed tightly with duct tape or similar.

Label the container with the type of seeds you planted and the date.

Place the winter sowing jug outside in the sun, in a sheltered location.



Repeat for as many milk jugs you like!
With a milk jug garden, watering may not even be necessary as long as the snow or rain makes it into the winter sowing containers.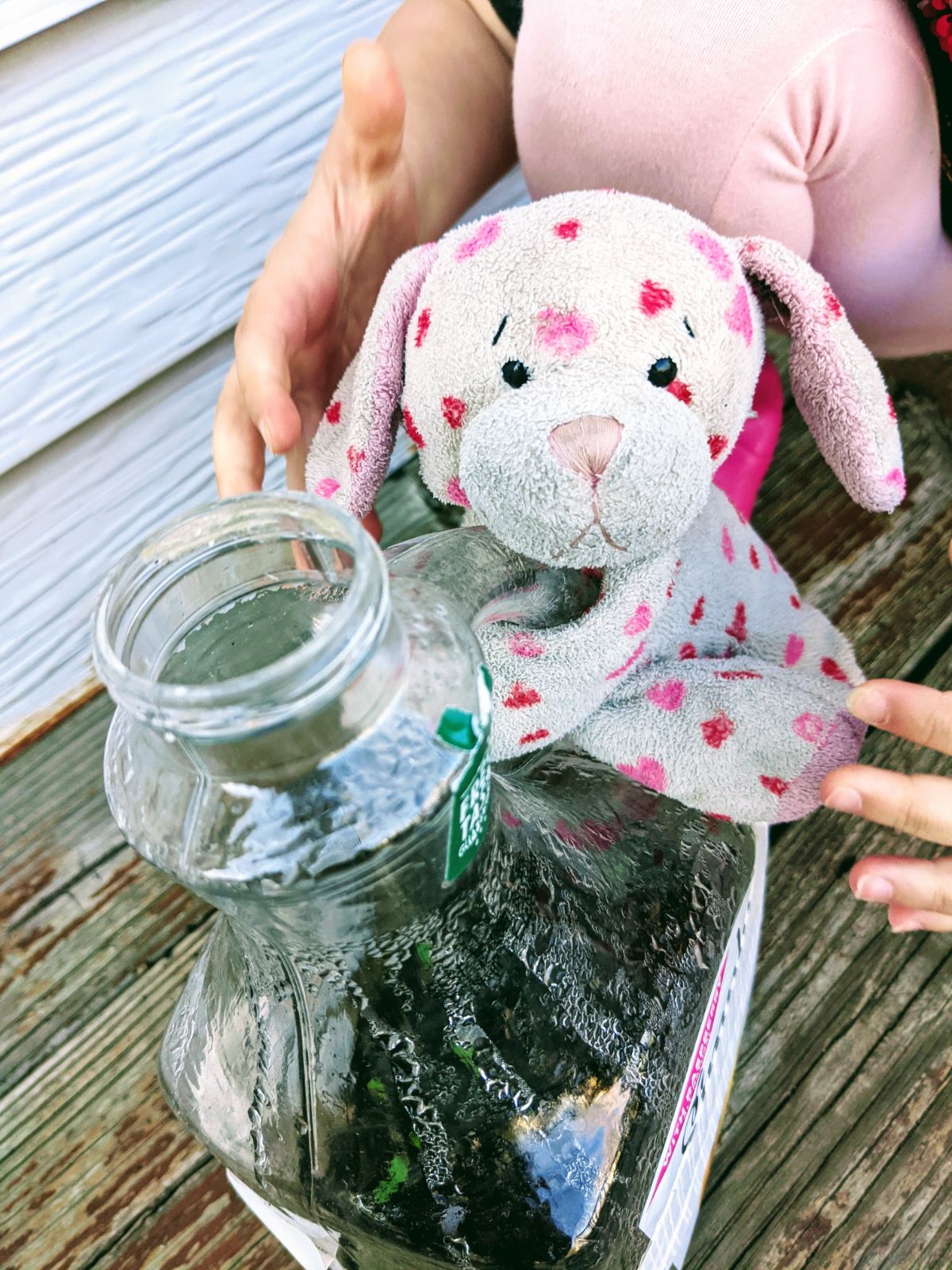 Winter Sowing Maintenance: Weekly Check-ins
Growing plants in milk jugs over the winter is relatively hands-off, which is nice, especially during the colder months.
Still, you should check on your winter sowing seedlings and containers every week to make sure they aren't drying out. Also check that the drainage holes are working and the mini greenhouses aren't retaining water.
Make sure they're protected from the wind and animals, too.
Watering a Milk Jug Garden
When it rains or snows, your seeds will likely get some moisture to help them survive.
Winter snow melting in northern regions like our growing zone 6b will add even more moisture to the mini greenhouses.
If you aren't sure that your winter sowing milk jugs got enough water from rain and snow, you can lightly water them as well.
Check the soil by looking through the container's opening at the top. If it is light in color or pulling away from the edges, add some water.
For soil that is dark and looks soft and smushy, you can probably safely wait a day or even a few days to check again.
Last year, I think I only watered my winter sowing garden two or three times. The zinnia flowers thrived!
This year I am excited to get an early start on herbs, vegetables, and even more flowers.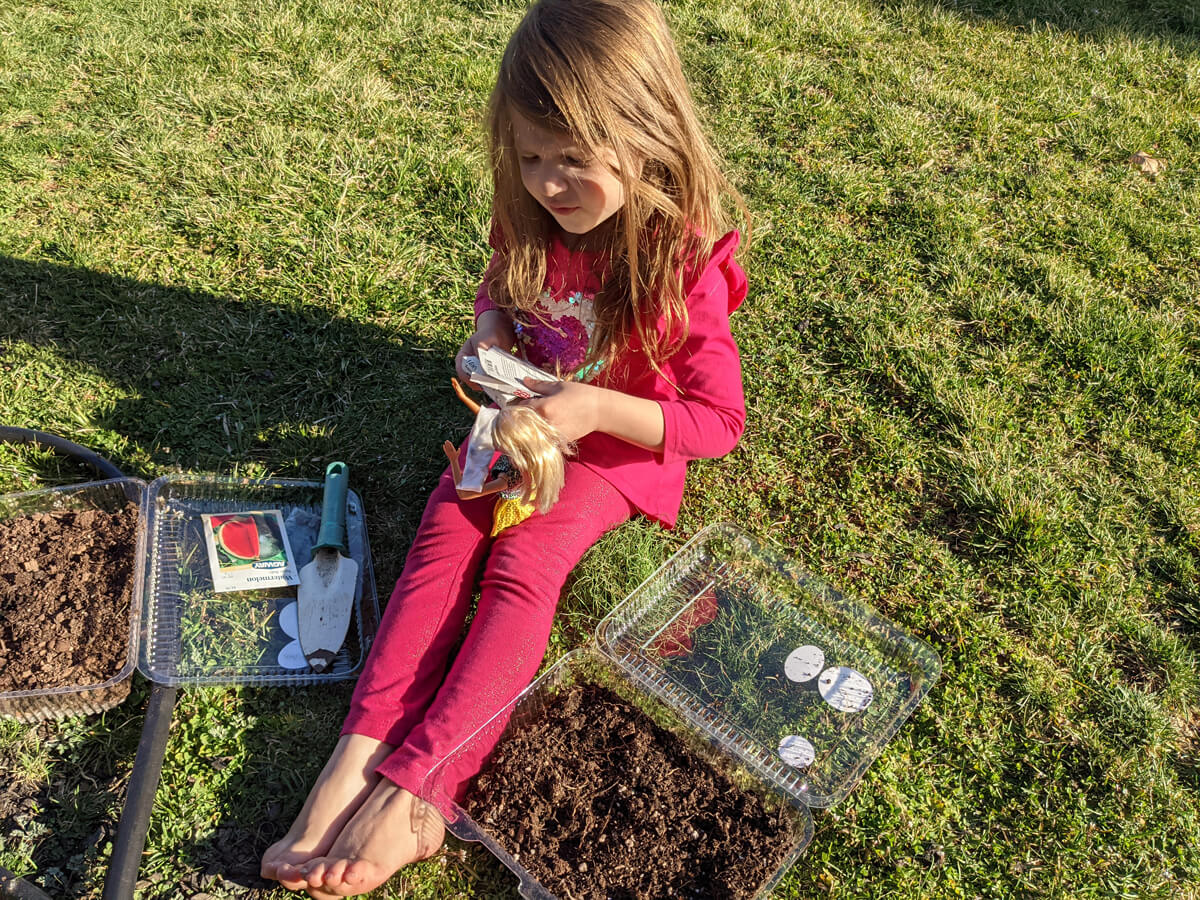 Get Started with the Winter Sowing Method
Try the winter sowing method to make winter less boring and get a jump start on your garden this year!
I will check back and update once I decide what we will be winter sowing for our 2022 garden. For now, I am pretty sure we'll do luffa, birdhouse gourds, and zinnias again.
As long as my hubby doesn't find my collection of empty jugs in the garage, I think we'll be in good shape for a nice run at the winter sowing method this year!
Have you tried winter sowing yet? Do you have any tips to share? Or, if this is your first year trying it, hit us up in the comments with your questions!
Our website features affiliate links to products that we personally believe in. If you make a purchase from a link on our site, we may earn a small commission at no cost to you. Thank you! This helps our girls chase their garden dreams! Thanks for your support. (View full affiliate disclaimer at the end of the page.)
Happy winter gardening!
By the way – if you like this post, you might also enjoy our post on Wet Paper Towel Germination!
Or you can even check out our winter sow Google Web Story on planting seeds in milk jugs as little greenhouses, and also this one on 3 easy ways to sprout seeds!
12.28.21 – Updated to add link to more winter garden content.
11.01.22 – Updated to fix spacing and bold headings. Added product recs and personal details about our own winter sowing seeds list.
01.06.23 – Updated to add a lot more photos. Added Google Web Story.
03.15.23 – Added link to gws.