Pumpkin Handprint DIY | Glow in the Dark Pumpkins
Calling all sentimental moms like me! If you are looking for ideas for cute pumpkin painting ideas BUT what you really need is a Halloween family craft that melts your heart year after year, look no further! My pumpkin handprint keepsake craft is everything.
If you still have little kids at home, or grands, try this Glowing Halloween Handprints craft on a white faux pumpkin. Basically, your kids are making you a piece of Halloween décor you can keep forever and enjoy even when they have kids!
I love handprint crafts so much, and Halloween handprint crafts are even more fun due to all the possibilities!
Last year, I was thinking about ideas for cool paintings on pumpkins and seriously decided I'd rather let the girls paint a fake pumpkin I could keep. I now absolutely adore this fake pumpkin and we enjoy setting it out every Halloween.
(We still did traditional pumpkin carving, of course!)
If you are looking for cool easy pumpkin painting ideas—for real pumpkins OR fake pumpkins—I hope you'll give this glow in the dark idea a try!
Easy Paintings on Pumpkins for All Ages
Even your baby can participate in a few cute paintings on pumpkins with a little help from Mom or Dad. All you need is a pumpkin, some paint, and a child who's interested.
Some ideas:
Glow-in-the-Dark Halloween Handprints on a Faux Pumpkin
Glow Handprints on a Real Pumpkin
Fingerpainting on a Faux or Real Pumpkin
Fingerprint and Thumbprint Designs on Pumpkins
To make your designs permanent on a fake pumpkin, you'll also need some Mod Podge or other sealer.
Our crew opted for a faux white pumpkin with glow in the dark paint handprints.
How to Make a Preschool Pumpkin Handprint Craft
When it comes to DIY home decorating projects, Halloween takes the cake. You can find so many fun and creative home décor projects to make and reuse every Halloween.
I consider this a preschool friendly craft that literally could be done to delight the parents of preschool kids, or at home as a family project.
This preschool pumpkin handprint craft is actually good for any age, but I loved that my kids were still pretty small when we did it. I will always treasure this fun handprint craft we did together!
Follow these simple steps to make your own glow-in-the-dark handprint pumpkin project, perfect for fall decorating.
Handprint Pumpkin Materials
White fake pumpkin *
White paint (we used Tulip Brush-on Fabric Paint in white because I liked the semi-transparent white shade)
Glow in the dark pumpkin paint (pigment powder **)
Paper plate or palette
Small paintbrushes
Mod Podge
Foam brushes / applicators
Paper towels and access to a sink with soap and water
That's all you need to make glow in the dark pumpkins!
*I bought my white pumpkin at Michael's in 2020, but I don't see the same one for sale. You can likely find good ones at Amazon (though I didn't see any larger than 7 or 8 inches), Walmart, Lowes, and Joann, among others. Whatever you do, please check the dimensions to make sure it's a large enough pumpkin for the number of kid handprints you want to put on it!
** You can also just use glow-in-the-dark paint if you have it! We only had the ones with the pointed nozzles and not a brush-on kind, so we made our own glow in the dark pumpkin paint!
Our website features affiliate links to products that we personally believe in. If you make a purchase from a link on our site, we may earn a small commission at no cost to you. Thank you! This helps our girls chase their garden dreams! Thanks for your support. (View full affiliate disclaimer at the end of the page.)
Glow-in-the-Dark Handprint Pumpkin Instructions:
Finger-painting handprints on pumpkins is a timeless and memorable craft moms and dads (and grandparents!) will love for ages to come.
Follow these easy steps to make cute paintings on pumpkins with your kids' handprints and glow-in-the-dark paint!
Making Glow in the Dark Pumpkin Paint
Before completing your Halloween pumpkin handprint craft, first mix up some glow in the dark paint for pumpkins.
Choose the glow-in-the-dark paint colors you'd like to use. Decide if the kids will paint their hands in a specific color per child, all colors, or if anything goes.

Using a palette or paper plate, squeeze out a half-dollar sized dab of white paint for each glow pigment powder color.
Add a small sprinkle of pigment powder to each dot of paint.

Use a kids' paintbrush to blend the powder into the paint thoroughly.


This is just one of many glow in the dark pumpkin painting ideas! Once you have the supplies I listed in this tutorial, you can create a variety of easy glow in the dark pumpkins, both real and artificial.
Handprint Pumpkin Painting DIY
Personalize a fun, custom Halloween decoration by freezing a moment in time. Pumpkin hand art is as cute as it gets when it comes to Halloween keepsake decorations and glow in the dark paint.
Use the foam brush to apply glow-in-the-dark paint to the first child's hand.

Ask your kid to stretch out their fingers nice and flat and straight.

Slowly and gently lower the hand to the pumpkin and press down without wiggling, if possible. The hand can cup around the artificial pumpkin.

Remove the hand and raise it straight up to avoid smearing the handprint design.

Repeat for each child who wants to participate in handprint paintings on the pumpkin.

Wash hands in between color changes.

Complete the pumpkin décor by spacing out your children's handprints on all sides.

Set the fake white pumpkin aside to dry for 24 hours.

After drying, use a clean foam brush to apply a coat of Mod Podge to make your designs permanent.

Inspect again after 24 hours and determine if any more Mod Podge is needed.

Charge your glow-in-the-dark handprint pumpkin with a blacklight and enjoy it all Halloween season!
This project itself should work equally well on real white pumpkins (Casper pumpkins / albino pumpkins) or faux white pumpkins.
I simply chose to make mine as a white faux pumpkin craft so we could keep it forever!
This cute pumpkin will always have a special place in my heart.
DIY Cute Pumpkin Hand Prints Décor
Halloween handprints and footprints are the best. Over the years, we've done candy corn footprint crafts and the glow-in-the-dark handprints. We've also planned to do ghost footprints and more ideas that I hope we'll get to, in time.
This glow Halloween handprint pumpkin is my absolute favorite fall craft we've done to date. I am super sentimental about my kids' handprints and love how little they are each time we do these handprint arts.
(Even though I realize they are literally growing bigger at lightspeed!)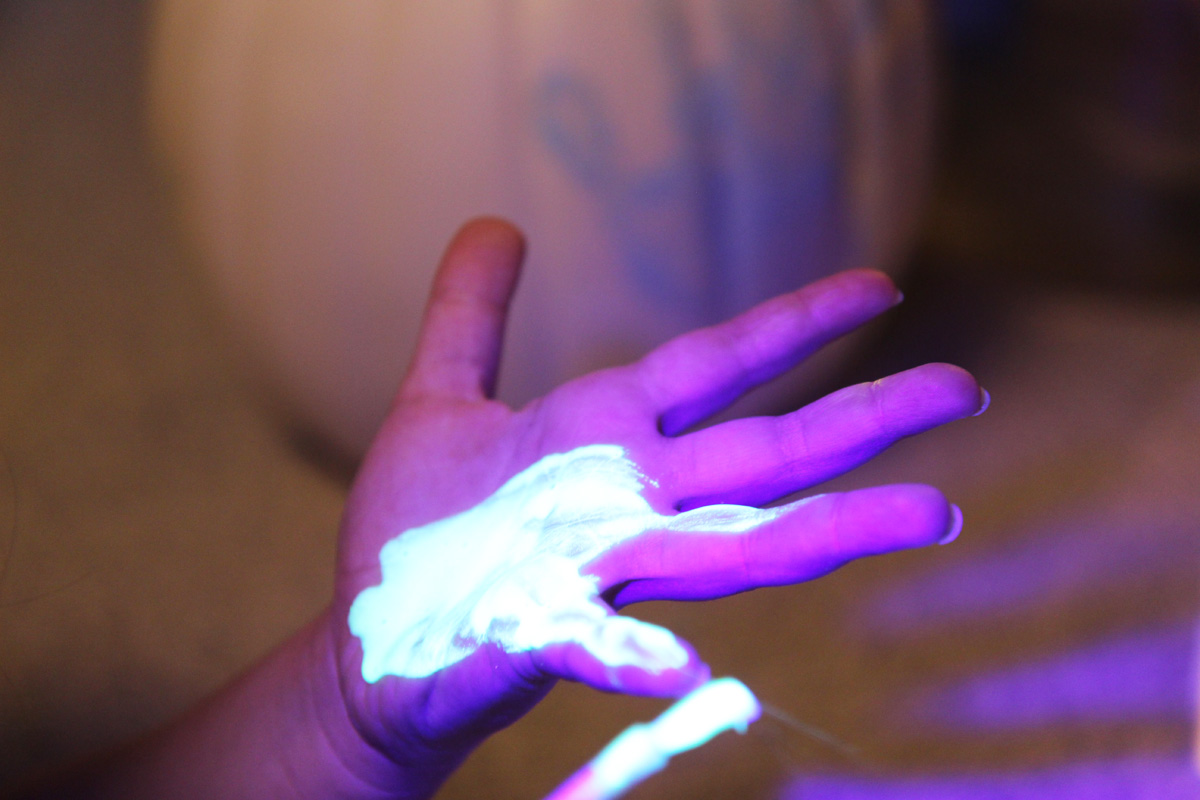 Glow in the Dark Painted Pumpkins – Epic Fun Idea!
The glowy handprint pumpkin would also be a great surprise as a gift for the grandparents who may be missing the kids during these crazy times. I figure, make two or three so you can keep one and give one to each of the sets of grandparents!
We truly love our glowing handprint fake pumpkin décor. It also worked out as a perfect prop for the glow-in-the-dark Halloween Easter Egg Hunt we did with blacklight flashlights last year during the pandemic!
Ah, so many fun ideas, so little time! Isn't that always the way?!
If you have any other easy and cute pumpkin handprint ideas for kids of all ages, or other cool glow in the dark pumpkin painting ideas, please share them in the comments below!
You can also feel free to ask questions or share other tips as well!
By the way, if you are looking for more fall decorating ideas, be sure to check out our list of Decorative Pumpkins. We love using these to create centerpieces indoors and stacking pumpkins at our doorstep outside!
09.20.22 – Edited to refocus the post on glow in the dark pumpkins with handprints. Increased image size to full size. Broke out section for Making Glow in the Dark Pumpkin Paint. 301 redirect from cute-paintings-on-pumpkins.