How to Remove Poison Hemlock in the Backyard Garden
Imagine finding one of the most toxic plants in the United States in your own backyard! That's what happened to us when we found a suspicious weed that looked like a wild carrot. Thankfully, we knew not to eat it, and I quickly learned how to remove poison hemlock to protect our family.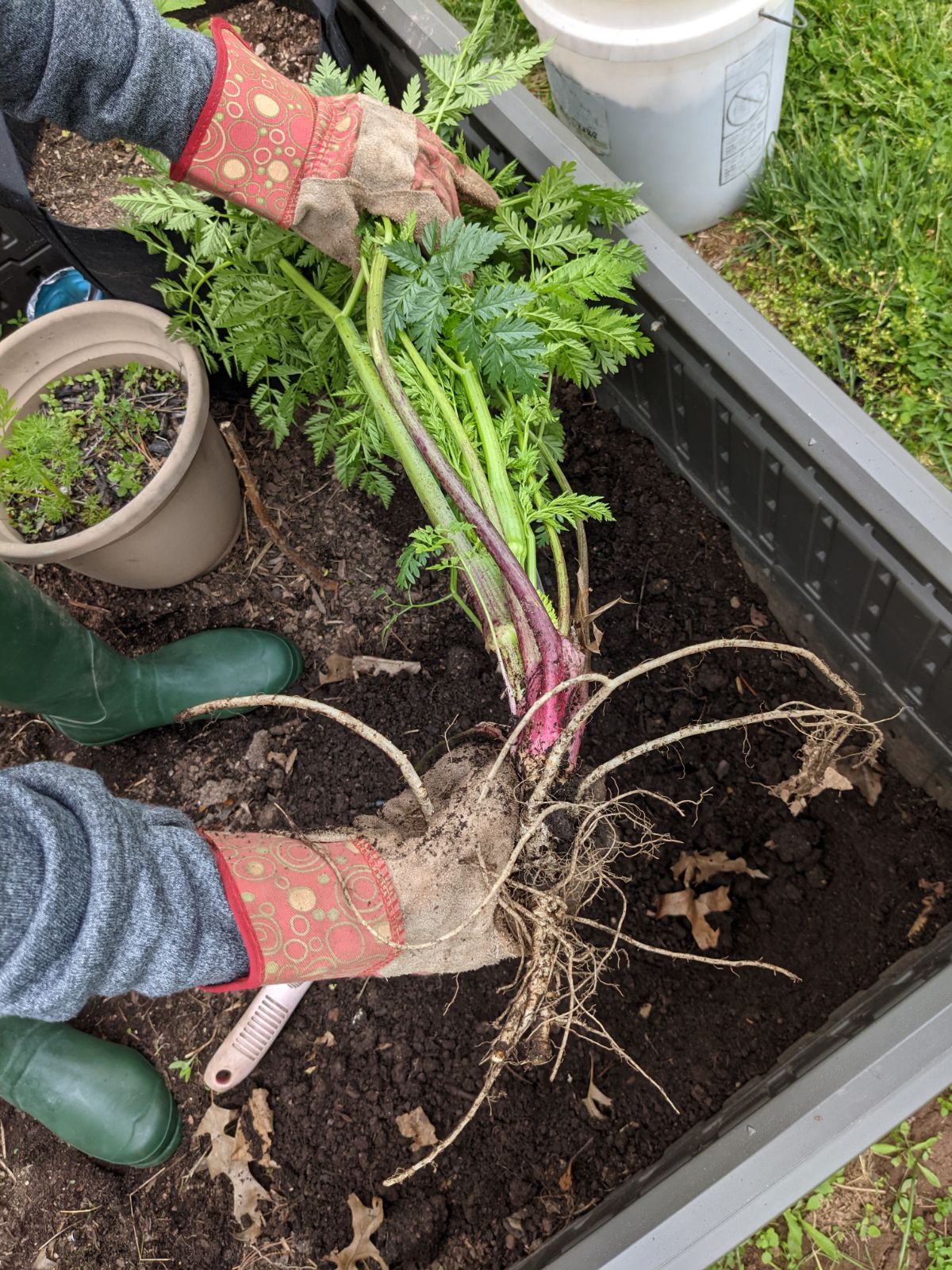 Deadly poison hemlock weed (Conium maculatum) belongs to the Apiaceae (or Umbelliferae) family, along with carrots, parsnips, parsley, fennel, among others, and wild versions of the same.
All parts of the poison hemlock are dangerous and toxic – the leaves, stem, roots, seeds, and juices. Hemlock toxicity is so perilous that it can kill humans within three hours or sometimes mere minutes.
This plant spreads its poison rapidly by ingestion, and most documented deaths are a result of foraging. Beyond the infamous hemlock poison death of Socrates, of course.
Poison hemlock contains noxious alkaloids, the most poisonous of which is coniine.
The poisoning effects of hemlock range far and wide, from central nervous system disruption to respiratory failure and collapse, vomiting, changes in pulse, convulsions, and coma, to name a few.
Sounds completely dreadful! Time to learn how to remove poison hemlock STAT!
Where Is Poison Hemlock Found?
This noxious weed thrives in disturbed areas and lives throughout much of the United States. It originally came here from Europe, intended as an ornamental garden plant.
Toxic poison hemlock is spreading throughout much of Pennsylvania and beyond. It's important to keep tabs on your own property whenever possible.
How Did Poison Hemlock Get in My Garden?
It's surely rattling to find a highly poisonous weed in your garden. Knowing how well you care for the garden makes it even more frustrating trying to figure out how a toxic plant got there.
Generally speaking, the most common ways to end up with a poison hemlock garden problem include:
Seeds spreading from bird droppings

Mice or other garden pests carrying the seeds into the garden

Contamination of purchased garden soil
Now that you know how it could get there, let's figure out whether you actually have a poison plant problem in your garden.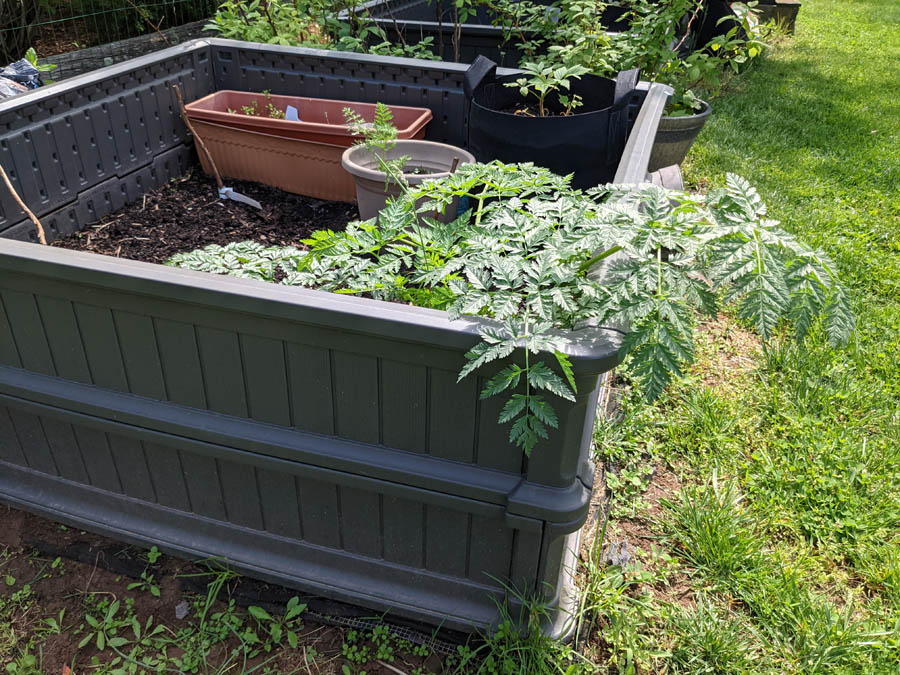 The Hemlock Carrot Conundrum –
What Other Plants Look Like Poison Hemlock
Even before knowing hemlock is in the carrot family, I immediately saw this poisonous weed does bear an uncanny resemblance to carrots – wild carrots, in particular. It also looks similar to yarrow, Queen Anne's Lace, elderflower, wild fennel, and cow parsnip.
It is extremely important to avoid eating or touching plants that could be poison hemlock if you aren't 100% sure beyond a shadow of a doubt.
How We Found Poison Hemlock in Our Garden
At first, I thought one of our rainbow carrot seeds fell into a corner of our green bean bed. It seemed so odd because we hadn't planted any carrots around here.
I remember actually touching the leaves, thinking how like carrots they were. But also realizing the entire plant was much bigger than any carrot I'd ever seen!
Luckily for me I didn't develop any rash or toxicity from that brief encounter. I washed up immediately inside and funny enough, saw a Facebook post a few nights later that would chill my blood.
It was after 11 p.m. and I was just scrolling on my phone. I follow a ton of gardening groups and happened to see a photo in my feed that reminded me EXACTLY of that weed in my garden.
Purple splotches and all!!
I of course read the comments on this gardener's post. Turns out most people on the thread urged caution and removal, suggesting very strongly that this person's mystery plant was poison hemlock.
I SO wanted to go out to my garden that night in the dark to investigate our strange weed down to the details. But I didn't. I was already 99.9% sure we too had the purple spotted hemlock weed.
That very next morning, I began my investigation and a thorough poison hemlock identification process.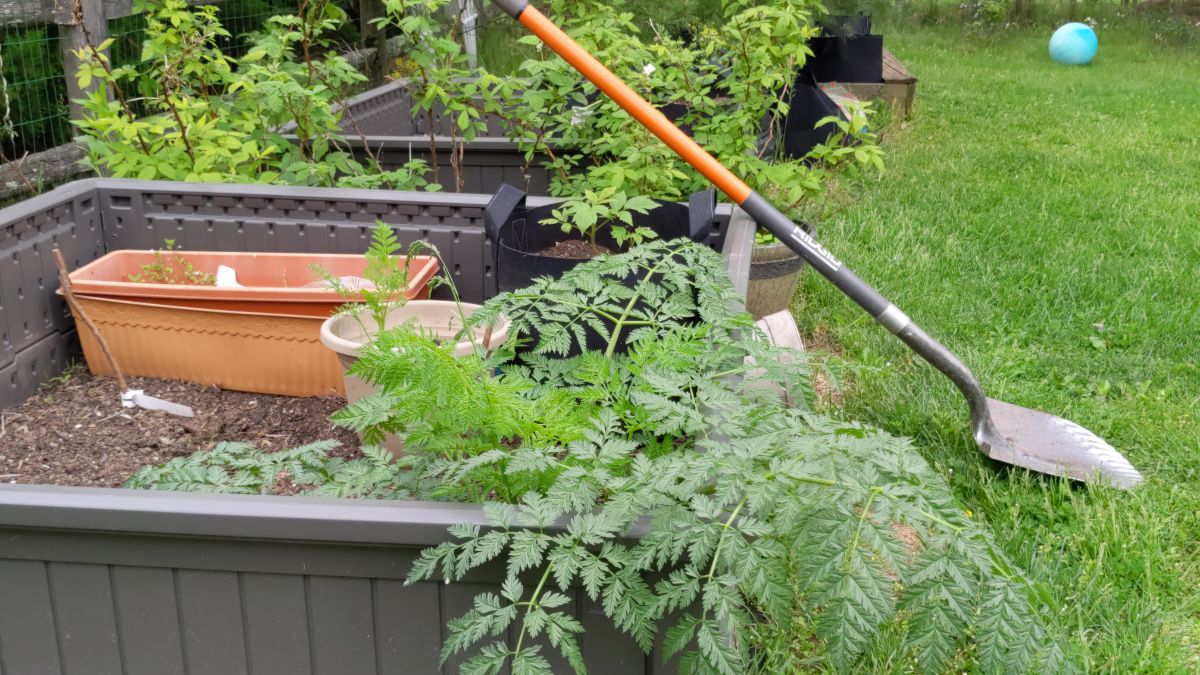 Poison Hemlock Identification
Identifying hemlock in the garden isn't difficult if you know the signs. Remember to proceed with caution.
You can use the PlantNet plant identification app or another similar product to help determine what weed it is.
I also strongly suggest reaching out to a group of local master gardeners, such as your region's extension office, for confirmation. The knowledge and support can be truly helpful.
Here in PA, I reached out to the Penn State Extension Master Gardeners of Huntingdon County. I received tremendous help from Deb and Julia, who made a positive identification and then guided me in safe removal of this pesky plant.
Check with your local extension as well for support in identifying hemlock and safe removal.
Here are a few additional tips to help you make a positive poison hemlock identification:
Identifying Leaves
The poison hemlock leaves look eerily similar to the fringy greens of carrots. (But beware – hemlock is one of the most poisonous of all plants in North America!)
The rich green hue is vibrant and stands out from across the yard. It's hard to miss unless it blends in with other foliage in your gardens, fields, or woodlands.
Poison hemlock leaves are pinnated, meaning the feather-shaped leaves share a common axis.
The first year, hemlock grows a rosette of leaves and doesn't reproduce.
Flowering Hemlock
The poison hemlock flower only appears during the second year of growth. This biennial flowering herbaceous weed produces umbrella-shaped white flowers that can spread seeds everywhere, exploding its growth and spread.
The white flowers of poison hemlock may bear a resemblance to Queen Anne's Lace or yarrow. When in doubt, rip it out.
Fortunately for us, we caught it in the early stages before it could flower or go to seed.
Unfortunately for you, that means I do not have a photo of flowering poison hemlock.
Poison Hemlock Stem
The dead giveaway of this toxic weed is the hemlock stem. Notice the purple splotches.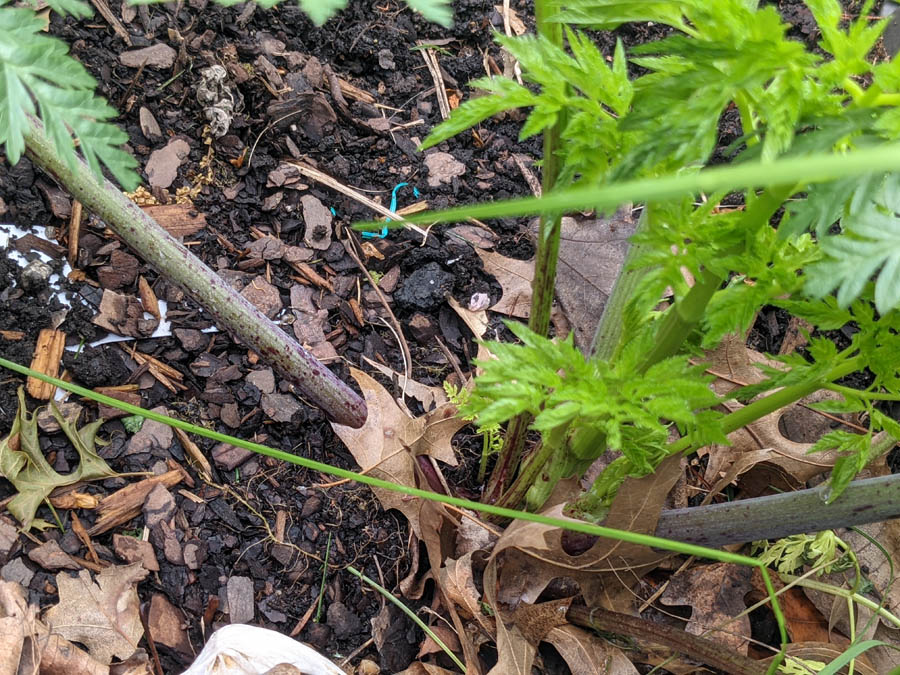 Upon careful inspection, you will notice the stem is smooth and hairless. Plants that look like poison hemlock (but aren't) often have fine hairs on the stem.
More significantly, though, is the color of the stem. Poison hemlock's stem has distinctive purple blotches that just about seal the deal.
The purple hemlock stem is a telltale sign that should be the final piece of convincing evidence that you need to remove this plant from your garden.
Hemlock Root
Like many plants, this toxic overlord features a long taproot that can be difficult to remove. Besides the taproot, you'll find other branching roots.
Consider removing the soil surrounding the plant to ensure you get all the bits of roots out of your garden.
Here's a resource to help you with identifying poison hemlock in your yard or garden.
What to Do If You Find Poison Hemlock in Your Yard
Spotted hemlock is no joke! If you suspect you might have this highly toxic weed in your yard or garden, proceed with extreme caution.
Educate your family and keep kids and pets away. Make sure each person in your household knows about the problematic weed and knows to stay away from it. Keep pets on a leash if they cannot be trusted not to eat the hemlock or mess with it.

Get help from your state's local cooperative extension. You'll find master gardeners and plant specialists who can advise and help. You can send poison hemlock photos or video directly to the extension office for help in confirming and identifying that it is indeed poisonous hemlock weed.

Educate yourself on removing poison hemlock. First, become knowledgeable on all the signs of poison hemlock and make the proper identification. Then, begin making plans to remove the poisonous plant as swiftly and safely as possible. Keep reading for some tips!
CAUTION: Eating hemlock can be deadly with severe symptoms occurring within minutes or hours.
Touching hemlock can also be problematic, with some reports of skin absorption of the toxins, especially on a warm day.
Be sure to wear proper protective clothing and gear.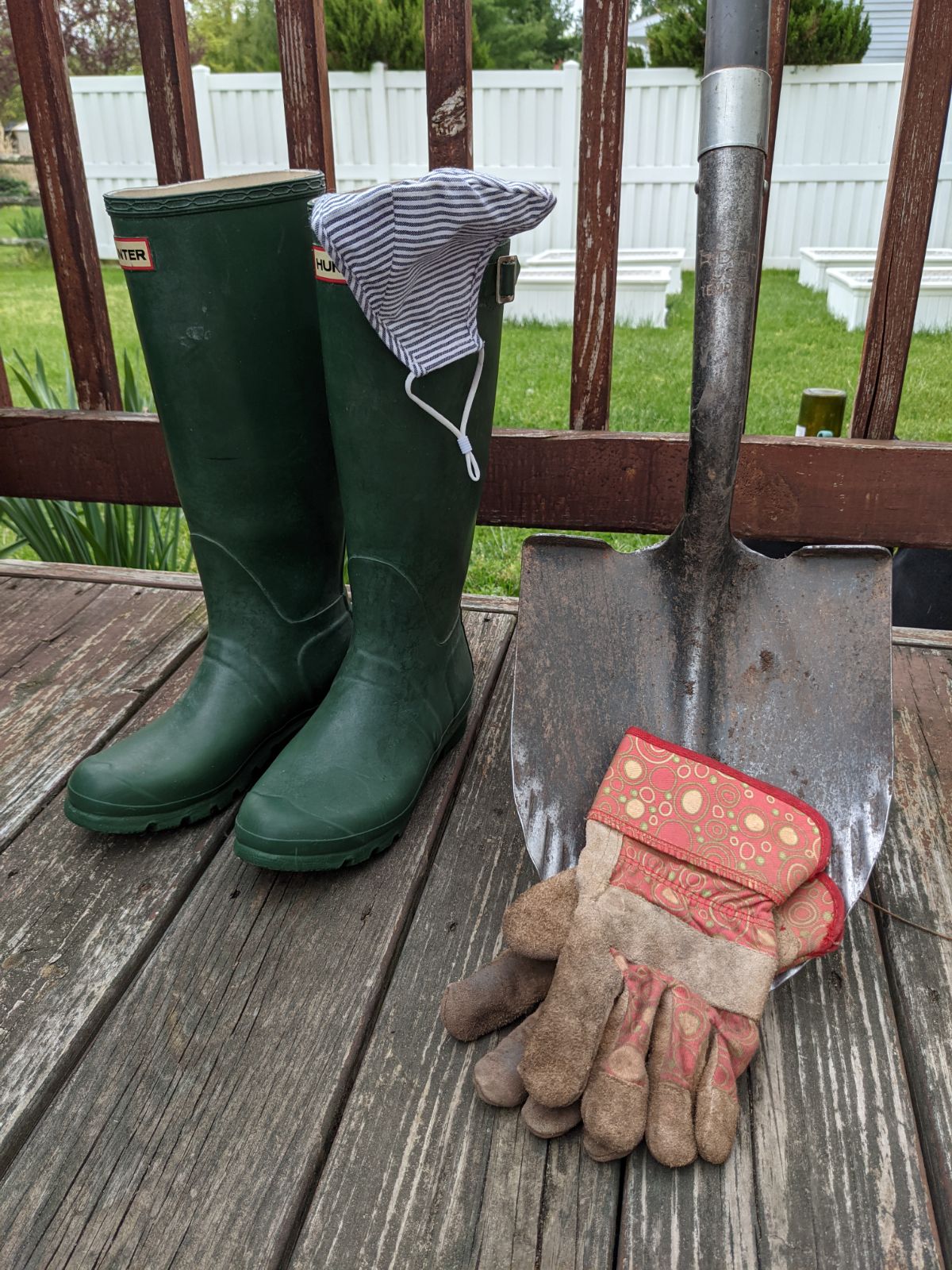 Removing Poison Hemlock from Your Yard or Garden
Your greatest goal is to figure out how to get rid of poison hemlock efficiently and safely.
Preparation is the first step in removing poison hemlock from your garden or yard.
Be sure you have all the materials needed to safely remove hemlock weed.
Gather these materials and set them out by the hemlock garden site:
Large shovel
Hand spade
Large trash bag
Rake or hoe
Dandelion tool for digging out tap roots
Put on protective clothing and gear:
Long pants and long sleeves
Socks and shoes or boots
Dust mask
Sunglasses or protective eyewear
Thick protective gardening gloves
How to Remove Poison Hemlock Safely
Now, follow these steps to go about safely removing poison hemlock from the yard or garden:
Put on all your protective clothing and gear.

Begin by digging all around the purple or red hemlock weed.

Remove as much soil from the base of the hemlock as possible. Use caution not to disturb the roots.

As you remove the soil, you should begin to see the taproot and the rest of the root system. Hemlock plants generally have very long taproots. Take note of how deep it goes.

Use the shovel to prop up the dirt a bit to see how long the root has gone.


If the hemlock plant pops up out of the soil, great! Remove the hemlock and deposit it inside a large trash bag.

If the hemlock does not come free, you may have to keep digging deeper.


Continue working until you are able to safely remove the hemlock and place it in the trash bag. Tie the bag closed and dispose of it immediately. Dead hemlock plants can remain poisonous for up to three years.

Prepare yourself to do constant surveillance and poison hemlock control, should any other toxic weeds appear in your garden or yard.
Removing Hemlock from a Raised Garden Bed
Isn't it odd that the hemlock plant grew directly in our raised garden bed, of all places?!
Because hemlock weeds have a very long taproot, I worried that the root may have gone below the garden box, through the weed matting and hardware cloth, and into the rocky clay soil below.
Follow the steps above to safely remove poison hemlock.

If you notice the taproot grew through the base of your raised garden box, you have a few options.


Dig out the root from below the garden box. Use a hand weeder / dandelion tool to get as much as possible.

Apply herbicide directly to the exposed root. Remember that most herbicides will also kill the other plants in proximity. This can be a problem when hemlock weed sets up in your fruit and vegetable gardens, or even your flower beds.

Add a barrier. If you do choose to apply herbicide to the root, be sure to add it sparingly so it won't blow through the wind to your other plants. You can apply it using a glove and some fabric or paper towels soaked in the herbicide. Then put a cup or other barrier over top to keep it separate from your other plants and refill the soil.

Avoid growing lookalike plants in the same space. After removing the hemlock, be sure to grow lookalike plants far away from this area so you can monitor for new growth.

Check your other gardens and the rest of your yard. One poison hemlock plant could be an isolated incident due to an animal carrying the seed. It could also have grown from a tiny seed in your garden soil or mix, so be sure to check all areas thoroughly.
Important Tips on Removing Hemlock
Focus closely on how to safely remove poison hemlock so you don't suffer any adverse effects.
Avoid Contact – Avoid brushing up against the leaves during the removal process. Also try to avoid getting other plants in contact with the hemlock plant.

After Rain – For best results, try removing hemlock after a decent rain when the soil will be softer and less compacted.

Avoid Juices – If the plant breaks, avoid getting the plant juices on your skin, on surrounding plants, etc.

Isolate Lookalikes – After removing the plant, avoid planting poison hemlock lookalikes in the same part of your yard. You don't want to accidentally confuse carrots, celery, or other edible vegetables (or even flowers) with the highly toxic and deadly hemlock.

Consider isolating soil from the base of the plant. We've chosen to remove the soil from where we removed the hemlock in our garden. Just as a matter of precaution and being able to breathe easier now that it's gone.
Other Varieties of Hemlock
Also known as European hemlock or poison parsley, poison hemlock is notorious for the swiftness of death it can cause.
Hemlock Trees – Despite the deadly hemlock weed's notoriety, you may be happy to know the varieties of hemlock trees are not lethal at all. Numerous types of hemlock trees exist, including Eastern Hemlock, Western Hemlock, Mountain Hemlock, Southern Japanese Hemlock, and Carolina Hemlock, to name a few.
Meanwhile, other types of hemlock are also highly toxic and problematic. These include:
Water Hemlock (Cicuta maculata) is considered the deadliest plant in the North America. This plant is fatal when swallowed and can cause death in as few as 15 minutes.


Water hemlock vs. poison hemlock – While the poison hemlock leaves appear fern-like and fringed, the water hemlock leaves are fuller and lance-shaped.
FAQ
Final Thoughts: Removing Poison Hemlock
Finding a toxic plant in our garden definitely rattled me to my core that evening. Thankfully, the poison hemlock removal tips recommended by the Master Gardeners of Penn State gave me confidence to complete the task safely and completely.
If you are unsure whether you have a poisonous plant growing in your garden, definitely reach out to your local extension office for assistance. The master gardeners should be able to advise you on plant identification.
If nothing else, you'll gain some peace of mind.
Do you suspect you might have poison hemlock in your yard or garden? Please be so careful and keep your family and pets safe.
I hope I can help you figure out how to get rid of dangerous poison hemlock from your gardens quickly!
Feel free to ask any questions or share your story here in the comments! This was such a wild experience; I'd love to chat about it with anyone else going through it.
Happy Gardening and be safe!
05.23.23 – Updated to freshen up the content and add FAQ. Bolded headings, updated title, and improved spacing. Added more photos and a link to PlantNet. Shortened SEO title and updated date to reflect overhaul of changes, removed May 12, 2021 and updated.