DIY Plantable Seed Paper – Easy DIY Tie-Dye Hearts!
This fun heart art seed paper is perfect for a kids' craft or a little relaxation time as an adult gardener. I chose to do this with my kids, but they soon abandoned me, so it ended up being a little winter gardening "me time" as well.
I chose to make our seed-filled recycled paper without a blender or other tool.
It was more fun to let our tie-dye heart art seed paper be a hands-on gardening craft for my kids to enjoy!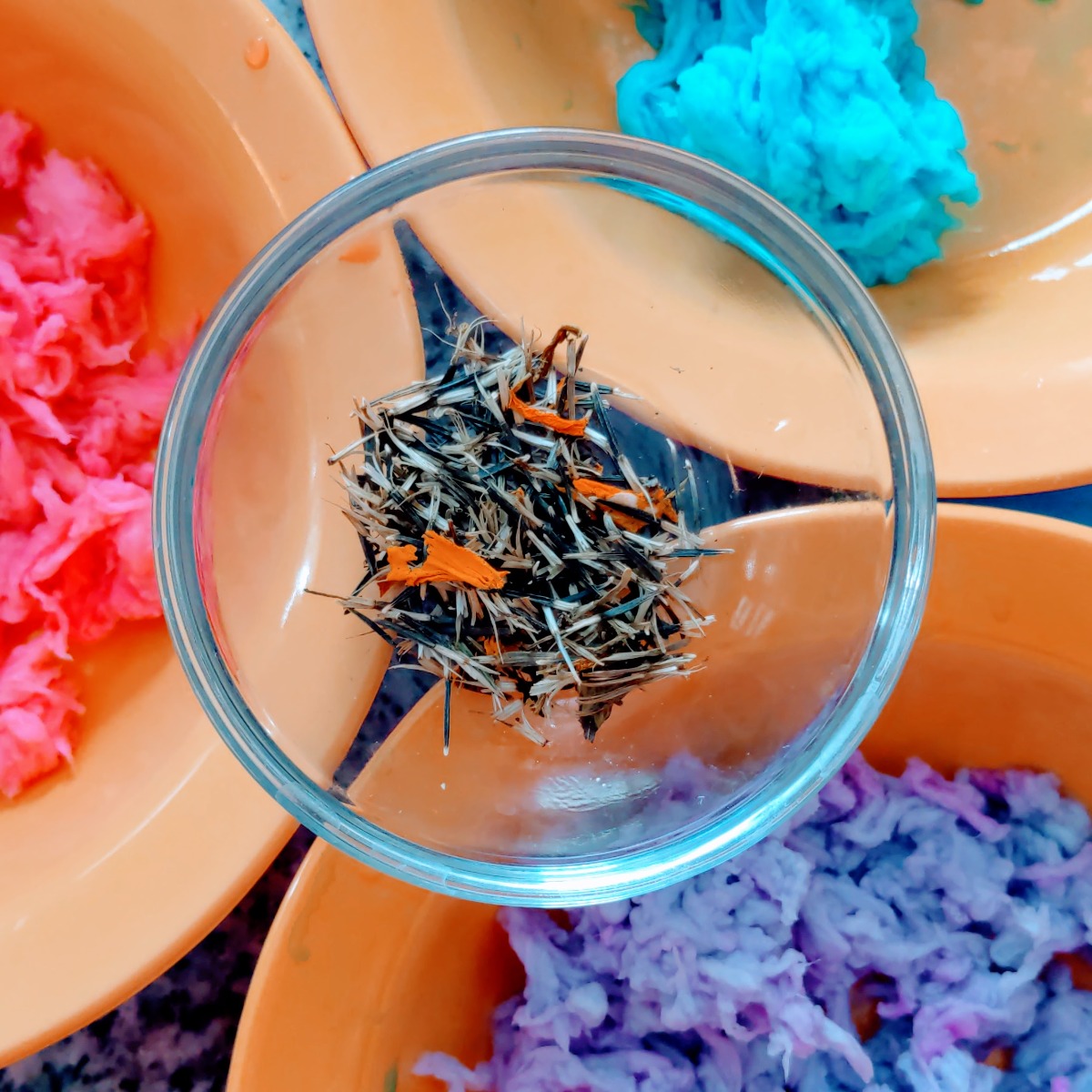 Never mind the fact that our hands were dyed pink, purple, and blue for the rest of the day!
#worthit
Have you seen these pretty plantable seed papers?!
I am thinking about sending some out to my favorite seed friends for a belated Galentine's Day gift!
Or to surprise my mom, who loves marigolds.
Or to all the grandparents!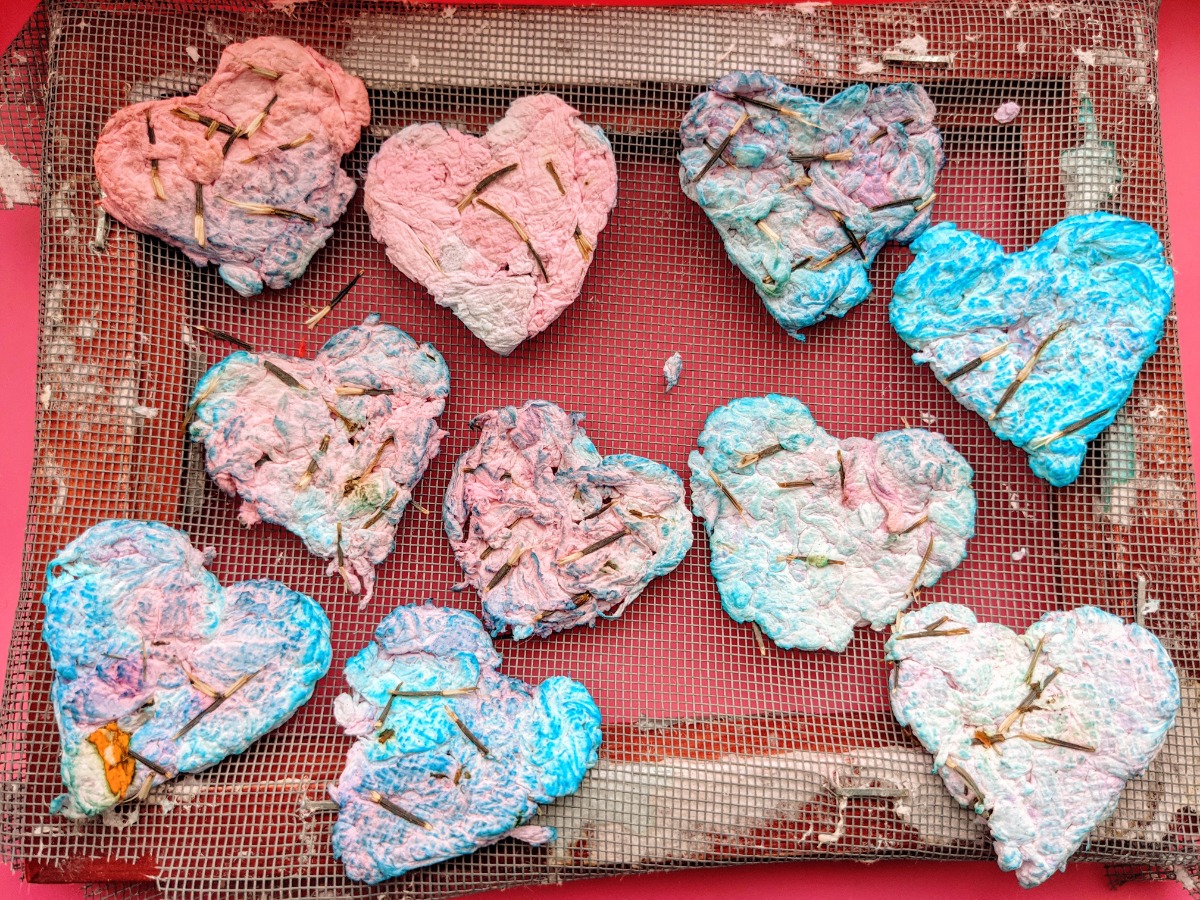 I am very happy to share this craft idea with you for use in your own gardening adventures.
Make these with your kids or by yourself – whatever the case, the result is worth it!
Let's get started…
Easy Heart Craft DIY Recycled Seed Paper
I've made recycled paper before – most recently for an Earth Day craft during quarantine in 2020.
We kicked things up a notch and did things a little better this time around:
We added Marigold seeds! This is now Plantable Paper!

We pressed the homemade paper into heart cookie cutters!

We made recycled paper without blender dependency.

Tie-Dye – Need I say more?
This process was so easy and fun! It can be quick, too, if you only plan to make a few.
We made over a dozen and my kids did lose their attention spans after two or three each.
However, I as a child would've loved this kind of seed project and would have seen it through.
In fact, my mom probably would've had to pull me away from it first.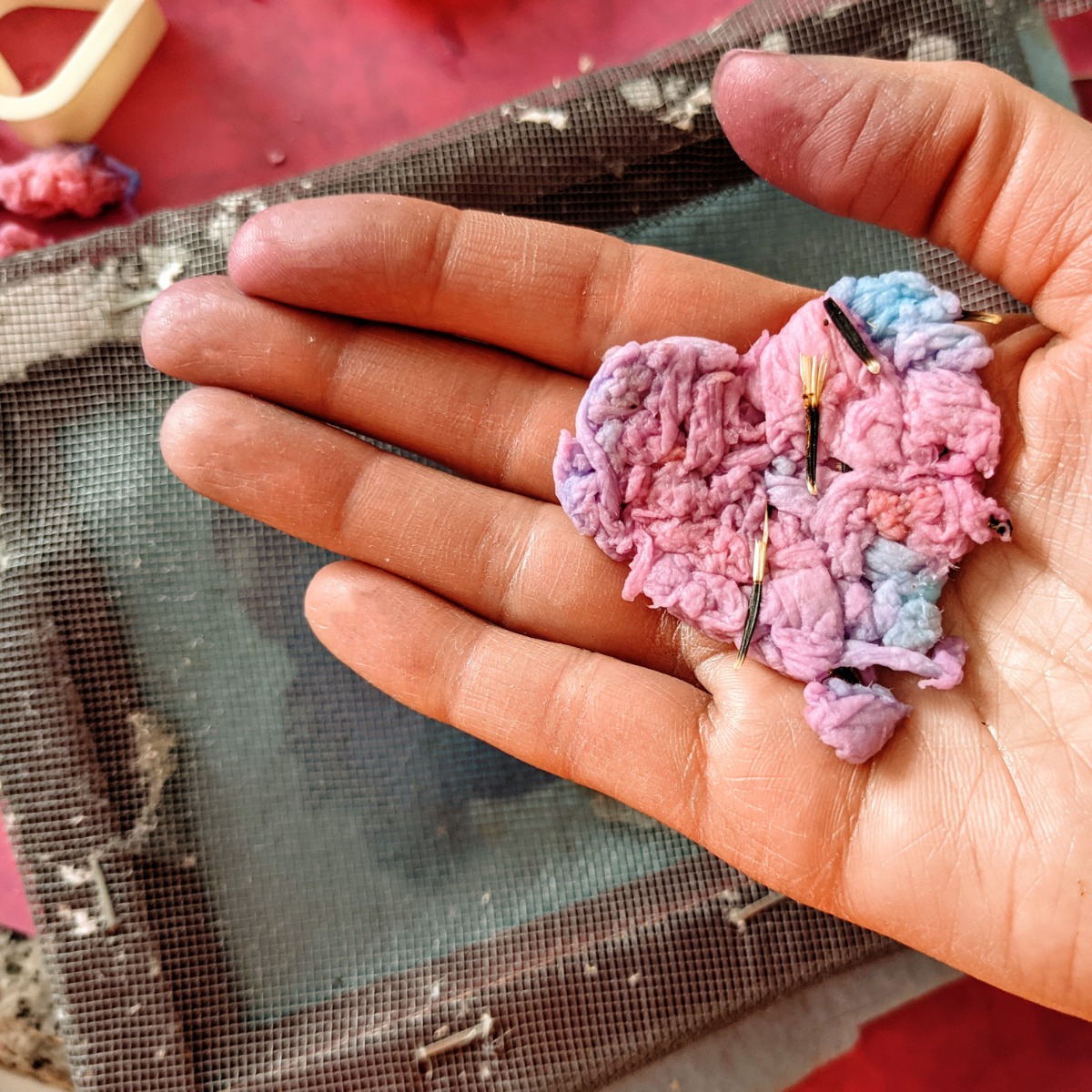 Recycled Paper without Blender
Making recycled paper without a blender is so easy when you use our method! We simply started with clean (unused) tissues.
You can also use clean (unused) toilet paper, or clean napkins / paper towels.
The beauty of this art seed project is that the paper breaks down really easily with the right amount of water.
You can make as little or as much as you need and it's fun for the whole family.
This form of wet paper recycling also allows you to add food coloring for a beautiful color scheme!
How to Make Seed Paper
Follow these simple steps to make tie-dye heart-shaped plantable paper.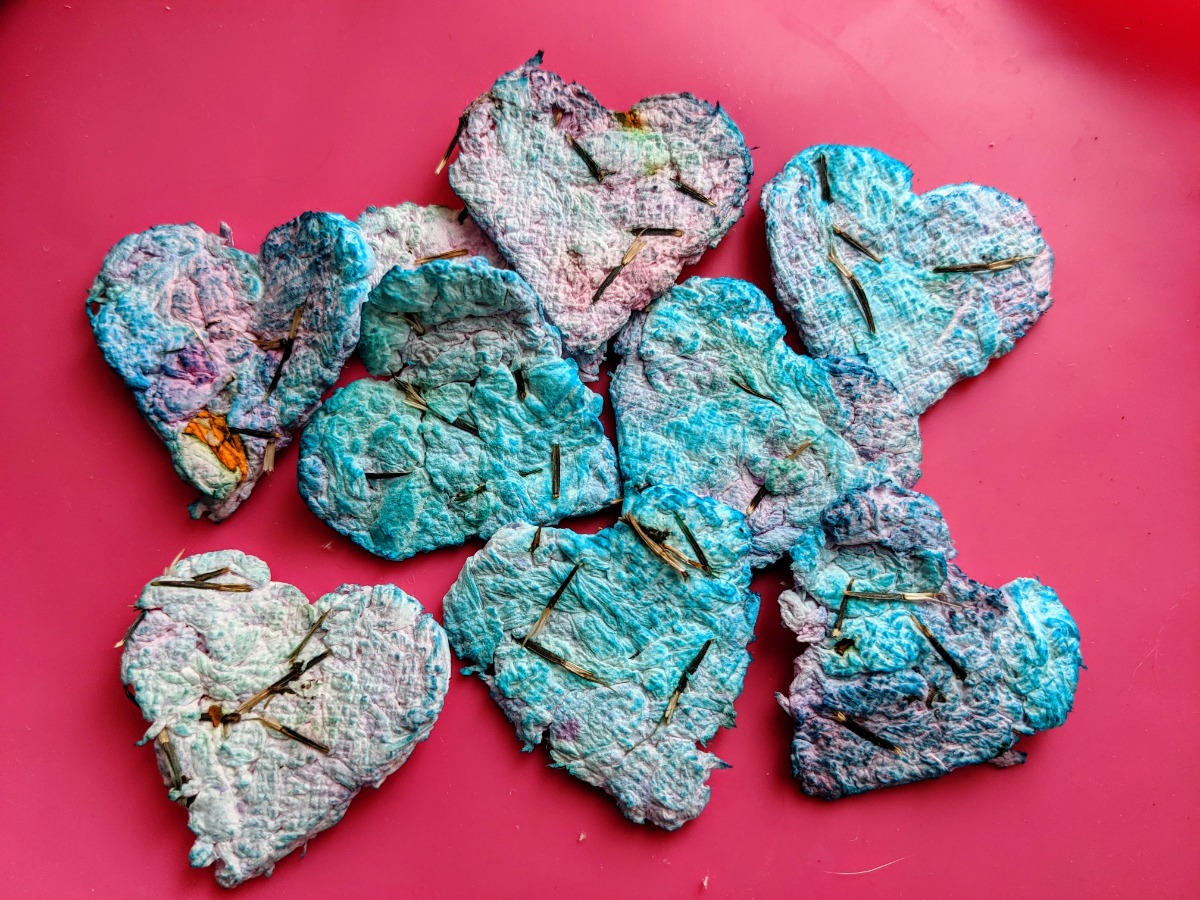 Plantable Seed Paper Materials:
Clean tissues, unused toilet paper, etc.
Fresh water from the faucet
Liquid food coloring, 3 colors (or more)
Bowls to mix the paper and food coloring
Spoons for mixing
Heart cookie cutters
Placemat or protective covering for the table
Screen attached inside a frame, cooling rack, or other drying apparatus
Felt or other absorbent fabric to place under the rack or screen
Marigold seeds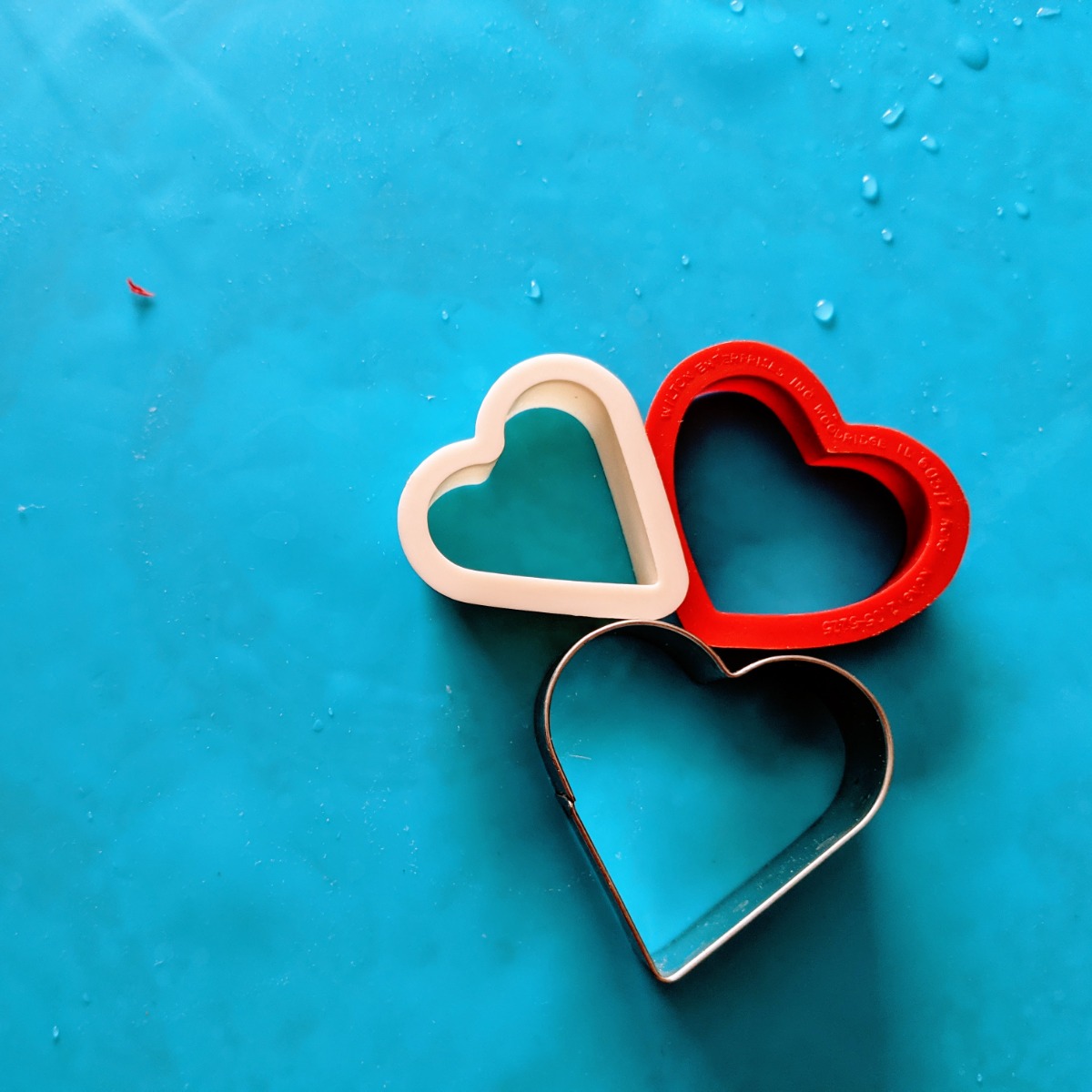 Seed Paper Instructions:
Tear up clean tissues into bits and divide them equally into the three bowls.

Wet the torn tissues with a bit of clean water.

Use a spoon or your hands to mush up the tissues in the water.

Keep going until the tissues take on more of a waterlogged and mushier consistency. They should be wet but not falling apart. (My kids said the tissues looked like crab meat! Yes, we made crab cakes recently…)



Add a drop or two of food coloring to each bowl.



Mix with the spoon to avoid dyeing your hands. (Don't worry, you may still tie-dye them in step 9.)



Set a heart cookie cutter down on your screen or felt fabric if you don't have a screen.

Sprinkle a few marigold seeds inside the heart cutter.

Pick up bits of paper pulp in each color (or any color you like) and place it inside the heart cookie cutter.



Press down gently with your fingertips to release some extra water.

Add a few more marigold seeds and a few tiny pinches of tie-dye paper pulp.

Spray lightly with water to help the components combine.



Press down again to release the water.

Remove the cookie cutter.

Press down with your palm to remove any last drops of water so the paper will be thinner and dry quicker.

Set aside to dry on a screen or dry piece of felt for 24 hours, flipping once if desired.
Now you have a really fun seed craft or greeting to share with your favorite gardening friends!
DIY Plantable Seed Paper Craft
These recycled valentine crafts will go over wonderfully in your gardening circle, green living groups, with eco-conscious friends, and generally anyone who appreciates some pretty tie-dye!
By the way, if you enjoyed this recycled gardening craft activity, be sure to check out our post on Reusing Old Candle Jars to make beautiful vases or making Custom Seed Envelopes!
And if you're into recycling and eco-friendly stuff, head over to our post on Earth Day Activities for Your Garden!
Have you ever made heart art seed paper before? We'd love to hear your method or best tips. This worked out great for us, so if you have any questions, please ask away!
06.22.22 – Edited to increase photo size and quality. Added more DIY seed paper process photos.