15 Decorative Pumpkins for Your Fall Doorstep
Decorating the front doorstep for fall is so satisfying! Especially when you have a cool variety of decorative pumpkins to use. In particular, we love how long our fall door décor lasts, but even more, we are so excited to be growing our own decorative pumpkins this year!
Last year, we went all out, buying decorative pumpkins from a local pumpkin stand. The farm stand had all kinds of gourds and pumpkins of all sizes and colors. My ultimate goal centered on finding stacking pumpkins.
Stacking pumpkins looked gorgeous on our doorstep – an idea that came as inspiration from a friend. I found several cool combinations of decorative pumpkins that stacked beautifully on our doorstep and indoors on our fireplace.
Choosing pumpkins from a farm stand was a lot of fun, but this year we are excited to grow some pumpkins! I'm not sure how well this will go on account of the current vine borer infestation, but fingers crossed!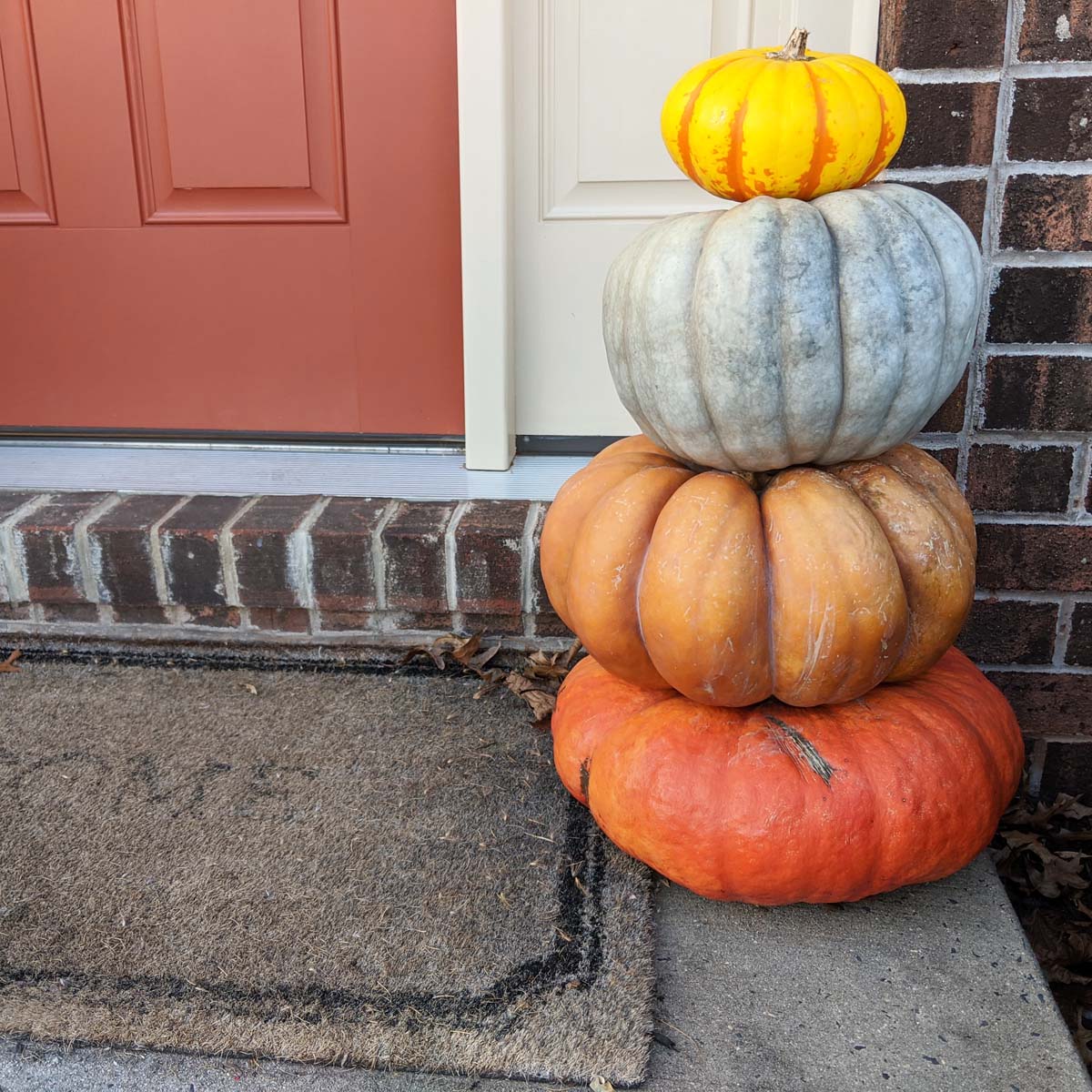 Backyard Pumpkin Patch
To create a fun backyard pumpkin patch for the kids, I planted a neat variety of pumpkins and gourds. Here's what we've got growing here in Pennsylvania Zone 6b:
Blue Jarrahdale Pumpkins – My oldest daughter's favorite color is blue, so we chose the blue Jarrahdale pumpkins. We grew ours from seed and I must say – they really started out very robust, with large leaves and healthy dark green coloring. Can't wait to see some baby pumpkins growing!
Pink Porcelain Doll Pumpkins – My youngest daughter's favorite color is pink, so we chose pink porcelain doll pumpkins for her. I hope all of these cool decorative pumpkins survive into the fall! Would love to see the pink color in real life since we received the seeds in a swap.
Birdhouse Gourds – I thought it would be such a fun craft for the girls to paint birdhouses from birdhouse gourds we grew ourselves! The seedlings started out kind of slowly so I am hoping these babies will pick up the pace and make it in time for a nice fall harvest. Research suggests these gourds take 120 to 180 days to mature. I think we should have just enough time, having started them in April.
Luffa Gourds – Last year we got the first frost a few weeks too early to actually get a decent luffa to cut into sponges and save seeds for the next season. I think we stared them from seed in June. Hopefully this year we will have better luck and get to taste the tender young squash as well as enjoying the crafty approach and saving luffa seeds.
Mini Tiger Pumpkins – With irresistible stripes of green, orange and white, these tiny pumpkins make the best fall tabletop décor. Still, we love piling up a few mini tiger pumpkins on the doorstep. Can't wait to see these babies grow!
Giant Show Pumpkin – Who doesn't love a challenge?! Try to grow a giant pumpkin like they'd have a farm show pumpkin contest. I received giant show pumpkin seeds in a swap that were saved from a 269-pound pumpkin! I hope we can grow something – anything from this cool seed!
Mystery Plant – Some unique pumpkin or gourd looking plant sprouted up in our compost area! Can't wait to see what it is! If you compost, this is a really fun situation where you may get some volunteers to surprise you.
More Fall Decorative Pumpkins
Besides the ones we're growing, you can find lots of unique decorative pumpkins to grow at home. Consider these neat pumpkins for decorating:
White Pumpkin – Known by many names, such as ghost pumpkin, albino pumpkin, Casper, Snowball, Cotton Candy, and others, the white pumpkin is a sophisticated and fun pumpkin for decorating. Carve it, paint it, decorate it, or simply set it on your doorstep.
Rouge Vif D'Etampes / Cinderella – Perfect for stacking, the Rouge Vif D'Etampes pumpkin hails from France – Paris to be exact. Prized as a decorative pumpkin, this one is also the base for many pumpkin soups in French cuisine. Sometimes called Cinderella pumpkins, these stunners are amazing for your fall décor.
Fairytale Pumpkins / musquee de Provence – Also fantastic for stacking, the fairytale pumpkin has a wide base with a squat height that lends itself to just the dimension you desire in a decorative pumpkin display. These pumpkins also turn up in cuisine as well.
Speckled Hound Pumpkin – Boasting two-tone mottling of peachy orange and olive, this lovely and decorative pumpkin belongs in your fall décor. It's about as close as it comes to a tie-dye pumpkin.
One Too Many Pumpkin – The One Too Many Pumpkin is a lovely blend of orange and yellow hues with a pattern that conjures visions of bloodshot eyes. (Seems to be reminiscent of one of those nights back in college…) The color and pattern would be a wonderful addition to your fall decorative pumpkin collection.
Black Futsu – This warty black pumpkin looks about as spooky as it gets. Reminiscent of an evil old witch, this one is sure to draw attention on your doorstep. Other warty pumpkins would also look great in your fall doorstep décor.
Jack Be Little – The tiny orange pumpkins make an adorable statement for fall. Grow Jack Be Little so you can decorate your tabletops, surfaces, and corners of your doorstep. These guys also look great in scenes you create with multiple different kinds of pumpkins.
Jack-o'Lantern – Who could forget America's favorite decorating pumpkin, the jack o'lantern?! This classic pumpkin belongs in any kid's backyard garden pumpkin patch if space permits. Get ready to carve a masterpiece for fall or set a few on your doorstep.
Final Thoughts: Growing Decorative Pumpkins
Make sure you focus on keeping your decorative pumpkins happy in the garden until it's time to harvest.
With so many other plants to grow, it seems like sometimes pumpkins are a bit of an afterthought.
Maybe that's because we planted ours all the way in the back of our property. Or maybe it's just because I'm often underwater with mom life. Either way, I sure do hope those ornamental pumpkins make it so we have our own backyard pumpkin patch!
Some things to do to keep your pumpkins happy in the garden:
Water deeply as needed. Pumpkins should get one inch of water per week.
Choose pumpkin fertilizer wisely. Pumpkins like low nitrogen, high phosphate and potassium in their fertilizer. Look for a 5-15-15 or 8-24-24 fertilizer for best results.
Ensure lots of sun if possible. While pumpkins definitely prefer as much sun as possible, they can still grow well in partial shade.
Allow room to roam. Pumpkins grow vigorously on the vine so be sure to allow them lots of ground to cover. You can also try trellising your pumpkins and creating a pumpkin hammock, but I have yet to attempt that trick.
By the way, if you DO successfully grow ornamental pumpkins – or even if you buy some at a local farm stand – be sure to save and dry the pumpkin seeds so you can grow more pumpkins next year!
Are you growing your own decorative pumpkins this year? Do you have any awesome tips on growing pumpkins or some questions you want to ask?
Let's chat in the comments below! Happy Gardening!
09.20.22 – Edited to refocus on stacking pumpkins and stackable pumpkins. Resized images to full.