Decorative Pumpkins – Using Fake Pumpkins to Decorate for Fall
Stop into any Home Goods, Marshall's, TJ Maxx, Ross, or otherwise, and you're sure to find decorative pumpkins as far as the eye can see. Plush pumpkins with sequins, velvet, or irresistibly squishy stuffing may be just what you need to decorate indoors for fall.
On a girls' day shopping trip, my bestie and another good friend convinced me to buy some plush decorative pumpkins. It wasn't something I would have thought to buy for myself, but ended up being super fun finding color and style combinations to try.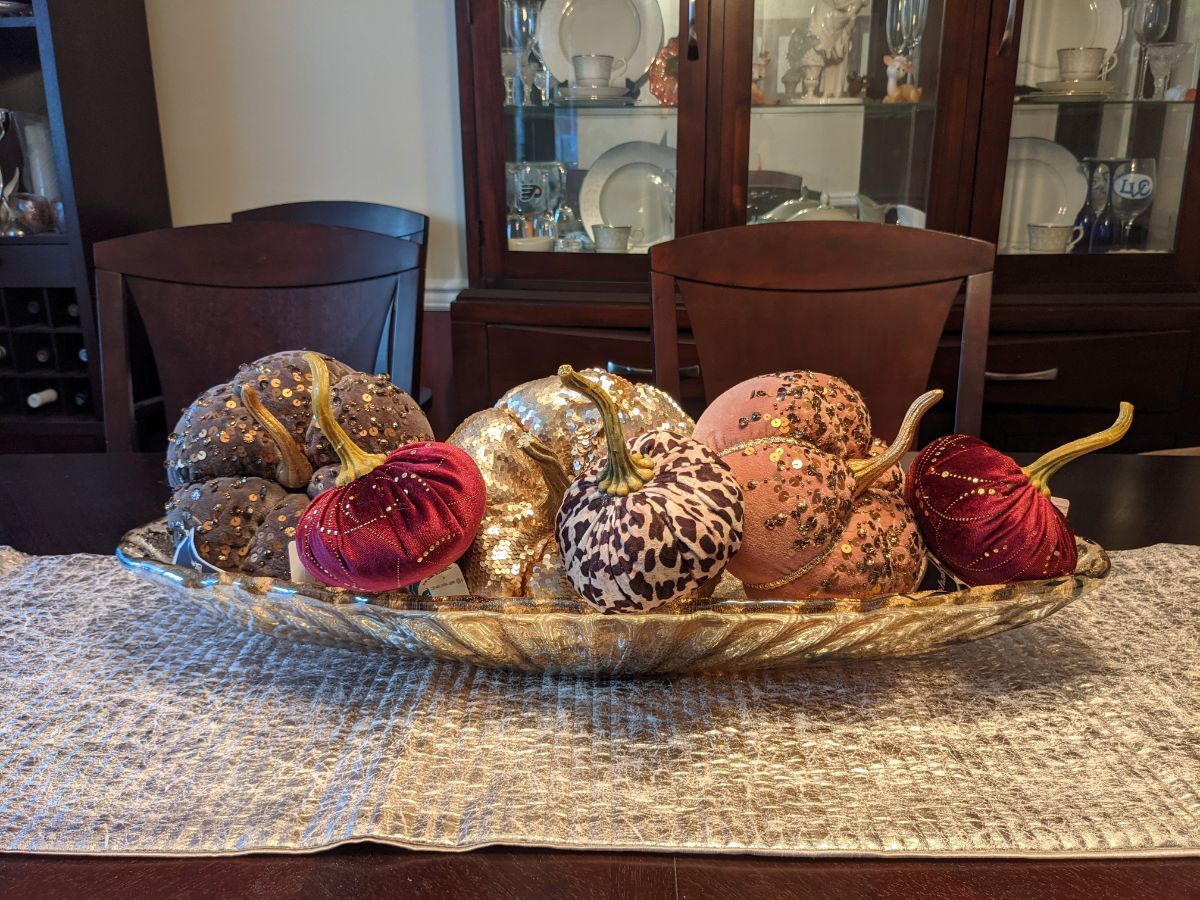 I ended up using the soft faux pumpkins to decorate my dining room table. I picked out a long blown-glass bowl as a table accent as well. (The bowl was a bit more than I intended to spend, but I think we'll enjoy redecorating with it throughout the seasons.
Decorative Pumpkin Styles
Depending on your needs, you can find a variety of attractive decorative pumpkins. Consider decorating with:
Faux Plush Pumpkins
Glass Pumpkins (or blown-glass)
Wooden Pumpkins
Velvet Pumpkins
Flip-Sequin Pumpkins and similar
Festive Fall Color Combinations
For a modern yet festive look, consider hues of rose gold or dusty rose, bronze, taupe, smoky gold, and even fun patterns like leopard print.
For another modern twist, you might enjoy using a palette with a lot of white or cream, or perhaps a bunch of metallic shades.
Traditional fall colors like orange, yellow, brown, green, and burgundy also look lovely.
Where can I find fake decorative pumpkins?
During the fall season, you can find decorative pumpkins at most of your favorite home furnishings stores and treasure hunt stores. Home Goods, Marshall's, TJ Maxx, and Ross all had great selections of fake plush pumpkins and blown-glass pumpkins.
What else looks good with fake pumpkins?
When decorating with faux pumpkins, try to match up some different colors and textures. Ornamental grasses, dried flowers, or foliage adds an organic touch. Festive fall candles also work well as a home décor accent to coordinate with fall decorative pumpkin accents.
You can also mix in scarecrows, sunflowers, gnomes, and other festive decorations.
Where should I decorate with faux pumpkins?
Use your imagination to come up with good décor styles for your home in the autumn. Create an indoor pumpkin patch with fake plush pumpkins. Decorate the corners of your fireplace hearth or spruce up a pass-through window. Any end table or other accent furniture might also work well to hold some fake pumpkins.
You can even use plush decorative pumpkins as fall bedroom accents!
Our website features affiliate links to products that we personally believe in. If you make a purchase from a link on our site, we may earn a small commission at no cost to you. Thank you! This helps our girls chase their garden dreams! Thanks for your support. (View full affiliate disclaimer at the end of the page.)
Are you decorating with pumpkin decorations this year? If so, hit us up in the comments and tell us what you're using. We love hearing from you!
Happy Fall Y'all!
09.20.22 – Edited to refocus on stacking pumpkins. Resized images to full.
10.17.22 – Updated to replace text with content on decorative fake pumpkins instead of real ones. Replaced photos and added recommended products. Created a new post for stacked pumpkins.