Calendula Seeds | Harvesting Calendula Seeds – 8 Steps
For the first time, this year we planted calendula in the garden. We picked a flower here or there but mostly enjoyed the sunny yellow blooms amid our strawberry plants. Finding ripe calendula seeds ready to harvest recently was an exciting moment!
Harvesting calendula seeds in the garden is an easy activity for gardeners of all ages. It's also extremely rewarding to collect seeds you've grown since the plant was merely a seed itself!
Calendula offers loads of benefits in the garden. You can make balms and salves, enjoy cut flowers, and so much more! First, just get started collecting seeds and planting them in the spring.
Keep reading to discover what calendula looks like and how to harvest calendula seeds!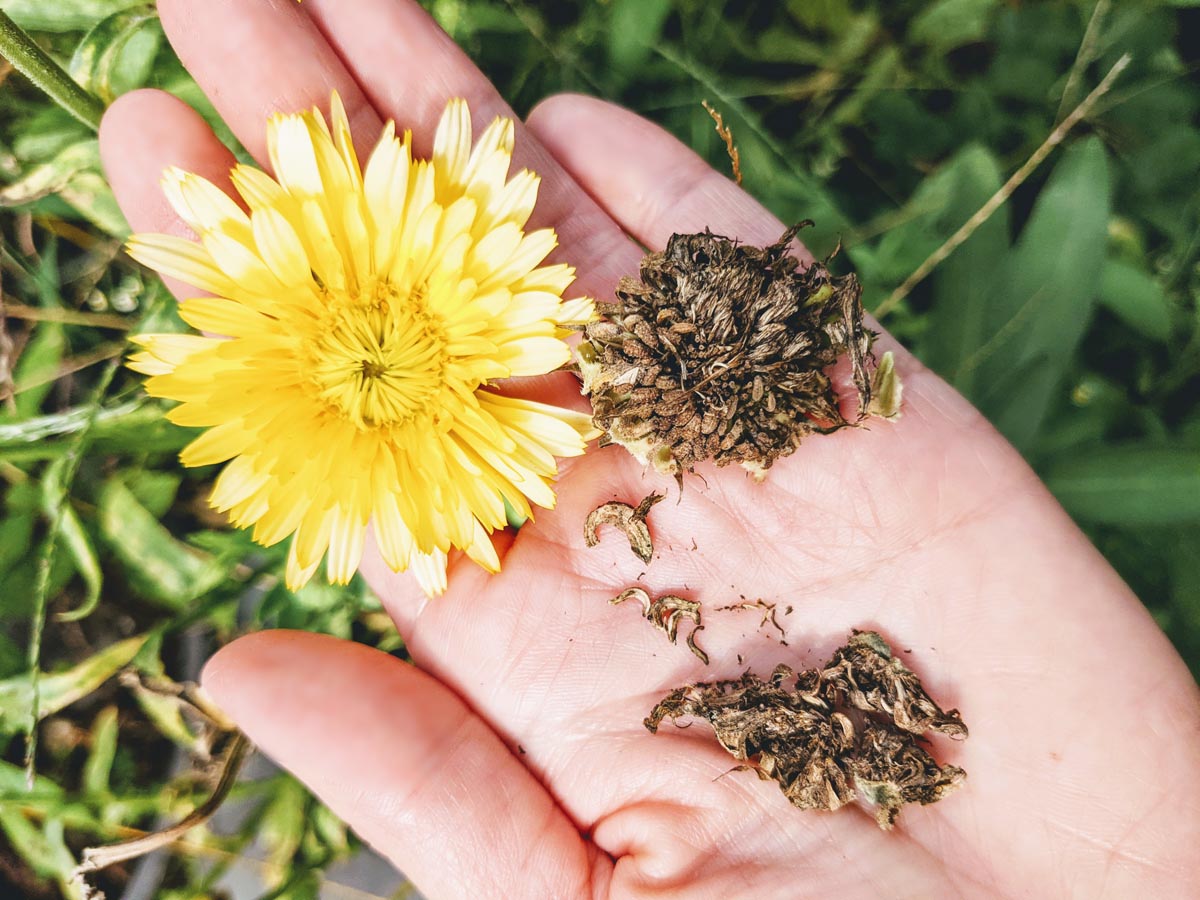 What does calendula look like?
Calendula is a bright and cheerful flower that's typically yellow or orange. Also known as pot marigold, calendula resembles daisies, which makes sense since they're both in the Asteraceae family. Some say the flower resembles marigolds but it really depends on the variety or cultivar.
What do calendula seeds look like?
Calendula seeds look like little curved letter C's or tiny snakes or worms in a C shape. They may be green or tan, depending on their maturity, but aim to collect them when they are brown if you have the choice. The seeds develop on the dried, dead calendula flower heads.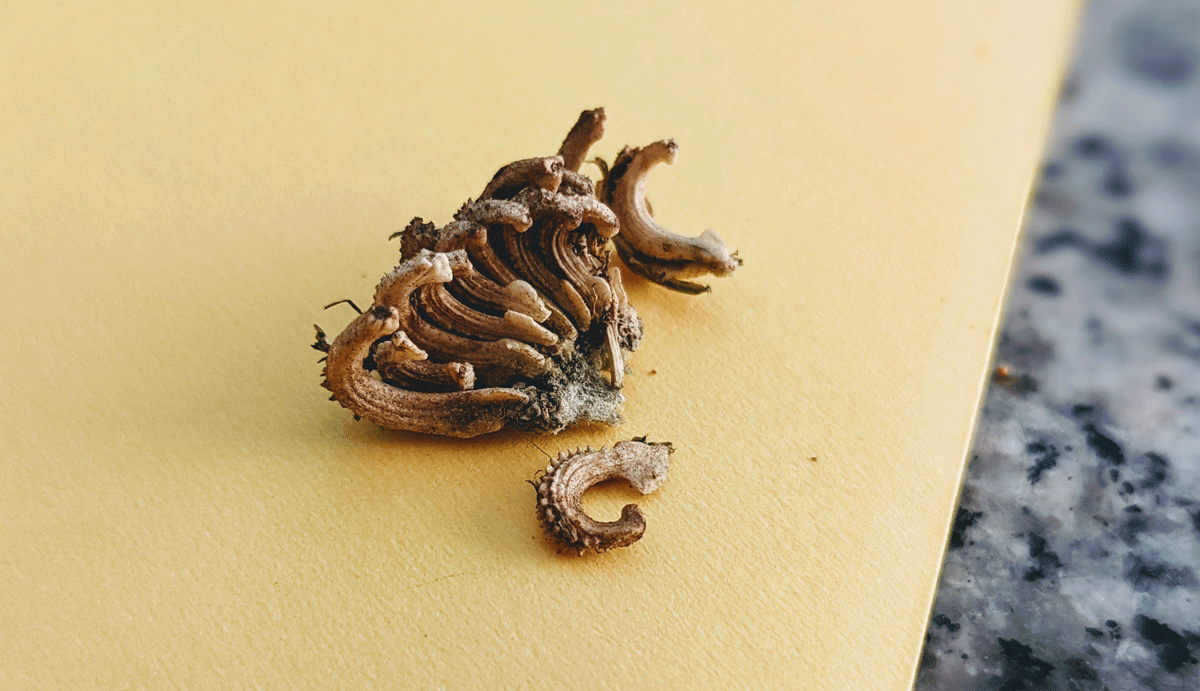 When visiting the garden, take notice of how each plant is progressing toward its ultimate goals. Nature is amazing and it's really neat to see the different phases of growth.
When can you harvest calendula seeds?
Calendula seeds are tan in color when they are ready to harvest. You'll want to let them ripen on the plant if you wish to save some for next year. We decided to harvest pot marigold seeds in mid-September when we first found them dried on the dead flower heads.
Harvesting Calendula Seeds
Pot marigold seeds are easy to handle and just as easy to collect. Enjoy saving calendula seeds from your own plants with these simple tips!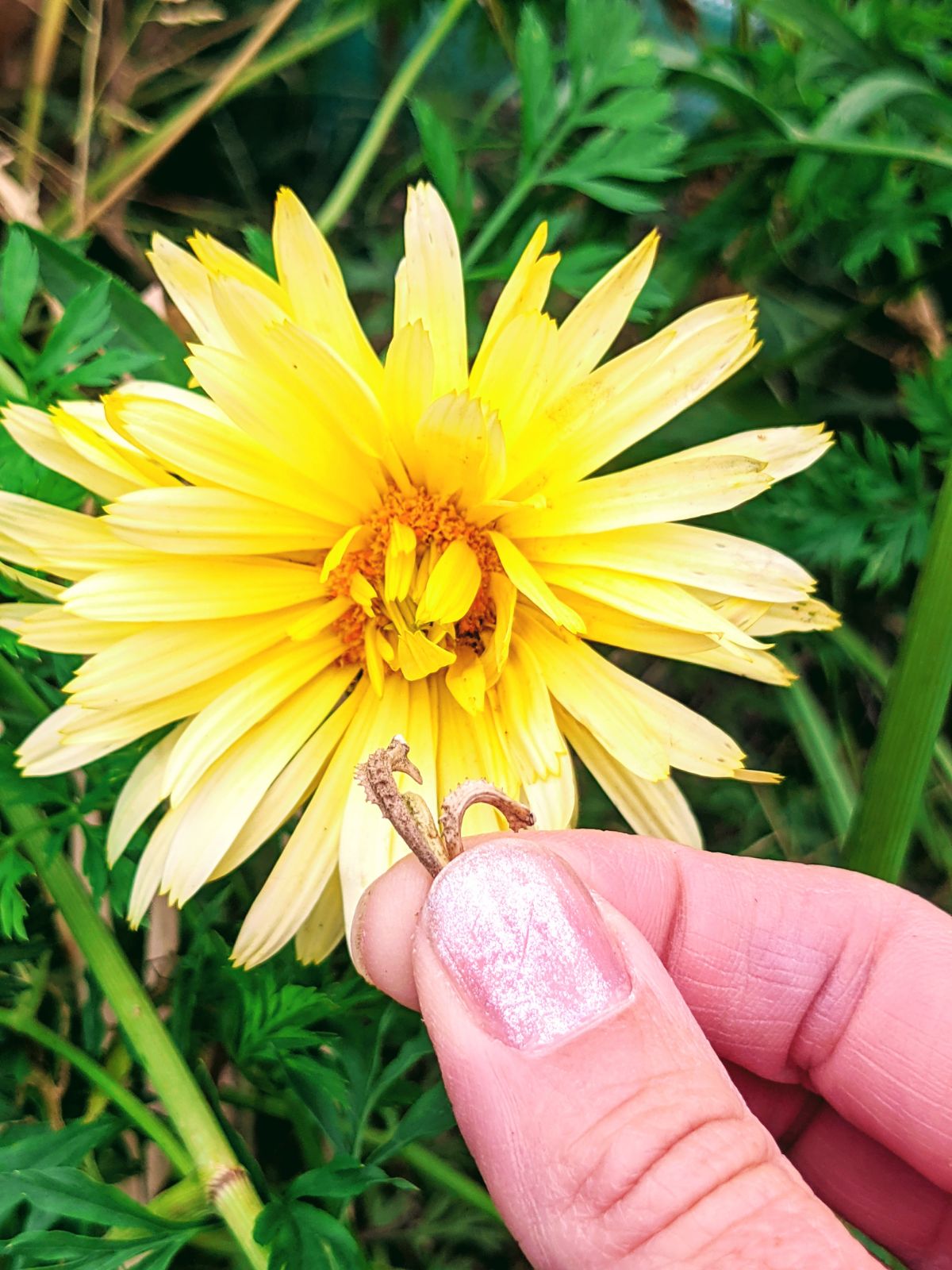 How to Harvest Calendula Seeds from the Garden
It only takes a few minutes to tackle this simple seed-saving technique. To harvest calendula seeds, follow these steps:
Check your calendula flowers regularly to take notice when the flower heads dry to brown.

Choose a flower head that has visible brown seeds showing.

Gently snap or snip the flower stem to remove the calendula deadhead from the plant.

Place the flower head in a basket or on a paper plate and continue checking other spent blooms.


Tip: Leave the green seeds for another day or so until they turn brown and dry.


Collect the rest of the seeds and bring them inside to process.

Gently use your thumb to knock the seeds off of the flower head and onto a paper plate.

Place the seeds in a paper envelope for storage until next season.

Label the envelope with the type, variety, or cultivar for easy identification and future planting.
Though I've listed 8 steps, these are some of the easiest seeds I've ever harvested from my garden. Get your little ones involved and have them go on a seed scavenger hunt!
Seed Collecting Tips for Pot Marigold
After saving seeds from the calendula in your garden, consider making yourself a note or setting a digital calendar reminder for planting. Pot marigolds tend to be early starters, so you don't want to miss the start of spring when you can first work the ground.
Truly, I loved growing chamomile just in the next garden bed over from the calendula. We picked flowers from both to enjoy a sunny herbal flower bouquet this summer. I can't wait to do it all over again next year!
Stay tuned for tips on planting and growing calendula in your garden!
By the way, if you liked this post, you might also enjoy our tips on harvesting nasturtium seeds from the garden. Be sure to check it out, as those flowers pack a real punch in color and garden benefits.
Our website features affiliate links to products that we personally believe in. If you make a purchase from a link on our site, we may earn a small commission at no cost to you. Thank you! This helps our girls chase their garden dreams! Thanks for your support. (View full affiliate disclaimer at the end of the page.)
In the meantime, hit us up with any questions or please feel free to share tips or fun stories about your own experiences with calendula in the garden!
Happy Gardening!
10.17.22 – Updated post images to full size. Improved spacing throughout. Added a new photo and recommended varieties of calendula.