Earth Day Cookies from Scratch – Earth Sugar Cookies
Making your own Earth Day cookies from scratch is super fun with the kids and it's a delicious way to celebrate. Make these Earth Day sugar cookies using my recipe or your own with my special planet Earth tips.
For a successful Earth Day cookies recipe, leave yourself time to chill the dough. After chilling, you can slice the Earth cookies much more easily.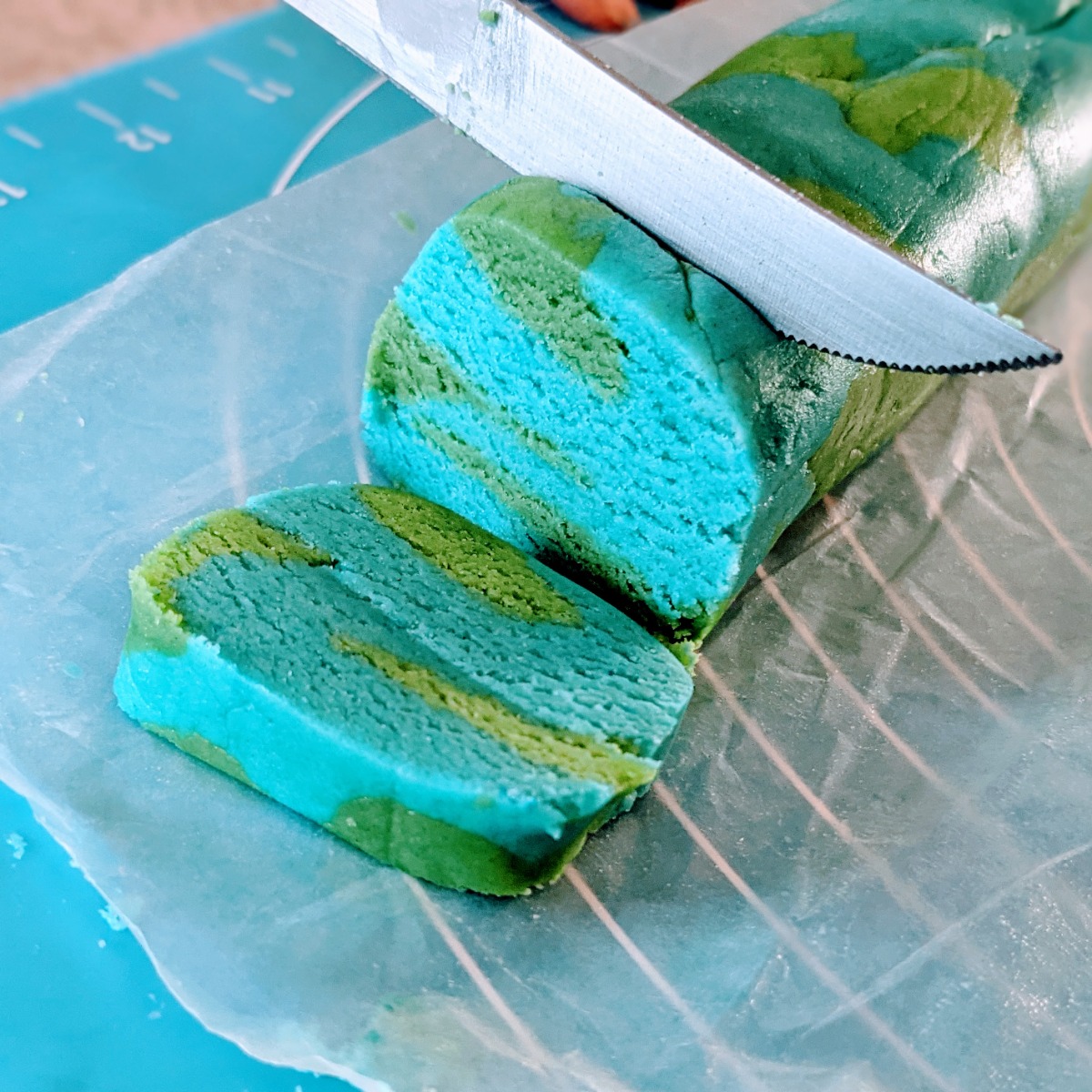 What are some good Earth Day treat ideas?
Earth Day sugar cookies are just one treat idea for this special day. Consider making Earth Day cupcakes or an Earth Day layer cake where you mix up vanilla (white) cake mix with blue and green food dye.
You can create a cupcake or cake design that resembles the Earth by simply marbling the cake mix in the pan. Use a knife to swirl the colors together. Add a streak of white for the clouds if you wish.
Earth Day brownies with blue and green jimmies (sprinkles) would be another fun way to celebrate Earth Day with treats!
How to Make Earth Day Cookies with ANY Sugar Cookie Dough
Discover how to make Earth cookies the easy way! All you need is a favorite sugar cookie dough recipe and blue and green food coloring.
For a quick summary:
Mix half of the sugar cookie dough with blue food dye and half with green food coloring.
Mix and match blobs of each color dough and create a cylinder shape made of dough.
Wrap the dough "cane" or cylinder in wax paper and refrigerate for a while.
Finally, slice Earth cookies one by one and bake according to the instructions!
Earth Day Cookies Recipe
If you want to try our own Earth Day sugar cookies recipe, here's how we make ours.
Spoiler Alert – We actually use our family's longtime holiday Candy Cane Cookies recipe but with blue and green dye instead of red.
Earth Day Cookies from Scratch
Make delicious, colorful Earth Day sugar cookies from Scratch using your own sugar cookie dough or ours in this fun recipe! (Based on my family's longtime holiday Candy Cane Cookie Recipe)
Ingredients
1 1/3

cup

Confectioner's Sugar

1/2

cup

Softened Butter

1/2

cup

Shortening

1

Egg

2

tsp

Almond Extract

1

tsp

Vanilla Extract

2 1/2

cups

Flour

1

tsp

Salt

1/2

tsp

Blue Food Coloring

(or to desired color)

1/2

tsp

Green Food Coloring

(or to desired color)

1/4

cup

white jimmies / sprinkles or sanding sugar

(optional)
Instructions
Making the Earth Day Cookie Dough
Start your Earth Day cookies by mixing together powdered sugar, butter, shortening, egg, almond extract, and vanilla extract.

(Image courtesy of Klaus Nielsen from Pexels)

Add in the flour and salt. Mix until combined.

Divide the dough in half. Add blue food coloring to one half of the dough. Mix well to blend.

Add green food coloring to the other half of the Earth cookie dough.
Creating Earth Day Cookies
Lay down a sheet of wax paper. You may also use a silicone baking mat or other surface, if desired. Begin placing pinches of blue and green dough together in a line. They should alternate a bit, but not symmetrically. Be random about it!

Press the colored dough together to form a cylinder / roll of dough. Continue doing this until you have a long tube of cookie dough. The dough should be erratic with the random appearance of tie-dye.

Wrap the waxed paper around the roll of dough. Place it in the refrigerator for at least one hour. Preheat oven to 375 degrees.
Baking Earth Cookies
Remove dough from the fridge and use a sharp knife to cut ¼ inch to 1/3 inch slices for Earth cookies.

Place the cookies on a baking sheet about 2 inches apart.

Top with white sprinkles (jimmies), white sanding sugar, or large white sugar decorating crystals if desired.

Bake until set. For a soft Earth Day cookie, remove after 6-8 minutes, depending on your oven. For a crunchier cookie, leave in the oven an extra minute or two (9-10 minutes). Remove from the oven and enjoy!
Notes
These cookies are really fun to make, even if they're a little time-consuming.
We modeled these cookies after polymer clay FIMO canes used for various crafting activities. While we don't have a dough extruder, it sure was fun making these on our own!
Use our method to come up with other fun cookie ideas for all the different holidays!
Quick and Easy Alternative Earth Day Cookies
If you don't have time to basically tie-dye your Earth Day cookies from scratch, fret not. You can always decorate them with blue and green sanding sugar instead!
Simply sprinkle one color randomly and then use the other color to fill the gaps.
As another option, you can make easy Earth Day cookies with blue and green frosting instead of dyeing the dough or using sugar crystals.
Do you have any other ideas for fun Earth cookie ideas?
Thoughts on Earth Cookies Recipe
Making Earth cookies is a very fun activity to do with toddlers or kids of all ages.
It can also be a fun surprise for school-aged kids getting home from school to a sweet snack.
Whatever you decide, whether you use our Earth Day cookie recipe or your own sugar cookie dough, we hope you love these fun and festive planet Earth treats!
By the way, here are a few other ways to celebrate Earth Day anytime:
Happy Earth Day!
01.22.23 – Updated to remove link to quiz since it is now consolidated.
04.20.23 – Updated from April 22, 2022 to current date to post on homepage.