How to Dry Flowers from Your Garden (Plus 10 Uses!)
Sometimes we are blessed with such beautiful surprises in the garden! In these cases, besides taking a photo, the only thing we can do is try to save the seeds or dry and preserve the bloom in some way. Drying flowers is one easy method to try!
One good way to preserve flowers include drying them as full, open blossoms. You can also try pressing fresh flowers to be used as a bookmark or other paper craft adornment.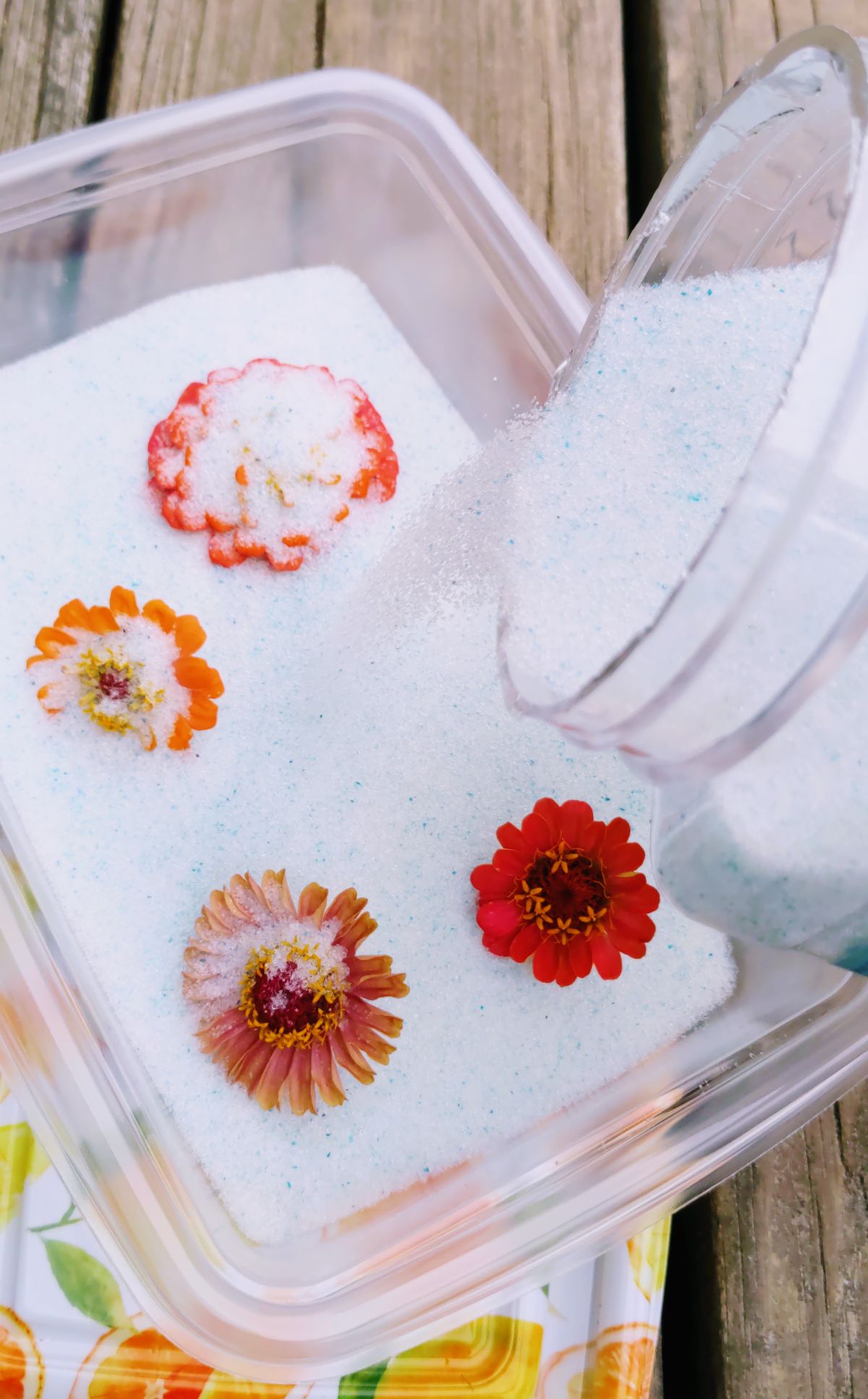 Once fresh flowers dry completely, you can preserve them for a lifetime using resin. Try making paperweights, Christmas ornaments, votive holders, or other unique dried flower crafts.
Safety Notice:
As a family-focused website, I must alert you to the safety issues of using silica gel crystals to dry flowers. The products are listed as nontoxic, but you should still avoid breathing the dust or getting particles in the eyes or mouth.
This product may also pose a choking hazard.
Please use caution for yourself, others, and pets when drying flowers with silica.
For more safety information, please see the Environment, Health and Safety Information for the Berkeley Campus Fact Sheet on Working with Silica (pdf).
How to Dry Flowers Easily
Drying flowers is actually a pretty easy process if you have the right supplies.
Materials:
Instructions:
Find blossoms that you love and snip them close to the top of the stem where the flower begins.

Set aside the snipped blooms and continue until you have several ready for drying.

Cover the bottom of a plastic container with flower drying crystals.



Place the flower blooms on top of the layer of crystals, using care so none are touching.

Gently continue filling the container with flower drying crystals until all of the flowers are covered.



Allow the crystals to settle a bit and then top off to be extra sure the flowers remain covered during drying.

Tightly seal the lid and set the container in a safe place where it will not be disturbed.
Allow the flowers to dry completely undisturbed for several days to a week or longer.
When it is time to check the flowers, use a plastic spoon, fork, or other implement to gently lift the flower blossoms out of the container.
Tips for Using Dried Flowers in Crafts
Paperweights

Ornaments

Dried Flower Bouquet or Arrangement

Votive Holders

Potpourri

Dried Flower Wall Décor

Dry Flower Crown

Dried Flower Wreaths

Dried Flower Garland

Dry Flower Jewelry
FAQ
How long does it take to dry flowers?
The length of time required to dry flowers successfully may vary depending on several factors. The texture and moisture content of the flower is one consideration. Flowers in silica desiccant may dry in as little as 2 or 3 days.
What are some of the best flowers to dry?
Roses, zinnias, daisies, and snapdragons are some popular flowers to try drying. You can dry other favorite flowers, too.
Drying flowers with silica gel is a good experiment to try with different flower types until you see what you like best.
Our website features affiliate links to products that we personally believe in. If you make a purchase from a link on our site, we may earn a small commission at no cost to you. Thank you! This helps our girls chase their garden dreams! Thanks for your support. (View full affiliate disclaimer at the end of the page.)
Do you have any other great ideas for what to do with dried flowers? If you have any questions on drawing fresh flowers or tips to share, please hit us up in the comments. We love hearing from you
Happy crafting!
11.14.22 – Added 2 more photos to the process section.