Dollar Tree Stackable Planters: Review and Tips
Finally! I managed to score a set of 7 Dollar Tree stackable planters for my garden. We totally missed out in 2021 when I first saw them available and I basically stalked the store until the stacking pots came back a year later. Even now, I am excited that Dollar Tree released smaller sizes of these beloved pots, like the mini stacking planters!
Have you got your stackable tier planters from Dollar Tree yet?
I noticed if we take care of them, we can get a few seasons out of them, so that is definitely good!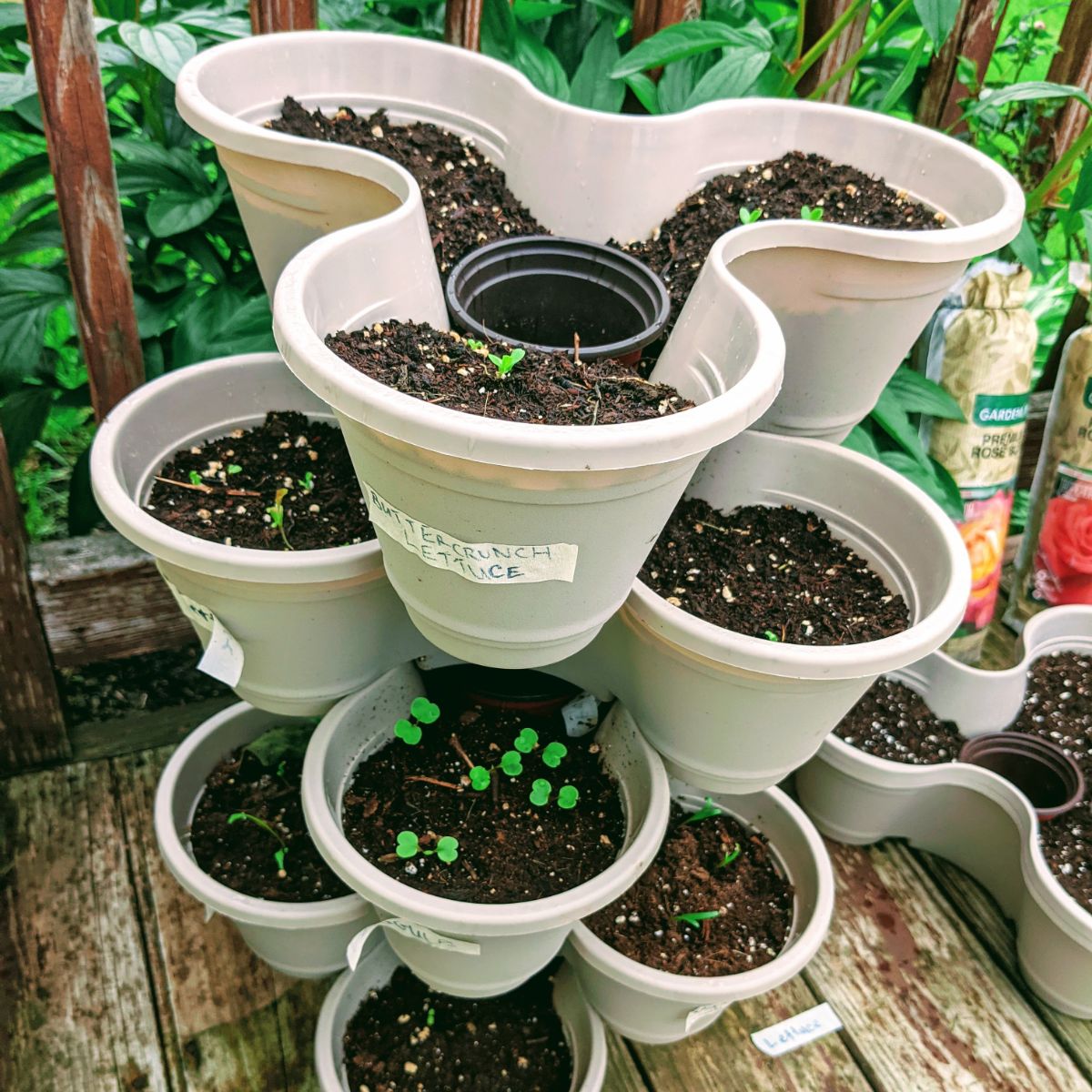 Our oldest daughter especially loved planting in the stacking planters Dollar Tree sold for $1.25 each. She planted lettuce, spinach, and arugula for a cool little salad garden!
Here's our review of Dollar Tree stacking planters.
What are the best things to grow in Dollar Tree stackable planters?
Dollar Tree stackable planters are ideal for growing lettuce, spinach, arugula, herbs, strawberries, pineberries, or individual annual flowers. Decide whether you prefer a colorful display of flowers, a salad garden, or a functional herb garden to guide your plans.
Use your gardening creativity to find just the right plants or flowers for your tier planters.
These stacking pots aren't huge, so keep that in mind. They are likely not ideal for accommodating large crops such as zucchini, pumpkins, or squash.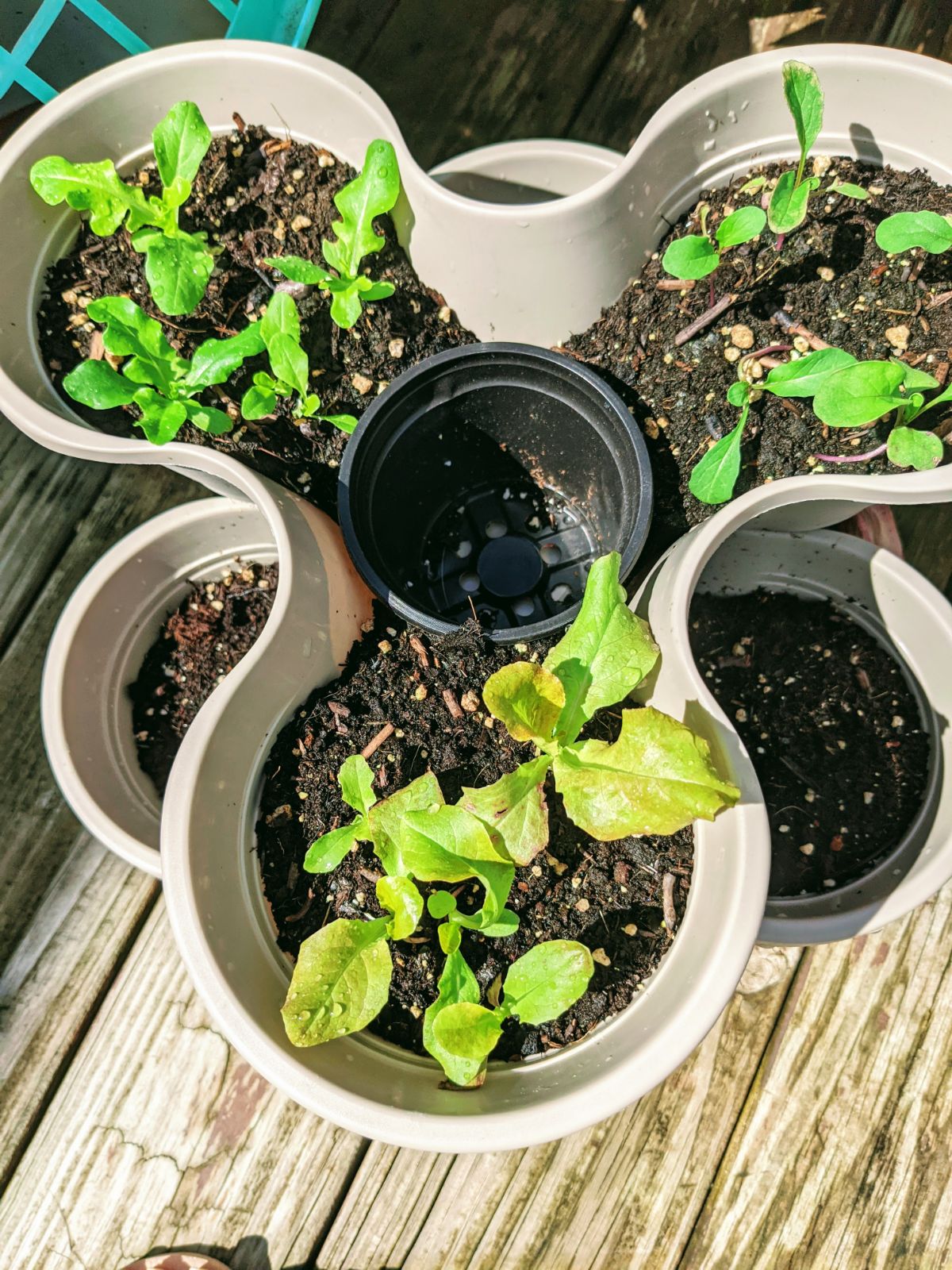 Dollar Tree Stackable Planters Review
We had wanted the stackable flower pots Dollar Tree sells for our 2020 and 2021 gardens but couldn't find them.
So, for 2022, I set about hunting them down early!
I managed to score 7 gray tier planters from Dollar Tree early in the spring.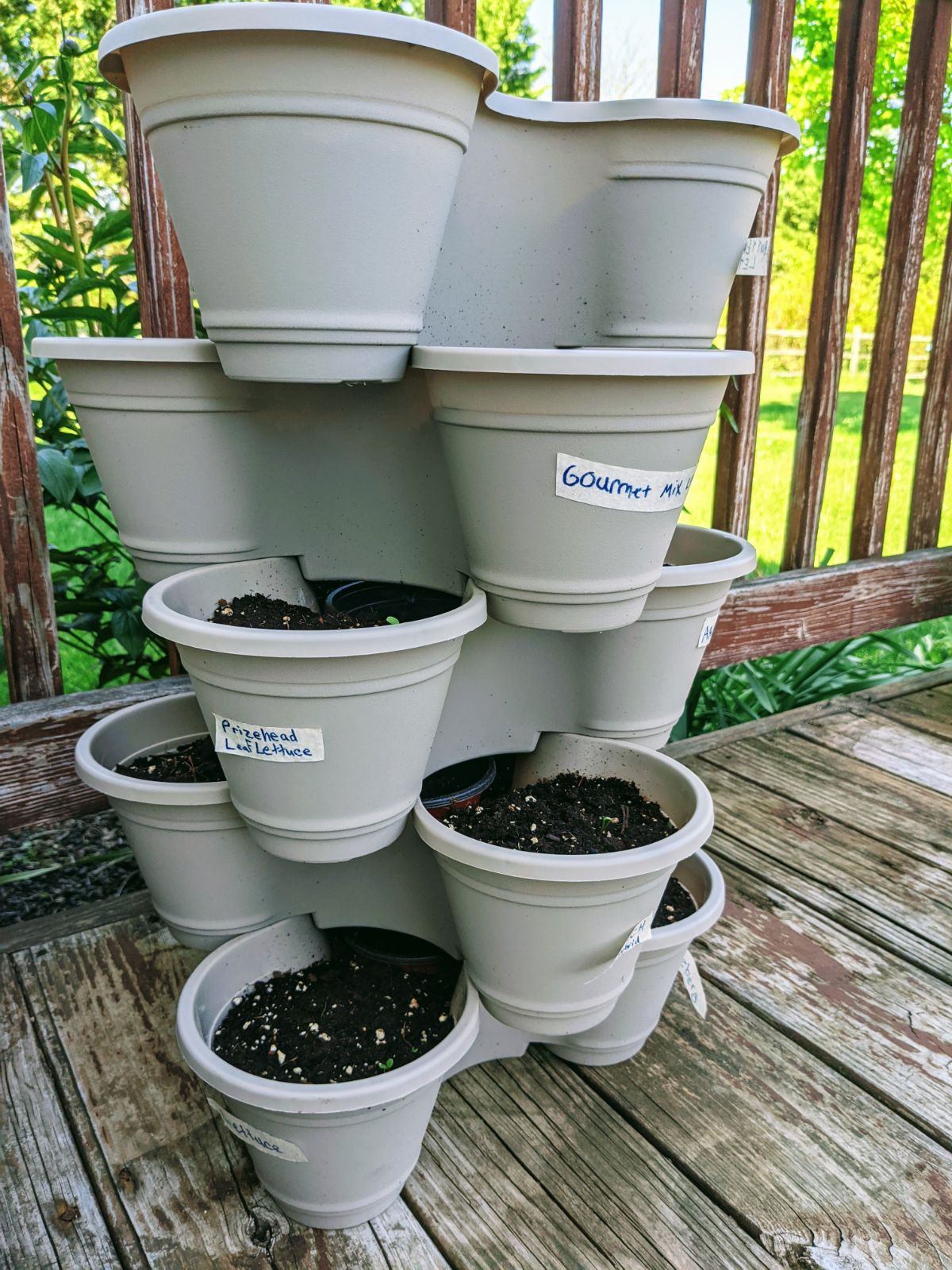 The quality seems decent enough to get a few seasons out of these.
(That is, if the squirrels don't chew the plastic as with my other outdoor pots!)
So far, I am loving these convenient stackable planters. I really like that you can change them to suit your needs. We originally stacked the pots 6 high, but then we switched it to 3 sets of 2 planters before a big storm.
I figured Dollar Tree's stacking planters would be safer from the wind and heavy rain in a shorter stack.
That's the beauty of these versatile planters!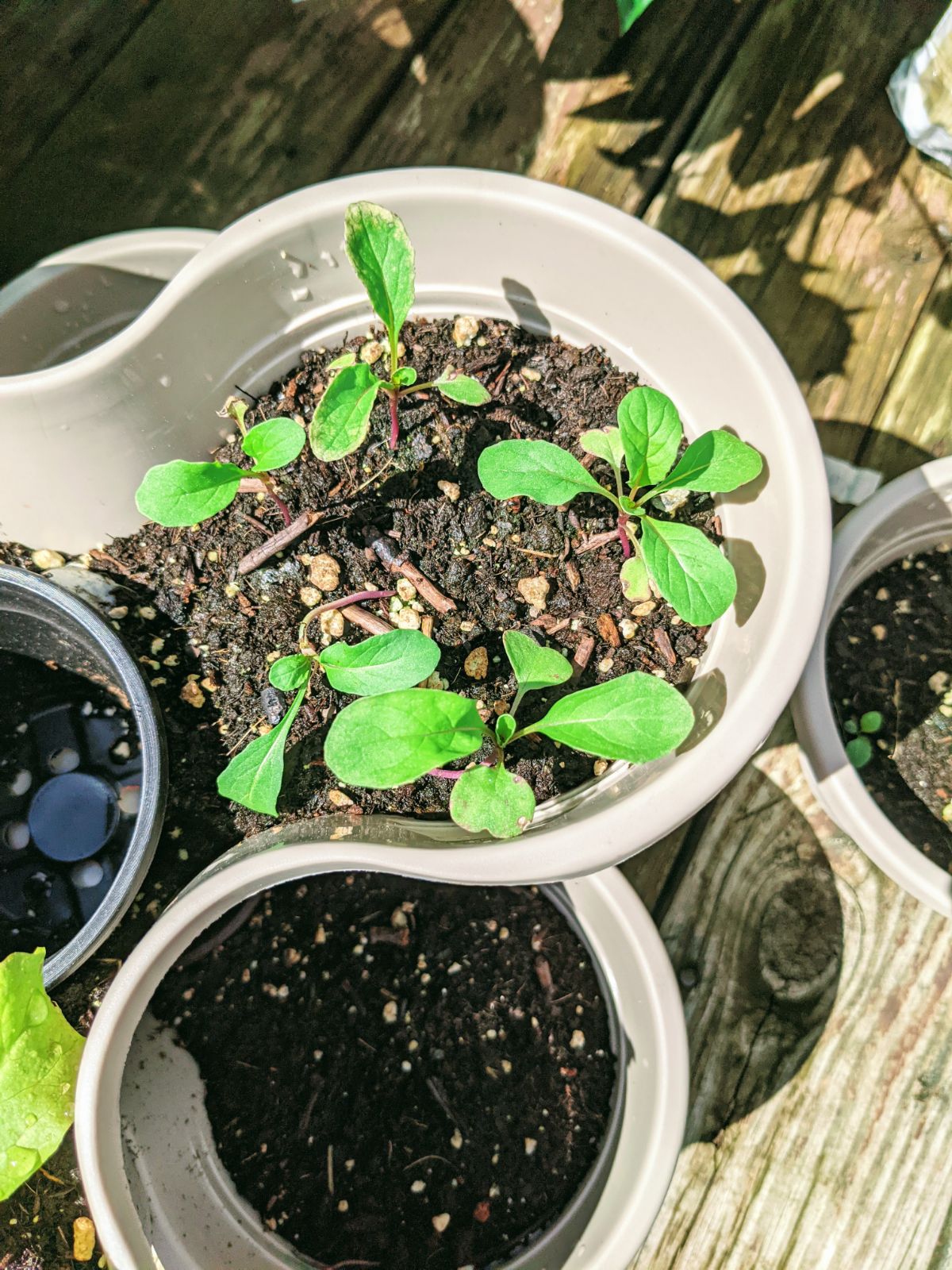 Dollar Tree Stackable Planter Ideas
Do you love salad and herbs? That was one of our first Dollar Tree stackable planter ideas during our inaugural growing season using these cool value planter pots.
Now, here are a few tips that we came up with when using the tier planters from Dollar Tree.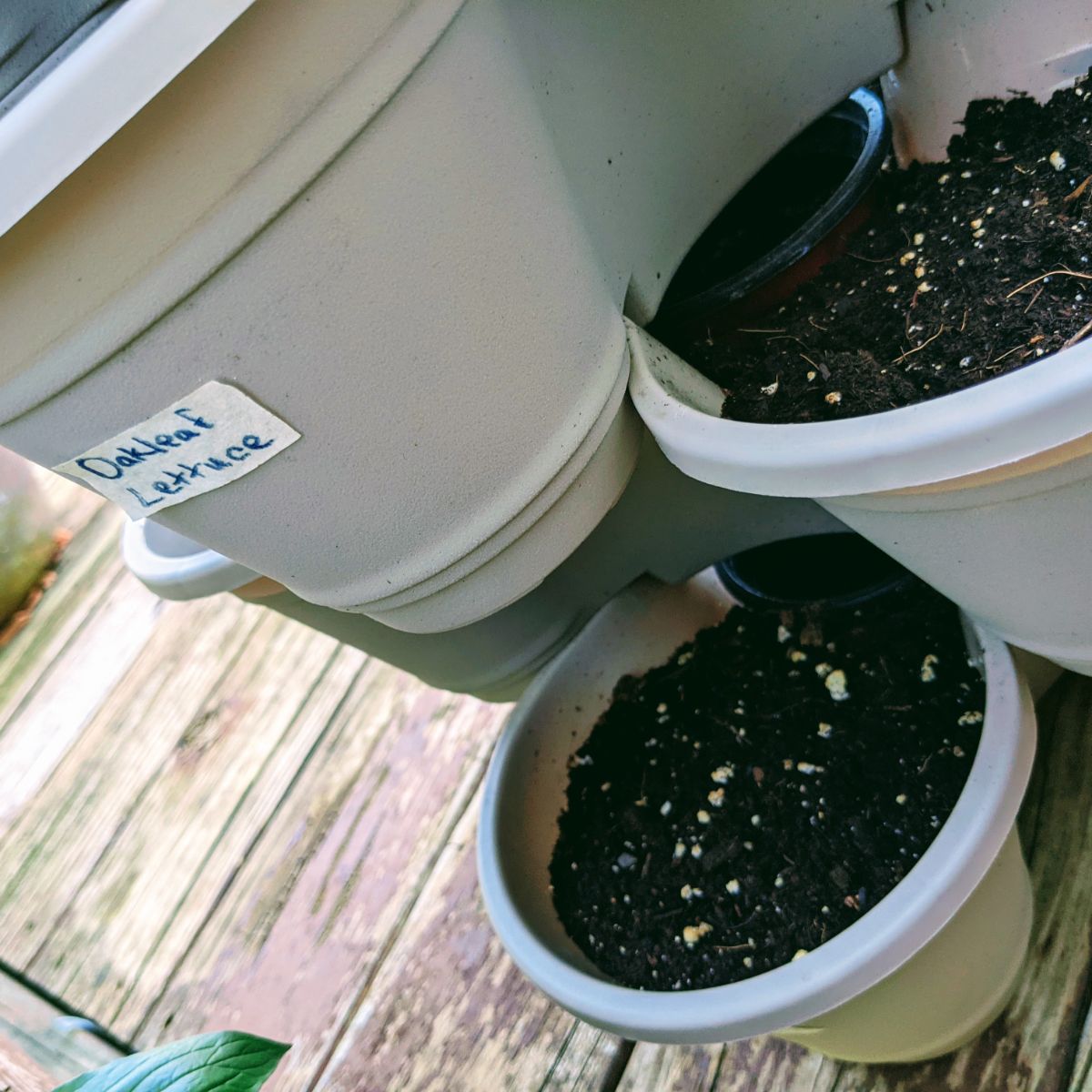 Adding Drainage Holes to Stacking Planters (Dollar Tree, etc.)
This method will work with just about any plastic planters, including the Dollar Tree stacking tier planters. It's a little trick I stole from winter sowing!
Plug in a hot glue gun and wait a moment for it to heat up. DO NOT leave the hot glue gun unattended!

Place the point of the glue gun up against the perforated drainage holes on the bottom of the stacking planters.

Allow the hot glue gun to melt a drainage hole into the bottom of the planter.

Repeat the process for each intended drain hole.

Unplug the hot glue gun and allow it to safely cool.
As a side note, I did try poking the drainage holes out with a screwdriver or similar tool. Some of them came out cleanly while others cracked in a weird way.
I feel the melting process worked best for my needs, but your mileage may vary.
Suit yourself!
Reducing Soil Use
Since the tier planters stack on top of each other, the centers will only hold plants if it's on the top of the tier.
Rather than fill in every single planter to the top, we made a clever alteration. Try our tip!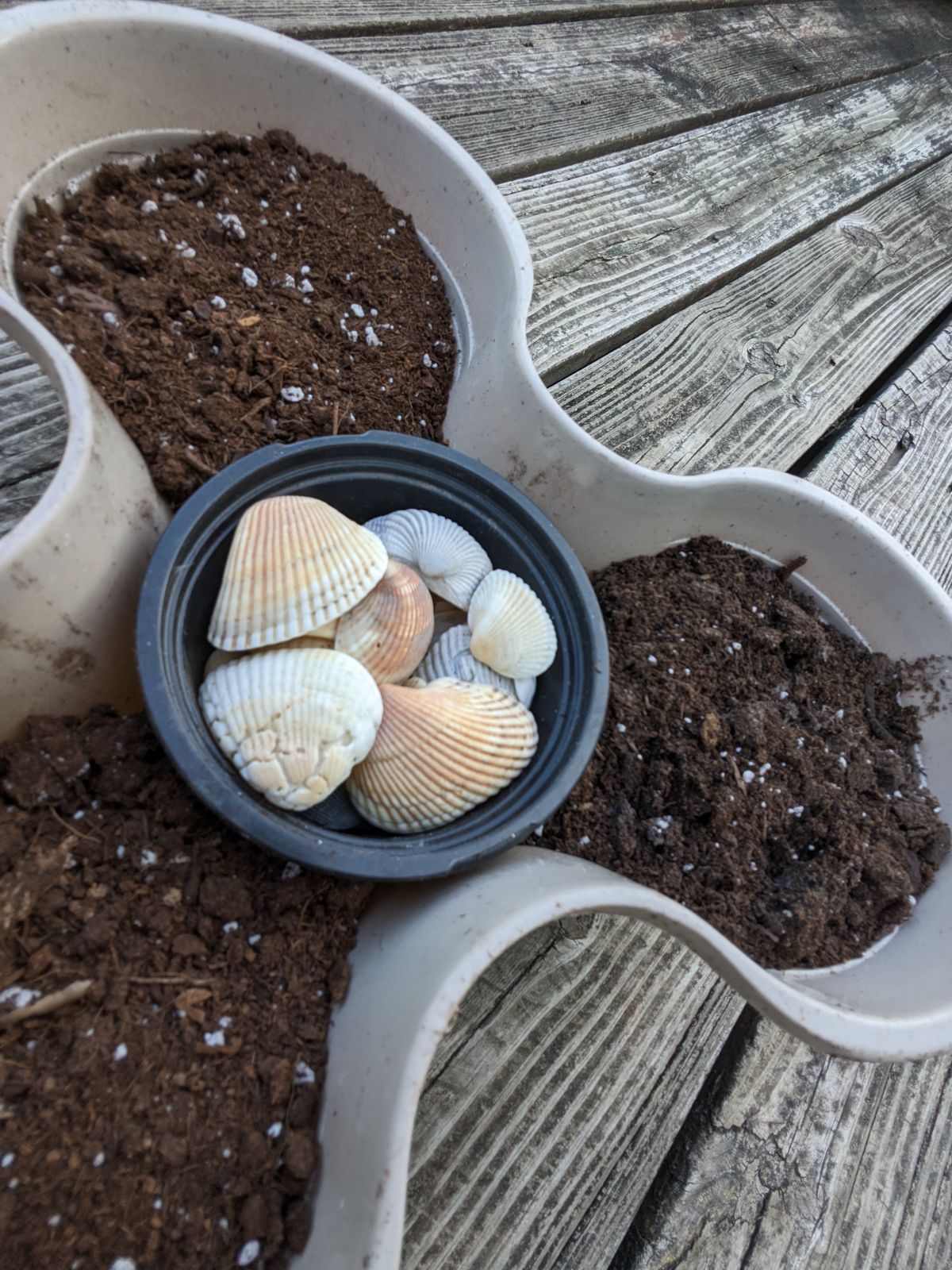 Begin filling the Dollar Tree stacking flower pots with potting mix.

Place a 3-inch nursery pot (or similar) inside the center of the stacking planter.

Fill soil in all around the center pot, but not inside it.

Fill the center pot with seashells, river rocks, or another filler.



Gently press down to compact the soil. Add more if needed.

Moisten the soil and prepare for planting.
This method saves at least one small pot's worth of soil per tier. It worked out great for us!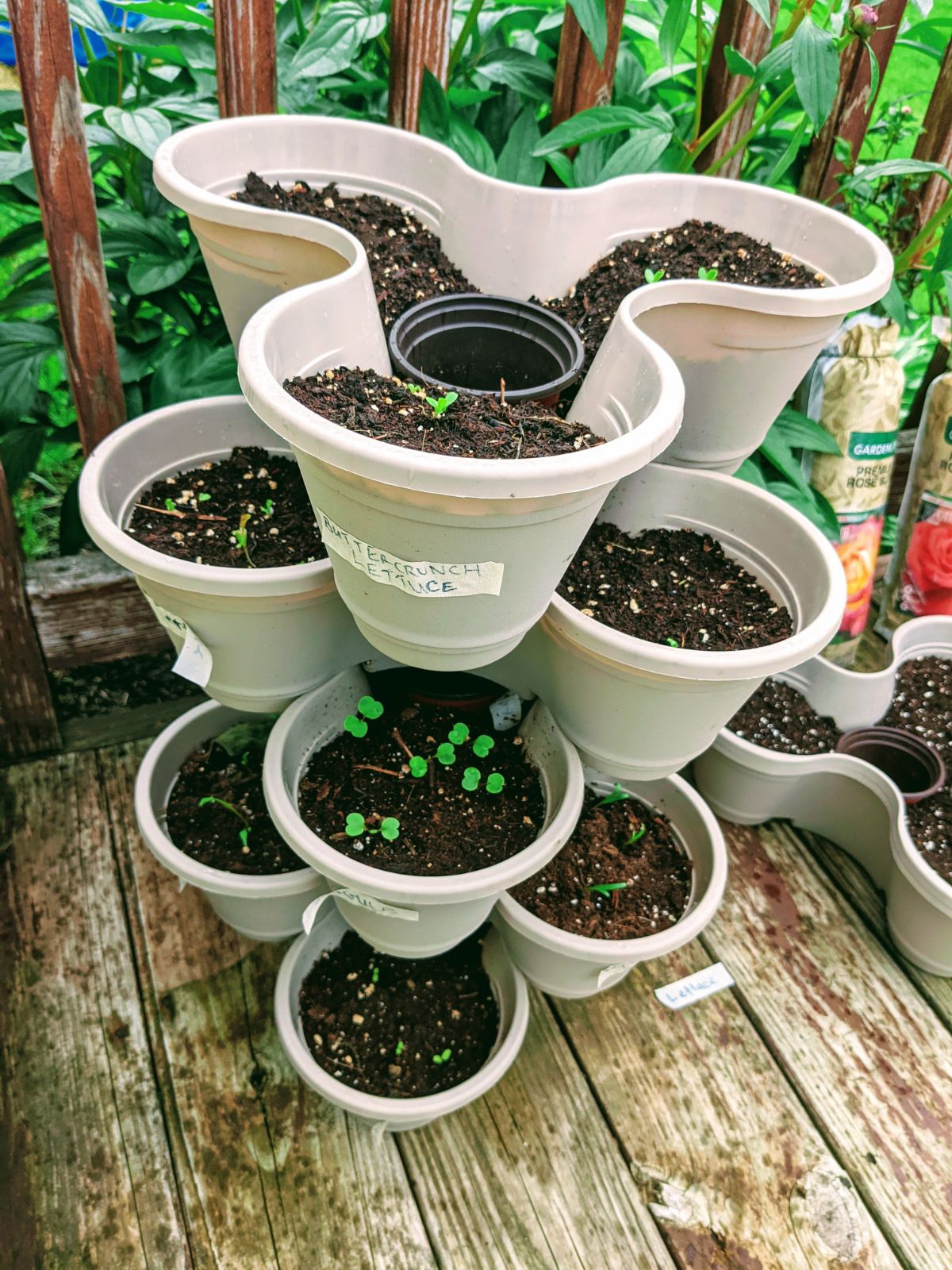 Final Thoughts: Dollar Tree Stackable Planters
All in all, I do really like the stacking planters Dollar Tree sold and I am glad we got some.
I would recommend them for use on your deck or outdoor surfaces.
Get creative with what you plant inside the Dollar Tree stackable pots!
I truly love our salad garden, however, if we had more planters, I would probably play around with different flower combinations.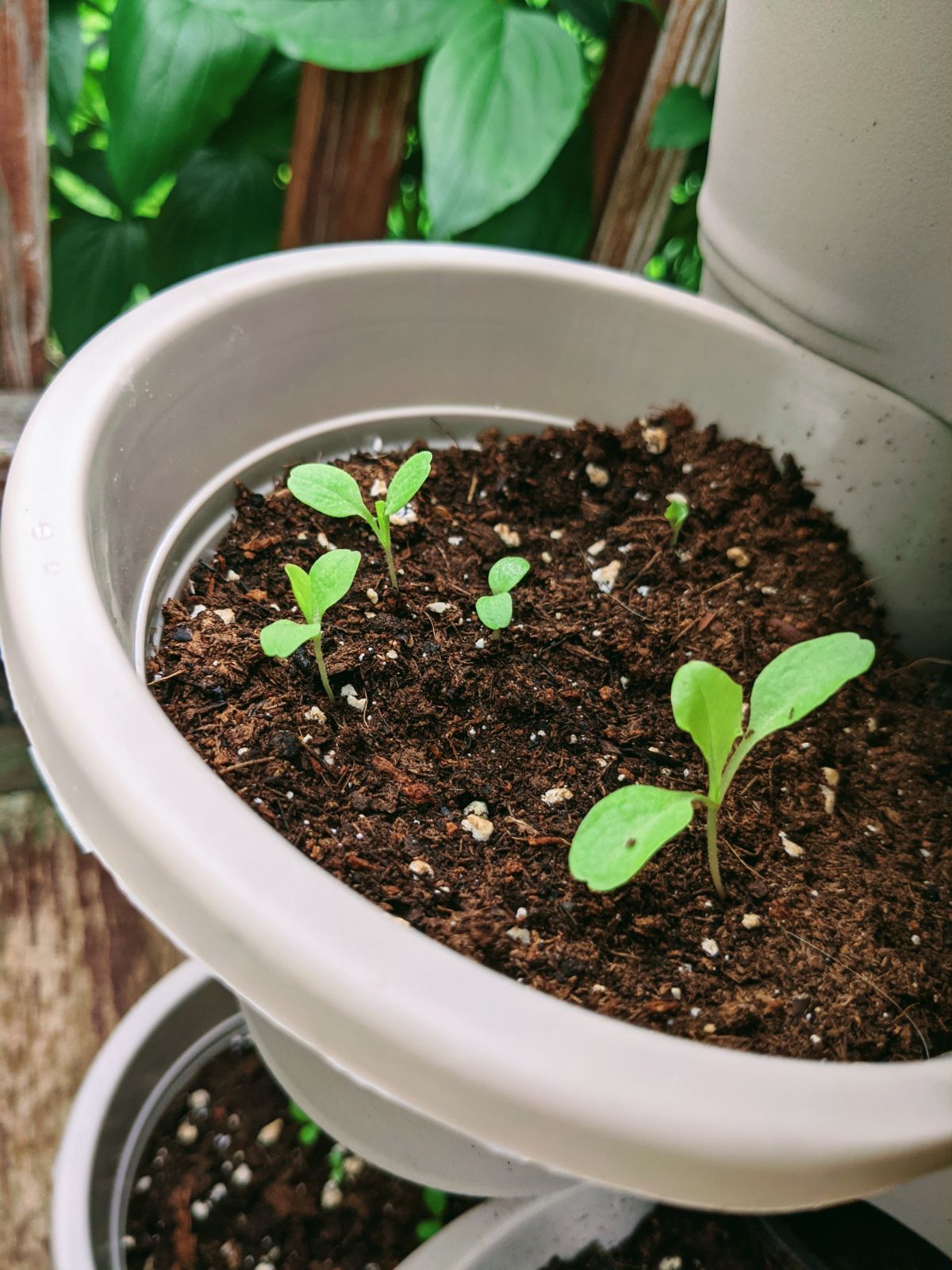 A stacking herb garden would also be fun!
The possibilities are pretty endless, so have fun planting in these innovative and convenient stackable planters.
Feel free to ask questions or share your own plan for how to use these useful planter pots!
Happy Gardening!
09.29.23 – Updated to freshen the content for 2023. Added another step to the soil hack plus two photos for clarification on the center pot.