St. Patrick's Day Yard and Garden Decorating Ideas
Decorating your garden and yard for the holidays can be a lot of fun. Just imagine all the neat outdoor décor you can find for each holiday. Speaking of, are you ready with Irish decorating ideas and St. Patrick's Day garden décor?
Add a touch of Irish charm to your favorite garden spaces with some whimsical St. Patrick's Day gardening ideas. Decorating for St. Pat's is lots of fun both indoors and outdoors, where your neighbors can enjoy the decorations, too.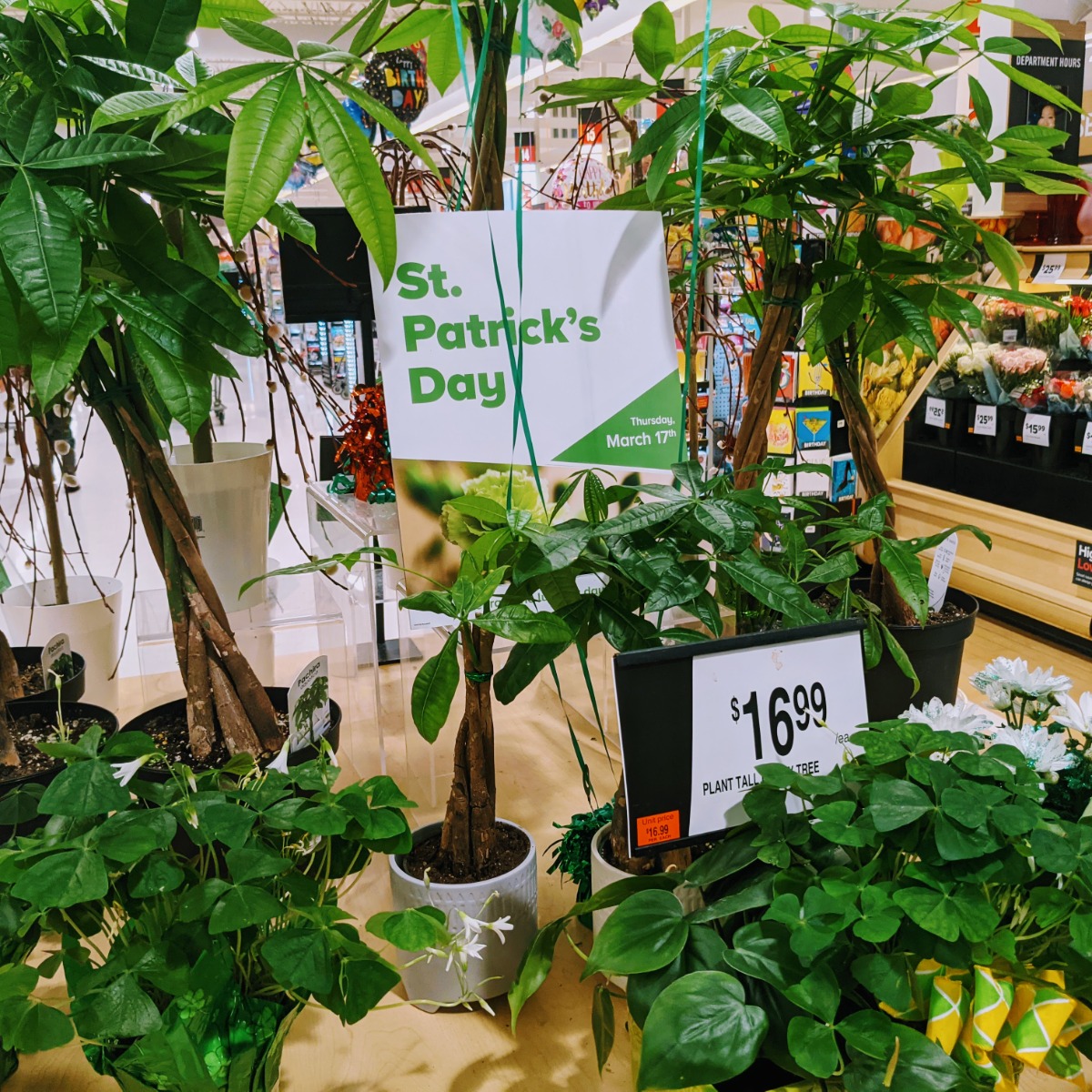 St. Patrick's Day Outdoor Decorations
Brighten up your yard for the upcoming Irish holiday! Add some shamrocks, rainbows, Celtic knots, and other symbols of Ireland to your garden and outdoor spaces.
Check your favorite stores to find St. Patrick's Day yard décor or make your own!
Shamrocks in the Garden
There's no mistaking the luck of the Irish with four-leaf clovers and shamrocks decorating the garden!
Look for cute clover picks and shamrock garden stakes to liven up your sleepy outdoor spaces this time of year.
These fun St. Patrick's Day decorations would also look great indoors. Find a few houseplants with some extra space and spruce up their vibe.
Meanwhile, you can also try growing lucky clovers or shamrocks in your yard!
By the way, I also found Lucky Clover at the Lidl bulb sale. This seems festive and pretty as well!
Irish Garden Flags
Raise a joyful Irish welcome with festive Irish garden flags at the corner of your flowerbed or start of your walkway.
You likely already have the perfect space for a garden flag, and the fun of it will be swapping out new outdoor garden flags every season or holiday!
St. Patty's Day Yard Signs and Stakes
So many waterproof yard decorations are available to dress up your garden with a festive theme. You can find yard signs of all shapes, sizes, and colors to match your Irish inspiration.
Consider rainbows, shamrocks, leprechauns, garden gnomes, unicorns, fairies, and other fun characters that seem to come out around St. Patrick's Day.
Green Solar Lights
Enhance the mood of your Irish garden at night with green solar lights or spotlights. The cheerful green hue is sure to catch your neighbors' eyes and delight passersby.
You can find small green LED lights or glamorous green garden globe lights, among others.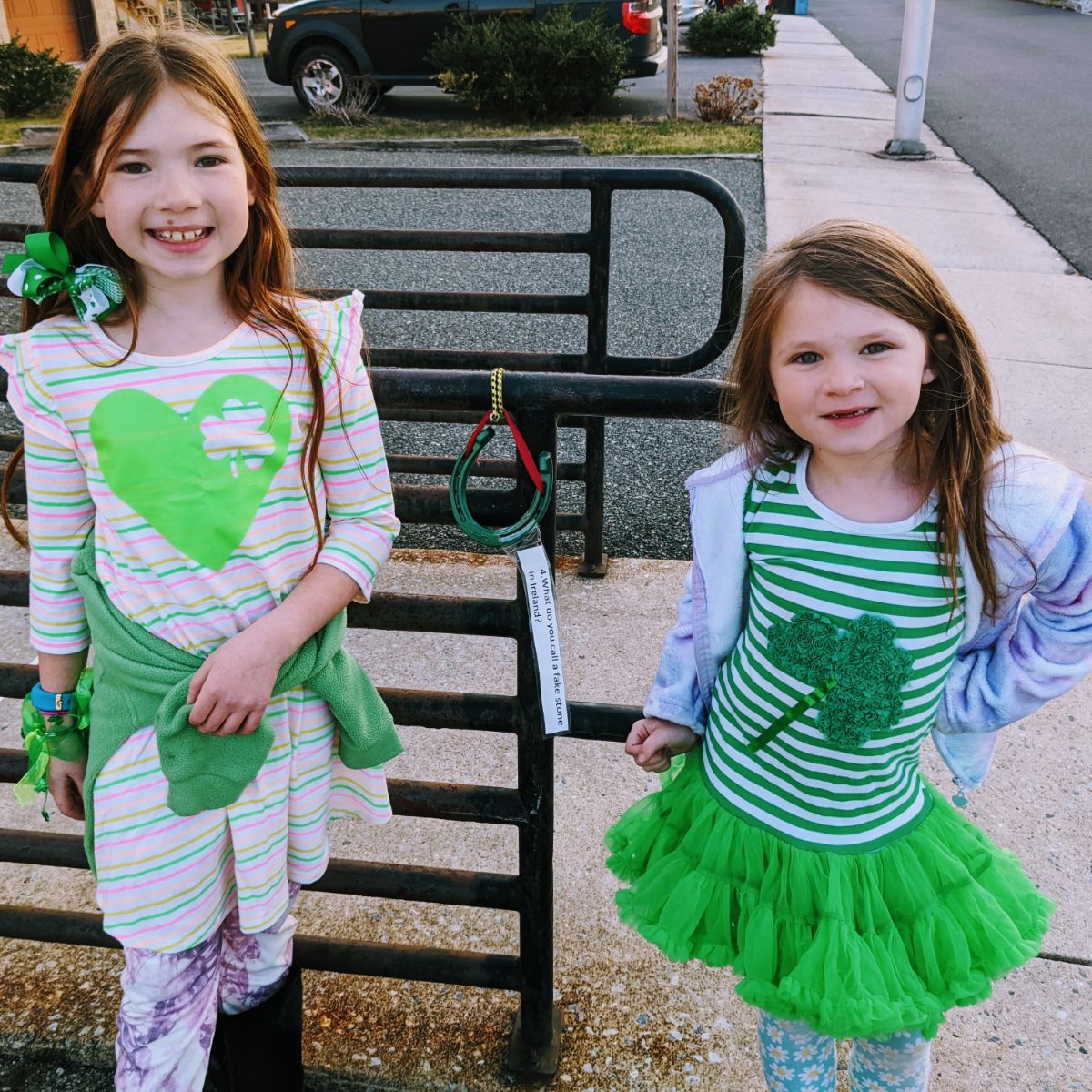 Shamrock Wind Spinner
A shamrock garden spinner says it all! If you want a quick, easy and done solution to making a St. Patrick's Day themed garden design, opt for the beautiful garden spinner.
You can find different styles and sizes of garden wind spinners to meet your needs. Consider a true shamrock garden spinner or opt for something simple, beautiful, and green.
Every time the wind blows, you'll be reminded of the luck of the Irish and the patron saint of Ireland.
Our website features affiliate links to products that we personally believe in. If you make a purchase from a link on our site, we may earn a small commission at no cost to you. Thank you! This helps our girls chase their garden dreams! Thanks for your support. (View full affiliate disclaimer at the end of the page.)
Celtic Planters
Dress up your deck or other outdoor spaces with Celtic planters and pots. Arrange several Celtic pots in a grouping to create a lovely container garden for herbs, flowers, or ornamentals.
Choose gorgeous off-white and cream-colored pots with Celtic knot designs or concrete pots featuring other woven designs.
Indoor St. Patrick's Day Garden Ideas
You can bring the greenery indoors as well for festive St. Patrick's Day garden ideas.
My dad has this gorgeous shamrock suncatcher hanging in his sunroom. I love it and it always makes me smile.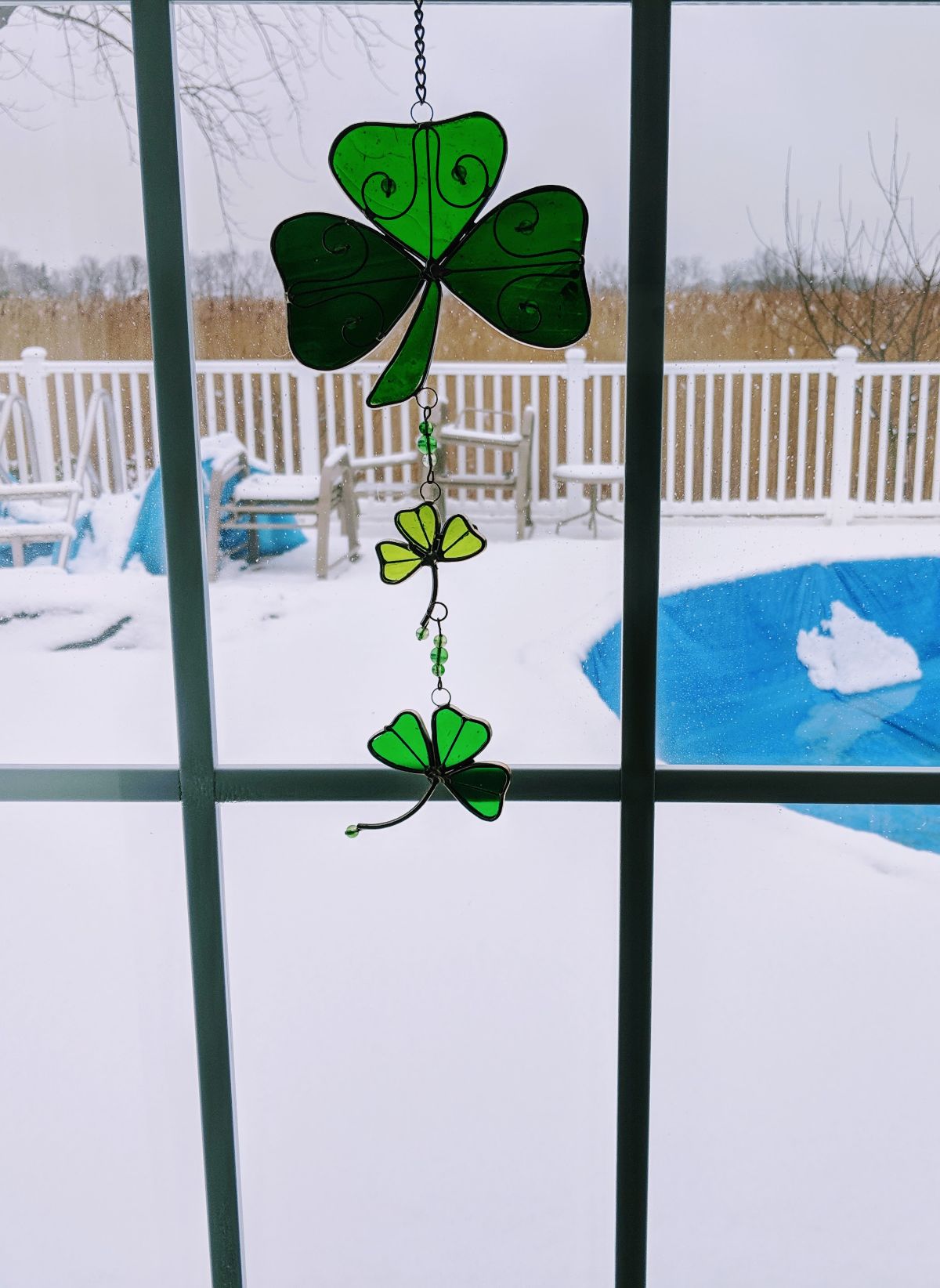 Irish Table Centerpiece
A beautiful garden themed St. Patrick's Day centerpiece brings hues of green and earthy brown to warm up the dining table or other special space.
Check out this lovely "Grow Your Own Luck" botanical jar table centerpiece from Kohl's. It has an attractive farmhouse style design with three glass jars brimming with artificial four-leaf clovers, grasses, and other plants.
Here is a live centerpiece spotted at Wendy's Flowers in Gilbertsville, PA in March 2023.
Looks like a peace lily, white kalanchoe, and at least 4 other plants!
A lovely white and green shamrock ribbon ties it all together with the Irish theme!
Festive Holiday Plant Tray
My girls and I have a tray that sits on top of their craft cabinet in the kitchen. Every holiday, we swap out the flower pots to match the new holiday's theme.
Truth be told, I couldn't find an adorable Irish flowerpot or St. Patrick's Day planter, so I picked up this green unicorn.
A green unicorn TOTALLY rocks St. Pat's, wouldn't you say?
Anyway, we will soon be decorating the craft cabinet for Easter next, and then Memorial Day, followed by summer!
Indoor St. Patrick's Day Plants
False Shamrocks like Oxalis look gorgeous and play the part of an Irish plant for your St. Patty's Day décor. Basically any green looks great, but have fun making connections to this festive holiday if you can.
Clover wrappers on plants look great this time of year. You can also personalize the flower pots with your own Irish and Celtic accents.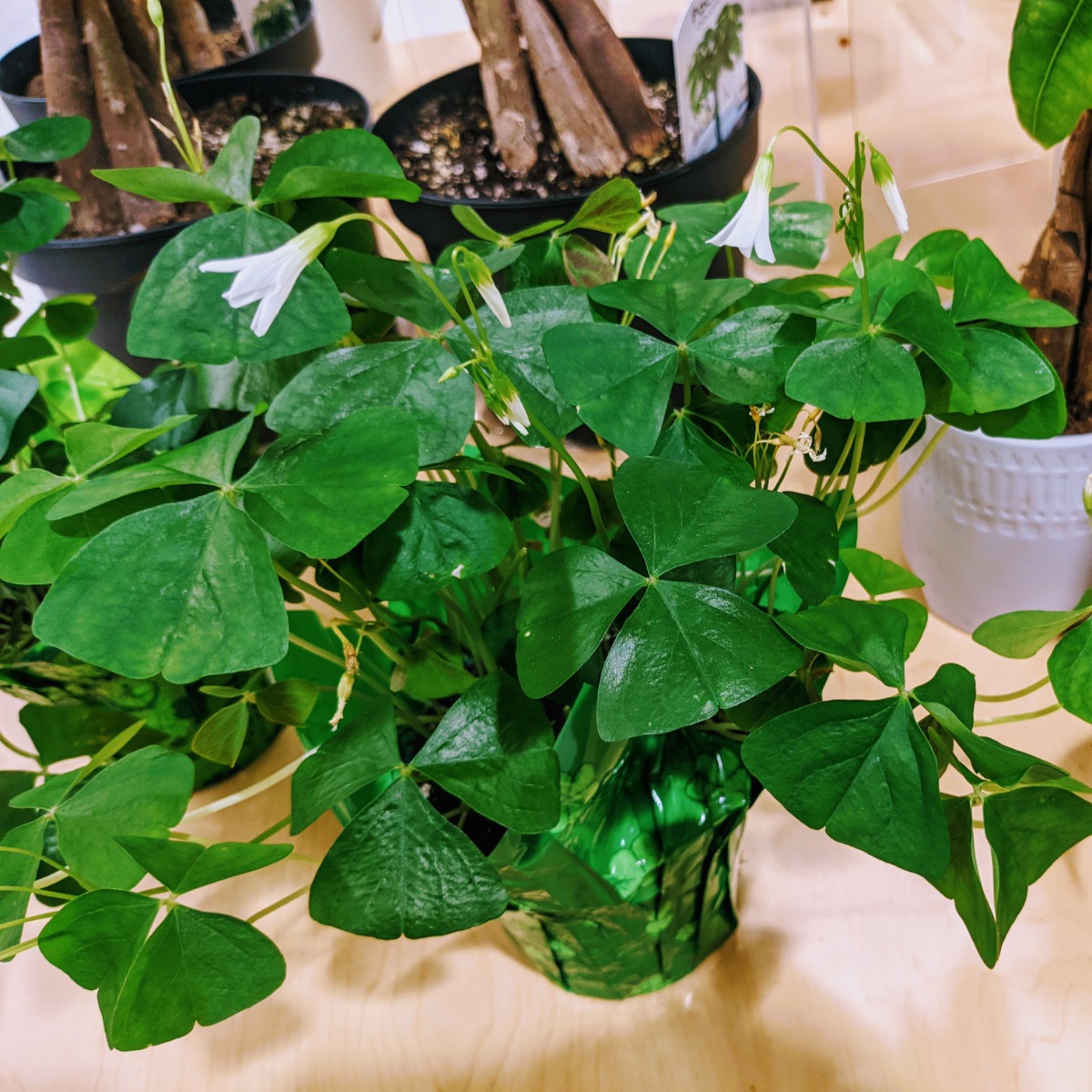 Green glitter on white daisies also looks incredibly fun and festive this time of year!
You might find some true shamrocks for sale, as well! Check out these beauties!
I lucked out (hah!) with finding some at Weis Market in Gilbertsville, PA.
Dunno about you, but I definitely think growing shamrocks would be a fun choice around St. Patty's Day!
St. Patrick's Day Floral Arrangements
Your favorite florist or garden center may actually offer St. Patrick's Day flower arrangements and centerpieces!
Treat yourself or surprise someone you love with a beautiful Irish bouquet or flower arrangement.
I found quite a selection at Wendy's Flowers in Gilbertsville in early March. Highly recommend checking them out if you are local!
If not, be sure to check your own favorite flower shops!
Lucky Shamrock Vases
Even if it might be a bit early for your own cut-flower garden in some grow zones, a shamrock vase makes a lovely bit of indoor St. Patrick's Day décor.
I love to haunt stores like TJ Maxx, Marshalls, Ross, and Home Goods because their holiday decorating game is the real deal. (They also have loads of other amazing finds, from clothes to crafts and gardening gear!)
I am so excited to use these adorable clover vases that my girls and I picked out a month or so before St. Pat's. We couldn't agree on whether we liked the perfect vase better or the one with a broken four-leaf clover.
So, we bought both!
Right now, I am trying to propagate a rose cutting in the jar – hope it's lucky!
Making a St. Patrick's Day Garden
These are just a few ideas to get you started on giving your garden Irish vibes. See if these fun garden décor ideas resonate with you or come up with your own fun St. Patty's themed decorations for the garden.
By the way, here is our Google Web Story for St. Patrick's Day Decorating.
Do you decorate you flower beds for all season? What about your flower pots?
We'd love to hear how you bring the holiday theme to your own indoor and outdoor garden spaces. Feel free to leave us a comment with your plans!
Happy Gardening!
More Holiday Garden Decorating Content:
03.10.23 – Shortened seo title and updated main title. Added focus on yard and lots more photos and updated date from March 19, 2022.