ALDI Garden Line 2021 Fab Finds
Spring gardening season is here! Have you seen the 2021 Aldi Garden Line selection? The Aldi garden deals dropped and may even be sold out by the time you read this post. (Hopefully not, though!)
I lucked out at our local Aldi on Shoemaker Road in Pottstown in early April. I found single fancy Dahlia bulbs for just $2.29 and a multi-pack for $6.99. Plus, some other garden stuff!
The bin was pretty decimated by the time I got there! I did pick up a few packs of other bulbs, including Asiatic lilies and pink and white gladiolus.
(Side note: I did not realize we here in PA Zone 6b have to dig up our glads! The more you know… I remember my mom growing them but I don't think we dug them up. Then again, I don't know how many years we had them, either.)
Anyway, here's the rundown of the Aldi garden line and prices from the trip I made.
Aldi Garden Deals April 2021
The Aldi Home and Garden section always seems to impress me. I've come home with lots of cool stuff over the years, including home storage organization gear that still to this day makes my life easier.
The Aldi Garden store department was so depleted when I arrived, I think they only had a small box of bulbs to dig through, a few fresh potted Easter flowers, and some garden edging.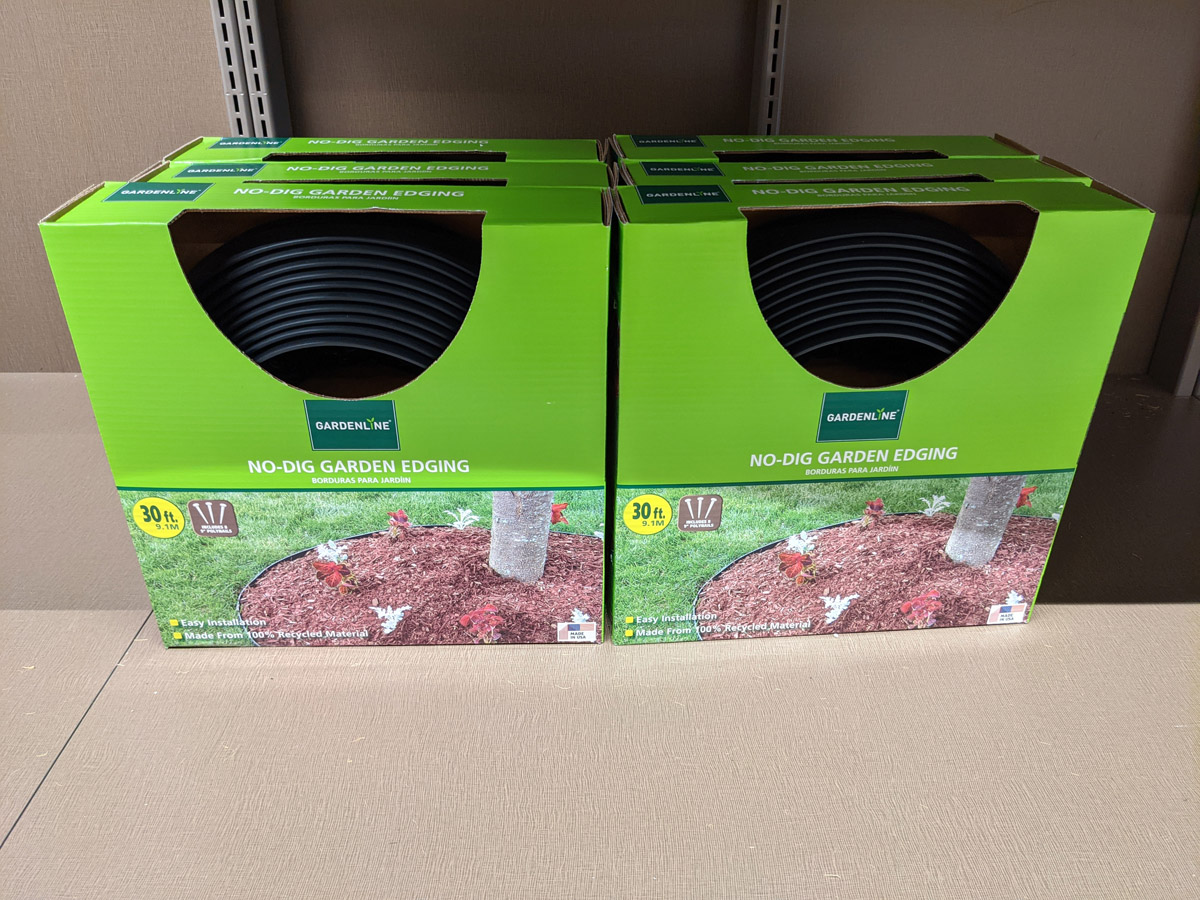 At least I thought that was all they had – the cashier kindly called my attention to great deals on potting soil that I picked up for $3.99 per bag as well!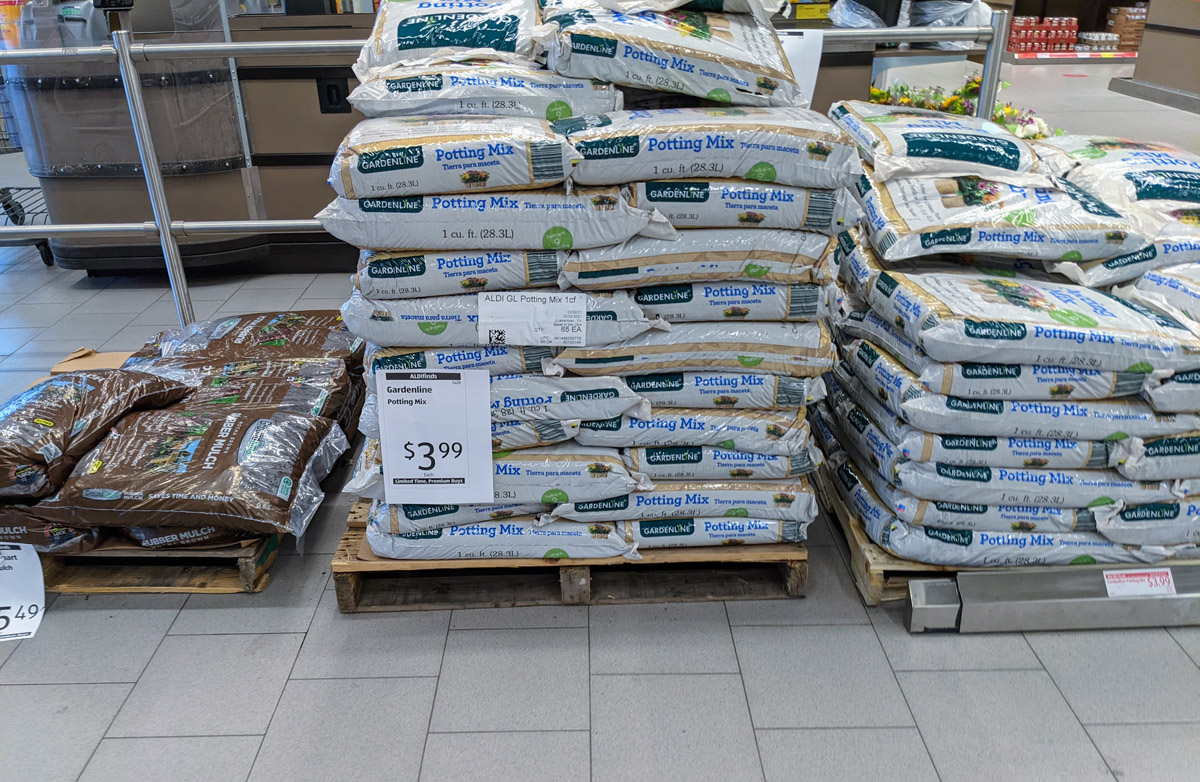 Aldi Flower Bulbs
In the box of Aldi Garden Line flower bulbs, I found lots of great perennials to grow:
White Prosperity Gladiolus, 15 count
Red Traderhorn Gladiolus, 15 count
Pink Gladiolus, 15 count
Pink Peony
Tropical Yellow Canna, 1 count
Red Arabian Night Dahlia, 1 count
And several others!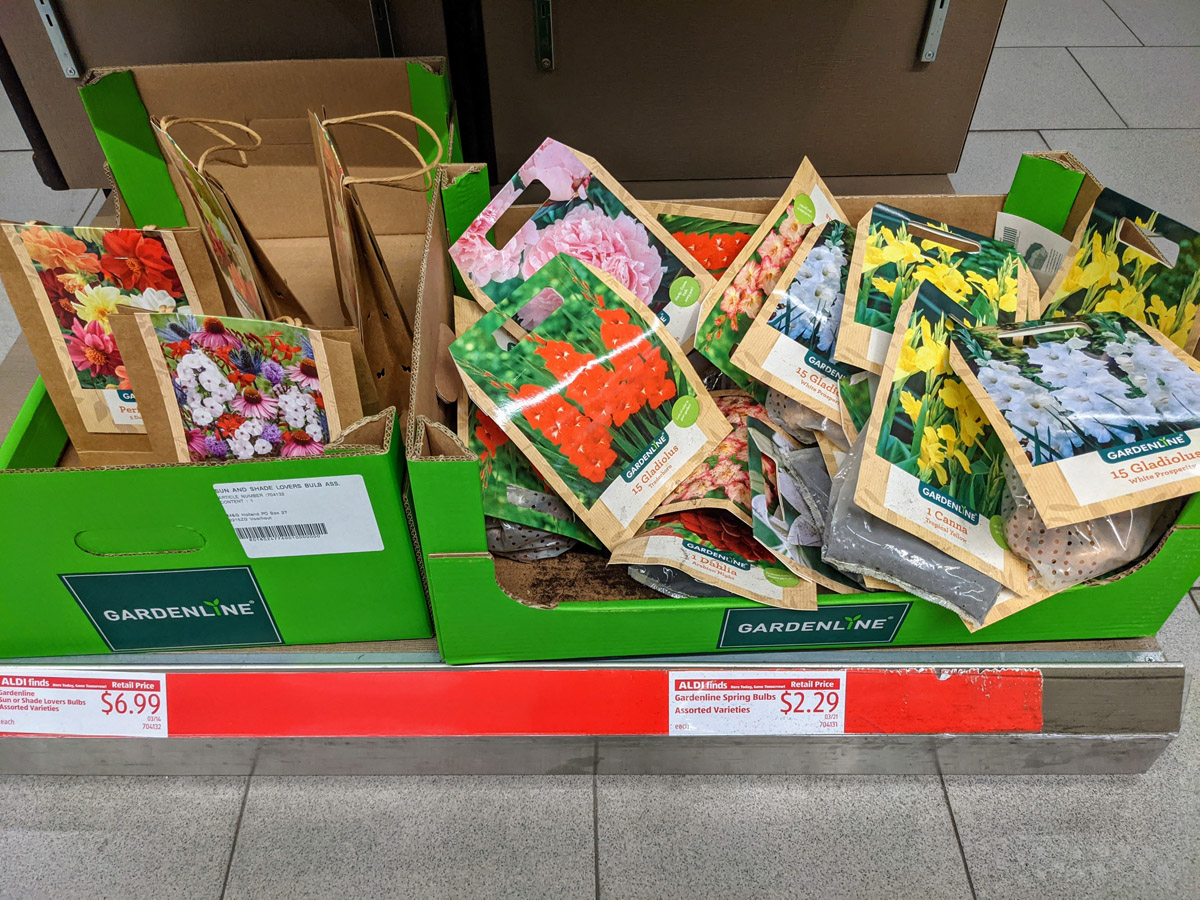 I came away with a few dahlias, pink and white gladiolus, and some yellow cannas!
Aldi Garden Line Sun and Shade Lovers Bulb Assortments were also available for $6.99. This is where I grabbed the bags of dahlias! I noticed they also had a mix with echinacea / purple coneflower.
Garden Plants Aldi Fresh
When I went to the Aldi on Shoemaker Road, I saw live garden plants when I first entered the building. It took everything in me not to pick up a pot of pink tulips that caught my eye!
I realized sadly that it would just be food for the neighborhood groundhog who is terrorizing our yards and gardens the past few years.
By the end of my (very quick) shopping trip, I noticed that someone bought the tulips I'd been eyeing! (Good thing, too, because I might've fed the groundhog after all.)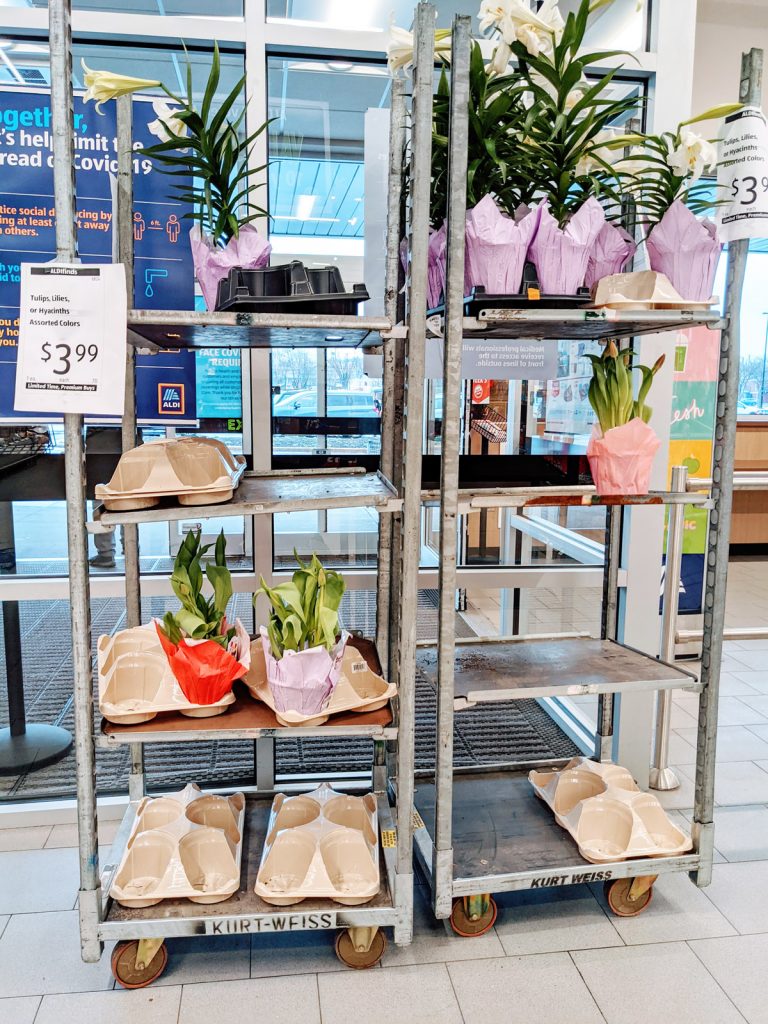 Now I want to head back and see if there's any new Aldi garden bargains – plants, veggies, or other fun gardening products.
I'll be sure to update this post whenever I do!
Final Thoughts: ALDI Garden Deals
It was really fun checking out the Aldi garden bargains! I wish I'd gone sooner but I'm just glad I came away with some great deals on bulbs.
Next year I'm marking my calendar for early March and checking the store on a weekly basis. The second Aldi store I went to – Pottstown by the Home Depot – ended up being a fruitless effort.
One of the employees clued me in. She said they sold out so quickly and it's usually the same time of year those Aldi garden deals drop.
I am still excited to head back to check out the Aldi garden accessories throughout the season. Hopefully they'll get some cool new stuff for the home and garden.
And of course, I am curious about the Aldi veggie garden offerings, if any. I haven't been shopping much during the pandemic, so any trip to a gardening store is a good one.