How to Deadhead Roses | Magnificent Repeat Blooms
As one of the most prized flowers around, roses would be magnificent if in bloom all the time. Discover how to deadhead roses to keep your rosebush blooming as long and fully as possible.
Deadheading roses makes perfect sense although it doesn't always come to mind as a truly obvious gardening task. At least for me it didn't; probably since I have so many other to-do's piling up on my list.
The other day I was over my best friend's house, hanging out on her deck. I couldn't help but notice the almost neon coral rosebush sitting just feet from us. It was absolutely gorgeous!
I gushed with compliments and asked her about it. Her secret? She always makes sure to deadhead roses when they fade.
After the bloom begins to wilt, fade, or turn brown, she simply snips them off right under the blossom, above the last leaf set, leaving that on the plant.
Deadheading roses is relatively easy and the juice is definitely worth the squeeze!
Keep reading for tips on how to deadhead roses easily and effectively.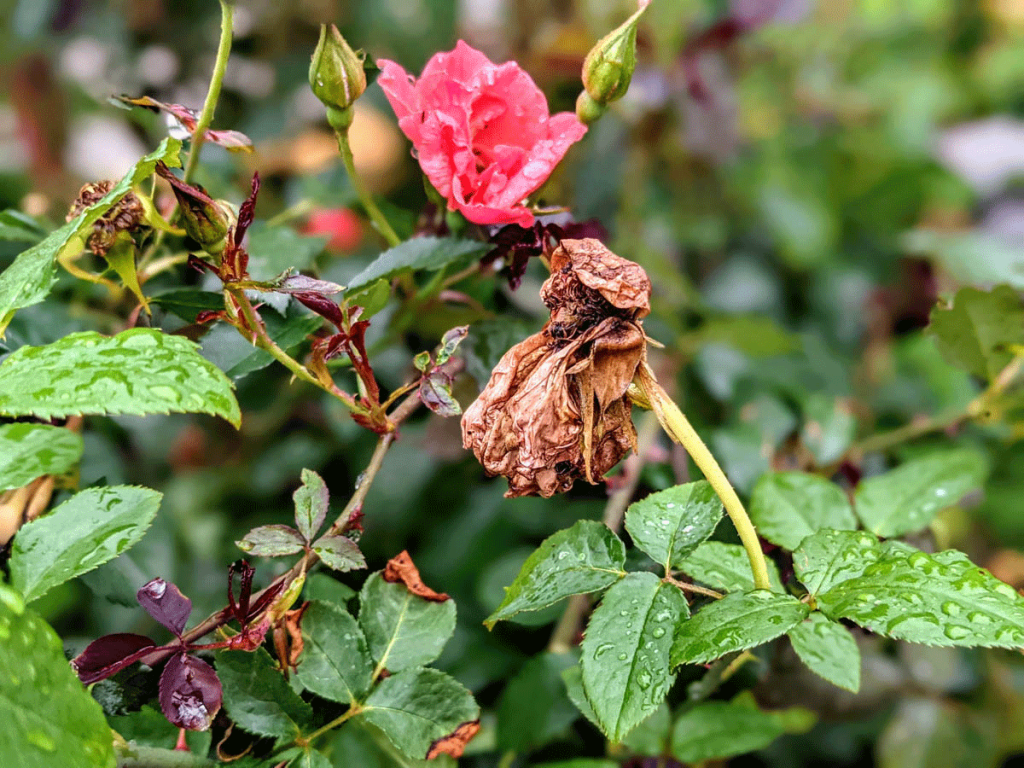 What Is 'Deadheading Roses'?
The process of deadheading roses involves removing the "deadheads" or dead flower heads, aka: spent blooms, from the rest of the plant. Hand pruners or sharp scissors can handle the job with ease. Wear leather gloves to protect your hands from contact with thorns.
It's easy to learn how to deadhead roses and the results come fairly quickly.
Read More: What Is Deadheading and What Flowers Do You Deadhead.
Should You Deadhead Roses?
Deadhead roses in summer to encourage a season full of beautiful blooms. The rosebush will take on a neater, tidier appearance straight away. More importantly, deadheading roses and pruning a rosebush both signal the plant to make more blooms.
If you love roses and want a continuous show of color, deadhead faded blooms to achieve this.
Plan to deadhead roses at least once every week to keep your garden in full bloom!
What Happens If You Don't Deadhead Roses?
Your roses will forgive you. If you decide not to deadhead roses, your rosebush will almost certainly still bloom again. Removing the faded rose blossoms just speeds things up!
Why Not to Deadhead Roses
If you plan to harvest rosehips from your rosebush, you may choose not to deadhead the roses. Rosehips are rich in vitamin C and said to help with osteoarthritis and pain. (Source: WebMD) Many folks use rosehips to make tea.
Avoid deadheading your rosebushes if you'd like to harvest rosehips in the late summer or fall. The rosehips contain the seeds, so I suppose you could save them for that as well.
Although I've never tried growing roses from seed, it would be an interesting experiment.
When Should I Deadhead Roses?
Depending on your particular type of rose bush, you may be able to count back from when you want a fresh wave of roses. Many rosebushes tend to bloom in 6 to 8-week cycles, so you can keep your roses blooming by regular pruning and deadheading 7 or 8 weeks ahead of your target date.
If you do not need your roses to bloom on any set schedule, simply remove faded blooms as soon as you notice them throughout the season. This should in effect keep new buds forming regularly.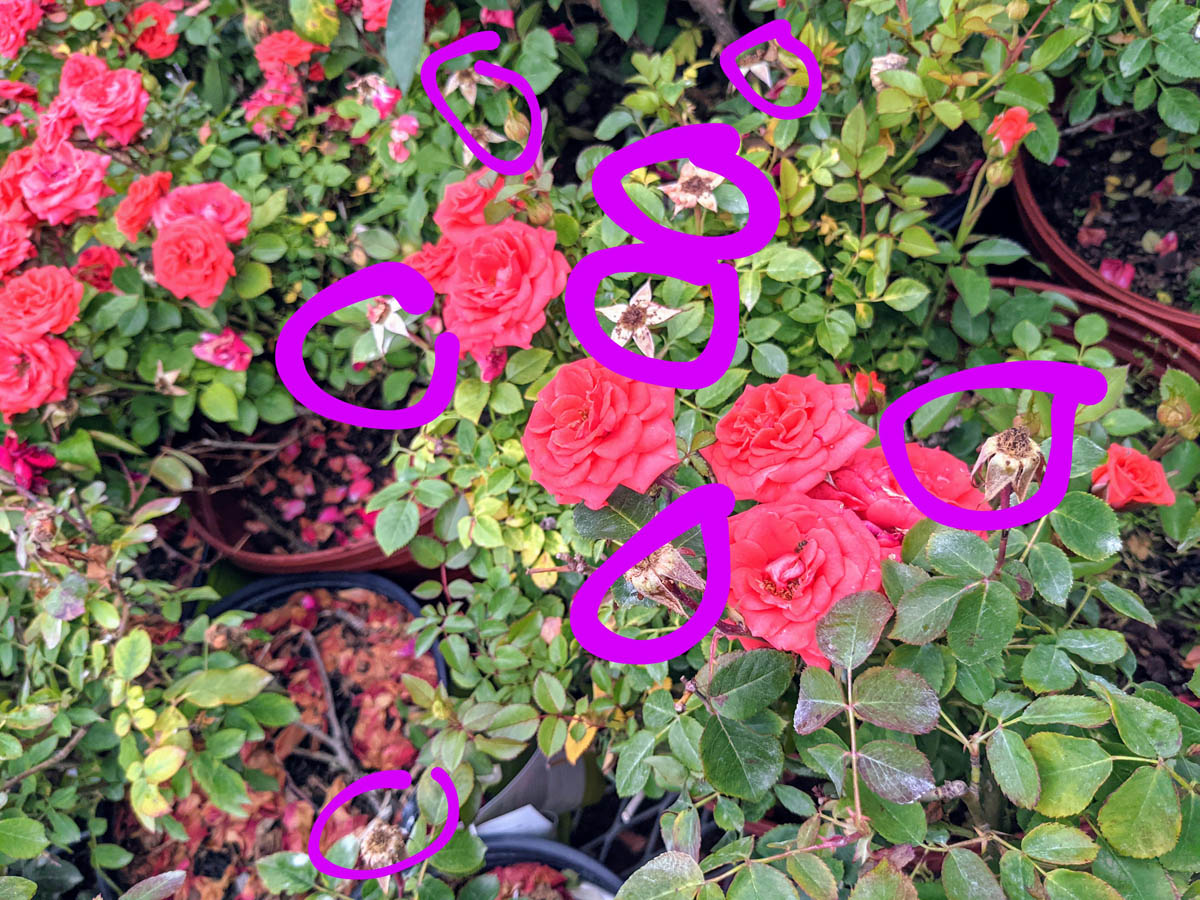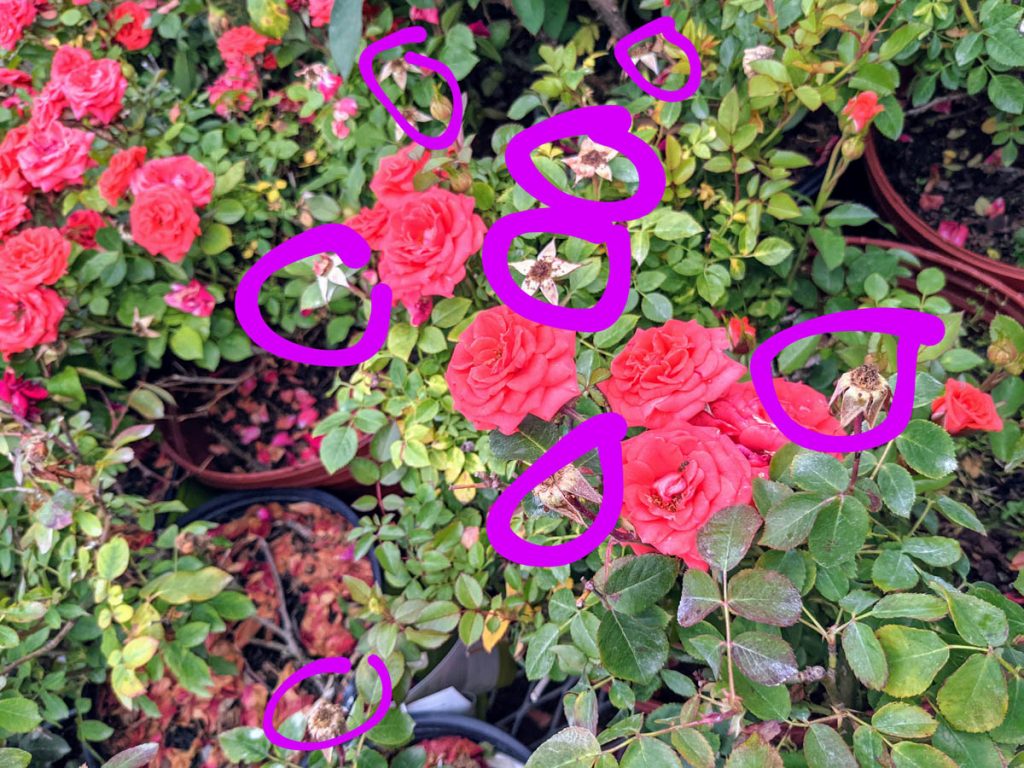 Benefits of Deadheading Roses
Removing faded rose blossoms brings numerous benefits to the garden. Here are some benefits of deadheading roses:
Encourage More Blooms – Repeat blooming roses continue producing new blooms regularly throughout the summer.
Extend the Rose Season – Enjoy gorgeous roses in bloom over a longer growing season when you deadhead roses.
Tidy Up the Rose Garden – Deadheading removes the faded flowers and rosehips (provided you won't be needing them) for a more uniform look.
Direct Energy into Bigger, Better Roses – When the plant no longer needs to produce seeds (in the rosehips), it can focus its energy into producing even more impressive flowers.
As an extra benefit, you can even take cuttings of your rose bush while deadheading. I've just recently found some success with Growing Roses from Cut Flowers and highly encourage you to try it!
Tips on How to Deadhead Roses
Learning how to deadhead roses is easy as pie with a few tips. Follow these steps when deadheading roses.
Gather pruning shears, leather gardening gloves, and a bucket or weed pail.
Identify the spent rose blooms and any unwanted rosehips. (The rosehips look like a little star with a bump on the back.)
Wear thick gloves, preferably leather, to protect against thorns.
Snip the rose deadheads off the plant and drop them in a bucket or weed tub.
At this time, you may also prune the rosebush, removing raggedy leaves and stems attacked by rose pests.
Dispose of the deadheaded blooms and discarded foliage and plant matter.
Simply cutting roses for indoor flower arrangements or bouquets for friends will also help in the quest for more flowers and a longer blooming season! Enjoy, and spread the love.
Final Thoughts: Deadheading Roses
Now that I've got so many rose cuttings rooting in water, I am all about learning how to take the best care of roses. I am so glad my friend shared her helpful tip and I absolutely plan to use it once my new rosebush gets established.
With a brilliant stroke of luck, I found a Rosa Tropicana Tea Rose rosebush a few weeks ago. It's said to be a fragrant variety with large coral-orange blooms. I can't wait to see how it does!
And I'll be sure to do whatever I can to deadhead and encourage the best blooms and blooming season possible.
Oh and while we're at it, don't forget to deadhead zinnias and sunflowers, too. Your garden will love you for it!
Do you deadhead your roses? What kinds of roses do you grow? Let's chat in the comments and share tips!