Big Lots Gardening Products and Deals
Shopping at Big Lots for gardening stuff is a fun treasure hunt for us. My favorites over the years definitely include the Big Lots planters with cheeky sayings on them. I believe these come out around Valentine's Day. The one I purchased says "Nobody pots baby in a corner."
Big Lots also sells hoses, outdoor patio furniture, plant stands, and other assorted lifestyle products. If you have a store near you, I think it's worth a pop-in to check it out.
Sometimes you can find the gardening stuff at Big Lots on sale, especially toward the end of the season. Other times you find cute stuff and must grab it before it's gone forever.
I've had my eye on some whiskey style planters at Big Lots over the years.
I think they are made of resin or plastic but not too heavy like the more traditional wood style.
So far they have not gone on sale any of the times I've been looking for them so I am still waiting.
In the meantime, though, I've found tons of great gardening items at Big Lots.
Bohemian Style Planters and Pots
For 2023, my favorite Big Lots gardening find is the Bohemian style indoor plant accessories.
The pots and hanging planters are very cute with a free spirit look and feel.
Some bowl planters made of light wood also look lovely for creating a carefree ambiance.
These hanging plant stands also give off an airy Boho vibe.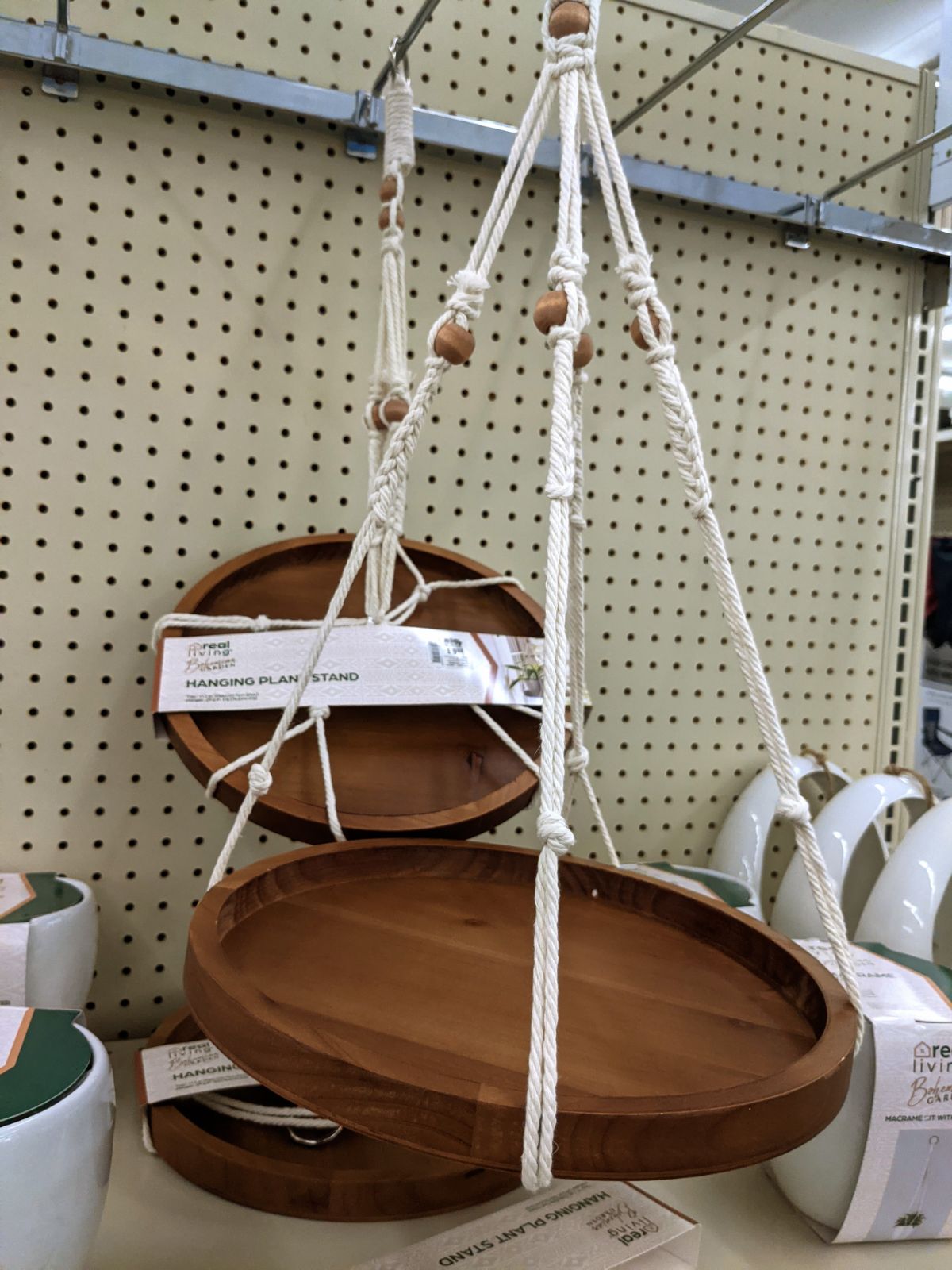 Hanging planters definitely seem to be a hot ticket item this season. I also liked this white one.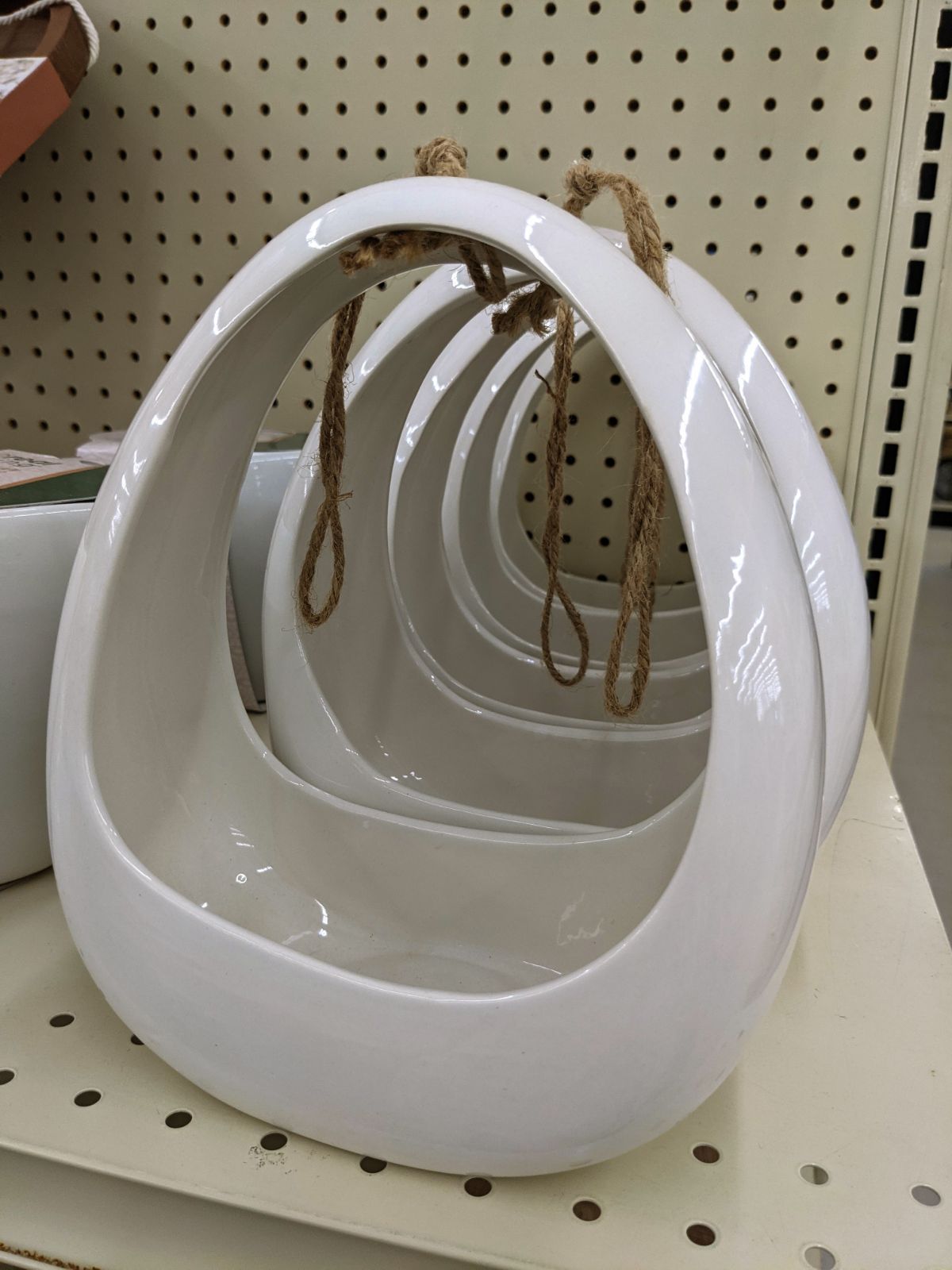 I really like the tiered mini planters in the Boho gardening section.
Another attractive option is the propagation jar set, where the vases look like little light bulbs. I'm not sure if this counts as Boho but it's certainly modern and fun.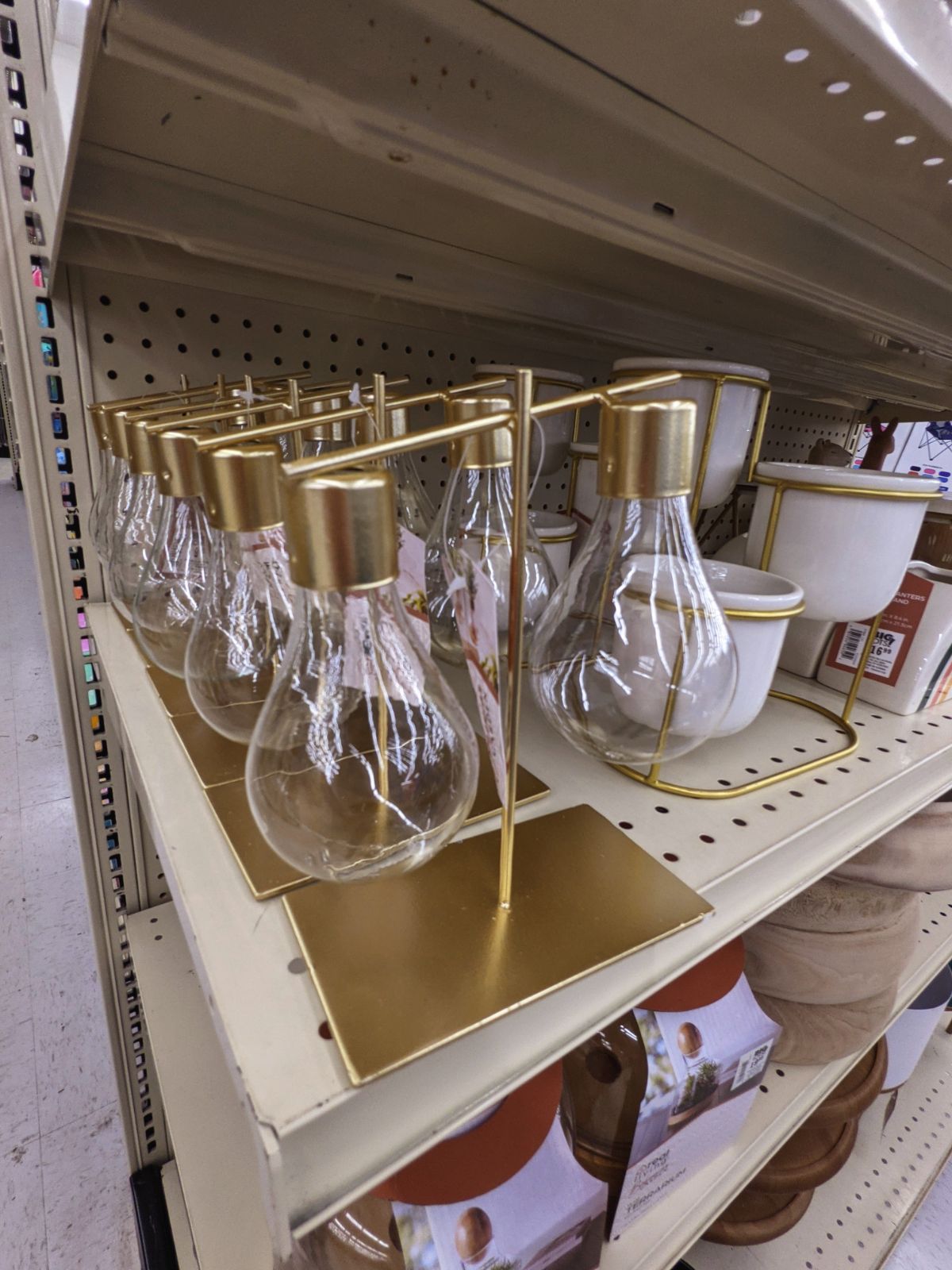 I am seriously still kicking myself that I didn't buy this carefree cork plant plate. (sigh)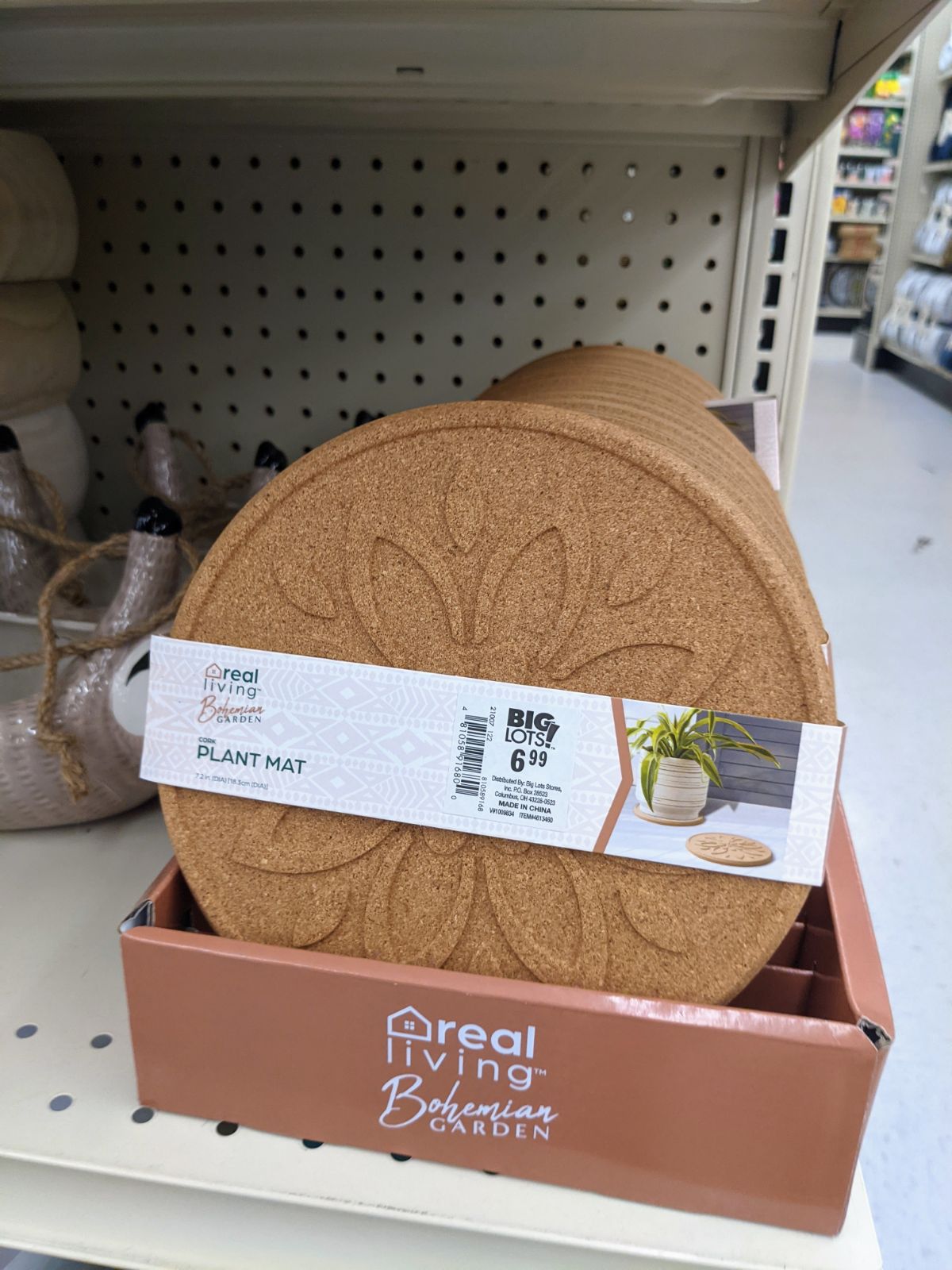 Next time I see these cork plant mats, I am definitely buying a few!
Farmhouse Style Décor
Besides the fun and free Boho vibe, Big Lots also had quite a selection of farmhouse fresh style décor.
I loved seeing the charming farm focused planters and signs available for sale. My favorites were the standing planters and flower farm jugs.
I also liked the cheery rainboot planters – not sure if those count as farmhouse accents, but definitely think they are cute!
Oh and how about that 'mother cluckers' sign!!!
Big Lots Flower Pots & Planters
Although I truly love the selection of Ollies flower pots and planters, I also enjoy checking what Big Lots has!
Our store is close enough to my house that I can stop by while running other errands. Most times the side wall of the store has quite a few planters of various sizes, shapes, and colors.
Many of these would work great for a container garden. Others could be those accent pots you've been wanting.
Sometimes you can even find lots of mini ceramic pots on the endcaps of the store aisles.
You never know what you will find at stores like Big Lots, Ollies, Aldi, and Lidl. I love checking out their garden sections!
Raised Bed Planters
I also noticed some raised bed planters for sale at Big Lots when I visited in March. These looked pretty good for a random find!
I did not pick up any, but it was kind of rough leaving them behind. They look gorgeous!
Flower Bulbs and More
A lot of times you can also find seed growing sets and bulbs for sale at Big Lots.
In the past I have bought dahlias and gladiolus in multi-packs. Keep your eyes peeled!
Traditional Garden Tools and Accessories
You can also count on Big Lots to have some common gardening necessities. Confession: I've definitely gone there specifically to check hoses last summer.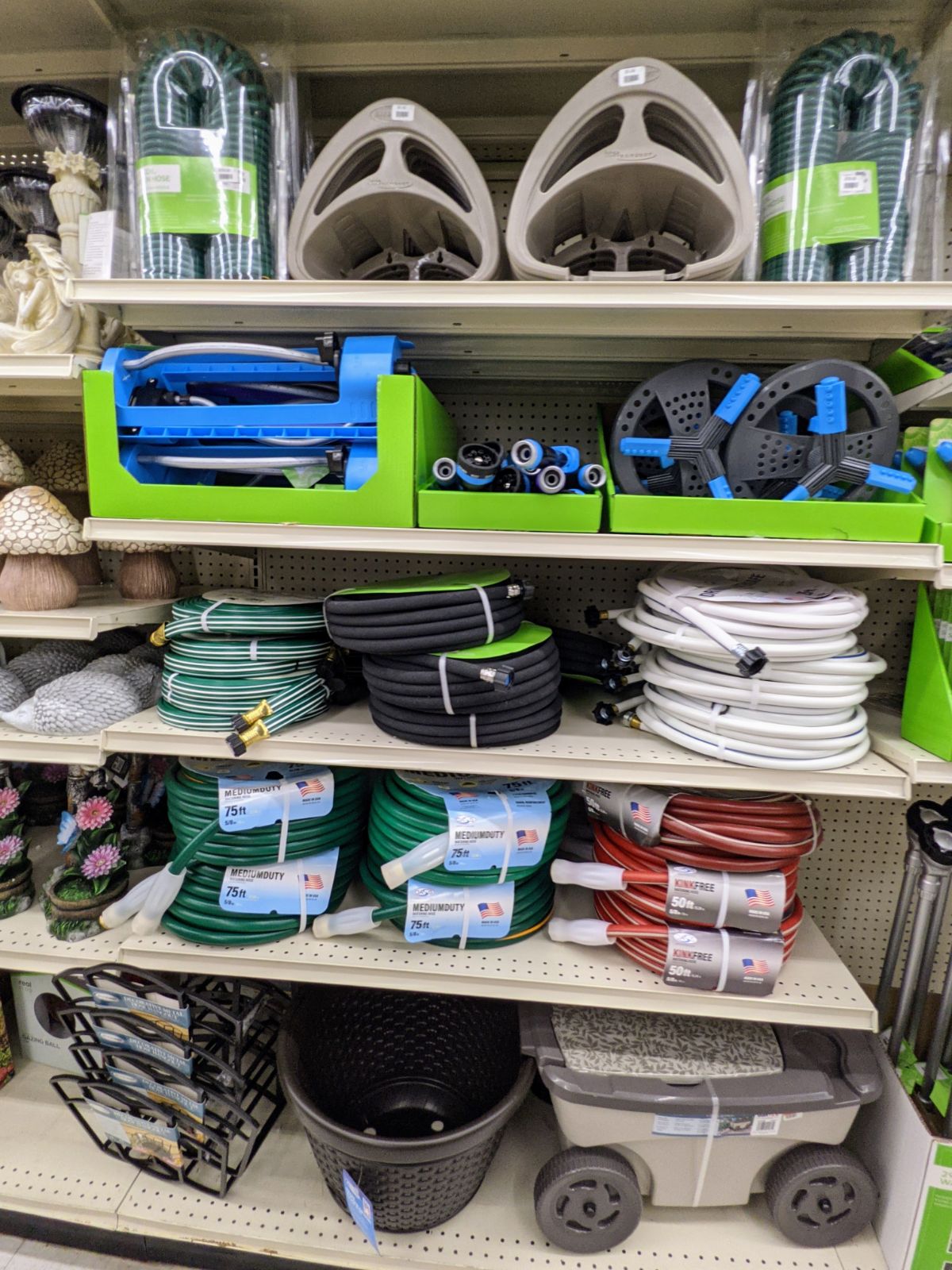 Most recently, I found:
Hoses
Garden Gloves
Fertilizer
Potting Soil
Watering cans
Shovels and Other Tools
Pruners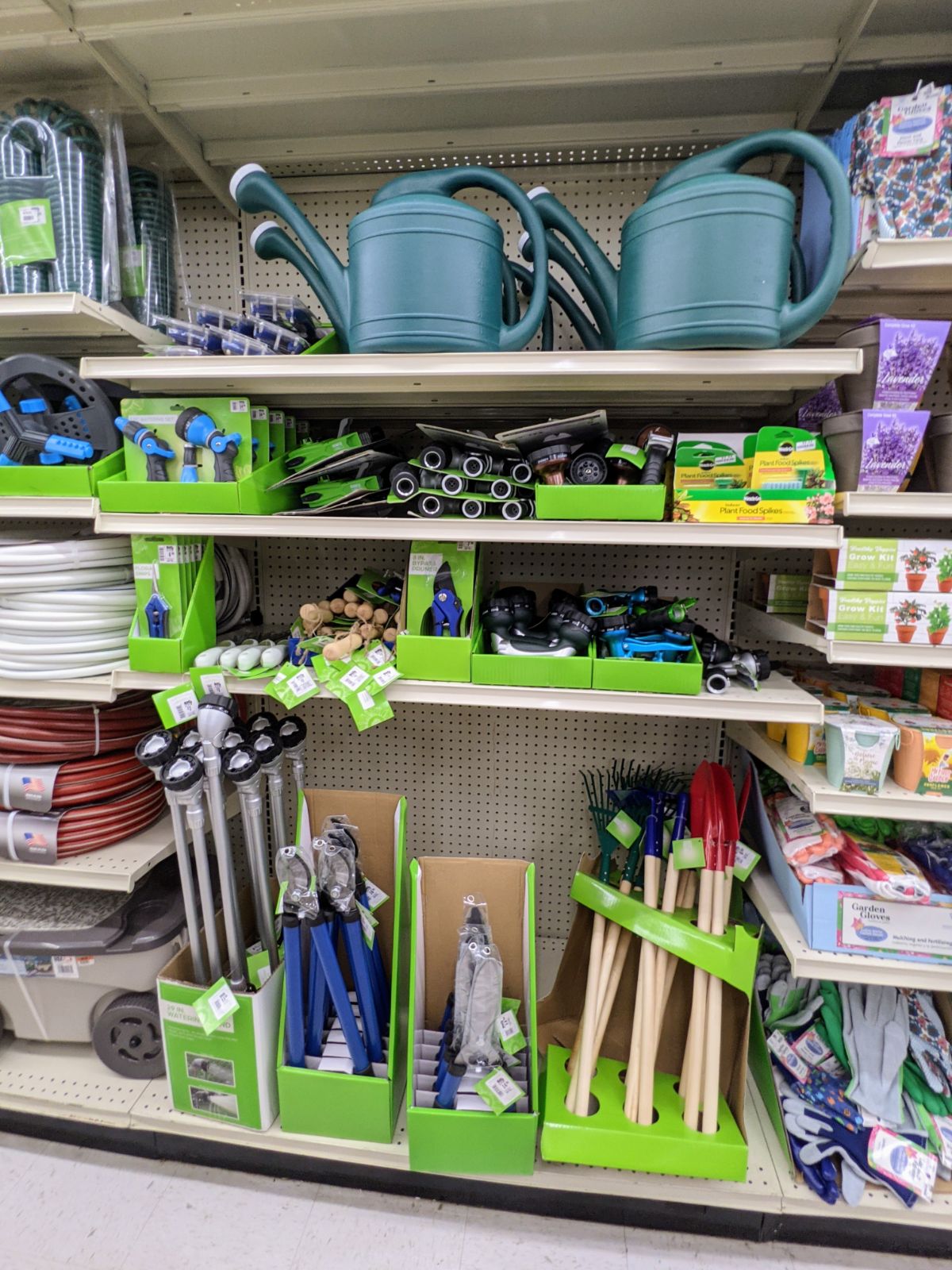 I actually bought that red shovel on the bottom there to take with us to North Carolina for shelling and shark tooth hunting!
I can honestly say it was a great pickup for only $5.99 – very sturdy and comfortable to use. Highly recommend it!
I also love that Big Lots had the little seed greenhouses or germination kits. I bought some at Target already but definitely would pick up more here if I need them in the future.
Garden & Lifestyle Accents
Some pretty lifestyle accents in the outdoor section could also be a good addition to your outdoor living spaces.
Watch for pretty flower stepping stones, unique solar lights, garden statuary and décor, plant stakes, and even wind chimes. The selection at your store may vary and supplies may sell out without warning!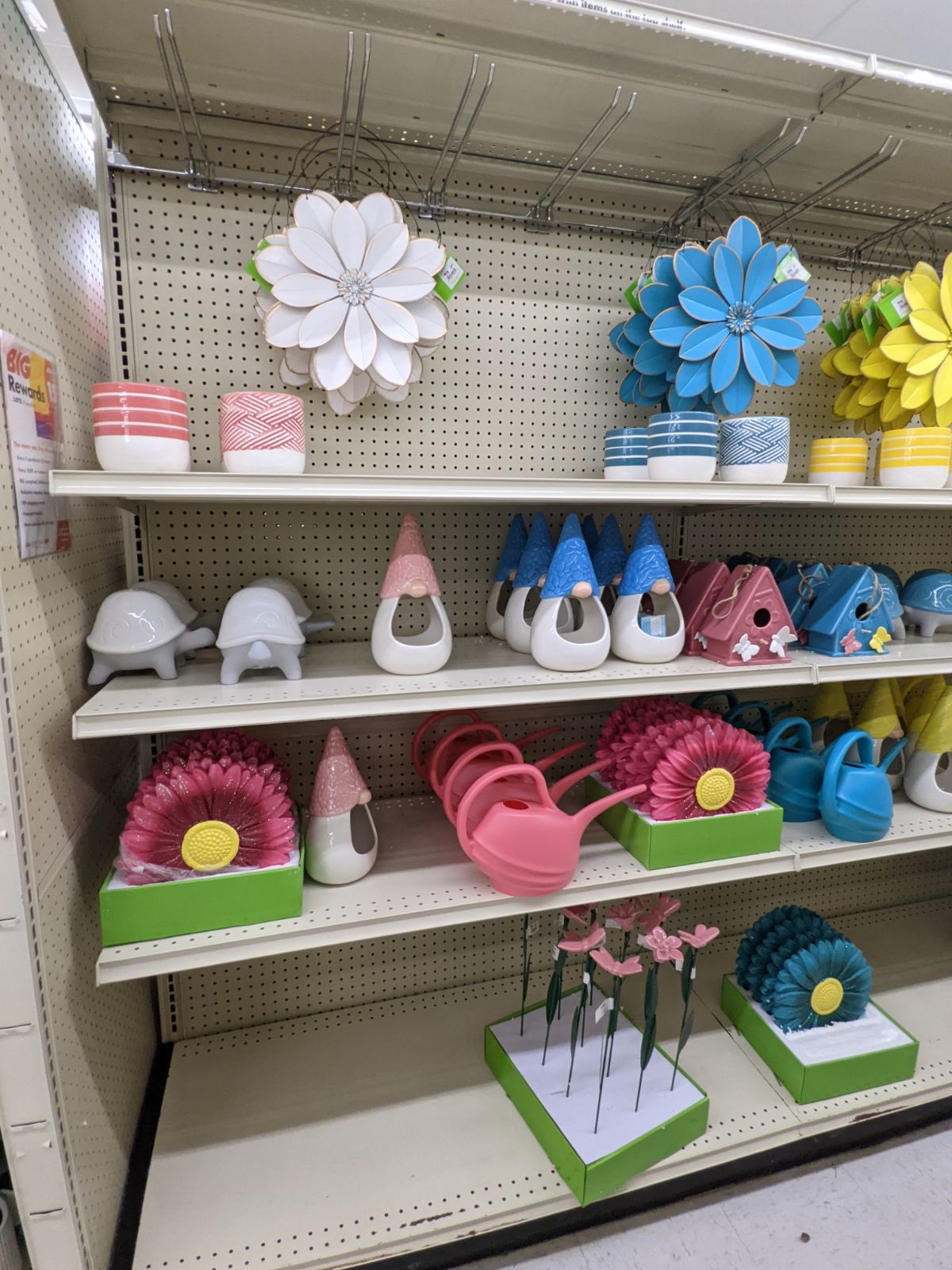 This year the end cap in the gardening section at Big Lots also featured seed germination kits. They seem to be aligned with pricing for similar products at stores like Walmart, Target, and Tractor Supply.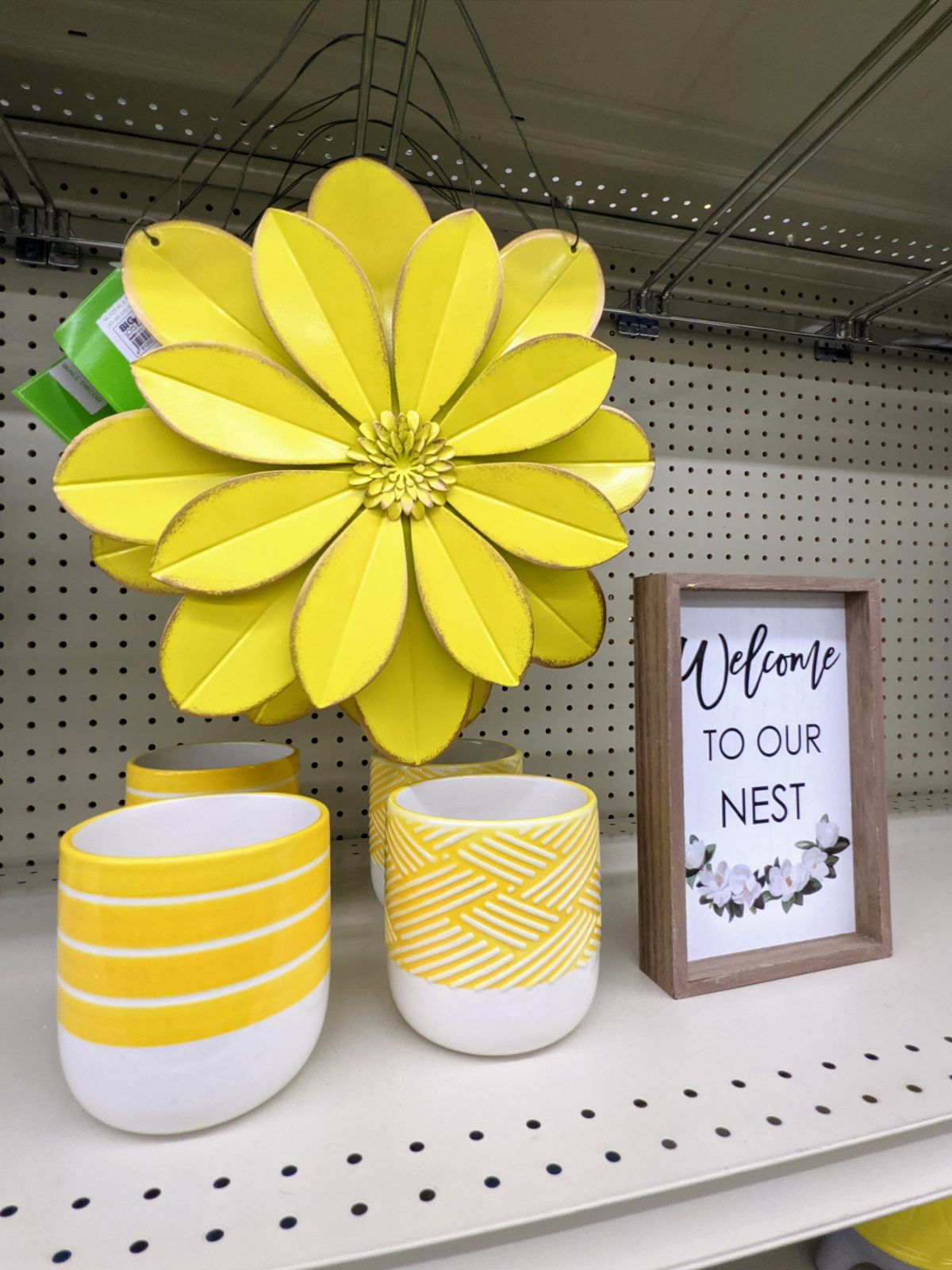 Saving on Gardening Buys at Big Lots
I use the Big Lots reward membership and occasionally get a coupon in my email to save 5 or $10. I will be watching for that and going straight to the gardening section if and when I get any discounts!
What are your favorite garden finds at Big Lots in your area? Please share in our comments what kind of cool stuff you're finding so we can all benefit!
As with anything, your mileage may vary. Store stock can change at a moment's notice so do call ahead or keep this in mind if you're driving a distance to get to your closest Big Lots store.
By the way, if you enjoyed this post, you should check out similar gardening section roundups we've done on stores like Tractor Supply, Ollie's, Lidl, and Aldi. If you have others where you found great stuff, feel free to mention them in the comments as well.
Happy gardening!