Glick's Greenhouse Succulent Party – Sweetheart's Delight
In a crazy stroke of luck, my daughters' school district closed schools on my birthday due to the weather. In our area, it ended up being nothing more than rain so we decided to venture out for a fun activity – the Glick's Greenhouse succulent potting party!
We had such an amazing time at Glick's, choosing beautiful succulents and planters, and potting up impressive arrangements of succulents. We even got to speak with one of the owners, who kindly guided us in getting started.
Here's our heartfelt recap of the succulent party at Glick's Greenhouse this February.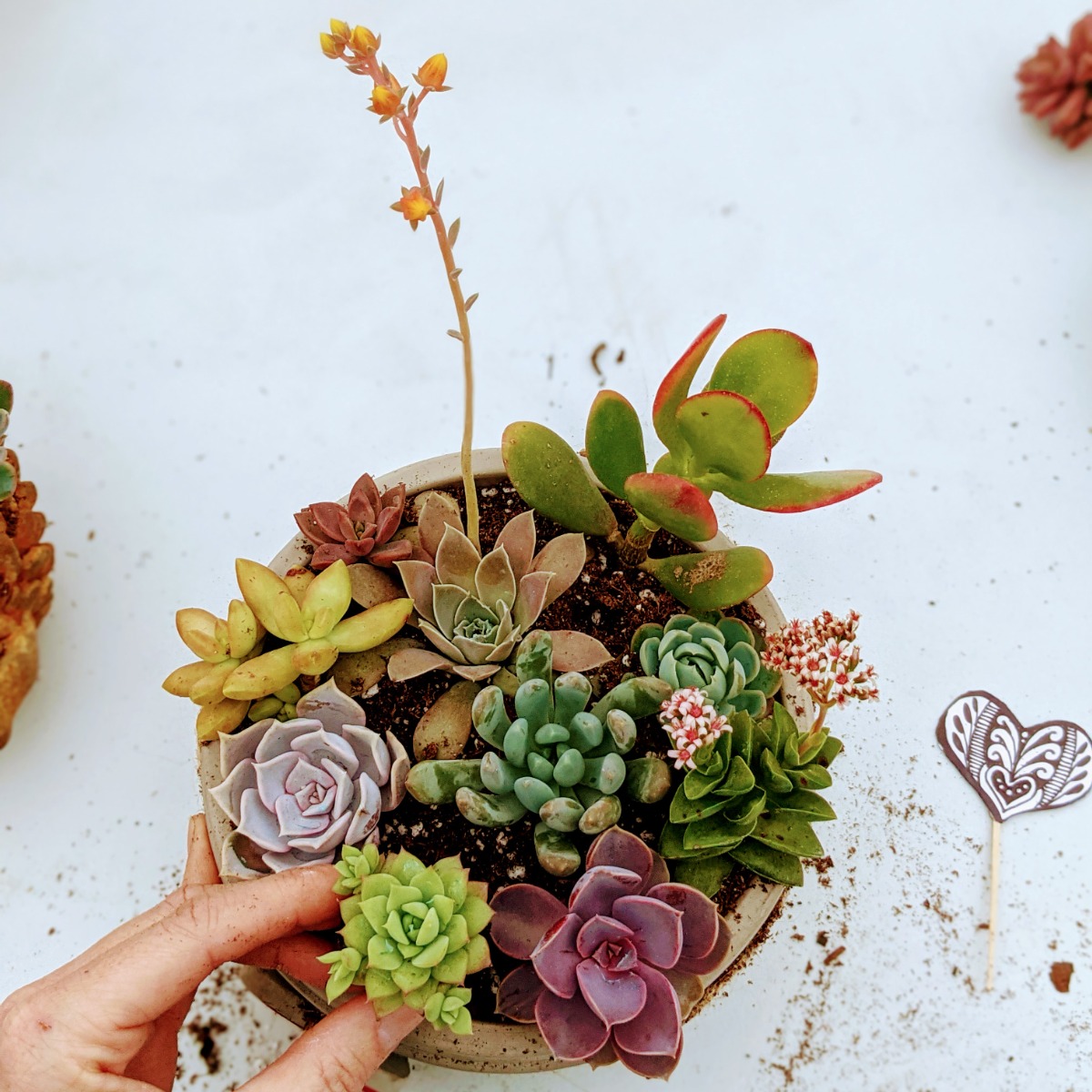 Succulent Party Experience at Glick's
I'd always wanted to go to a succulent potting party but never had the opportunity until my birthday – a Friday.
The girls and I showed up around 11 a.m. and didn't leave until nearly 3 p.m. – I never expected to stay that long! I truly thought we would arrange one succulent planter each and be on our way.
Instead, my young daughters enjoyed potting succulents just as much as I did, if not even more. We all loved picking out plants, pots, and accessories to decorate to our hearts' content.
Beautiful succulents as far as the eye could see in so many shapes, sizes, and colors. Some with flowers, some without, smooth or fuzzy, point or round – so many incredible choices.
Seemingly endless choices of succulent pots did not disappoint, while lots of cute heart themed pots and tins made a brilliant connection to the upcoming holiday.
Just when we thought our experience couldn't get any better, we got some great guidance from one of the pros. Beth Glick, wife of the founder of Glick's Greenhouse, came over to chat with us and show the girls how they could decorate the little heart tins with washi tape and sticky-back rhinestones.
All of this was just amazing! The entire vibe of being at Glick's for this event was filled with both peace and excitement at the same time. It was truly energizing and renewing for the soul.
It was just what I needed with my two favorite girls on my birthday.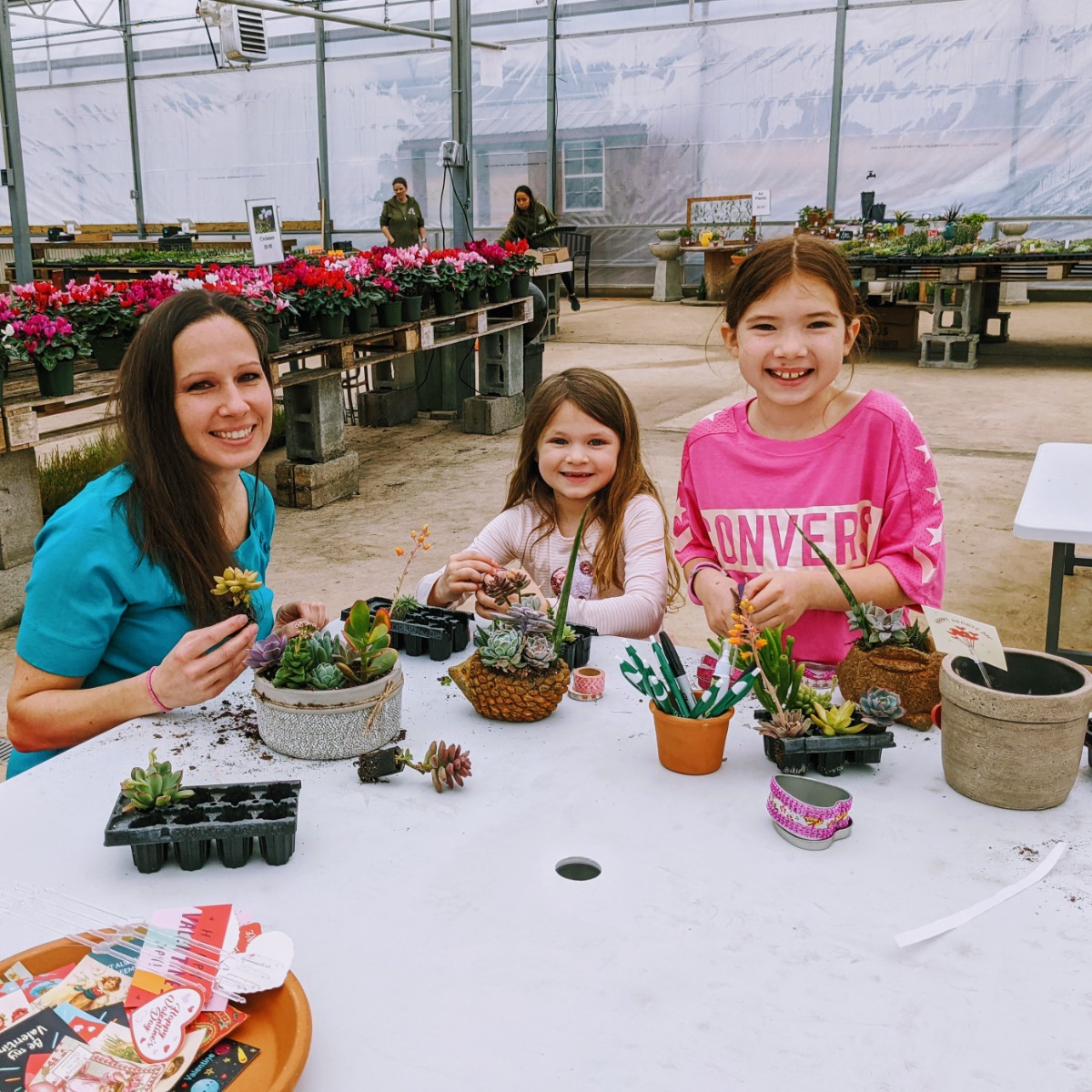 Choosing Succulent Pots
With so many beautiful choices, it was not easy choosing a succulent pott Perhaps that is why we ended up with so many!
Glick's Greenhouse offered succulent planters in so many shapes, sizes, and styles.
Some of our favorites were the Valentine heart planters and the animal planters – a kitty cat, bunny, hedgehog, owl, birds, and others.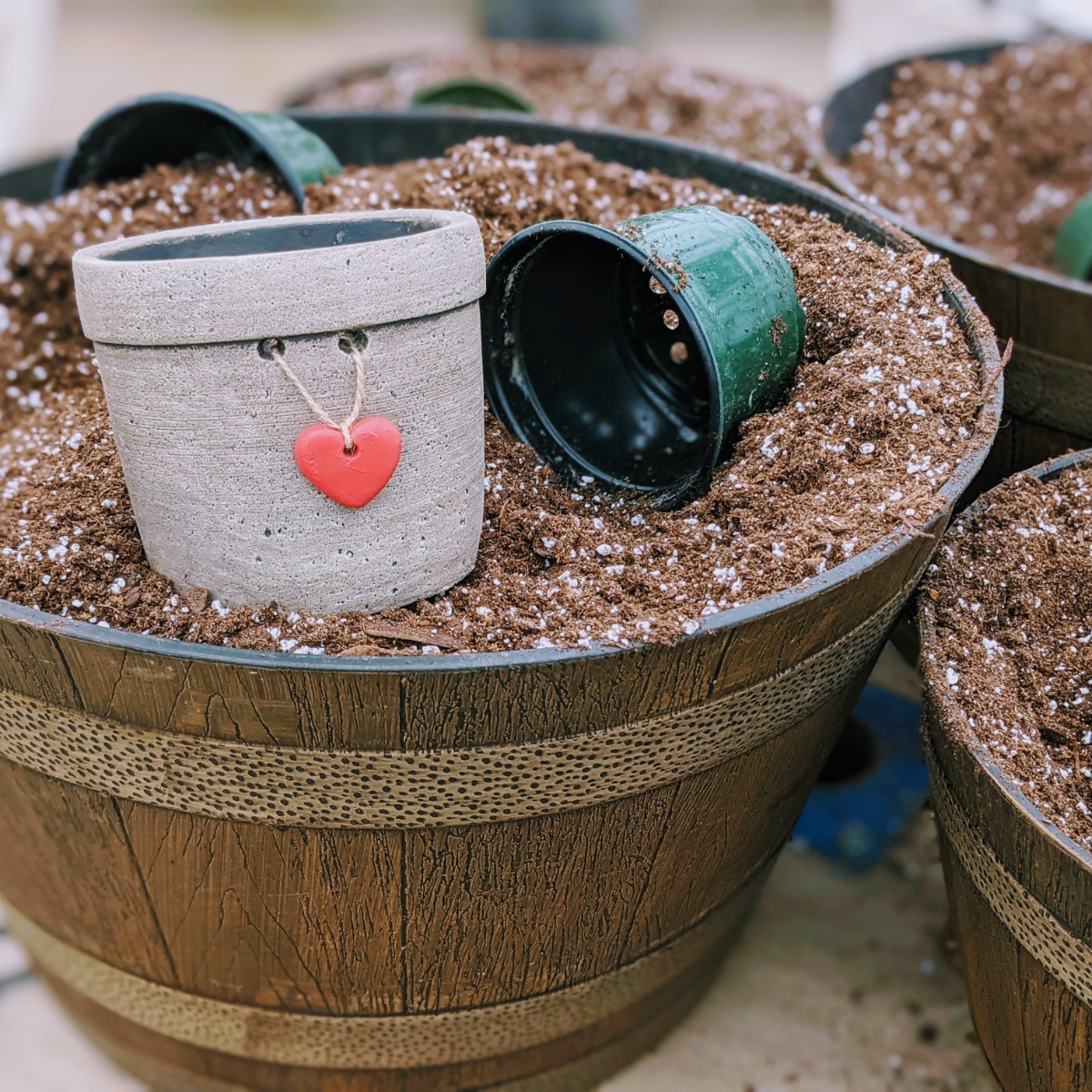 Here are my best tips for choosing the right succulent pots:
Size – Think about how many succulents you want to include in your arrangement. The larger the pot, the more succulents you can fit inside.
Color – Consider the different colors available for succulent pots.
Design – Look at the designs and find one that appeals to you.
Location – Think about where the planter will go in your home. What would look best where?
Be Creative – The selection of pots for succulents even included small metal heart tins that were perfect for Valentine's Day.
When in doubt, get two! I found the prices so reasonable at Glick's that we happily kept going back for more plants and more pots.
Selecting Succulents
The succulent selections at Glick's Greenhouse seem to go on forever!
We found it so hard to choose just a few succulent plugs so we kept filling up trays to our heart's content. (giggle)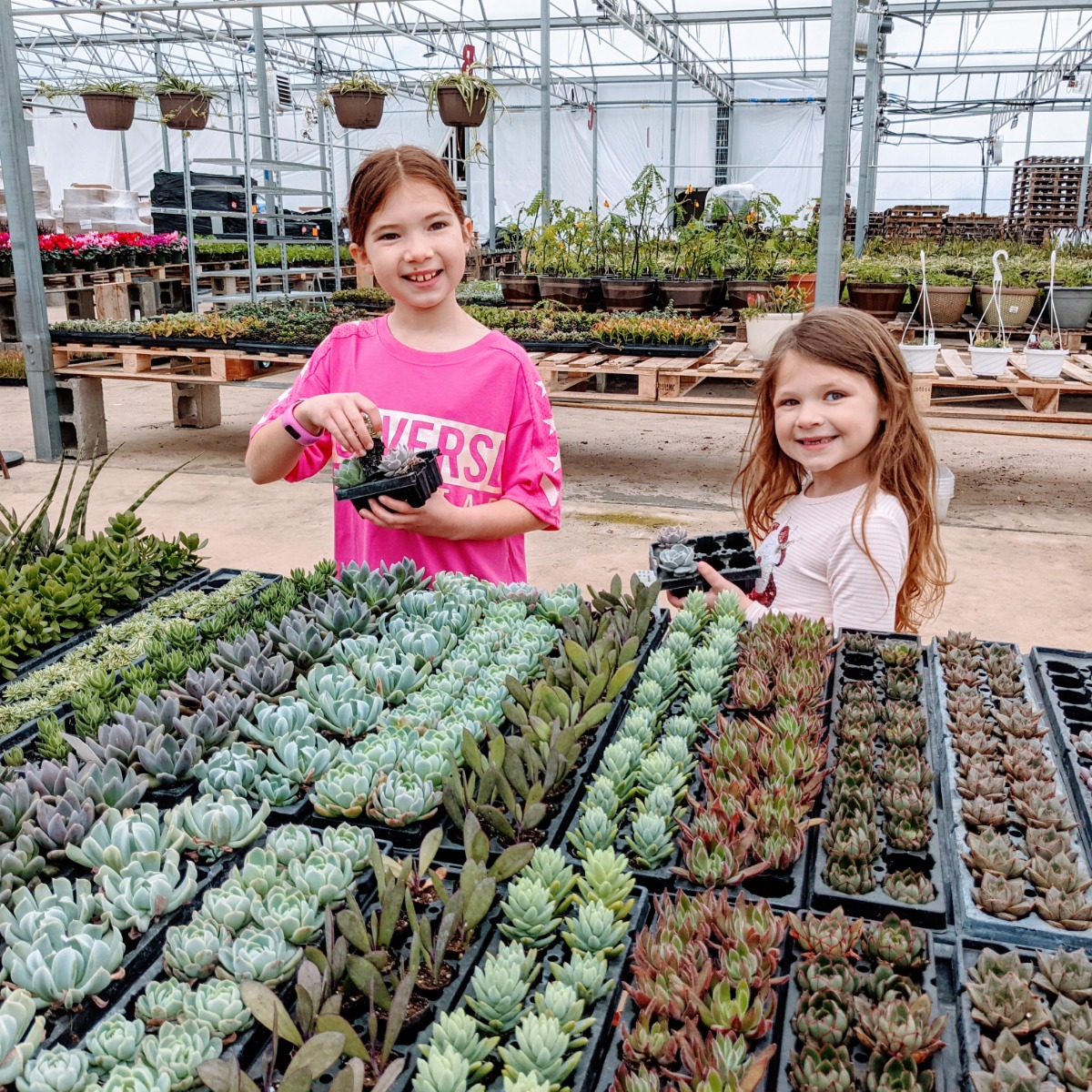 The most fun was watching my girls gleefully picking out plants and then coming to me to tell me they still needed more. Don't we all need all the plants?!
So of course I gave in and gave them another tray to fill. You can never have too many plants!
I still need to learn all the names of the different kinds of succulents but for now, we figured out how to choose succulents based on their colors, shapes, and heights. This gave our succulent arrangements dimension!
Potting Up Succulents
Once we had our plants and pots picked out, we were so excited to start arranging succulents!
We took our pots over to the barrel planters filled with potting soil. Here's what we did in case you want to try it at home with your own supplies:
Fill a succulent planter about 1/2 to 2/3 of the way with potting soil.

Gently place the succulent plugs into the pot in any arrangement that you like. It is not necessary to remove the succulent plug wrappers.

Tip: Keep in mind the height of different succulents. Arrange the plants so everything looks nice and all plants are evenly visible.

Continue placing succulents into the pot until it is full. You may need to gently squeeze in the last one.
Gently poke more soil in between the succulent plugs to fill the gaps.
If your succulents are packed very tightly, they may shift over time or even pop out of the pot a bit, so be sure to watch for this at home.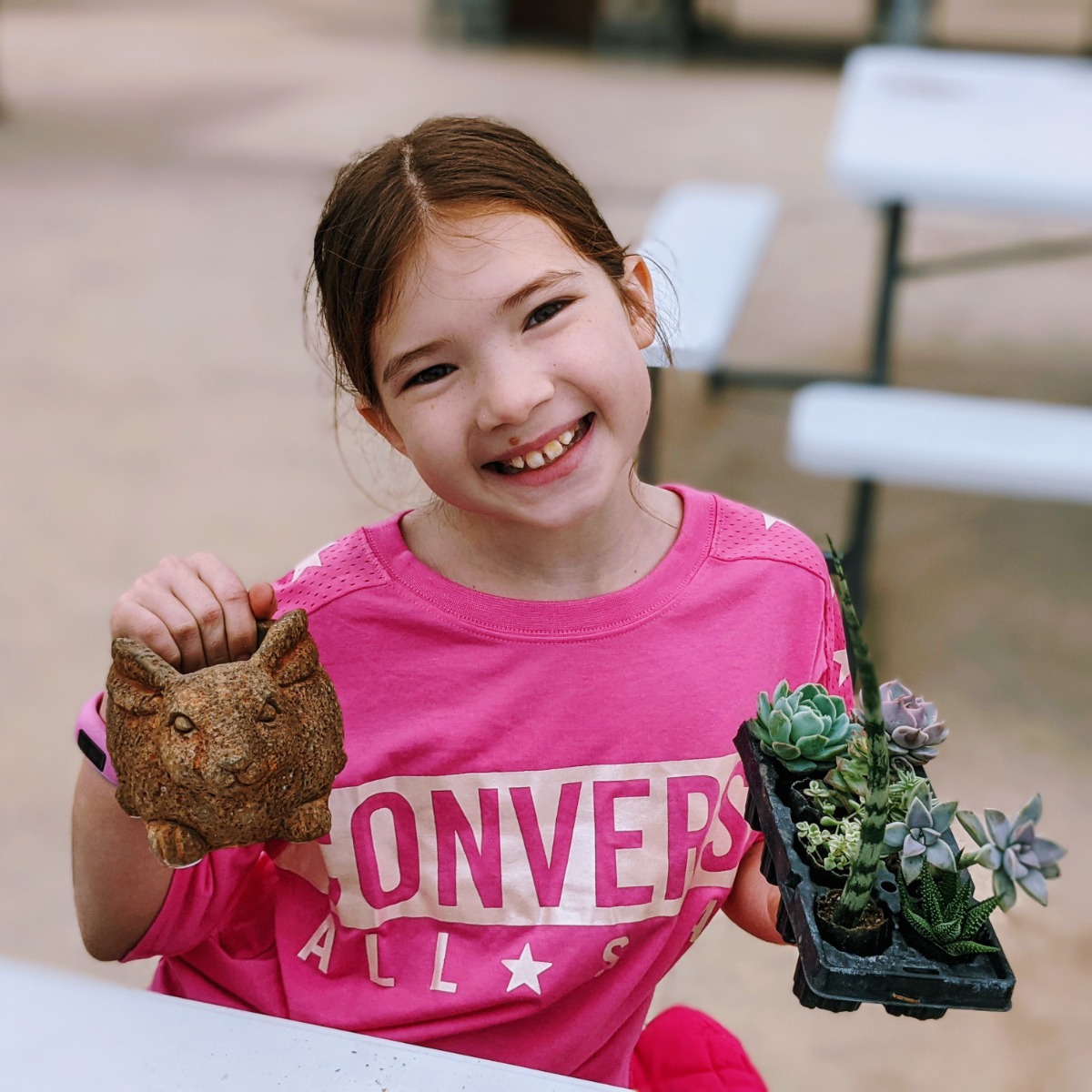 Personalizing Your Succulent Arrangements
Glick's Greenhouse had it all covered with lots of great craft items to personalize the pots at the succulent potting party.
Hand-drawn Heart Picks by Beth
Picks with Valentine Tags
Many Different Stickers
Washi Tape
Sticky Rhinestone Strips
Rainbow Colors of Gravel Stones
You can find so many unique ways to customize and decorate a succulent pot. These personal touches also turn a hand-potted succulent arrangement into a lovely, personalized gift.
The girls made succulent heart tins for their grandparents with so much love. I also made one for my bestie who wasn't able to join us that day.
Final Thoughts on the Succulent Party at Glick's
All in all, we could not have asked for a better or more enriching experience. I posted about the event and told other moms I knew to bring their kids over, too.
I hope Glick's does this event every February and I look forward to checking out other activities at this wonderful family business.
Hopefully this post will give you some ideas for hosting a succulent potting party at home with your friends! In any case, if you're ever in or around Oley, PA, be sure to stop into Glick's Greenhouse and check out the wide variety of succulents and plants.
You can also check out the Glick's Greenhouse Facebook page to stay on top of their events and specials.
Have you been to Glick's? If not and you're local, I highly recommend it! They offer .99 cents succulents, which we bought and used in our adorable Dollar Tree Succulent Planter Ornaments.
Feel free to chime in through the comments below for any thoughts you'd like to share, or any questions or tips on potting succulents! We always love hearing from you and we do respond to every comment!
Happy Gardening!