LIDL Garden Finds – Outdoor Plants, Bouquets & More
The Lidl garden section features outdoor plants, bouquets, and gardening products – such an exciting addition to the supermarket experience. Shouldn't ALL supermarkets have this much gardening stuff? And all the plants!
My daughter and I didn't have much time when we ran into Lidl the other day. Still, I couldn't help but browse the flowers. Excited to share our finds, I snapped as many pictures of the Lidl plants as I could.
I heard Lidl had blueberry bushes earlier in the spring. Unfortunately, I didn't make it over in time to verify that as a fact. (But we got some great Blue Crop Blueberries at Lowes!)
If anyone knows about Lidl blueberries, please post a comment! We can all better plan for next year that way. J
In the meantime, I will definitely be going back to see what other Lidl outdoor plants I can find, and other cool gardening gear.
For now, though, here's what we found at the Lidl in Royersford, PA.
Lidl Outdoor Plants
Hanging baskets were all the rage at Lidl when we stopped in. For just $6.99, too! I wish I had a place to hang them because I definitely would've taken a few home!
Potted Lilies
Lidl had Pixie Lilies for sale in the most divine shade of soft yellow. I almost bought some at the steal of $5.99 but realized I don't have a place in mind for them just yet.
Lidl Garden Sale – Spring Bulbs
The big bin of Lidl's spring bulbs was so enticing! Luckily, I'd already bought a bunch earlier in the season so I saved myself from myself. 🙂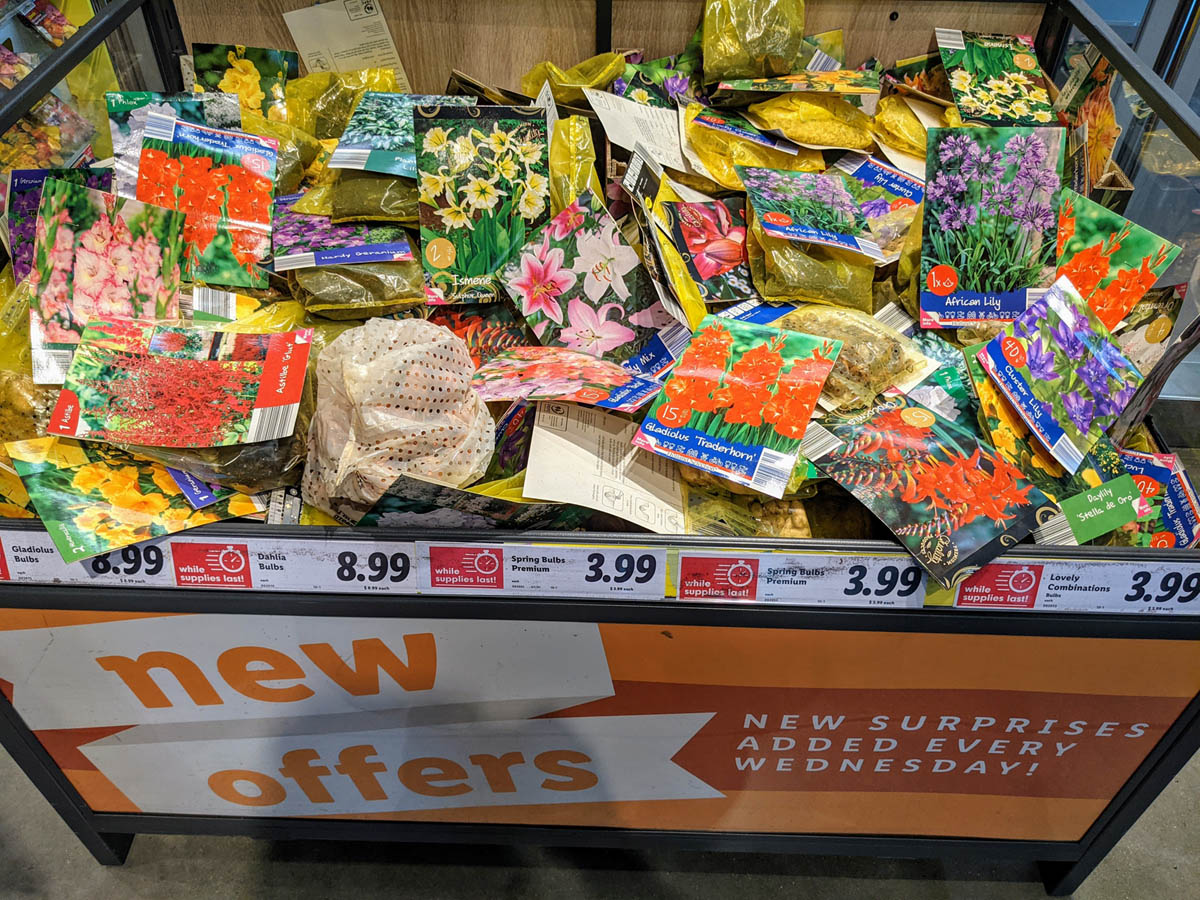 Some of the lovely bulbs at Lidl:
Gladiolus – Lots of variety – pink and white, red, yellow, mixed ($8.99 per pack)
Dahlia Bulbs – $8.99 per pack
Ismene – Sulphur Queen
Astilbe – Glut
Hardy Geranium – Purple
Cluster Lily – Purple
African Lily – Purple
Oriental Lily Mix – Pinks and Whites
Daylily – Stella de oro
Phlox – White
Hosta
Crocosmia – Red
These are just the ones on top! If we weren't in a rush, what fun it would be to dig through that bin and see what other treasures we could find!
Spring Bulbs Premium and Lovely Combinations both sell for $3.99. This is a While Supplies Last bargain!
Lidl Vegetable Plants
As far as vegetable plants at Lidl, we found mostly peppers and tomatoes. Some of them looked a little sad, like they need a loving gardener to take them home with some TLC.
The tomato and pepper plants cost $8.99 and came with a little trellis. Very cute!
I do feel like I remember seeing a rack of veggie plants in the entryway as well. I just can't recall what all they were selling there.
Indoor Plants for Sale
A wide variety of houseplants and succulents also graced the shelves at Lidl. I was super tempted but I'm not even done with my outdoor gardens so now is not the best time for me to adopt more plants for indoors.
Mini succulents in 2.5-inch pots cost $2.99 and a variety of potted plants and tropical foliage in 5-inch containers were marked $5.99.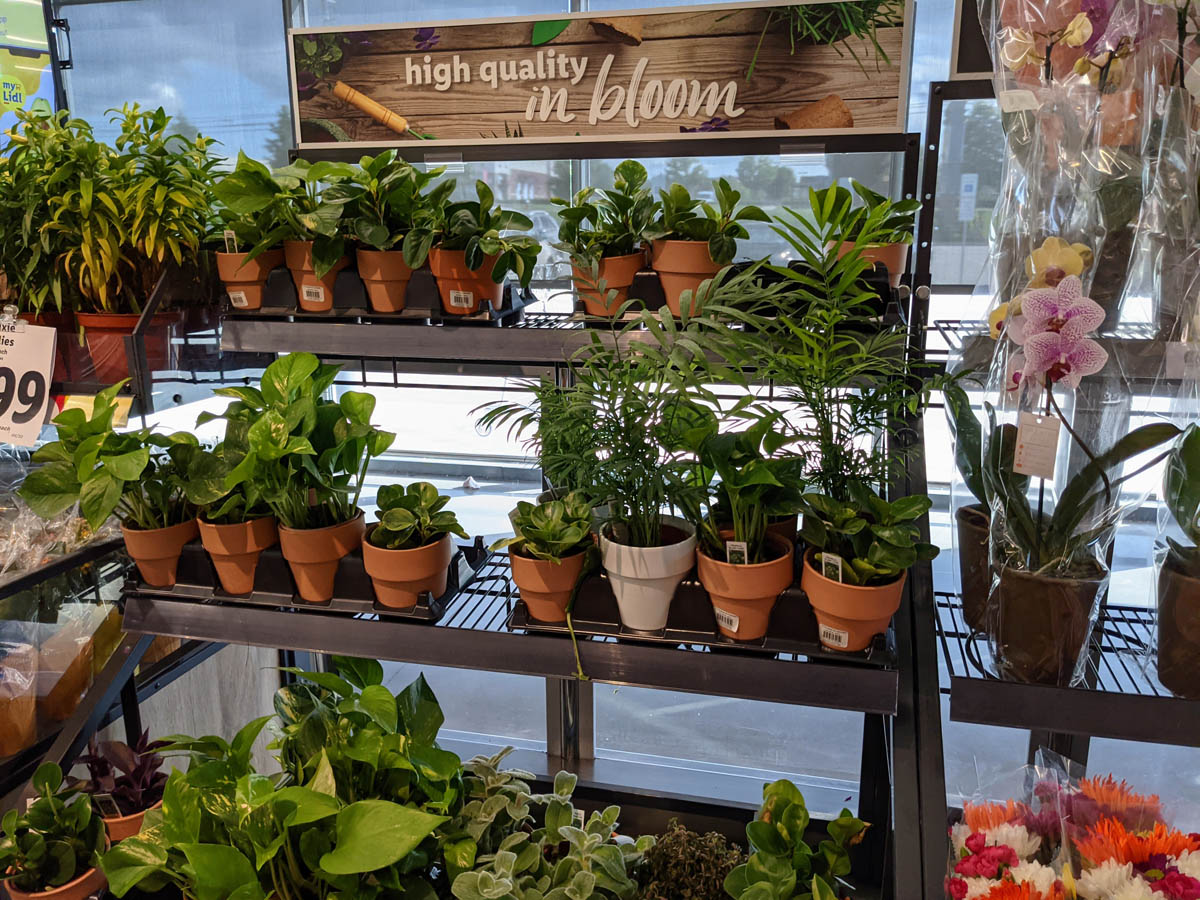 We saw two racks of indoor plants plus two shelves of orchids above and next to the bouquets.
Lidl Rose Bouquets & Mixed Flowers
The bright and vibrant colors of the Lidl bouquets screamed summer – hot pink, orange, purple, white, and yellow. The color combinations of the flowers are so soothing and refreshing to the soul.
I truly wish this store could be 10 minutes closer to my house – I'd go every week just to look at the flowers and plants!
On the day we went, most of the bouquets boasted bright stickers and 30% off price tags. If I didn't already have so many rose cuttings in glass jars on my bay window, I 100% would've grabbed a bouquet or two!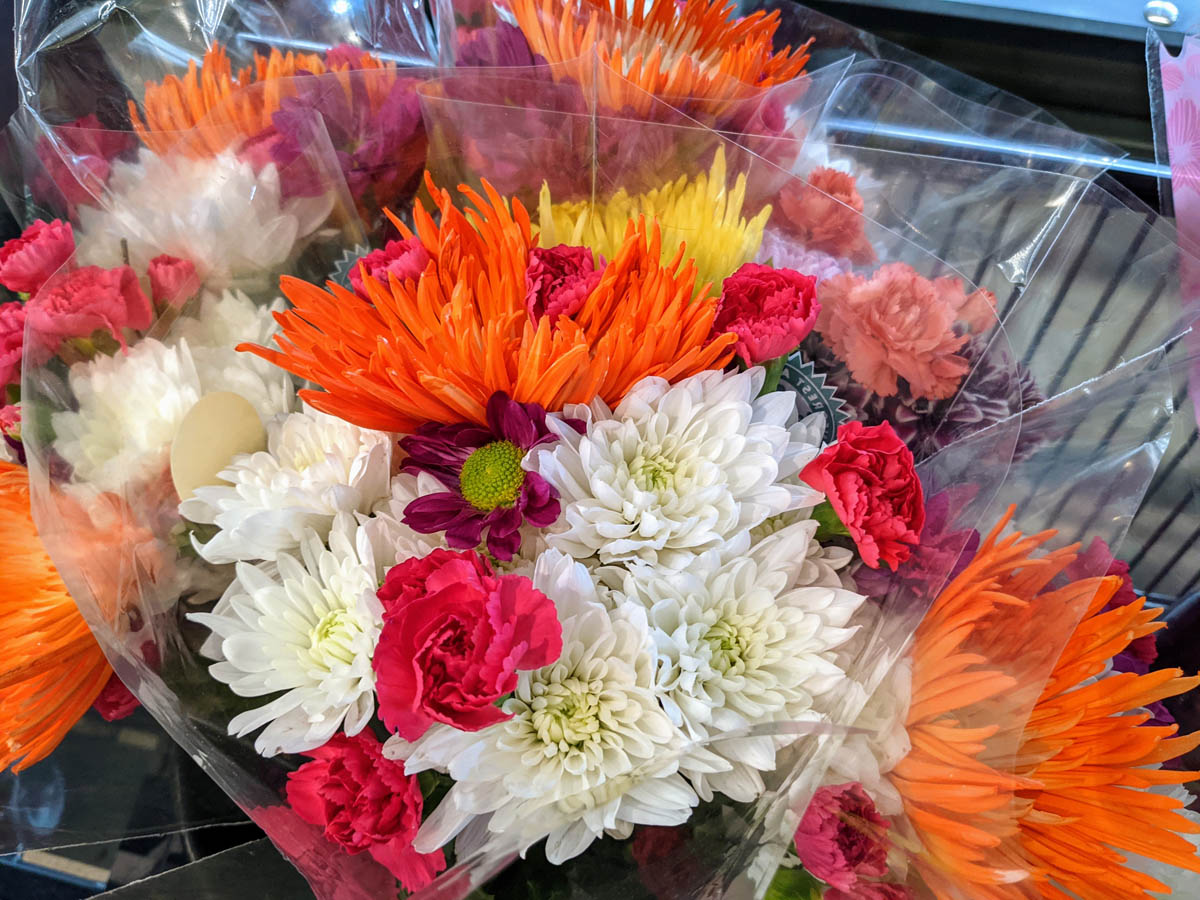 BTW – If you are interested in growing roses from bouquets and cuttings, be sure to check out my post on that! I am currently working on some rose cuttings from a bouquet of beautiful, fragrant dark pink roses I got at Lidl and a bouquet of red-edged yellow roses I bought at Aldi!
Final Thoughts: Lidl Garden Offers
A Lidl grocery store finally came to our area over the past couple of years and it's exciting to say the least! I've enjoyed our recent visits and always look forward to going back.
In my experience, it seems like Aldi and Lidl garden sections are similar – it seems they both get updated nicely on a regular basis.
The Lidl gardening section definitely impressed me and I would go back just for that.
I have an idea – let's use the comments section to share what's hot for Lidl gardening gear at our local stores. It can help all of us to find great plants and flowers cheap!
Just post a comment and let us know what you've scored at Lidl!
Or feel free to ask questions and share other fun Lidl gardening adventures with us as well. Love to hear from you!
By the way, you might also enjoy these similar posts: