LIDL Garden Finds – Outdoor Plants, Flowers & More
The Lidl garden section features outdoor plants, bouquets, and gardening products – such an exciting addition to the supermarket experience. Shouldn't ALL supermarkets have this much gardening stuff? And all the plants!
It's a lot of fun looking at all the cool garden offers at the store, from the flower pots to the plants, flowers, and other gardening accessories.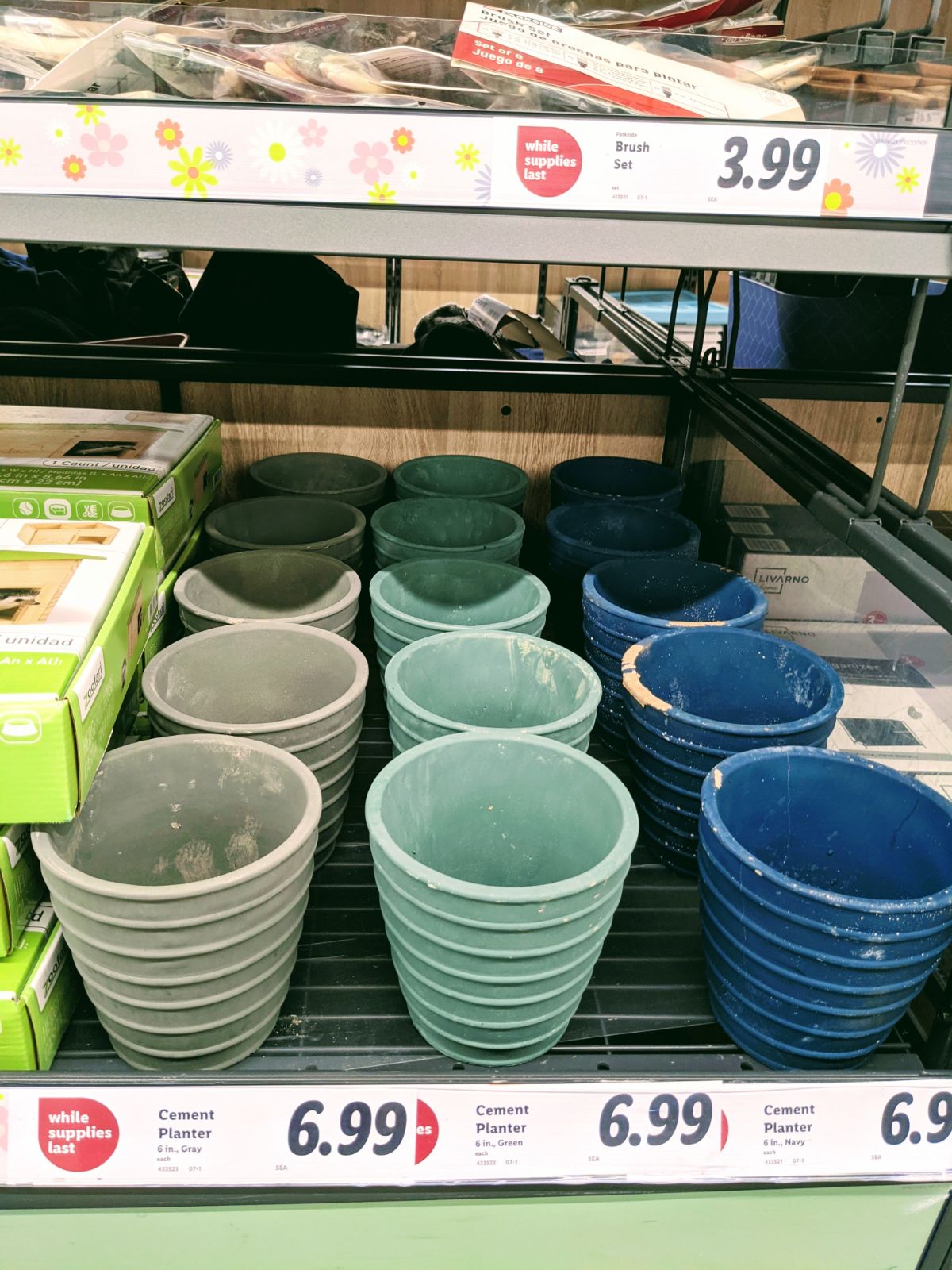 My daughter and I didn't have much time one of the days when we ran into Lidl. Still, I couldn't help but browse the flowers. Excited to share our finds, I snapped as many pictures of the Lidl plants as I could.
I heard Lidl had blueberry bushes earlier in the spring. Unfortunately, I didn't make it over in time to verify that as a fact. (But we got some great Blue Crop Blueberries at Lowes!)
If anyone knows about Lidl blueberries, please post a comment! We can all better plan that way. 🙂
In the meantime, I will definitely be going back to see what other Lidl outdoor plants I can find, and other cool gardening gear.
For now, though, here's what we found on various visits to the Lidl in Royersford, PA.
Lidl Outdoor Plants
Hanging baskets were all the rage at Lidl when we stopped in. For just $6.99, too! I wish I had a place to hang them because I definitely would've taken a few home!
Potted Lilies
Back in 2021, Lidl had Pixie Lilies for sale in the most divine shade of soft yellow. I almost bought some at the steal of $5.99 but realized I don't have a place in mind for them just yet.
Lidl Garden Sale – Spring Bulbs
The big bin of Lidl's spring bulbs was so enticing! Luckily, I'd already bought a bunch earlier in the season so I saved myself from myself. 🙂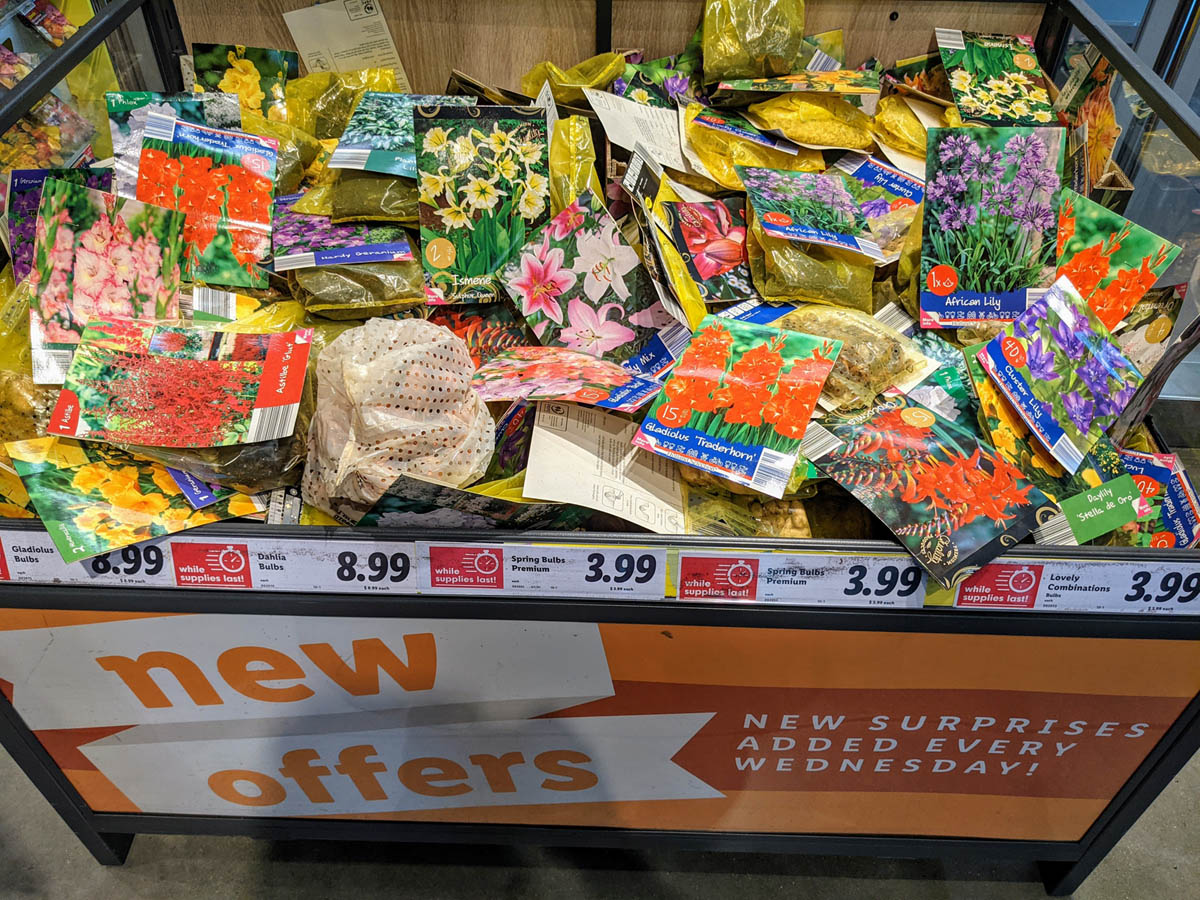 Just kidding!!! I always buy more bulbs, even if I don't really "need" them! 🙂
Lidl Bulbs – Perennials to Pick Through!
Some of the lovely bulbs at Lidl:
Gladiolus – Lots of variety – pink and white, red, yellow, mixed ($8.99 per pack)
Dahlia Bulbs – $8.99 per pack
Ismene – Sulphur Queen
Astilbe – Glut
Hardy Geranium – Purple
Cluster Lily – Purple
African Lily – Purple
Oriental Lily Mix – Pinks and Whites
Daylily – Stella de oro
Phlox – White
Hosta
Crocosmia – Red
These are just the ones on top! If we weren't in a rush, what fun it would be to dig through that bin and see what other treasures we could find!
Spring Bulbs Premium and Lovely Combinations both sell for $3.99. This is a While Supplies Last bargain!
Don't snooze or you'll lose – I check back at the store regularly to make sure I don't miss the Lidl bulbs sale each spring!
Lidl Vegetable Plants
As far as vegetable plants at Lidl, we found mostly peppers and tomatoes. Some of them looked a little sad, like they need a loving gardener to take them home with some TLC.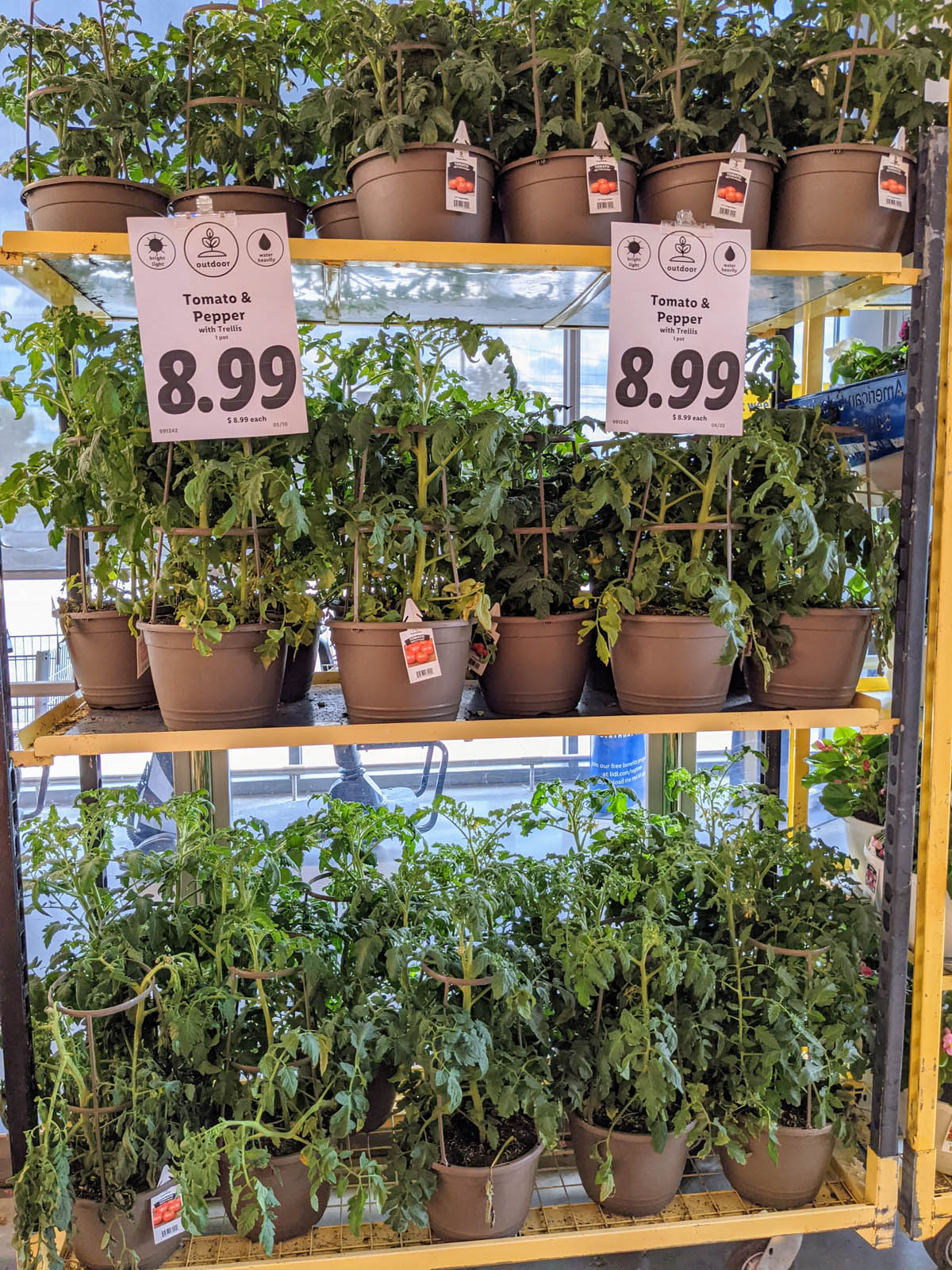 The tomato and pepper plants cost $8.99 and came with a little trellis. Very cute!
I do feel like I remember seeing a rack of veggie plants in the entryway as well. I just can't recall what all they were selling there.
Indoor Plants for Sale
A wide variety of houseplants and succulents also graced the shelves at Lidl. I was super tempted but I'm not even done with my outdoor gardens so now is not the best time for me to adopt more plants for indoors.
At the time I found them, the mini succulents in 2.5-inch pots cost $2.99 and a variety of potted plants and tropical foliage in 5-inch containers were marked $5.99.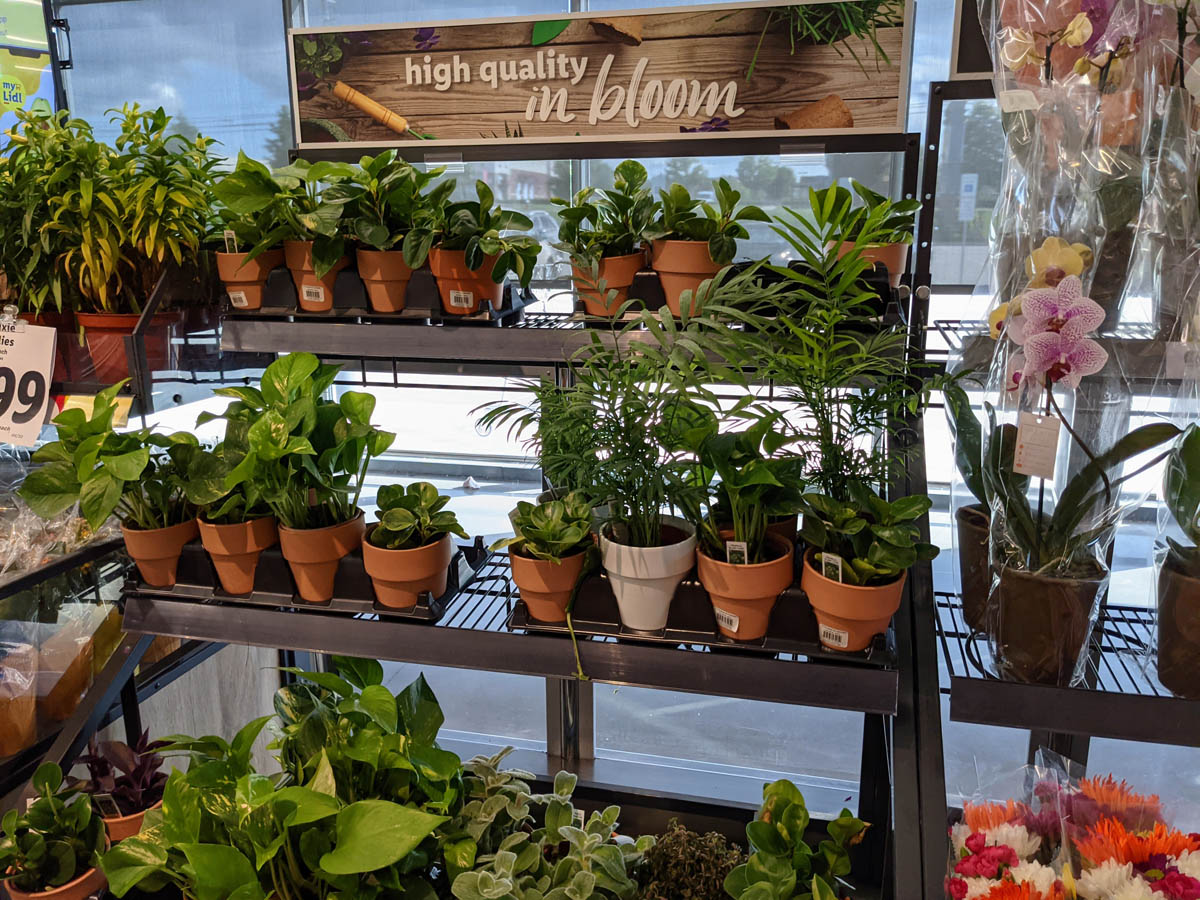 We saw two racks of indoor plants plus two shelves of orchids above and next to the bouquets.
Lidl Flowers – Rose Bouquets & Mixed Blooms
The bright and vibrant colors of the Lidl bouquets screamed summer – hot pink, orange, purple, white, and yellow. The color combinations of the flowers are so soothing and refreshing to the soul.
I truly wish this store could be 10 minutes closer to my house – I'd go every week just to look at the flowers and plants! I actually think I am going to be doing this anyway…
On the one day we went, most of the bouquets boasted bright stickers and 30% off price tags. If I didn't already have so many rose cuttings in glass jars on my bay window, I 100% would've grabbed a bouquet or two!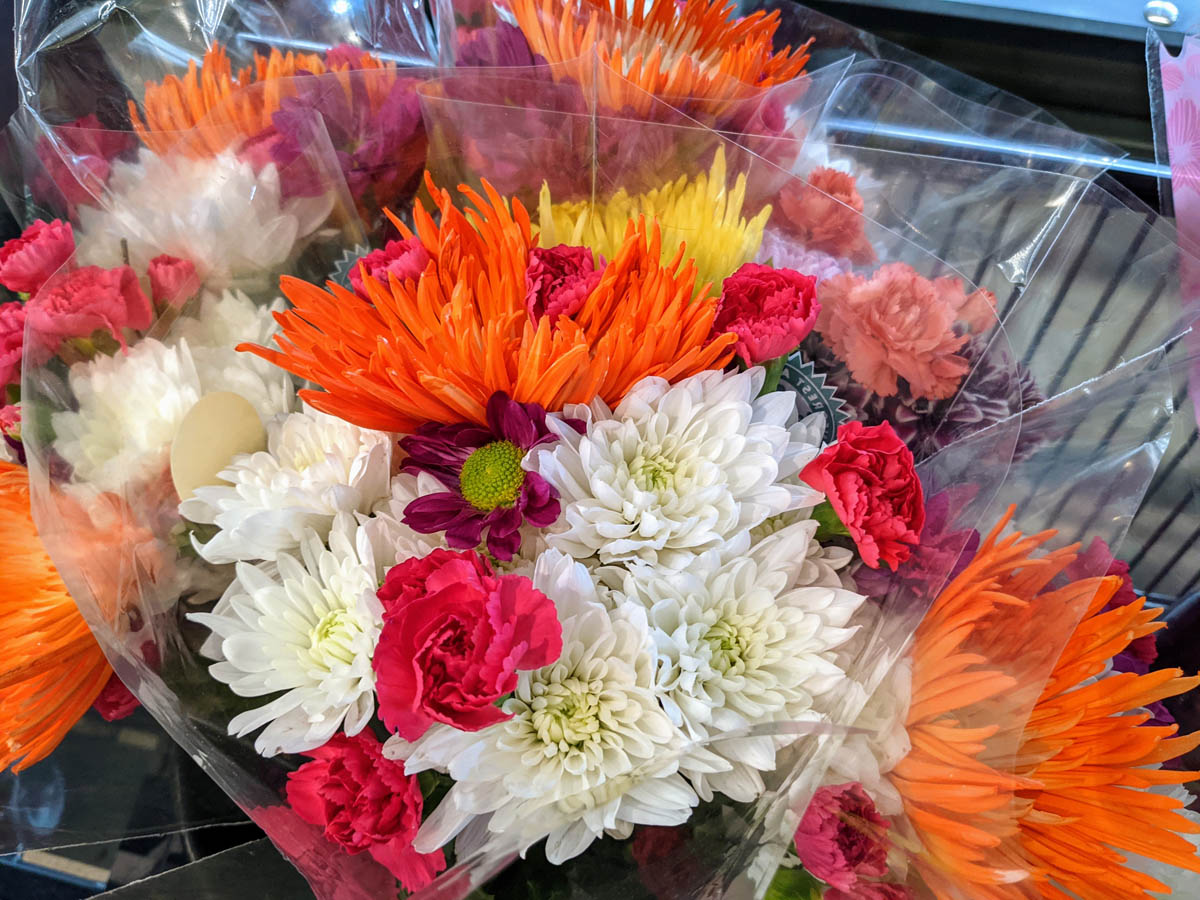 BTW – If you are interested in growing roses from bouquets and cuttings, be sure to check out my post on that! I recently worked on some rose cuttings from a bouquet of beautiful, fragrant dark pink roses I got at Lidl and a bouquet of red-edged yellow roses I bought at Aldi!
Lidl Flowers and Plants This Week (& Recent Finds)
Lidl Flowers This Week
Week of February 22 – 28, 2023
On a February 22, 2023 visit to the Royersford, PA Lidl across from Target, I saw gorgeous bouquets of tulips, daisies, and lilies, among others. The cut flowers burst with color and dimension.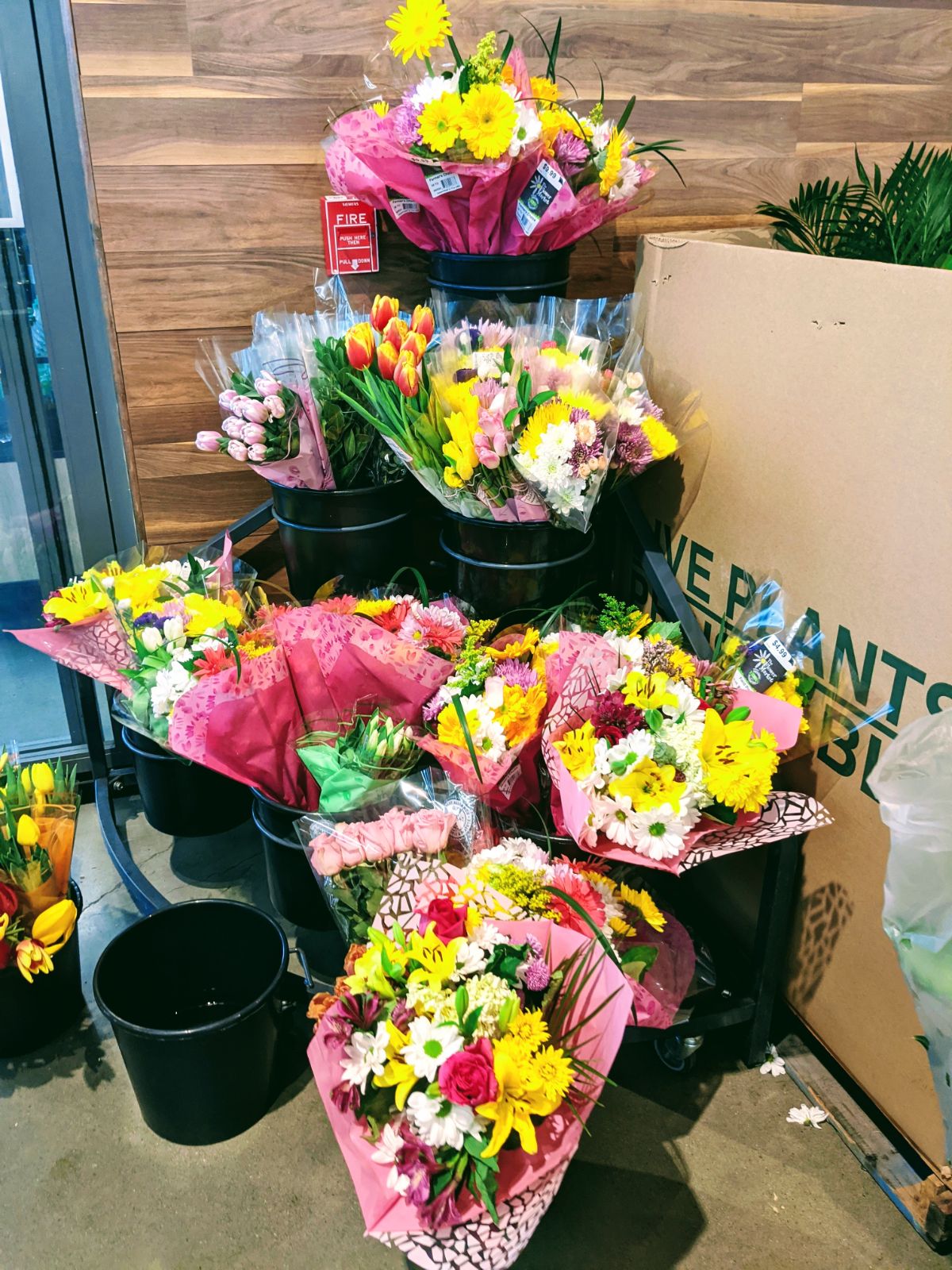 Lidl also had two bouquets of roses for sale, pink and red, but not marked down. I definitely missed the Valentine's Day clearance. Will plan better next year!
As far as potted flowers at Lidl, I saw hyacinths, tulips, and I think mini daffodils for sale in a rack of spring perennials.
The Royersford Lidl also had Calla lilies on sale for $4.99 but buy one and get the second 50% off. The spring flower bulbs cost $4.99.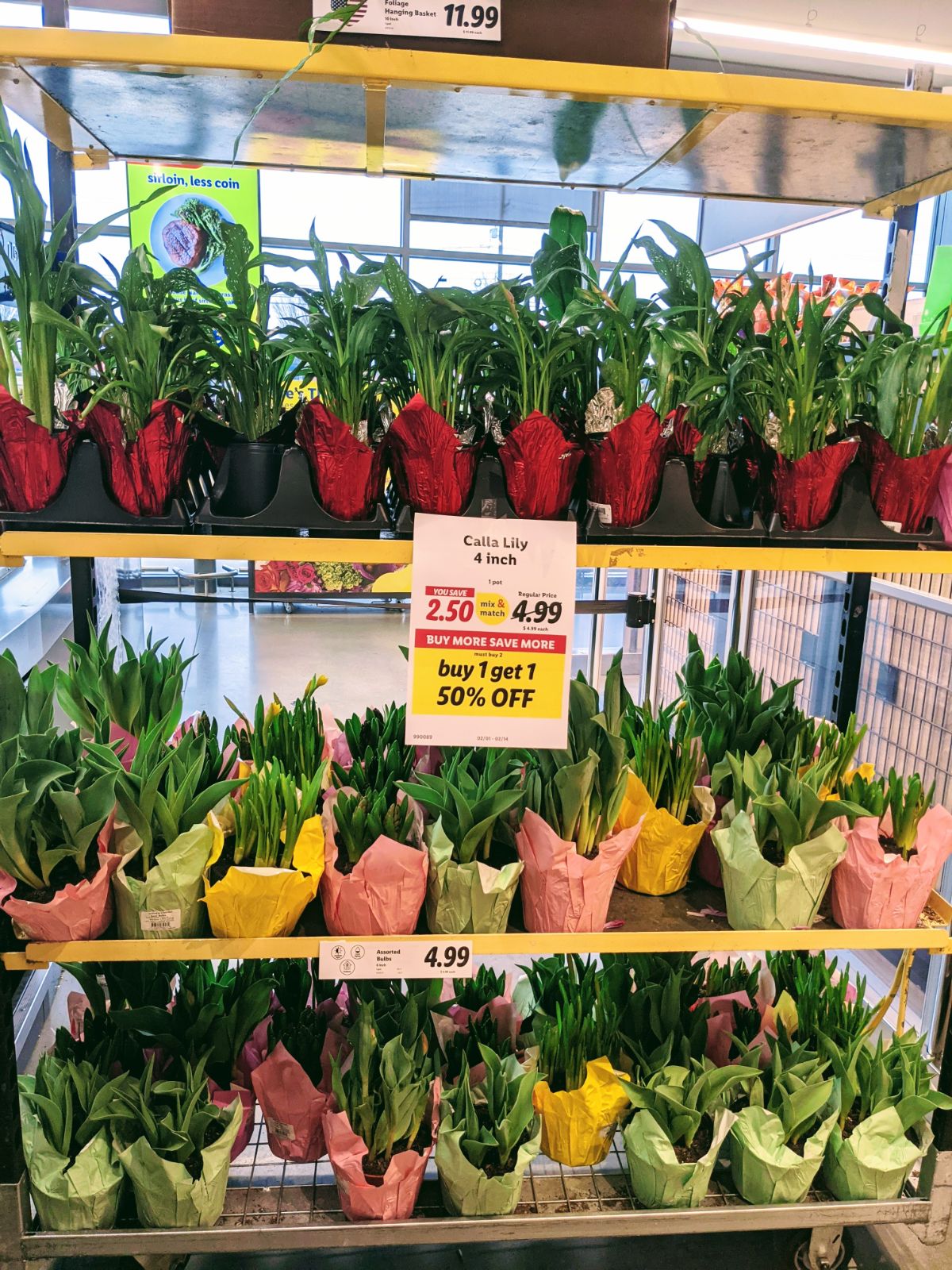 I also saw some orchids for sale.
By the way, be sure to check the weekly ad circular floral section for Lidl in case your store carries something mine doesn't! Please let us know in the comments if you score something awesome for the garden or backyard!
Lidl Plants This Week
Week of February 22 – 28, 2023
On my trip this Wednesday, February 22, I also found Lidl houseplants in a variety of tropical styles.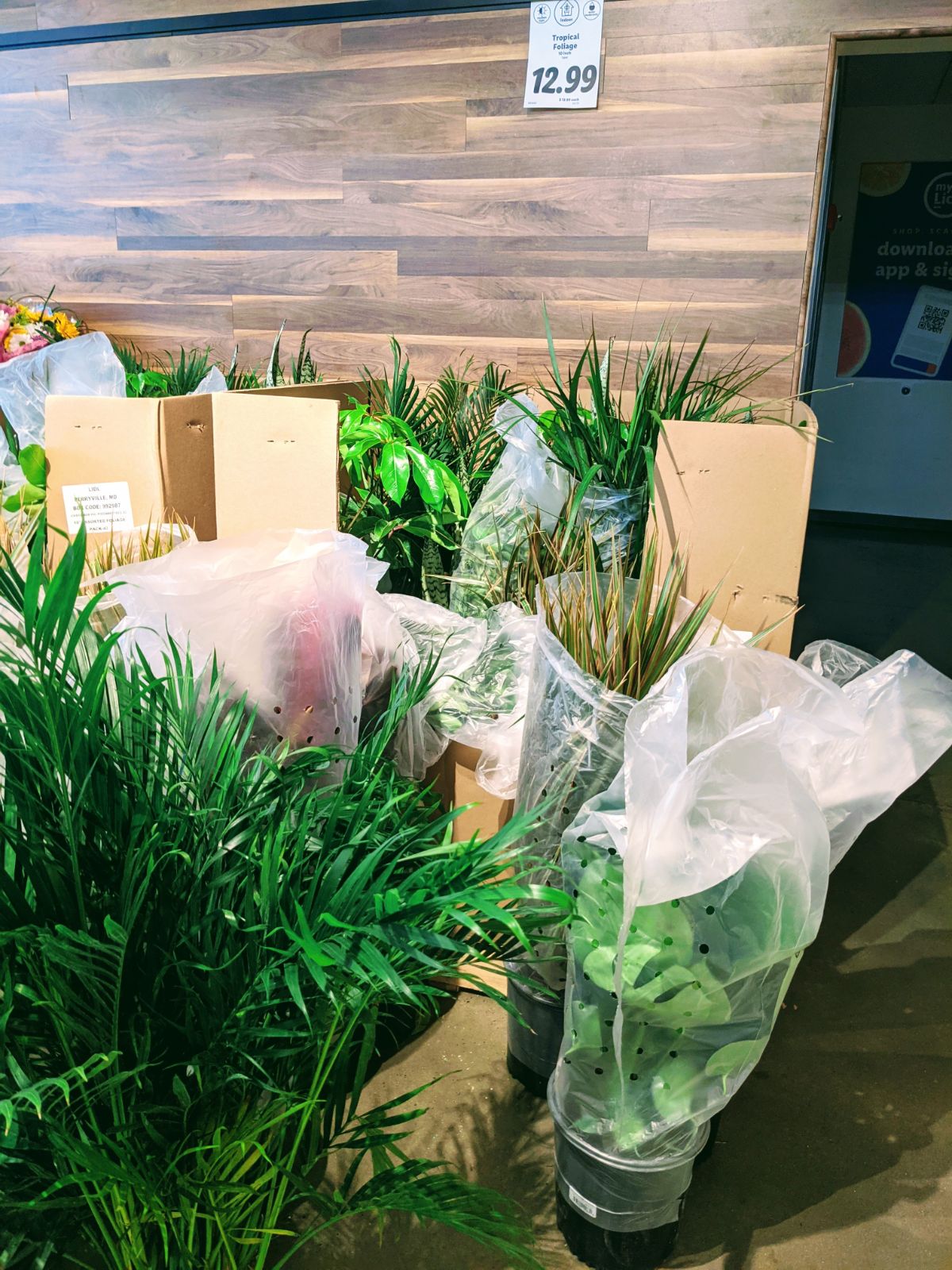 These were by the entrance near the bakery section.
Towards the registers, I also found adorable little succulent pots with a Valentine feel to them. (They didn't seem marked down and I didn't need them this trip so I left those behind.)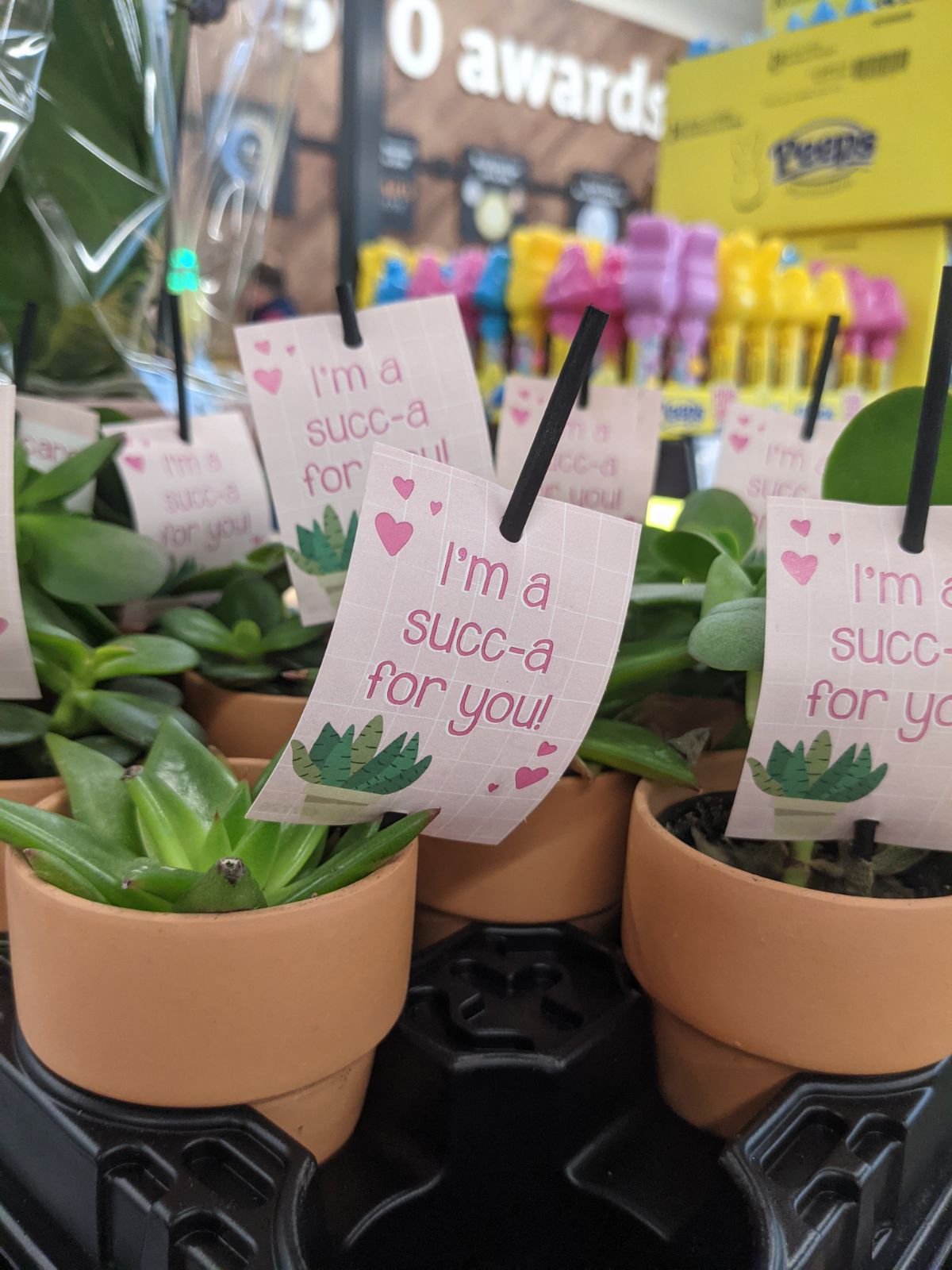 You can also find potted herbs in the produce section. They looked healthy and seemed like a good deal if you need them!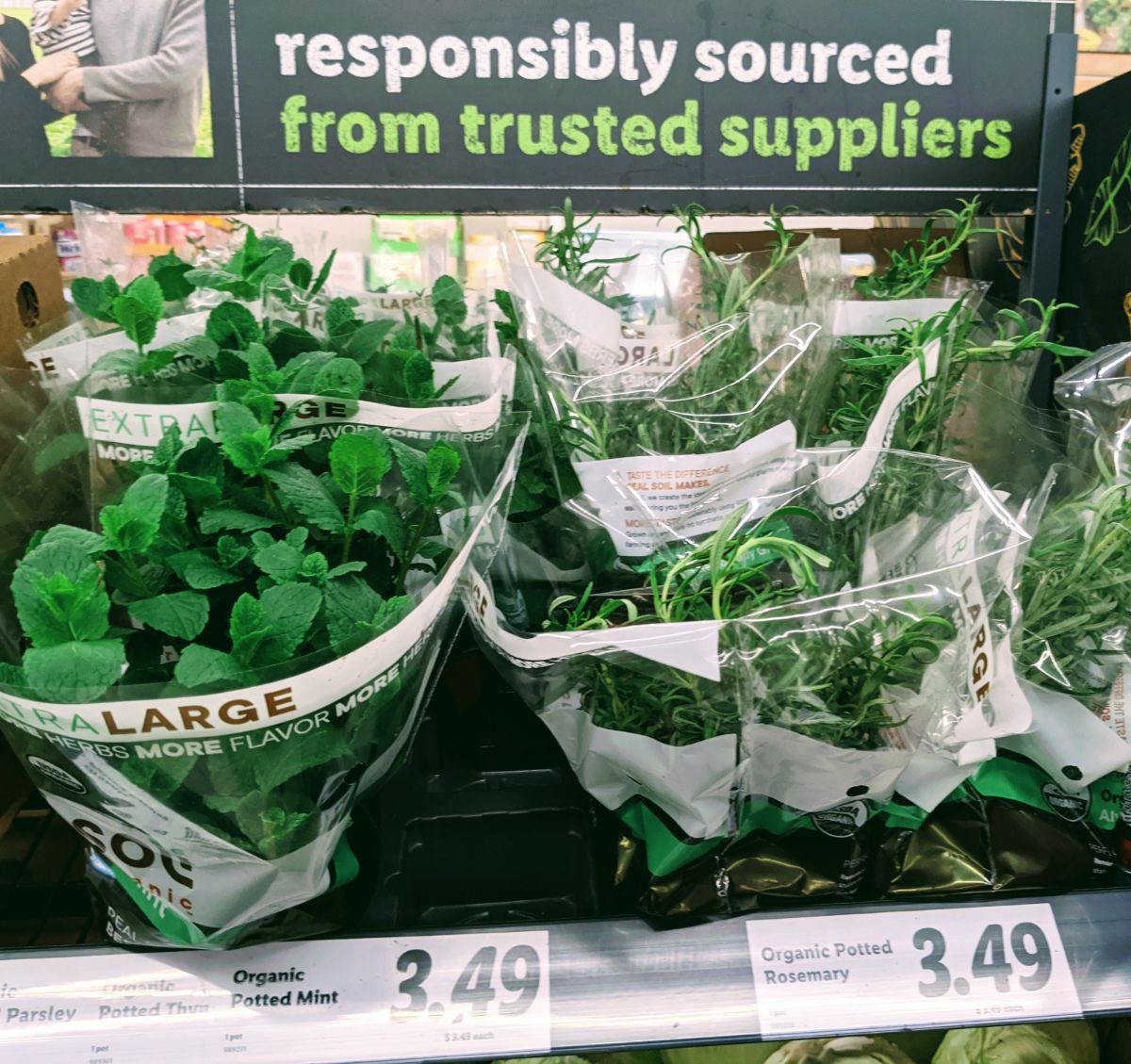 Shopping for plants at Lidl – and flowers! – is so much fun. I love coming back to see what all I can find. I'll be sure to keep you posted!
And of course, if you want to keep tabs on the Lidl plant deals, be sure to check out the weekly circular and navigate to the backyard / plants section.
More Lidl Garden Offers This Week
In addition to the awesome Lidl flowers and plants, I also found several worthwhile garden goodies this week.
Lidl Cold Frame
I went into Lidl for a head of lettuce for taco night, and this happened…
You really gotta watch out for it. Reportedly, this is the time of year when plants and garden accessories fly off the shelves and jump into your cart, totally without warning!
Love it and embrace it – as another gardener told me, this is the way! 😉
Truth be told, I am really excited about the Lidl cold-frame! For $39.99, I think it is definitely worth a shot. I will report back on how it goes in another post dedicated to that product.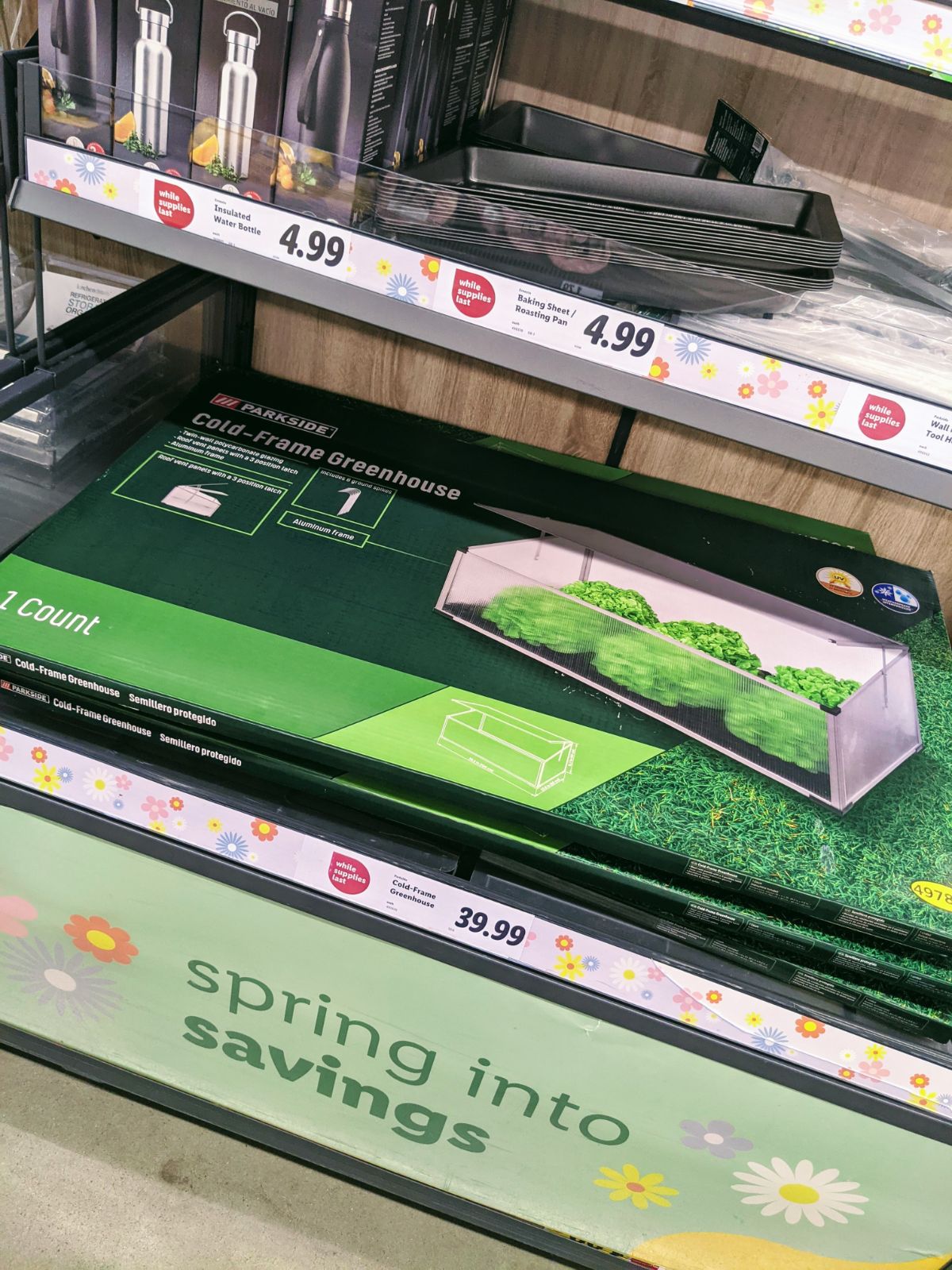 Mini Greenhouse
For a bit more, you can get a mini greenhouse kit. I am holding out for one with sturdier walls as I've used the plastic wrapped style before and these don't cut it with the wind we get here.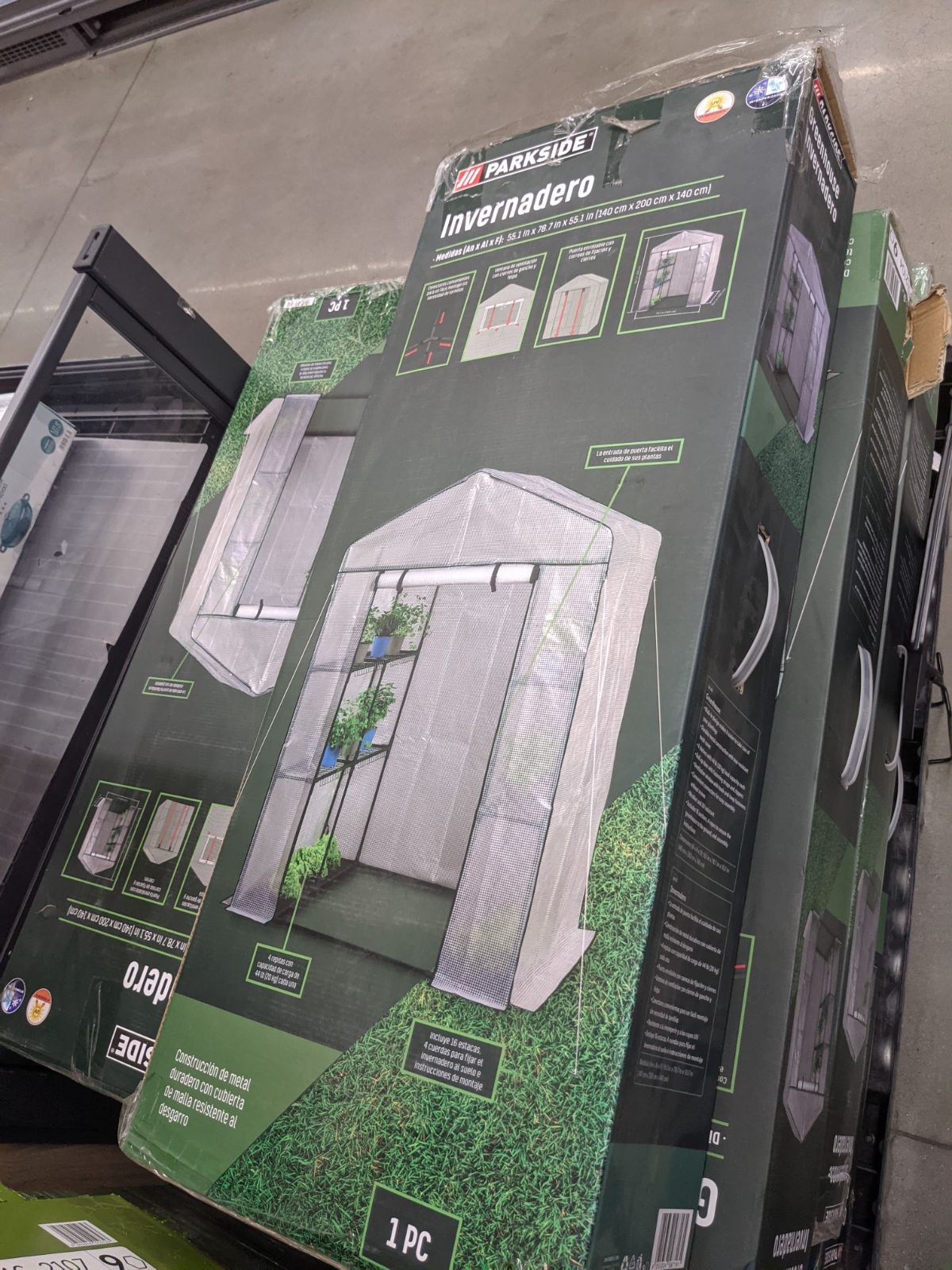 However, if you have a good, sheltered location, it might be a great fit for your needs!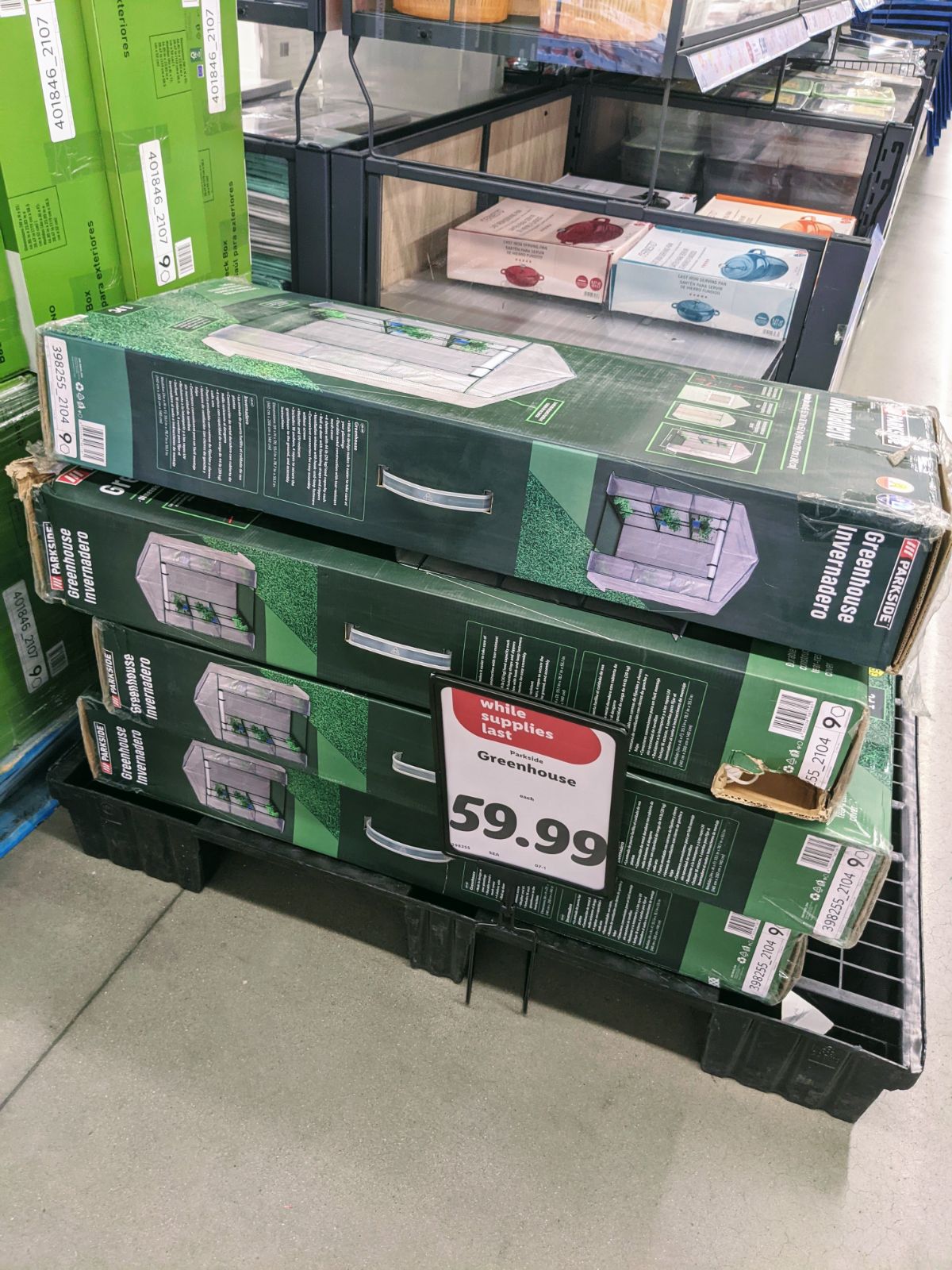 Hanging Planters
These pretty hanging planters offer affordable aesthetics for your indoor plants. I love this look and just wish I had the hooks to hang them.
Gardening Tools – Loppers
These sturdy-looking loppers seem like a decent deal at Lidl this week.
My husband already had a pair of loppers so I didn't buy them to try them, but just letting you know they are there.
Outdoor Deck Box / Storage Box
An outdoor deck box is another great find in the outdoor section at Lidl. This rugged toy box would work well for keeping gardening gear and other outdoor living accessories stowed and organized.
Final Thoughts: Lidl Garden Offers
A Lidl grocery store finally came to our area over the past couple of years and it's exciting to say the least! I've enjoyed our recent visits and always look forward to going back. I love this store!
In my experience, it seems like Aldi and Lidl garden sections are similar – it seems they both get updated nicely on a regular basis with cool products and plants that I am excited to find unexpectedly!
The Lidl gardening section definitely impressed me and I often go back just for that.
Most recently, I nabbed this window box style planter for something like $5 bucks!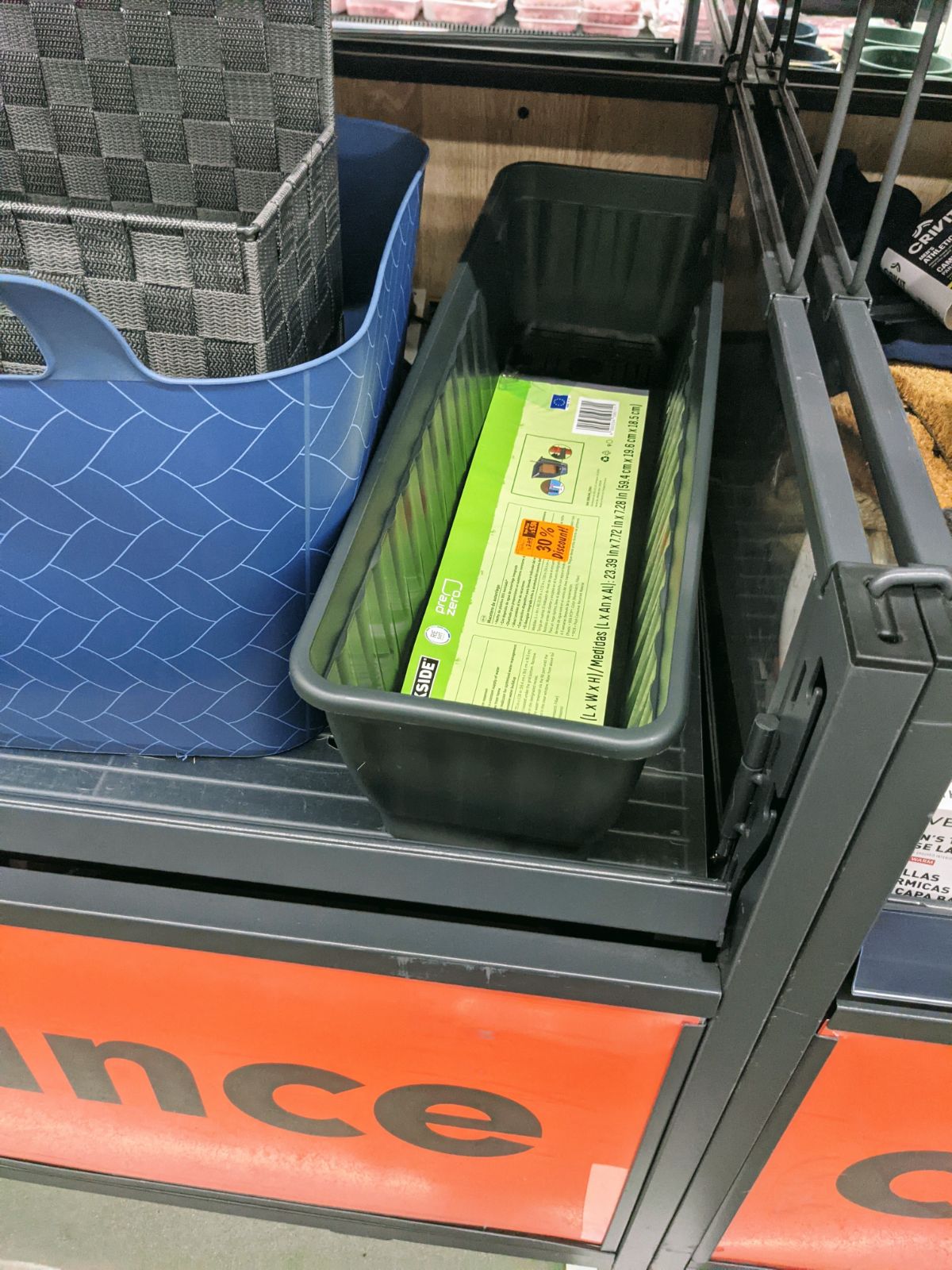 I have an idea – let's use the comments section to share what's hot for Lidl gardening gear at our local stores. It can help all of us to find great plants and flowers cheap!
Just post a comment and let us know what you've scored at Lidl!
Or feel free to ask questions and share other fun Lidl gardening adventures with us as well. Love to hear from you!
By the way, you might also enjoy these similar posts:
02.22.23 – Updated to add section on flowers and plants this week at Lidl. Also added many new photos and fixed headings.