Homemade Succulent Christmas Terrarium Ornament – DIY Dollar Tree Planter
Finally, I have another gardening craft activity to share with you! This year my girls and I had so much fun making homemade DIY succulent ornament planters. Dollar Tree empty plastic ornaments gave us the perfect start, while live succulent plugs made them special.
This is MY kind of holiday craft, y'all! What could be better than getting to do a little wintertime gardening craft for the holidays?!
I highly recommend trying these tiny terrarium ornaments for succulents if you have a chance.  
Ours made for a fun afternoon with the bonus of unique supplemental gifts to go along with gift cards.
Keep reading to learn how we made our own DIY succulent planter Dollar Tree ornaments with live plants this winter.
How to Make a DIY Succulent Planter (Dollar Tree)
Dollar Tree terrarium container ornaments are perfect for this Christmas gardening craft.
Gather these materials to make your own holiday succulent terrarium ornament.
Materials:
Clear Plastic Terrarium Ornament with Screw-Cap on Bottom
Tiny Succulent Plugs (live plants)
Assorted Holiday Ribbons and Trimmings
Tiny Jingle Bells or Other Accessories
Scissors
Glue or Other Adhesive
Instructions:
Follow these steps to make your own succulent art terrarium ornament for the holiday season.
Unscrew the lid to the plastic terrarium ornament.


Choose a tiny succulent plug for inside the ornament and place it on top of the cap.


If desired, wrap ribbon or faux evergreen trimmings around the succulent plug.


Depending on when it was last watered, you may need to give a tiny bit of water, less than a teaspoon, to the plant.


Carefully twist the cap back onto the terrarium ornament.


If desired, add ribbons and decorations to the outside of the terrarium ornament.


Remove the ornament cap / hanger to loop it through the jingle bells if desired, or simply tie them on with string.

Repeat and enjoy making many different kinds of DIY succulent ornament planters.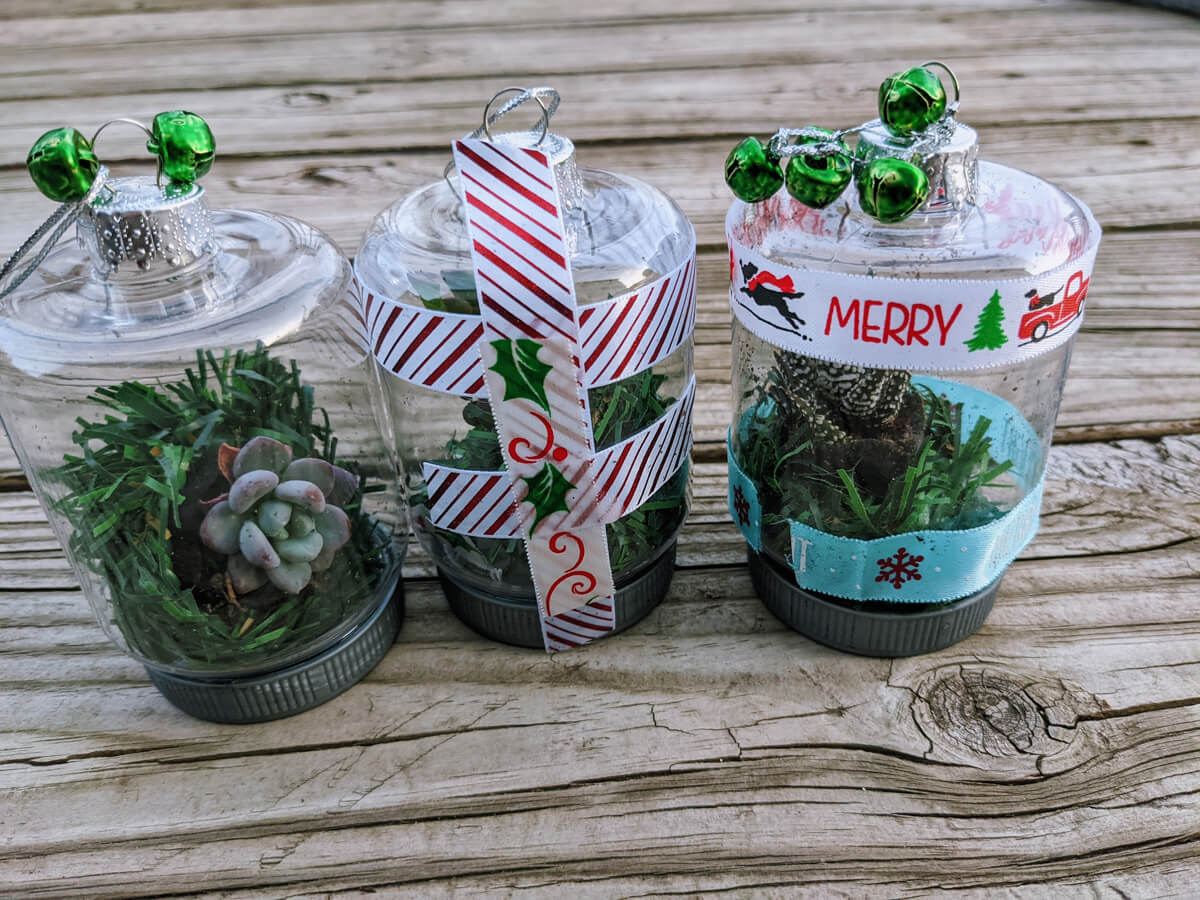 Super Cheap DIY Succulent Ornament Planters
After finding the clear plastic ornaments with screw-on bottoms, I lucked into some super cheap succulents. HUGE shout out to Glick's Greenhouse for an awesome selection of succulents for just .99 cents each!
I almost couldn't stop myself from buying them!
The tiny baby succulent plugs were healthy and available in many shapes and colors to suit your needs.
If you live within a reasonable drive, I highly recommend a trip to Glick's. I will certainly be going back there during the normal gardening season. And definitely the next time I need succulents!
For a little over $2 apiece, you can make these adorable and festive DIY dollar tree succulent planter ornaments! The kids trimmed ours with holiday ribbon, faux evergreen trimmings, and tiny jingle bells.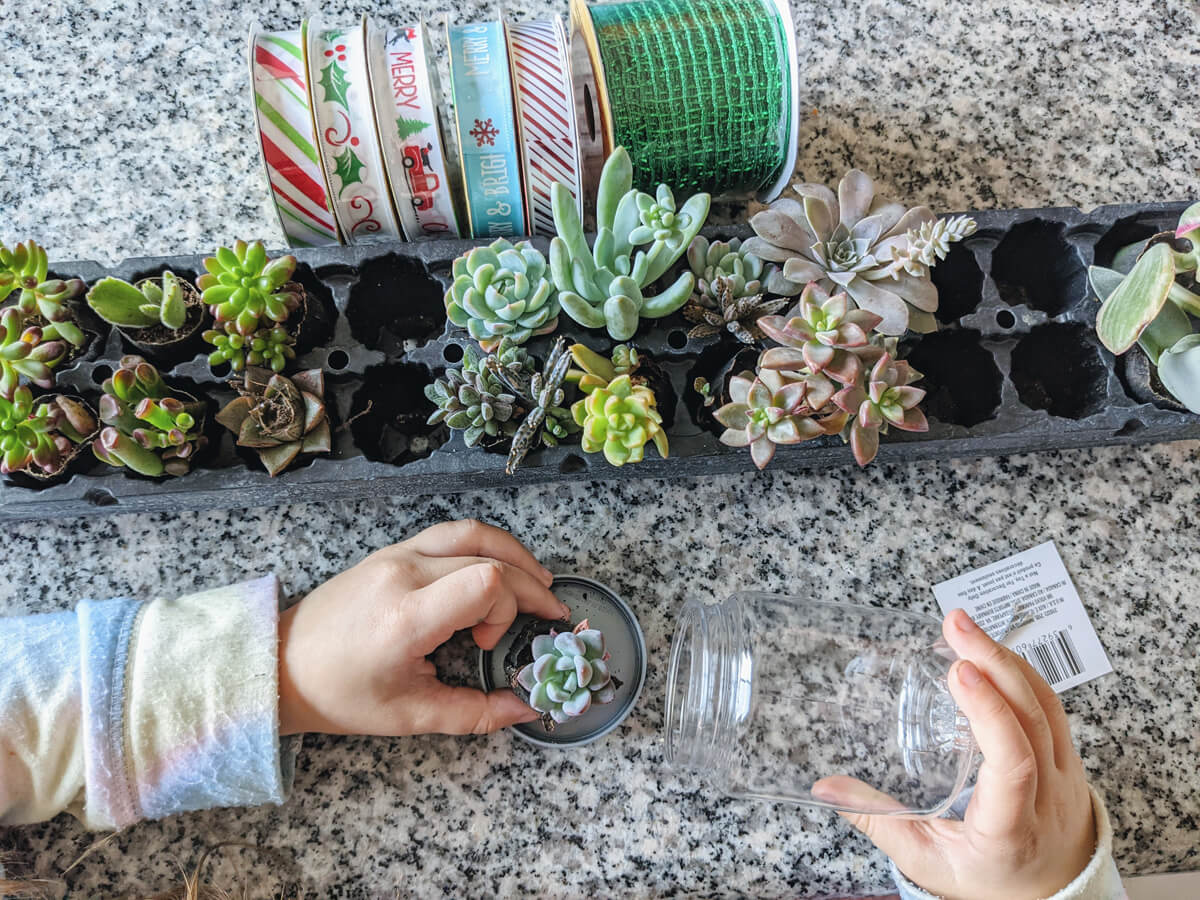 Making a Live Succulent Dollar Tree Holiday Ornament
This is probably one of my top 5 favorite Christmas crafts of all-time.
(I'd give it the number one or two spot, but those handprint crafts always get me!)
As top priority, we made and gave out some live succulent holiday ornaments as teacher gifts. Then we hung a few terrarium ornaments on our Christmas tree for an extra-special decoration this year.
I absolutely adore DIY Christmas ornaments where you fill the empty Christmas ball with something. I think these cylinder style ones turned out so cute. We are definitely planning on making them again next year.
I hope you get a chance to try it, too. Our daughters and I just can't get enough of this fun live plant holiday ornament craft.
Let me know if you have any questions! I'd also love hearing how it goes if you try this activity yourself or with your kids. We had so much fun and I am sure my girls would've made dozens if I'd known about these great buys in time.
Happy Holidays and Happy Gardening!
By the way, if you like this post, you might also enjoy other creative winter gardening activities, such as winter sowing!