How to Mail a Package without Going to the Post Office (Seed Swap Hack!)
Seed swaps are so much fun. The first one can be a little bit stressful getting everything ready in time, packed, and shipped. Especially during a pandemic. Here are simple steps on how to mail a package from home without going to the post office for all your upcoming seed swaps and other shipping needs.
It's easy to learn how to mail a package from home. You can do almost everything online, print your label, and set the package outside for the mailman.
I'll show you how!
Can You Mail Packages from Home?
The USPS website's Click-N-Ship program allows you to send packages from home quickly and easily. Mailing packages from home provides a convenient alternative to going to the post office every time you need to mail a parcel.
After speaking with our town's postmaster, I felt confident in learning how to mail a package without going to the post office. Sending a package from home proved to be WAY easier than I expected.
I'll make it easy for you, too!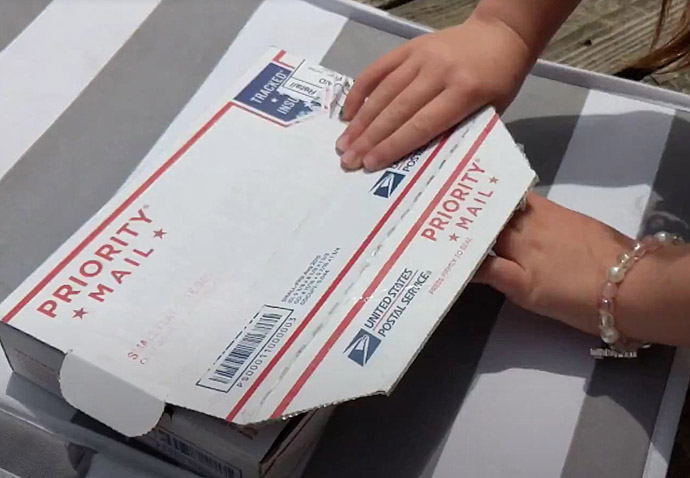 In fact, since this post was originally published in February 2021, I've learned about even better pricing you can get when mailing a package from home. I've used the shipping service, PirateShip.com, to get the cheapest rates I could find for sending seed mail from home.
In general, Pirate Ship saves me between 20 and 30% off the regular cost of shipping. It might be worth a try!
How to Mail a Package from Home
When sending packages from home, you can choose Priority Mail Flat Rate or use your own box. Measure and weigh your package and possibly save some money, depending on the dimensions and how heavy it is.
(Again, you might also consider using PirateShip.com to snag the cheapest rates for shipping packages without leaving home.)
Ordering a Mailing Label from USPS
Follow these steps to send your seed mail without going to the post office.
Log into your USPS account. From here you can do everything you need to do in order to mail packages from home.
Order Priority Mail boxes, labels, and supplies online at USPS.com. Your postmaster receives your email right away and generally your carrier brings your boxes the next day! You can also use your own mailing boxes and padded envelopes – you aren't locked into the free Priority Mail boxes. In fact, using our own box worked out to be cheaper for us.
Pack your items in the box carefully. Use bubble wrap, packing peanuts, or other protective materials if needed. Consider pricing out using your own box as compared to Priority Mail Flat Rate before you tape everything closed.
Weigh the package. Get the box or padded envelope fully ready and securely taped. Weigh it to get the shipping estimate. Add a tiny bit of weight for safe wiggle room once you add tape and a label.
Measure the dimensions if needed. Simply check out and add a Priority Mail label to properly route your packages.
Checkout and pay. Get a label from the USPS website or your choice of mailing label providers like Stamps.com. Enter all the information in the system so you can ensure your package gets from A to B.
Print and attach the label. Tape the label to the box and tape everything closed. Get everything 100% ready for the mail carrier.
How to Send a Package from Home Using PirateShip.com
You can follow steps similar to those above if you plan to use PirateShip.com to send a package from home with the mail carrier.
Simply create a login for PirateShip.com and log in to get started.
Click Rates to estimate the cost.
Enter information for the type of package you're mailing from home, along with the weight, dimensions, and destination, and other necessary information.
Click Get Rate Quote.
Once you enter your information, you can get a pricing estimate and then print a label if you're happy with the rate. Click Ship Now to choose a rate and shipping type.
Enter the Ship to information and review the other selections.
Click Get Rates to continue.
Under the Choose a Service drop-down, select the shipping method you prefer.
Select your ship date.
Once you're done, review your payment information or add a new payment type.
Click Buy Label to continue and finish up the process.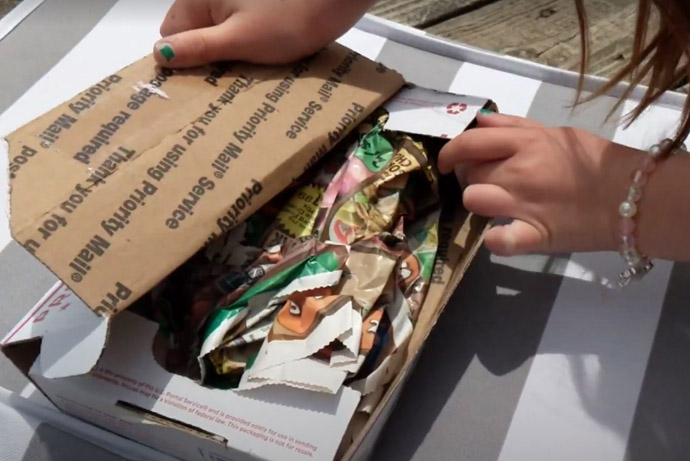 Scheduling a Carrier Pickup for your Package
Once you have printed and attached the label, you are almost done! Simply follow these steps to schedule a carrier pickup at your home or mailbox.
Schedule a carrier pickup! Just as easily as you ordered boxes and mailing supplies, you can also schedule a pickup for the packages at your home. Do this through the USPS website as well.
Place the box where you indicated while scheduling. I simply dropped mine inside my mailbox.
With a focus on simplicity, I created this blog post so it's easy to refer back to it anytime you want to mail seed mail or any package from home quickly and conveniently. I hope the information is useful to you!
Final Thoughts: How to Send a Package without Going to the Post Office
Consider using these tips to learn how to mail a package without going to the post office for the next big seed swap you do!
By the way, if you enjoy seed swaps, you should definitely check out Mystery Seeds Monday – our own Riddle-based Surprise Seed Swap!
Another fun idea – make some DIY Tie-Dye Heart Art Seed Paper Plantables for your garden friends! These are totally mailable and would make a lovely seed mail surprise.
Do you have any other tips on sending seed swap mail from home? Be sure to share your insight or experience in the comments below. Or, if you try these steps, please let us know how it worked out for ya. We'd love to hear from you!
Edited 12.28.21 to include references for using PirateShip.com for discounted shipping when learning how to mail a package from home. Also added section on How to Send a Package from Home Using PirateShip.com.