Best Father's Day Gardening Gifts
Dads who love to garden are sure to love gifts that fit their favorite hobby. Father's Day gardening gifts work great for Dad, father-in-law, stepdad, husband, or any special guy in your life.
My dad enjoys growing his tomatoes and zinnias. His dad before him enjoyed spending time in the garden as well. (So did my mom and her dad, who grew beautiful, fragrant long-stem roses.) It's only natural that I love gardening, too.
It's wonderful to be able to grow my own garden and share stories and seeds with my dad. It got me to thinking about gardening gifts for Father's Day.
So, I decided to make a list. Here we go with some of the best Father's Day gifts for gardeners.
Indoor Gardening Gifts for Father's Day
Depending on Dad's interests, indoor Father's Day gardening gifts might be just what he needs to extend his growing season and grow his hobby.
Consider these fun indoor gardening gifts for Dad.
Aero Garden or similar Hydroponics Setup
Plant LED Kit / Grow Lights
Canning Jars and Pressure Canner
Seed Starter Kit
Propagation Station
Air Layering Kit
Heat Mat
Chia Pets
Seed Storage Organizer
Garden Journal and Pens
Outdoor Father's Day Gardening Gifts
Meaningful gardening gifts for Father's Day remind Dad how much he's loved. Consider these unique and sentimental outdoor garden gifts.
Handmade Stepping Stone from the Kids or Grandkids
Irrigation Gadgets with Timers
Drip Irrigation System
Good Hose – kink free, etc.
Lightweight Hoses
Japanese Hori Hori Garden Knife
Ho-Mi Tool
Hand Weeder
Never Sink Farm Weeder
Kusakichi Kana Scraper
New Trowel
Clippers
Fancy Garden Tools Set (long handles)
Pruner Holster
Garden Rocker Seat
Season-Extending Fabric and Hoops
Garden Hat with Wide Brim such as Tilley Hat
Truck Load of Garden Soil, Compost, Mulch, etc.
Raised Beds or Whiskey Barrel Planters
Garden Knee Pads
Garden Arch or Trellis
Dahlia Tubers
Composter
Garden Organizer
Potting Bench
Rubber Bucket for Weeds
Electric Tiller
Small Quart-Sized Sprayer
The DISC Hoe
Rain Barrel
Grafting Tool
Ryobi Battery Powered Tiller

Ratchet Printer

Cobra Head – Do Anything Tool
Sunday Afternoon Hat SPF 50
Gardening Boots
Long Handled Cultivator
Silicone Thumb Knife – Fruit and Veggie Picking Portable Knife Garden Tool
Windchime (so he can hear it and think of you)
Pay attention to Dad's favorite crops to grow and see if you can match his interests to a unique gardening Father's Day gift.
Even More Father's Day Gifts for Gardeners: Gardening Gift Basket
You might also like to create a gardening gift basket for an unforgettable Father's Day present.
Here are some fun gardening themed gift items you can include.
Heirloom Seeds
Good Garden Gloves
Lotion bar or good hand cream
Gift Cards to Gardening Supply, Landscaper, or Nurseries
Seed Catalog with a Gift Card
Farmer's Almanac Calendar
Books for Gardeners
New garden tool
Flower pot
YETI travel mug or similar
If your dad would like something simpler, just get him a seeds gift basket with lots of different, unique seeds he can plant.
Imagine the fun of going through an entire basket of seeds! (Most gardeners will understand how truly exciting this is!)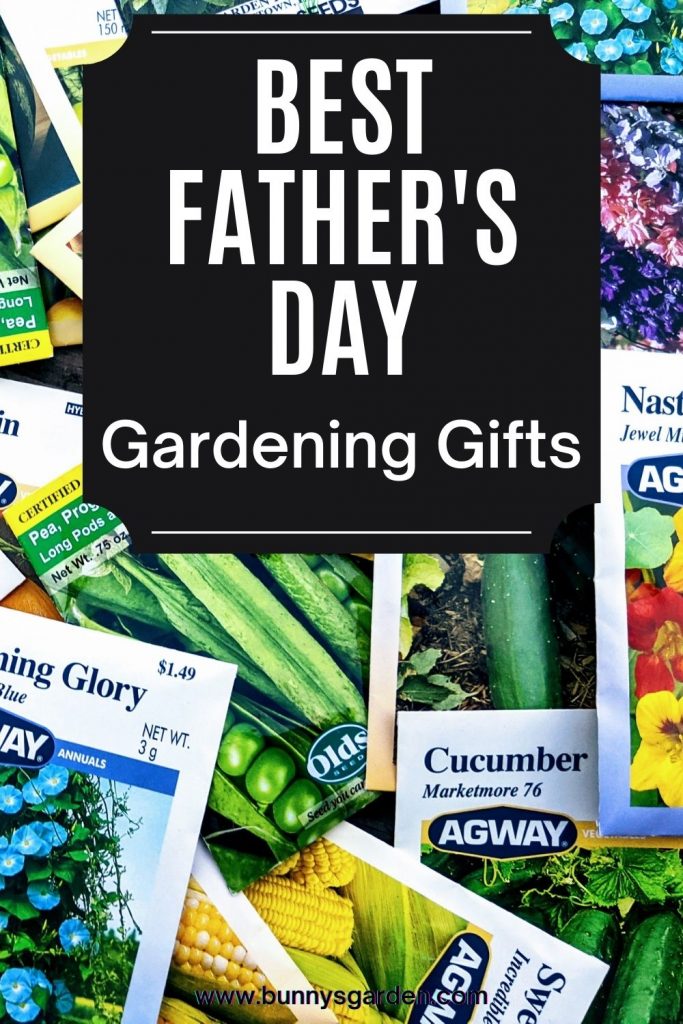 Final Thoughts: Gardening with Dad
Time spent with Dad is probably the #1 best thing you can give him for Father's Day. Spend time together in the garden, together for a barbecue, or at least on the phone if you can't get together in person.
Choosing gardening gifts for Father's Day rekindles a beloved hobby and brings you to the front of his mind whenever he's in the garden.
Gardening can be a healthy hobby that helps people live longer with less stress. Exercise and other gardening benefits add quality to one's life.
Which of these Father's Day gardening gifts do you think would be the best choice for your own Dad or the guy in your life? What's on your own gardening wish list?
Let's chat in the comments below!