How to Deadhead Sunflowers (3 Simple Steps)
Sunflowers, some of summer's most beautiful flowers, provide a stunning backdrop for family photos and energetic arrangements indoors. Learning how to deadhead sunflowers makes it easy to extend the sunflower bloom season longer into the fall.
Discover all about the benefits of deadheading sunflowers, when to do it, and tips for removing spent blooms.
Read More: What Is Deadheading and What Flowers Do You Deadhead.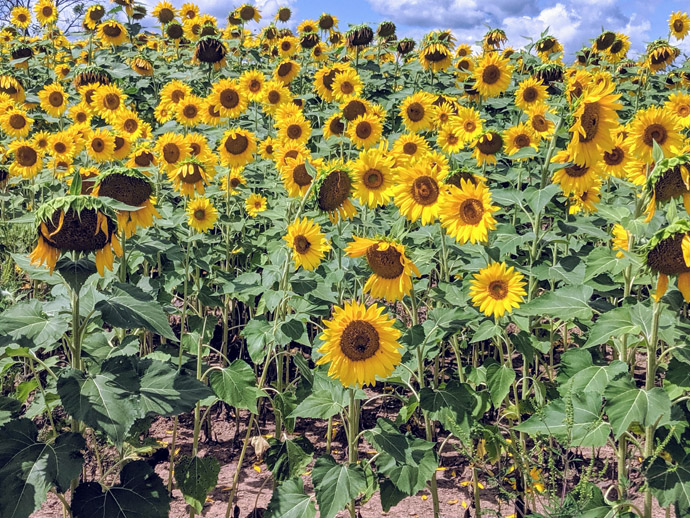 Do You Deadhead Sunflowers?
If you're wondering, "should I deadhead sunflowers," the answer depends on your intentions for your garden.
First, determine whether you plan to collect seeds from your sunflowers or if you'd rather enjoy more blooms and a longer sunflower growing season.
If you want a longer flowering season, plan to deadhead sunflowers. Cutting back the spent blooms encourages new flower shoots to grow.
If you'd prefer to have sunflower seeds for roasting or future planting, do not cut the spent sunflower heads until they are dry and brown.
Benefits of Deadheading Sunflowers
Numerous sunflower deadheading benefits make a convincing argument for removing spent sunflower heads.
Encourage more sunflowers to grow.
Extend the growing season for your sunflowers.
Enhance the appearance of your garden with a neater look.
Removing spent blooms allows the plant's energy to go to other sunflowers instead.
Deter birds and squirrels from foraging for seeds.
Of course, if you would like seeds for your own uses, or even as birdseed, it makes sense to let several sunflower heads go to seed!­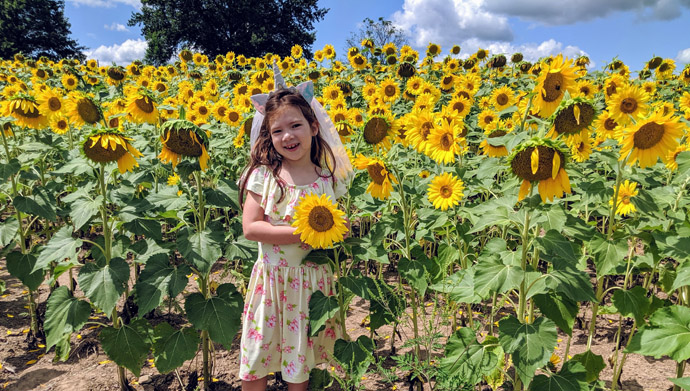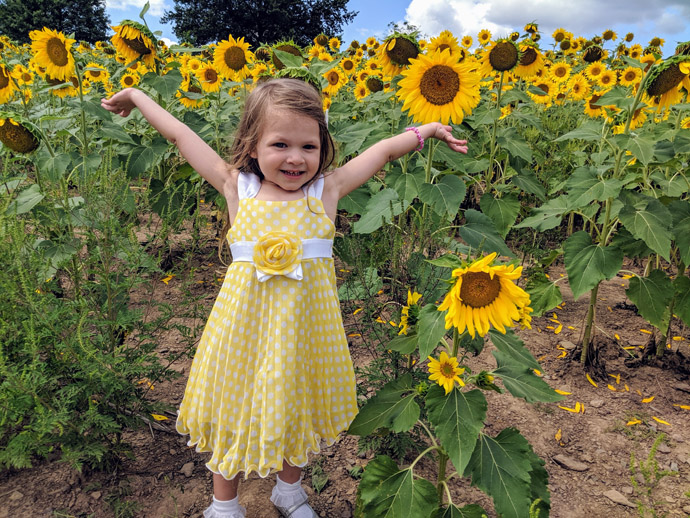 When to Deadhead Sunflowers
The best plan for when to deadhead sunflowers if you'd like to keep the flowers blooming is to cut the heads off when the flower fades.
Removing the flower heads before the seeds mature encourages the plant to keep making more flowers. It also tidies up the garden and prevents unexpected "volunteers" from growing next spring.
Some signs of when to deadhead sunflowers:
The sunflower head lost most of its petals.
The bloom faded and looks spent.
The vibrance is gone and a dull flower head remains.
The sunflower head is sagging over heavily.
The sunflowers are no longer attractive and appealing in your garden.
Depending on when you start your sunflowers from seed or small plants, you may expect to deadhead sunflowers in the mid to late summer or early fall.
How to Deadhead Sunflowers
Deadheading sunflowers is easy. Consider wearing gloves to protect your hands and choose a sharp pruning tool to effortlessly remove spent blooms.
Follow these steps to deadhead sunflowers:
Investigate the stem to ensure you leave as many leaf nodes intact as possible. The new growth will come from these.

Use pruners or a snipping tool to cut the peduncle (the stem leading to the sunflower head) about a half-inch above the new leaves / leaf joint.

Remove and discard the sunflower deadhead.
The new blooms that come through after deadheading may be smaller or otherwise different from the original blooms.
Still, you may enjoy a beautiful sunflower, prolific seeds, or a combination of the two.
If you are extra lucky, your growing season may award you with another chance to deadhead sunflowers for even more blooms.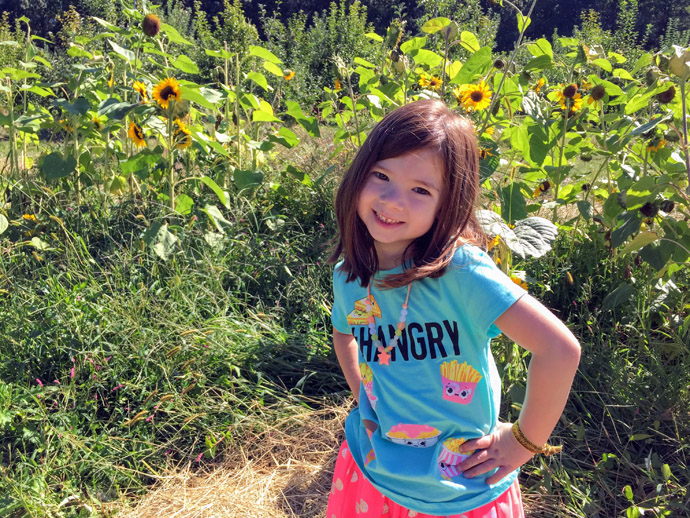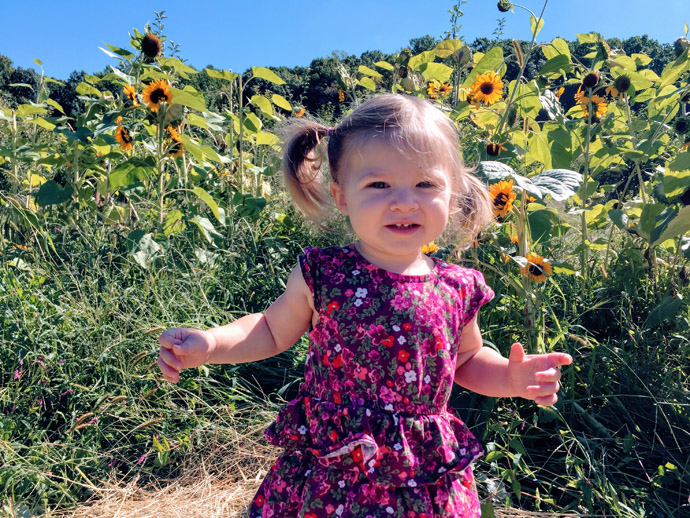 Sunflower Deadheading Video
What Happens if an Animal Eats the Top of the Sunflower?
Sometimes an animal like a bunny or a groundhog eats the top of the sunflower. If this happens and true, healthy leaves remain undamaged on the stem, two new sunflower blooms may grow from that single stem.
While not the same as deadheading, you still have hopes for new flowers to form during the season.
Last year a groundhog or a rabbit ravaged our gardens and ate at least one of our sunflowers just this way. And we did end up with two sunflowers on that stem!
Teddy Bear Sunflowers
Teddy Bear Sunflowers produce showy flowers with delightfully textured blooms. These gorgeous sunflowers are a welcome addition to your annual summer landscape or cutting garden!
These sunflowers grow several to a stalk. Deadheading teddy bear sunflowers will extend your plant's blooming season while also increasing the size of the flowers.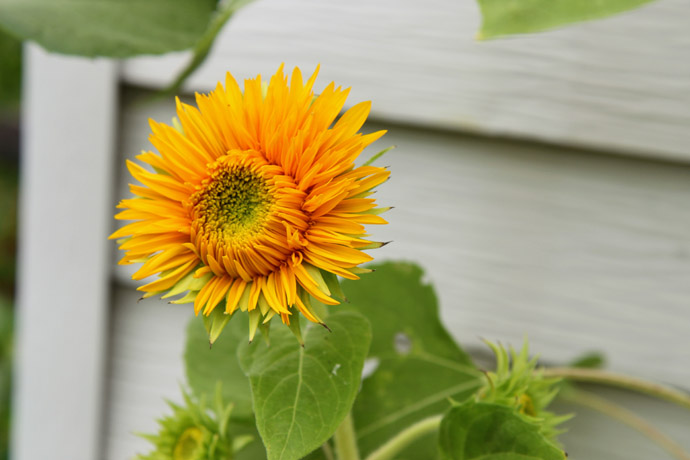 Teddy bears make lovely cut flowers to enjoy in your home or give to a friend or neighbor to brighten their day. Be sure to deadhead so you can get as many as flowers as possible!
Dwarf Sunflowers Deadheading
Likewise, deadheading dwarf sunflowers (and other varieties!) will improve the quality of your garden and the length of bloom time.
Soon deadheaded dwarf sunflowers should also begin to produce additional blooms. These flowers become lovely choices for cut flower arrangements in the summertime!
Some gardeners suggest pinching the top of the plant sometime after the true leaves emerge as a form of pruning. This helps to encourage a bushier plant with more than one sunflower at a time.
How to Deadhead Sunflowers: Final Thoughts
Deadheading sunflowers is so easy and rewarding that it's a no-brainer if you have time for it in your own garden. Be sure to deadhead Mexican sunflowers, too.
While you're fixing for a longer bloom season, don't forget to deadhead zinnias and deadhead marigolds, too. You'll enjoy many more flowers throughout the season!
We loved cutting our sunflowers to give to our friends and our daughters' teachers! This, too, acts similarly to deadheading, as new blooms will begin to grow on these deadheaded plants as long as you have some leaf nodes left.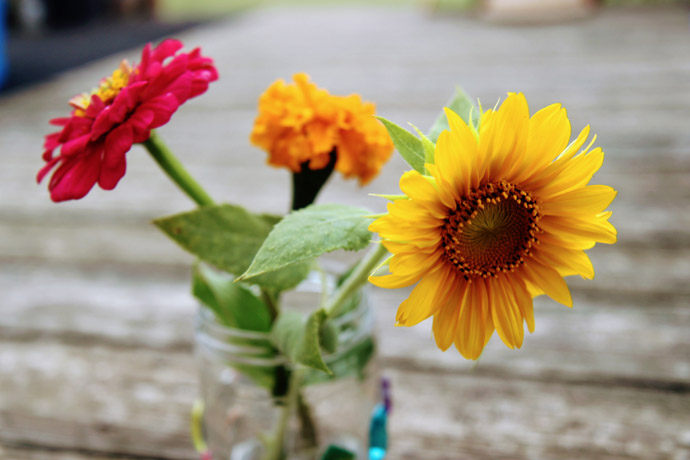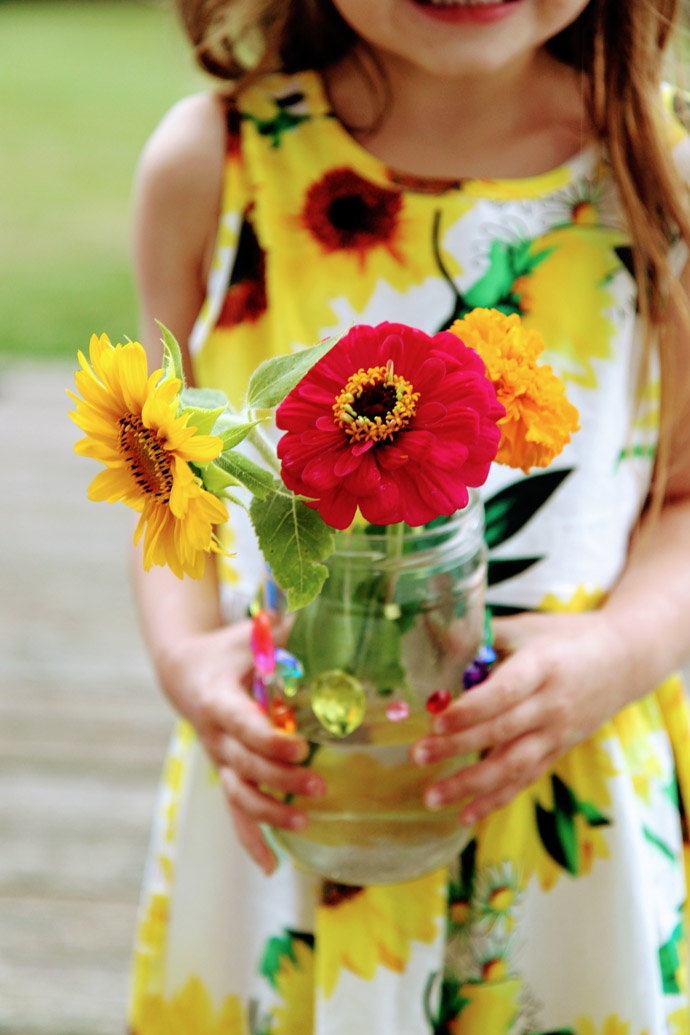 Our website features affiliate links to products that we personally believe in. If you make a purchase from a link on our site, we may earn a small commission at no cost to you. Thank you! This helps our girls chase their garden dreams! Thanks for your support. (View full affiliate disclaimer at the end of the page.)
What to Do with Dead Sunflowers & Seed Heads
After all this deadheading, you are sure to have a stockpile of sunflower seed heads.
Dealing with dead sunflowers isn't quite as much fun as enjoying the repeat bloomers! Still, it's a beautiful part of the gardening experience.
At the end of the season, it is time to figure out what to do with sunflower heads and other dead plant matter. Here are the best ways to deal with dead sunflowers.
1. Save Seeds for Growing and Swapping.
All those deadheads are probably chock-full of sunflower seeds that you can save for next year! Keep as many as you like and store them until you can plant even more sunflowers in the new season ahead.
Sunflower seeds also tend to be popular in seed swaps, as so many people love the gorgeous sunflower.
2. Decorate for Fall with Sunflower Heads.
Intermingle ripe sunflower heads along with your decorative pumpkins and other fall décor. Brimming with seeds, sunflower heads look stunning alongside stacking pumpkins and other autumn decorations.
Use the spent sunflower heads for decorations inside and out around your home and property this fall. Paired with other fall décor, the seed heads would add a fun and festive vibe.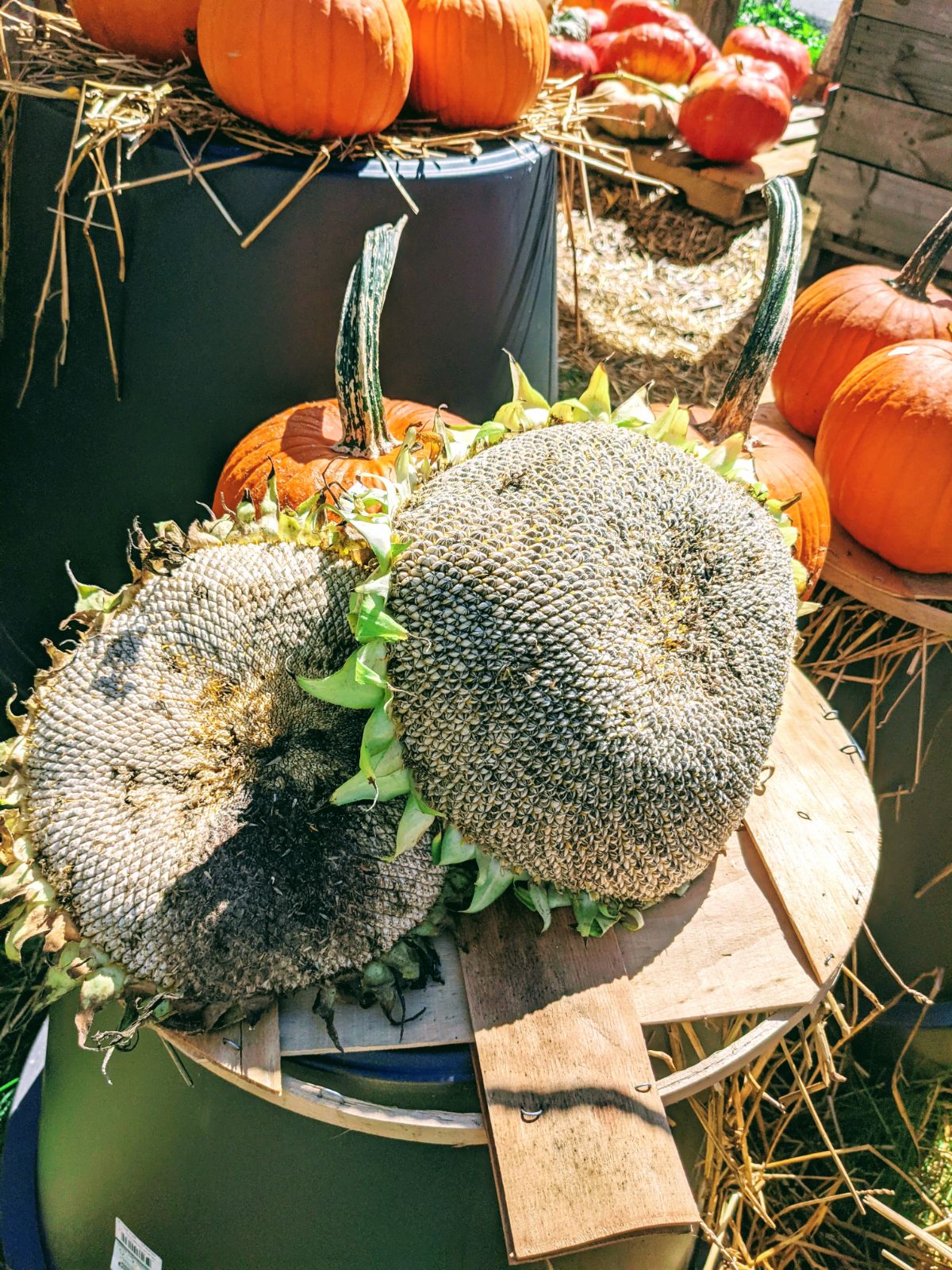 3. Try Making Grilled Sunflower Heads.
If the sunflower plant is still alive and the seeds are ripe for picking, why not?! You can try grilling sunflower heads to enjoy the seeds as a healthy snack!
4. Feed the Seeds to the Birds.
Leave the seed heads out somewhere the birds and squirrels can find them. You can also pop some seeds out and throw them in your feeders.
Or, if you have a ton of sunflower seed heads, harvest the seeds and save them in bird seed storage containers to use throughout the winter!
5. Rip out the Whole Plant.
Once the entire sunflower plant is spent and no longer producing blooms, you can remove it from the garden. Depending on the size, you may need to dig up the soil to get the strong taproot out.
Once the dead sunflower is out, you can try composting or drop it off to be recycled into mulch if your township offers this service. Or, feel free to use it as a creative support structure in your garden.
Do you deadhead sunflowers? We'd love to hear about your tips and experiences in the comments below. And please be sure to share this out on social to your gardening friends or bookmark for future use.
Happy Gardening!
10.05.22 – Updated to add new photos. Improved spacing a bit and resized photos to full size. Added video. Added section on what to do with dead sunflowers and seed heads and added photos to match.