Growing Zinnias for Cut Flowers and Bouquets – How Easy Is It?
If you've ever dreamed of cutting your own fresh flowers for indoor arrangements, zinnias are a great place to start. Growing zinnias for cut flowers is easy no matter what your age or experience level as a gardener. Plus, who wouldn't love their own cutting garden?!
Zinnias are one of my favorite flowers to grow. My dad got me hooked on them when he brought me potted zinnias to plant in my garden when we first bought our house.
Now, every year he gives me an envelope or paper bag of dried zinnia flower heads filled with seeds so I can bring the beauty of his garden to mine.
If you would also like to grow zinnias for cut flowers, there's no time like the present!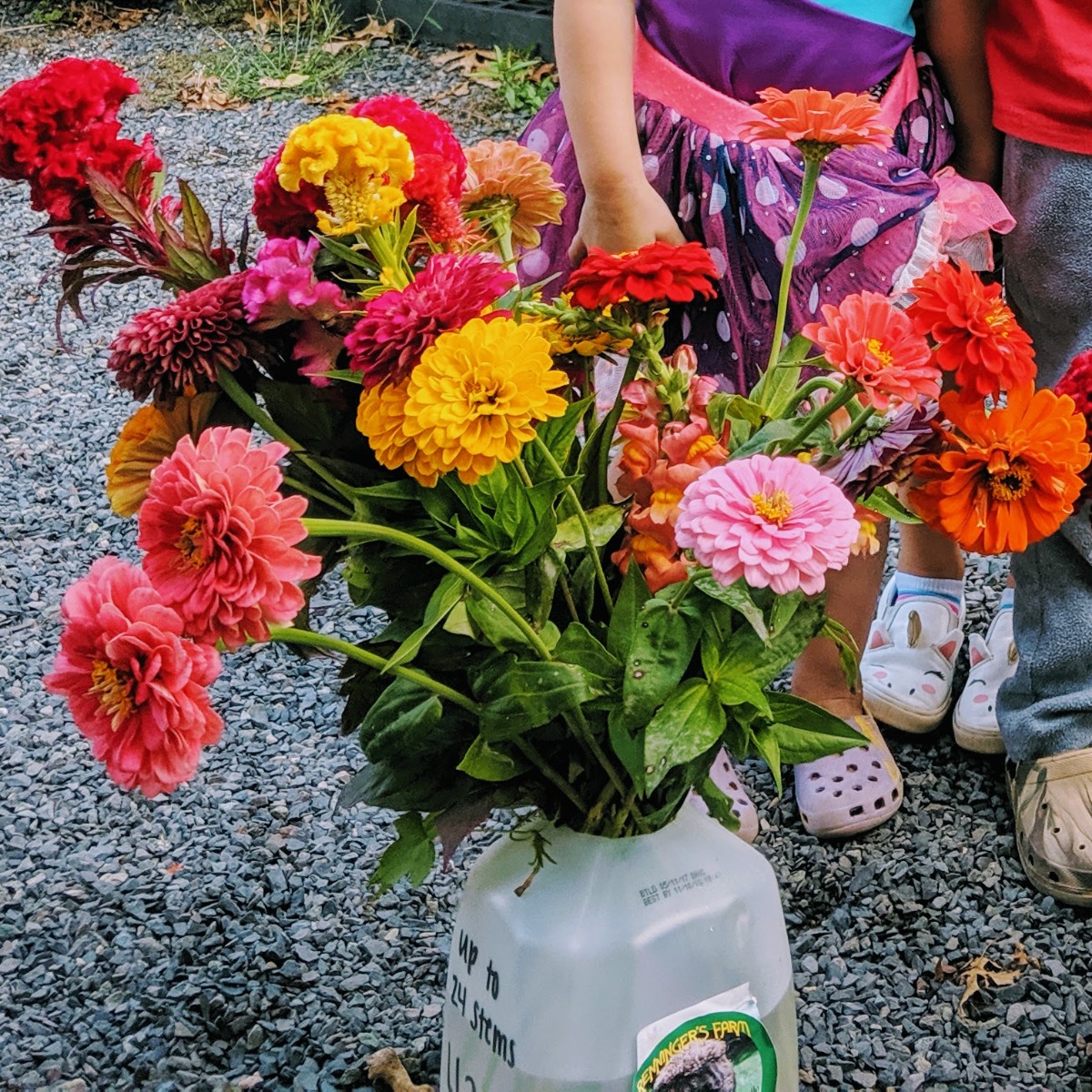 Do zinnias make good cut flowers?
Yes! Zinnias make excellent cut flowers. Cutting zinnias for indoor arrangements works well because of the excellent variety of petal colors and shapes. Zinnias offer long vase life and plenty of flowers for cutting and keeping your garden full of beautiful blooms.
Caring for zinnias in general brings so many wonderful benefits to your garden. Some of the biggest benefits of choosing zinnias for cut flowers include:
Easy to Grow! Zinnias require very low-maintenance care. They'll probably even forgive you if you forget about them for a while.

Pollinator Magnets! These colorful flowers bring pollinators to your garden. We've enjoyed seeing bees and butterflies flocking to our zinnia patch.

Prolific Producers! Each zinnia plant produces quite a few blooms at a time. That being said, when you plant many zinnia seeds, you can fill vases with cut flowers for days.

Sturdy Stems! Zinnias feature hardy, sturdy stems that bring water to the blossoms like a straw. Strong stems make zinnias ideal cut flowers.

Long Vase Life! Healthy zinnias last quite a long time in vases. Enjoy their beauty for a full week or longer!
Is it hard to grow zinnias?
No, it is not hard to grow zinnias. These colorful flowers grow readily from seed or starter plants. Growing zinnias for cut flowers is quick, easy, and very worthwhile of your time. Once planted, zinnias usually grow vigorously and produce many blooms. Left to go to seed, you can easily grow zinnias for cut flowers all over again using your own seeds.
How to Grow Zinnias for Cut Flowers
Follow these easy steps to grow zinnias in a cut flower garden.
Plant zinnia seeds or starts after the threat of frost has passed. Your zinnias may not survive if planted out when the weather is still too cold.

Leave sufficient space between plants to reduce chances of powdery mildew later in the season. The appearance of powdery mildew can tarnish the appearance of zinnias you plan to cut for indoor vases. Space them out at least 12 to 18 inches for larger varieties and 6 to 8 inches for smaller ones like dwarf zinnias.

Water as needed, taking care not to splash the leaves if possible. Keep the foliage dry for best chances of avoiding mildew or fungus.

Deadhead spent zinnia blossoms to keep the flowers coming. Zinnias will continue blooming rather than switching the focus to seed production. (Learn more about deadheading zinnias.)

Cut and come again. Prolific zinnias should produce plenty of flowers to cut and keep your garden looking amazing!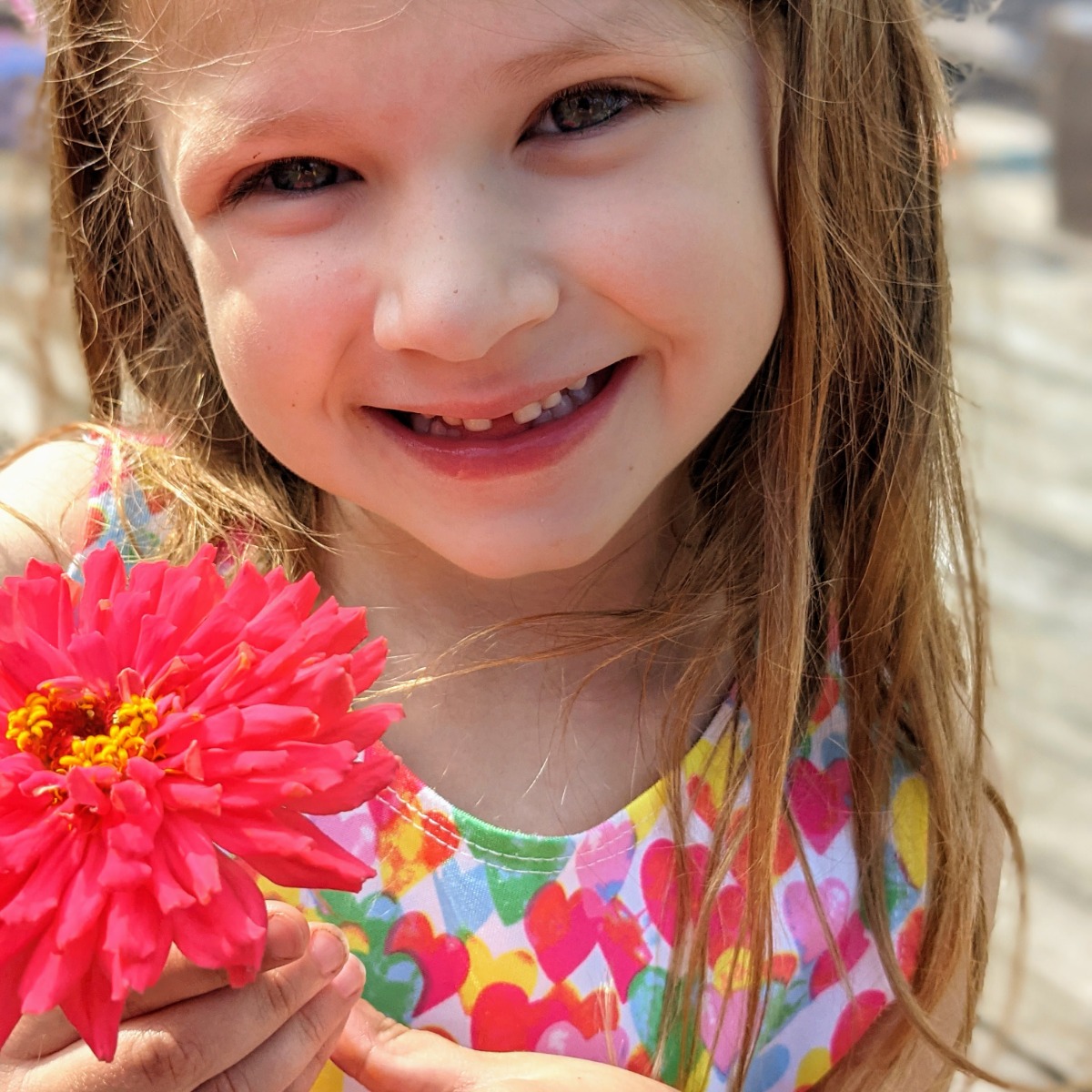 Growing Zinnias for Cut Flowers
Once you've got loads of zinnias in your garden, you can pick them for lovely fresh-cut flowers inside. Your kids can sell small bouquets and arrangements. Or, you could invite the children of the neighborhood over to pick a few flowers for their moms.
The wonderful possibilities of zinnias as cut flowers are truly endless!
Great Zinnias for Bouquets
Consider some of these fancy and gorgeous varieties for your zinnia bouquets:
Cactus Zinnias (rectangular petals!)
Zinderella Zinnias (frilly centers!)
Benary's Giant Zinnias (huge, petal-ly blooms!)
Polar Bear Zinnias (pure white!)
Queen Red Lime Zinnias (ombre pale red with hint of green)
Queen Lime Blush (blush and pale green)
Envy Zinnias (true green!)
Dreamland Zinnias (coral to pink)
Candy Cane Zinnias (striped!)
You can find so many fabulous zinnias for bouquet making. Feel free to share your favorites in the comments below. Also, here are some of my favorites!
Our website features affiliate links to products that we personally believe in. If you make a purchase from a link on our site, we may earn a small commission at no cost to you. Thank you! This helps our girls chase their garden dreams! Thanks for your support. (View full affiliate disclaimer at the end of the page.)
I hope these tips help you to grow and put together the perfect zinnia bouquet.
And, if you are looking for more tips on arranging the perfect bouquet, be sure to check our post on this!
By the way, if you love zinnias as much as I do, you might even be interested in zinnia breeding as a hobby! If so, hop on over to my post with all the details and progress updates. 🙂
Do you love zinnias as indoor cut flowers? Feel free to share your thoughts, tips, or questions in the comments. We love hearing from you!
Happy Gardening!
10.04.22 – Updated to add link to related zinnia post. Improved spacing throughout. Added heading for types to use in bouquets and favorite flowers suggestions.
03.02.23 – Updated to add link to bouquet arranging piece.