Making the Perfect Bouquet from Your Garden – 6 Tips
Lots of the fun of growing a garden is enjoying all the wonderful things you grow! Arranging the perfect bouquet from your garden can be such a joyful activity, no matter if you keep it or gift it to a friend.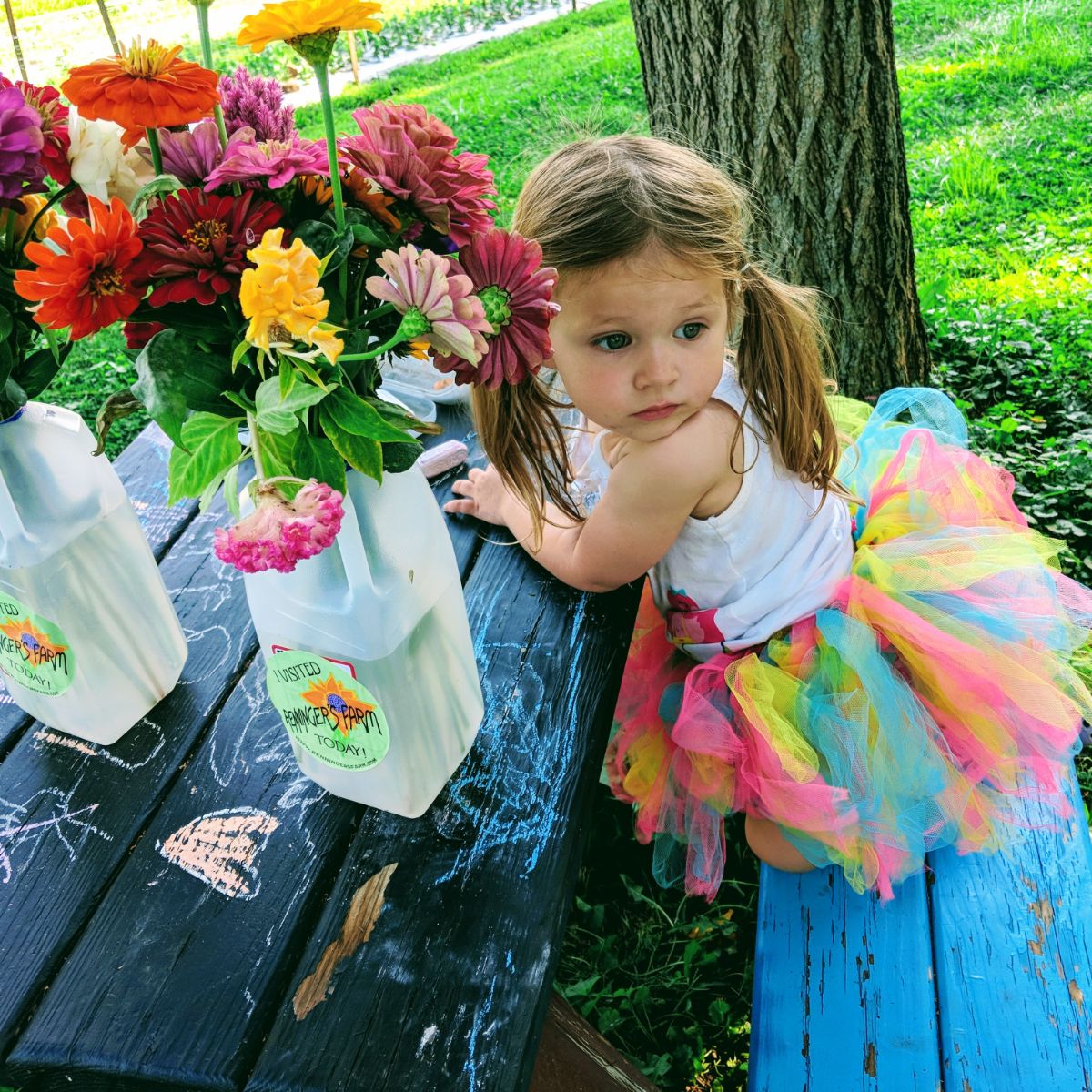 Arranging bouquets becomes a very creativity driven activity. The way you arrange cut flowers may be drastically different from how a friend would arrange a bouquet from her garden.
Not to mention how any florist's creative vision may differ from the next.
One of the best parts of being a gardener is that we can all learn from each other!
Here are 6 great tips on arranging a bouquet of flowers from your own garden.
Choose a Color Palette Before You Begin
"It's very easy to overdo the color scheme and to try and cram in as many nice colors as possible, especially if you have lots of amazing flowers to use from the garden!" says Benita Middleton, Gardener, Benita's Garden Services.
"Before beginning to create the bouquet, try and think of the overall color palette you have in mind," Benita advises. "Pick two or three flowers with similar colors, and try to add foliage that complements the others."
"I've seen many bouquets where they've just picked whatever they have at hand. While it might still look nice, I think that sometimes less is more. Try and constrain yourself and think carefully about the overall color scheme."
***
For me personally, my favorite color scheme is pink and orange!
I love the colors of the sunset, and my wedding bouquet reflected that.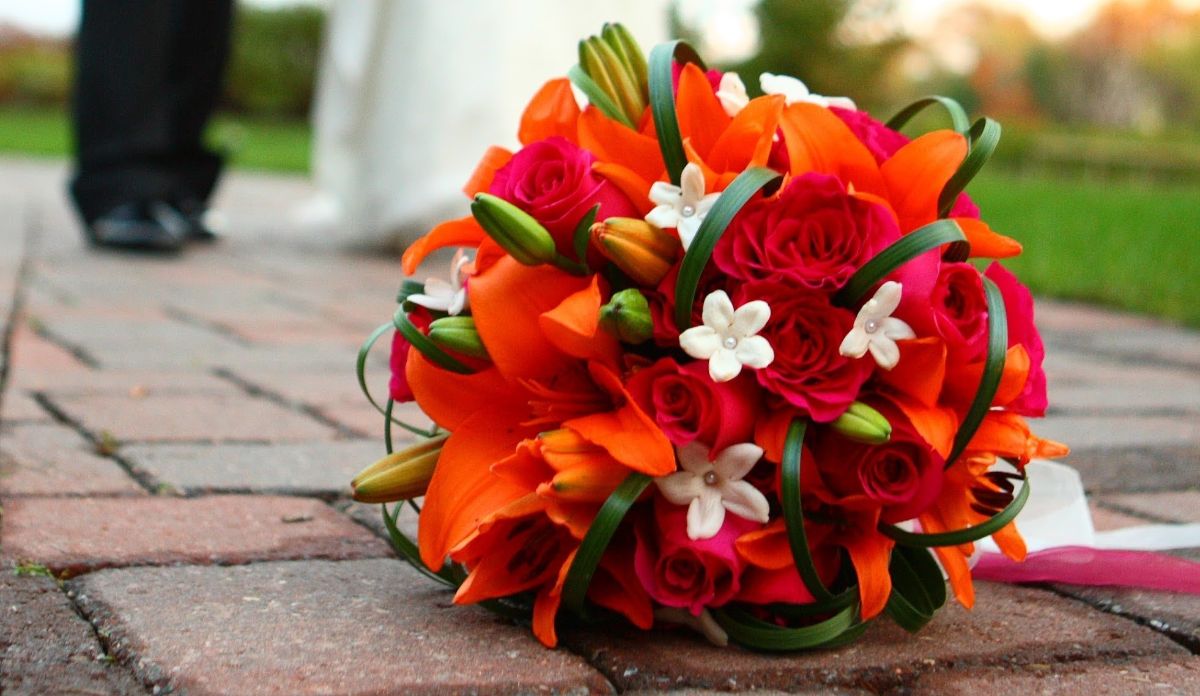 I had gorgeous hot pink roses mixed with orange Asiatic lilies, tied together with dark green monkey grass and perfect placement of stunning, star-like Stephanotis floribunda.
I am still and always will be obsessed with this color combination!
Start With the Largest Flower First
"My best tip for arranging a bouquet of flowers from your own garden is to start with the largest flower first and then work your way down in size," says Nick Varga, Chief Riding Officer, ERide Journal.
"Start by adding the most eye-catching bloom at the center of the arrangement, then cascade smaller-sized flowers around it. You can add variety to your bouquet by mixing different colors, textures, and sizes of blooms." 
***
When it comes to large statement flowers, consider sunflowers or dahlias for your garden fresh arrangements!
Choose Flowers that Have Similar Characteristics
"Choose flowers that have similar characteristics, such as color and texture," says Asker Ahmed, Director and Founder, iProcess. "Grouping different types of flowers together can create an eye-catching arrangement."
"Take into consideration the height of the flowers you're using, as well," Asker shares. "Taller varieties can be placed in the back and shorter ones in the front to give the bouquet more depth."
"For a neat and tidy appearance, trim any leaves or stems that may be damaged or wilted."
"Finally, add some greenery around the arrangement for a finishing touch. With these simple tips, you'll be able to create a beautiful bouquet of flowers from your own garden!"
***
Combine Colors and Flowers that Harmonize Beautifully
"Arranging a bouquet can be simple if you have a garden full of beautiful blooms!" says Natalia Grajcar, Co-founder, Natu.Care. "The key is to choose various types and colors that complement one another."
"Begin by selecting a few focal flowers for the bouquet, such as roses or lilies," Natalia recommends. "These will be the stars of your bouquet and should stand out from the others. Add a few sprigs of greenery and then fill in with other blooms like daisies or carnations to create a truly unique arrangement."
"Just remember, bouquets look best when you don't overthink it – so have fun and get creative! With just a few tips and a little creativity, you can create a bouquet that will impress everyone!"
***
Use an Odd Number of Stems
"My best tip for arranging a bouquet of flowers from your own garden is to start with an odd number of stems," says Yusuf Shurbaji, Co-founder and Managing Partner, Prismfly. "It's a great way to create visual balance, and it adds depth and interest to the overall design."
"Next, select flowers with different heights and shapes so that you can make the most of the variety in your garden," Yusuf adds. "Try to create a mix of flowers at different heights and sizes so that your bouquet will have a dramatic impact."
"Lastly, take time to consider the colors in your bouquet and how they contrast with one another. Combining contrasting colors can make for an eye-catching display! With these tips, you'll be sure to create a beautiful and unique bouquet."
***
Experiment With a Variety of Vase Sizes
"If you typically buy bouquets from a florist, they're often a standard size and height," says Larissa Pickens, Co-founder, Dapper Confidential. "However, home-grown bouquets are often smaller and shorter than commercial flowers, and using a variety of vases will help you display them beautifully."
"You don't necessarily need to run out and buy new vases; get creative and raid your kitchen for non-traditional vases like pitchers, glass jars, or teapots that add some whimsical charm to your homegrown flowers."
***
Our website features affiliate links to products that we personally believe in. If you make a purchase from a link on our site, we may earn a small commission at no cost to you. Thank you! This helps our girls chase their garden dreams! Thanks for your support. (View full affiliate disclaimer at the end of the page.)
Do you have any other tips or suggestions for making the perfect bouquet from your flower garden? Please share your favorite tips in the comments below.
Happy Gardening!