Zinnia Breeding – Hand Pollination to Create Hybrid Zinnias
My longtime home gardening dream continues to be zinnia breeding from my homegrown flowers. I love the magical work of the bees and pollinators, but I truly desire the creative freedom of hand pollination to make my own hybrid zinnias.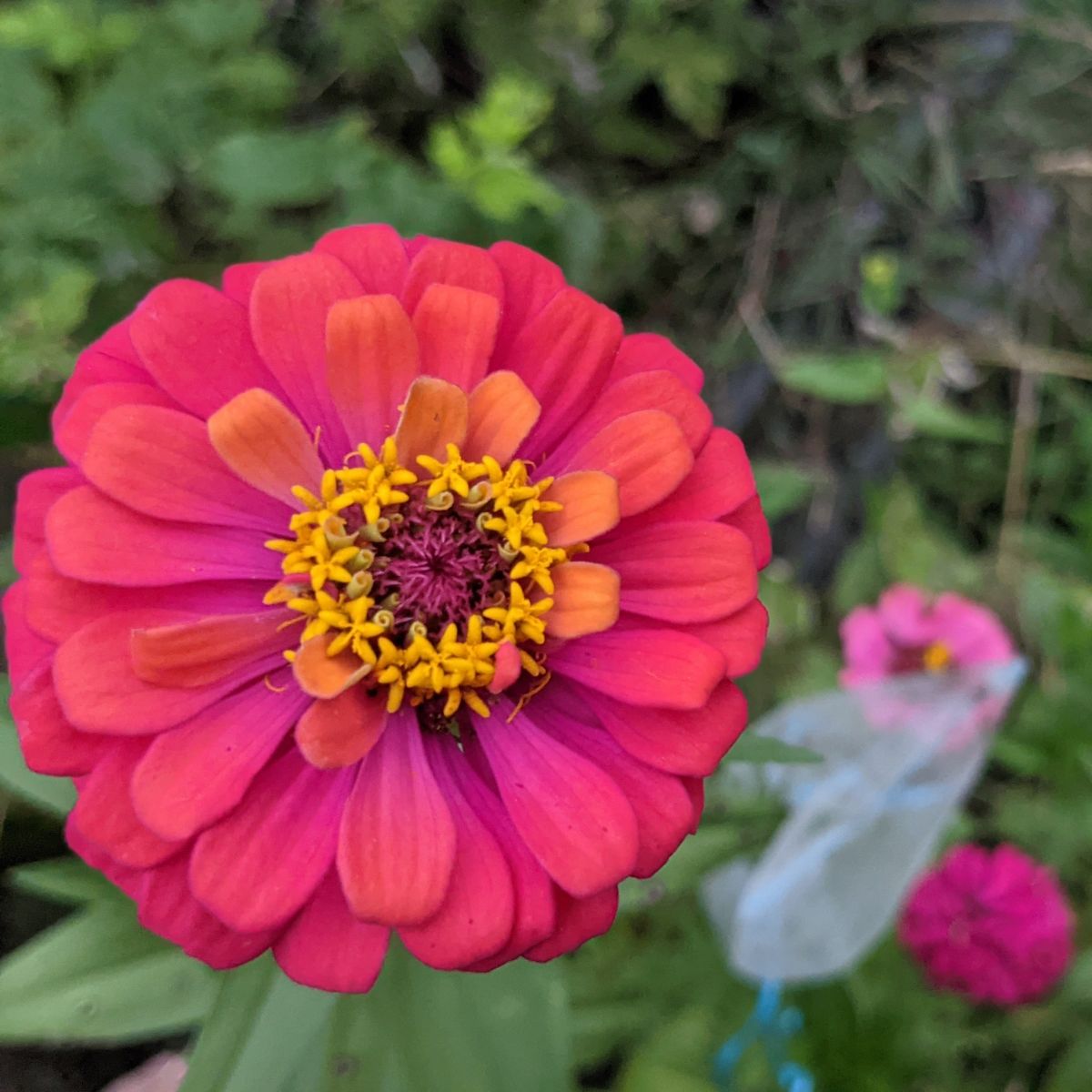 I've followed along the adventures of ZenMan in breeding zinnias for quite some time. He's one of the most knowledgeable sources I've found for getting started in creating zinnia hybrids.
In fact, he even says he grew a baby blue zinnia once! (I am going to have to reach out to him about that!)
Until recently, I just let the bees do their thing. With two young daughters, a dog, a house, endless errands, and my own business, who has time?!
But then I remember the kindest, calming, and most helpful message I recently received from a compassionate stranger while I was rushing through a store – Slow Down. To this day I still think it was an angel experience, but I'll never know for sure.
Anyway, I'm always in Energizer Bunny mode, so now I am going to slow down. I will do the things that matter. I am stopping to hand pollinate the flowers!! 🙂
And you can, too!
I'll track my zinnia breeding efforts here in a journal or plant log type format. I hope it helps inspire you to learn how to breed zinnias in your own garden as well!
Getting Started: How to Breed Zinnias
First things first, find your favorite zinnias! You can give cross pollination a whirl once you select parent plants.
Isolate Zinnia Breeding Specimens
While we love the bees, you need to isolate the blossoms intended for hand pollination.
Find your specimens for the breeding project. Go through your garden and identify zinnias you would hope to grow again.

Take a photo of desired bloom before you bag the new buds. This will help you track your flower breeding efforts.



Bag new buds that haven't opened yet. Choose ones that you hope will be as beautiful as those that already opened.




Use little organza drawstring bags and cinch them closed with the buds inside.


Wait for the buds to bloom. Once the flowers open, you can gather pollen to hand pollinate the desired specimens

Hand Pollinating Zinnias
Once the bagged blossoms open, you can start hand pollinating zinnias for breeding purposes.
Follow these simple steps to hand pollinate your favorite zinnias.
Remove the drawstring bag. It is safe to take off the cover over your zinnias while you'll be there pollinating by hand.

Transfer pollen to hand pollinate zinnias. After choosing parent plants, use a paintbrush or Q-tip to take pollen from the florets and paint it onto the stigmas of your desired plants.

Replace the organza bag to protect the bloom. Do this to prevent open pollination by bees, ensuring the integrity of your hand-pollination.

Take photos of both parent zinnias. Indicate which plant was the male and female for your own future reference.

Tag the hand-pollinated zinnias for tracking. You can use landscaping tags to color code or track plant IDs.

Record your efforts in a zinnia breeding log if desired. You may find it helpful to track your combinations in creating zinnia hybrids. This can become a life-long hobby if you enjoy it!

Continue to water and care for your zinnias. Keep the plants happy so the resulting seeds will develop as strong and healthy as intended.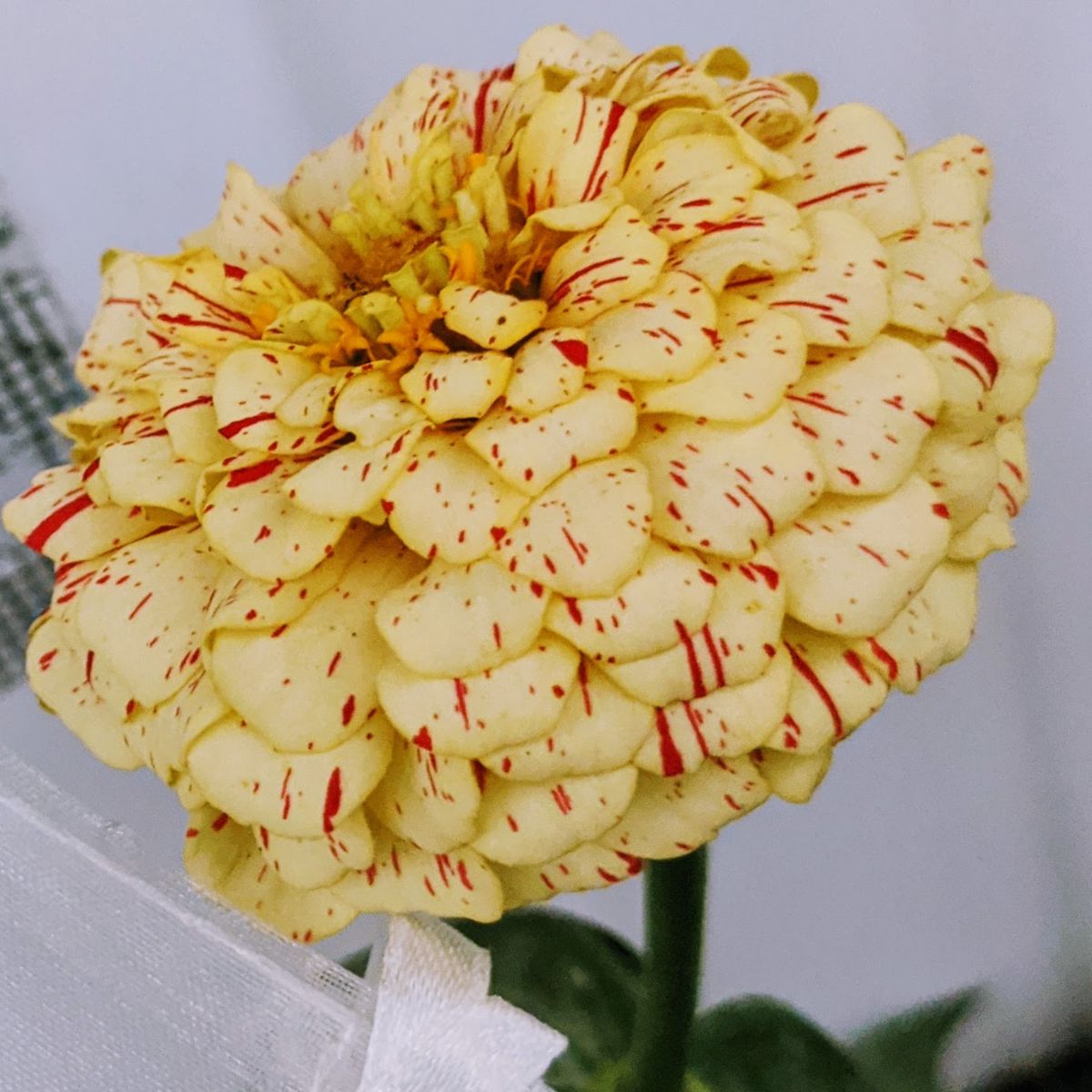 Desirable Traits in Breeding Zinnias – 2022
For me personally, it's so much fun to choose my favorite zinnias and combine them to see what magic results.
Some of the traits I'm hoping to force:
Heart-Shaped Petals

Color-Changing Zinnias

Ombre Coloring

Very Full Petals / Double Blooms and Beyond
I am really looking forward to seeing if I can force the heart-shaped zinnia petals in some future hybrids.
Here's where current state is for the plants we're growing in our 2022 garden.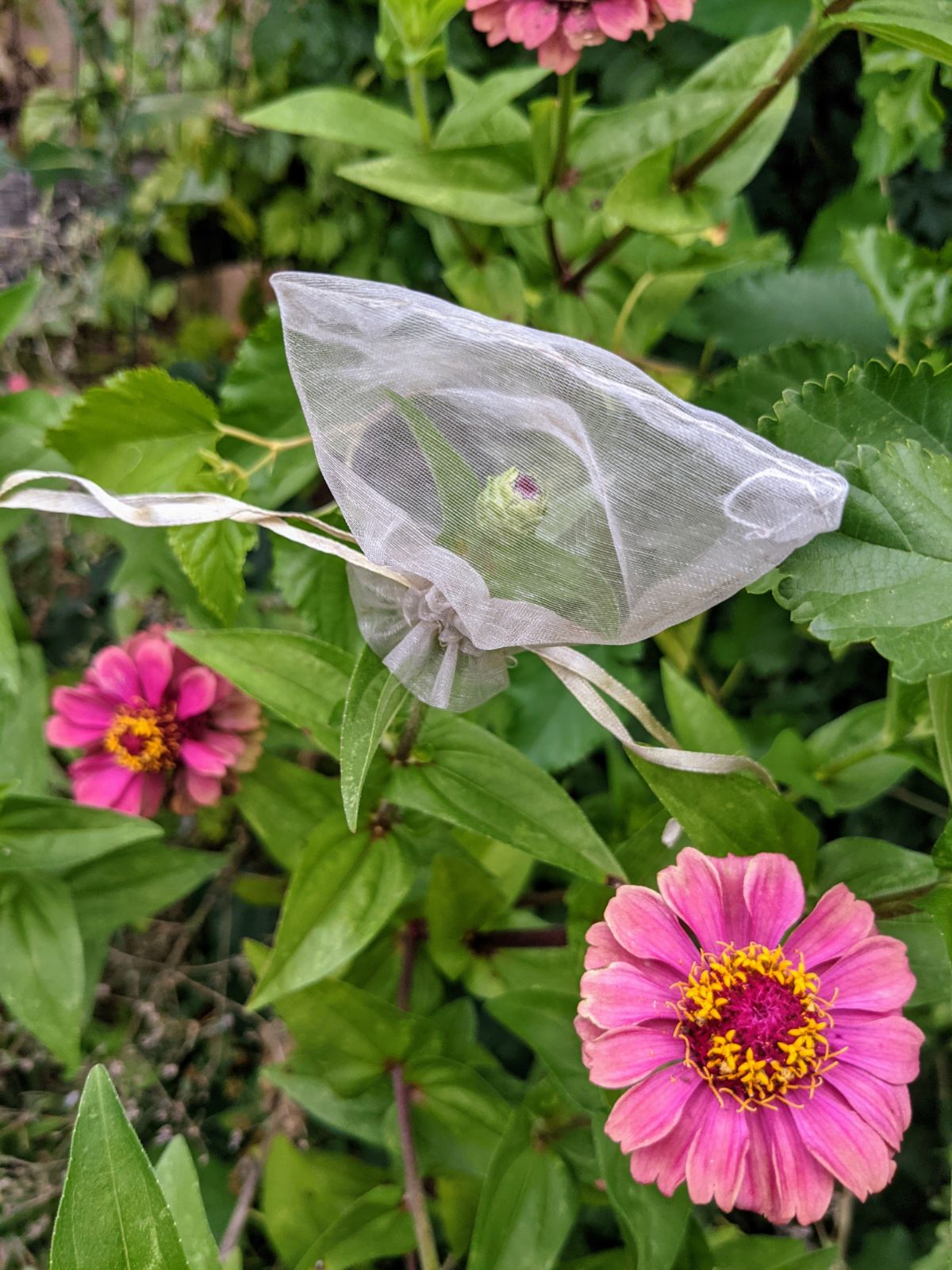 Also, this year I lucked into growing two plants from seed that resulted in color-changing zinnia blossoms.
I truly couldn't believe my eyes when, even just later in the day, I could tell the color changes were underway.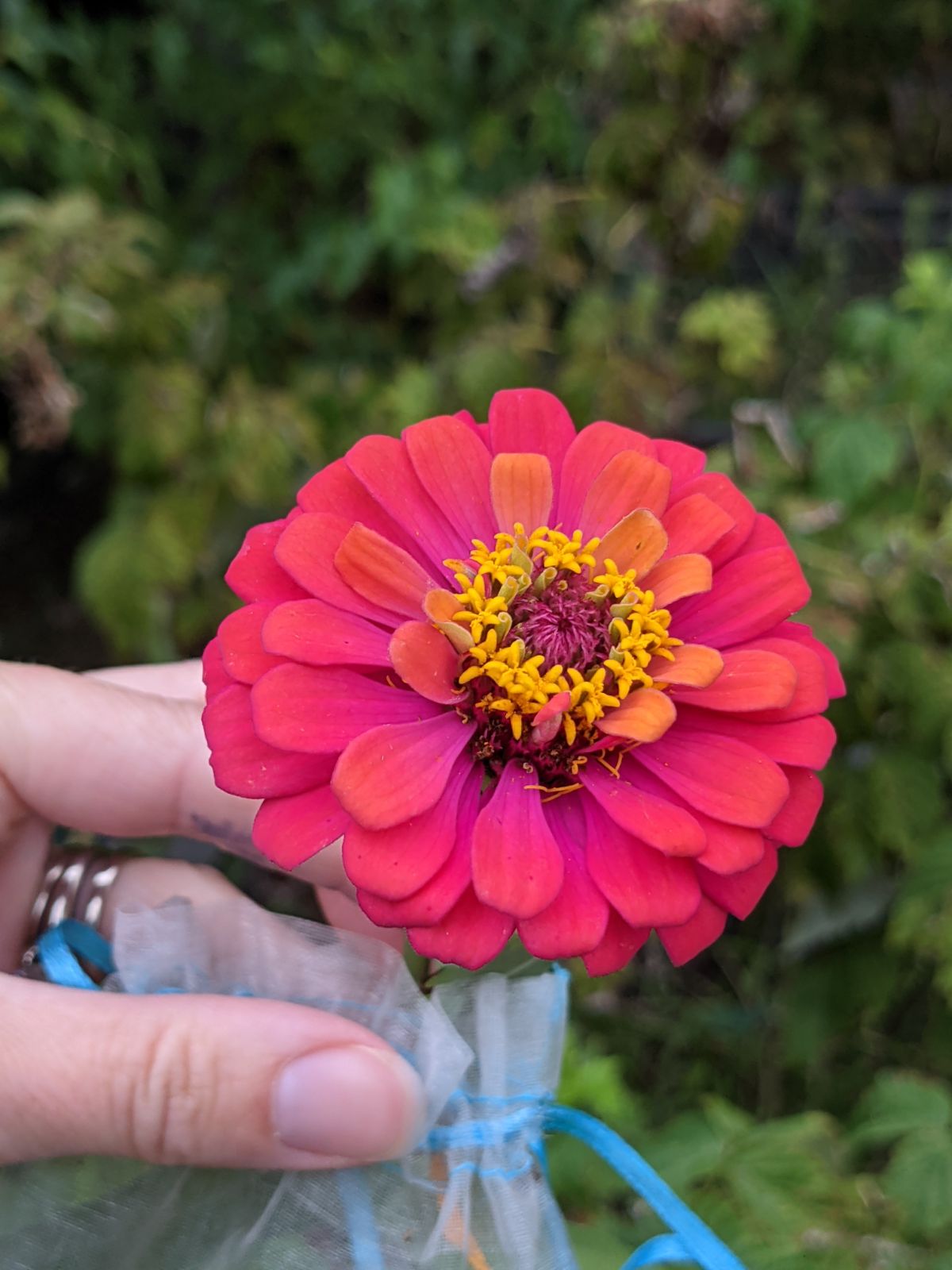 I kid you not – these zinnias start out light orange with pink centers and become a deep shade of ombre raspberry orange to deep fuchsia maroon.
At any given time, I could have two totally different color flowers on the same plant!
I love these zinnias so much that I am thinking of digging them up and bringing them indoors before the frost.
If all goes well, I will continue growing them, hybridizing, and saving seeds over the winter.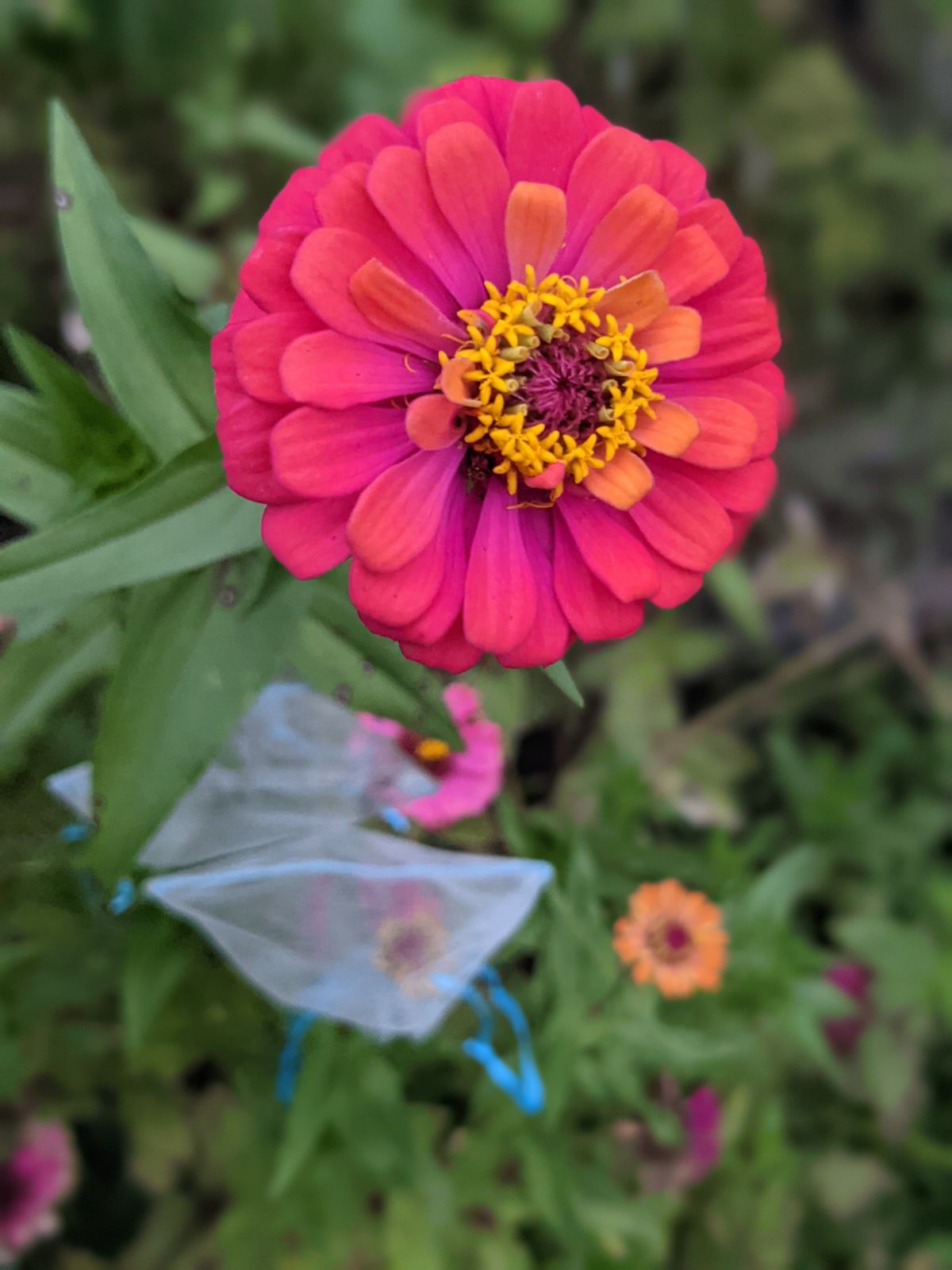 Preferred Zinnia Color Traits
Breeding hybrid zinnias in my favorite color combinations is one of my biggest goals, along with the traits listed above.
The zinnia colors I liked best so far were:
Coral Blends
Orange and Pink Zinnias (Blends)
Dark Pink to Raspberry Red to Orange Ombre – This one particular bloom color changes!
Color-Changing Effects
Red and Pink Ombre
Cactus Zinnias (with many petals or cool colors)
I will be excited to see what happens regardless, but I can't wait to try and force these zinnia traits into new seed stock!
Zinnia Breeding Log
Although I decided to start breeding zinnias in the fall of 2022, it's been a dream of mine for a long time.
I always harvest zinnia seeds from the spent flowers in my garden, and my dad does the same and shares his with me. Then, the next year, my kids and I plant the seeds or scatter them outdoors to direct sow once warm enough.
Zinnias grow pretty quickly, and you can enjoy multiple generations over a typical growing season. (At least where we live!)
And now, I hope to grow some indoors over the winter. I just have to get my grow racks and lights set up in time. 🙂
Okay, onto the logs…
Friday, September 30, 2022
For the first time ever, I went out and bagged the unopened blooms of some of my favorite zinnias in the garden this year.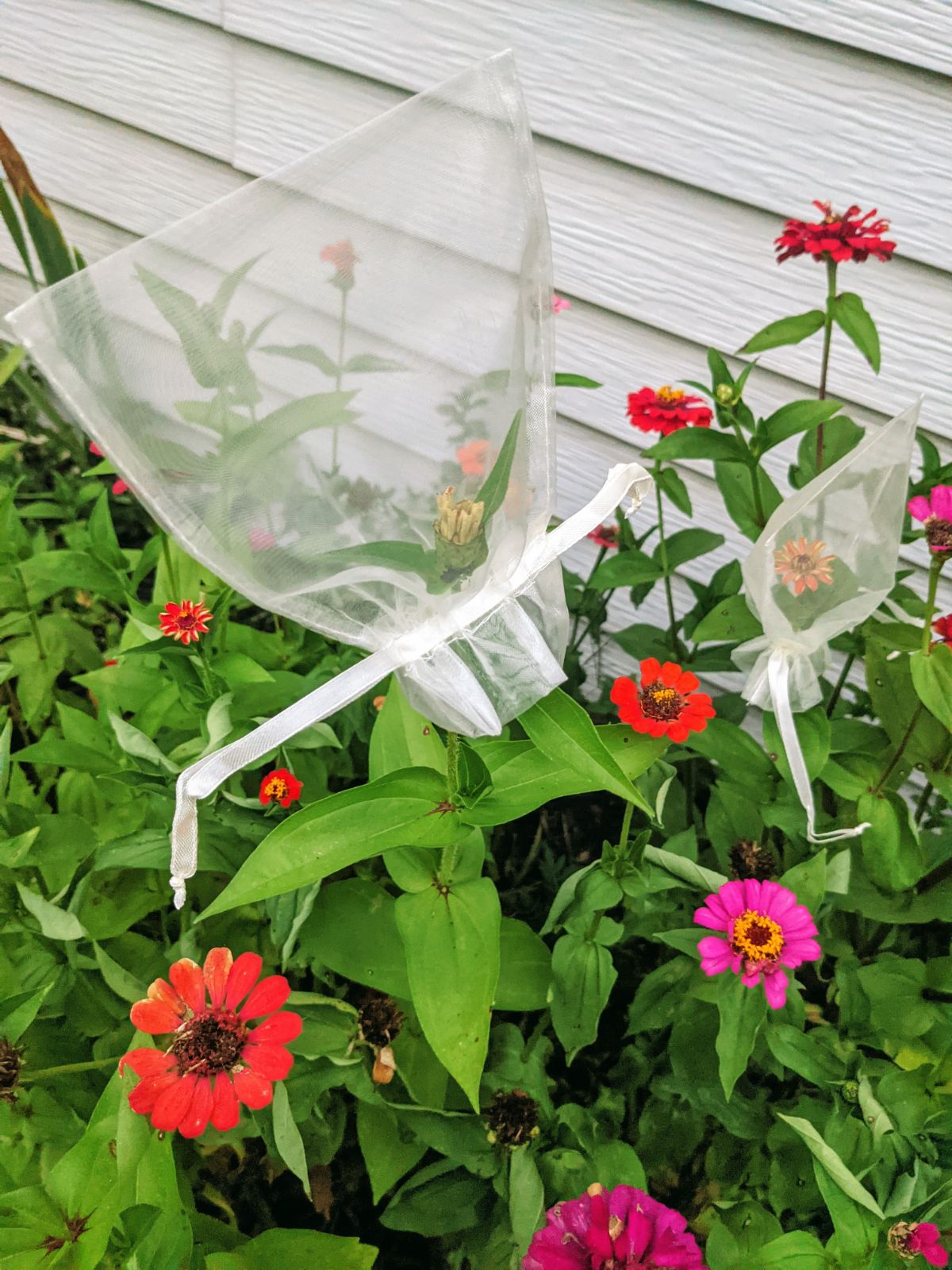 I'll have to go back and count when it stops raining, but I believe I bagged 20 different zinnia buds for breeding.
The pictures used throughout this post are all photos of my 2022 specimens for cross pollination.
Here are a couple more…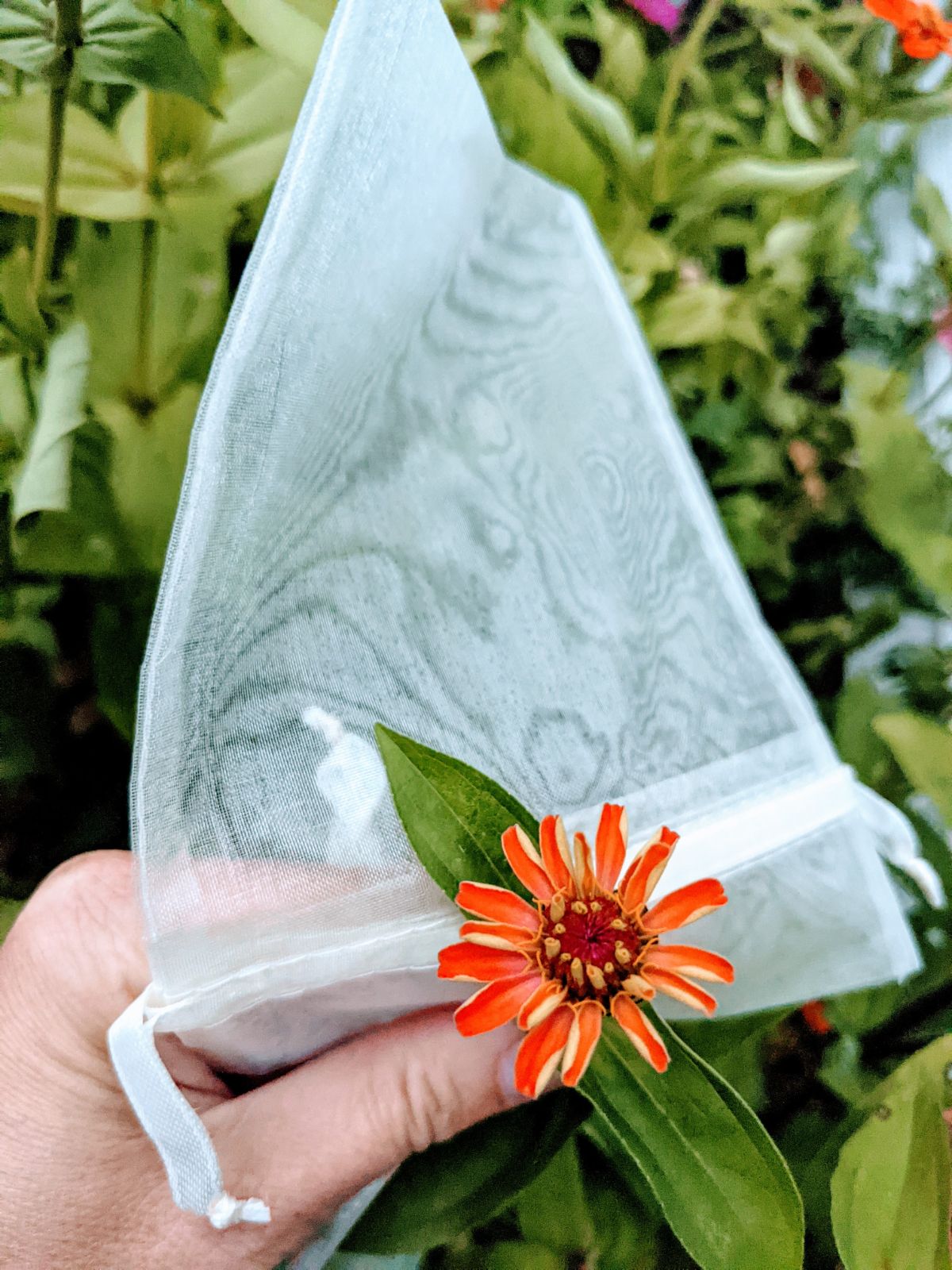 Creating Hybrid Zinnias
I will be sure to come back and update this page regularly so you can follow along on this adventure with me.
Should you decide to try breeding zinnias yourself, I hope you will post a comment or share a photo via email! I always love hearing from you guys.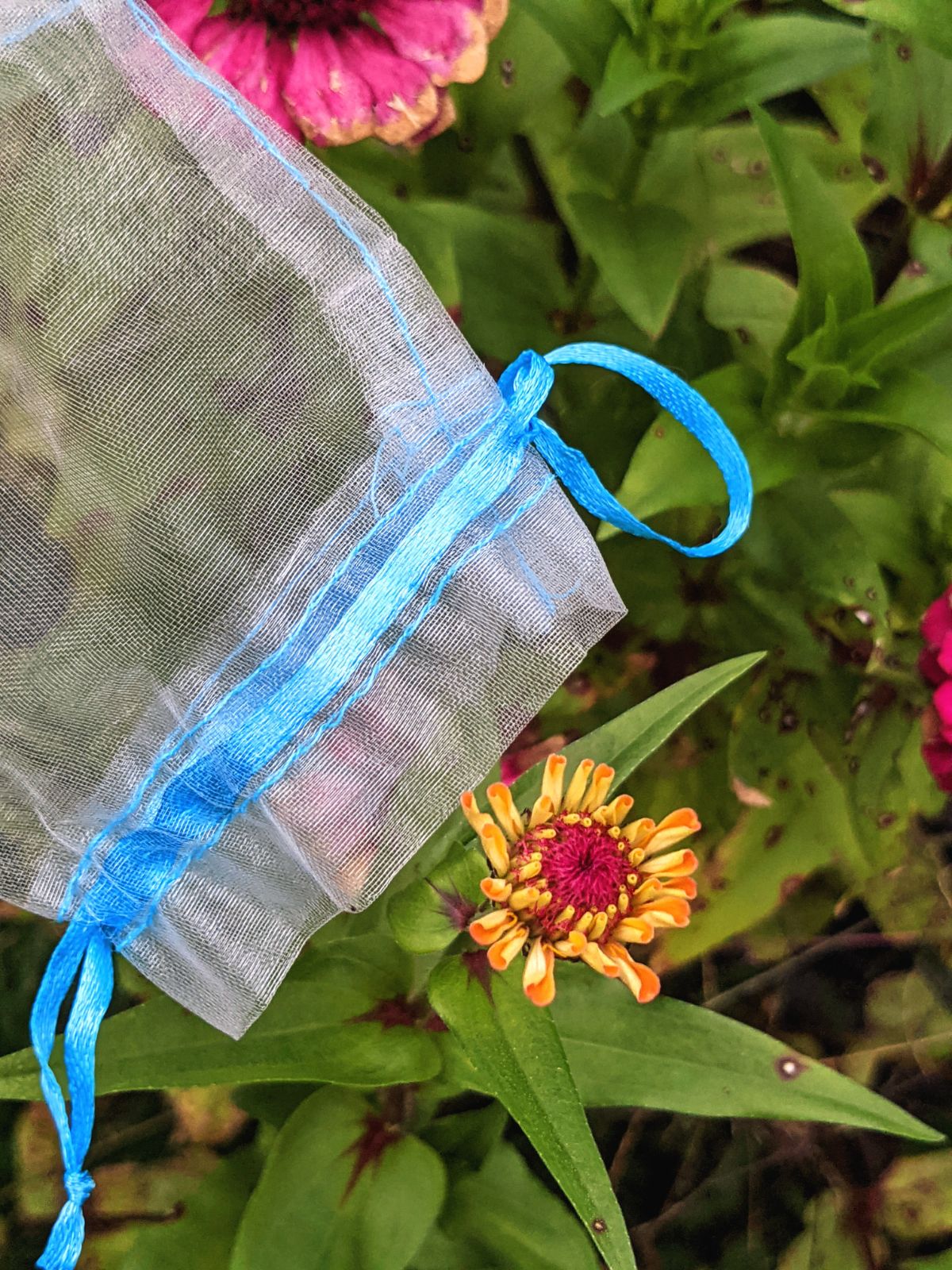 Zinnia Breeding Update: Summer 2023
This summer I am blessed to grow out seeds I saved from my favorite 2022 zinnia – the color-changing zinnia that went from orange with a hint of pink to raspberry with a hint of orange.
The first round of seeds I planted from the mom zinnia brought some beautiful surprises!
The first one to open is my favorite so far. It has done a bit of color-changing since it first opened.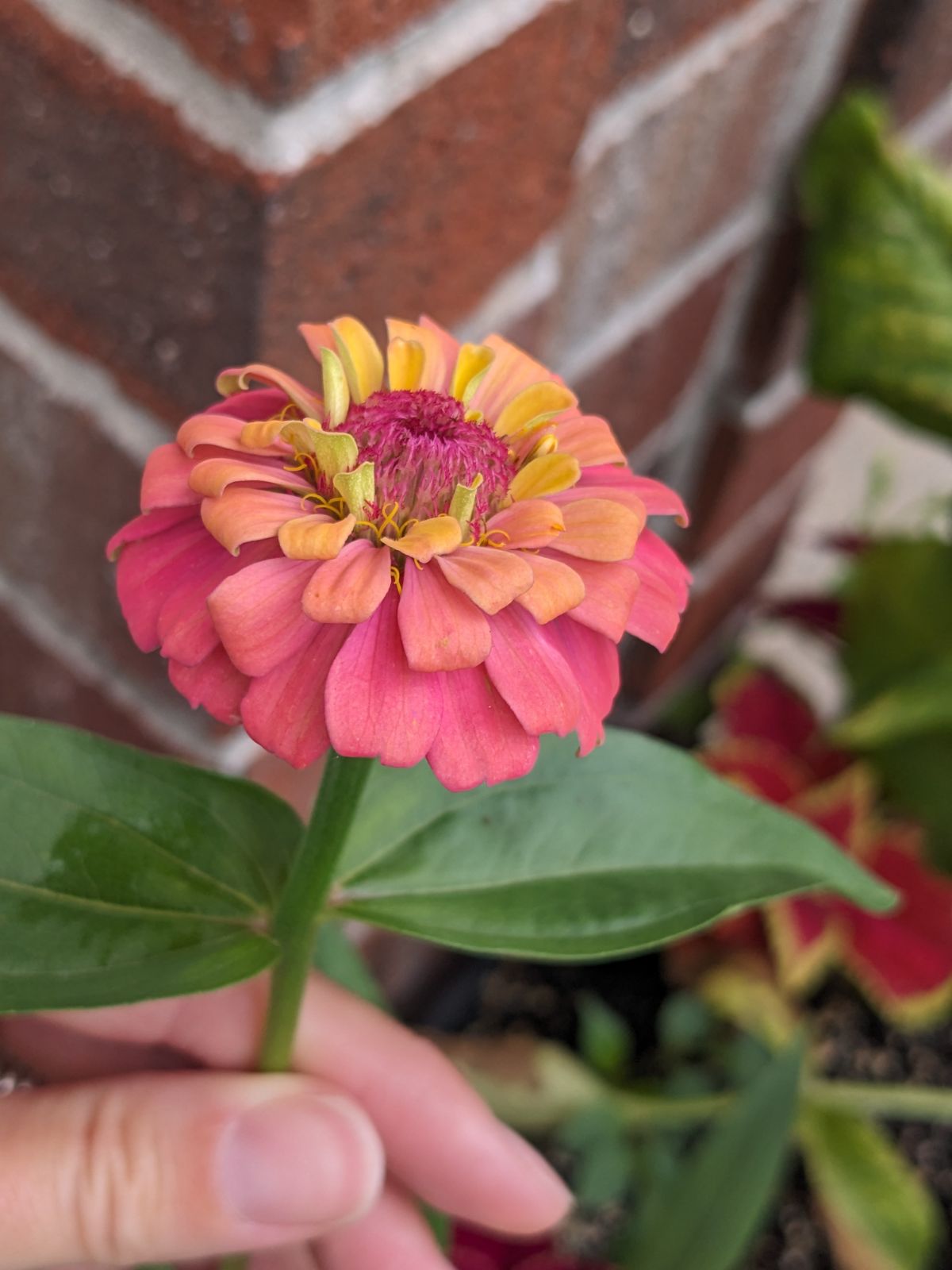 Once it finished darkening, this zinnia looks SO similar to the mom zinnia but yet still its own beautiful creation.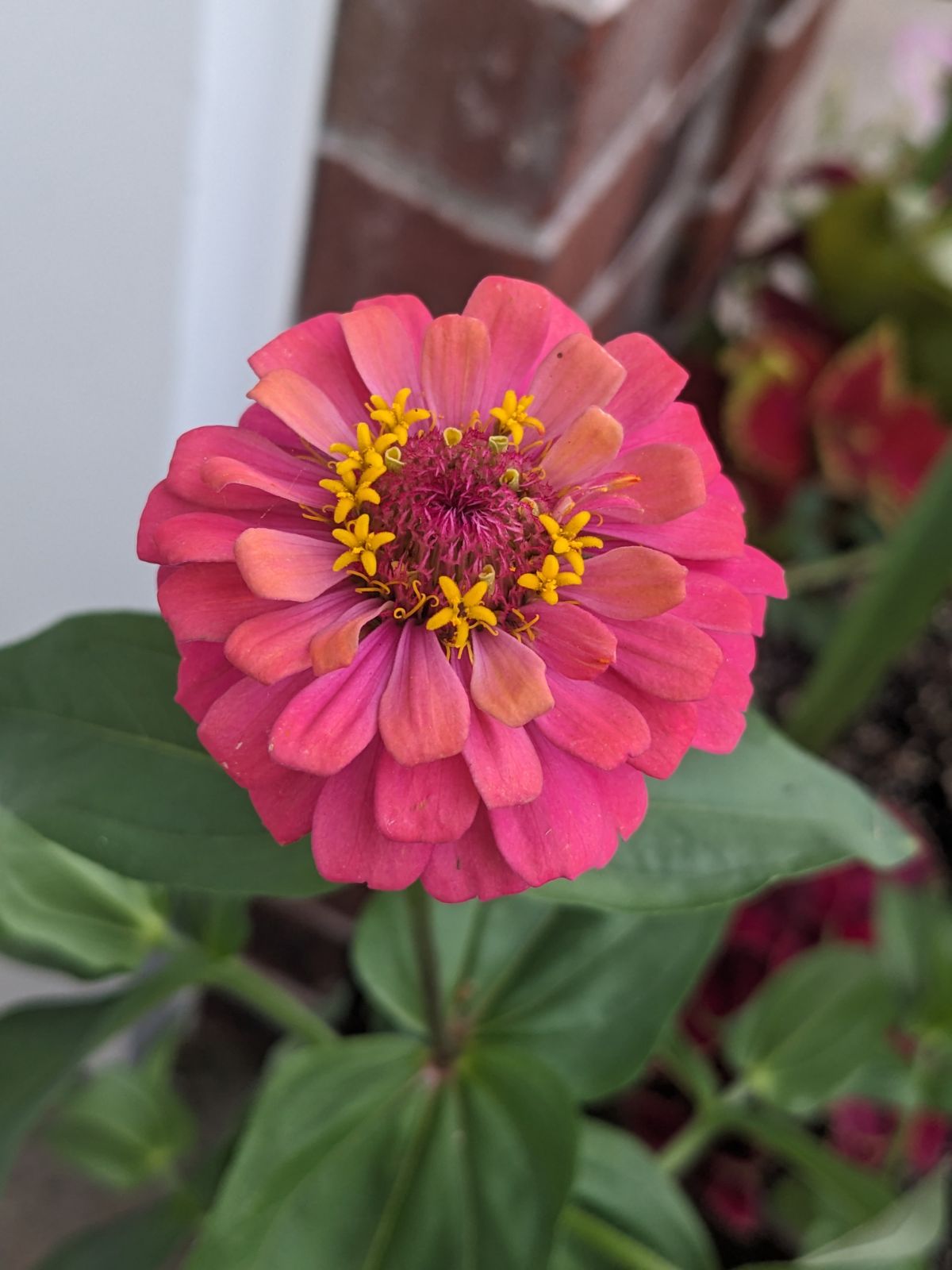 My Zinnia crosses are in progress! So tough to choose a favorite – which do you like best?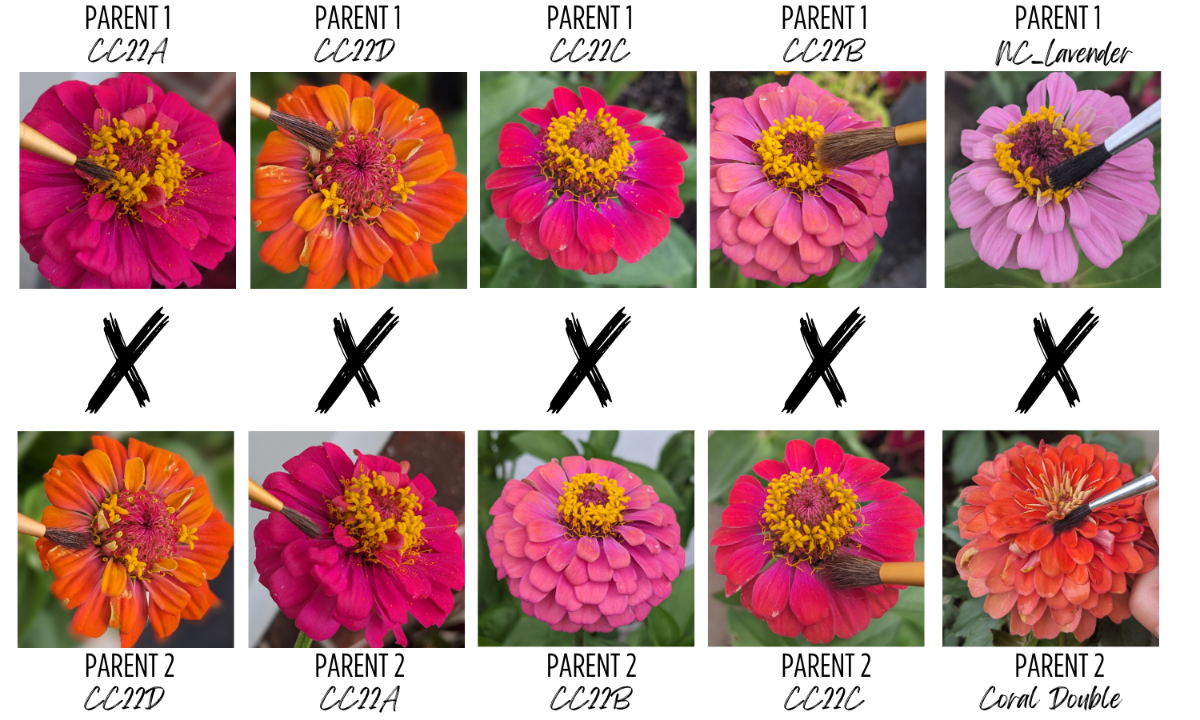 Can't wait to see what the resulting offspring will look like!
(In case you haven't guessed, I am a sucker for pink and orange, and accordingly, coral. Fun Fact: I have no idea where this lavender bloom came from!!! It was not an intentional part of my project and I fully expected it to be coral when it opened! Rogue seed? Surprise of nature? No matter, it is part of the project now!)
CC22A – Raspberry Double, close to the second phase of the mom Zinnia but missing a little hint of orange from parent, lots of florets and abundant pollen
CC22B – Full Double muted Salmon with hint of orange, miles of petals
CC22C – Bolder Raspberry Red Blurring to Neon Purple, very active florets
CC22D – Bright Orange with a slight hint of a Pink glow, closest to the first phase of the mom Zinnia
NC_Lavender – Stands for "not coral" lavender – unexpected color in this breeding project! Pretty pale purple petals and many florets. I believe it came from a different set of parents.
Coral Double – Shorter zinnia form with endless petals and a lovely coral hue
To keep it simple, I transferred pollen both ways, from CC22A to CC22D and then pollen from CC22D to CC22A.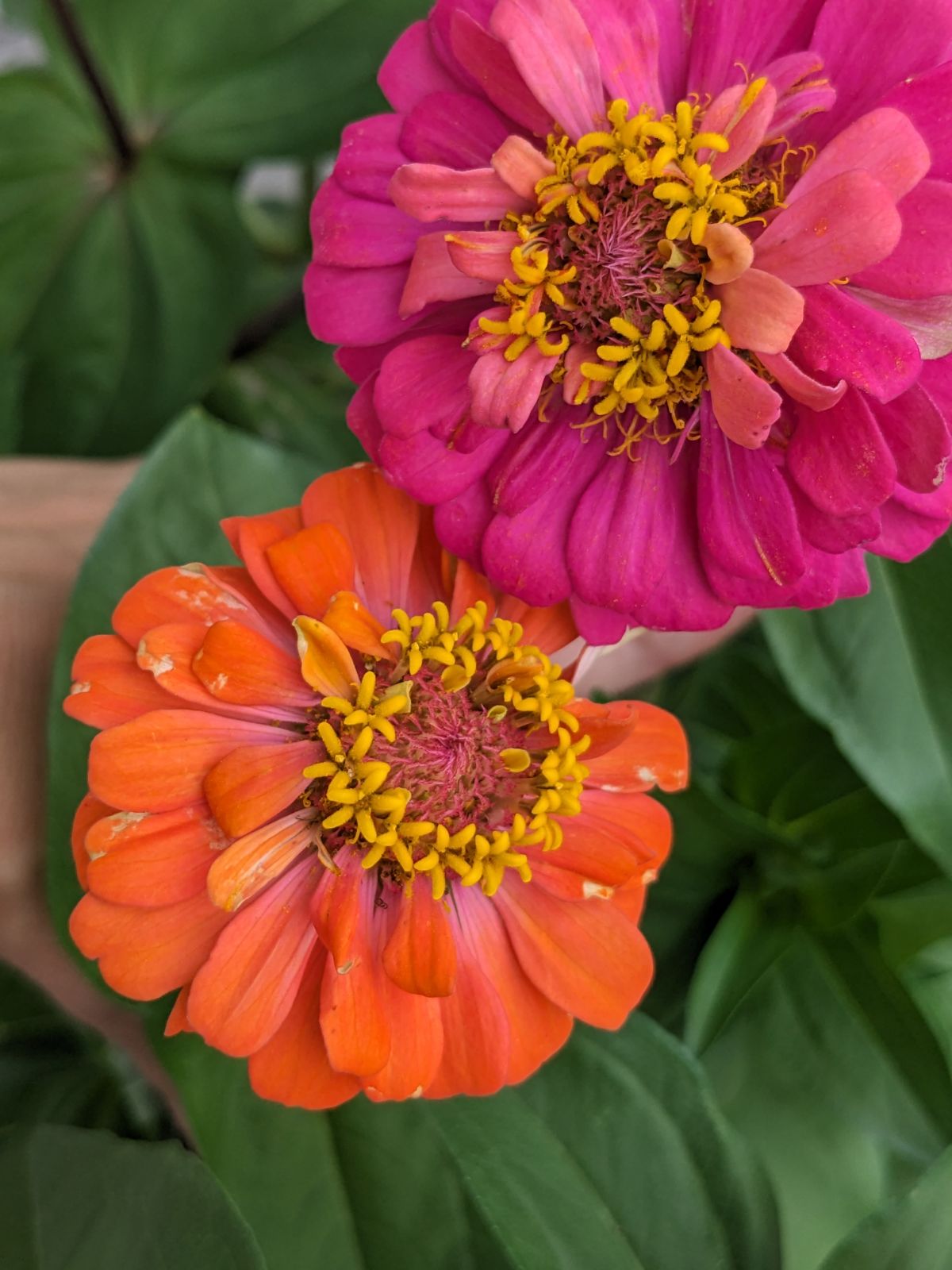 Likewise for the other set, CC22B to CC22C and vice, versa.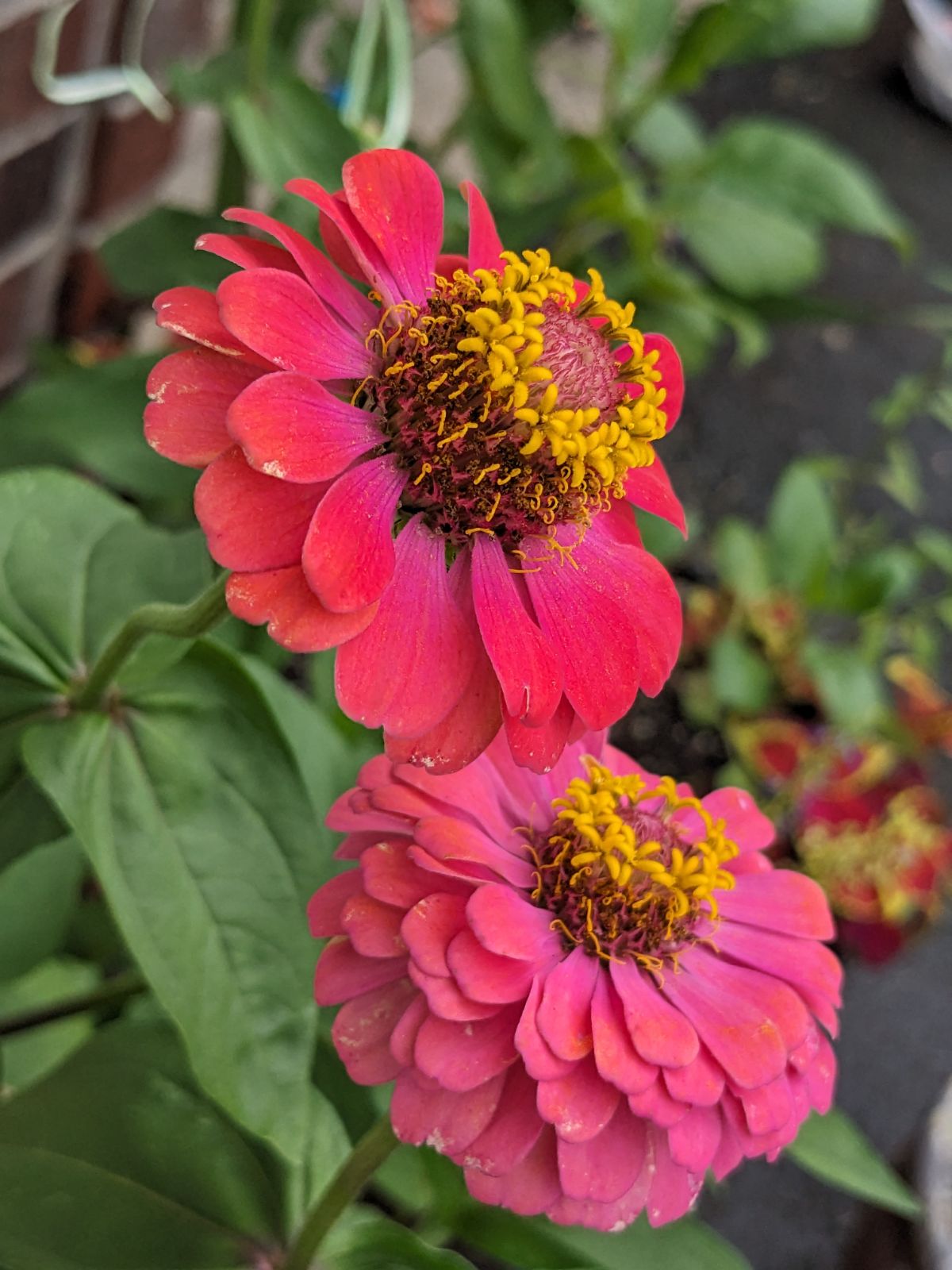 So far I was able to cross pollen from NC_Lavender to Coral Double, but not the the other way around, because no pollen florets were available on the Coral at the time.
I can't wait until I have something great to share again soon!
In the meantime, feel free to share this post with any other zinnia lovers you know. The world can always use more flowers!
Oh, and if you are like me and you can never have enough zinnia seeds, check out some of my favorites!
Our website features affiliate links to products that we personally believe in. If you make a purchase from a link on our site, we may earn a small commission at no cost to you. Thank you! This helps our girls chase their garden dreams! Thanks for your support. (View full affiliate disclaimer at the end of the page.)
I hope you will take a few minutes this week to attempt hybridizing zinnias yourself! It only takes a few minutes here and there to complete the steps and try this fun and exciting gardening hobby!
Happy Gardening!
Breeding Zinnia Flower Resources:
If you want to do some more reading on zinnia breeding, check out these awesome resources:
GardenWeb – How to Hybridize Zinnias – It's Easy
Houzz – The Process for Getting New Zinnias
Garden.org – Zinnias Thread
Dave's Garden – It Can Be Fun to Breed Your Own Zinnias
07.28.23 – Added update on Breeding Zinnias in Summer 2023. Updated to open some links in a new tab.