Harvesting Nasturtium Seeds | 4 Easy and Fun Steps
Harvesting nasturtium seeds is fun and easy, especially when you get the kids involved. Nasturtium seeds are large and easy to handle. Absolutely one of the easiest seeds I've ever harvested! These are the perfect seed for small hands!
These lovely, exotic-looking flowers add color to the garden, especially when growing nasturtiums in vegetable garden spaces. The round leaves add unique dimension and the edible flowers attract pollinators and enhance the garden's ambiance.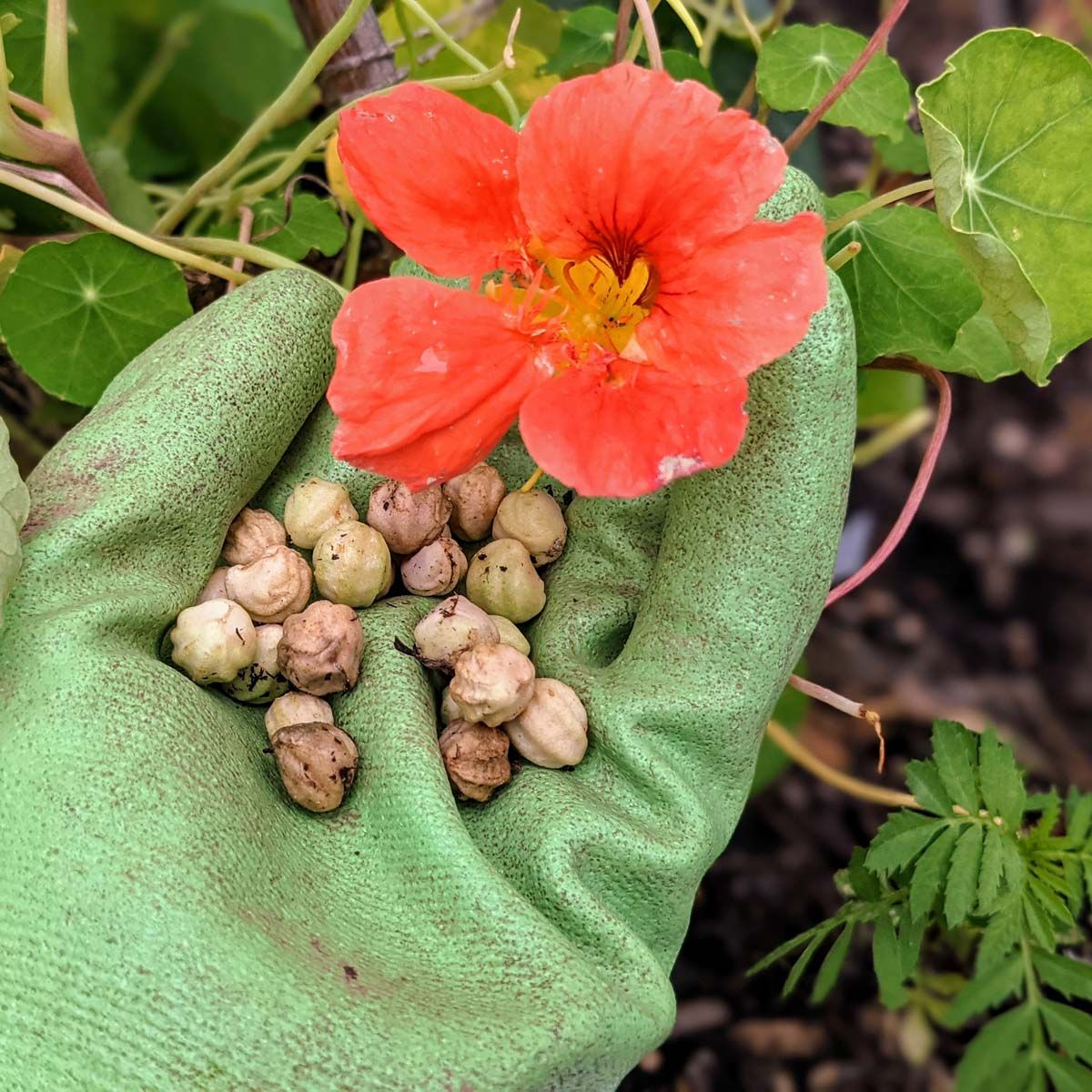 Are you planning your nasturtium seed harvest for eating or seed-saving?
Either way, I'm excited to share that it's quick and easy to harvest nasturtium seeds, whatever your needs.
I'll share my favorite tips, but first, let's dig a little deeper about nasturtiums!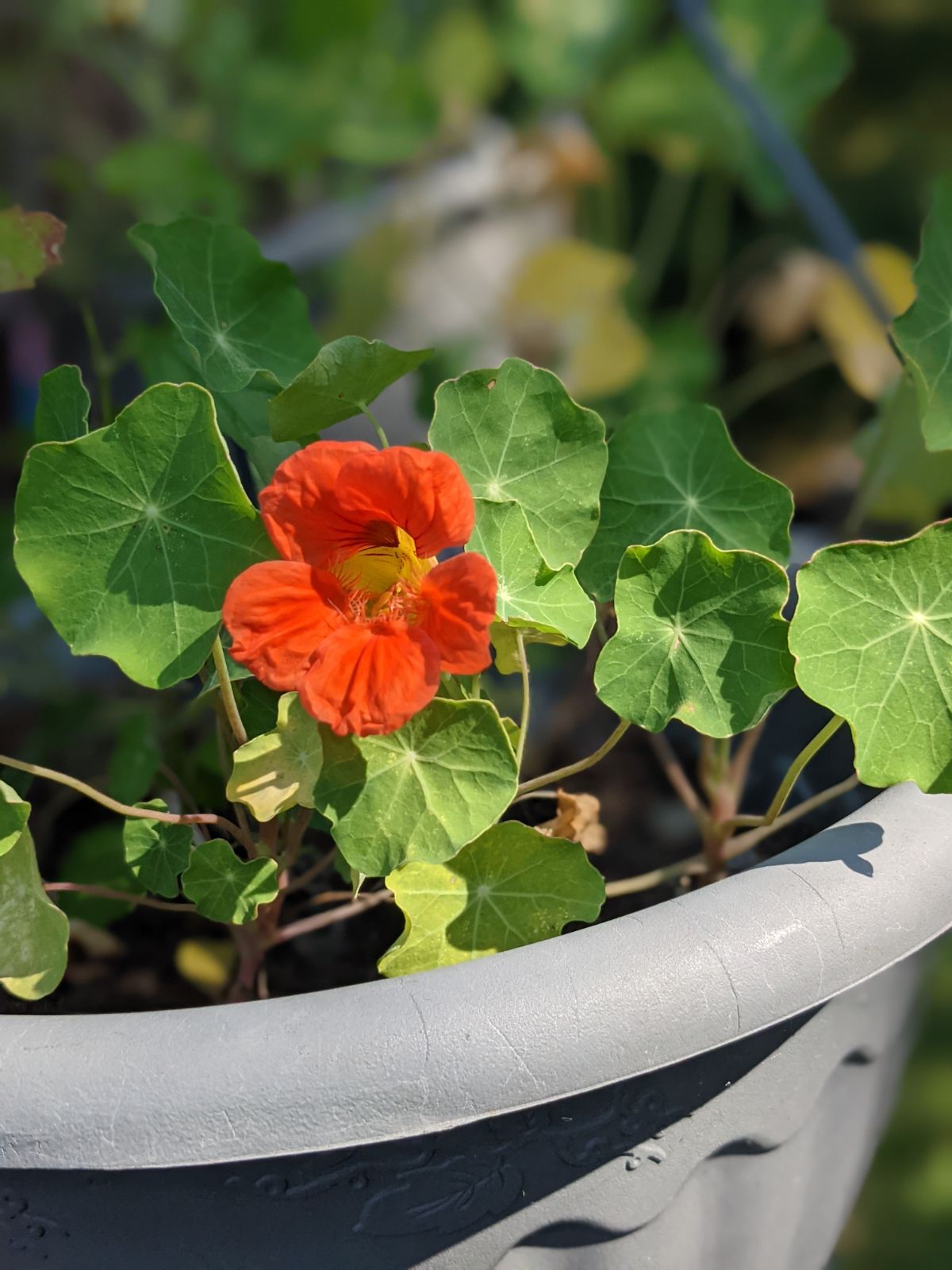 What is the scientific name for nasturtium?
The scientific name for nasturtium is Tropaeolum majus. Tropaeolum (common name: nasturtium) belongs to the family Tropaeolaceae. Interestingly, tropaeolum translates to "nose twister" – perhaps a nod to the peppery taste and aroma of these tropical flowers.
What do nasturtium seeds look like?
Nasturtium seeds look like little brains. They are plump, large seeds that range in color from green to white, tan, or brown, depending on the stage of maturity and type. As they dry, nasturtium seeds become wrinkled and look even more like a tiny brain.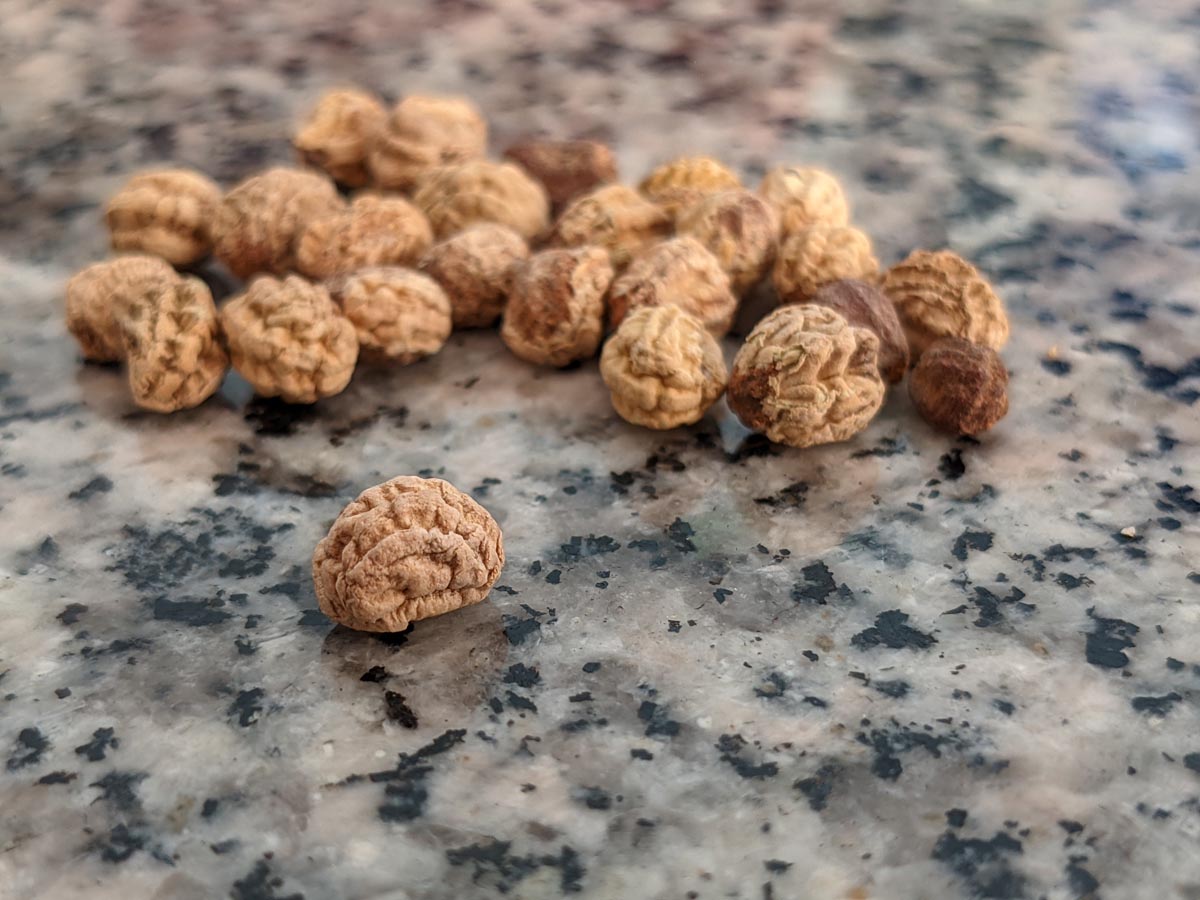 While they are still on the plant, nasturtium flower's seeds may appear to grow on the end of a stem or vine.
Most times, they are still green or greenish white at this point.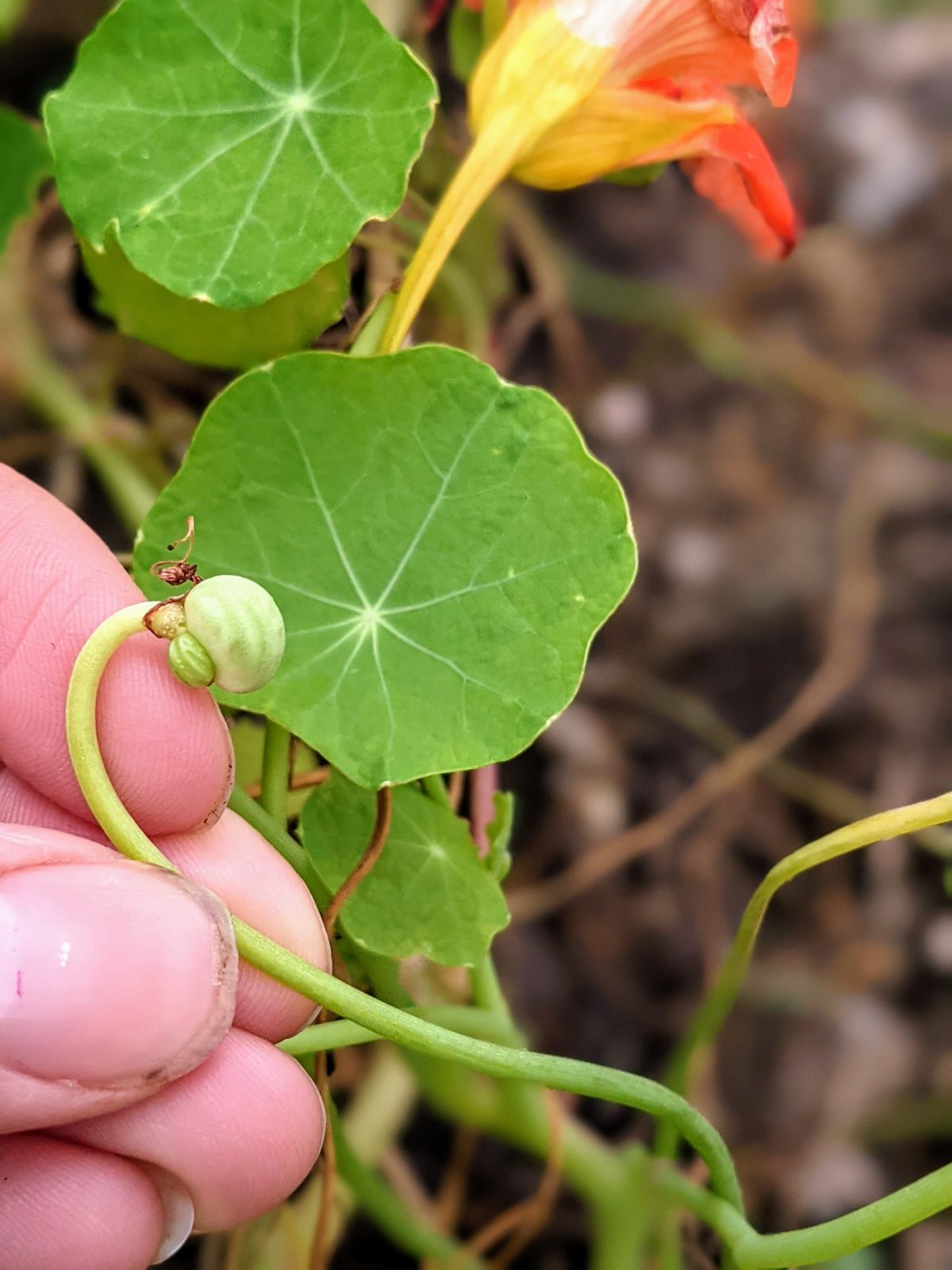 Does nasturtium reseed itself?
Nasturtium plants reseed effortlessly. If you don't collect nasturtium seeds regularly, you may find plenty of nasturtium volunteers in your garden.
When can you harvest nasturtium seeds?
You can harvest nasturtium seeds when the seeds have fallen from the plant or when they are still attached. Nasturtium seeds naturally fall from the plant when they are mature and viable. You may also pick nasturtium seeds directly from the plant when they are green or white and plump and release easily. (Give it a couple more days if they don't come free easily.)
What color are ripe nasturtium seeds?
Ripe nasturtium seeds are tan or light brown. Most times the seeds fall from the plant by the time they are truly ripe. However, you can pick them from the plant when they are plump and green or white if they come loose easily. You can also pick smaller green nasturtium seeds for eating. Those that come freely or fall to the ground should germinate readily.
Nasturtium Seed Harvest – Awesome Benefits
Enjoy the wonderful benefits of your nasturtium seed harvest!
Snacking / Eating

Seed Saving for Yourself

Seed Collection for Seed Swaps

Sensory Activity for Kids
Besides, it's fun and feels like a great reward from a successful garden!
Harvesting nasturtium seeds only takes a couple of minutes here and there. Keep reading to discover how to harvest nasturtium seeds very easily.
How to Collect Nasturtium Seeds
Collecting nasturtium seeds is fun and easy! It's also a great activity for the kids. Send them on a little seed scavenger hunt as a neat gardening activity and adventure. Memories to last a lifetime!
Follow these steps to learn the easiest method on how to collect nasturtium seeds:
Search – Visit your garden and look under your nasturtium plants, directly on top of the soil.

Collect – If you find any dropped nasturtium seeds (they look like tiny brains!), pick them up and put them in a harvest collection container like a colander or basket. (You can also use a paper bag, plastic cup, envelope, or other item of your choice.)


TIP – If seeds show signs of sprouting, leave them in the garden as you cannot reverse germination.


Inspect Plants – Once you've collected any fallen nasturtium seeds, look on the plants. You'll find areas where flowers once bloomed and what's left behind is a lovely, plump seed on the vine.

Remove Seeds – If the seeds come freely, you can pick them! Harvest nasturtium seeds once or twice per week to increase your seed collection.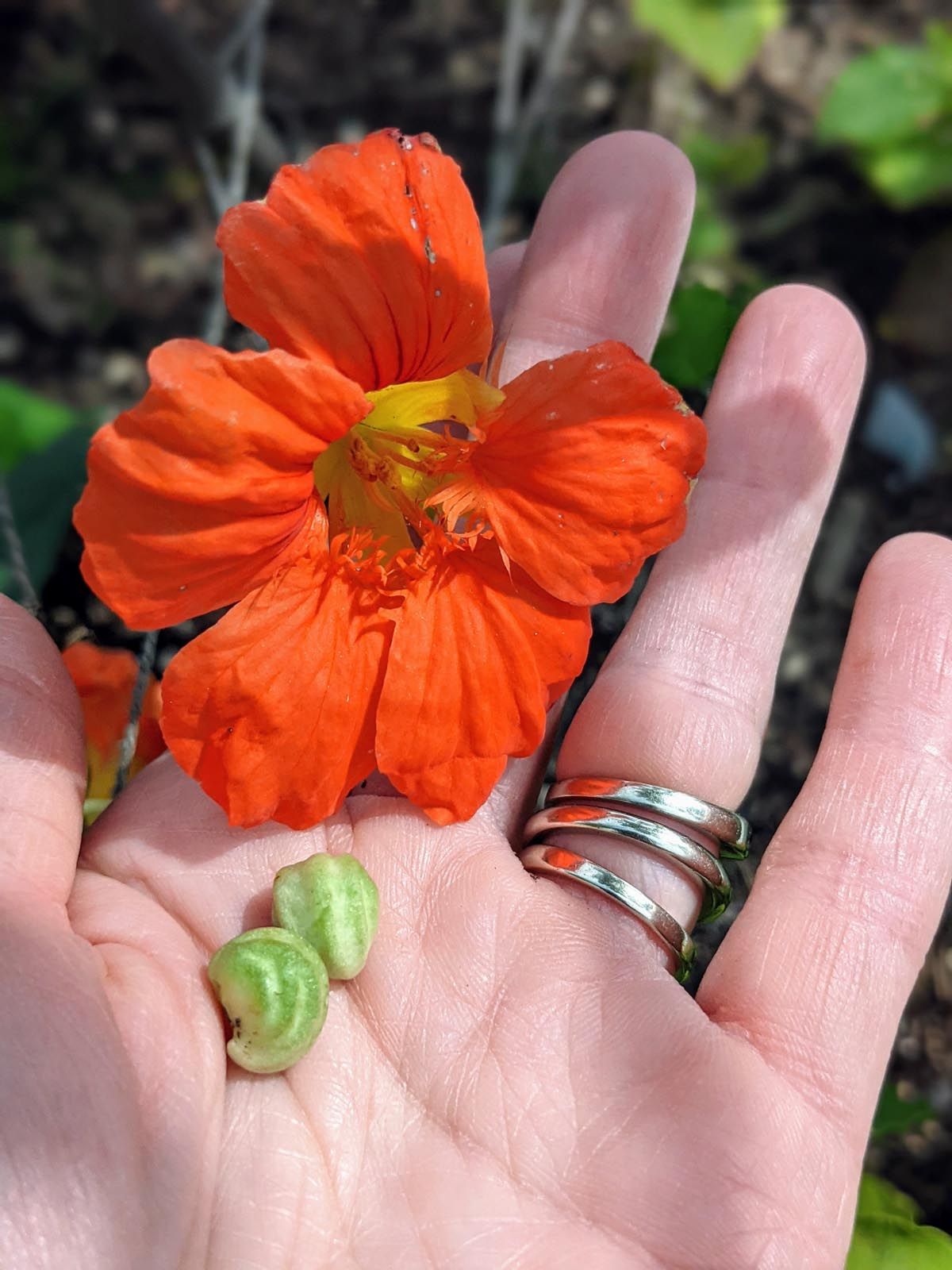 Harvesting Nasturtium Seeds
After collecting nasturtium seeds, let them dry thoroughly on paper or cardboard for a few weeks. Once dry, the seeds will be hardened and brown or tan. You can save them for next year in a paper bag or seed envelope.
Here are my favorite tips on How to Dry, Save, and Store Nasturtium Seeds.
Our website features affiliate links to products that we personally believe in. If you make a purchase from a link on our site, we may earn a small commission at no cost to you. Thank you! This helps our girls chase their garden dreams! Thanks for your support. (View full affiliate disclaimer at the end of the page.)
Do you grow nasturtiums in your garden? What are your favorite tips for collecting seeds? Have you ever crossed varieties to create your own?
Feel free to ask questions or post tips in our comments below!
By the way, you might also enjoy our Google web story on saving nasturtium seeds!
Happy Gardening!
10.03.22 – Edited to add beautiful nasturtium options. Fixed spacing and bolded headings. Added photo of hanging nasturtium. Updated pics to full size and switched out png for jpg.
11.11.22 – Added link to Google web story.