Planting Borage Seeds – Growing Borage in Pots
Borage, botanically known as Borago Officinalis, produces a beautiful blue starflower blossom. Planting borage seeds is easy and you'll be rewarded with gorgeous flowers. The borage blossoms are edible, and they look especially lovely frozen in ice cubes. Oh, and the bees love them!
We tried growing borage from seed in pots in our 2021 garden. I'd heard that borage can be invasive, so I didn't want to take any chances after already struggling with mugwort and other pesky plants that tend to go rogue.
Discover how to plant borage seeds and grow borage in pots in the garden so you can enjoy this stunning pollinator magnet!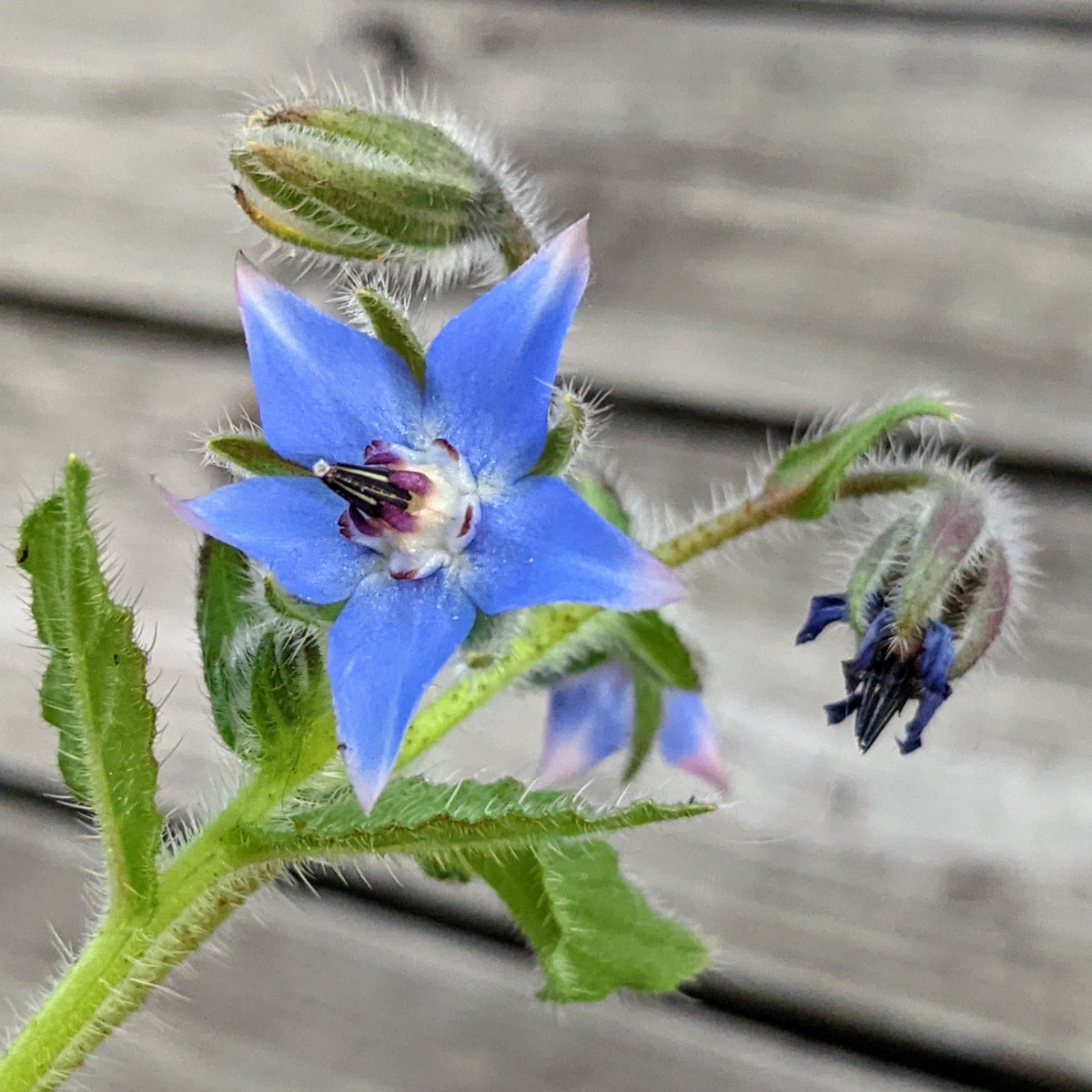 When do you plant borage seeds?
Plan to plant borage seeds outdoors in spring after your region's last frost date. You can also start borage seeds indoors 3 to 4 weeks prior to that latest frost date.
Is borage invasive?
You might be wondering if borage is an invasive plant. Borage typically reseeds itself so it can get a bad rap. The seedlings can be removed, although if left to their own devices, they may continue spreading by more reseeding over time.
If you are concerned about borage being invasive in this manner, simply try growing borage in pots or contained raised beds.
How to Plant Borage Seeds
Growing borage from seed is relatively easy, just like many other herbs and veggies. Try these tips to learn how to plant borage seeds easily indoors.
Prepare potting soil, moistening it with a bit of water.
Fill a seed starting tray, egg carton, or nursery pots with moist soil mix.
Place a borage seed in each seed cell, or several for larger ones, spacing out as much as possible.
Cover with ¼ to ½ inch of loose potting mix.
Spray with water to moisten the top layer so water reaches the seeds.
Continue planting anything else as desired and then move the seed trays to a sunny window or under some grow lights.
You can also direct sow borage seeds as well. Plant the seeds directly in the ground after the threat of frost has passed.
Planting Borage Seeds Tips
Keep these points in mind when planting borage.
The borage plant likes full sun preferably, but it tolerates partial shade.
Choose a well-draining soil for borage. It can be fairly drought tolerant, so it's fine to let the soil dry in between rain or waterings.
Consider companion plants for borage, like strawberries, tomatoes, and squash.
When growing borage in pots, choose a planter that is at least 12 inches deep to accommodate the roots.
If you deadhead borage, it should continue to flower nicely for you.
Plant borage seeds in pots to keep it contained, especially if you don't want it to set up a permanent camp in your garden.
Borage leaves, stems, and flowers are all edible. You can add them to salads or use as you see fit.
Do you have any cool experiences growing borage in pots or perhaps some tips on planting borage seeds to share? Feel free to ask any questions you have, too, or share your thoughts in the comments below!
We love hearing from you!
Happy Gardening!