How to Plant Cosmos Seeds – Easy, Beautiful Cutting Flowers
Cosmos are one of the easiest flowers to grow! We learned how to plant cosmos seeds several years ago and haven't stopped since. Dazzled by the beautiful and prolific blooms, we grow cosmos from seed and enjoy cut flowers all summer long!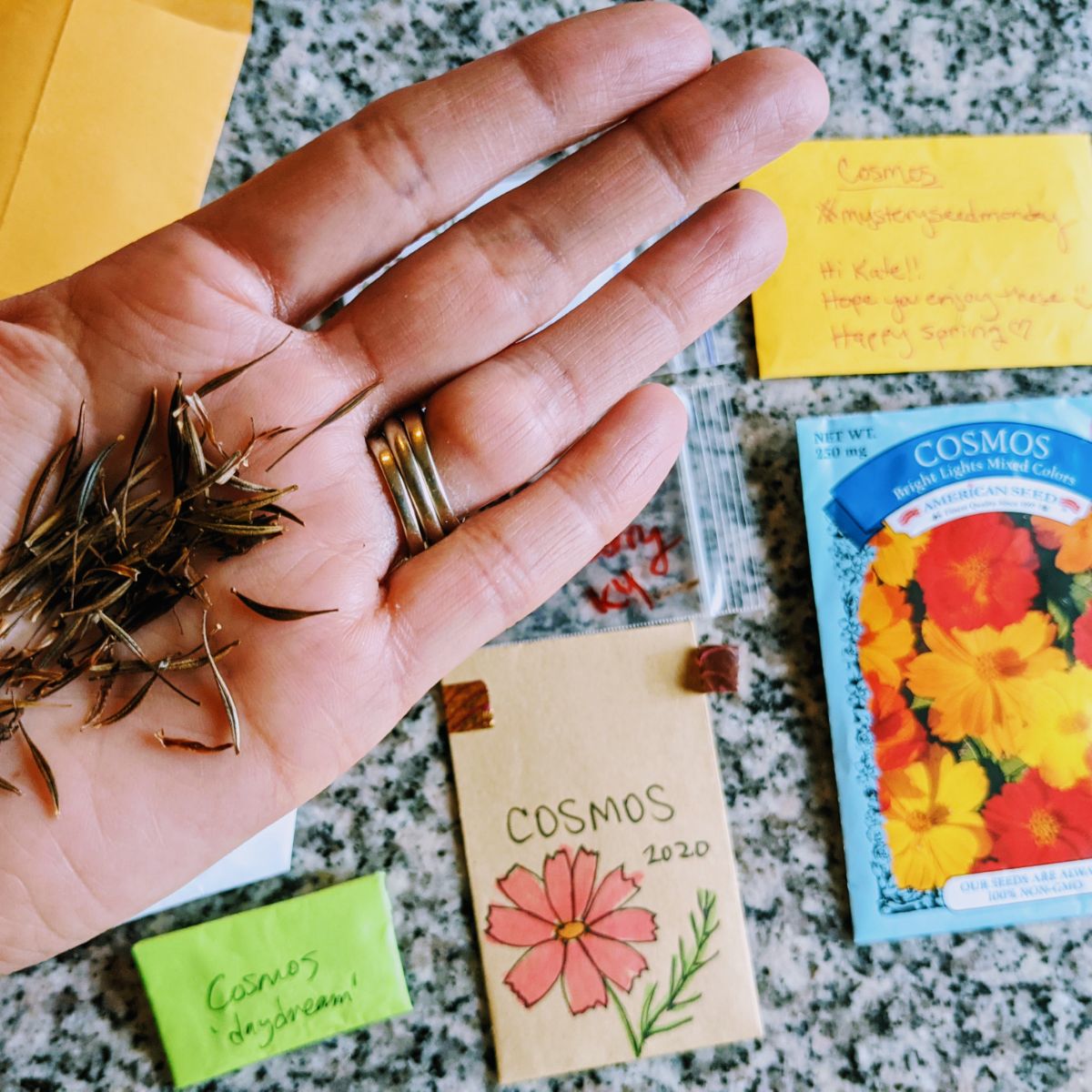 Cosmos make a great choice for your garden. Learn the easiest tips for planting cosmos seeds indoors or direct sowing!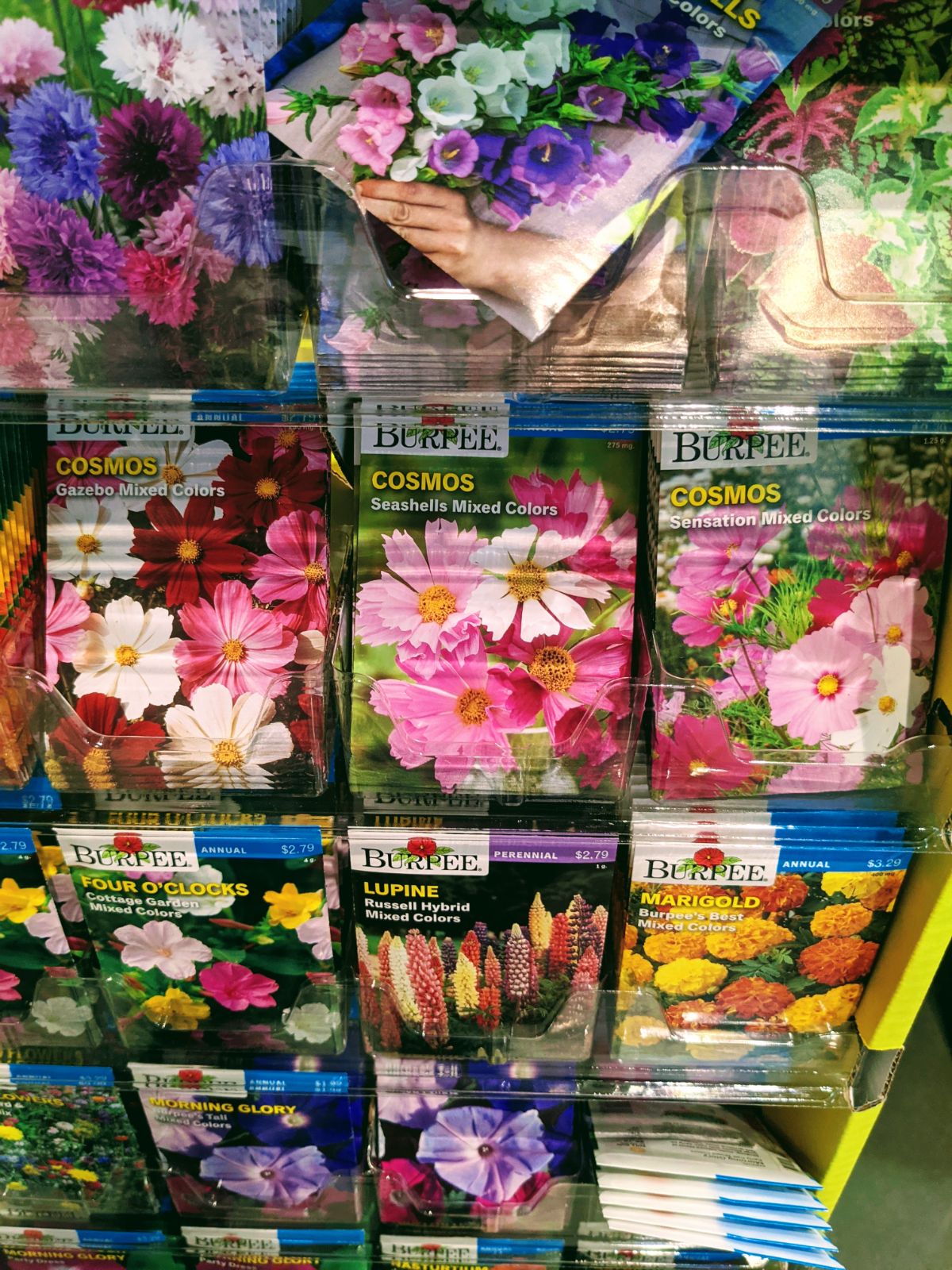 Growing Cosmos from Seed
Growing cosmos from seed is so easy and it's a wonderful child-friendly gardening activity, too. It's so rewarding to teach them how to plant cosmo seeds indoors or direct sowing outdoors.
Cosmo flowers produce profuse blooms that kids will love to pick or cut during the summertime.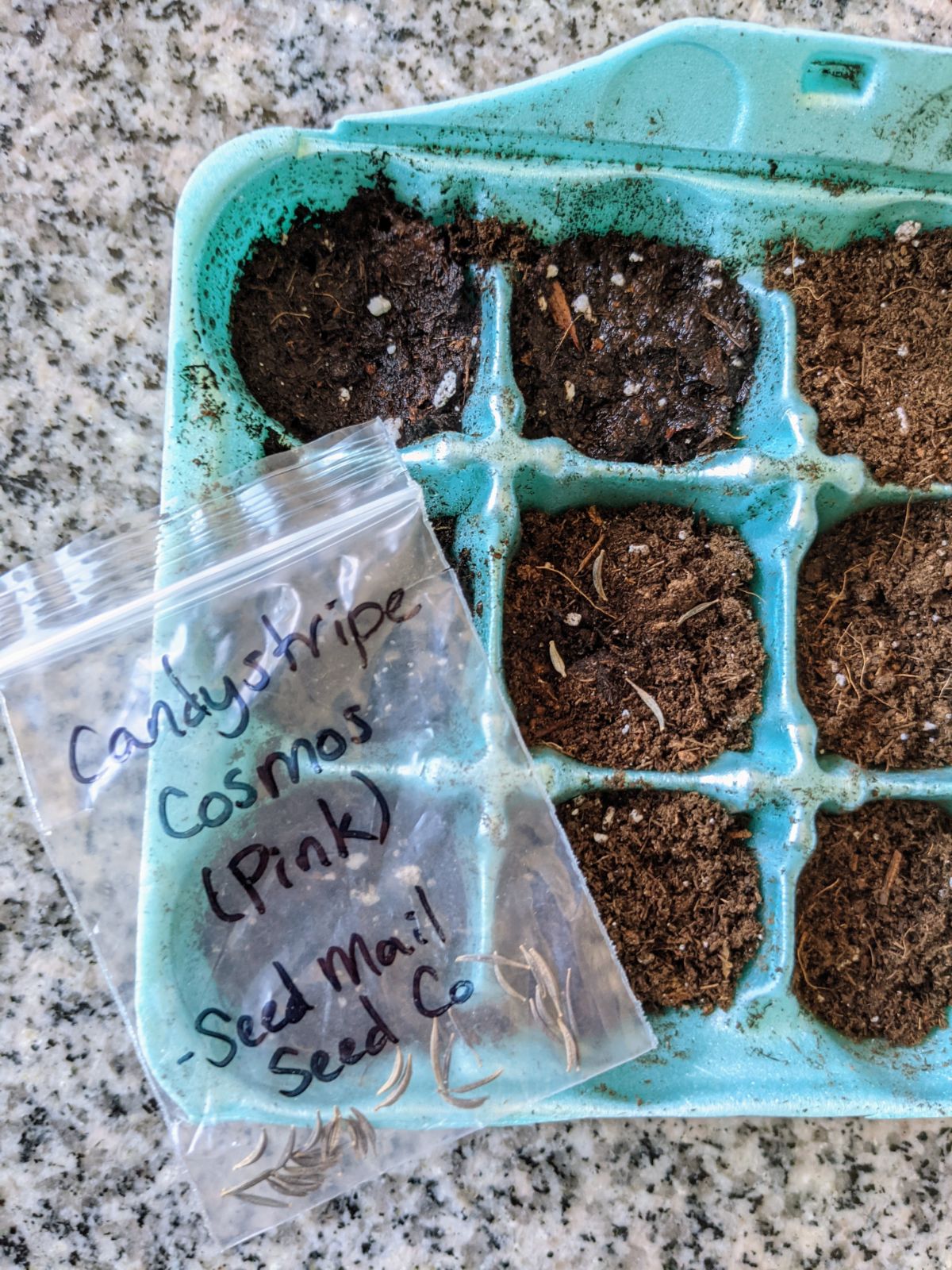 I love harvesting cosmos seeds so we can grow these pretty flowers again the next season! Check my post on saving the seeds to try it yourself.
How to Plant Cosmos Seeds Indoors
If you want to get a jump on things, start your flower seeds indoors. Get your kids involved in this fun and easy gardening activity.
Cut the top off of an egg carton.

Turn the bottom upside-down and poke holes in each of the egg compartments.

Place the bottom of the egg carton on top of the lid, like a tray.

Fill all of the egg carton cavities with potting soil.

Select your seeds and decide how many seed cells you would like to fill.

Place two to four seeds per seed cell. (I find cosmos seedlings fairly easy to separate and very forgiving during potting up and transplant.)


Tip: I practically surface sow these guys with great results! I basically scratch them in just like zinnias, just a little bit of potting soil dusted on top or around the edges of the seeds.


Write directly on the egg carton to label the type of cosmos you planted. (You can also write on masking tape, a popsicle stick, or plastic plant tags.)

Spray with a water spray bottle or mister to wet the soil.

Keep the soil moist and check daily for growth and watering needs.
Cosmos generally germinate pretty quickly. In most cases, your little ones should enjoy that first peek of green within less than a week!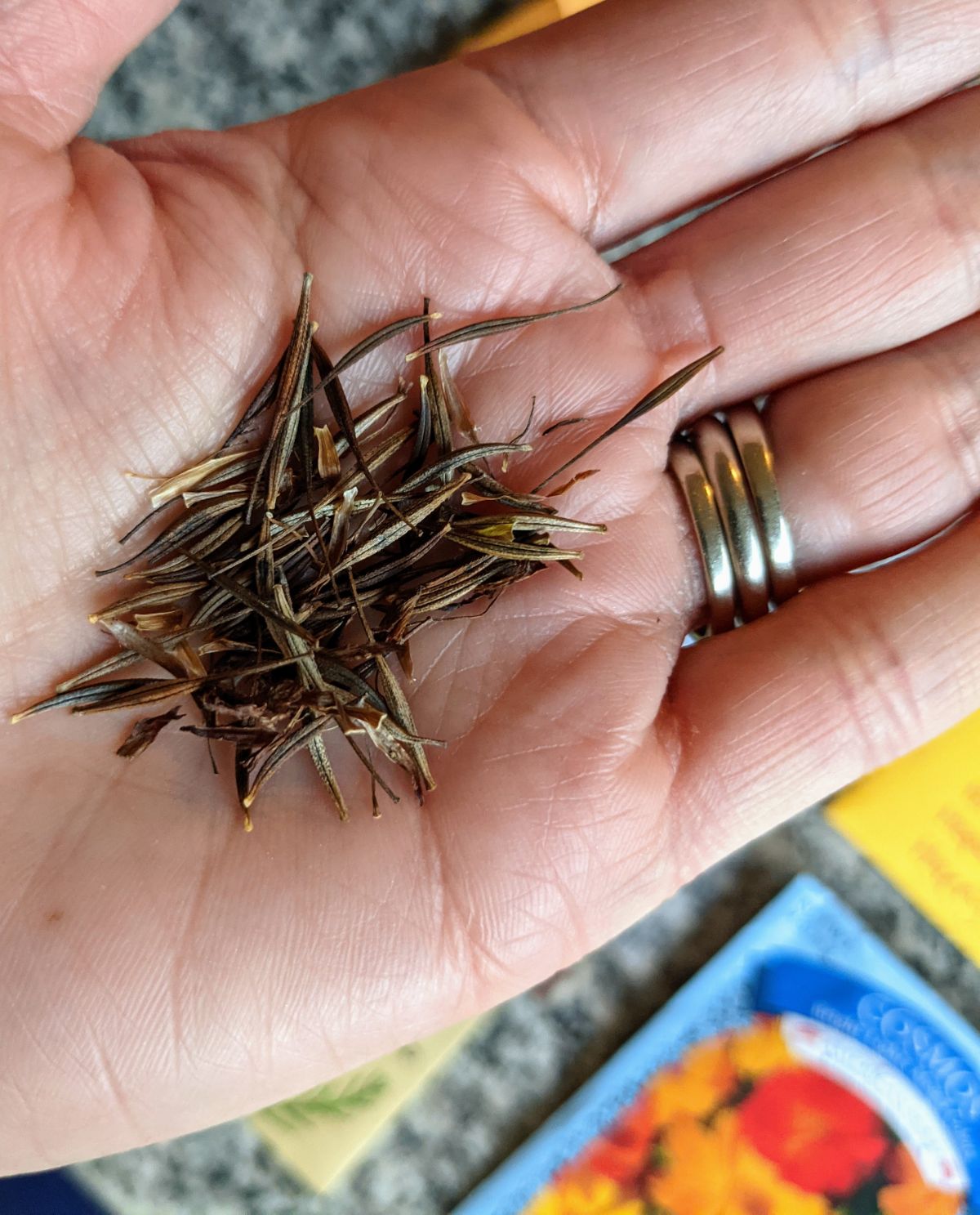 Direct Sowing Cosmos from Seed
Cosmos readily reseed themselves, growing new plants where seeds dropped in the previous season.
You can easily direct sow cosmos from seed outside in your garden spaces. Follow these simple tips to plant directly outside.
Choose a sunny spot in your garden with a little room for the plants to spread out. For spacing, leave 12 to 18 inches between seeds or plan to thin them later.

Surface sow or cover the seeds with only a light dusting of soil, no more than 1/4 inch deep. Cosmos need light to germinate!

Water adequately to help the seeds germinate.

Check back frequently for signs of growth.

Continue to care for the seeds and seedlings as they grow.
Cosmos Seedlings
Cosmo seedlings seem to grow rather quickly in my experience. I love watching them grow and look forward to seeing the flowers that bloom!
Each year, I usually find some volunteers in the garden from the previous year's seeds that dropped. It's fun to see what colors emerge when they bloom!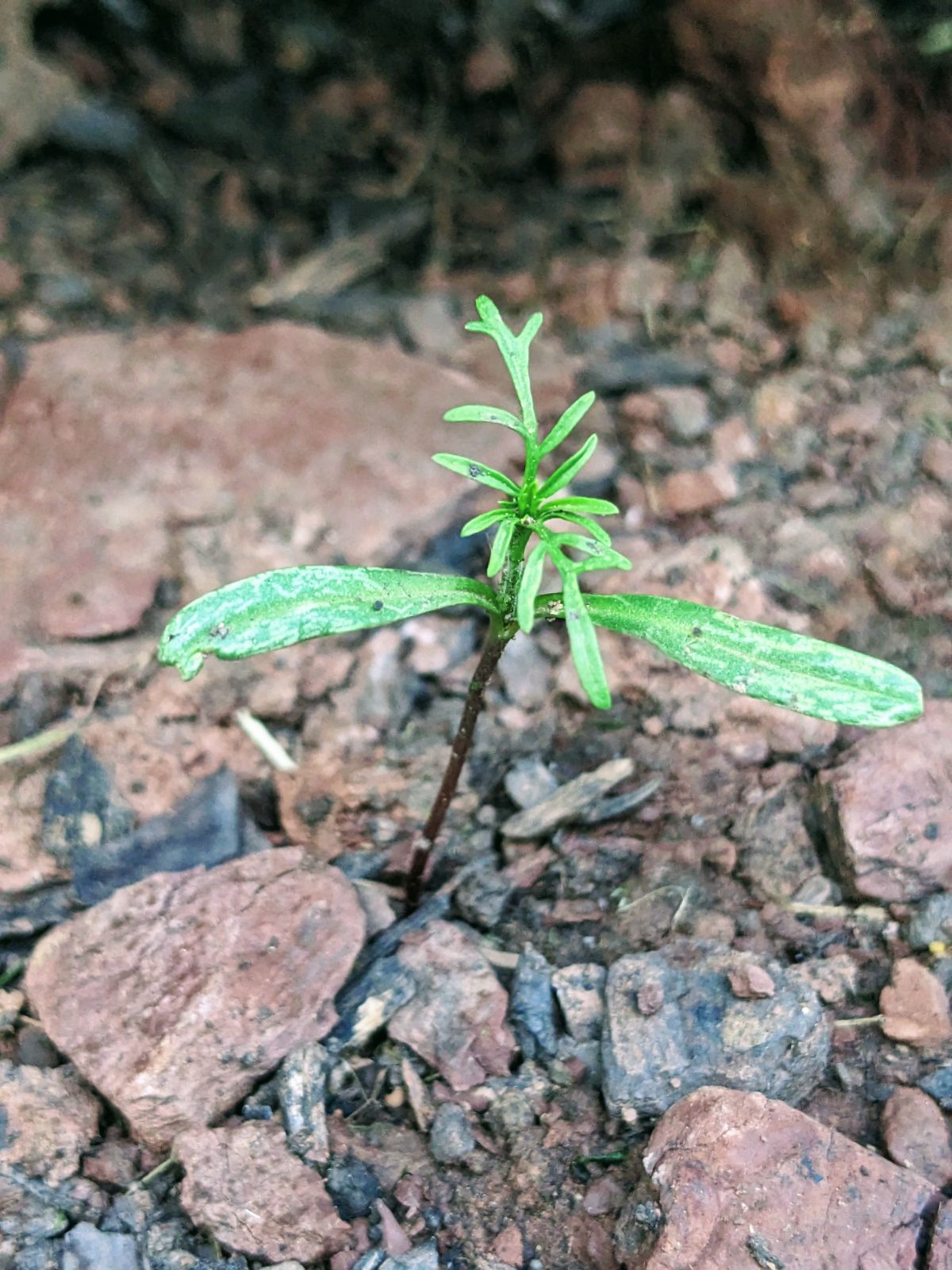 This seedling above is a cosmo volunteer that popped up from a dropped seed from last year's flowers.
Time Lapse Video of Cosmos Seedlings Growing!
Here's a short time-lapse video of seedlings growing from the seeds!
Pro Tip on Growing Cosmos
By the way, consider pinching off the growing tip on your cosmos seedlings when you transplant them outside or as they grow naturally out there. The plants should respond by growing bushier and a bit more compact.
Our very first cosmos flowers grew very large and sprawling – they really were too out of control. I much prefer the bushier habit with many more blooms!
Issues and Pests for Cosmos
According to the Utah State University Lawn and Garden Extension, cosmos don't face many problems in the garden. In fact, their biggest issue is likely their robust nature in reseeding themselves! (And to some gardeners, this is more of a blessing than a curse!)
Still, the NC State Extension mentions powdery mildew, gray mold, stem canker, and aphids as issues common to cosmos.
FAQ
Final Thoughts: Planting Cosmos Flower Seeds
Growing cosmos from seed will be a part of our garden plan for a long time to come. We found so many benefits growing these pretty flowers from seed.
In 2020, we didn't even plant our flower seeds until June! We received some seeds for cosmos in a swap and happily grew seashell and sensation varieties the first year.
When they bloomed, we enjoyed lovely shades of purple, pink, and wine, along with pure white ones. The petals of the seashell cosmos had a tubular appearance.
Since then, I've also tried Bright Lights mixed cosmos. The gold / yellow cosmos we grew became some of my favorites!
Now we are growing even more kinds since we loved them so much!
They work out great for bouquets and the blooms are plentiful per plant.
Favorite Cosmos So Far
Here's what we've planted so far:
Apricot Lemonade Cosmos – from Swallowtail Garden Seeds (You can also get them at Etsy!)

Apricot Lemonade Cosmos, Available for sale on Etsy – Photo courtesy of the seller, MossHallSeeds.

Cosmic Orange Cosmos from our seed swap friend Jenny on Instagram

Cosmic Orange Cosmos, available for sale on Etsy at RobinSeeds – (Photo courtesy of RobinSeeds.)

Cosmos Picoti – white cosmos with a dark pink edge we bought from Nikitovka Seeds online

Beautiful cosmos picotee flowering with white petals and pinkish purple edges. Available for sale at Etsy – photo courtesy of seller, ZellajakeFarmGarden.

Daydream Cosmos – from a swap within a Facebook seed swap group with Jamie C.

Daydream Cosmos – beautiful white with pink and yellow centers, available for sale on Etsy. Photo courtesy of seller, DaisyHeader.

Seeds we saved from 2020 – can't wait to see if they're hybrids or what!
We also decided to plant some Bright Lights, which are yellow, orange, and red cosmo seeds, according to the packet.
You can check out a pretty good overview of some popular cosmos varieties at the Aggie Horticulture® AgriLIFE Extension Texas A&M System.
Benefits of Planting Cosmos
Attractive to people and pollinators alike, cosmo flowers are a pretty, low-maintenance bloom with many benefits.
Enjoy cut flowers all season long!

Attract pollinators to your garden.

Add beautiful, long-lasting color to your garden and outdoor spaces.

Relax with a flower that doesn't require much maintenance.
You can find different seeds for sale at plenty of retailers!
Are you growing cosmos for the first time this year? Or maybe you are a long-time grower of this beautiful flower! Let's chat all about cosmos in the comments – what's your favorite type of Cosmo flower?
04.23.23 – Updated to add FAQ section. Added spacing, bolded headings, marked links as sponsored if needed. Added more photos and resized to full size and added video. New date for comprehensive update from May 4, 2021. Added extension sources.
06.08.23 – Updated to add link to saving seeds post.