Bumble Bee Painted Rock Craft | Painting Bee Rocks
We all need more pollinators in our gardens! Try this awesome bumble bee painted rock craft on a rainy day or any time you're feeling crafty. This bee rock painting project is great for kids of all ages, including preschoolers!
Painting rocks for the garden and neighborhood as kindness rocks can be such a memorable activity. Painted rock bees are a fun and creative type of bumble bee art, especially for the younger kids.
You'll be sure to love these adorable painted bee stones in your garden or along your front step. Especially if your kids made them!
This is also a fun activity to do with your school's garden club!
Let's get started!
How to Make Painted Rock Bees
First, be sure you have all the materials needed to make some bumble bee art with your preschoolers or other age kids.
Materials:
Smooth River Stones
Acrylic Paint – Yellow, Black, White, Red, and Choice for eye color
Paintbrushes
Paper Plate for mixing colors if needed
Cup of water for rinsing
Paper Towels
Newspaper
Mod Podge (I used the dishwasher safe one with the blue label!)
Krylon Clear Sealer Spray
Our website features affiliate links to products that we personally believe in. If you make a purchase from a link on our site, we may earn a small commission at no cost to you. Thank you! This helps our girls chase their garden dreams! Thanks for your support. (View full affiliate disclaimer at the end of the page.)
Bumble Bee Painted Rock Instructions:
Put down newspaper or other material to protect your table or work surface.

Pour a little of each paint color onto the paper plate as a palette.

Choose a river stone for your first bee. Place the stone in front of you oriented longways.

Dip a paintbrush in yellow acrylic paint.

Paint several stripes across the rock from top to bottom, starting at one edge.

Clean the paintbrush by dipping in water and blotting on the paper towels.

Dip a paintbrush in black acrylic paint.

Paint black stripes on either side of the yellow stripes.

After painting the entire bee with black and yellow, allow the paint to dry.

Once dry, paint a red smile for the bee on the yellow stripe closest to the edge.

Add two eyes with the end of a paintbrush.

Paint a white wing at the top center of the stone. It should look like a circle or an oval.

Allow to dry completely for at least 24 hours.

Once the bee rock is dry, paint the back of the rock if you wish. You may also simply add the artist's name and age or the date with a paint pen.

Allow to dry completely.

Paint the entire top of the rock with mod podge. Allow to dry for 48 hours.

Flip over and paint the other side with mod podge.

To make the painted bee rocks extra waterproof, spray the first side with Krylon clear coat and then repeat after 24 hours, spraying on the other side.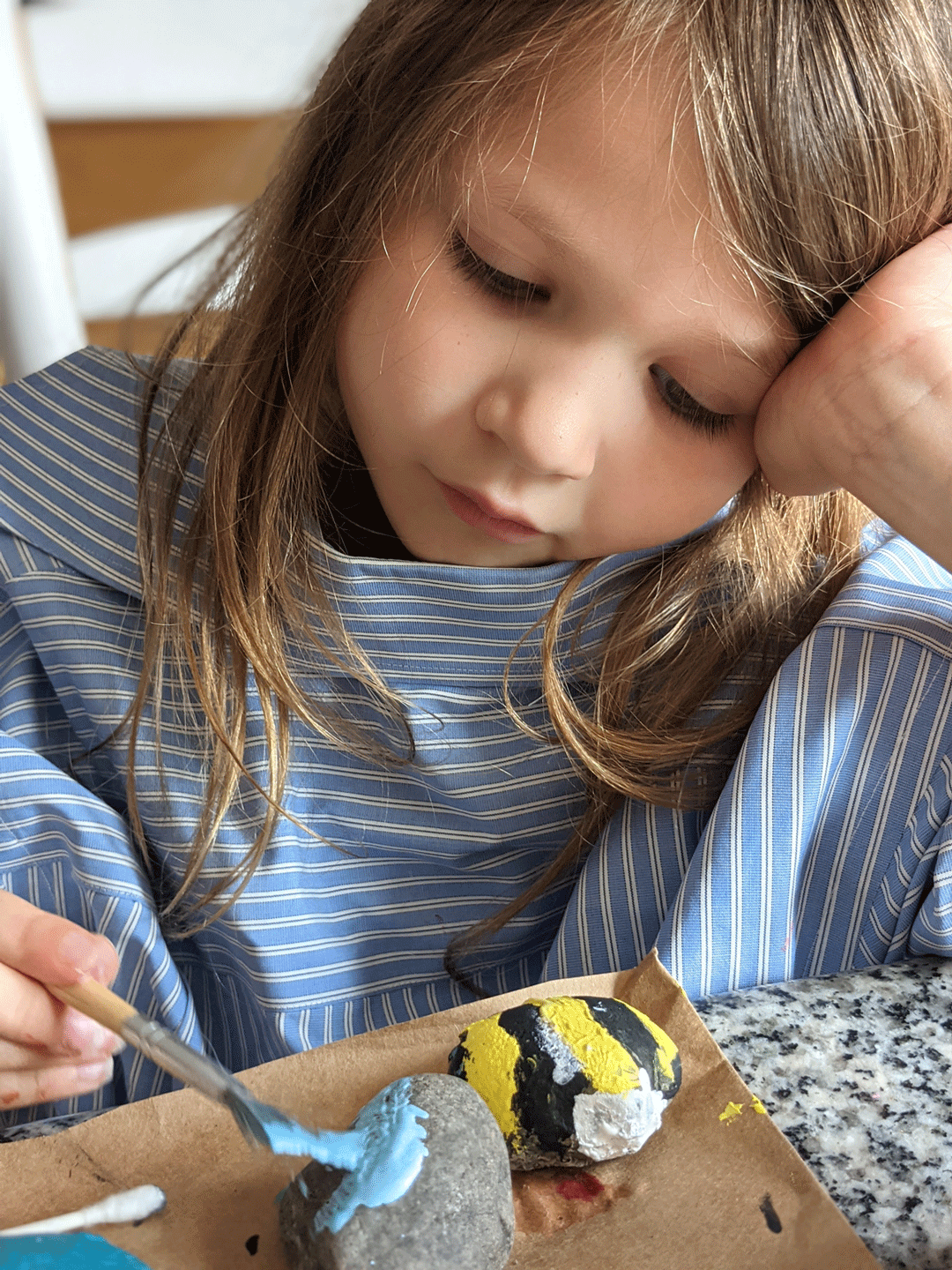 These drying times are designed to be on the cautious side. Your mileage may vary!
Preschool Bee Project Tips
Making bee art with preschool kids is the best! Their adorable finished masterpieces will be priceless. Plus you can't beat how proud they are of all their hard work!
However, for the sake of time, you may wish to condense the project a bit for bumble bee art preschool classes.
If you don't have enough time to paint bees on rocks for multiple days in the week, you may wish to do the waterproofing part without the children's participation.
Young kids may also like to paint the entire rock yellow and then just add black stripes for the bees. It's really a matter of preference!
Give each student two river stones, so they can make one to keep and one to hide for someone special to find!
Final Thoughts: Bumble Bee Rock Painting
Bumble bee art preschool projects can be wonderful for teaching young kids about gardening and the importance of pollinators.
These painted rock bees are cute and very fitting for the garden. We enjoyed making them, along with other garden friends on rocks, such as a turtle, border collie pup, ladybug, and more.
Consider making these fun kindness rocks with favorite pollinators as surprises for others to find or to keep in your own garden.
By the way, if you like this fun kids' garden themed art project, you may also love our post on making Painted Seashell Plant Labels!
What do you think of this project? What kinds of kindness rocks do you paint? Let's chat in the comments below!
08.04.22 – Updated to increase images to full-size and fix spacing. Also refocused the post on bumble bee painted rocks instead of a major preschool focus.