Growing Zinnias in Vegetable Garden Spaces
Zinnias aren't just a beautiful flower for your cutting garden. Stunning zinnias in vegetable garden spaces and surrounding areas are easy and lovely to grow. Not to mention, zinnias will add so much to the form and function of your garden!
Enjoy the cheerful beauty of zinnias as they enhance your favorite outdoor spaces. You might also find some companion planting benefits!
Keep reading for tips on growing zinnias in the veggie garden.
Are Zinnias Good for Vegetable Gardens?
After years of gardening, I am confident that zinnias are good for vegetable gardens. Many pollinators adore zinnia flowers. Zinnias are easy to grow. They are also a colorful choice to plant along with veggies, adding visual appeal to the garden. As more pollinators visit the zinnias, they'll likely also bop over to your veggie flowers.
Benefits of Planting Zinnias with Vegetables
Most gardeners can relate to the feeling of so many plants, so little space (or so little time!). I recently found quite a few benefits of planting zinnias with vegetables in the garden.
Here are my favorite reasons why you should be growing zinnias in vegetable garden spaces, too:
Attractive to Pollinators – Zinnias attract wonderful pollinators to the garden! From bees to butterflies and beyond, it's almost certain you'll see someone buzzing! And while you may enjoy seeing these garden friends, I bet your veggie garden plants will love them even more!
Beautiful Pop of Color – The gorgeous shades of zinnia flowers beautify the garden in many ways. Like marigolds, zinnias make wonderful vegetable plant companions.
Conceal Veggie Plants Going to Seed – If your lettuce, cucumbers, or other veggie plants have gone to seed, a border of colorful zinnias can distract from the brown and crisping plants making seeds for next year's crop.
Trap Crop Potential – I was not aware that zinnias actually serve quite well as a trap crop for Japanese beetles. The beetles definitely hit my green beans on my pole bean teepee pretty hard, but I could tell they helped lure away a bunch, too!
Tall without Shading – Zinnias can add nice height to your plantings but still let light pass through to your veggies and other plants. This ability to grow tall without shading other plants makes zinnias a versatile choice for the garden.
Some gardeners report zinnias work well as a form of natural pest deterrent in the garden. I have yet to experience this myself and cannot find a reputable source with definitive data.
For now, I'll say your mileage may vary and please share any anecdotal insights in our comments below!
What Vegetables Grow Well with Zinnias?
Planning out the garden and various companion plants is an ever-evolving process.
In my experience of discovering what vegetables grow well with zinnias, I haven't yet found a pairing I didn't like!
Veggies that grow well with zinnias may include (from my experience):
Tomatoes
Asparagus
Beans
Melons
Luffa
Kale
Through my research, I haven't found many specific cases of what to plant with zinnias and what not to plant with zinnias. These are based on my personal experiences.
Likewise, I will continue to update the list as I try more combinations of zinnia vegetable companion planting.
When growing beans this year, I did plant one zinnia seedling with my bean teepee. It looks gorgeous as it ended up being purple and we're also growing purple beans!
If you struggle with pests in your bean crop, I suggest planting zinnias away from your beans. This can help to draw the Japanese beetles away from your beans as a trap crop. You may sacrifice some zinnias, but it'll be worth it to improve your bean yield.
These are just a few zinnia companion vegetables that I've found. Get creative in your garden to find lots of vegetables that grow well with zinnias! (And then let us know in the comments what your favorite zinnia garden companions are!)
Tips for Growing Zinnias in Vegetable Garden
Zinnias come in so many beautiful colors, shapes, and styles.
Here are some tips for growing zinnias in vegetable garden spaces in your yard.
Where to Plant Zinnias in a Vegetable Garden
Choosing a spot for where to plant zinnias in a veggie garden is almost as much fun as seeing the blooms for the first time!
Try these suggestions for zinnia placement.
Plant zinnia flowers in the corners of your raised beds. This creates multiple focal points and keeps the flowers out of your way when gardening.
Create a border of zinnias in the vegetable garden. The edges of the garden would look gorgeous with brightly colored zinnia flowers that set off the boundaries.
Plant rogue zinnia flowers wherever you like. Zinnias grow nicely alongside plants in the veggie garden. I planted mine with beans, tomatoes, asparagus, and next to raspberries and chamomile.
Don't forget potted zinnias! If you can't find a good spot for your zinnias in vegetable garden spaces, simply expand your garden space with a few planters and pots of zinnias!
No matter where you plant them, zinnias are beautiful and versatile flowers – I am sure you'd find joy in seeing zinnias in vegetable garden spaces throughout your yard.
How to Keep Zinnias Blooming All Season
Continuous blooms in a low-maintenance plant make zinnias an excellent choice for the veggie garden and beyond.
Deadhead for more flowers! Keep zinnias blooming all summer long by deadheading zinnias and removing the spent blooms.
Cut zinnia flowers often to promote more blooms. Creating zinnia bouquets can also become a fun summer hobby for your kids or yourself. Invite friends over for a glass of wine and a flower-picking party! I think I might actually do that. J
Plant a new succession of zinnia seeds. If you have time before your area's gardening season comes to a close, consider planting a few more zinnia plants to keep robust blooms blossoming in your garden.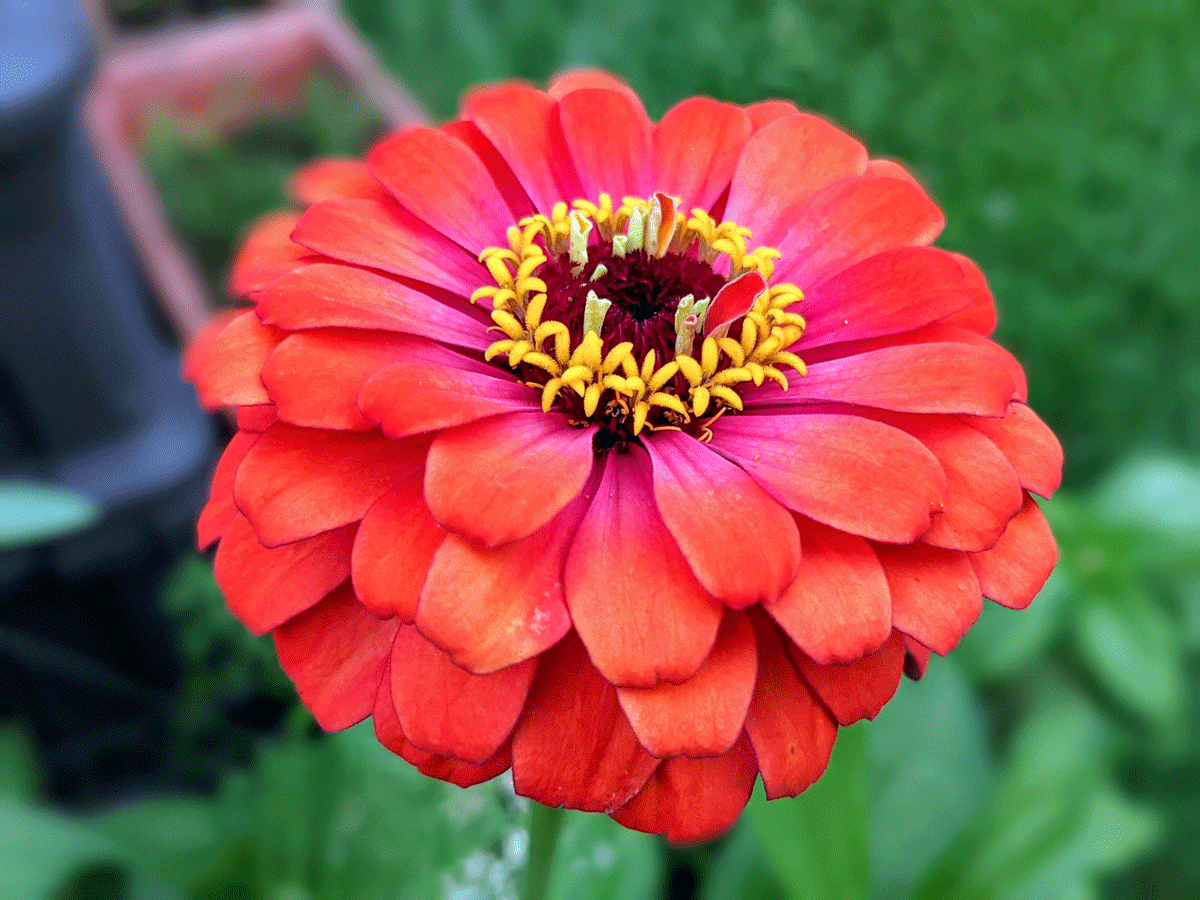 Most of the time, zinnias are low-maintenance beauties that keep on blooming all season long.
Growing zinnias in vegetable garden areas and beyond brings diverse beauty to your yard and landscape.
In conclusion, I hope you enjoy interplanting zinnias with your other crops for a carefree and truly beautiful gardening experience!