Garden Club Activities – Free Gardening Printables
Whether for homeschooling, elementary school garden club, or just some fun at home, I'm excited to share some fun and free gardening printables! Any children's gardening club, preschool, or other school / academy is free to use these gardening resources.
All I ask is that you keep the logo with our site name on there in case anyone enjoys the activities enough to want to come and see what else we have to offer!
Benefits of Children's Garden Clubs
So many wonderful reasons exist for why to start a kids' garden club at school. Here are some great ones:
Positivity – Offering a kids' gardening club at school can bring so many positive experiences to kids of all ages.
Tidy up the School Gardens – The garden club is also a mutually beneficial club for the school, since the students in the club will likely tackle cleaning up the flower beds and courtyard of the school.
Learning about Gardening & Nature – So many lessons revolve around gardening. Kids can learn about the lifecycle of a seed / plant, which is a fantastic garden club lesson. They can also try composting, or learn about beneficial insects and pests. Garden club syllabi should also cover planting seeds, harvesting, and so much more.
Exercise – Gardening gets kids moving! Picking up yard waste and weeding are two great ways to keep active in the garden.
Fresh Air – Besides the exercise from gardening, kids will also enjoy the fresh air. Many schools don't have great ventilation systems. The garden club can be a healthy alternative to study hall or indoor recess.
Inspiration for a Life-Long Hobby – Getting young kids involved in gardening may inspire them to enjoy it for a long time to come! Teach them young about the wonders of the garden. You may be surprised at how their brilliant minds catch on and find joy in all there is to do in the garden.
Free Garden Club Printables
My own lovely daughters who enjoy gardening with me inspired me to create some fun activities for all to enjoy. I am also one of the main volunteers and leads for the Gardening Club at their school. I decided to make helpful gardening lesson plans suitable for preschool children as well as regular school aged kids.
I hope you find these activities enjoyable and useful in your own gardening endeavors at school, homeschool, or at home with the kids!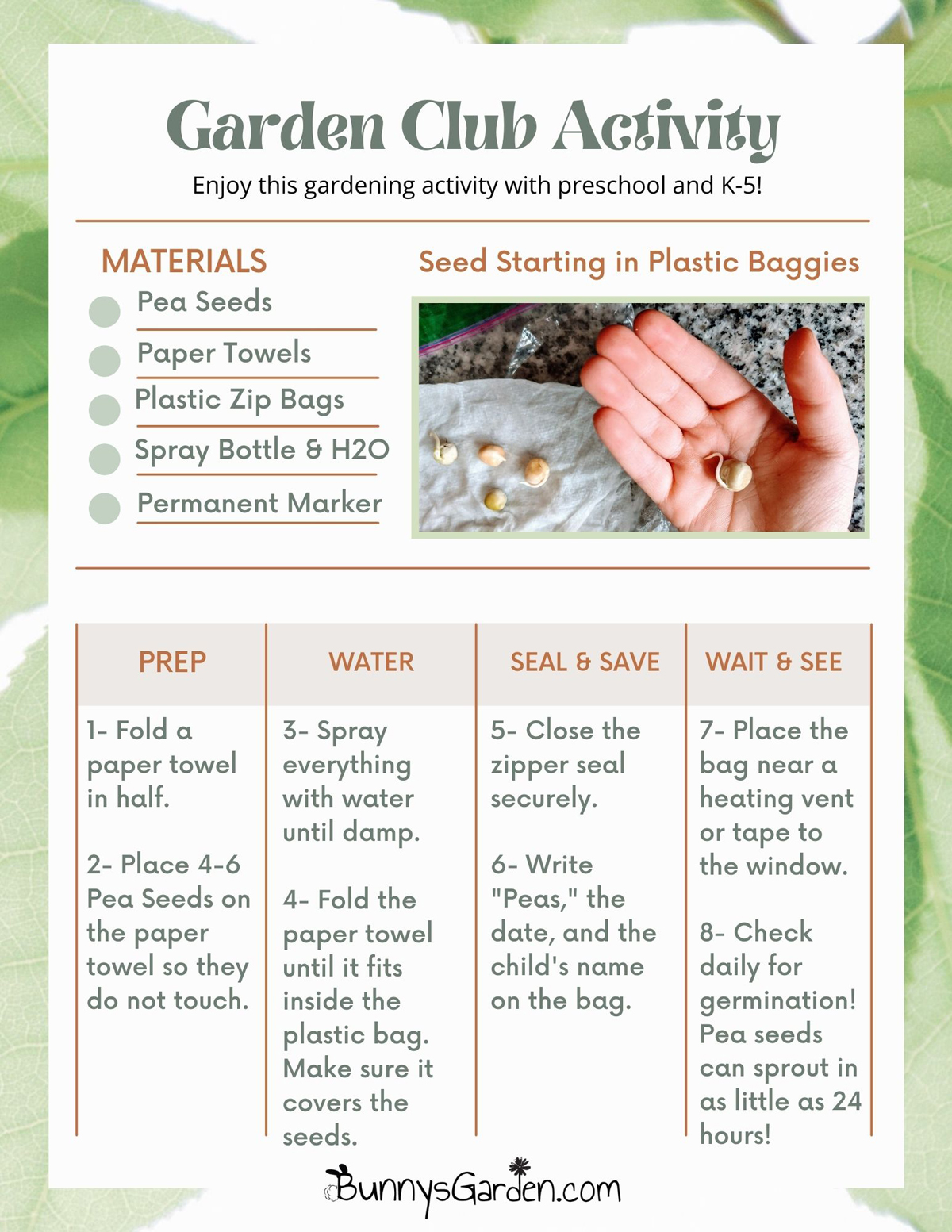 As always, please reach out if you have any questions, comments, special requests, or tips to add. We always love hearing from you!
Happy Gardening!