How Long Do Air Plants Live? Plus, Easy-Peasy Care Tips
If you've got your first one, like me, you may be wondering how long air plants live. Air plants, also known as Tillandsia, have different lifespans depending on the species, growing conditions, and care they receive.
The Tillandsia air plant is a relatively easy plant for starters and seasoned gardeners alike.
Learn the best care tips to help your air plant thrive.
How Long Do Air Plants Live?
I just got my first air plant so I've set out to answer my own question – how long do air plants live, anyway?
As it turns out, on average, air plants can live between 3 to 7 years with proper care. Some species may live up to 20 years or longer! (We can all hope!)
How to Help Air Plants Live Longer
Of course, the lifespan of an air plant can vary greatly. With good care, you can extend the lifespan of your air plant!
Do all you can to provide proper care and keep your Tillandsia plant healthy for several years beyond the average lifetime.
Several factors may influence how long air plants live, such as:
Light exposure

Humidity level

Water quality

Frequency of fertilization
Proper care and maintenance of air plants can help prolong their lifespan.
Tips to Increase How Long Air Plants Live
Try these air plant care tips to improve lifespan:
Water Adequately – Set plants in a shallow dish of water for about 20 minutes once per week. Allow them to air dry upside-down on a towel for a few hours.

Mist with Water – You can also mist air plants regularly to increase humidity and improve watering. Consider misting every 3 days or as needed.

Provide Light – Aim for at least several hours of good sunlight daily, and locate your plant near indirect light from a window if possible. I hang my air plant next to my kitchen window.

Allow Air Circulation – In case it isn't obvious, give your air plant access to moving air when possible. An open window can be perfect!

Consider Fertilizing – Though not necessary, consider a touch of low-nitrogen bromeliad fertilizer to boost your plant.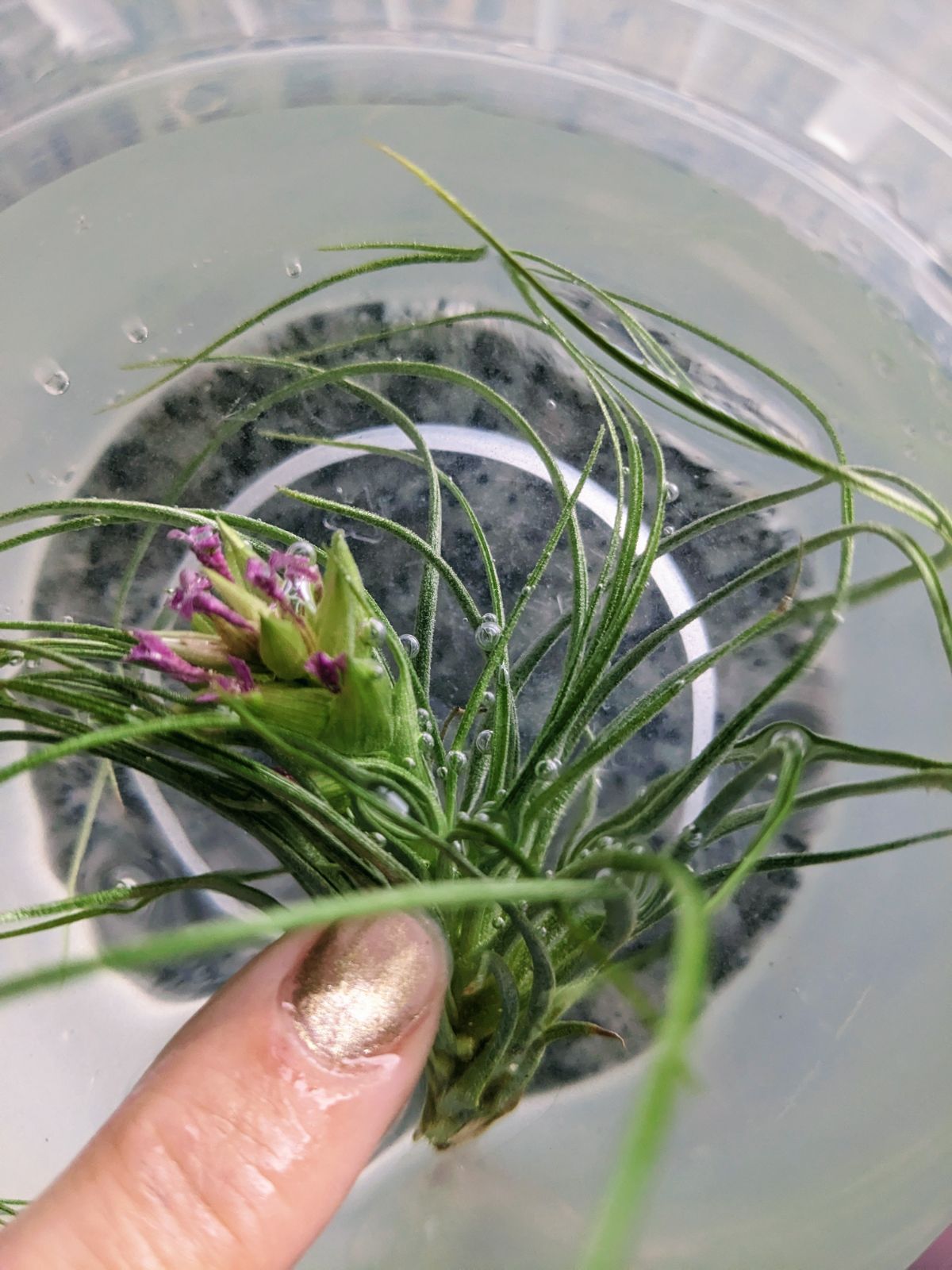 Interesting Facts about Air Plant Lifespans
Here are some fun facts about Tillandsia plants.
Blooming Air Plants
It's important to note that air plants only bloom once in their lifetime! (Boo!)
If you bought an air plant that was already blooming, like I did, keep in mind that its lifespan is limited. This plant has already completed its reproductive cycle.
I was disappointed to learn this, but hopeful for some pups!
If all goes to plan, your plant should continue to survive and grow until it finally declines and dies. As mine will, too.
Air Plant Reproduction
Sadly, after they bloom, air plants will gradually decline and eventually die. However, they will produce "pups," or small baby plants, before they die.
Lucky you! If you find baby air plants attached to the mother plant, it's time to propagate.
You can simply separate the air plant pups and grow them as new plants.
Although air plants don't live forever, you can continue the legacy by caring for all the pups that emerge.
FAQ
I hope this information helps address your questions about how long air plants can live. If you still have questions or any tips or fun stories to share, please shout out in the comments – we love hearing from you!
Happy Gardening!