Amazon Prime Early Access Garden Deals 2022
In case you've only just found out about this all-of-a-sudden shopping holiday, I've gathered up my favorite Amazon Prime Early Access gardening deals to share your way. I'm going to post my favorite deals that I've actually bought as well as others that seem like really great savings on Amazon gardening gear.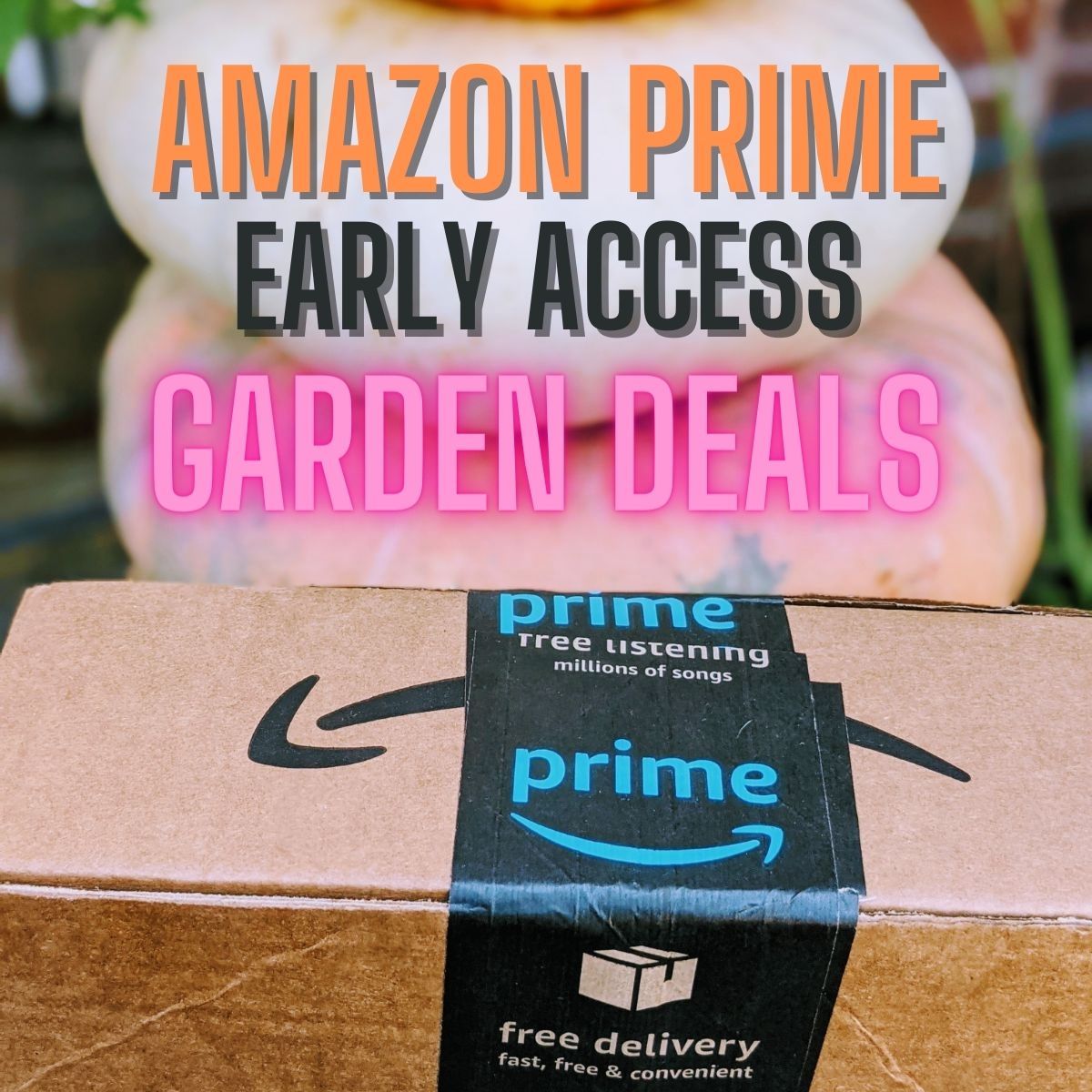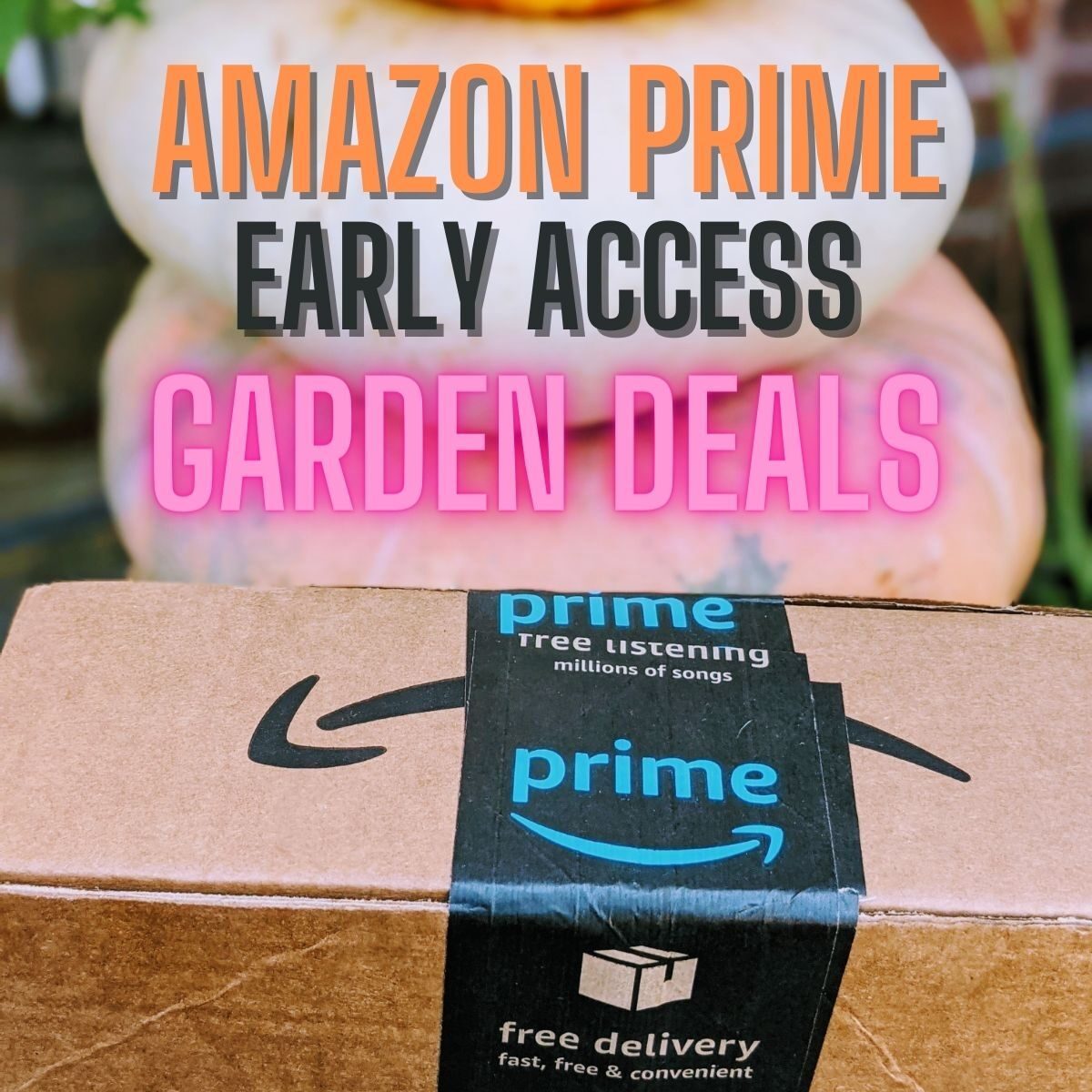 So how are you feeling about these early access shopping days? I'm a little jittery, tbh. Just as we're all enjoying the little bit of breathing room October provides before the crazy holiday crush, enter Amazon Prime Early Access Days. That's right – the mega giant of shopping says it's time to start buying.
Well, I am not really ready for holiday shopping just yet, but I'm totally down with checking out the best Amazon Prime Early Access Garden Deals for 2022!
Forget Christmas shopping right now – here are my top gardening picks on Amazon Prime.
(BTW – please make sure you are an Amazon Prime Member to score these deals!)
Searching for Garden Deals that YOU Need
Sometimes it can be overwhelming to just browse all the Amazon deals looking for something we might need or want. It can lose hours of the day this way.
I've found a really efficient way to search for things you ACTUALLY need if you don't have time to browse!
Simply make sure to select the "Early Access" category in the search bar, and search away!
All the results you get should have the blue "Early Prime Access" label!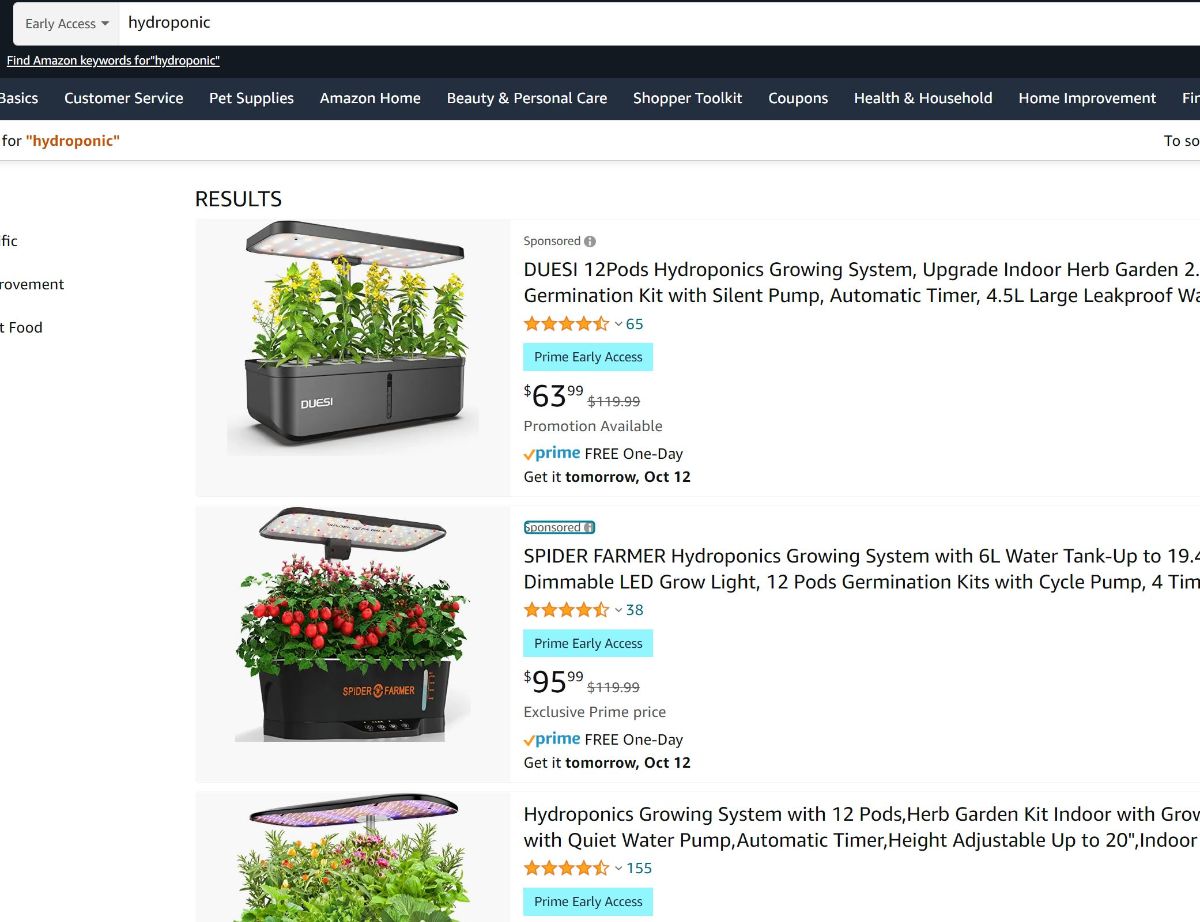 Amazon Prime Early Access Gardening Deals
This year in the garden, if I've learned anything, I've learned I need to spend more money on plant stakes. So, today on Prime Early Access Day, I did just that! Among other things… 🙂
By the way, for the gardening goodies I bought, I did the research for you to find the best deal according to my expected needs. Hopefully this saves you some time.
Spoiler Alert – Garden Deals I Purchased Right Here!!
Our website features affiliate links to products that we personally believe in. If you make a purchase from a link on our site, we may earn a small commission at no cost to you. Thank you! This helps our girls chase their garden dreams! Thanks for your support. (View full affiliate disclaimer at the end of the page.)
Of course – if you need fewer pieces or a different height, or some other specialty, Amazon has those, too!
Here's what's on its way to my door RIGHT NOW:
Cosori Food Dehydrator with 6 Stainless Steel Trays
I finally broke down and bought this! It comes tomorrow – October 12 – and I am so excited!! We just went apple picking yesterday and this is totally going to next level my baking!
I've been watching this item since before Christmas of 2021, possibly even since last summer. It has never gone this low in price. I missed it the last few times the cost went down around Amazon Prime Day and a few other times, but it was never this low.
BTW – If you don't use the Honey Chrome extension yet, I highly recommend it for pricing comparisons.
So I jumped on it today!!!
Pretty sure my dog is going to love it, too, because I used my parents' dehydrator to make her liver treats when she was much younger.
My main goals for this food dehydrator will be:
Dehydrating herbs
Making fruit leather with the kids
Dehydrating veggies for soups and dips
Making homemade dog treats
Dehydrating fruits for baking
Cosori Dehydrator Fruit Roll Trays and Mesh Trays
To fully outfit the dehydrator, I picked out the fruit roll trays and the mesh trays to help make all these goodies I've mentioned above!
Half-Round Metal Plant Supports
I bought these great peony supports during the summer and found them useful for so many other plants and applications. We would have loved having more to help keep the four o'clocks away from the lawnmower and staking up the really tall coneflowers that were drooping a well.
At the time of this posting, you can get a 24-pack for just $25.59! It comes to $1.07 a piece, and they give you lots of freebies too – plant labels, plant clips, and ties!
So super worth it as far as I am concerned from my own personal use of these plant supports.
Single Stem Loop Plant Stakes
On a whim, I purchased a single stem plant stake with loop at Ken's Gardens earlier this year. It was $1.99 and I've loved using it to straighten out my seed-grown lemon tree. Kicking myself for not buying more at the time – I stayed on the lookout for these great plant supports.
Luckily today I found a great deal for Amazon's early access sale for prime members.
You can get a pack of 20 single stem plant stakes that are 36-inches tall with a loop at the top for plant support. This deal clocks in at $27.19 for the set, a mere $1.36 a piece.
Miracle Gro Potting Soil 2 Cu Ft Two-Pack!!!
I was about to run out to the stores to buy a new pack of potting soil this week, and with a quick search on Amazon, stopped in my tracks.
The Miracle Gro 2 cu ft deal for two packs is astounding! I scored this deal for just $17.67. (List price is marked as $31.99 – Dirt is EXPENSIVE, isn't it?!?!)
So, of course I scooped up this great potting soil deal.
My usual favorite is Pro Mix, but it seems hard to come by this time of year. Still, Miracle Gro soil does decently well for us. Luckily I still have a half-bag in the garage waiting for seed starts!
Spray Bottles for Fertilizer & Foliar Spray
I already put some 32-oz spray bottles in my shopping cart over the weekend but never pulled the trigger on checkout.
Lucky for me, because I just saved 20% due to the Amazon Prime garden deals that even included these plastic spray bottles for gardening and other handy uses.
Decorative Plant Caddy with Wheels (Plant Coaster)
I recently added a lime tree to my indoor gardening obsession. This tree is in a foam pot but boy is it heavy! I decided to get a rolling plant coaster / plant caddy on wheels after seeing someone in my citrus Facebook group using one.
With so many styles, colors, and even shapes, I was not convinced which to try. This one came in at a good price and I love its character – I can always try something boring and plastic or ultra classy with acacia wood another time.
Going for personality this time!
Diamond Gem Storage Case for Seed Saving
I'm just getting into zinnia breeding, so I ended up buying a second diamond gem storage case because these are amazing for zinnia seeds! This deal is great – it is so much cheaper than the first time I bought the original case.
Similar to TicTac containers, this storage case with many individual cases would make great seed storage containers for so many different kinds of flowers and plants.
Gardening Deals I'm Still Considering
Besides the ones I've personally purchased, I am really leaning hard into picking up some of these other great Amazon garden deals…
Food Dehydrators for saving the last of our harvest
Grow Lights for next year's seed starting or winter growing
Hoses, sprinklers, and watering systems
Hydroponic Growing Systems
Bird feeders and birdbaths
So much more!
Here are some links to help –
Patio Lawn & Garden Lightning Deals
Prime Early Access Patio Lawn & Garden Deals
General Gardening Deals on Amazon
Deals on Lighting, Germination Kits, Greenhouses, Grow Tents, Heating Mats, and Cold Frames
Amazon Prime Early Access Garden Deals Webstory
Best Amazon Gardening Items & Deals
Are you finding any other amazing Amazon gardening products and deals? If so, we wanna hear about them so we can score too!
Drop us a line in the comments and let us know!
Also, if you know other gardeners who might like these on-sale garden items from Amazon, please spread the love!