Fabric Grow Bags – My Experience Growing a Garden in Felt Bags
During the earliest days of the pandemic, I threw myself into seed starting to offset some stress. Since we have awful rocky clay soil here, I invested in a bunch of fabric grow bags.
We found lots of different sizes to accommodate what we wanted to grow!
After some research, I had mapped out how large of a container each of the vegetables needed to grow well. My list of plants and number of fabric garden grow bags matched up to create a pretty impressive container garden!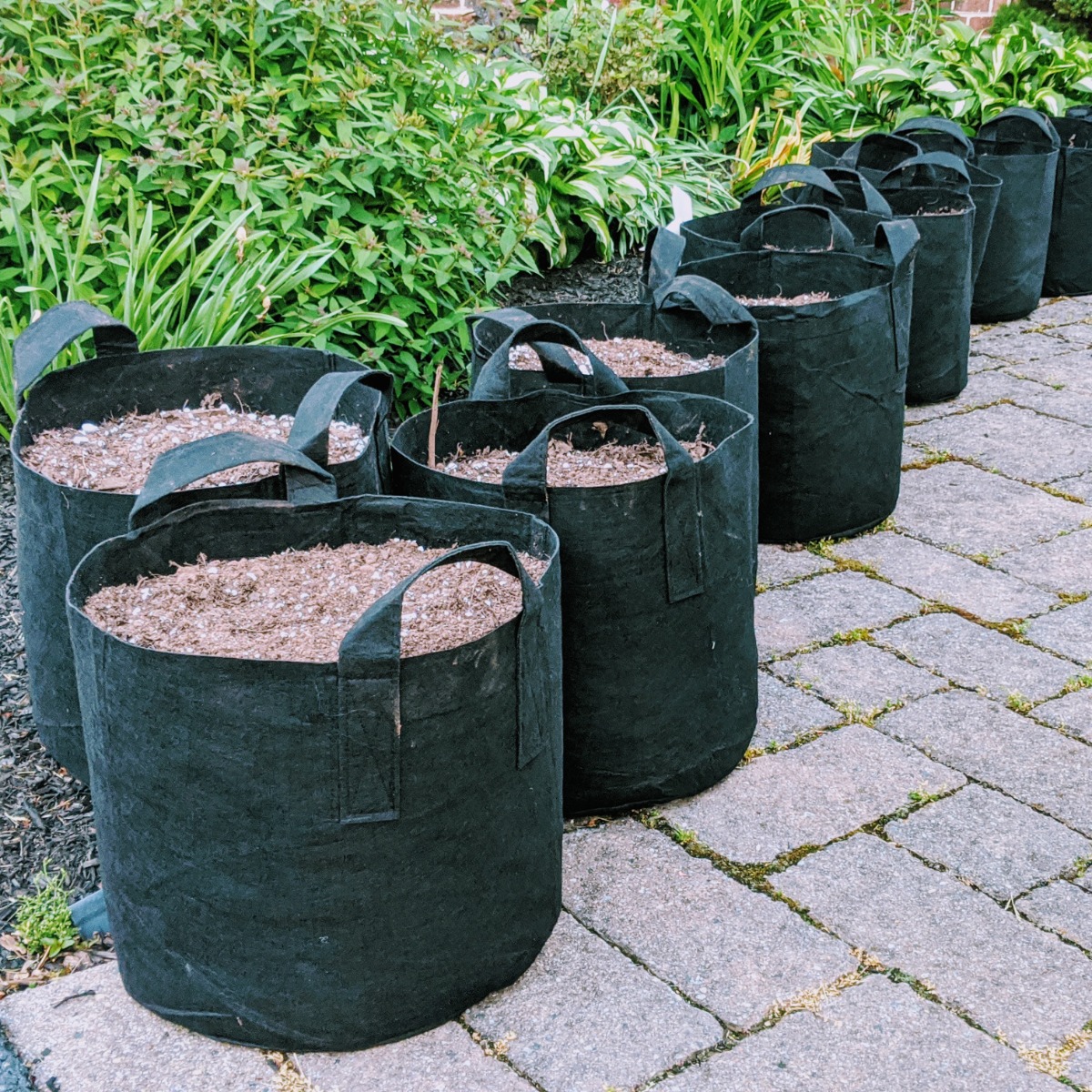 What are fabric grow bags?
Fabric grow bags are lightweight, breathable flower pots made out of material instead of hard plastic, pottery, or cement. These bags allow air pruning of roots, so your plants stay healthy. Most times, grow bags are made of permeable and BPA-free nonwoven fabric. Many have handles, offering easy portability should you need to move or relocate.
The fabric type is not always disclosed. The best way I can describe it is that the grow bag material feels like felt or landscaping fabric that is breathable and permeable.
Choosing Fabric Gardening Pots
My best advice when getting started with fabric garden grow bags is to figure out what you're growing and how much of it first.
Follow these steps to help right-fit your garden grow bags to what you want to grow!
Make a list or ideally a spreadsheet of all the things you want to grow.
Next to each item, write the size of the container it needs to flourish.

When in doubt, go big or go home.

Count up how many of each different size grow bag you need.
Look online to find fabric grow bags with good reviews. I like to use Amazon because they have such a wide variety of items and you can usually find good prices.
Shop around for prices to make sure you've got the best deal.
Sometimes you can find combination packs with multiple different sizes of felt grow bags in one bundle. Other times it makes better sense to buy individual sets based on size.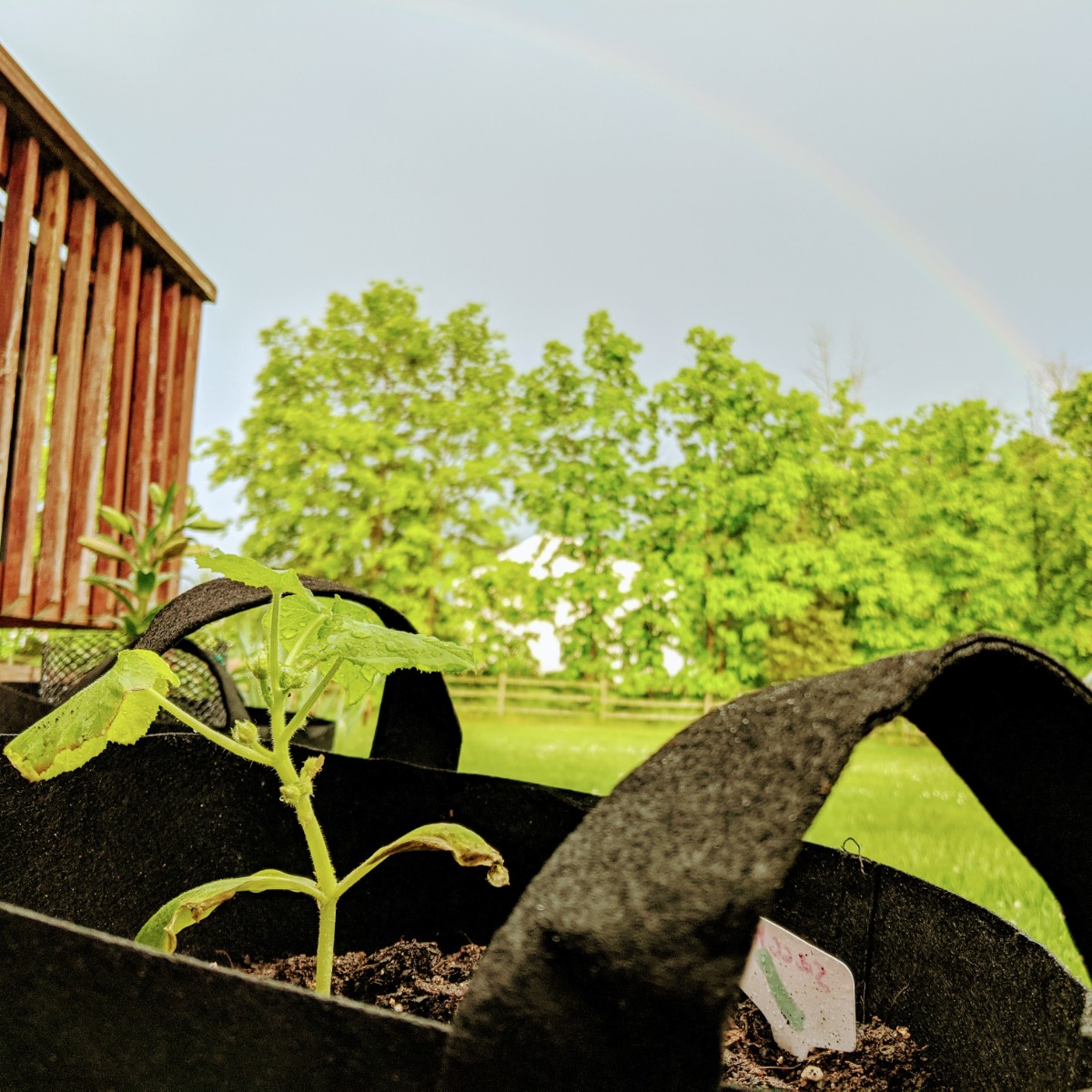 What I Learned Growing in Fabric Grow Bags
Back in 2020, we plunged into a pretty massive container garden on our deck. I loved it, our kids and dog loved it, my husband hated it.
Your mileage may vary. (shrug)
Here are some things that I learned or would do differently:
Protect from groundhogs, squirrels, and other wildlife. Your plants are not safe!!
Choose soil contents carefully and plan to fertilize more frequently.
Choose the sunniest areas and largest grow pots for the most important plants.
Get insect netting covers to protect squash and brassicas.
If possible, just get the raised beds from the get-go next time. They're better! But grow bags are definitely better than nothing.
Which Fabric Grow Bags Did We Use?
These are the exact fabric grow bags I bought off Amazon back in 2020:
I also bought Viagrow V724418-10 V7244 Grow Bags (20 Gallon 10 Pack, Black Interior and White Exterior) but did not have the opportunity to use them.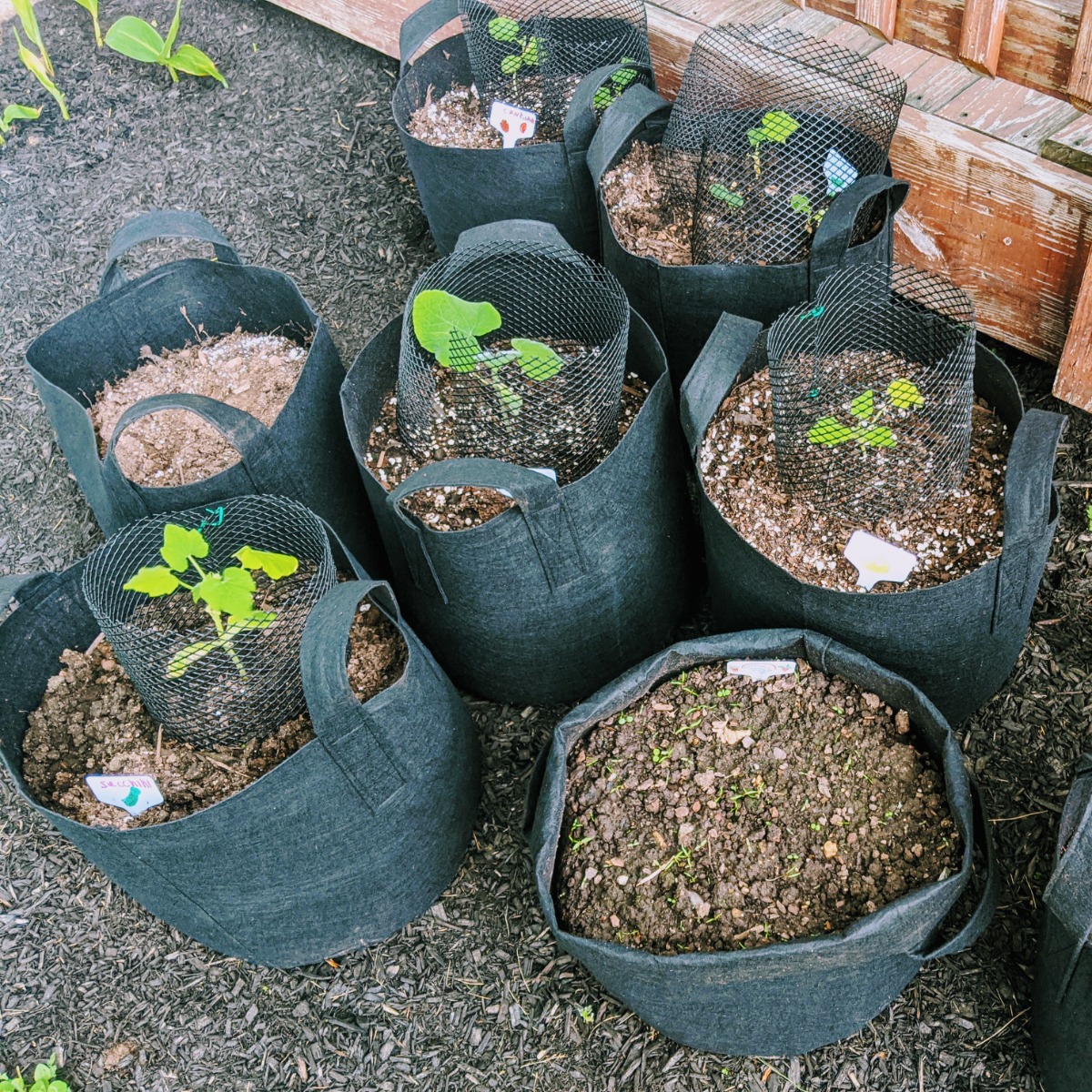 Garden Grow Bag Successes
The best thing about the garden grow bags in my opinion is that they basically made for an instant garden. Without a dedicated gardening space at the time, I was delighted to fill the fabric pots with garden soil and perlite and suddenly have space to garden!
Preparing the Fabric Garden Grow Bags
After the grow bags arrived in the mail, I placed an order for garden soil from a local landscaping company.
I also went out and bought some perlite from Lowes or Home Depot.
On a nice day, we sat outside and mixed the garden soil with perlite in the wheel barrow. We took care not to breathe in any of the dust, of course!
Once it was mixed, we filled the grow bags ¾ of the way with soil.
Then, I lined them all up along the walkway – a glorious sight!
When it was time to transport them from the front yard to the back, I simply put the ones I couldn't carry on the kids' snow sled and lugged them that way. Worked like a charm!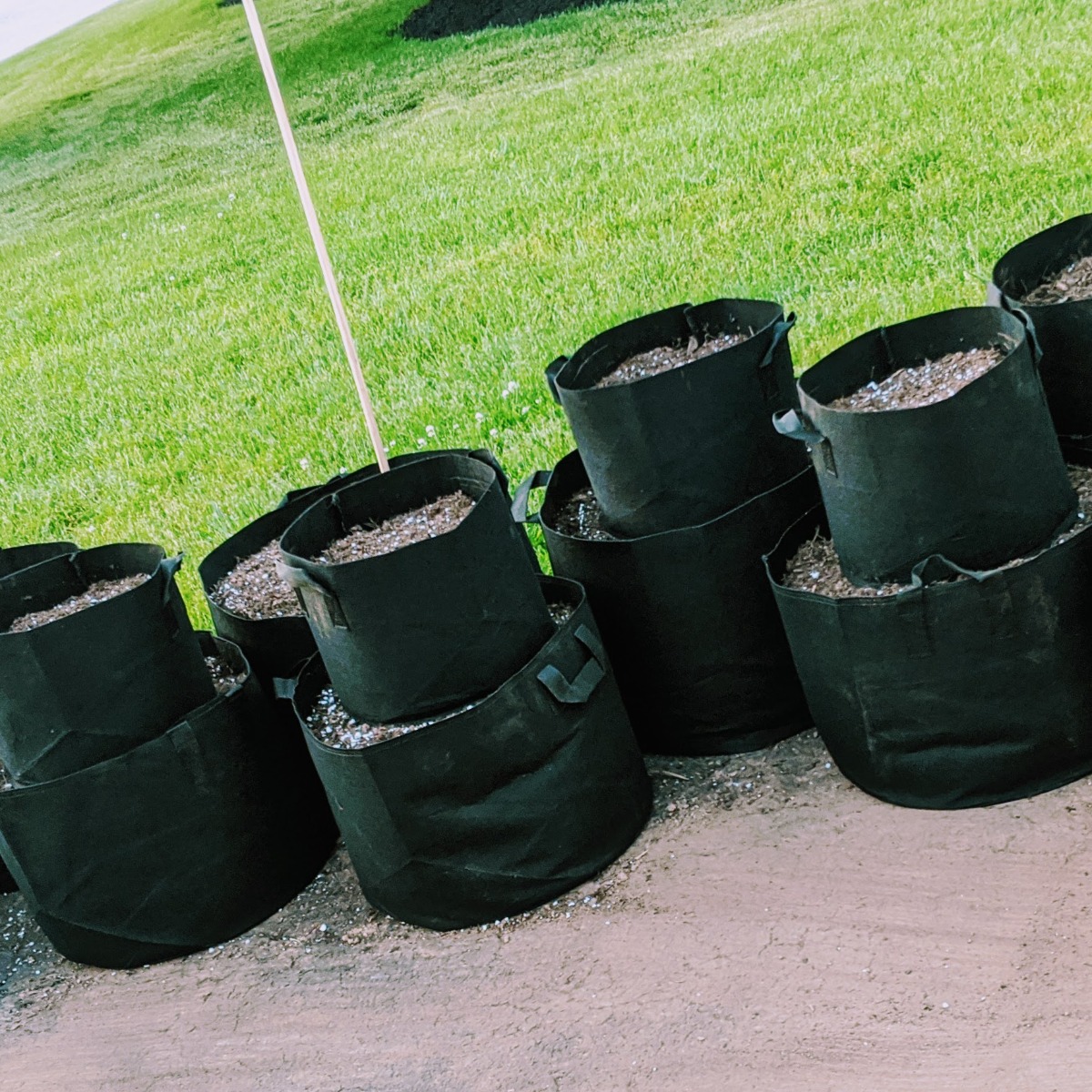 The grow bags proved to be very liberating, giving me a place to grow everything from asparagus to tomatoes.
Brassicas – We tried growing broccoli, cauliflower, brussels sprouts, and cabbage, but the cabbage worms made sure we failed.
Cucurbits – We grew cucumbers and attempted zucchini and squash as well as pumpkins and gourds in fabric pots and other flower pots. Unfortunately, the dreaded vine borer got to all of them before we could harvest.
Lettuce – We successfully grew lots of lettuce in grow bags! Many different kinds of gourmet leaf lettuce did very well. We companion planted with tomatoes.
Tomatoes – We planted Roma tomatoes with lettuce, basil, and marigolds in fabric grow pots. The tomatoes were our best harvest out of everything!
Asparagus – We grew asparagus from seed in fabric pots for the very first time. The ferns did well in the grow bags and we look forward to our first harvest, hopefully in 2022 or 2023.
Snow Peas – We enjoyed planting several snow peas in one of the bigger grow bags and also directly in the dirt around the flower beds.
Basil – Friendly, happy basil also grew wonderfully in the felt type grow bags. This herb was prolific, fragrant, and easy to grow in a fabric pot.
I'm sure we grew other herbs and veggies in the pots too and I am very likely forgetting a few. Anyway, it was an awesome experience feeling very self-sufficient in my gardening efforts.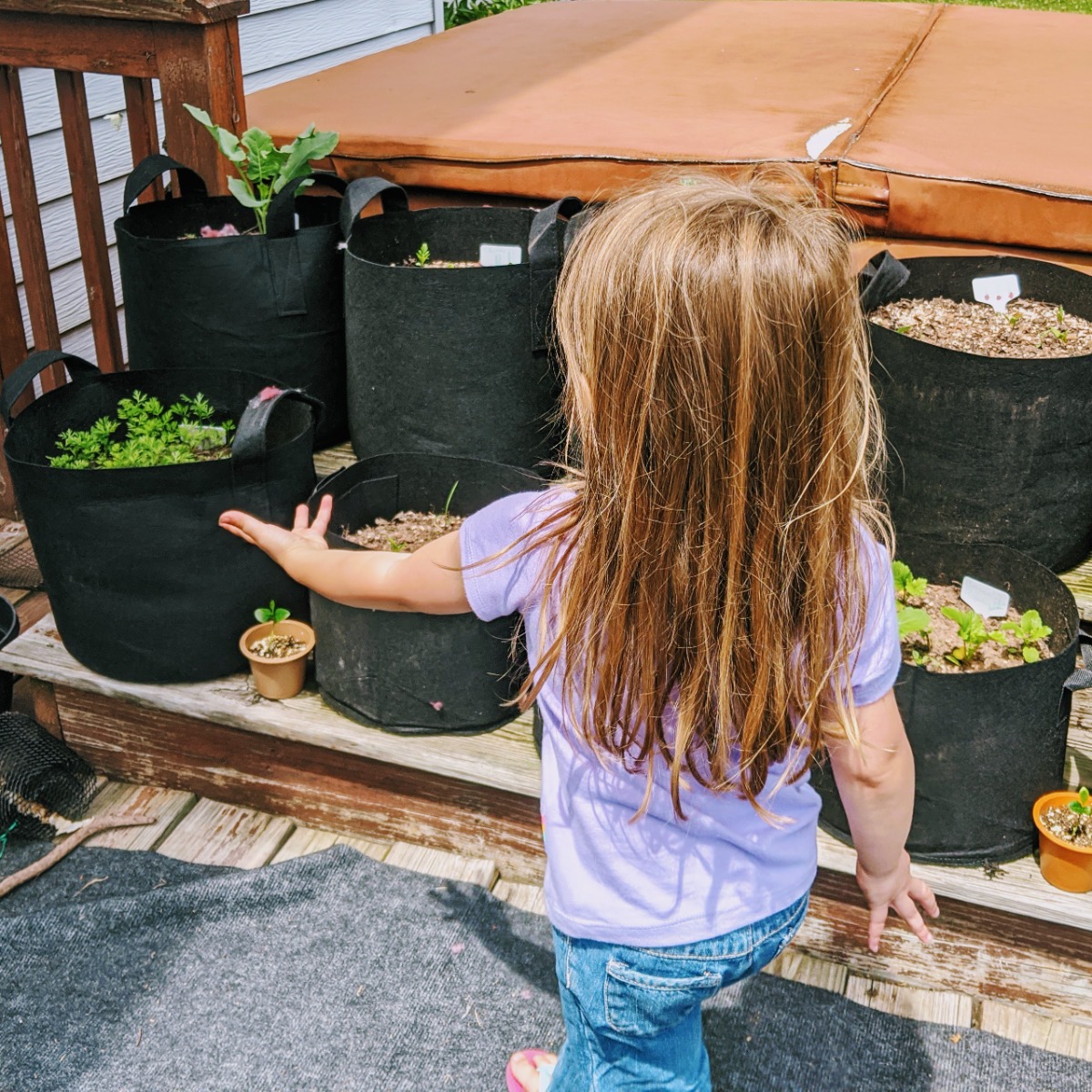 What I Learned about Gardening in Fabric Grow Bags
As much as I loved gardening in grow bags due to lack of space, for me, it wasn't the right end game strategy. (Really, what is, though? Don't we gardeners rarely if ever have enough space?!)
It seemed as though some of the plants never got to their full potential in the fabric pots. For that reason, and another, I decided to upgrade.
In 2021 I bit the bullet after much back and forth with my husband. He wanted me to get rid of the grow bags because he didn't like how they looked.
(Gosh, I would love one of those high-end HDPE fenced-in raised gardens – is that on the table!?)
The math I did led me to believe I would need 8 raised garden beds that were 4 ft by 4 ft to account for all the grow bags going away.
I asked for 10.
He came back with 4.
I countered with 8.
He stood firm.
I tried again a few times but it didn't seem worth all the aggravation to try to fight for everything in one year.
I can always add on. Besides, I still want a few fruit trees at some point!
In fact, in 2022, I actually bought two more white raised beds to join the other 4! Shh, I haven't told him yet. But don't worry, I will!
Now that my blog is operating as a business, I believe it's only right to invest in the business. More on that later!
Good Reasons to Make a Garden in Grow Bags
You're renting and not allowed to plant directly in the ground.
You may be moving soon and want to take your plants with you.
Your soil doesn't cooperate and you'd like better options.
Final Thoughts: Growing in Fabric Grow Bags
I still haven't gotten rid of my grow bags, but I also don't use as many as I used to. Right now, I have a baby peach tree and some asparagus still growing in fabric grow pots.
Anyway, for now, I hope this post on garden grow bags gives you good insight to what is possible, what to watch out for, and how to decide what you need.
If you have any questions, definitely shout out in the comments below. If you've also used grow bags, please share any additional tips or advice you may have.
I'm so excited for any of you who are taking the next step and expanding your garden space!
Happy Gardening!