Ollies Garden Finds – Planters & More at Ollies Bargain Outlets
Just when the gardening gear at Dollar Tree seems to have dried up, I've found something arguably even better. The Ollies garden section! The cheap planter pots at Ollies are my absolute favorite reason to head over to this store.
We have an Ollies Bargain Outlets store in Pottstown, PA, not far from us and certainly worth the drive. I always love the unique and unexpected items we find at Ollies, as well as those we go there *hoping* to find.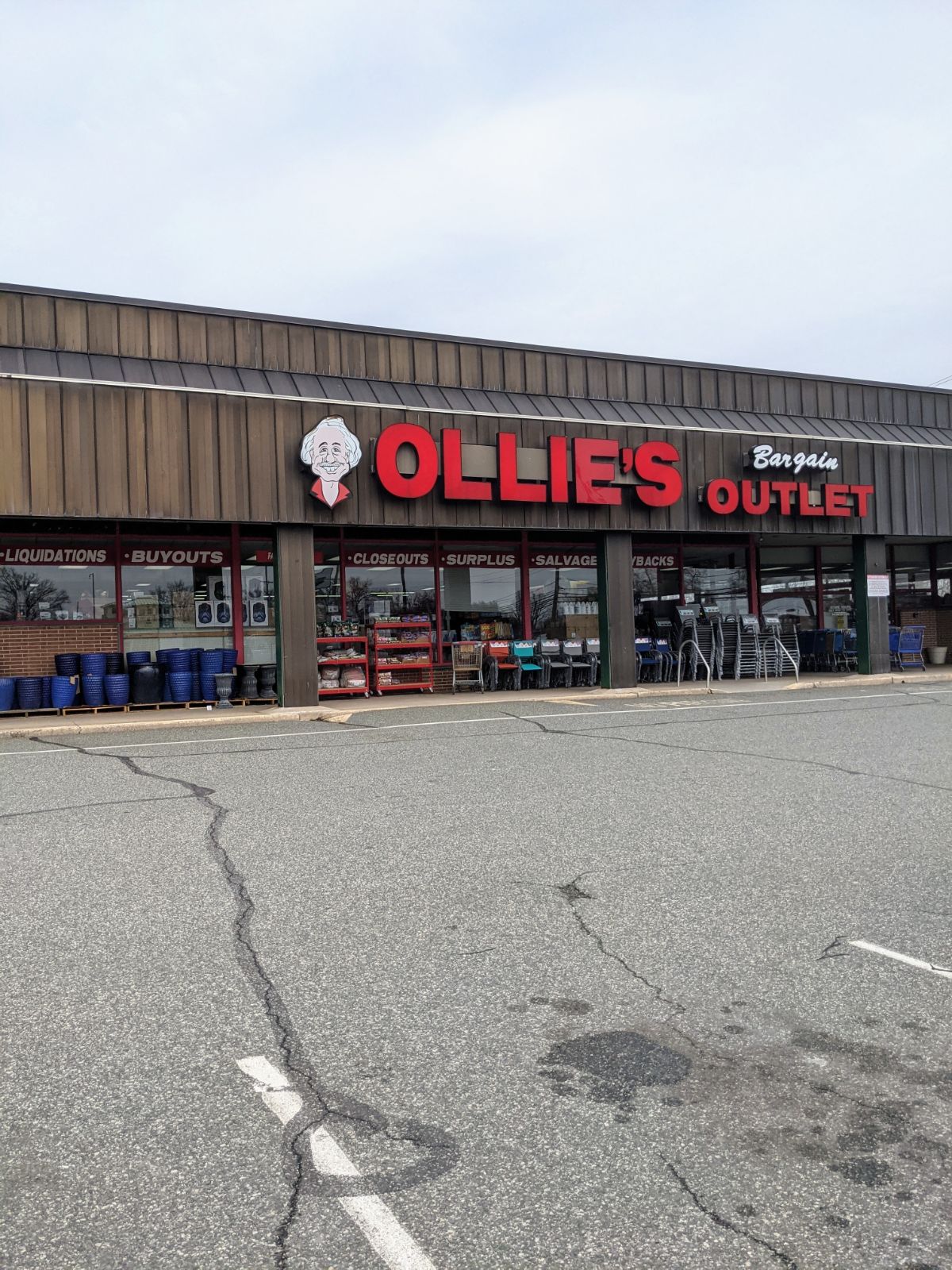 Have you checked your local Ollies gardening aisles recently? I originally posted my favorite finds in June 2021 when this article went live, and the aisles were packed with awesome deals and finds. Now for 2023, I am excited to update with even more Ollies garden deals.
In case you aren't already an Ollies shopper, I'll clue you in on some reasons to check it out.
And then I'll share some pictures and details on the awesome garden stuff we found!
Benefits of Shopping for Garden Supplies at Ollies Bargain Outlets
Shopping at Ollies for gardening items is so much fun! I always feel like I'm destined to find amazing things when I shop here, and it usually always comes true.
Treasure Hunting! You never know what you'll find at Ollies! I almost always find something that I'm super excited about when I go there. On the rare occasion failing that, I'll at least pick up a bag of almond M&Ms for $2.29. It seems like every year the garden aisles are full of exciting planters and pots. I love going back to see what's new and pick up a few.

Seasonal Stock – Even when stores like Dollar Tree have long sold out of gardening supplies, fear not. You still have a great chance to find garden gear at Ollies. Flower pots and planters galore totally satisfied our needs when scouring the Ollies garden section.



Fab Finds – The range of items and quality at Ollies are fitting for all uses and budgets. It's true you never know what you'll find, but usually you do find awesome items and – as they say – Good Stuff Cheap! I loved this fancy ceramic hanging basket planter I found there but didn't have a good place to hang it so I left it for someone else to enjoy.

Just kidding! I went back a few days later and bought it because I couldn't stop thinking about it! X-)

Great Deals – Ollies prices are very reasonable for a wide array of food, gifts, housewares, outdoor items, toys, crafts, toiletries, cleaners, and so much more.

Ollies Coupons – Check your email and look for the postcard in the mail to see if you've received any Ollies coupons! Sometimes you can find an Ollies 15 off coupon in your email or postal mail. Save even more on the already low prices!
Ollies Garden Gear
Ollies Outlet had lots of gardening gear toward the front and middle of the store. In previous years, I've bought potting soil there, too.
This place is often my go-to for cheap scrapbook stuff and photo albums, cool kids crafts and office supplies, neat baking toppings, and occasional Yankee candle buyouts. (I am obsessed with the Mountain Lake scent.)
But there's so much more!
I've found so much cool stuff here over the years and now I'm super stoked about the Ollies garden selection. I really want to go back and check out those flower pots all over again.
In fact, I took a video in case anyone else feels the same way or wants a sneak peek at the pots and planters!
It was an entire aisle – both sides – of planters and flower pots of ALL sizes! Even a few huge ones!
Then I found a second section with two huge displays of planters, too! Unbelievable variety of colors, designs, shapes, sizes, and materials – you are sure to find something you love.
You can find plenty of other garden accessories there too, like spray bottles, tools, and more.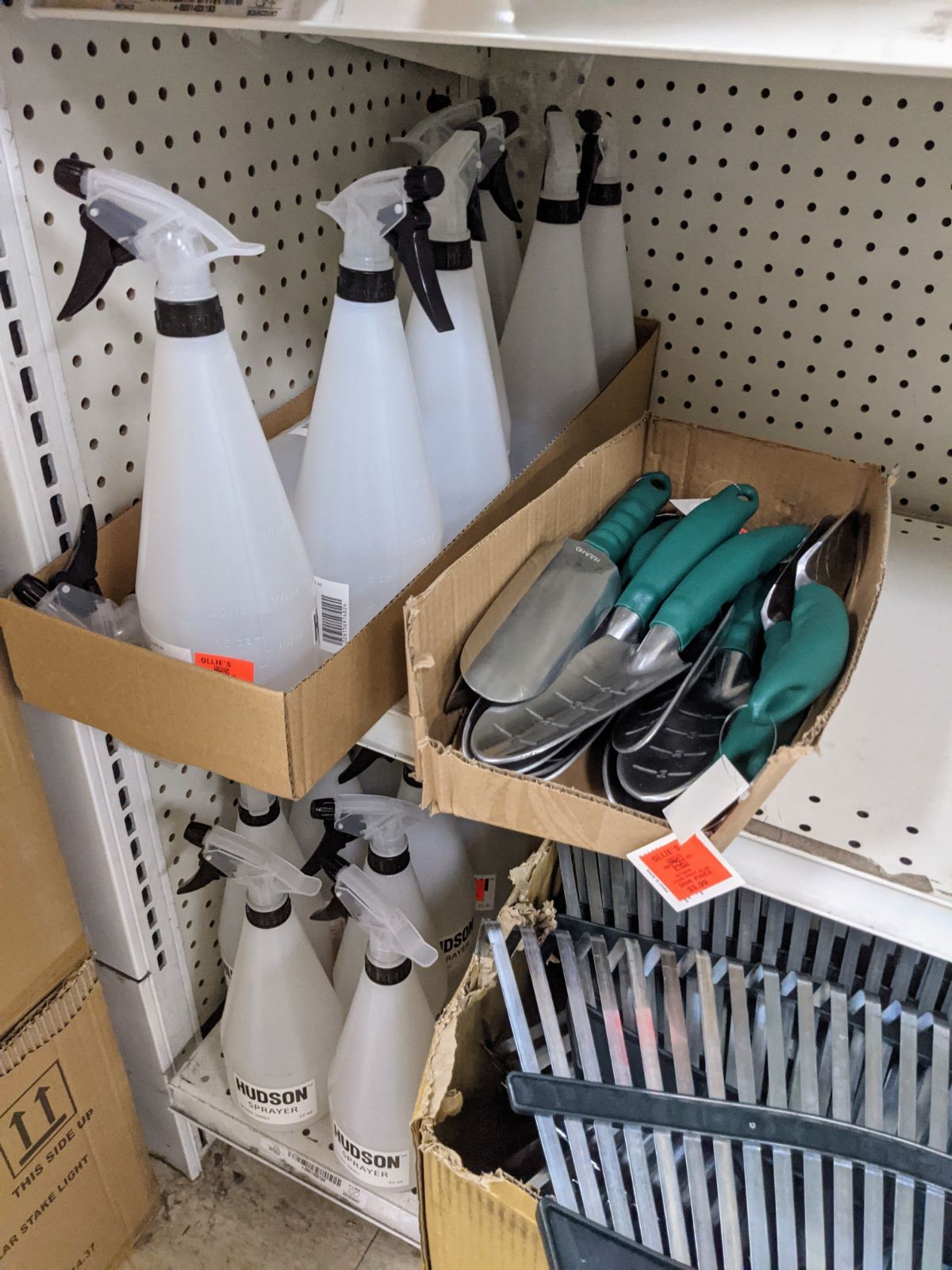 Ollies Bargain Hunt – Gardening Style
Boy, am I a sucker for an aisle of gardening supplies! Especially a beautiful flower pot or five!
Ollies had plenty to choose from, including plastic pots as well as glazed ceramic ones.
The Ollies bargain hunt back in 2021 began in an aisle stocked full of gardening tools – mostly hand tools that we already had so I snapped a photo and kept going.
I did feel interested in the Scott's Drip System for easy irrigation, but we were in a rush and I didn't have time to process how it works and how you hook the system up to water.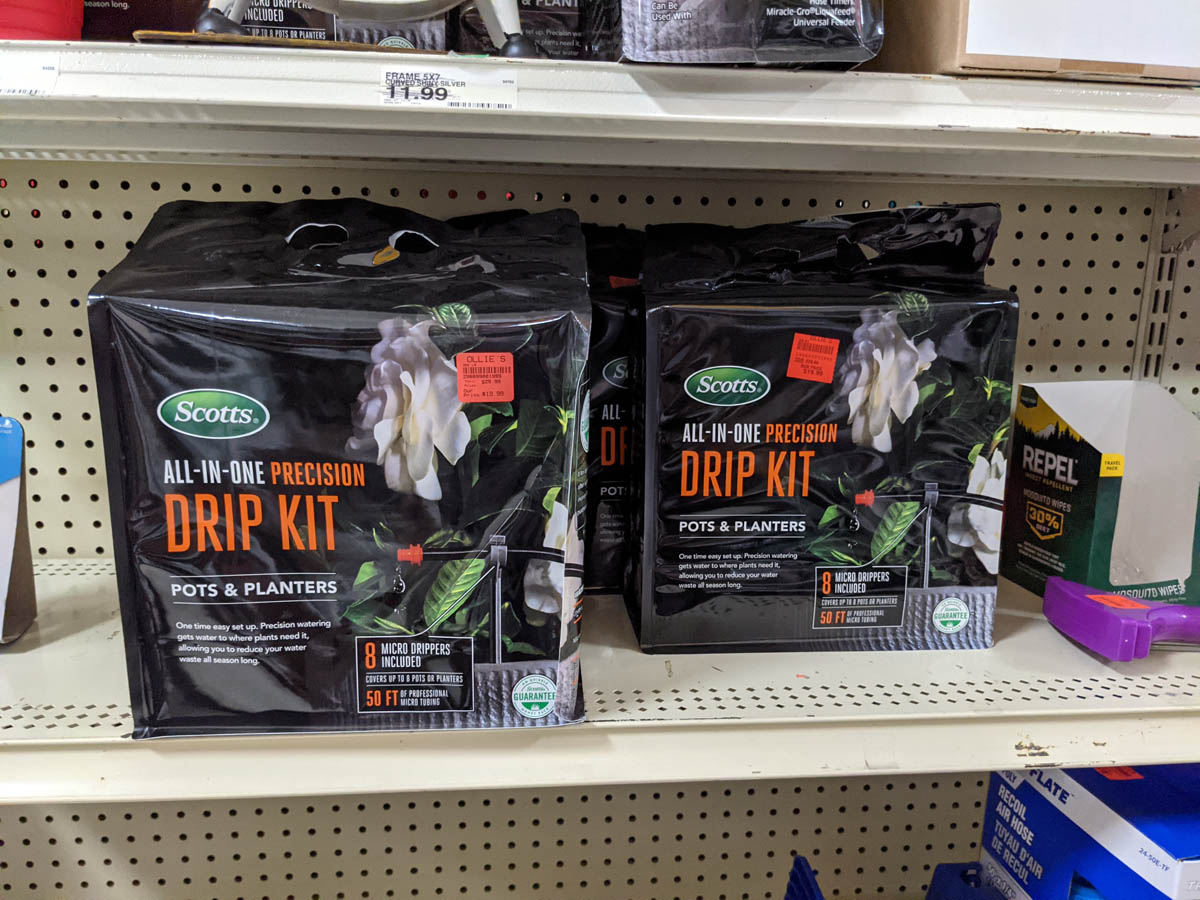 (Anyone already own this and know how it works? Shout at us in the comments please!)
Ollies Pottery – Flower Pots & More
The most exciting Ollies gardening supplies we found were, of course, the many different sizes, shapes, and colors of flower pots.
I just can't get over the quality and diverse colors and styles available. Some of these pots literally look like you just bought them from a seasoned artisan at a charming open-air market!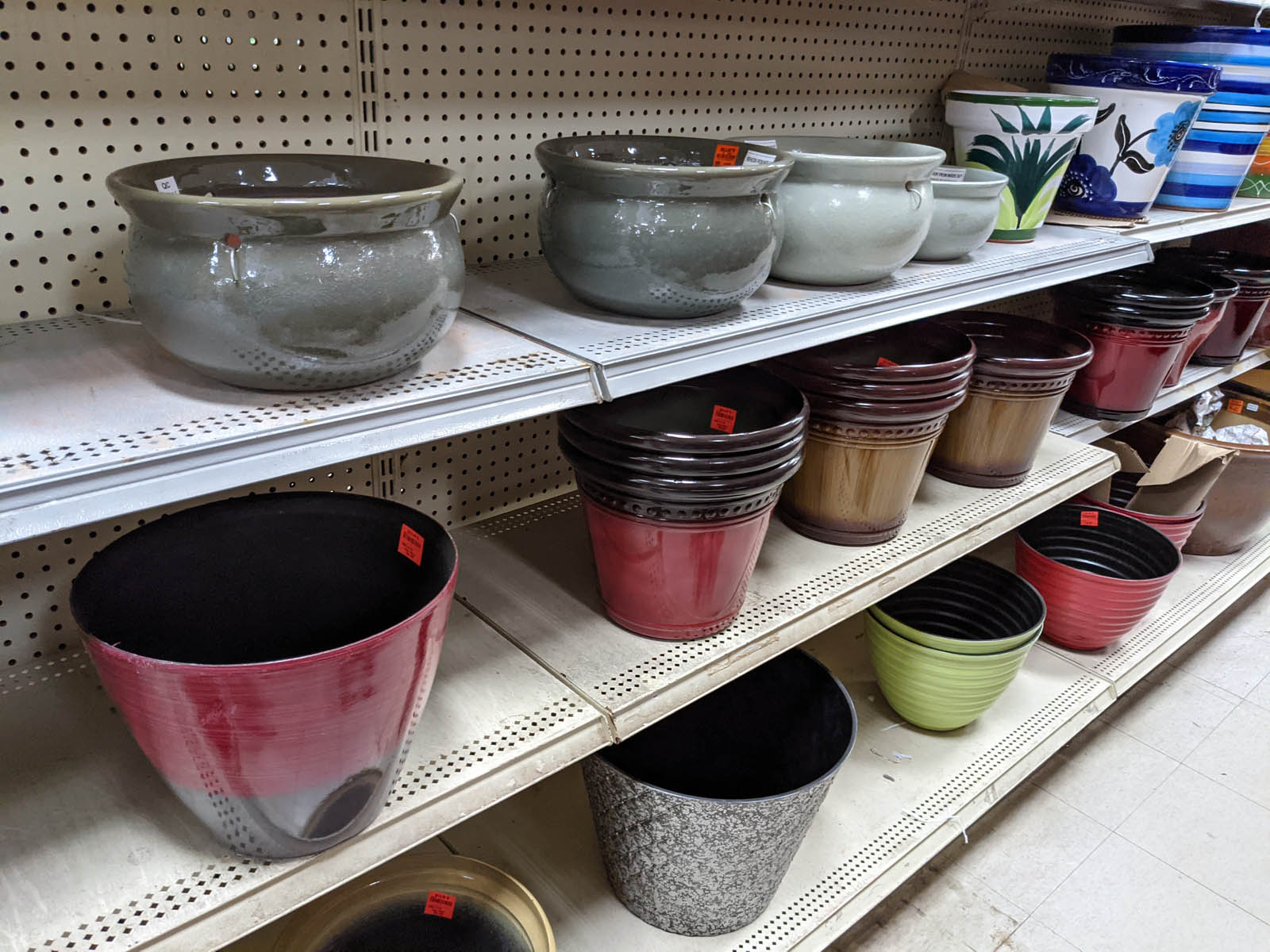 During one of my trips, I headed to Ollies in hunt of a few hanging basket planters. We found rather nice ones that looked durable for only $4.99 apiece. We picked up three, as well as two rectangular planters in the pattern of a whiskey barrel and a terracotta colored window box style planter.
All of these survived well! The rectangular ones were more rubberized than plastic and they held up well during our Pennsylvania winters.
At the time, I left behind an absolutely gorgeous glazed ceramic hanging basket planter set. They ranged from $7.99 to $10.99 each. I just wished I had somewhere to hang them! Truly lovely. (See the top shelf)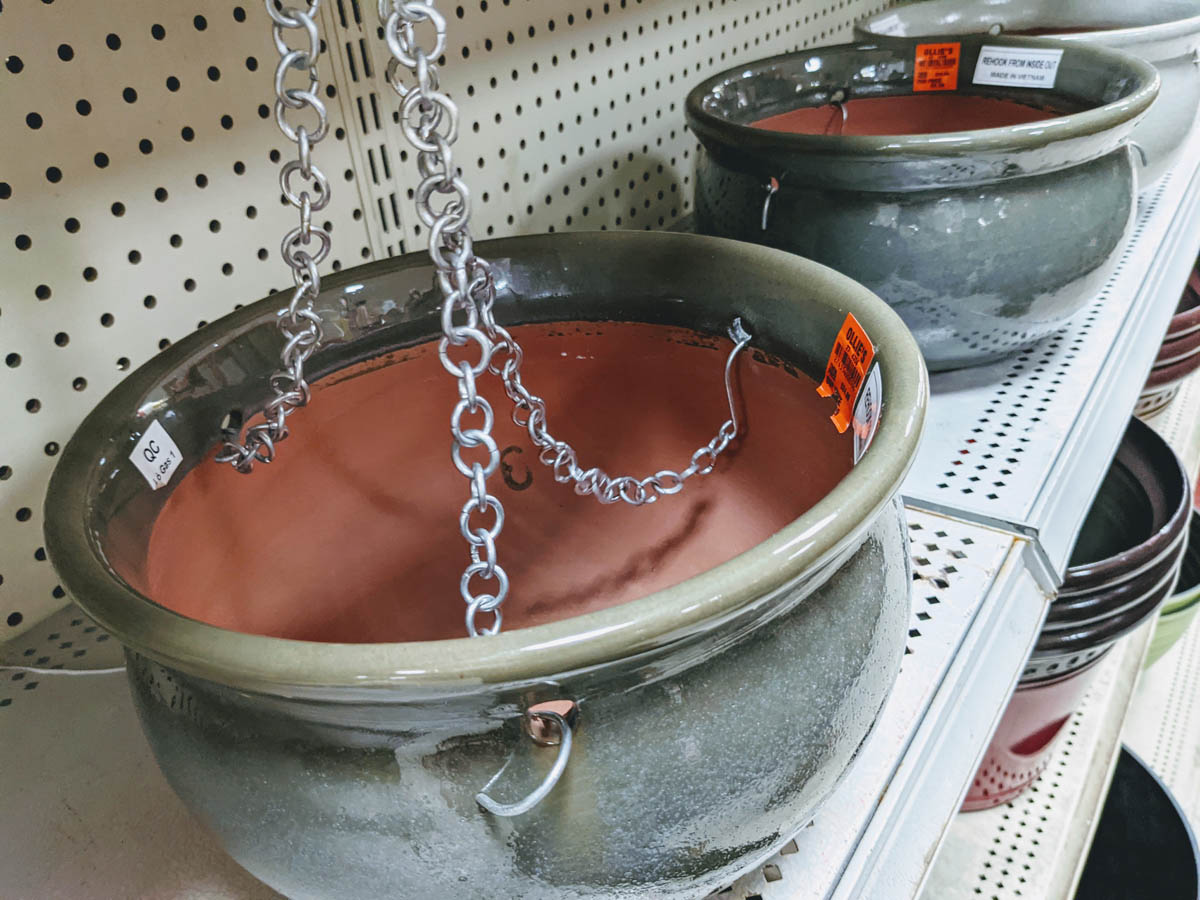 And actually, I only *thought* I left the glazed planter behind! Hah! I ended up going back for it a few days later because it was just too pretty to pass up.
With Ollies, like many treasure hunt stores, you just never know if it will still be there when you go back.
Luckily for me, it was!
Truthfully, I think the pots and planters at Ollies are some of the best I've found. The variety seems as though there's something for everyone.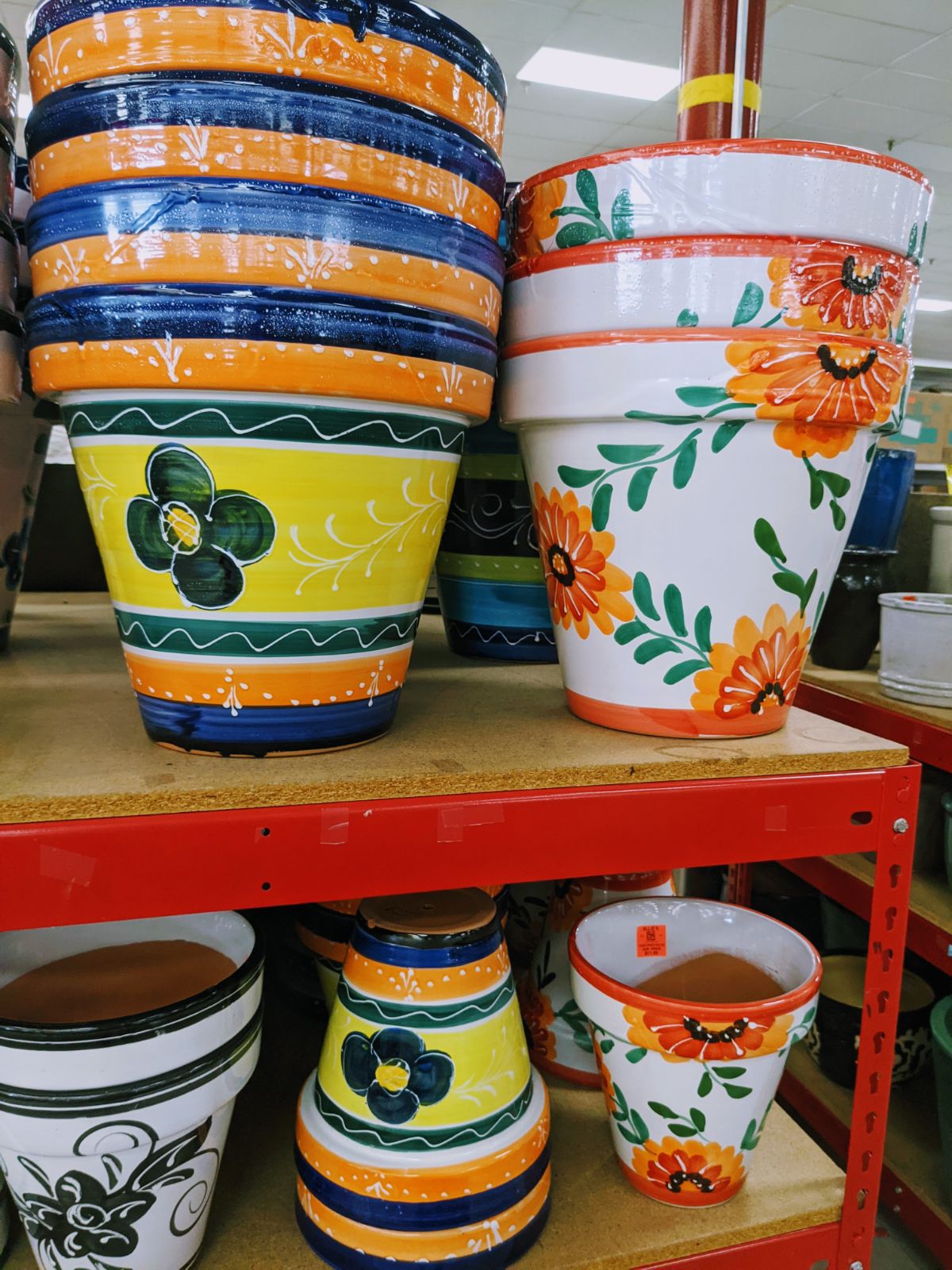 Now I am wishing I bought this awesome bumble bee planter I saw at Ollies in early March 2023.
I got so into my mission that I totally forgot to buy it after taking pics and videos.
(facepalm)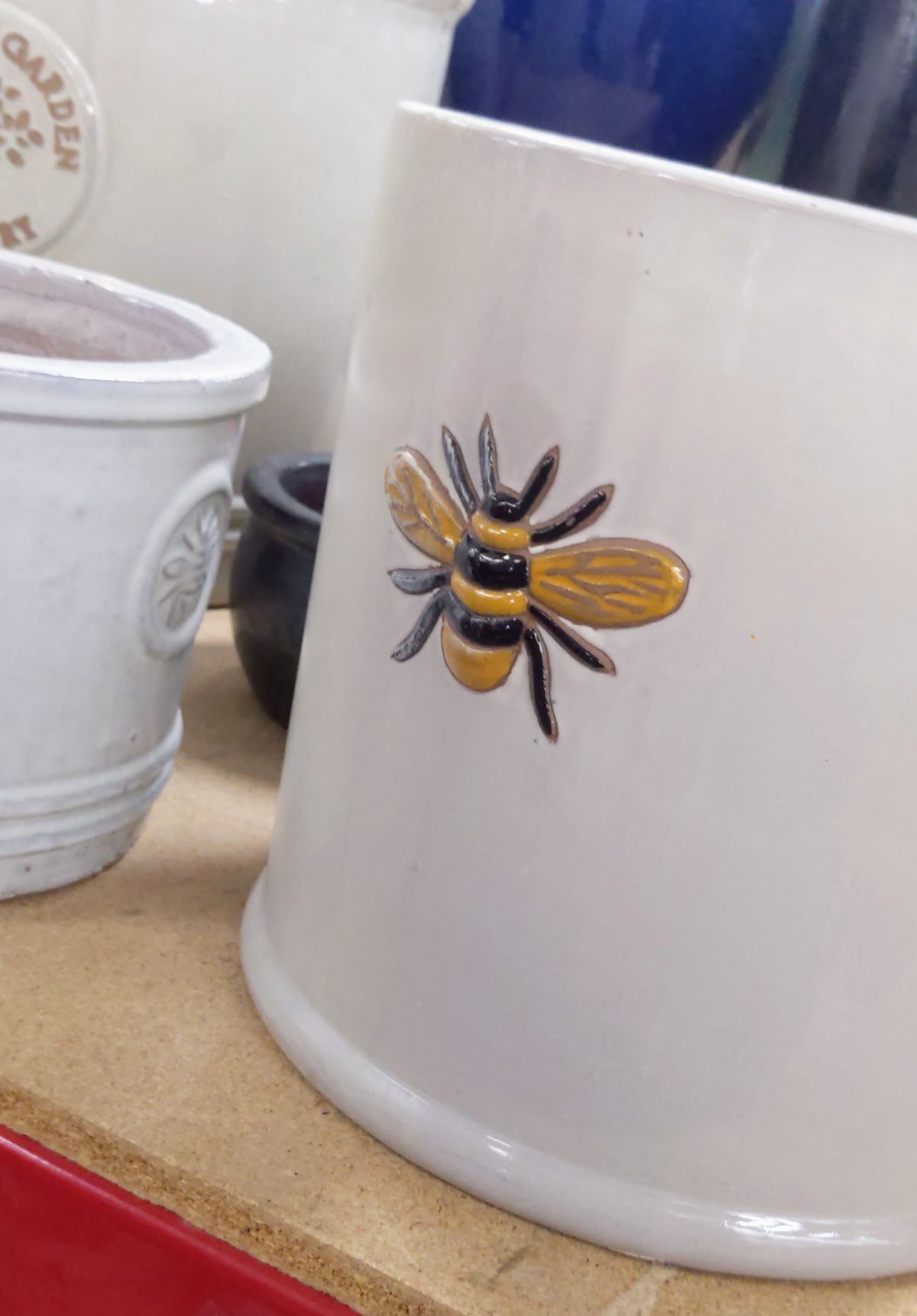 Isn't it so cute, though?!
Maybe I'll luck out and see it again one day!
Large Planters
Ollies also seems to reliably stock large planters and flower pots that you can use as statement pieces.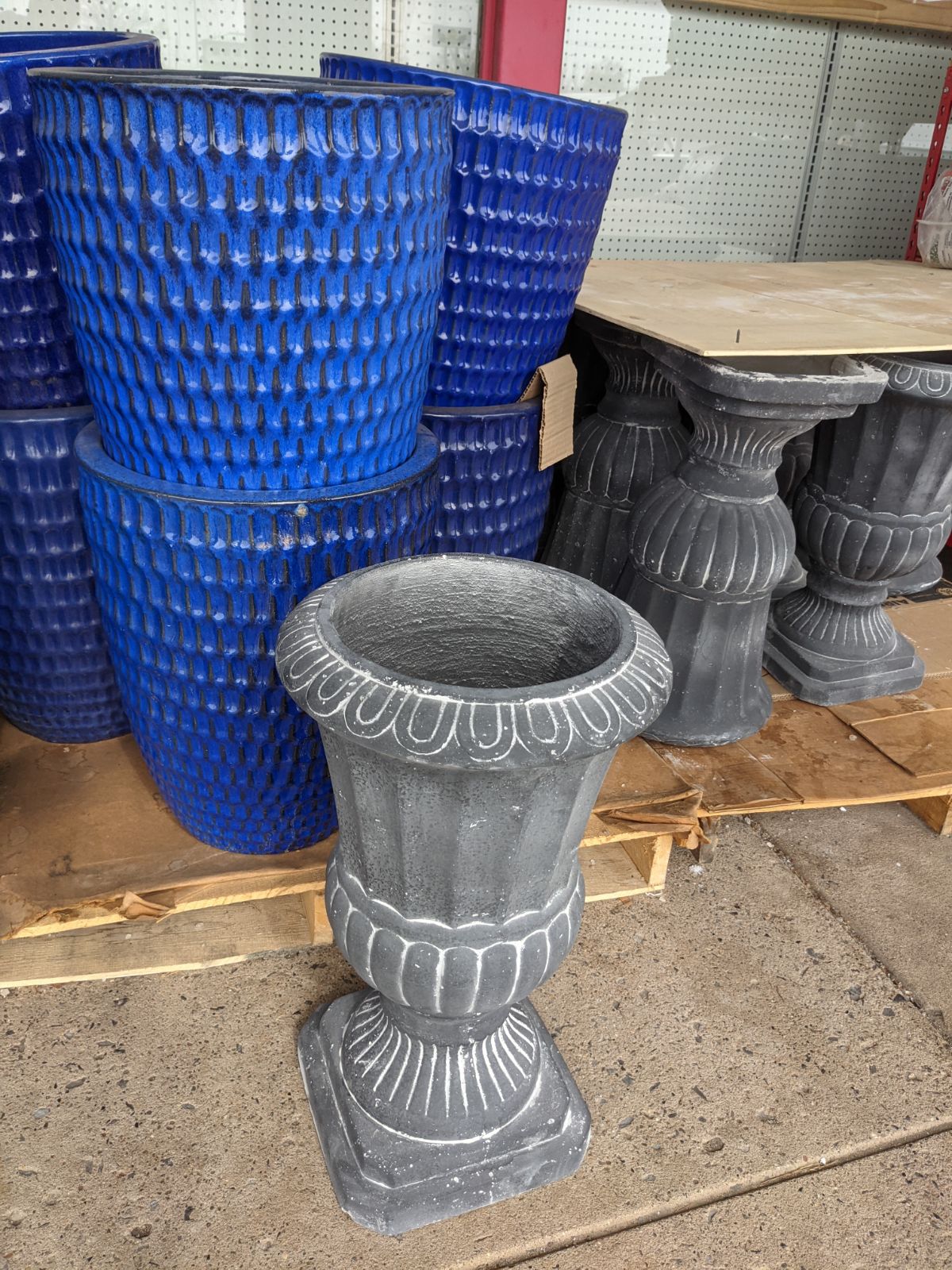 These kinds of hefty pots would look great flanking a door or a driveway entrance.
(In fact, now I am really thinking about going back for those gray ones!!)
Again, you never know what you might find, but if you are looking for large flower pots, I would definitely check your local Ollies!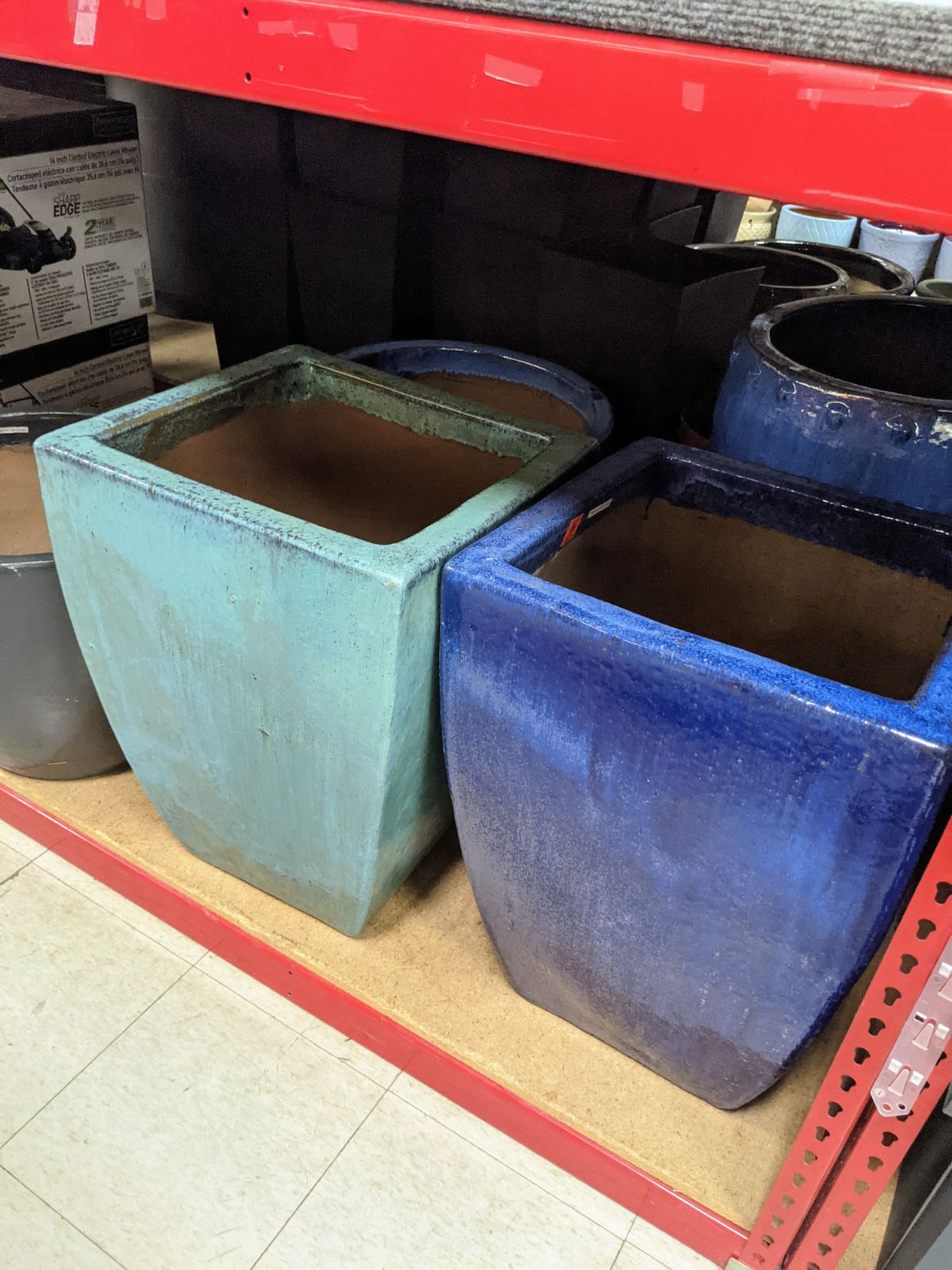 Ollies Potting Soil
We gardeners may be some of the only people who truly understand the value of buying dirt! I found lots of potting soil at Ollies, as recently as March 2023, with huge displays of various brands at the store.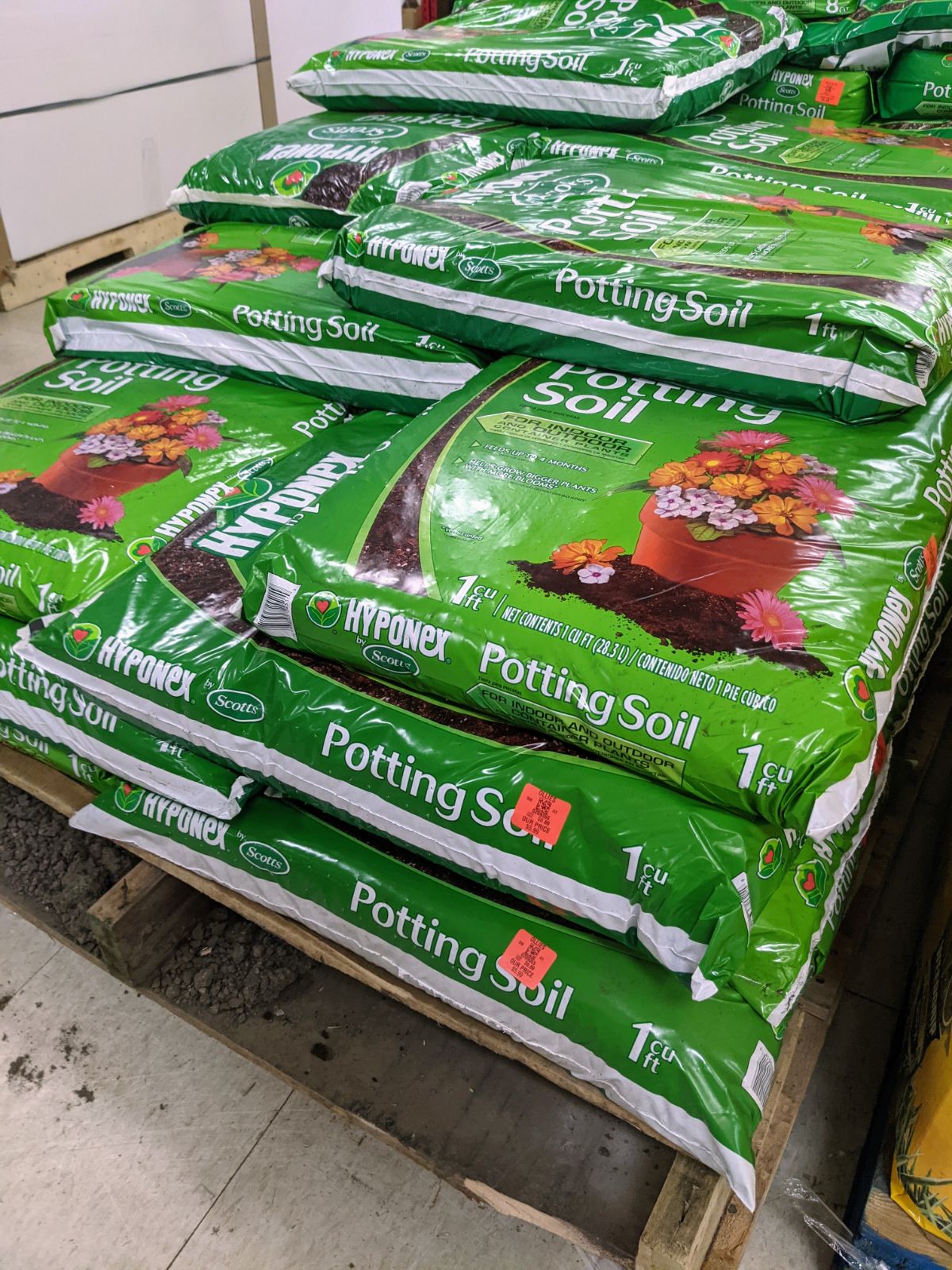 You could also get a larger bag of Hyponex potting soil for $10.99 the day I went.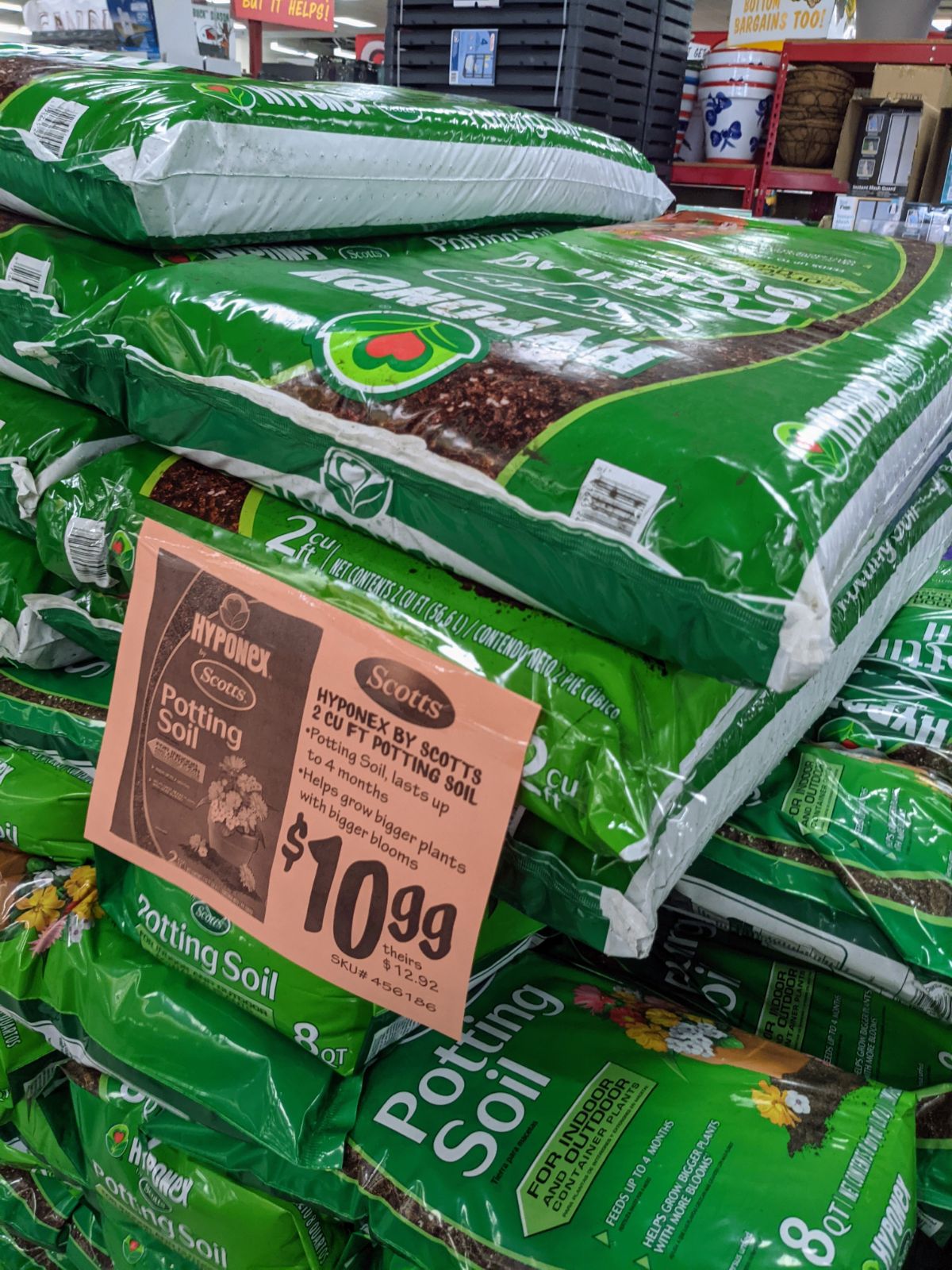 I did not see my favorite brand, Pro Mix soil, which I buy at Walmart usually.
However, many other bags of potting soil sat waiting to satisfy your gardening dreams!
You can even find garden soil on sale at Ollies.
Ollies Garden Hose, Spray Bottles, & More
While shopping here, you can also find a garden hose at Ollies, a spray bottle for starting your seedlings, and plenty of other garden gadgets.
When I went in March 2023, Ollies had a traditional medium duty green garden hose as well as a black "Perfect Hose Deluxe Pro."
Both hoses are 100 feet long.
(I think they also had a Flexi hose of some sort. I had a similar one that exploded, so I didn't pay much mind.)
Besides the planters, soil, and garden hoses, I loved checking out the solar stakes and lights, sun sail (for shade), and the plant stands.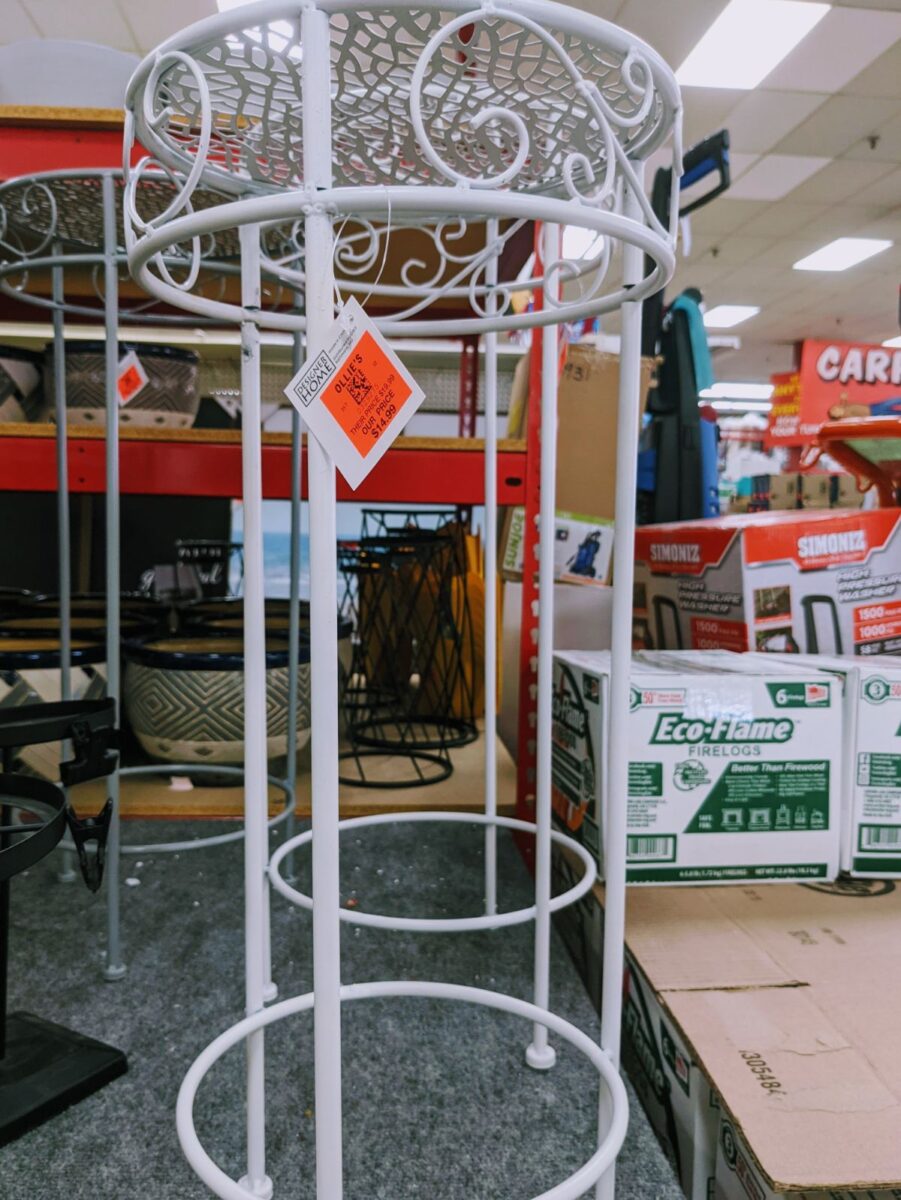 Final Thoughts: Ollies Garden Finds
If you have an Ollies Bargain Outlet near you, now is an excellent time to check out the gardening section. Ollies gardening aisles did not disappoint anytime when we went. We pretty much always find something! (read: more flower pots!!! lol)
Of course, as with any treasure hunt type store, your mileage WILL vary. As long as you go into it knowing that, you should have fun seeing what great finds you can score.
If you liked this post, you might also enjoy:
My best guess is all Ollies discount outlet stores may have slightly different merchandise, so we'd love to hear your experiences in the comments below!
By the way, if you want to keep up-to-the-minute on the latest gardening stuff we find at Ollies, check out our Ollies gardening album on Facebook!
Let's chat about our awesome Ollies garden finds!
03.08.23 – Updated to remove references to 2021 and updated to 2023, and adjusted title. Added section on Ollies potting soil and link to FB album. Added lots more photos and republished from June 11, 2021.
03.16.23 – Added link to Tractor Supply post.