Sugar Skull Pumpkin | No-Paint White Pumpkin DIY
With a powerful meaning behind this Mexican tradition, the sugar skull designs of "Calavera" deserve special attention and respect. In admiration, we tried to embrace this beautiful idea with a fall craft. You can make a no-paint sugar skull pumpkin using a "Casper pumpkin" (white pumpkin) in your own nod to Day of the Dead (Día de Muertos).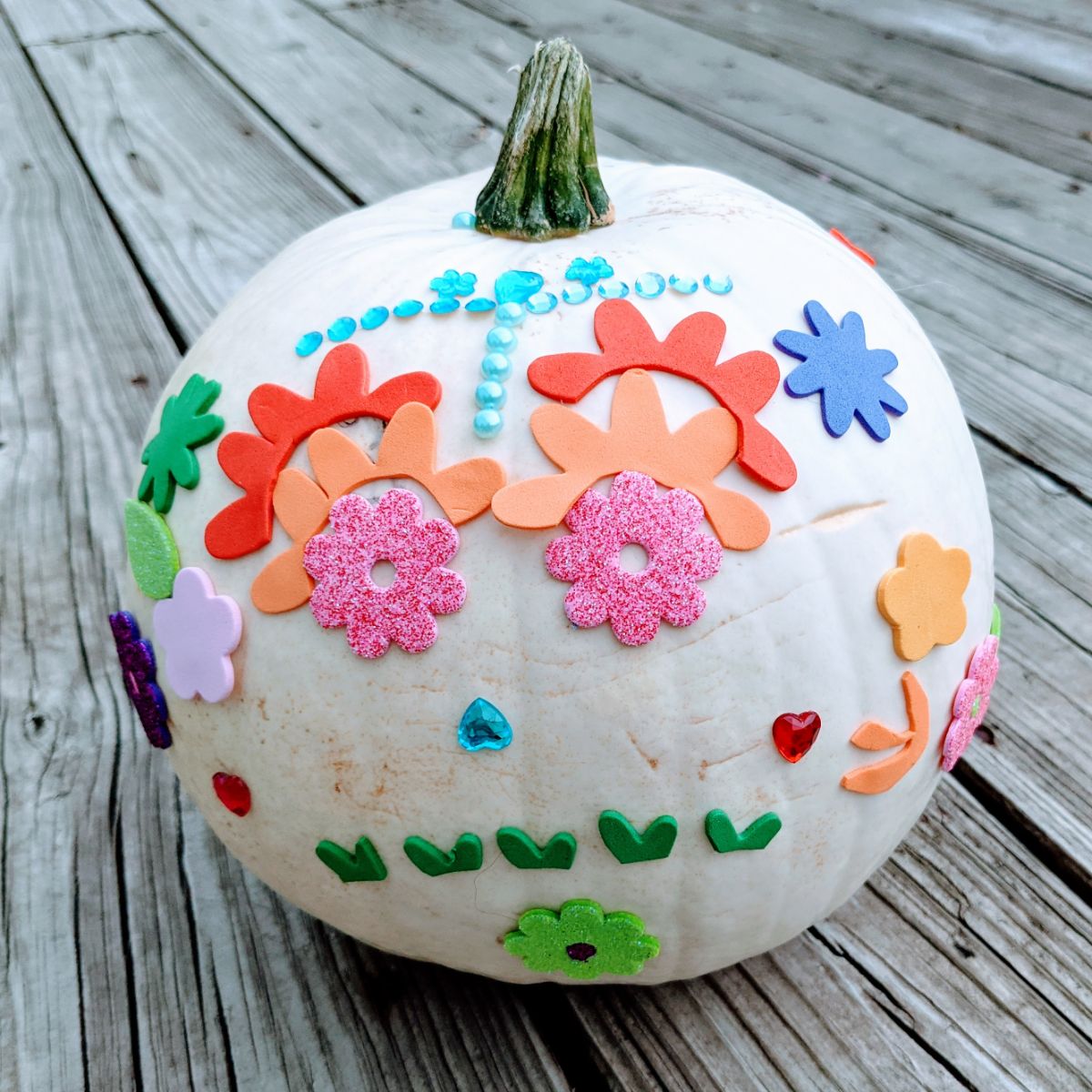 By the way – if you are unfamiliar with the culture and traditions, you can find some great information about Day of the Dead in Oaxaxa, Mexico! (Simply translate the webpage to English.)
We came up with this white pumpkin craft for our daughter's birthday in 2021. After missing some previous festivities due to Covid, we hosted her party at a corn maze with campfire hotdogs and s'mores.
At the party, all the kids made a DIY sugar skull pumpkin craft!
They turned out absolutely amazing!
Here's exactly how we did it!
Sugar Skull Pumpkin Design Materials
Gather these materials so your kids can make their own sugar skull pumpkins:
Real White Pumpkins (White Pumpkin / Casper Pumpkin)
Foam Flower Stickers
Sticky Rhinestones
Permanent Markers
Of course, you could use glitter glue and real paint products to decorate sugar skull pumpkins if you really wanted.
Personally, I am firmly in the camp of less mess for the win, at least at a birthday party!
DIY Sugar Skull Designs for Pumpkins
Flower shaped foam stickers work perfectly to create pumpkin sugar skulls, especially around the eyes.
This no-paint pumpkin decorating method works great in crowds of littles to keep the mess to a minimum.
Follow these steps to make your own sugar skull pumpkin:
Wipe off the pumpkin so it's nice and clean. Allow it to dry or help dry it.

Use flower stickers in the center to make the eyes.

Surround the flowers with rows of rhinestones.

Make a nose with an upside-down heart sticker.

Use stickers or sticky rhinestones to symbolize teeth.

Create fancy designs elsewhere on the face using rhinestones and flowers.

Write the child's name on the bottom right when he or she finishes the sugar skull pumpkin.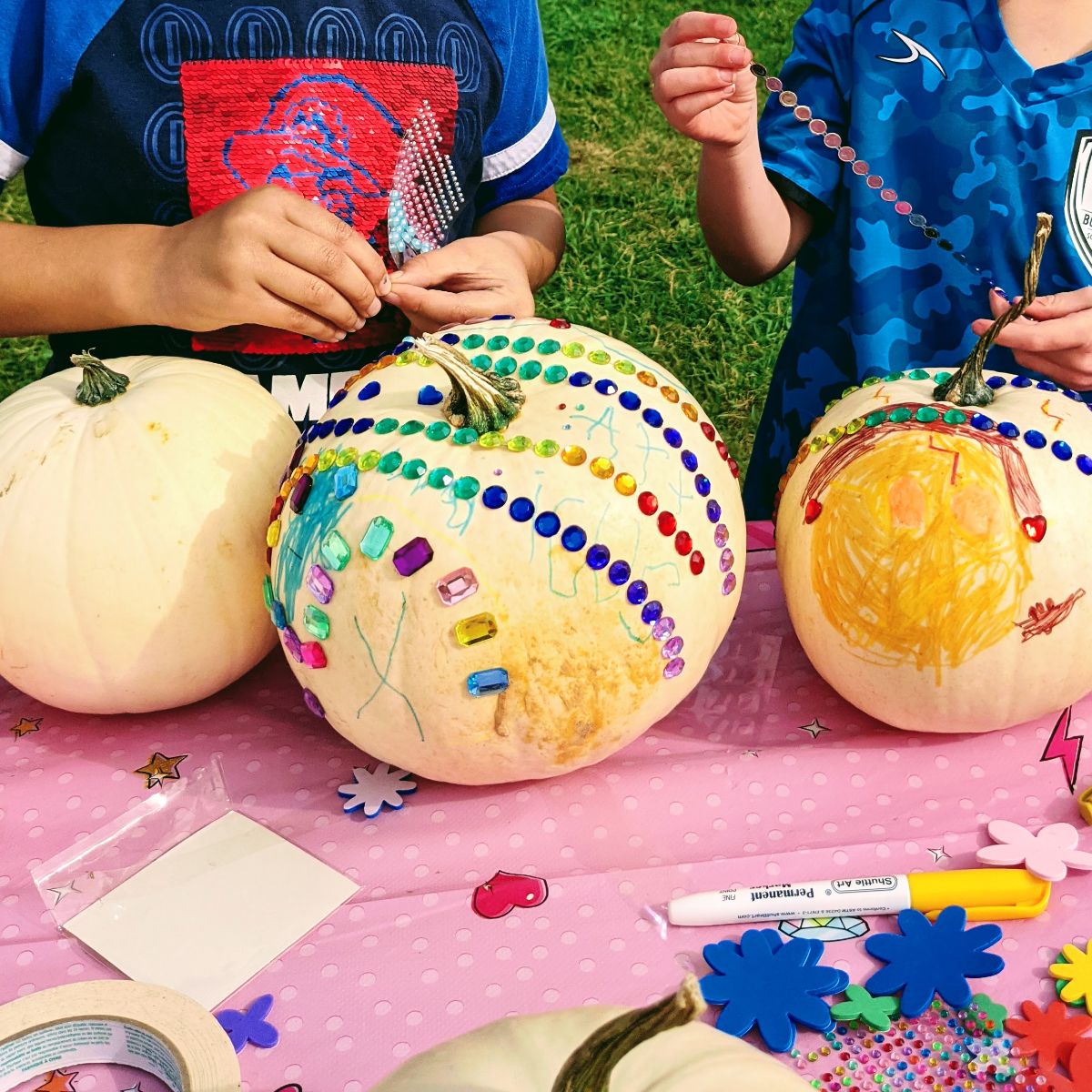 Sugar Skull Pumpkin Tips
Try these sugar skull ideas for pumpkin decorating:
Add Sparkle – Coat the entire pumpkin in glitter Mod Podge for an authentic, sugary look.

Be Detailed – Add lots of designs and details to your sugar skull pumpkins. Allow the kids freedom to choose their own color combinations, placements, and how many stickers and gems they use.



Focus on Flowers – Some foam flowers stickers give an authentic sugar skull design vibe.

Make a Second Face – If you're still feeling creative after one face, design another sugar skull pumpkin face on the back of your white pumpkin.

White Pumpkin Halloween Craft
The white Casper pumpkins worked out perfectly for the base of our DIY sugar skull activity. I imagine the name is Casper pumpkin as a nod to Casper the Friendly Ghost!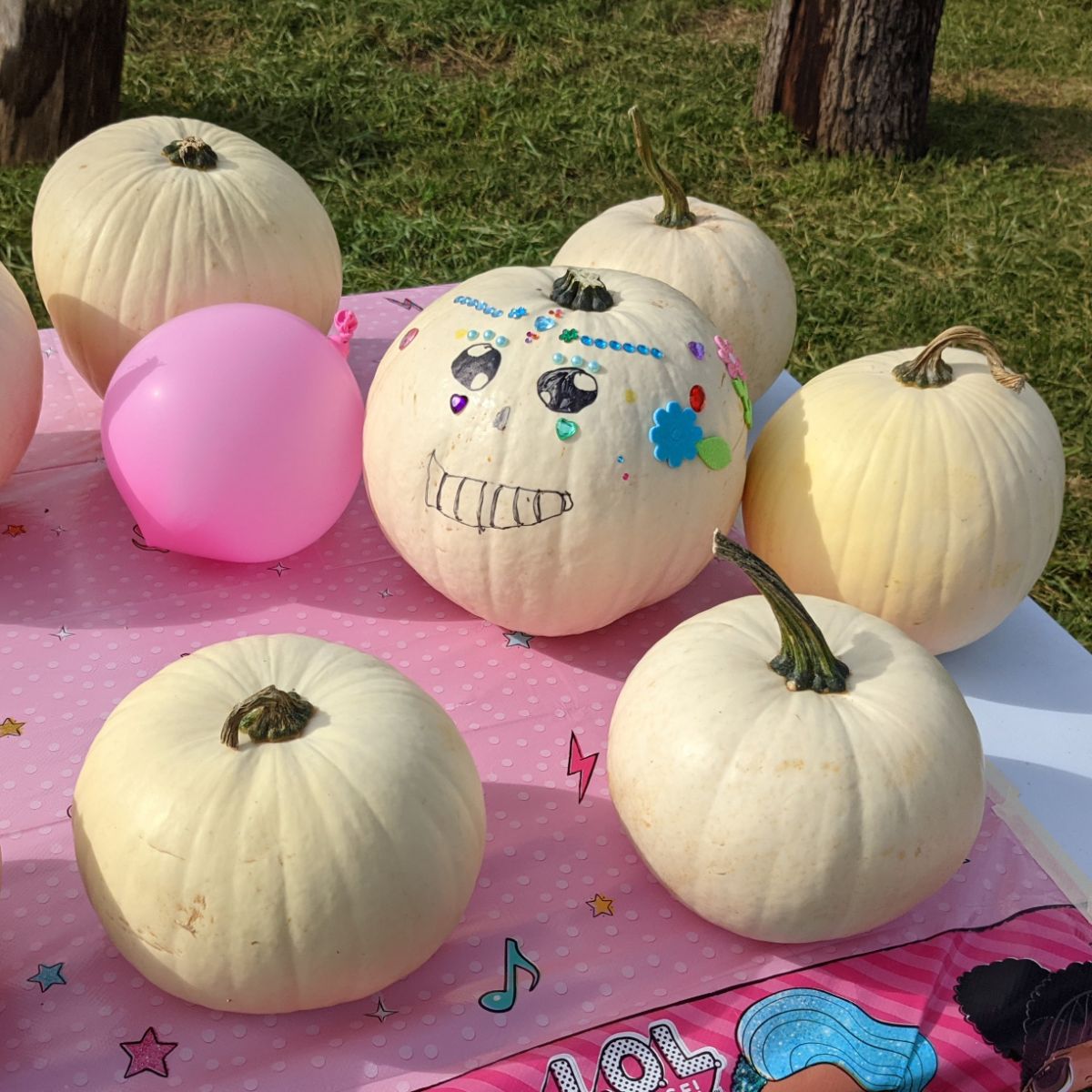 (I'm not dating myself, am I…?)
Well, anyway, all of the kids at my daughter's birthday party loved making sugar skull pumpkins. Some of them even asked if they could take an extra pumpkin home to make another one!
This Halloween themed craft was so easy and had virtually no mess!
The trickiest part was being outside and the wind kept whisking away the sticker wrappers. Aside from that, everything worked out perfectly!
I really loved this fun fall decorating craft and especially enjoyed seeing my daughters' creations sitting on my front doorstep.
My girls had so much fun!
I would definitely recommend letting your kids create fun and colorful sugar skull pumpkin designs this season.
If you're interested, you can check Facebook Marketplace for local white pumpkins and check out Amazon for great pumpkin decorating supplies!
Our website features affiliate links to products that we personally believe in. If you make a purchase from a link on our site, we may earn a small commission at no cost to you. Thank you! This helps our girls chase their garden dreams! Thanks for your support. (View full affiliate disclaimer at the end of the page.)
By the way – if you enjoyed this fun pumpkin decorating idea, you might also like my sentimental glow-in-the-dark Handprint pumpkin keepsake craft using fake pumpkins!
If you do, be sure to hit us up in the comments and let us know how it went! We love hearing from you!