Zinnia Flower Color Change & More Color Manipulation in Flowers
It's no secret about color-changing hydrangeas switching from pink to blue or vice versa. But, have you considered other flowers that change colors? This year we grew color-changing zinnias completely by accident – and I'm in love! Now I am obsessed with flower color change and I bet you will be, too!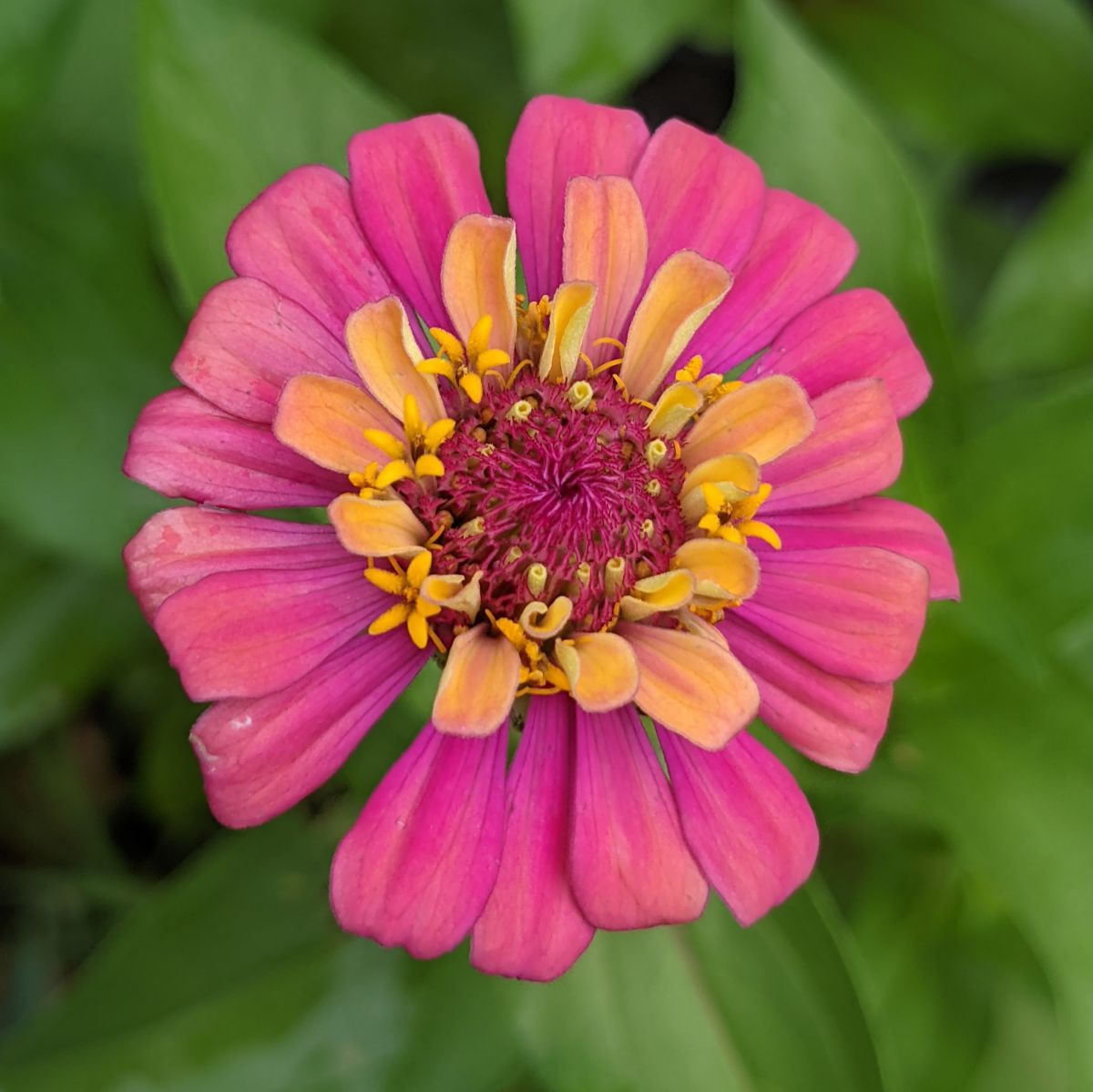 A total sucker for tie-dye, ombre, and color-changing blossoms, flower color change caught my attention right away.
I am excited to embark on this adventure. This year I am specifically working on breeding zinnias (particularly the color-changing ones) and other varieties of this favorite flower.
It's amazing to see that our zinnia flowers changed from mostly orange with a pink halo to deep, rich raspberry with an orange tint! These blossoms were all on the same plant!
Besides the natural surprises, I've decided to dig a bit deeper into color manipulation in flowers as well as other color transformations. I'd love to learn how to "force" expression of certain colors.
How can flowers change colors?
If you've ever looked at the same flower on separate occasions and saw two totally different color schemes, you are not alone. You may be wondering, why do flowers change color? This popular question may depend on a few factors.
First, some flowers like hydrangeas change color due to soil pH. Also, some flowers may switch colors as they age during the growing process. Finally, color manipulation by chemical means could be another consideration.
At times, the health or growing conditions may also impact a flower's color. You may find some flowers stuck in the shade are not as vibrant. Or, on the contrary, the sun may even bleach some of the flower pigment right out!
By the way, I'm just going to leave this here. For a worthwhile scientific resource, check out this post about Anthocyanidins and anthocyanins (colored pigments in food and flowers). It's long and it's complex but I believe it has so much great information in there!
I believe the simplified version is that more red pigment becomes apparent in flower petals after fertilization. This would support orange flowers becoming a richer shade of dark raspberry pink. I'm going to keep researching this because it's truly fascinating!
What flowers change color?
Hydrangeas may be the most commonly known color-changing flower based on soil acidity. Lantana and even some zinnias may change petal color as they age. In fact, successfully pollinated blossoms may change color to show off more red hues. Even some coneflowers (echinacea) shift colors as they grow and age.
Look for pink hydrangeas growing in more alkaline soil, around 6.0 to 6.2 pH. Meanwhile, expect blue hydrangeas in acidic soil, striving for a pH of 5.5 or lower.
By the way, you can find other acid-loving plants in this list!
Flower Color Change Tips
If you are new to breeding flowers, follow along, as I am incredibly interested in this topic. I will attempt to discover the best ways to replicate color change in flowers for fun and beautiful effects in the garden.
Here are some tips on encouraging flower color changes:
Research your particular flower type. Specifically, look to see if anyone reports a color-changing version of it. You may find first-hand accounts on Reddit, Houzz, or other message boards.

Keep a garden journal to track the color changing blooms. Make note of the color as each new bloom opens. Record the date when you notice a color change, along with details.

Save seeds from color changing flowers. If you are blessed with a plant that produces color-changing flowers, be sure to save seeds! You might also try propagating the plant to create more seed stock for trialing.
Why did my flowers change color?
Soil acidity plays a strong role in floral color change. Some flowers naturally change color as they age or begin to fade and show their wear. Other flowers may color change as a result of successful pollination. The type of flower may give you a clue as to why it changed.
The dates I took photos of some of my coral to pink zinnias were June 7, 2022 and June 11, 2022. In that short time, they changed from a creamy coral to a more pronounced pink.
Here is the coral zinnia flower when I first bought and planted it.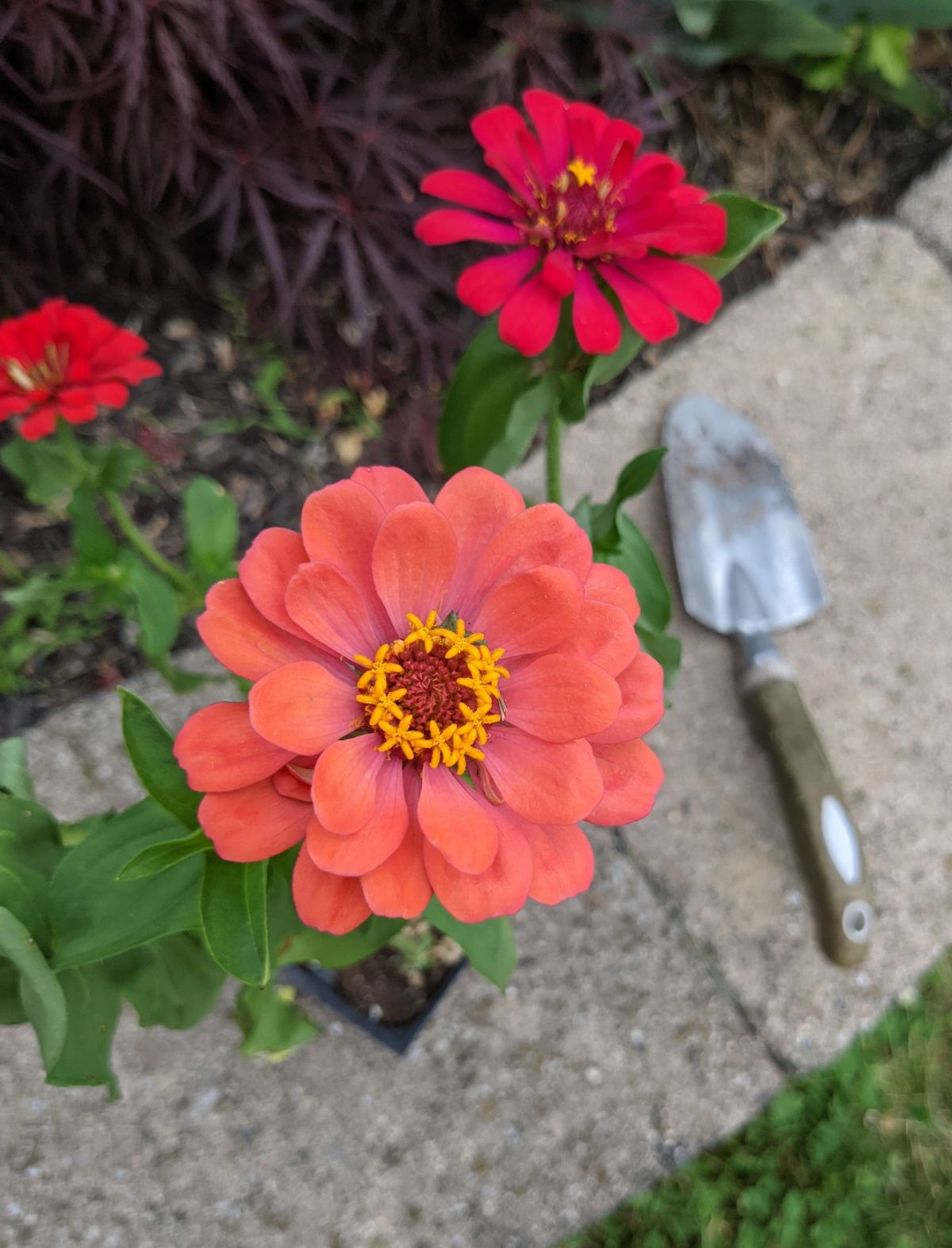 This is the Dreamland zinnia plant that produces pink as well as coral blooms on the same plant. I bought this plant at Glick's Greenhouse in Oley.
In this photo dated July 2, 2022, you can see a spent pink bloom while the fluttery coral blossom is in all its glory.
As you can see, at one time, I had two different colored flowers in bloom on the same plant!
And finally, here is the coral zinnia as it begins its flower color change transformation to pink. This photo is from July 18, 2022.
What is color manipulation of flowers?
In flowers, color manipulation involves chemically or otherwise forcing a particular color change to occur in the plant. Resulting blooms may lean more toward a certain color than the previous hue.
The easiest example to understand seems to be with hydrangeas. Here, you can acidify or deacidify the soil to encourage the plant's flowers to bloom pink or blue.
Color manipulation of flowers continues to be a very interesting topic to me. I am eventually hoping to dabble in this a bit with my flower breeding efforts. I will circle back and add further research and findings here as available.
Do you have any cool stories about color-changing flowers you've grown?! We'd love to hear them or even see pictures! This is such a fun topic – let's definitely chat in the comments below!
Happy Gardening!