Collecting Dahlia Seeds | Dahlia Seed Collection Tips
Dahlias used to intimidate me, but now they are one of my favorite flowers to grow! Collecting dahlia seeds puzzled me at first, as I couldn't find the dahlia seed pods. A little exploring led me right to the seeds, though!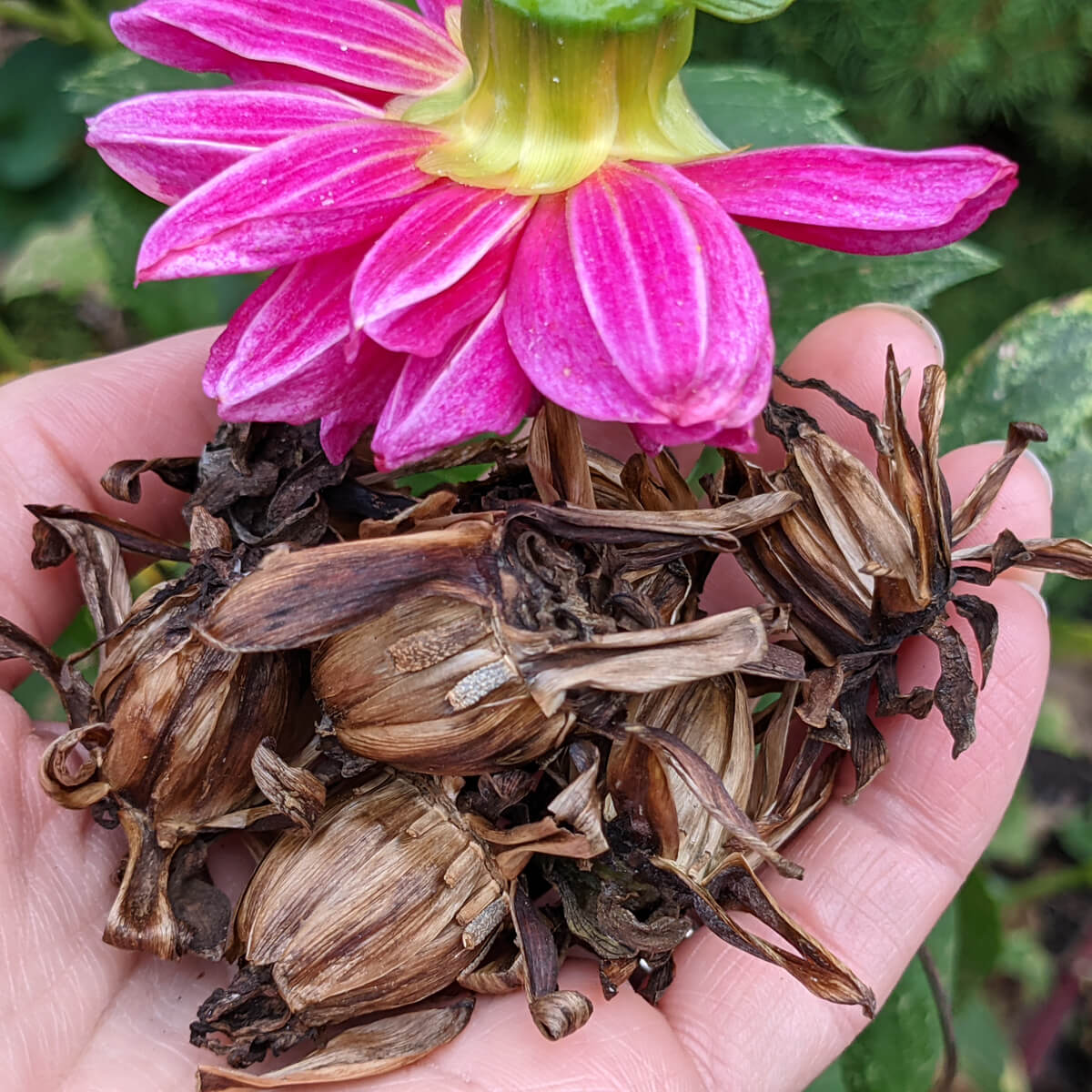 Now I am happy to share my favorite dahlia seed collection tips with you. Growing your own gorgeous blooms from tubers is a great start, but don't stop there.
You definitely don't want to miss the fun and excitement of growing stunning new dahlia varieties in your own garden! It's a lot of fun to see what beauty Mother Nature creates from each cross between the parent flowers.
Dahlias grow so nicely from seed, producing their own little tubers by the end of the first growing season. (If you're growing dahlias in a colder zone, follow my tips on overwintering dahlias so you can grow even more next season!)
Now I'll show you how to collect dahlia seeds in the easiest method possible. First, let's get to know the dahlia plants a bit better.
Can you get seeds from dahlias?
It is easy to collect dahlia seeds. The seeds hide amongst the petals inside the spent dahlia blossoms. Wait for the spent flowers to dry a bit while still attached to the plant to ensure better chances of viable seeds.
Keep in mind that you may slow down the production of blooms by encouraging dahlia seed production. If you wish to increase the volume of dahlia blooms in your garden, consider deadheading dahlias for repeat blooms.
What do dahlia seeds look like?
Dahlia seeds look like small black pellets that are a bit skinnier at one end than the other. Seeds from dahlias are somewhat thick and sturdy. You shouldn't be able to bend them between your finger and thumb.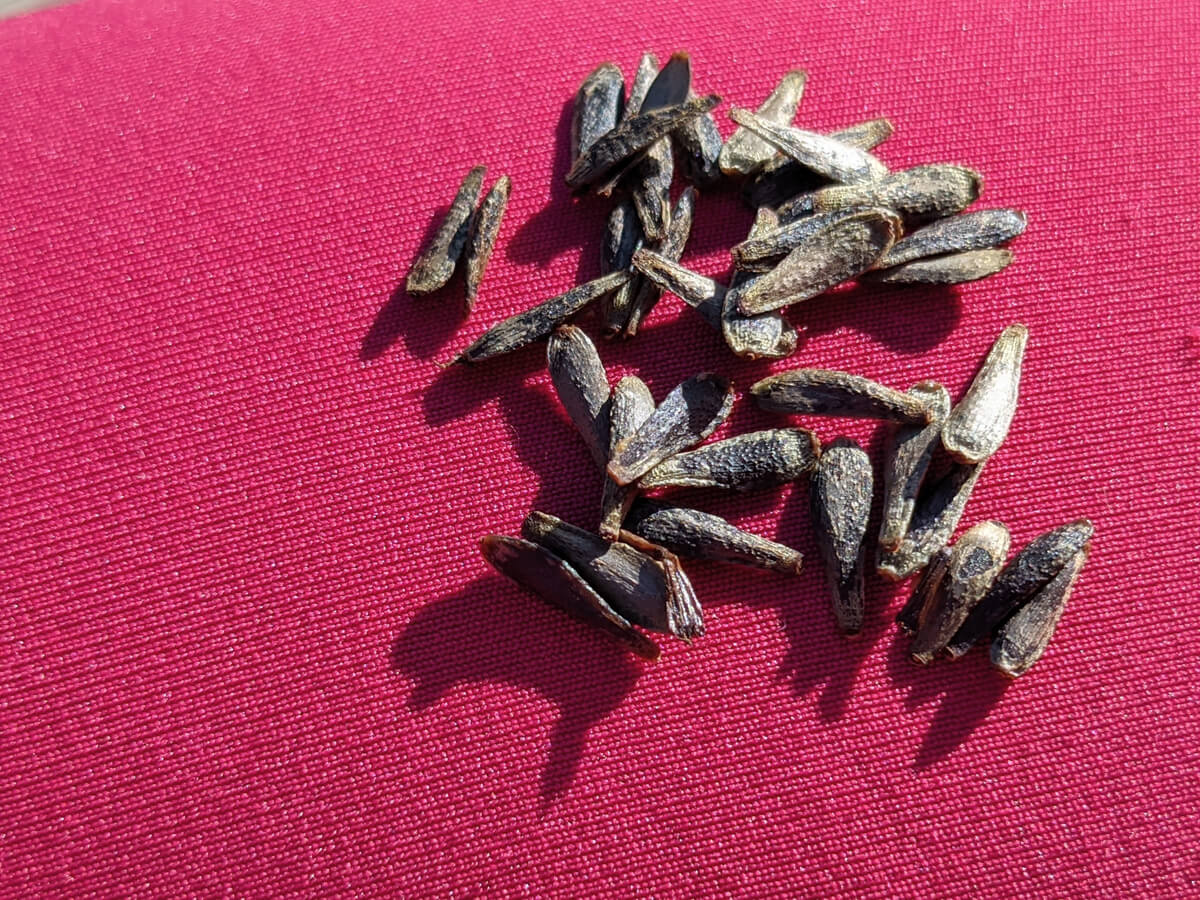 Collecting Seeds from Dahlias
I discovered how to collect dahlia seeds completely by accident. When I was trying to remove dead flower heads from the dahlias, I noticed some hard, dark seeds inside among the dried petals.
At first, I thought some of the dahlia seed heads were dahlia buds. Upon closer inspection, I realized they were actually spent flowers. I inspected the inside of the spent flower, and that's how I found the dahlia seeds.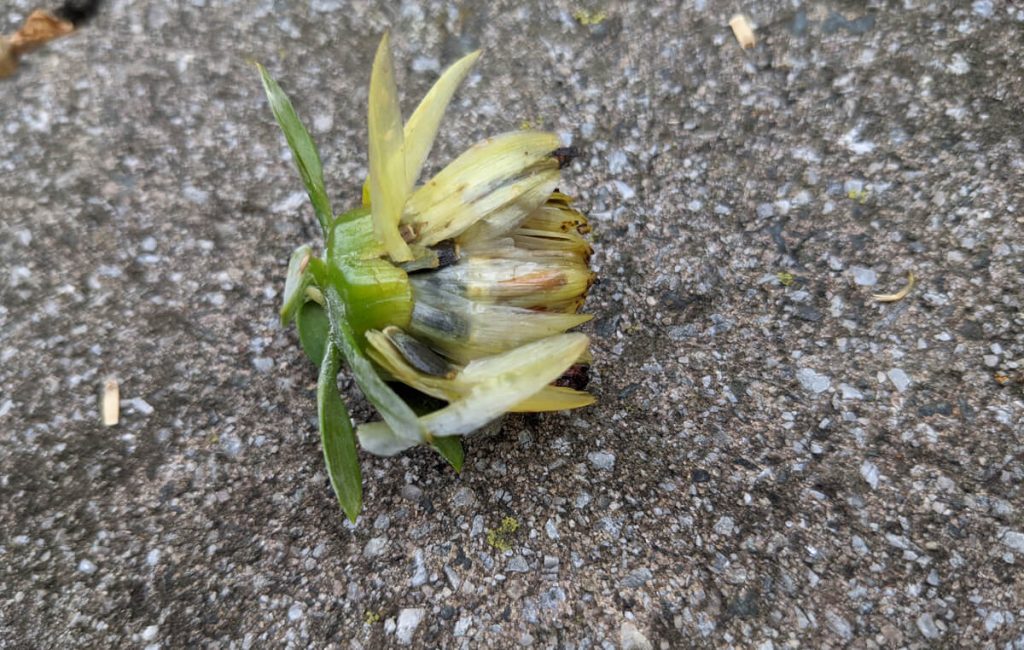 How to Collect Dahlia Seeds
Follow these steps on collecting seeds from dahlias so you can grow these gorgeous flowers again and again.
Look for spent flower heads when planning to gather dahlia seeds. (The dahlia petals on the spent blooms may be a yellowish tan color.)

Use pruning shears or scissors to snip the seed heads from the plant.

Collect dahlia seed heads in a brown paper bag.

To reveal the seeds, gently pull apart the petals over a paper plate or other tray to catch the seeds. (Dahlia seeds are sandwiched between the papery petals.)

Gather dahlia seeds from the paper plate and move them to an envelope for storing seeds for next season.

Be sure to label the type of dahlia and the date.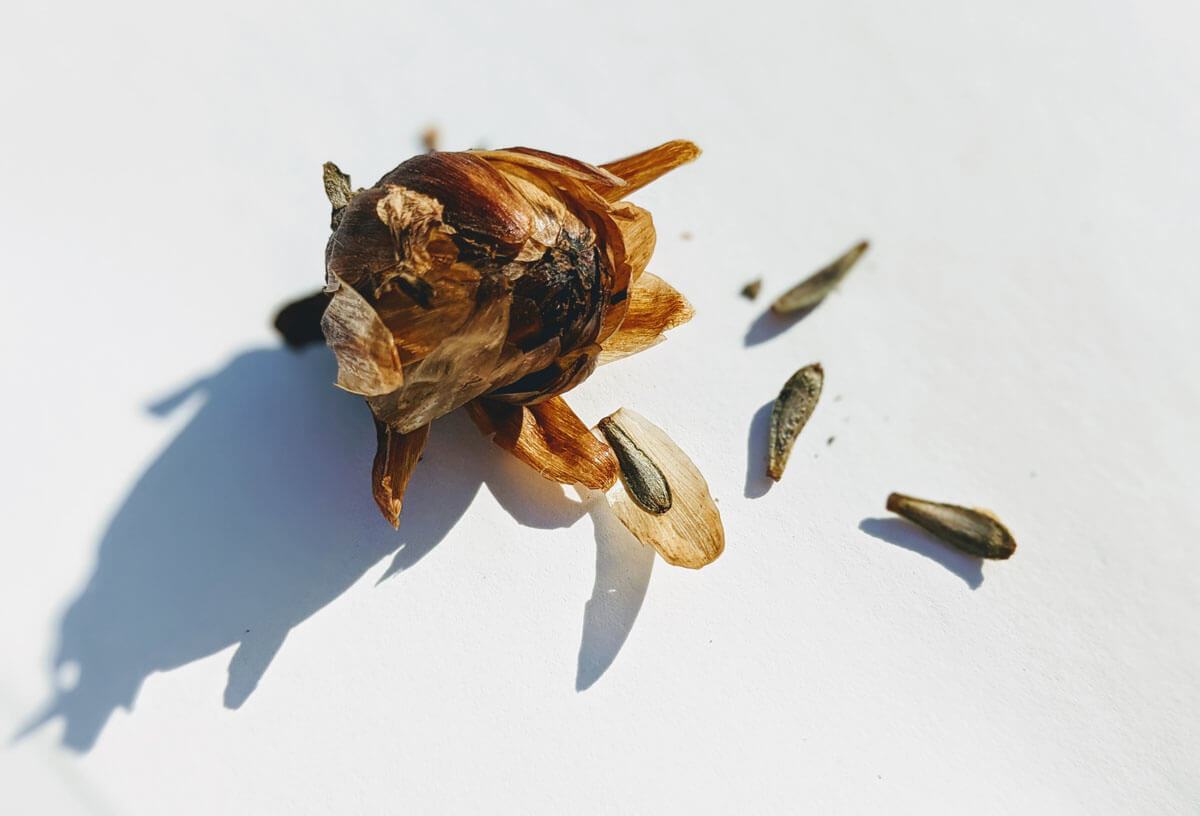 Dahlia seed collection is easy and fun for gardeners and for kids as well. It's always a fun activity to save seeds and grow them again to discover new garden surprises.
Tips on Collecting Dahlia Seeds
Collecting dahlia seeds is way simpler than lots of other seed harvesting activities. Get your kids involved for a short gardening chore that only takes a few minutes.
Here are my favorite tips on collecting dahlia seeds from your garden:
Choose a dry day to harvest dahlia seeds. You'll want to store dry seeds, so plan your dahlia seed saving around the weather for sure!



Label everything before the big frost or freeze, if possible! Once that big frost hits your plants, you likely won't have much color left to identify your dahlias. Label plants before the big freeze or before you cut all the remaining dahlias to enjoy indoors in vases.

Remember that not all seeds will grow true to the parent. You may get to enjoy some lovely garden surprises in the new growing season.

Don't rely just on saving dahlia seeds. If you really love a dahlia plant in your garden and you're in a colder zone, be sure you dig up the dahlia tubers to overwinter indoors.

Make yourself a calendar reminder for next year. Making a note in your planner or a Google calendar reminder can help you remember about starting dahlias indoors from seed in time for next summer!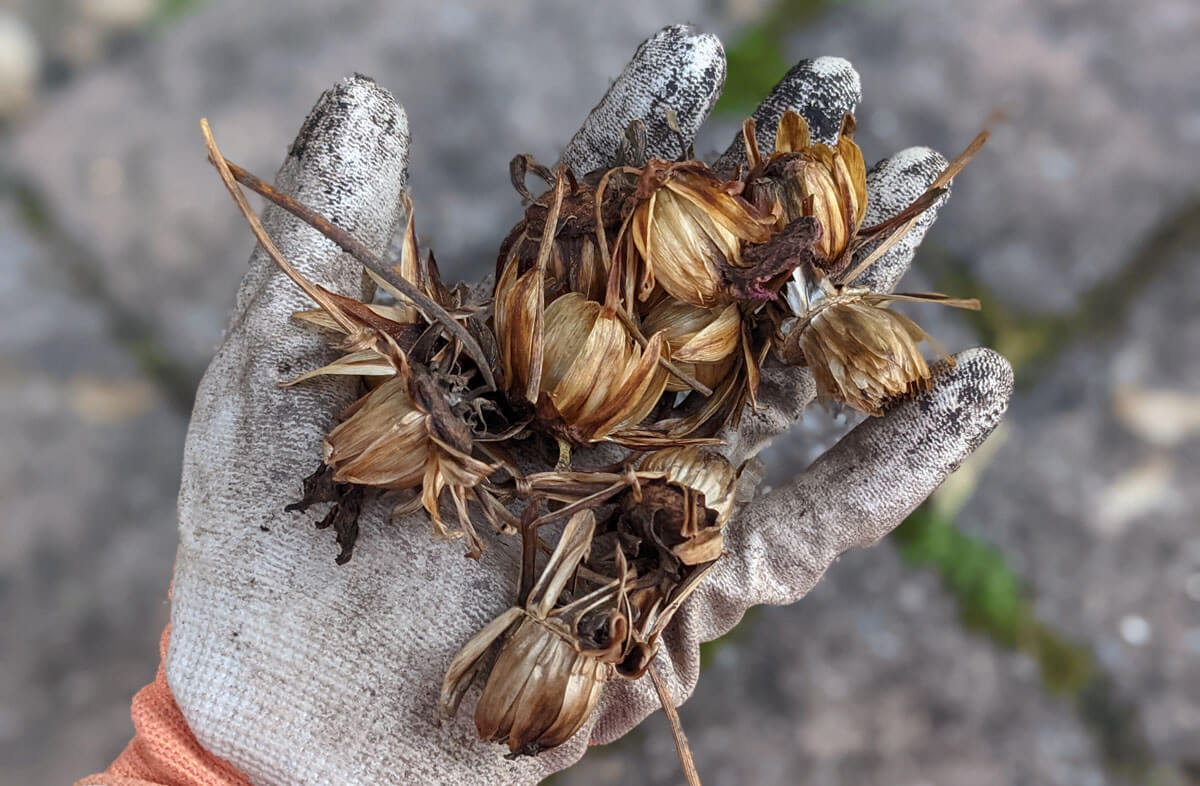 Saving Dahlia Seeds
Collecting dahlia seeds makes it easy to grow beautiful flowers for a cutting garden year after year. You can also share the beauty of your garden with your family, friends, neighbors, and fellow gardeners.
Our website features affiliate links to products that we personally believe in. If you make a purchase from a link on our site, we may earn a small commission at no cost to you. Thank you! This helps our girls chase their garden dreams! Thanks for your support. (View full affiliate disclaimer at the end of the page.)
If you are new to dahlias, you may want to check out the guidance from the University of Georgia Extension.
Do you plan to collect dahlia seeds from your garden? Have you got any more good tips on harvesting dahlia seeds? Let's chat in the comments below – we love hearing from you!
Also, if you want to learn how to save dahlia seeds super fast, feel free to check out our Google Web Story on Saving Dahlia Seeds!
09.26.22 – Edited to increase spacing and add link to Georgia Extension. Also added some pretty dahlia seeds to try.
05.15.23 – Updated to add a photo and update the text a bit.