How to Save Cantaloupe Seeds: Saving, Drying & Storing
Learn how to save cantaloupe seeds so you can grow delicious orange melons for your family! Saving cantaloupe seeds is quick, easy, and fun for garden-loving kids to lend a hand.
You can save cantaloupe seeds from homegrown or store-bought cantaloupes. Once we had the most delicious store-bought cantaloupe – and I typically don't care for cantaloupe – but it was so good even I loved it. So, I saved a bunch of seeds from it!
Follow these easy steps on saving melon seeds from cantaloupes and add them to your fruit seeds collection.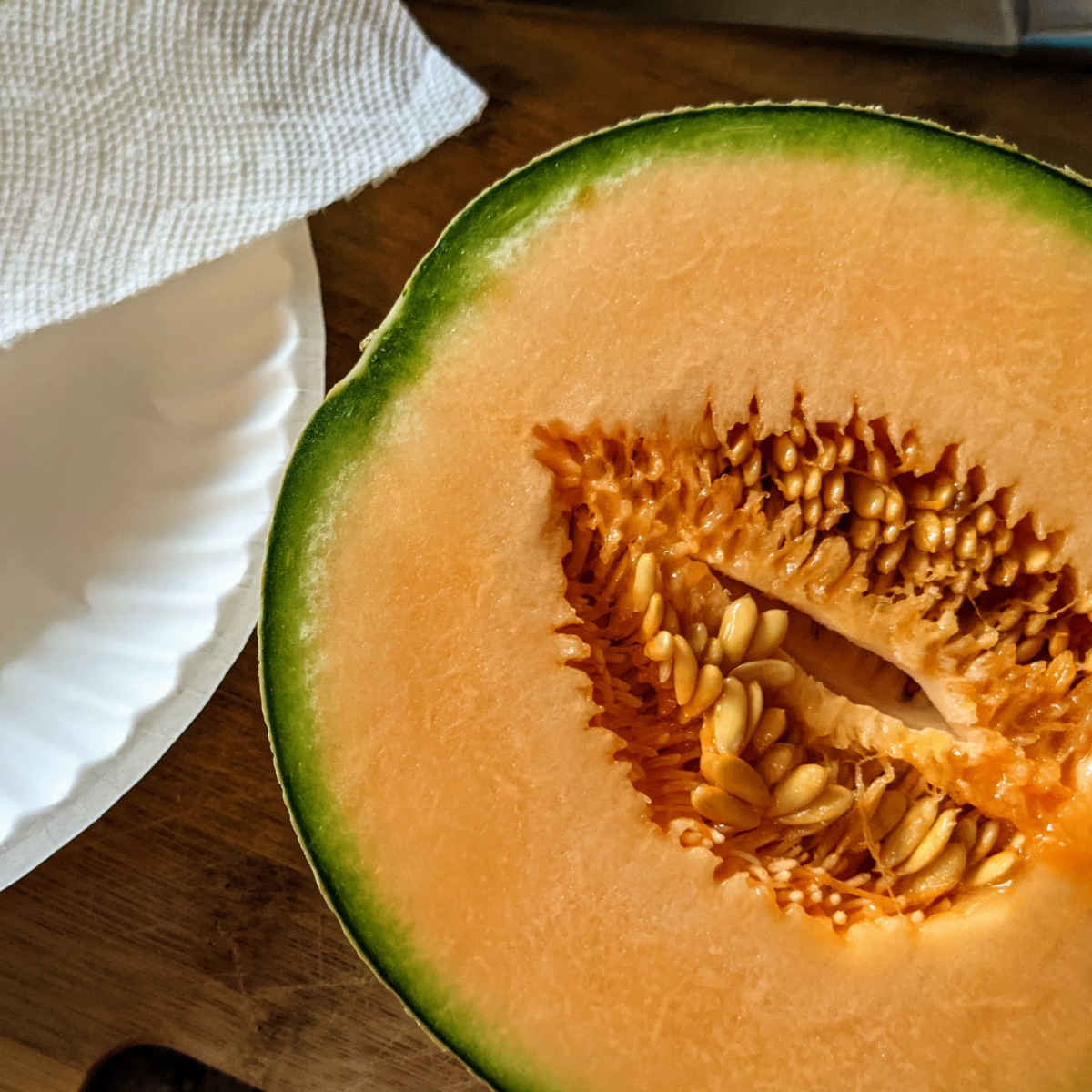 What do cantaloupe seeds look like?
Cantaloupe seeds look a lot like cucumber seeds. Seeds from cantaloupes are light cream to light tan in color. They are small, relatively slender pointed ovals.
How to Save Cantaloupe Seeds
To save cantaloupe seeds, gather a sturdy cutting board, a sharp knife, and a metal spoon. You should also get a paper plate and a few paper towels.
Now you are ready to collect cantaloupe seeds! This is also how to deseed a cantaloupe for fresh eating.
Shallow-cut a cantaloupe in half, whichever way is comfortable.

Gently pry it apart or cut the rest of the way through, slowly, to free the two halves.

Twist or pull the two halves apart to reveal the seeded interior.

Use a spoon to scrape out the cantaloupe seeds and connective membrane. Keep scraping until the entire half is smooth and seed-free.

Repeat the scraping process for the other side.

Carefully free the seeds from the membrane and spread them out on an uncoated paper plate or some paper towels to dry.

Be sure to label the seeds if you are saving other types of seeds as well.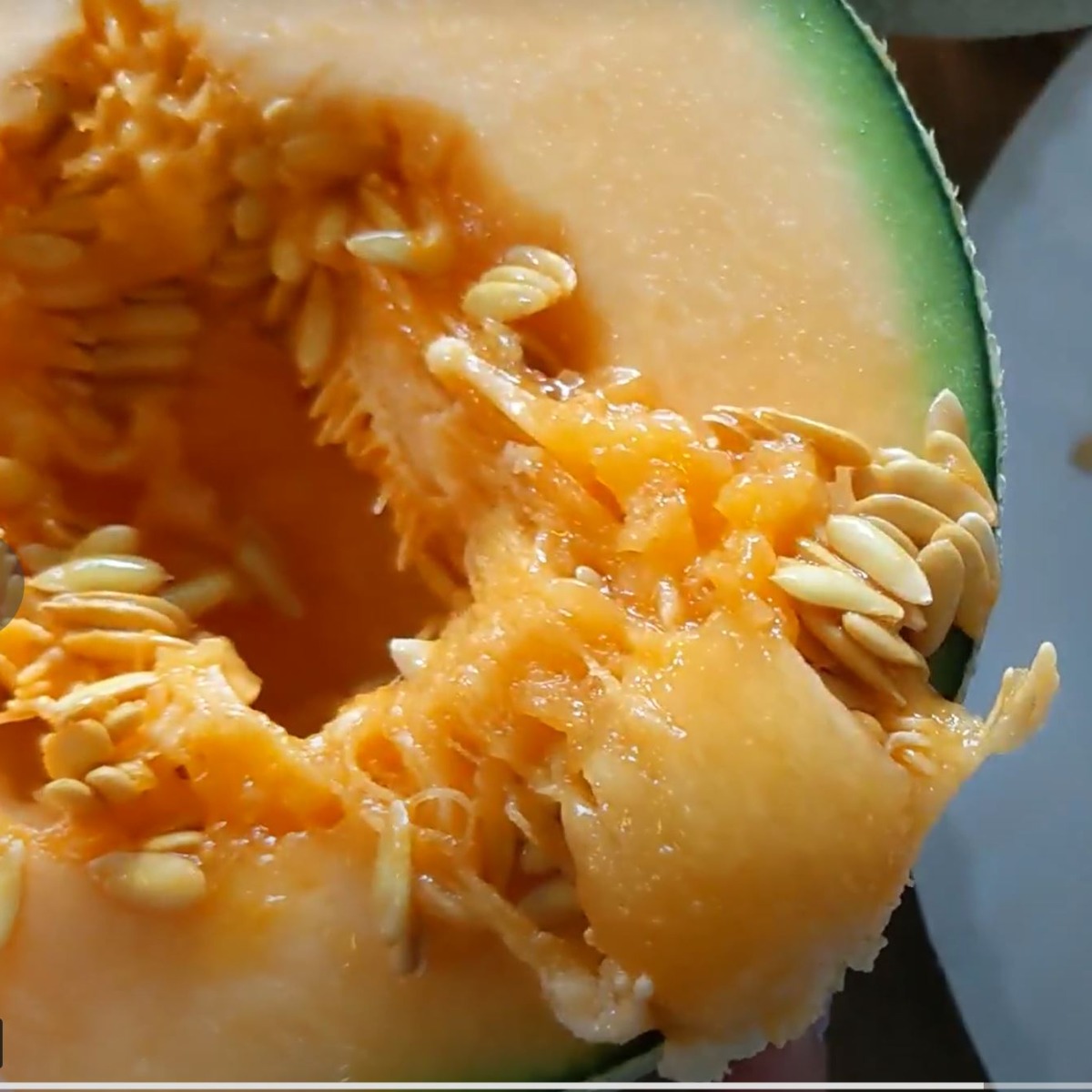 Drying, Saving, and Storing Seeds from Cantaloupes
Saved cantaloupe seeds will come in handy when it's time to plant your garden seeds next time. After harvesting cantaloupe seeds from a ripe cantaloupe, as outlined above, prepare to dry and store the seeds.
Try these tips on how to dry, save and store cantaloupe seeds.
Each day, go over the to paper plate of saved cantaloupe seeds and mix them around. Free any from the plate that stick to it and gently break apart clumps of seeds.

After about a week, if the seeds seem dry, you can store them. Transfer the cantaloupe seeds into a paper envelope or small paper bag for storage. (if you are totally sure they are completely dry, you can consider storing cantaloupe seeds in plastic containers and bags.

Label the type of cantaloupe seeds as well as the harvested date (year).

Keep the seeds safe in a cool, dry, dark location such as a basement.
Saving Cantaloupe Seeds
Melon seeds like cantaloupes will generally grow nicely for you when saved correctly. Save cantaloupe seeds with these quick and easy steps to enjoy a future harvest from your fruit garden.
Here are a few tips to help with saving and storing cantaloupe seeds:
Leave cantaloupe seeds out to dry on a paper plate for natural drying.

Make sure cantaloupe seeds are totally dry before storing.

Label the cantaloupe variety and harvested date.

After harvesting cantaloupe seeds, cube up the cantaloupe and enjoy it for a healthy snack!

Pack up a few extra individually sized seed envelopes of cantaloupe seeds for swapping.

Let the kids help!
Both my daughters loved harvesting seeds from any kinds of melons or pumpkins. They had great fun saving seeds from cantaloupes that we grew.
By the way, if you love cantaloupe, you might also want to check out our post on Cantaloupe Companion Plants.
Our website features affiliate links to products that we personally believe in. If you make a purchase from a link on our site, we may earn a small commission at no cost to you. Thank you! This helps our girls chase their garden dreams! Thanks for your support. (View full affiliate disclaimer at the end of the page.)
Do you have any questions or tips about how to save cantaloupe seeds or drying and storing seeds from cantaloupes? Definitely hit us up in the comments! We love hearing from you!
Happy Gardening!
09.26.22 – Edited to add cantaloupe products and improved spacing.