8 Haunted Garden Ideas | Spooky Outdoor Décor
Decorating for Halloween continues to be a fun experience for kids and adults alike. This year, kick it up a notch with a few haunted garden ideas you can pull off without a lot of fuss.
Shop at the Dollar Tree, Target, Spirit Halloween, or at your other favorite stores to find awesome outdoor Halloween decorations. No matter what level of creepy you choose, you can set up a spooky haunted garden in your front yard to delight trick-or-treaters.
Consider these ideas on how to make a fun and spooky haunted garden this Halloween.
Must-Have Haunted Garden Décor
Try these haunted garden décor ideas to make a really creepy scene in your front yard.
1. Spiderwebs and Spiders
Start with the dollar store spiderwebs that come with plastic spider rings. (We actually got ours at LIDL.)
If you want to kick up the scare factor, we've also seen people tie a big spiderweb out of clothesline and hang it down from their house and across their front gardens.
Don't forget a jumbo spider, if you can bring yourself to buy one!
(NOT ME!)
2. DIY Scarecrows
A scarecrow isn't usually scary in and of itself. This type of haunted garden décor is much more child friendly, particularly if you have toddlers or you just don't want to be the creepiest house on the block.
Let your kids make their own scarecrows, perhaps in the style of The Nightmare Before Christmas.
Scarecrows modeled after this popular flick are sure to bring some extra traffic across your front lawn come Halloween.
3. Skulls or Skeleton Hands Rising Up!
Incorporate the very idea of a garden into the haunted garden design. Bury skeleton arms in the soil to create the appearance of a skeleton reaching out from underneath the garden.
You can also make a graveyard type garden display with skeletons lying on the ground or skulls all around.
4. Witches or Witch Legs Sticking Out
Likewise, you can do the same with the witch legs décor. Make it appear as if your house fell upon the wicked witch, or she's otherwise somehow a bit indisposed at the moment.
Or, for another creepy garden idea, have a witch rising out of the flowerbed!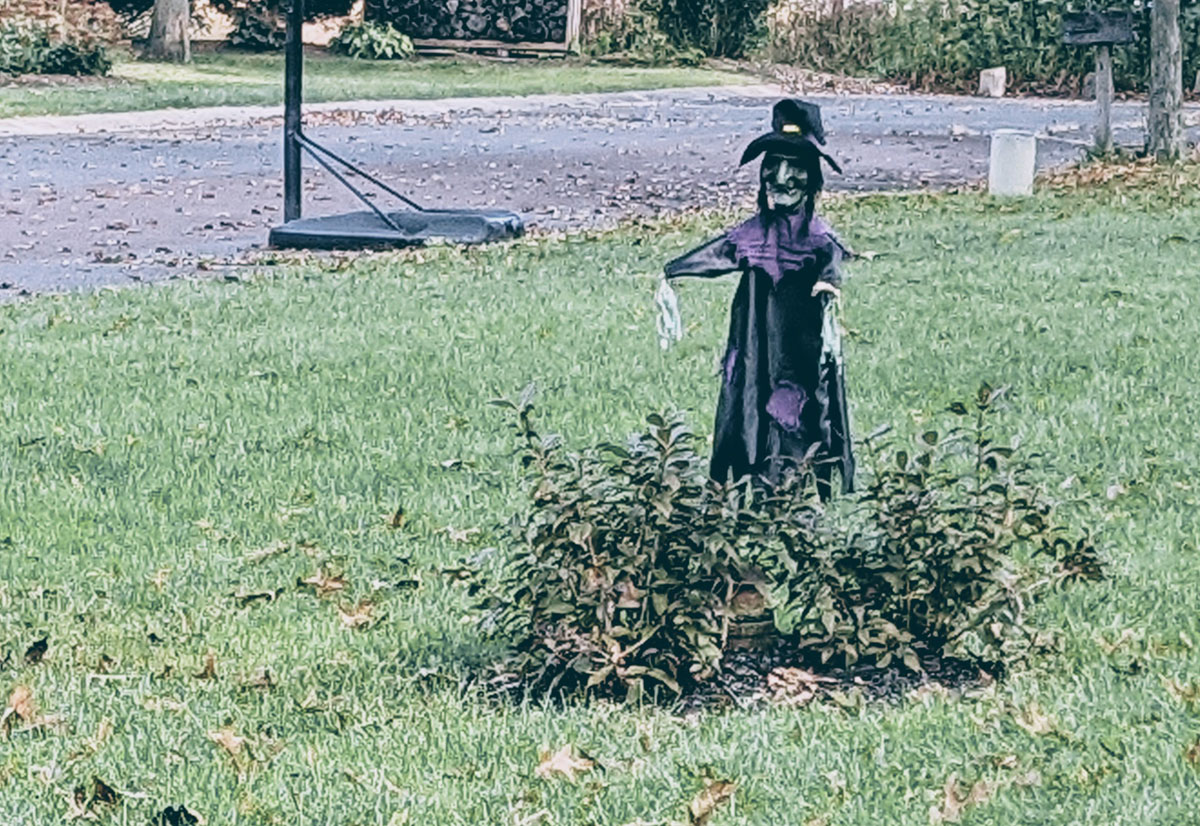 5. Glow-in-the-Dark Items
Anything UV-reactive or glow-in-the-dark will add a truly fun and memorable element to your haunted garden. You can make your own DIY glow-in-the-dark creations with glow paint or pigment powders, or buy premade glowing décor.
6. Tombstones in the Haunted Garden
RIP headstones continue to be popular choices for outdoor Halloween décor. Tombstones may be some of the easiest haunted garden accessories to install in your yard.
7. Bluetooth Speaker for a Spooky Soundtrack
Add a wireless Bluetooth speaker into the mix for an even spookier haunted garden. Create a creepy playlist or soundtrack on YouTube and stream it to the speaker from your phone.
8. Spotlights and Solar Lights
Add special effect lighting in the garden to up the ante on the scare factor. You may find some cool solar lights or other outdoor mood lighting that works with your haunted garden theme.
A spotlight could illuminate your choice of creepy outdoor decorations in the garden.
Even those driving by would likely take notice!
Final Thoughts: Making a Haunted Garden
Decorating the front yard for Halloween is definitely going the extra mile!
(Of course, if you prefer to keep your décor to plants and flowers, consider making a moonlight garden!)
I still remember being about 12 years old or so and going trick-or-treating with a friend on Halloween in her neighborhood.
One of her neighbors went all out with front yard Halloween decorations. The best part was they had what looked like a scarecrow dressed up and sitting in a lawn chair.
Only it was a person.
And it scared the living daylights out of us!
It was absolutely the best Halloween scare on record in my memory.
Now, I don't intend to scare anyone that badly, but I do think it would be pretty fun to put together a creepy haunted garden.
Who am I kidding?! The current conditions of my front garden is scary enough! What with the powdery mildew and some overgrown zinnias that are slowly dying back. I really need to get out there soon…
At any rate, even with a few dollar store finds, you can make a spooky garden out front for all the trick-or-treaters to enjoy!
Have you made your own haunted garden? Please tell us in the comments or email me a photo and I'll gladly feature your picture with credit back to you!
Also, feel free to share any tips or questions you might have as you contemplate decorating your garden for Halloween.
We always love hearing from you!
Happy Hauntings!