What to Do with Sunflower Stalks – 5 Easy Ideas
It's always sad as the growing season staggers to a close. Deciding what to do with sunflower stalks may come down to your remaining intentions for the garden. You can deal with dead stalks in a variety of ways, which I'll share here for your convenience.
Depending on how the last few weeks of the growing season play out, it can be a blissful savoring of each glorious day or a slow and painful race to the finish.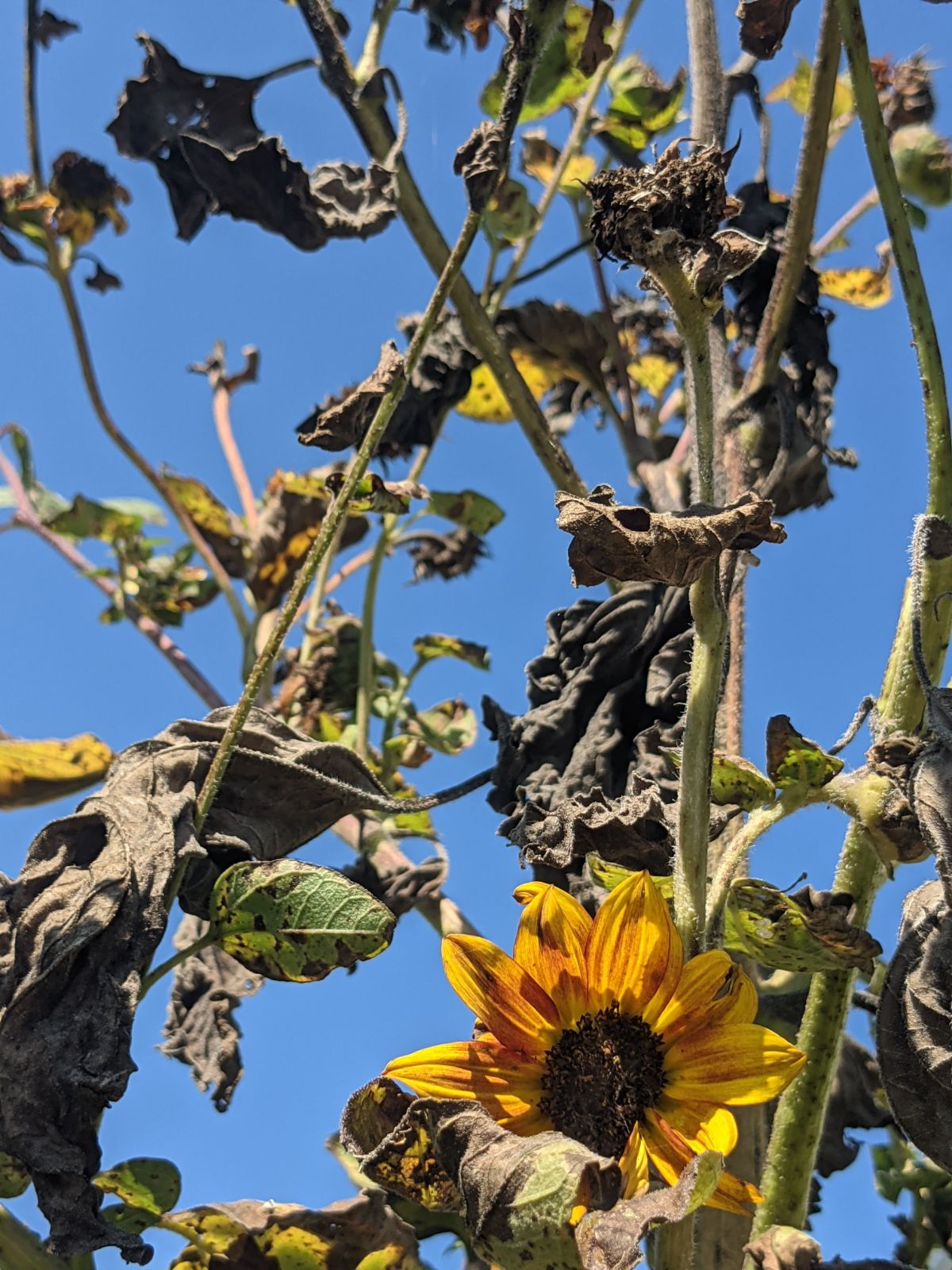 When you're ready to tear down your garden for the winter season, here are some tips on what to do with end-of-season sunflowers stalks.
What to Do with Sunflower Stalks
Sunflowers are known to be the giants of the garden. Depending on the variety you're growing, you could have a pretty sturdy sunflower stalk with a serious taproot anchoring it to the ground.
It may take a little bit of elbow grease, or maybe even some help, to get these bad boys out of your garden.
Try these ideas for what to do with dead sunflowers and stalks at the end of the season.
1. Dry out the sunflower stalks and use them for garden supports.
Much like bamboo canes, you can reuse sunflower stalks as a DIY teepee, trellis, or other garden support structure. You don't even have to remove them if you want to use dead stalks as a beanpole!
2. Chop up the stalks and compost them.
Chunky sunflower stalks work great to aerate your compost heap. Put them on the bottom to serve as a good foundation.
3. Use chopped sunflower stalks as flower pot filler.
Sometimes those huge flower pots get way too heavy with purely soil inside. Try starting with a layer of chopped up sunflower stalks in the bottom to help fill the space and keep the pot from getting too heavy.
Do this for plants with shallow root systems.
4. Burn totally dry stalks as kindling.
For your next fall fire, enjoy a bit of your garden's goodness in getting the flames going. Just make sure the stalks are dry and your fire is safely contained.
5. Drop off stalks from sunflowers to become mulch.
If you have no use for the stalks, simply turn them in wherever you drop off your yard waste like tree branches and hedge trimmings. Our township recycling center collects these items.
Do you have any other ideas for what you can do with dead sunflower stalks?
Please share your creative uses in our comments to help other gardeners!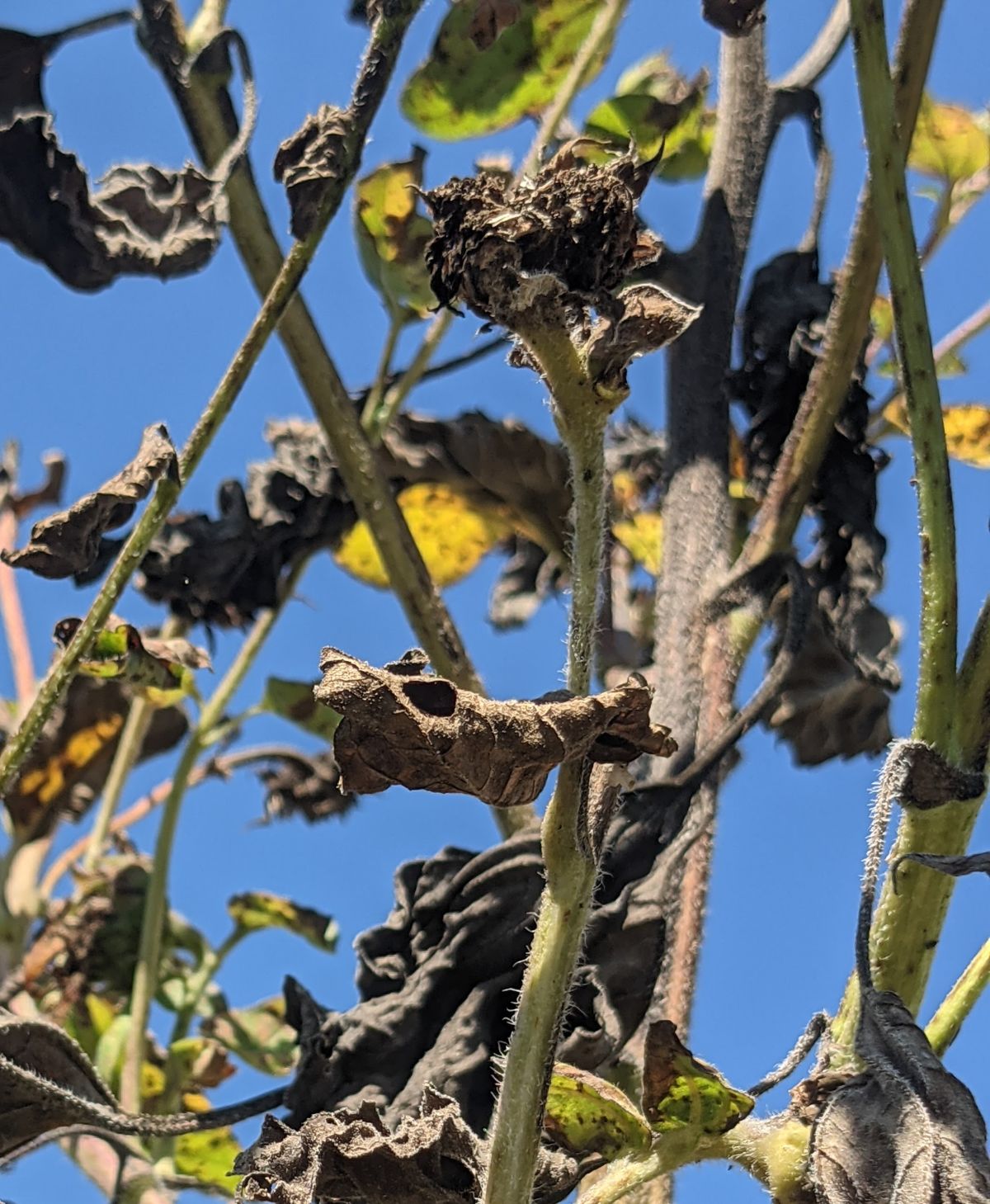 More Fall Sunflower Cleanup
By this point, your sunflowers are probably pretty dead altogether. If you're earlier in the season, though, you can make a point to cut away the spent blooms. Find out exactly how to do that with my post on deadheading sunflowers!
Our website features affiliate links to products that we personally believe in. If you make a purchase from a link on our site, we may earn a small commission at no cost to you. Thank you! This helps our girls chase their garden dreams! Thanks for your support. (View full affiliate disclaimer at the end of the page.)
Do you have any other cool ideas for how to use sunflower stalks and seed heads in the garden or beyond? Please share in our comments! We always love hearing from you!
Happy Gardening!