Gourd Seeds – Finding & Harvesting Seeds from Gourds
Decorating the house with gourds is a fun way to update your décor for fall. After Thanksgiving, we send our old pumpkins and gourds to the recycling center. After I harvest gourd seeds from our favorite ones, of course!
Besides, half the fun of growing pumpkins and gourds is using them in your fall decorating! The other half is knowing you can save the seeds to grow whatever you like next year!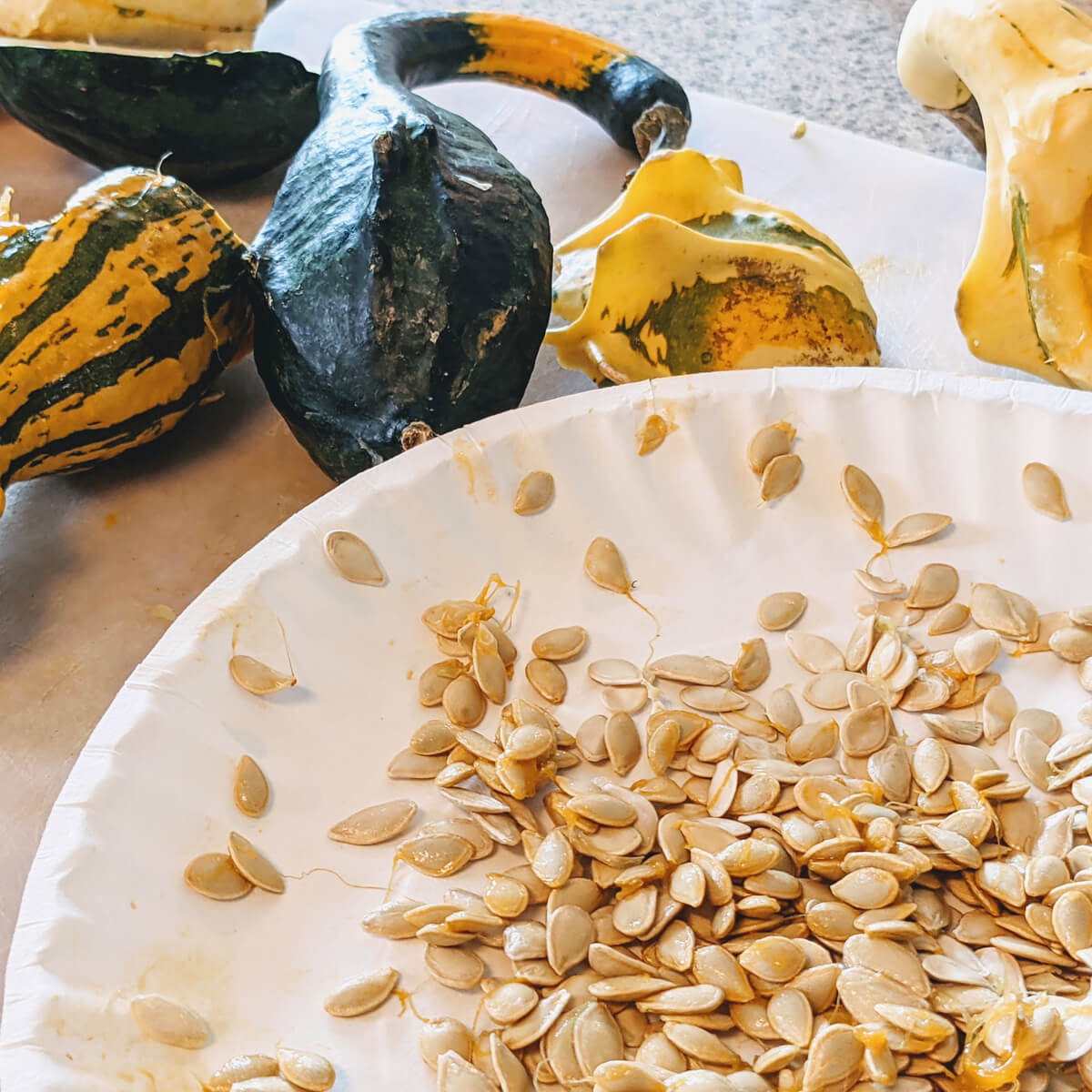 Harvesting gourd seeds is not always as easy as you might expect. Some gourds have very strong and tough outer shells. These hard gourds aren't easy to crack into, and I honestly had to use a knife to break a piece of the shell off.
I will share the exact steps I use for saving these seeds below.
What do gourd seeds look like?
These seeds look similar to miniature pumpkin seeds. A gourd seed tends to be small and tan or cream in color and rounded with a very slight point on one end.
How to Harvest Gourd Seeds
Knowing how to save gourd seeds can save you a little time and effort. Depending on the types of gourds you've grown, you may find some seeds easier to collect than others.
Follow these steps to save seeds for next season:
Use a sharp knife to cut into a gourd.


For soft gourds, shallow-cut around the biggest part of the gourd.

For hard shelled gourds, you may need to crack the gourd open with the knife, a hammer, or similar. Use caution not to cut yourself.


Pull apart the two sections of the gourd to reveal the inside.

Use a spoon or your hand to gently scoop out the seeds.

Remove large chunks of gourd flesh and strings if present. Rinse seeds if needed.

Place the seeds on a paper plate and spread them out as best as possible.



Label what kind of seeds they are, especially if you are saving multiple varieties. Or, you can also just save all the seeds as a mix.

Every day, mix up the seeds, separating them so they can dry completely. This also helps to prevent mold.
Harvesting these seeds is not terribly different from saving pumpkin seeds for planting. Once you're comfortable with one or the other, apply your learnings to other seed saving efforts!
How to Store the Seeds
After drying, transfer the seeds to your desired seed storage container or envelope.
Mix up the seeds on the paper plate one last time to make sure they aren't damp or stuck together.

Place seeds in a paper envelope, small paper bag, or cardboard box for storage.

Label the envelope with the name of the gourd variety (or mix) and the year collected.

Store gourd seeds in a cool, dry, dark place such as a basement.
Keep some seeds for yourself or plan to trade some with other gardeners. Saving seeds is fun and worthwhile, especially if you plan to grow some next year.
Where to Buy Seeds
Finding seeds for sale isn't hard if you know where to look. You can find lots of fun varieties of gourds, like birdhouse gourds or bottle gourds and snake gourds.
I purchased a gourds fun mix but haven't tried them yet. My latest obsession has been purchasing fun gourds from local farm stands around Halloween, decorating with them, and then harvesting seeds to save for next year.
Some places to shop for seeds — including and beyond gourds — may include:
Little Shop of Seeds
Amazon
Etsy
Agway
Baker Creek
Park Seed
Burpee
Our website features affiliate links to products that we personally believe in. If you make a purchase from a link on our site, we may earn a small commission at no cost to you. Thank you! This helps our girls chase their garden dreams! Thanks for your support. (View full affiliate disclaimer at the end of the page.)
You can find plenty of other seed merchants, too. These are just the first places I would try.
BTW, this year the groundhog in our yard (or another wild visitor) planted a gourd plant in our flowerbed that goes around the deck!
This thing is crazy, growing quickly and seems to be largely pest resistant.
I definitely wouldn't have planted it in this location, but now that it is there, I think we'll see it through! The gourds are pretty cute.
Have you grown gourds and saved seeds for next year, or saved some from your front door decorations?
Share any tips or questions you have in the comments below. We love hearing from you!
Happy Gardening!
08.06.22 – Updated to adjust spacing in sections. Added photo of plant by groundhog or bunny.
12.29.22 – Updated to improve the flow of the language.