Planting a Lime Tree from Seed: Germinating Lime Seeds
Do you love limeade, margaritas, and key lime pie? If so, maybe you should you're your own key lime tree! Planting a lime tree from seed is very easy and I can show you how to do it.
Tart and tangy, key limes liven up quite a few drinks and dishes in the kitchen.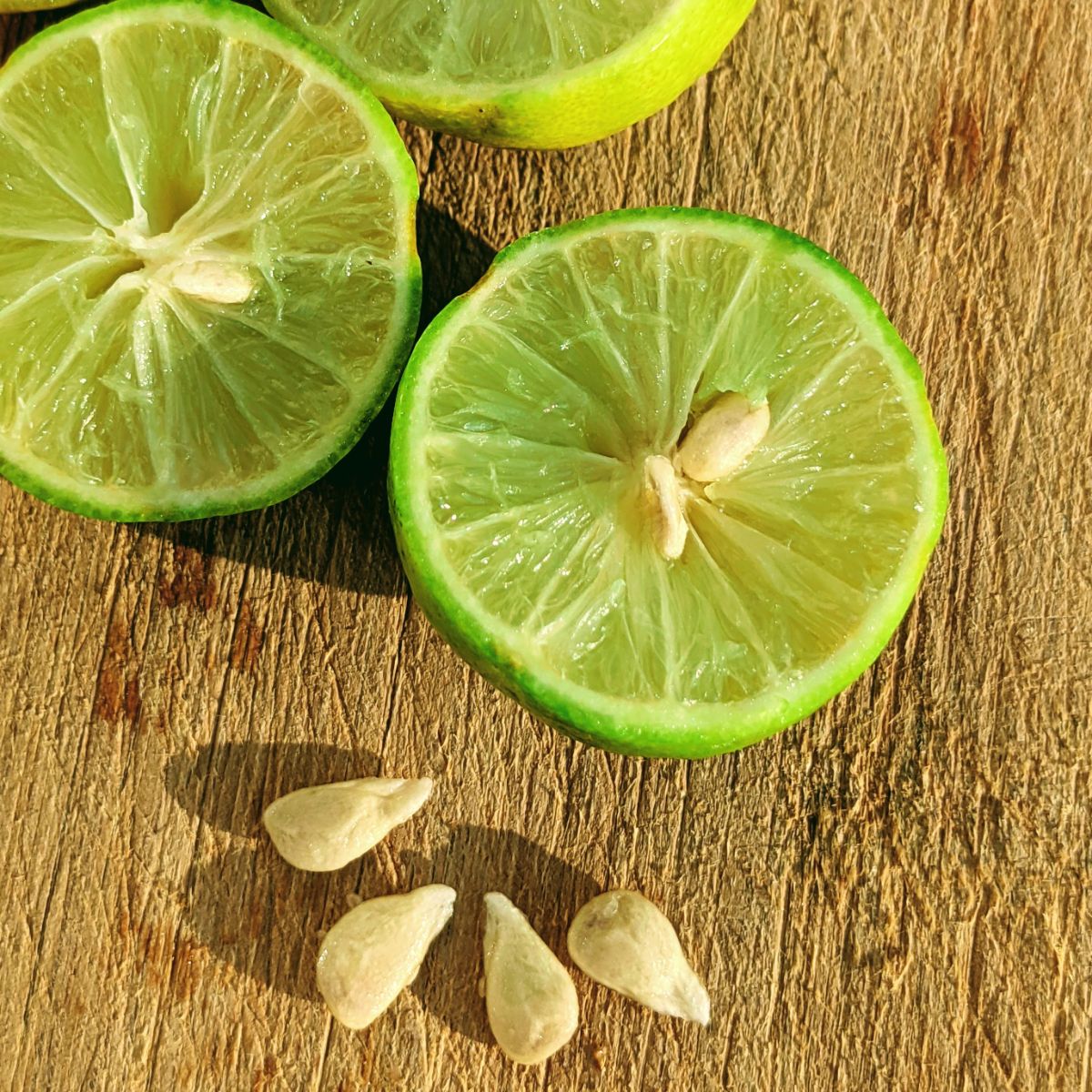 My bestie loves key lime martinis and my kids adore limeade.
I'm excited to grow a key lime tree to achieve both of these goals!
Full disclosure – I did buy a mature lime tree from a local garden center prior to attempting this project.
Now that I have that bit of insurance waiting there, I am ALL IN to try planting a lime tree from seed and seeing where it goes.
Can you grow a lime tree from seed?
Yes, it is possible to grow a lime tree from seed! You must first find a lime with seeds inside, like key limes. After harvesting the seeds, you can plant them to grow your own baby lime trees.
How to Grow a Lime Tree from Seed
In this post I am providing instructions for growing a key lime tree from seed. If you have other types of lime seeds to try, you can use these same instructions.
The process begins with harvesting the seeds and then germinating them. Once the lime seeds sprout, you can plant them in soil.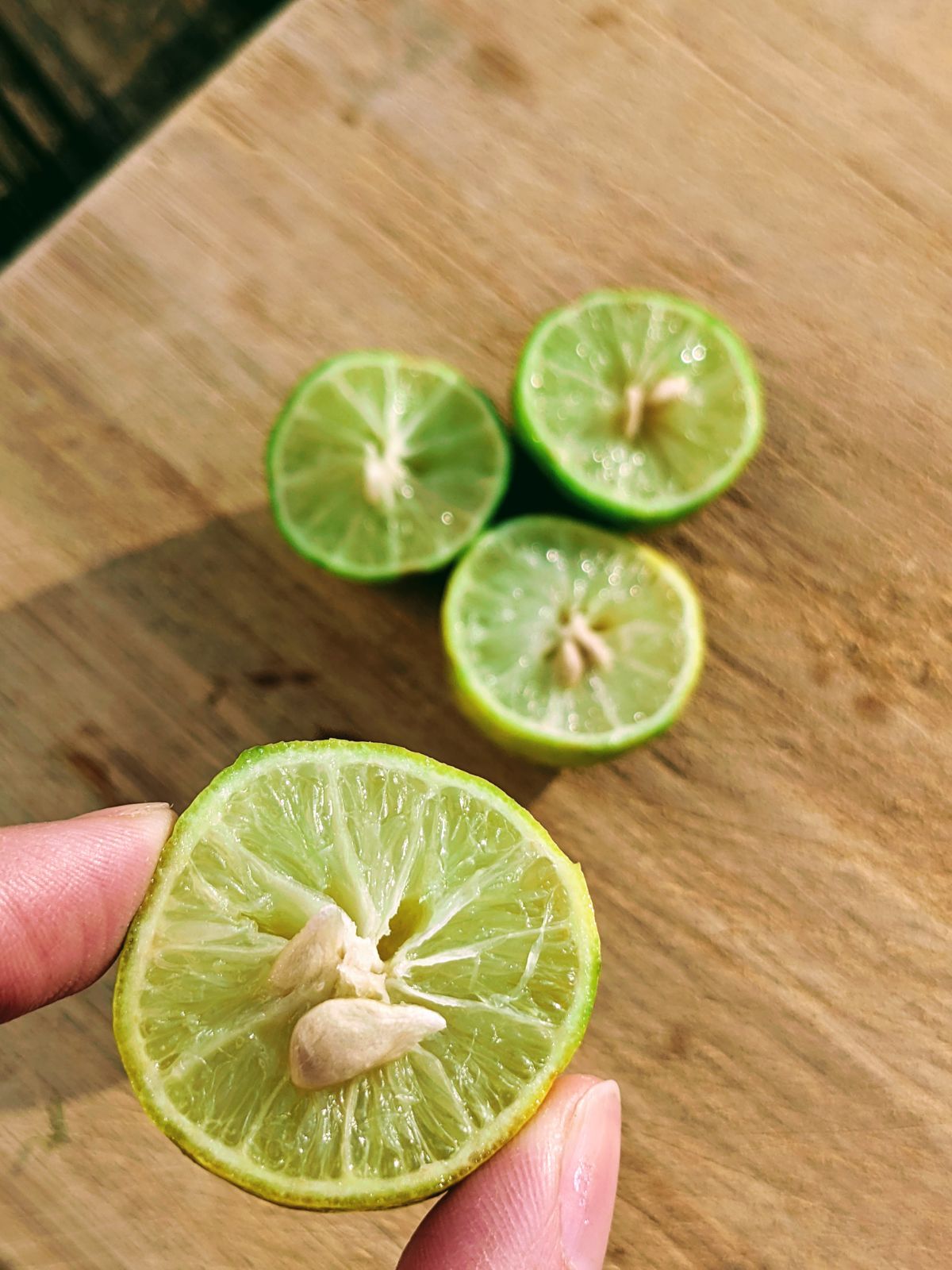 Harvesting Lime Seeds
First, collect some lime seeds to plant!
Shallow-cut a key lime crosswise so that you see all the beautiful sections.

Twist the two halves to separate.

Remove any visible key lime seeds and set them aside.

Squeeze the juice for use in baking, cocktails, or other drinks.



Remove any additional seeds.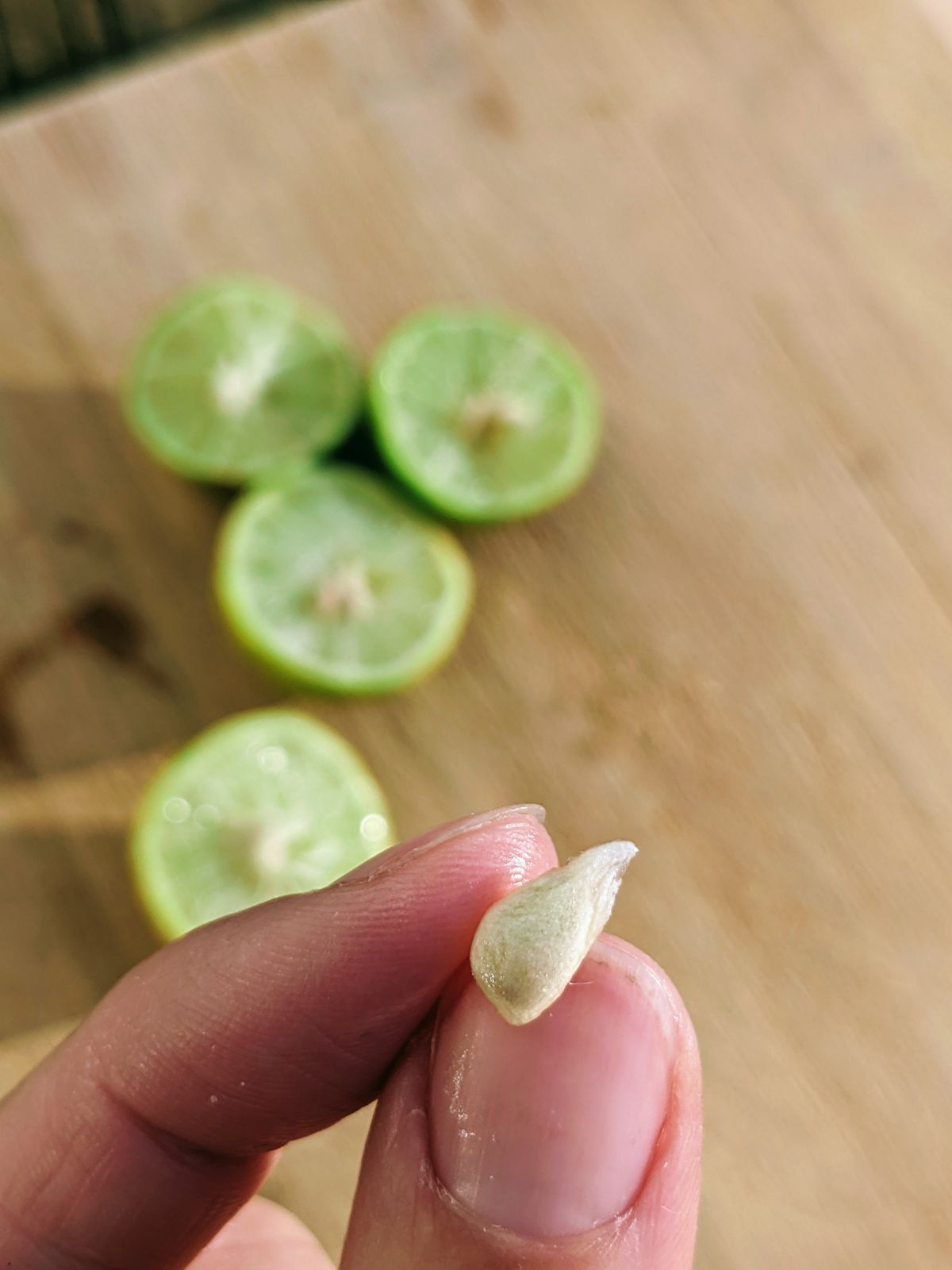 Germinating Key Lime Seeds
Now, gently remove the outer seed coat to help the lime seeds germinate.
Use your thumbnail to gently nick the seed coat.

Peel away the rough exterior of the seeds and discard it.

Fold a fresh paper towel in half and space the seeds out on top of it.

Spray cool, clean water on top of the seeds and paper towel.



Fold it closed and place it inside a clear zip-seal sandwich baggie.

Use a permanent marker to write the lime type and date on the bag.

Set it in a warm place out of the way. (I place mine on top of the microwave.)
Transplanting Germinated Lime Seeds into Soil
Once the roots emerge, you can transfer the sprouted seed to a small pot with soil.
Prepare a small pot with a coffee filter inside to catch the soil.

Add damp potting soil to fill the pot.

Work to separate the germinated lime tree seeds from the paper towel. (If the roots are woven through, you can tear the paper towel and leave it attached to the root.)



Create a small hole in the center and drop the germinated key lime seed inside.

Cover the sprouted seed with more soil.

Water lightly and evenly and place the newly potted lime seedling in a sunny window or underneath some grow lights.
Be sure to check on your new baby lime tree regularly. It's vital to ensure the lime tree seedling has enough light and water.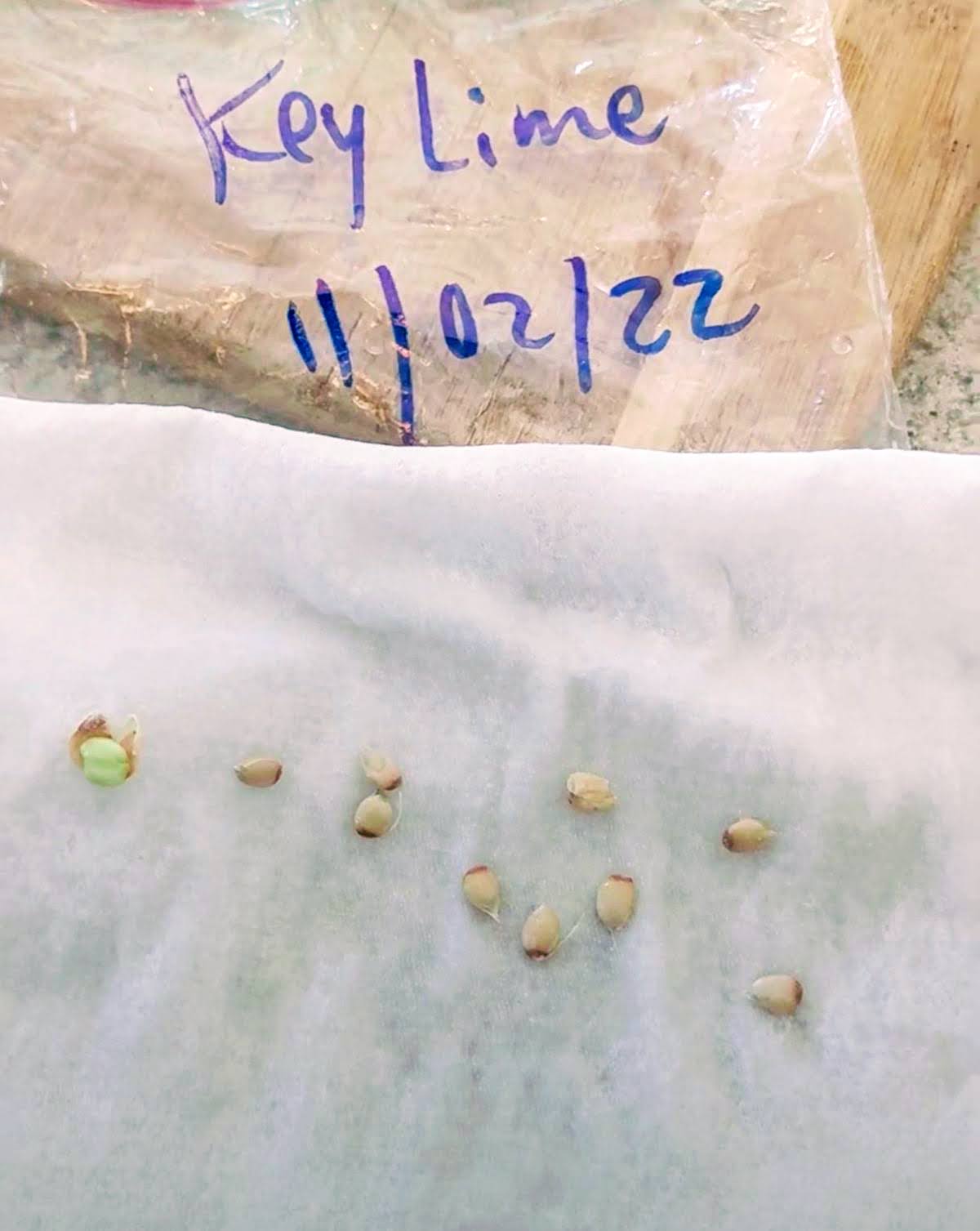 In time, this young citrus tree can grow into an impressive houseplant that you'll love year after year.
Our website features affiliate links to products that we personally believe in. If you make a purchase from a link on our site, we may earn a small commission at no cost to you. Thank you! This helps our girls chase their garden dreams! Thanks for your support. (View full affiliate disclaimer at the end of the page.)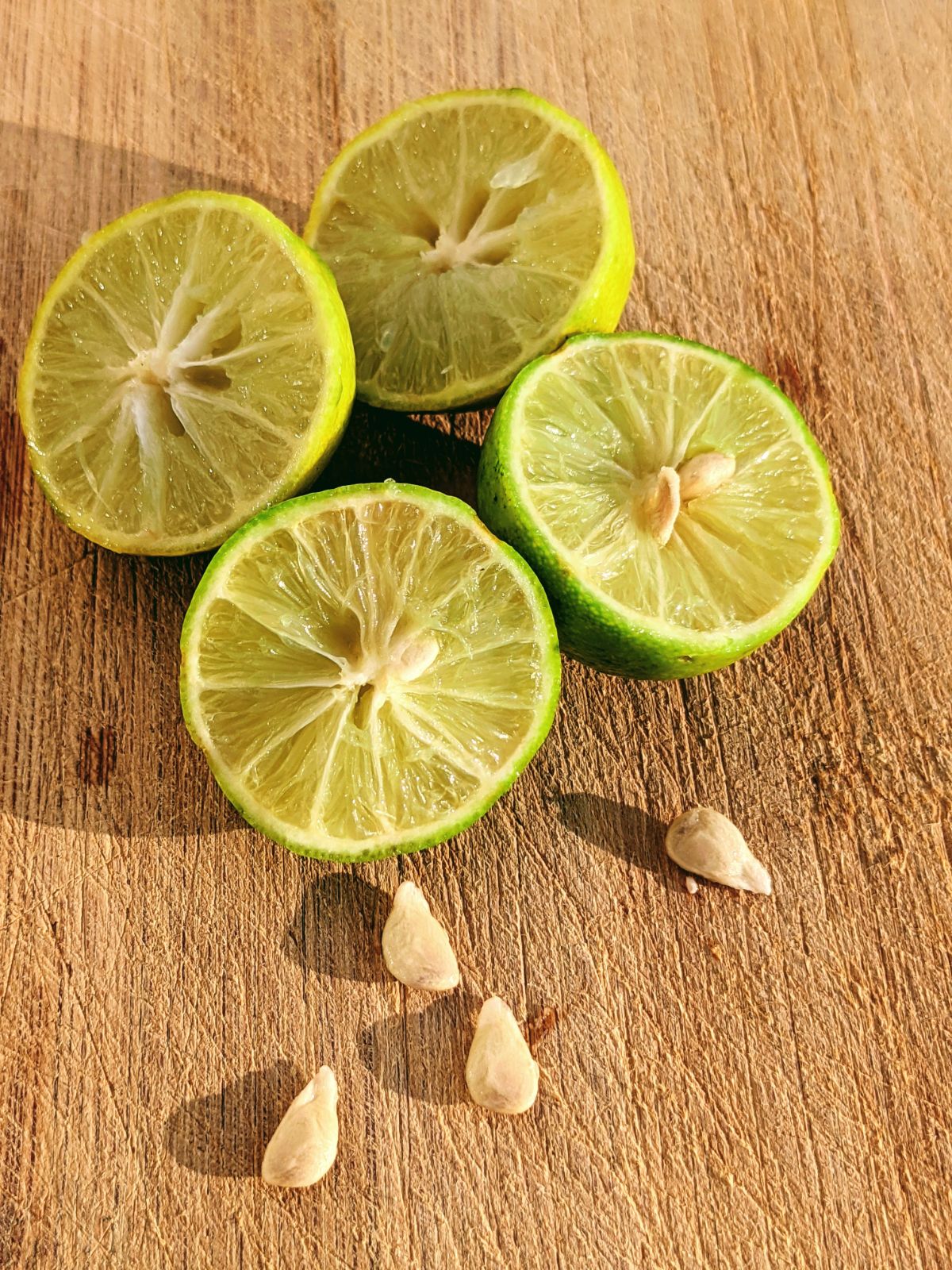 Updated Photos of Lime Seedlings
Check out our germinated lime tree seedlings!
By the way, if you liked this post, feel free to check out our Google web story on germinating lime tree seeds.
You may also enjoy our other posts on germinating citrus seeds to grow baby trees:
Additionally, be sure to check out our post on caring for and growing an indoor lime tree. If you live in a cooler climate, you will likely need to keep these trees indoors over the winter!
Do you have any questions or other tips about growing citrus indoors? Hit us up in the comments – we love hearing from you!
Happy (Indoor) Gardening!
11.19.22 – Updated with two more photos. Added Google web story.
01.18.23 – Updated to add link to other lime tree post.