How to Make a Pole Bean Teepee with Bamboo
This summer I lucked into some free bamboo canes! Perfect, I thought – now it's time to learn how to make a pole bean teepee… and one for my cucumbers, and snow peas, and… yep, I couldn't wait to get started making my own trellises!
I cut down about 50 bamboo canes from this kind lady's bamboo stand. At first, I worried a little that they'd try rooting themselves in my yard, but they didn't.
Truthfully, I really didn't feel patient enough to let them dry out so I could make a green bean teepee, but I kept busy until the time was right.
Making a pole bean teepee is actually way easier than it sounds! I am excited to shar my process with you. If you can improve on it with your own bean teepee trellis tips, please share them in the comments below so we can all benefit!
What Do Pole Beans Climb on?
Pole beans love to climb! These beans will climb on poles, wooden dowels, fences, bamboo canes, trellises, ropes and strings, teepees, deck railings, you name it! These space-saving beans will climb on basically anything they can wrap around!
Give your pole beans a length where they can climb freely and you'll thank yourself come harvest time.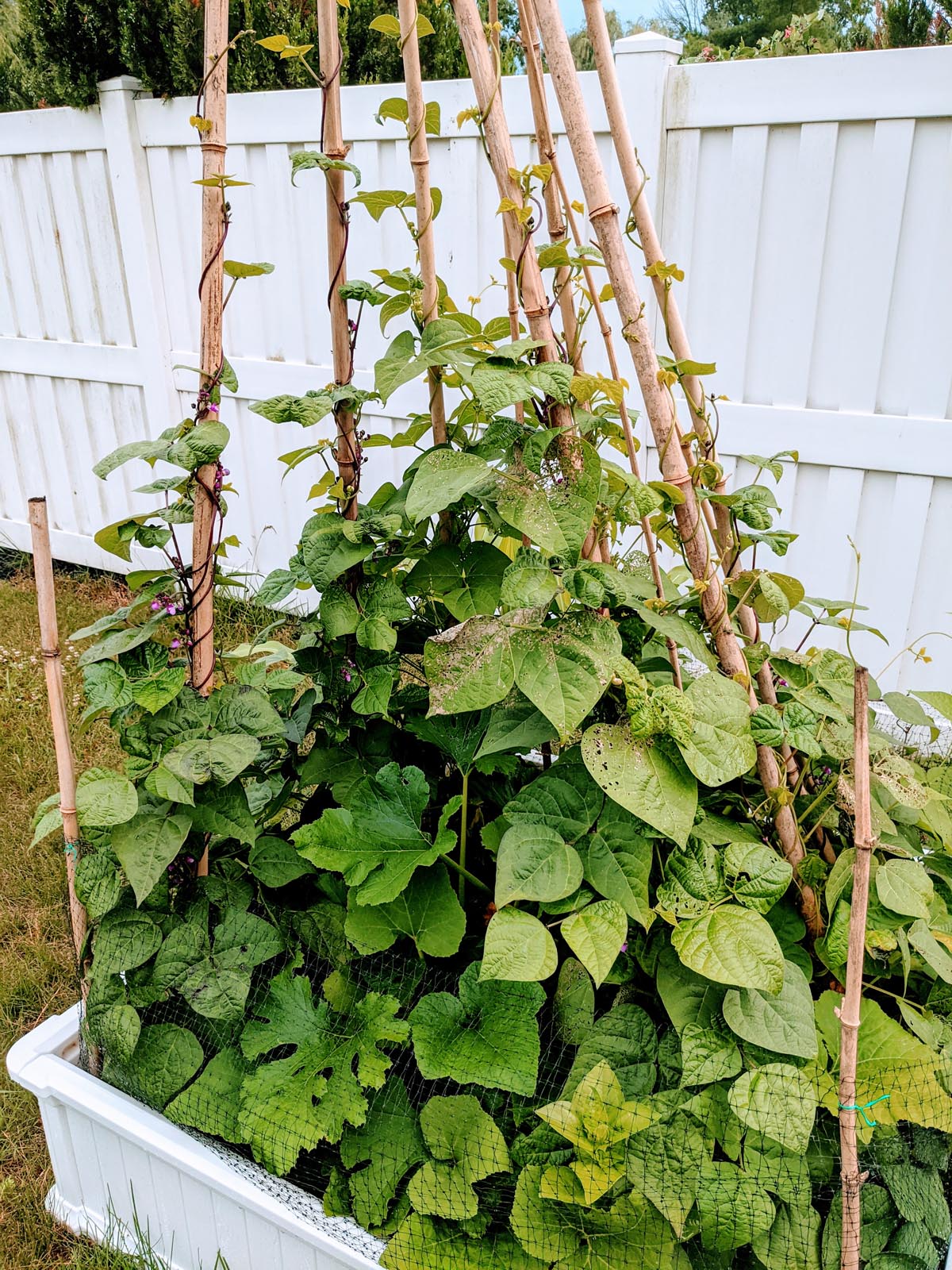 How Do Pole Beans Climb?
Pole beans grow upward, twisting and wrapping themselves around whatever they can find as they strive to keep growing vertically. Spiraling as they grow, pole beans may reach heights of an impressive 10 to 15 feet.
Help your pole beans climb by gently guiding them toward the trellis or other structure where they can climb.
Benefits of a DIY Pole Bean Teepee
Personally, I find our teepee trellis for pole beans to be a true bright spot in my gardening experience. The rewards keep on coming!
Easy to Make – I was able to make green bean teepees in a matter of 20 minutes or so. Creating my own trellises ended up being way easier than I expected.

Truly DIY – I made mine all by myself. I didn't need anyone's help to make this pole bean teepee or any of my other ones.

Proud Purpose – Once the green beans start growing up the bamboo canes, a sense of pride erupts. I found it to be so rewarding to make the pole bean teepee myself and then to see the beans actually climbing it as intended.

Vertical Growth – Growing vertically expands your garden space very efficiently. You can fit more plants when you grow upwards instead of outwards.

Space Underneath – Use the space below your green bean trellis to grow other plants. Check out our list of pole bean companion plants for some ideas to get you started!

Cheaper – Building your own trellis often comes out cheaper than buying a premade trellis or a kit. Still, you can get those if you prefer, but there's something to be said for saving money AND creating something with your own two hands.
How to Build a Pole Bean Teepee
Gather the right materials and follow these simple steps to build your own DIY pole green bean teepee.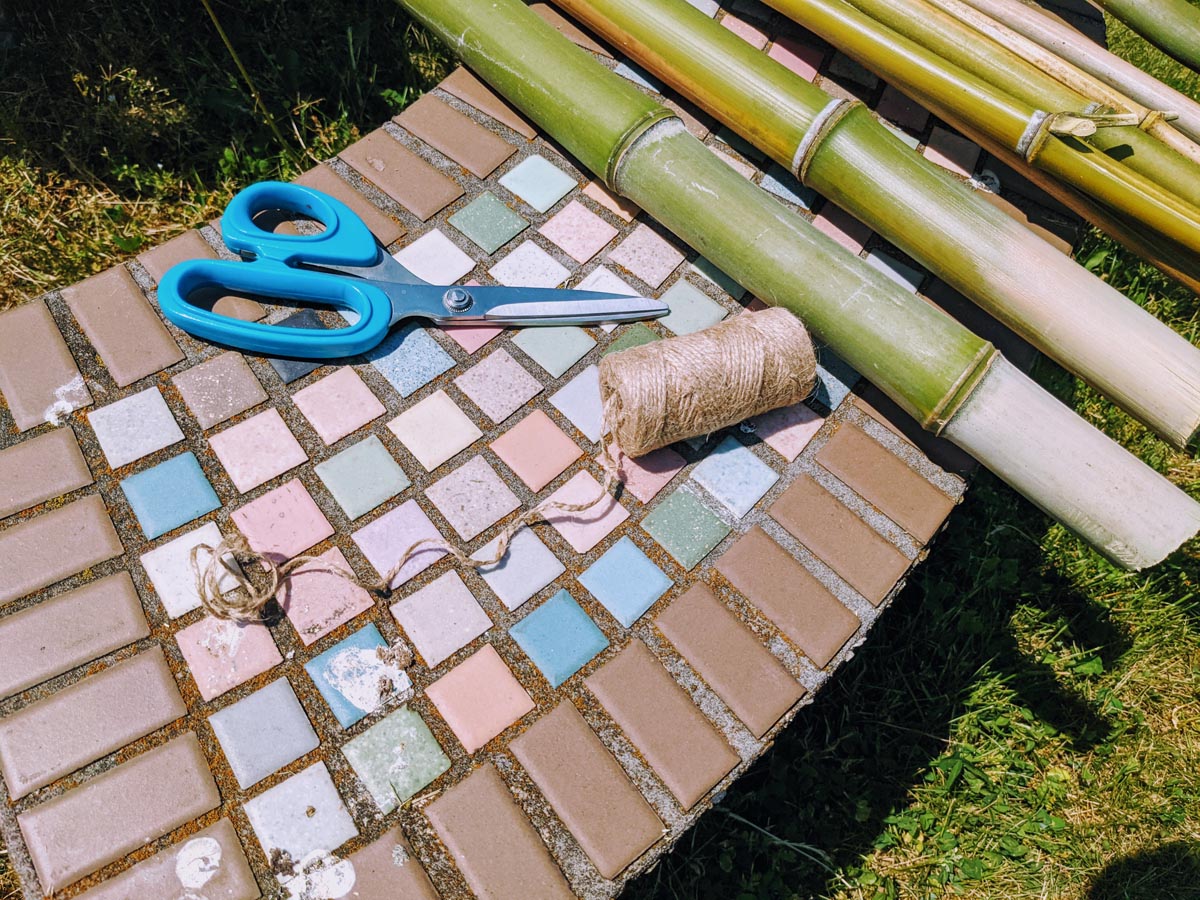 Materials:
8 or 9 bamboo canes
Jute twine
Scissors
Landscaping staples
Instructions for DIY Garden Teepee:
Build a pole bean teepee quickly and easily in your own yard. Just follow these steps!
Gather together 8 or 9 dried bamboo canes. Choose those with a similar height if possible.

Lay the bamboo canes on the ground. Fan them out to visualize how the pole bean teepee will look once assembled.

Pull all the ends on one side to a point.

Use the jute twine to connect them at the top. First, tie the twine to one of the canes to secure it.

Weave the jute twine back and forth, inside and outside of the canes, around and around.


TIP: Keep it just loose enough that the canes can move ever so slightly when you position them in the ground.


Wrap the twine around and around a few times and tie it to a bamboo cane to secure it.

Cut the twine.

Pick up the bamboo teepee trellis and carry it to your garden site.

Fan out the bamboo canes and gently push each one into the soil. Form a teepee by spacing them out at least 6 to 12 inches from each other, depending on your space.

Push a little extra soil up to the base of each bamboo cane to help keep them secured to the ground.

Create tiedowns for the bamboo canes.


Take some more jute twine and tie a piece to a landscape staple.

Tie the same length of twine to the base of one of the bamboo canes.

Attach another landscape staple at about the same length away from the bamboo.

Use the landscape staples to tie down the bamboo canes.

Repeat the staple tether steps for the rest of the bamboo canes as desired.


Plant pole bean plants or seeds at the base of each bamboo cane. Two plants can generally grow comfortably together, twisting around the poles.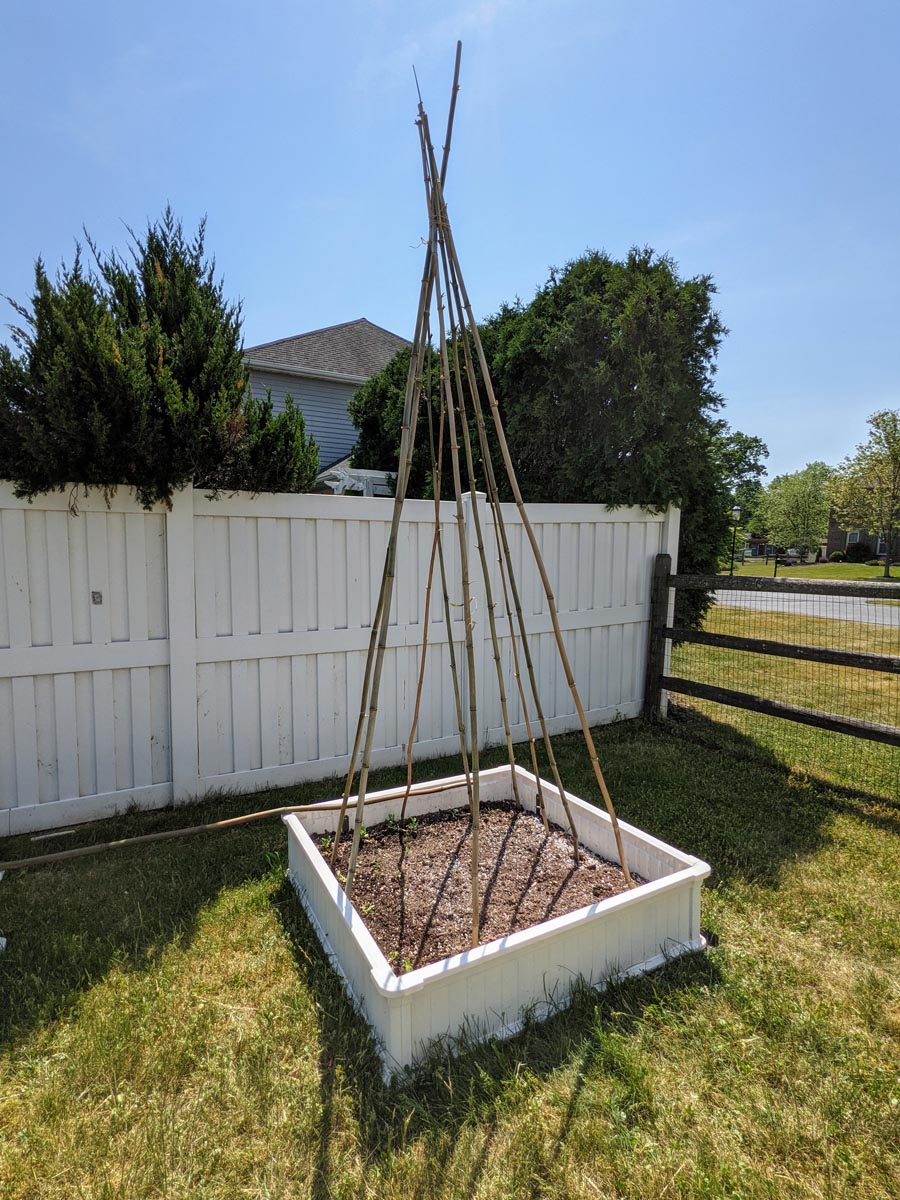 Final Thoughts: Green Bean Teepee
Building a teepee trellis for pole beans proved to be such an empowering activity for me. It gave me so much confidence for all that I can achieve in my garden!
After making the first green bean teepee, I made one for my snow peas. Then, I made a mini bamboo teepee to nest inside the larger one so the pickling cucumbers had a trellis.
By the way, you can also check out another trellis idea for your veggie garden. My Panacea Tomato Tower Review gives you the scoop on how to set it up for snow peas and cucumbers and also the pros and cons. Good value for the price in my opinion!
I ordered a pack of teepee mix pole beans from Nikitovka Seeds, which includes green, yellow, and purple pole beans. Now we can't wait to see all the beans hanging from our teepee trellis!
I feel like pole beans are a game changer in my garden. We used to plant two separate four-foot by four-foot raised garden beds with green beans and royal burgundy beans. Lately I've been growing them all in one "Three Sisters" garden raised bed along with popcorn and squash / zucchini!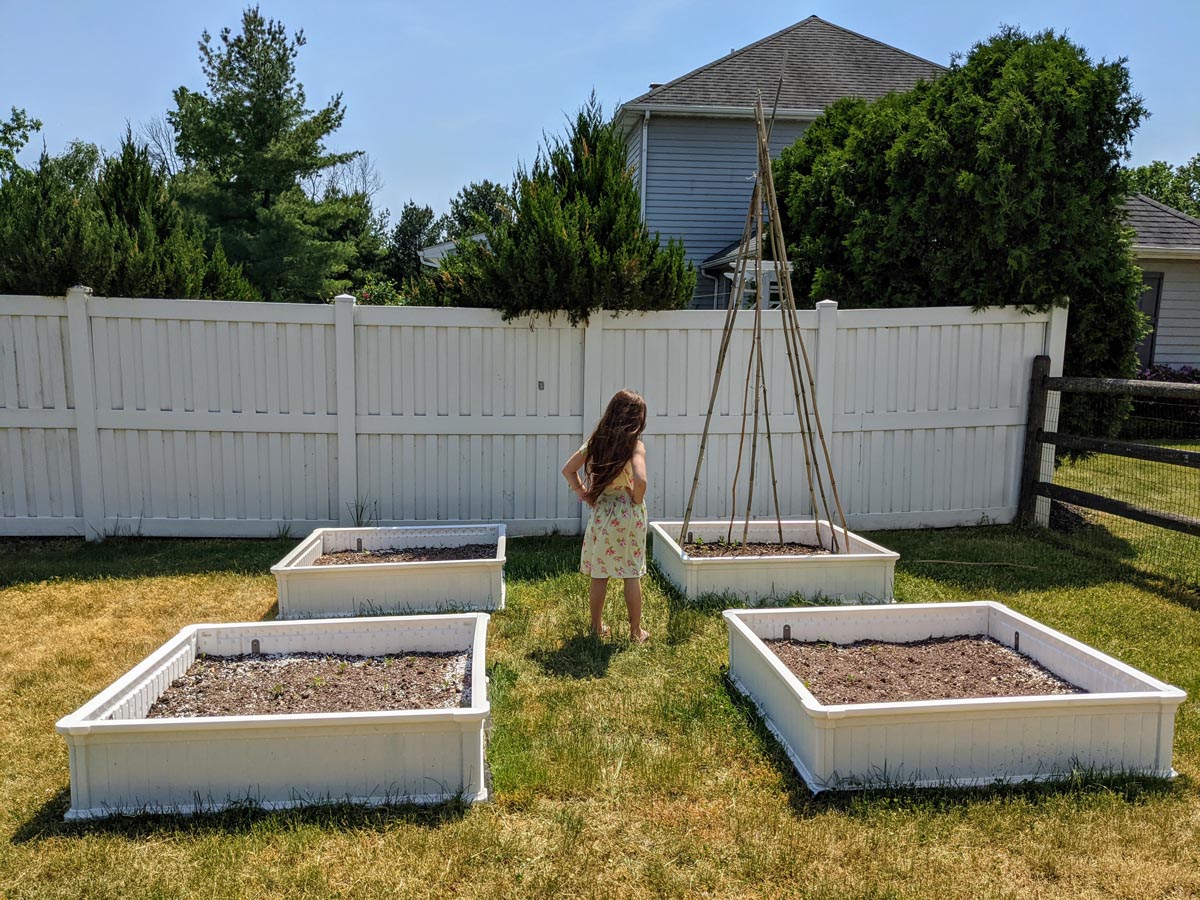 I absolutely love my pole bean teepee and hope to have one every year. Have you made your own green bean teepee trellis? Let's share tips and questions in the comments below!
By the way, don't forget about saving green bean seeds from your garden so you can keep growing your favorites year after year!
05.08.23 – Updated to increase photos to full size and add link to another kind of trellis.
06.09.23 – Updated to include links to other green bean posts and improved spacing.