Growing Nasturtium in Vegetable Garden Spaces
Successfully growing nasturtium in vegetable garden beds and beyond brought us so much joy! The lovely pops of color in coral and cherry rose are delightful to see alongside our tomatoes and in our cucumber bed.
Last year I couldn't get the nasturtium seedlings to take off in our container garden. This year, I'm pulling seeds to save for next year left and right. I am even sending some to my brother so he can start a small garden!
Growing nasturtium in a vegetable garden is a great way to maximize your space and enjoy companion planting.
Once they get established, nasturtium flowers need very little attention to thrive.
Let's dig into learning more about this cool flower and the benefits of growing nasturtium in the veggie garden!
What do nasturtiums look like?
Nasturtiums look like a tropical plant boasting attractive flowers with five petals. The bright green leaves are rounded and broad with veins leading to a central stem, reminiscent of lily pads. Nasturtiums popularly come in shades of red, yellow, orange, pink, coral, burgundy, and cream.
How do nasturtiums grow?
Nasturtiums grow one leaf at a time. The nasturtium seedlings start with tiny leaves that are miniature versions of their actual leaves. As they grow larger, nasturtiums may climb, cascade, or grow in a bush form. They put out many flowers at once, and those flowers eventually form and drop seeds that you can easily find on the ground in your garden.
How do you use nasturtium as a trap crop?
Plan to plant nasturtium as a trap crop several weeks in advance of the crops you're trying to protect. This allows the nasturtium to grow larger so that it is more attractive to pests than their normal targeted plants. According to NC State Extension, aphids are attracted to the nasturtium's flowers and foliage. Pat West, master gardener UCCE, of the University of California UC Master Gardeners of Inyo & Mono Counties, advises that systemic strategies can help against squash bugs, such as companion planting with nasturtium, radish and other crops.
In my own experience, our nasturtiums attracted squash bugs. I am hopeful this took them away from our cucurbits like zucchini and summer squash.
Benefits of Growing Nasturtium in Vegetable Garden
Besides the beauty of growing your own flowers, check out these nasturtium benefits:
Pollinator Friendly – Besides helping to control pests in the garden, nasturtium flowers are attractive to bees, hummingbirds, and butterflies.
Bright, Cheerful Colors – Often boasting shades of yellow, orange, rose, red, and coral, nasturtiums add a bright pop of cheerful color to your garden.
Edible Flowers – The nasturtium flowers are edible and make a nice garnish or accent on salads, drinks, and other dishes.
Child-Friendly to Grow – The large seeds are super easy for kids to handle and just as much fun to find and collect at the end of nasturtium's growing season.
Pest Control – Nasturtium's pest control properties are worth mentioning on their own!
Easy to Propagate – If you'd like to try your hand at propagating nasturtiums, it's easy and fun.
Nasturtium Pest Control Benefits
The exotic-looking nasturtium plant is believed to offer quite a few benefits in pest control. Consider these reasons to grow nasturtium:
Powerful Trap Crop – Many gardeners sing the praises of nasturtiums as a trap crop. From aphids to squash bugs, the nasturtium flower is believed to lure away problematic insects. Pests tend to flock to this single plant where you can trap and eradicate them.
Attractive to Predator Insects – Some beneficial insects like hoverflies, a predator of aphids, may also appreciate your nasturtium plants. Lure in the good guys to fight off the bad guys!
Natural Alternative to Pesticides – Avoid using chemicals in your garden when you can rely on the nasturtium pest control benefits instead.
Growing Nasturtiums with Vegetables
Nasturtiums are truly a friendly plant to grow in the vegetable garden.
Nasturtium and Cucurbits
One beneficial pairing not to miss is growing nasturtiums near squash, zucchini, and other cucurbits. Cucumbers and countless other plants also benefit from nasturtiums planted nearby.
Nasturtiums often have the power to draw away squash bugs, acting as an invaluable plant in the garden.
Pumpkins and other gourds also commonly suffer from squash bugs and vine borers, making them another good candidate for companion planting with nasturtiums.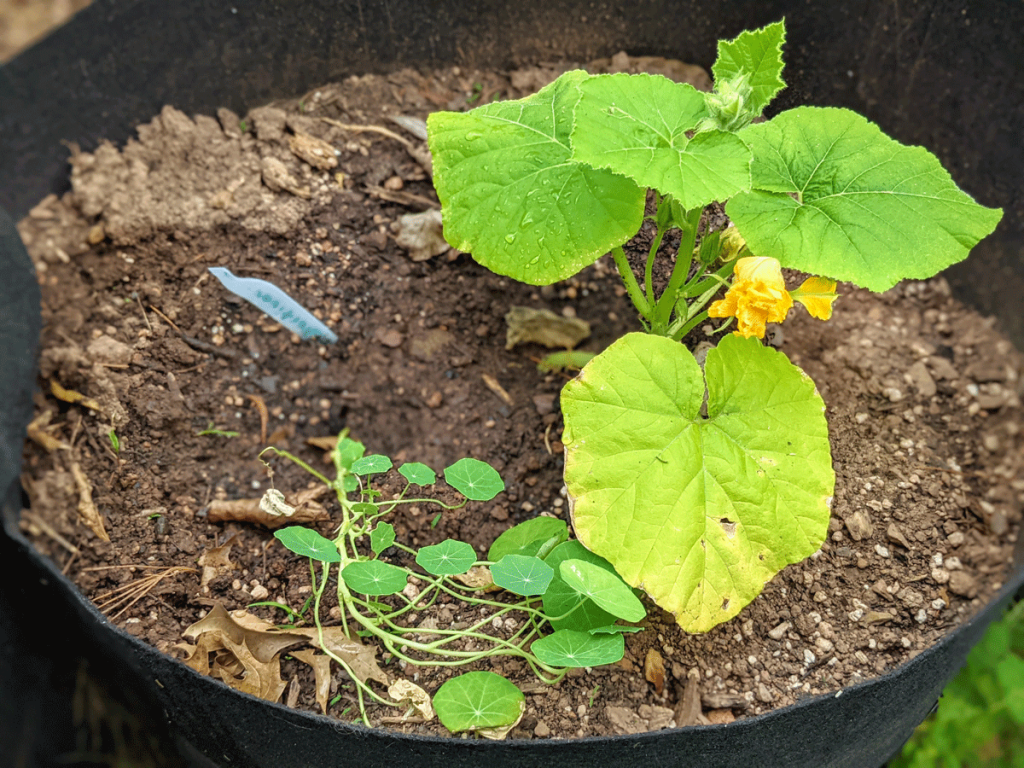 Companion Planting Nasturtium and Tomatoes
Nasturtium and tomatoes grow well together. This friendly plant acts as a trap crop for aphids, offloading the issues tomato plants may face.
Growing nasturtium in vegetable garden plots such as the tomato patch adds visual interest as well as functionality. The edible nasturtium flower pairs nicely with the rest of your edible garden crops.
The tropical-like foliage and flowers stand out beautifully and sometimes cascade over pots or garden walls.
Growing nasturtium near tomatoes allows you to attract hoverflies to attack your garden's aphid problem. You can also treat the aphids directly on the nasturtium plants with a mild solution of Dawn dish soap and water.
When trap crops like nasturtium become totally infested with pests, you can also rip them out to destroy the pests and then plant a new one.
By the way, you may also wish to check out other tomato companion plants for your garden!
More Vegetables to Plant Near Nasturtiums
The nasturtium plant grows in harmony just about anywhere. Plant it in a container garden. Try nasturtiums in a hanging basket. Grow nasturtium in traditional flower beds, a fenced-in garden, or raised garden beds. The possibilities are endless.
So many different plants grow wonderfully alongside nasturtium. It would be impossible to list all of the great pairings for garden companions.
What can you not plant with nasturtium?
According to extensive research, I have yet to find a flower, vegetable, fruit, or herb plant that should not be planted alongside nasturtiums. Apparently nasturtium is everybody's BFF in the garden!
Sharing Tips!
If you grow nasturtiums, be sure to save, dry, and store the nasturtium seeds! That way you'll have tons more to enjoy in your future gardening seasons.
By the way, one of my other favorite tips is that you can propagate nasturtiums from broken pieces that come apart from the plant. We have bunnies and groundhogs that ravage our garden, so I am always potting up broken nasturtiums to grow new roots!
What do you like best about growing nasturtiums in vegetable garden spaces and beyond?
What's your favorite type of nasturtium?
Have you ever crossed different kinds to arrive at new nasturtium hybrids?
We want to hear it all! Share your favorite nasturtium stories or tips in the comments below. If you have questions, ask away!
Happy Gardening!